James Bond Military Style Part 1
Updated August 14th, 2021 – When we really start looking at James Bond military style, we quickly realize that it's been part of 007's wardrobe more frequently than we may have first thought. Sure, there's the Navy uniform. And the big four tactical outfits from The Living Daylights, Goldeneye and Tomorrow Never Dies. But what about the pea coat? Or the SPECTRE J.Crew Kentons, based on the classic N-1 service boots? Do those count as "military style" clothing? Before I knew it, the items I planned to include in this post had gone from the obvious six or seven examples to a list of more than a dozen. And that was before Craig's Bond showed up in his commando outfit in No Time To Die.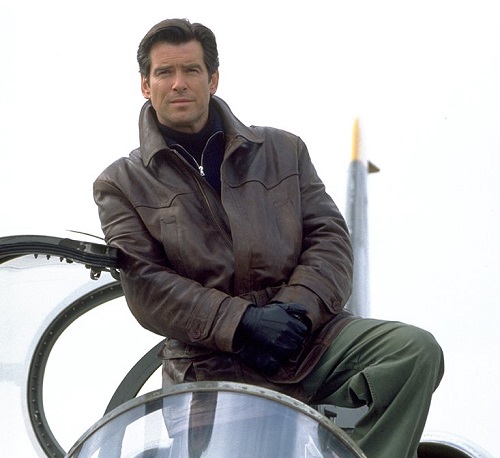 So I'll be breaking this post into two parts. This first one will cover some of the classic key pieces of Bond military wear from the franchise. And our second post will be dedicated to his look from No Time To Die.
Just a couple of things to note before we get rolling. First, we're going to be looking at pieces inspired by Bond's military style. To me, that means civilian clothing that has some of the characteristics of the screen-used outfits, but is more wearable for us guys on the street. If you're looking for actual military or tactical clothing, companies like 5.11, Rothco and your local Army/Navy Surplus store are great places to start.
Second, it can be a bit of challenge wearing military inspired clothing. Go overboard and you'll end up looking like someone playing "soldier". One simple strategy is to only wear one piece at a time. But we'll also soon be updating our "4 Ways to Wear It" that focused on some of the pieces we see here. Okay, off we go!
The Octopussy Military Uniform Shirt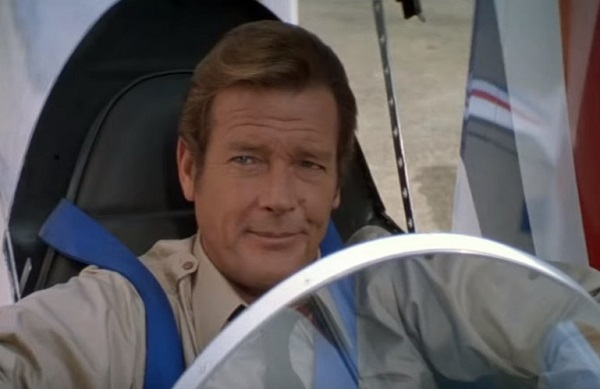 I'll admit Octopussy isn't one of my favorite Bond films. But I thought the pre-title sequence was very well done, with some truly amazing stunt flying in the BD-5J. That last second sneak through the closing hanger doors still gets me! And I love how Moore gets into disguise as Colonel Toro to infiltrate the airbase. As much as I like Daniel Craig, getting dressed up as a "gangster" to sneak into a funeral in Rome just doesn't show quite the same commitment. The Suits of James Bond has a good write-up on the complete look from the film.
Back on topic. Moore's disguise includes a fairly standard light khaki military dress shirt with two flap chest pockets and epaulets. I wouldn't recommend using a proper military dress shirt for your casual fits. But the styling comes very close to the more relaxed, and very popular, utility shirt design. And that can be a useful style to have in your closet.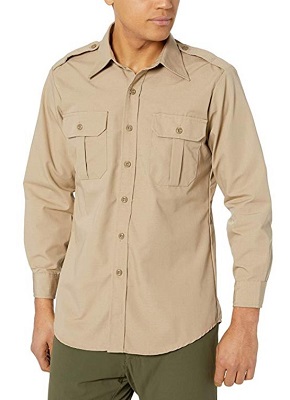 More of a true military dress shirt style, the Propper is made from a 65% polyester, 35% cotton ripstop fabric. If you're looking for screen-accurate, this is probably the way to go. I can't say it'll be particularly stylish. But the lightweight and breathable material should be comfortable to wear on those warmer days.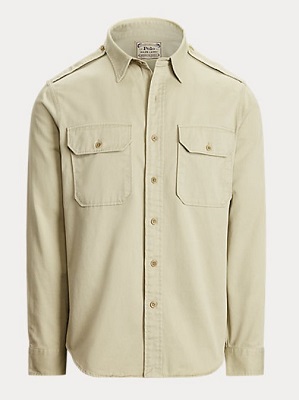 As the name clearly states, this is a heavier piece that works almost like a shirt-jacket. Polo has used a cotton twill. So the look with be a little more old school than you'd get with the Propper's techier ripstop. But it's an interesting way to add some Bond inspired style to your closet without directly copying Sir Roger.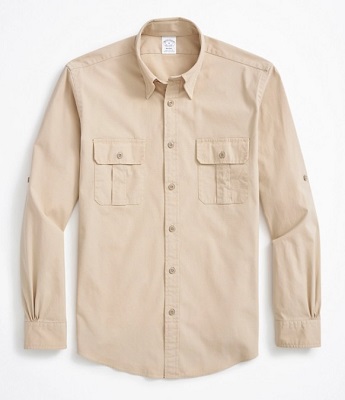 It's missing the epaulettes. But the rest of the styling is a great match. And it has some other nice details, like the hidden button down collar and tabs to keep your rolled up sleeves in place. Plus the 98% cotton, 2% spandex fabric gives you a bit of stretch for comfort. Brooks Brothers Regent fit is their trimmer cut. However, I've found that it's still roomy enough for most body shapes. You'll find sizes XS to XXL in stock. And remember to watch for sales. Brooks Brothers seems to be running a lot of them lately.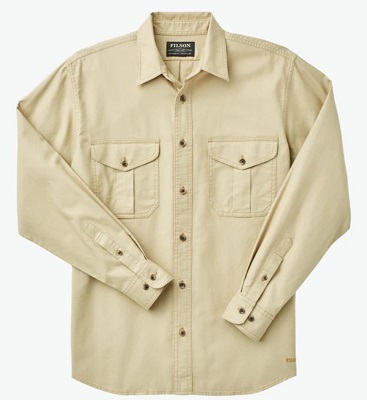 A newer interpretation of the classic piece from the heritage American brand. Made from a 5 oz. cotton twill, it should be light and airy enough to wear when things warm up. But it will also work well as a layering piece  under a jacket or sweater. I'd say the design the is more "utility" than "military". However, like the Polo above, it's an interesting way to add some Bond inspired style to your workwear fits. Filson has sizes XS to XXXL large in stock. Sadly, this is one of the pieces that Filson now makes off-shore.
The James Bond Fatigue Pants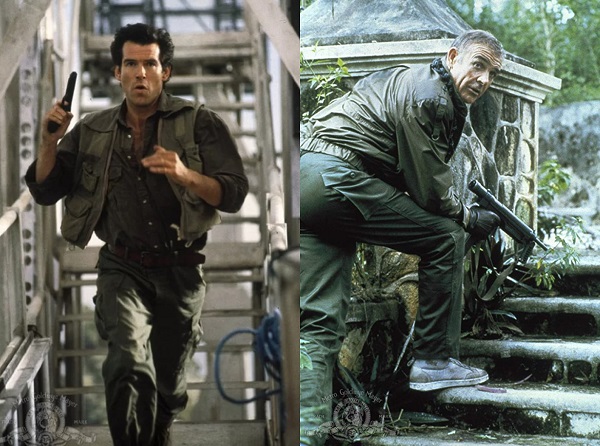 As I noted in our 4 Ways to Wear a Grey T-shirt post, fatigue style cargo pants have been making a comeback in the last couple of years. Designers as diverse as Engineered Garments and Brunello Cucinelli have regularly included interpretations of them in their collections. And that influence has led almost every menswear brand to offer their own versions. The designs of today's cargo pants have been updated to give them a contemporary fit and look. Gone are the days of the super baggy straight legs. Now you can expect them to be a trimmer, more tailored fit.
Brosnan's Bond was a huge fan of both black and olive fatigue pants in his first two films. They show up twice in Goldeneye (BAMF Style covers the Cuba look in this post) and twice again in Tomorrow Never Dies. And we can't forget Connery's pair in Never Say Never Again. In fact, his fatigue pants in that movie, with their slimmer cut and minimalist design, wouldn't look at all out of place today. In this post, I'm just going to focus on modern alternatives for the olive colored ones.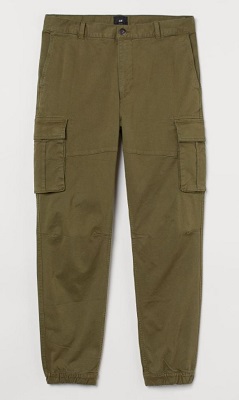 Personally, I'm not a fan of the elasticized hems on joggers. But if you have a shorter inseam, it shouldn't be too difficult for a competent tailor to remove those (and since these are relatively inexpensive, the extra cost won't be a deal breaker). I do like the rest of the details. The slim fit and clean flaps on the cargo pockets give the pants a more contemporary vibe, while the stitching around the knee adds a utilitarian vibe. H&M UK has sizes 29 to 36 in stock. However this model is not available on their U.S. website.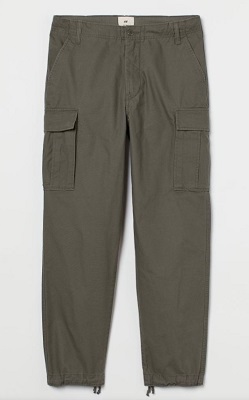 But this model is! Overall the styling is very similar to the UK version above. However there are some subtle differences I actually like more. Starting with the drawstring hem hems. I also think the darker, more muted Khaki Green will be a more versatile color and does scream "ARMY" like the traditional olive does. H&M calls these a "regular" fit. But it's still H&M, so I wouldn't expect them to be super baggy. Sizes 28 to 42 are in stock.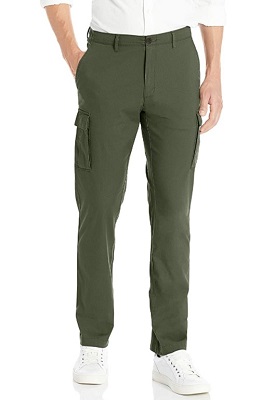 Edit: I originally had the slim fit version of these listed. But our friend Westward Drift pointed out on IG that they are actually sold out. So I'm updating with the Straight Fit model. They're made from a 97% cotton/3% elastane fabric and they've nailed all the right style details. They currently have 4.5 out of 5 stars after more than 1800 reviews, with most complaints focusing on the fit. And it appears durability may be a bit of an issue for some customers as well. But those that love them really love them. Amazon does have plenty of sizes of the Straight Fit in stock (I double checked this time!).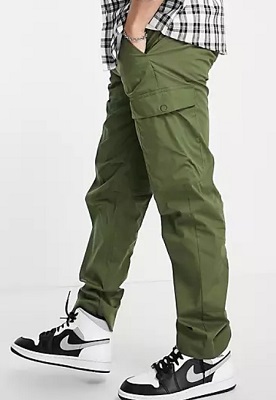 Probably not the best deal for those of you in the U.S. But for you UK readers, that sale price seems pretty reasonable. These are definitely a more technical looking pant, with a 65% organic cotton, 32% nylon and 3% elastane fabric that has a lot of stretch and a bit of a sheen. However they've kept the overall styling pretty traditional. Plenty of sizes in stock on ASOS.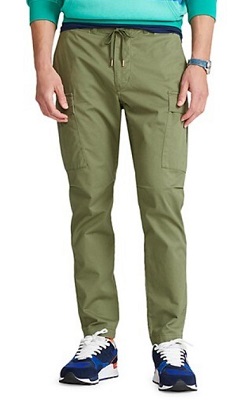 Another sporty design that goes with an elasticize waist band and keeps things clean and simple below. The fabric is a cotton and elastane blend. So it still has some stretch but less shine. Saks Fifth Avenue is currently down to sizes 33 to 40.
The Goldeneye PTS Black Tactical Jacket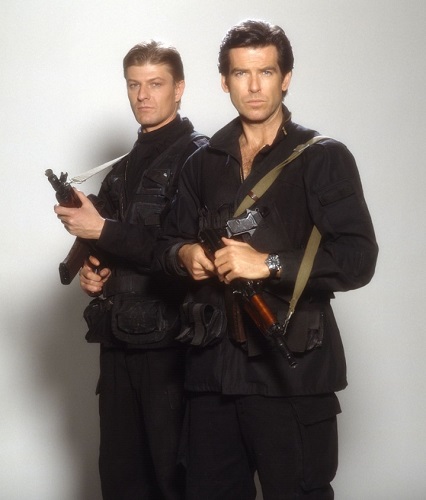 When Eon changes Bond actors, it can be just a little traumatic for fans. But, in my humble opinion, the franchise caretakers have done a pretty good job of introducing each new 007 in the films. In literally a matter of minutes, they've been able to create scenarios that give us a snapshot of the type of Bond we're about to see. The PTS of Goldeneye is a great example of this. The infiltration of the Soviet chemical weapons factory with 006 gives us action Bond, quick quip Bond, Queen and Country Bond and over-the-top stunt sequence Bond all in under 10 minutes.
It's also notable that Brosnan's costume was something of a callback to what Dalton was wearing the first time we saw him as Bond. Black tactical gear is the sartorial opposite of a dinner jacket or suit. And it's a clothing choice that established each Bond as a man on mission, an agent with a military background and a deadly skill set.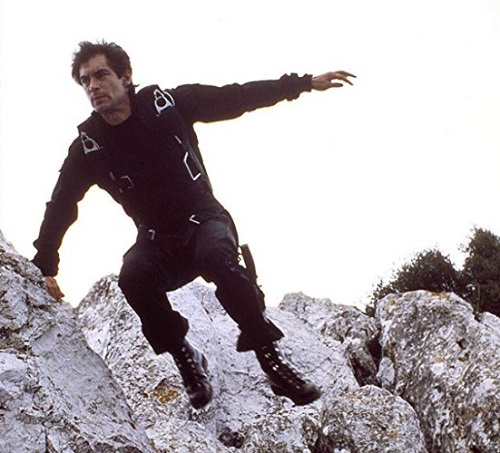 Since Brosnan wears a vest for the entire sequence, we never get a good look at the jacket underneath. However, Eon gave replica maker Secret Identitee license to create some promotional jackets for the film based on the screen-used one (check out this thread on AJB007 for examples). And from those we can see that Bond was wearing an M-65 style jacket with four flapped patch pockets on the front, epaulets, velcro straps at the cuffs and neck, and a stand collar with a zip across the back for a stowaway hood.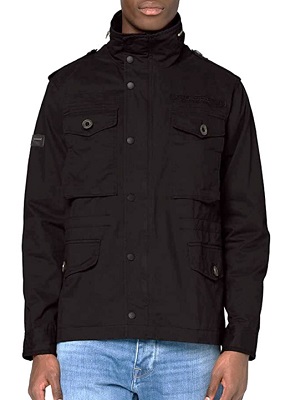 It's a reasonable price and has almost all the details we want. Superdry has used button through flaps on the four pockets rather than the snaps on the original. But personally, I kind of like the way they add a more casual vibe to the jacket. The fabric is a heavier weight cotton. So not rainproof, but it should work well as a layering piece in spring and fall. I'd just note that from experience I've found Superdry jackets to fit very slim. Double check that size chart and consider sizing up.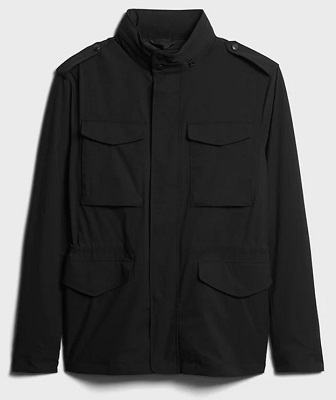 The Banana Republic interpretation is missing some the originals finer details (no sleeve pockets. But the clean design gives it a more contemporary and sophisticated look. They've used their proprietary "Motion Tech" fabric, an 89% polyester, 11% spandex blend that has 4 way stretch and some water repellency. Which should make it a more practical jacket for those rainy days. They have sizes small to XL in stock. And a reminder to always be on the lookout for discount codes!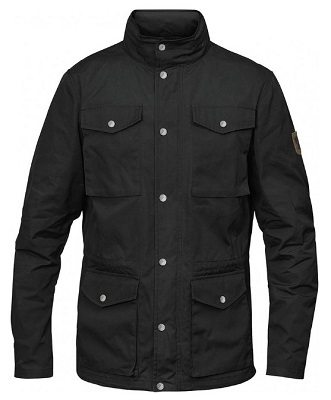 I really like the way Fjällräven updates these classic pieces, blending heritage designs with more modern fabrics and fits. The Raven is based on the timeless 60/40 jacket design from the 1970s, now made with their proprietary G-1000 Eco fabric, a blend of 65% recycled polyester and 35% organic cotton. This is a model from a few seasons back. But you can still get it at Backcountry.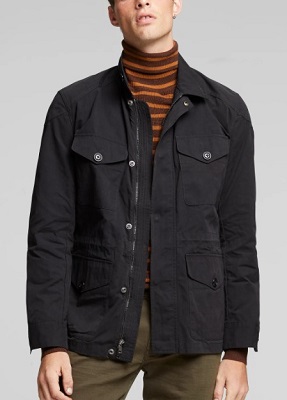 And finally, the luxury model at a very nice sale price. Todd Snyder has used 45% cotton, 16% nylon and 39% polyester fabric for his made in the U.S. jacket. Not exactly waterproof. But it should help keep you dry in a light shower. The shirt-style collar and button through flap pockets aren't screen accurate. However, they help give the piece a more casual, less "commando" vibe. Sizes medium and large are still in stock. However, this is FINAL SALE. So check the size chart before ordering!
The On Her Majesty's Secret Service Anorak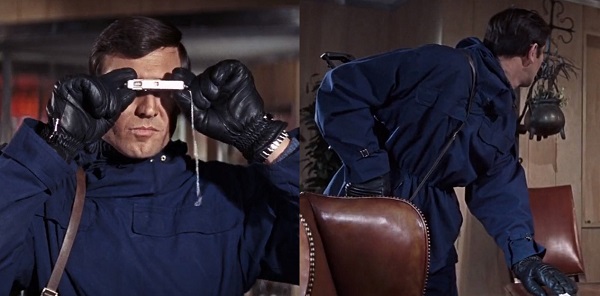 The Piz Gloria raid has to be one of my all-time favorite action scenes from a Bond film. You've got the stunning location, the gun battle between Draco's team and Blofeld's guards, Tracy's up-close fight with the henchman, 007's last minute escape from the exploding mountain top fortress, and the high-speed bobsled chase after the best (IMHO) Blofeld in the series. And John Barry's score, of course.
For the raid, George Lazenby's James Bond wears a mid-blue anorak. The jacket is 3/4 length, with a distinctive funnel neck, two flap chest pockets, straps at the cuffs and a cinch waist. Some might think it's a stretch to call this a "military jacket". However, anoraks have a long history with the British Royal Navy. Here are two examples. The blue one is a ventile smock from the 1960s/70s, most likely used by a radioman on an aircraft carrier. The olive green one is a very rare 1950s British Special Forces Canoeist Smock currently owned by The Vintage Showroom.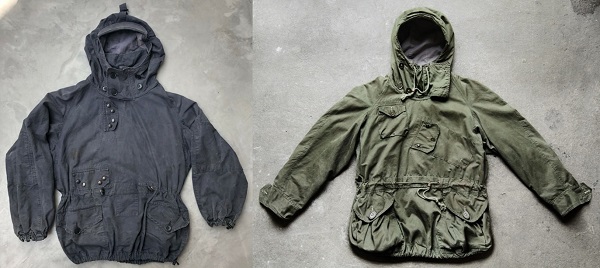 Before anyone gets their hopes up: I couldn't find any alternatives with a true funnel neck. Or buckle cinch straps at the cuffs. Or two chest pockets. Seriously, just finding a modern day anorak with a cinch waist was difficult. So the options below will help you get close to the OHMSS look. But screen accurate they're not.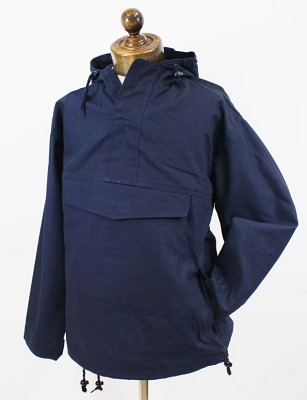 I shared this one in a Best Budget Style Finds post way back in March. It's not exactly screen accurate. But since Jump the Gun (a brand that IG'er @dick.e.71 introduced me to) is all about that 1960s design aesthetic, it does have a very similar vibe. And, with it's zip neck, it'll probably be more practical than Bond's funnel collar version. Jump the Gun has sizes XXS to XXL in stock. I'm not sure what shipping to the U.S. will be like but, considering the price, customs shouldn't be an issue. By the way, they also do some beige STA-Prest trousers with frog-mouth pockets that would add some awesome retro style to our Quantum of Solace "Mathis Villa" looks! Check those out as well!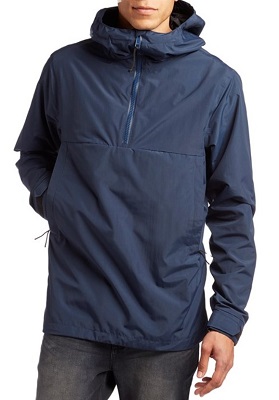 I would say the evo Anorak qualifies as technical outerwear. They're using their proprietary "Pertex Shield" treatment to make the 100% polyester fabric waterproof and breathable. The color is very close to what we're looking for. But this one's missing some key details, like the chest pockets and drawstring waist. evo has sizes small to XL in stock.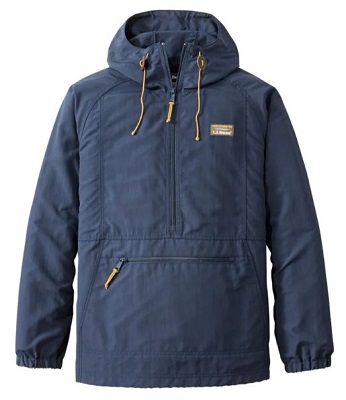 A retro-style classic from one of the original American outdoor brands. This is a lightweight, unlined piece that actually stows away in it's kangaroo pocket. Which makes it easy to carry around on those windy days when a bit of rain is expected. And the leather tabs on the hood drawstrings add a nice vintage touch. L.L. Bean still has plenty of sizes in stock on their website.
The Living Daylights Combat Boots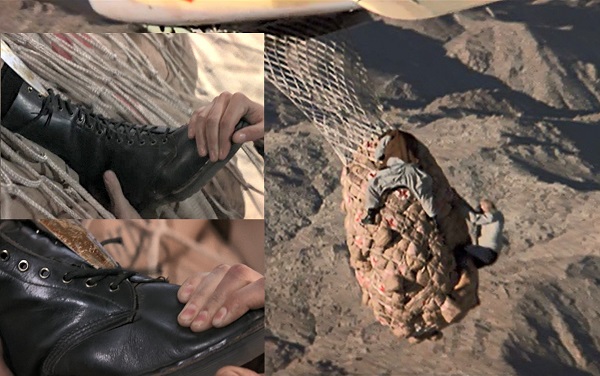 So, did Bond wear Doc Martens in The Living Daylights? Screencaps seem to suggest the answer is "Yes". Specifically, it looks like they were their 14 eyelet 1914 model. The clues are the triple row of stitching connecting the quarters to the vamp, the distinctive welt stitching (which was probably darkened for the film) and the clear PVC outsole with it's grooved sides.
I've included the current version of the Docs below. But for many of us, a 14 eyelet boot with an 11 inch shaft isn't really that practical. So I've focused on alternatives that should be a little more useful for day-to-day wear.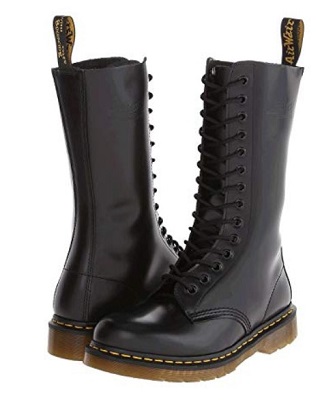 If Bond was indeed wearing Docs (and I'm convinced he was), then here's the current model for the boots. One thing people point out as a strike against them being Docs is the semi-transparent, light colored sole. In the movie, the sole on Bond's boot looks quite a bit darker. But that sole really only looks that bright in product photos. In the real world, it appears darker and much more opaque, as you can see below.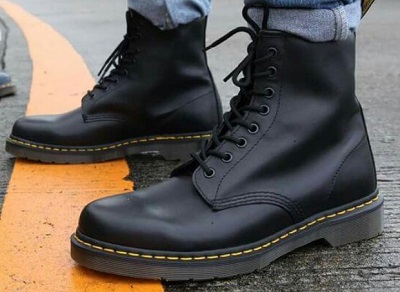 I should also point out that if the 14 eyelet style is just too much for you, you can also get the classic (and less dramatic) 10 eyelet 1490 model for $160.00 (£159.00) or 8 eyelet 1460 model for $150.00 (£149.00). Aside from the shaft height, they're both virtually identical to the 1914s and should give you the same look when your pants are covering the tops.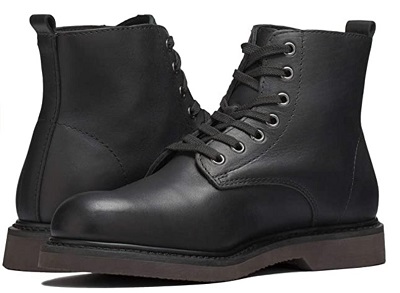 From the maker of our favorite SPECTRE suede boot alternatives. This is the same model as their beige suede Boondockers, but in a full grain black leather. And they offer a lot of bang for the buck. Golden Fox has gone with a Goodyear welt construction and an oil and slip resistant crepe rubber sole. I've had my pair of suede Boondockers for a few years now and I've been very happy with them (the soles are still going strong despite plenty of wear). So I have no hesitation recommending them. Just note the sizing; they tend to fit big so you may want to consider going down a half size.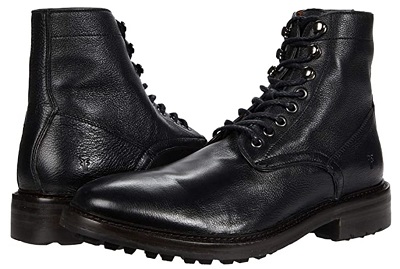 The more prominent grain of the deerskin gives these ones a slightly different look than the smooth grain you see on most utility boots. And it's a very soft leather. So break in time should be minimal. These are part of Frye's Made in Italy collection and since they don't specifically state the construction they've used, I'm going to assume they're Blake stitched. However, they do have a storm welt and the heavy lug sole gives them a suitable rugged style. 6pm has sizes 8 to 13 in stock at that sale price.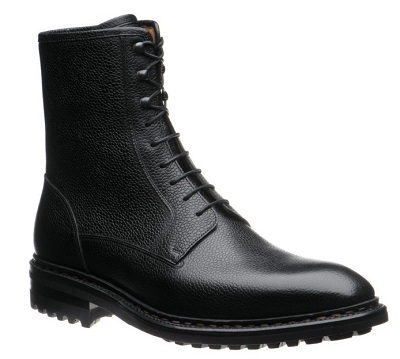 Those are some damn fine looking boots. And they'd also make good alternatives for the now discontinued Crockett & Jones Radnors Bond wore to visit Mr. White in SPECTRE. Made in Portugal by Carlos Santos exclusively for Herring Shoes, the Churchstows feature a combination Norwegian/Goodyear welt construction, full grain leather uppers with a pebble finish and a lightweight rubber commando outsoles. UK sizes 6 to 10.5 are in stock on their website.
Update: Over on Instagram, mr_sez had this to say about the boots: I got a pair in dark brown a while back and they really are great boots! Super comfortable and they are Goodyear welted as well as having a storm welt which apparently is quite rare to see on boots. The sole is also rock solid. I wore them for weeks on end and the sole hardly shows sign of use. Would 100% recommend to all your followers, they even come with creme and a shoe horn.
Thanks for the feedback!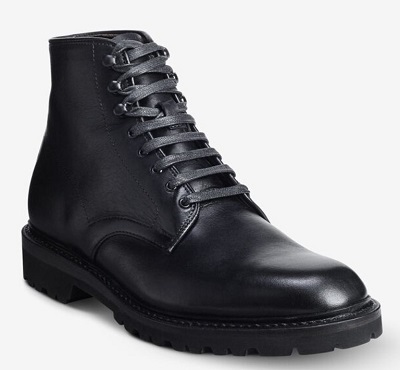 And to finish things off, some made in the U.S.A. boots from the popular American shoemakers. These have a lower shaft than some of the other options. That should make them a little more comfortable for all day walking around. And the 360° storm welt construction, German waterproof leather (backed up with a waterproof and breathable membrane lining) and heavy rubber lug soles will keep feeling dry and secure on even the rainiest of days. Allen Edmonds has sizes 6.5 to 15 in a variety of widths available. They're expensive. But it's an investment that will last you for years.
Have some suggestions for James Bond military style alternatives? Tell us about them in the comments! You can also visit our Facebook page, Instagram account, Twitter account and Pinterest Boards for more James Bond style advice and inspiration!