Daniel Craig Wingtip Derby Shoes
When it comes to his personal footwear choices, Daniel Craig is probably better known for sporting Nikes, suede chukkas, Crockett & Jones wingtip boots, his J.Crew Kentons and R.M. Williams suede or leather Chelsea boots. But for the SPECTRE promotions in Rome, celebrity stylist Gareth Scourfield (@stylegazer1 on Instagram) had Craig wearing a pair of shortwing Crockett & Jones Pembroke derbies. The shoes were very similar to another pair Craig wore during promotion for Skyfall.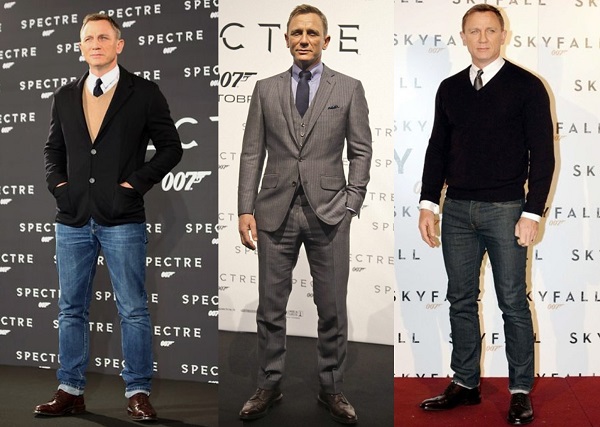 In an Instagram post from March 2016, the excellent @whatsdanielwearing stated that the shoes Craig was wearing were the Pembrokes in Scotch Grain. I rarely disagree with his identifications. But in this case, I think he got it wrong. Looking at the various photos, I'm almost positive they're the Dark Brown Waxed Calf versions. But just in case I'm wrong, I've shared both models below.
And now the author geeks out about shoes …
Seriously, skip this part if you just want to see the alternatives. There's some good ones down below.
Still reading? Okay, let's talk shoes. For me, the wingtip derby is one of the most versatile shoe styles a man can own. When you get the right pair, they're going to look great with denim, chinos, tweeds and flannels. So what, in my opinion, makes a great wingtip?
Anatomy of a Versatile Wingtip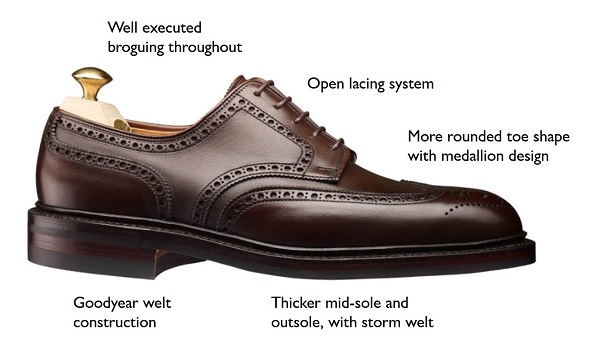 And now a note about Shell Cordovan …
My preferred leather for wingtip derbies is shell cordovan. Which isn't really a "leather" as we normally think of it. Normal leather comes from the skin or hide of an animal. Shell is actually a membrane that lies between the hide and the muscles on the rear quarters of a horse.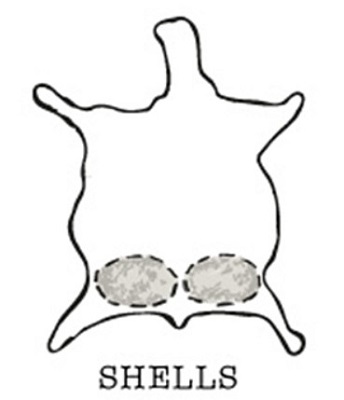 Shell cordovan is expensive for a few reasons. First, shell only comes from horses and only one place on the horse. So it's much less common than typical cow leather. Second, as you can imagine, the actual "shells" aren't very big relative to your average cowhide. Each one only measures between 22 and 28 inches. Third, the process for tanning the shells is long, intensive and there's only four or five tanneries in the world that do it. Shinki in Japan is a famous one. But Horween Leathers, based in Chicago, is considered by many to be the best. They've been using the same six month long shell tanning process (which includes more than a hundred steps) since 1905.
All these reasons add to the cost of producing shell cordovan. And since it's priced significantly higher than regular leather by the tanneries, premium shoe makers only want their most accomplished and experienced craftspeople working with it. Which also makes the final product more expensive.
So why invest in shell cordovan shoes? Because, with proper care, they'll literally last decades. And they're actually pretty easy to maintain. They also age beautifully, slowly acquiring a deep, rich patina that no other leather can achieve. Shell also has a unique property: it doesn't wrinkle. Instead, shell develops distinctive rolls at the flex points, which you can smooth out if they become too pronounced. Lastly, because the best shoemakers are the ones crafting shell footwear, you can be sure your shoes will be very well made.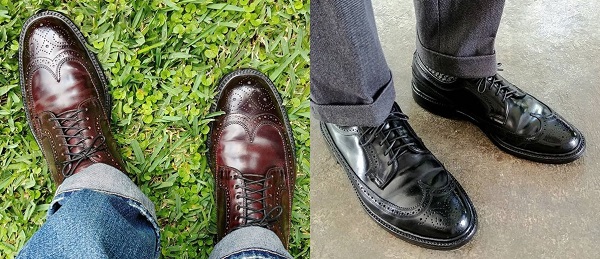 I've included a couple of shell cordovan alternatives in this post. The won't be for everyone. And they ain't cheap. But if you like this shoe style (or high-end leather shoes in general), I highly recommend checking them out.
The Original Daniel Craig Wingtip Derby Shoes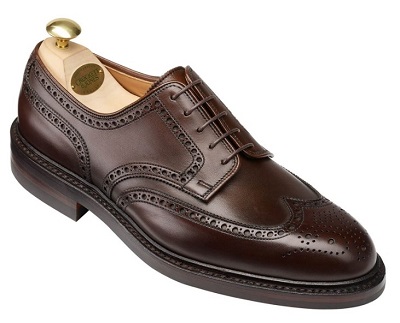 In a post filled with beautiful footwear, these still stand out. Built on Crockett & Jones 325 last, which offers a slightly wider fit in the forefoot, the shoes feature a waxed calf full grain upper and Dainite soles. They've also used a Goodyear Welt construction, so they can be recrafted. The Pembroke is available directly from Crockett & Jones. But you can also try to order them from Pediwear. They don't have stock at the moment, but they can get them on a per order basis for the same price in Pounds or $454.86 (ex. VAT) if you're ordering from the U.S.
Now, if you still believe that the Pembrokes Daniel Craig was wearing are the Scotch Grain models, then here they are. They're also a great looking shoe and that pebbled finish gives them a more casual feel that may work even better with jeans and heavier weight chinos.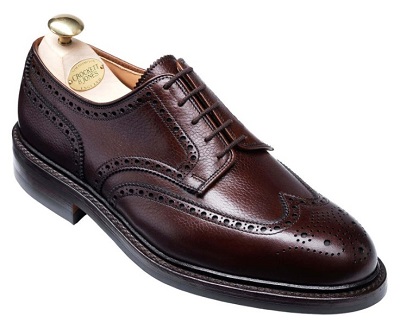 Best Option for the Daniel Craig Wingtip Derby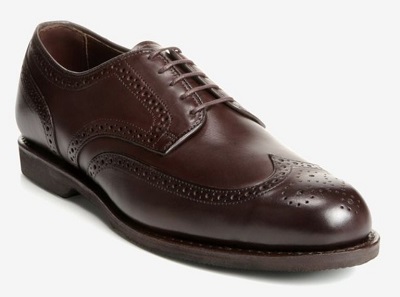 Not as pretty as the Pembrokes. But a heck of a deal. Allen Edmonds has been making shoes in the U.S.A. since 1922 and most of their footwear is still crafted there today. Sadly, this particular model is built off-shore (not sure where exactly). But, putting that aside, they're still solid value for the money. Made with premium full grain leather uppers, a hard rubber outsole and a 360° Bench Welt construction, the price of the LGAs has dropped down from $325.00. Size options are getting thin on their website. But they still have 9.5 to 11.5 available.
Update: Our good Facebook friend Sean picked these up and his feedback … wasn't positive. He was pretty clear that the quality of the LGAs just isn't up to Allen Edmonds usual standards. So, based on his comments, I'd avoid them. Meanwhile, I'll keep looking. Maybe something from Herring Shoes' big sale?
Under $100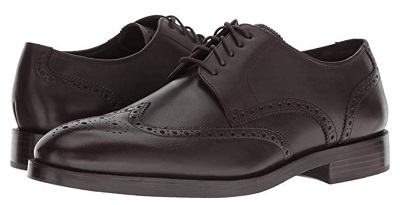 At full MSRP, Cole Haan shoes simply don't offer the same value as you can now get from a maker like Meermin. But when they hit the sale sections, they're definitely worth a look. The Harrison Grands are a slightly more streamlined design than the Pembrokes. But the leather color, heavier mid-sole and broguing aren't a bad match. 6pm.com is offering them at the discounted price. But they only have sizes 10 to 13 in stock.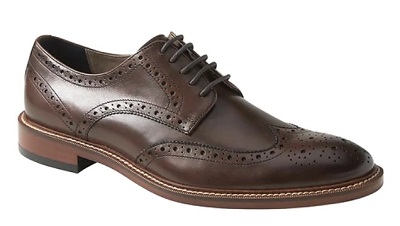 Believe it or not, Banana Republic actually makes some decent shoes for the price. And the Hadleys have been part of their lineup for a few years now. That average customer rating of 4.6 stars out of 5 after 119 reviews is also pretty impressive. It's more than likely these are a cemented construction. But the uppers are a nice quality leather and that contrast stitching and lighter colored mid-sole gives them a unique look. If you're just getting into this shoe style and are looking for something that leans more casual, these could be worth checking out. Banana Republic has sizes 7 to 13 in stock.
Under $200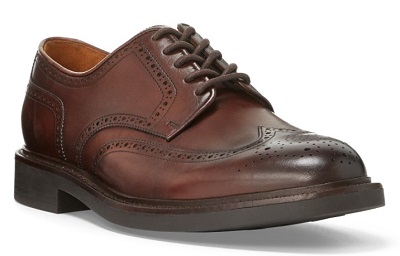 I don't think it's a secret that many of Ralph Lauren's designs are inspired by classic British styles. Heck, there was a time when Polo shoes were actually being made by Crockett & Jones! Those days have passed (hello, made in China!). But we can still count on the brand to give us models like the Asher. The uppers are full grain burnished calfskin, they're leather lined and they have Vibram outsoles. I'm not quite clear on the construction method. But they claim to have a "Storm Welt" which usually indicates some kind of stitched construction. I've linked to the Ralph Lauren website above. But Macy's is currently offering 20% off on the Ashers, which brings the price down to $156.00.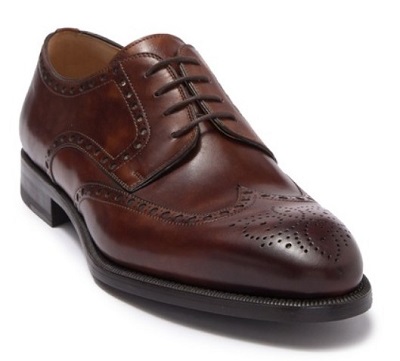 Handcrafted in Spain, the Bosca is a more traditional design than Magnanni usually offers. However, the look is still more streamlined than the Pembroke. Let's say that the heavier sole, handpainted full grain leather uppers and broguing details make them a close cousin to the Crockett & Jones. Magnanni is one of those brands that tends to fly under most people's radar. But they do make excellent quality footwear. And when you can find them on sale, they're definitely worth checking out. Nordstrom Rack has sizes 7 to 15 available.
Under $400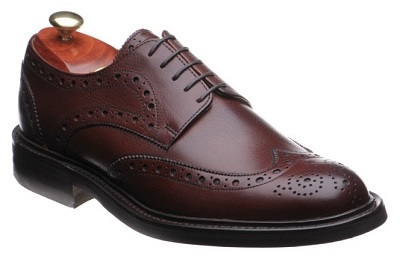 Now we're getting into the English shoemakers. Which means prices go up. But we'll also find designs that come very close to the Pembrokes. The Grassingtons are an excellent example. Barker (another heritage British brand) has used full-grain leather uppers, Dainite soles and a Goodyear welt construction. That Cherry Grain color has more of a red tone to it than the Crockett & Jones dark brown. But I actually think it works really well with darker denim. They're coming to us from the always excellent Herring Shoes, where they have UK sizes 6F to 12F in stock. Herring's own Canning II Wingtips (£350.00/$354.00) are also worth a look, although the styling is a little different than the Pembroke's.
The Investment Pieces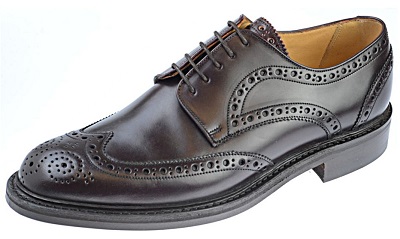 I spoke about shell cordovan above. So (if what I wrote didn't bore you to tears), you should know what these are all about. And I have to say, that's a great price for new shell! The one review claims it's as good as Horween, but I think that's something only time will reveal. In terms of looks and color, these are a great match for the Pembrokes. Aside from the shell uppers, we're getting the Dainite sole, Goodyear welt construction and a full leather lining. Just know that sizes are running low on the Pediwear website. Which doesn't surprise me considering what you're getting for the money.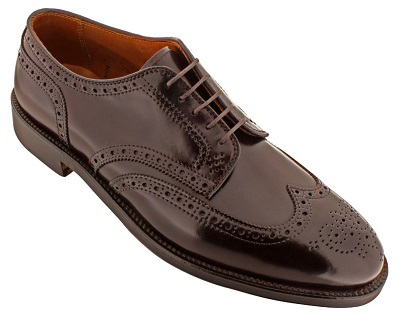 A grail shoe for many footwear aficionados. Why? Because they're made in the U.S.A. from world-class Horween shell cordovan, with a tempered steel shank, Goodyear welt construction, glove leather lining and footbed, and oak tanned leather outsoles. In other words, the best of the best. When people talk about shoes they'll be passing down to their grandkids, these are what they mean. Alden shell in any style is built to last a lifetime and then some.
Don't Forget the Socks!
I've been using Smartwool socks for years now. And, aside from the excellent made in the U.S.A. quality, what I like about them is the designs. I confess I enjoy showing off a little flash of character at the pant cuff when I sit down. It's about as wild as my personal style gets. But I don't want to be wearing socks that are so crazy that people can't stop staring at my ankles. Smartwool does a good job of making "fun" socks that aren't ridiculous. Shown above are the CHUP 2 Pack ($59.95), the CHUP Hansker Crew Socks ($30.95), the Saturnsphere Socks ($22.95) and the Larimer Crew Socks ($25.95). They're not cheap. But they last a long time and their styles just work for me.
Have some suggestions for Daniel Craig wingtip derby shoes? Tell us about them in the comments! And don't forget to check out our Shoe Care Guide once you have your new shoes so you can keep them looking great for years.
You can also visit our Facebook page, Instagram account, Twitter account and Pinterest Boards for more James Bond style advice and inspiration!