Daniel Craig Wingtip Derby Shoes
Updated November 1st, 2022 – When it comes to his personal footwear choices, Daniel Craig is probably better known for sporting Nikes, the odd pair of Converse kicks, suede chukkas, and his J.Crew Kentons and R.M. Williams chelsea boots. But for the SPECTRE promotions in Rome, celebrity stylist Gareth Scourfield (@stylegazer1 on Instagram) had Craig wearing a pair of wingtip Crockett & Jones Pembroke derby shoes. The shoes were very similar to another pair Craig wore during promotion for Skyfall.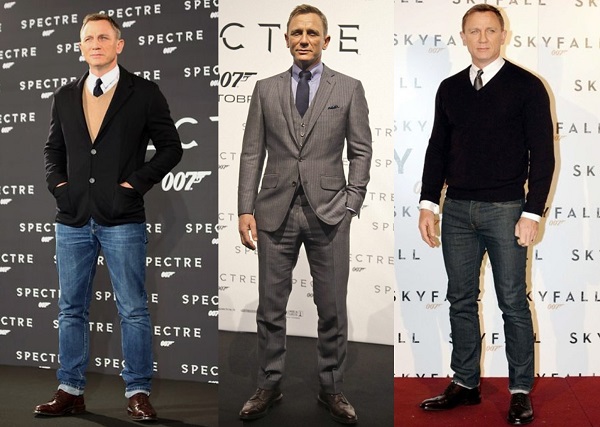 In an Instagram post from March 2016, the excellent @whatsdanielwearing stated that the shoes Craig was wearing were the Pembrokes in Scotch Grain. I rarely disagree with his identifications. But in this case, I think he got it wrong. Looking at the various photos, I'm almost positive they're the Dark Brown Waxed Calf versions. But just in case I'm wrong, I've shared both models below. Update: I did get it wrong! What's Daniel Wearing sent me photo proof that they are, in fact, the Scotch Grain model. Sorry about that and thanks for the confirmation! I've made the appropriate corrections below.
And now the author geeks out about shoes …
Seriously, skip this part if you just want to see the alternatives. There's some good ones down below.
Still reading? Okay, let's talk shoes. For me, the wingtip derby is one of the most versatile shoe styles a man can own. When you get the right pair, they're going to look great with denim, chinos, tweeds and flannels. So what, in my opinion, makes a great wingtip?
Anatomy of a Versatile Wingtip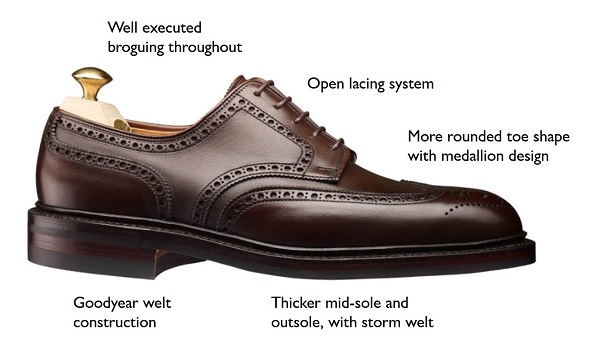 And now a note about Shell Cordovan …
My preferred leather for wingtip derbies is shell cordovan. Which isn't really a "leather" as we normally think of it. Normal leather comes from the skin or hide of an animal. Shell is actually a membrane that lies between the hide and the muscles on the rear quarters of a horse.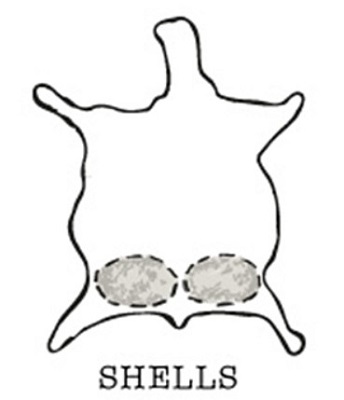 Shell cordovan is expensive for a few reasons. First, shell only comes from horses and only one place on the horse. So it's much less common than the usual cow leather. Second, as you can imagine, the actual "shells" aren't very big relative to your average cowhide. Each one only measures between 22 and 28 inches. Third, the process for tanning the shells is long, intensive and there's only four or five tanneries in the world that do it. Shinki in Japan is a famous one. But Horween Leathers, based in Chicago, is considered by many to be the best. They've been using the same six month long shell tanning process (which includes more than a hundred steps) since 1905.
All these reasons add to the cost of producing shell cordovan. And since it's priced significantly higher than regular leather by the tanneries, premium shoe makers only want their most accomplished and experienced craftspeople working with it. Which also makes the final product more expensive.
Is Shell Cordovan worth it?
So why invest in shell cordovan shoes? Because, with proper care, they'll literally last decades. And they're actually pretty easy to maintain. They also age beautifully, slowly acquiring a deep, rich patina that no other leather can achieve. Shell also has a unique property: it doesn't wrinkle. Instead, shell develops distinctive rolls at the flex points, which you can smooth out if they become too pronounced. Lastly, because the best shoemakers are the ones crafting shell footwear, you can be sure your shoes will be very well made.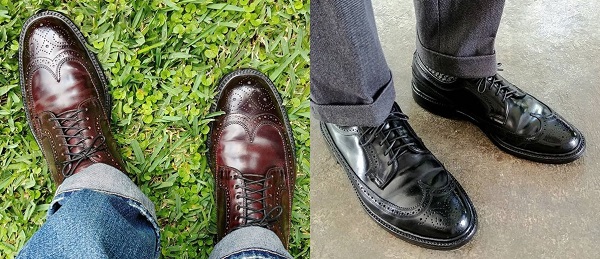 I've included a couple of shell cordovan alternatives in this post. The won't be for everyone. And they ain't cheap. But if you like this shoe style (or high-end leather shoes in general), I highly recommend checking them out.
The Original Daniel Craig Wingtip Derby Shoes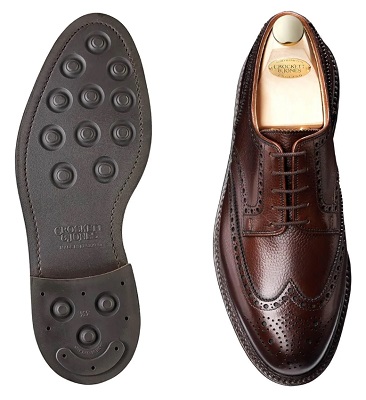 In a post filled with beautiful footwear, these still stand out. Built on Crockett & Jones 325 last, which offers a slightly wider fit in the forefoot, the shoes feature a full-grain Scotch Grain leather upper and Dainite soles. They've also used a Goodyear Welt construction with a proper storm welt. So they offer greater protection from the elements and can be recrafted if you ever wear out the soles. The Pembroke is available directly from Crockett & Jones.
And if you're really feeling extravagant (or I've swayed you with my little speil above), you could pick up a pair in Dark Brown Horween Shell Cordovan for $1050.00. Just note that this version comes with a double leather sole rather than the Dainite.
Best Option for the Daniel Craig Wingtip Derby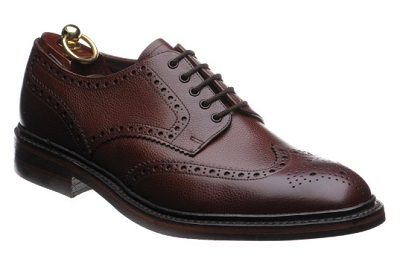 There are some great shoes on this list. But the Loake's just have too much going for them to not take top spot. The metal eyelets give the Badmintons more of a rustic look. However, they do have almost all the other details we want: great brogueing, a nicely executed medallion, the Dainite sole. And they're made in the England by a very well-respected British heritage brand. All for about half the price of the originals. I've linked directly to Loake above (which is now shipping to the U.S.). If you're in the UK, you can also order them from Herring Shoes for the same price if that's your preferred retailer.
If the grain leather isn't your thing, Loake also makes the Chester for $380.00 (or $525.00 at Nordstrom). It's a very similar design to the Badminton with the same Dainite rubber sole. But they've used a smoother waxy leather in a medium shade of brown for the uppers. It's a very sharp looking shoe. I simply preferred the darker color of the Badminton.
Under $200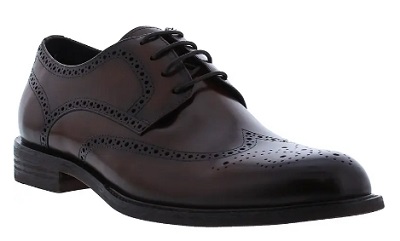 Our cheapest shoe on the list is actually one heck of a deal pricewise since they originally retailed for $265.00. Now that doesn't necessarily make them a great shoe. Since these are coming from Nordstrom Rack, there's no mention of the construction method or type of leather. But at close to three hundred bucks, I'd hope they're at least Blake Stitched. Other than that, they do a pretty decent job capturing the style of the Pembrokes for those of us on a tight budget. There's still a good selection of sizes left, however inventory is starting to run real low.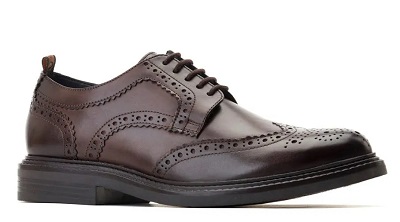 Undoubtedly a cemented construction. I'm also not too sure about the leather they used for the uppers (it just says "Finest quality leather" on the product page). And you can expect the textile lining to wear out much quicker than a higher quality leather one. But they certainly come close to the chunkier look of the Pembrokes at an affordable price. Thread has U.S. whole sizes 6 to 13 in stock.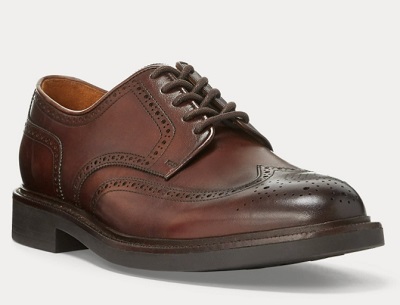 I don't think it's a secret that many of Ralph Lauren's designs are inspired by classic British styles. Heck, there was a time when Polo shoes were being made by Crockett & Jones! Those days have passed (hello, made in China!). But we can still count on the brand to give us models like the Asher. The uppers are full grain burnished calfskin, they're leather lined and they have Vibram outsoles. I'm not quite clear on the construction method. But they claim to have a "Storm Welt" which usually indicates some kind of stitched construction. All-in-all, not bad for under two hundred bucks. Most common sizes are still available on the Ralph Lauren website.
Under $300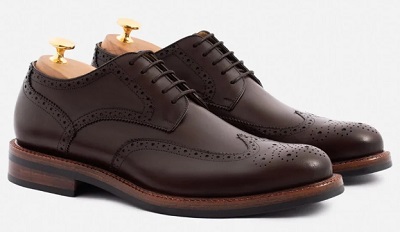 Now that we've crossed the $200 threshold, we can start to expect better quality materials and construction. The Kent is Blake Stitched and uses a full-grain calfskin leather sourced from Italy for the uppers and a soft but durable Vachetta leather lining. The rubber sole should also be able to handle plenty of wear and can be replaced when needed. As far as the looks go, I'm not crazy about the medium brown midsole and heel stack. But the shoe still has that heavier, chunkier style we want. The only hiccup? Beckett Simonon works on a Made-to-Order business model. So you won't get these into your hands until January, 2023.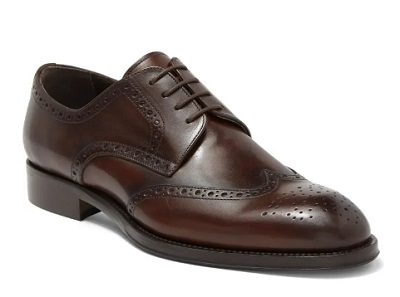 Another deal coming to us from Nordstrom Rack, where this option is currently 46% off. To my eye, the Costa has a slightly sleeker style with an elongated vamp and that chiseled toe box. So it may work better with dressier looks rather than a more casual fits. The shoe is made in Italy, which means it's likely a Blake Stitch construction. The leather quality should be good and the full leather lining is also appreciated. Nordstrom Rack still has most common sizes in stock. But the customer comments state that they run large.
Under $400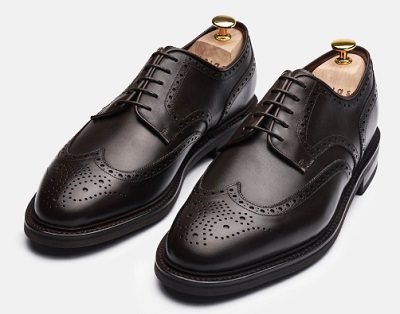 I've never heard of Morjas, so I can't offer too much insight into the brand. However, on paper their Derby certainly seems to deliver everything we want. They make their shoes in Spain using a Goodyear Welt construction with storm welt, full-grain calfskin uppers, a full leather lining and studded rubber soles. That'll check most of the boxes. In terms of looks, the Derby has almost exactly the "classy country" style we're after. Finally, this model is sitting with 4.8 stars out of 5 after almost 350 reviews. So it seems like plenty of customers have been happy with their purchase. Morjas sounds like a brand to keep an eye on!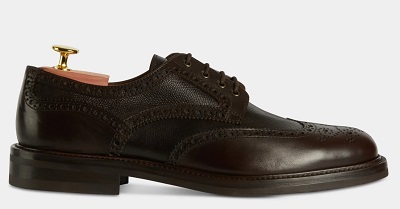 Can't make up your mind between the smooth leather or the pebble grain? You could always choose an alternative that uses both! Personally, I'm not too sure that the combo works. But it's certainly a different (but not too different) twist on the classic design. Velasca makes their shoes in Italy using a Blake Stitch construction, top quality leathers from French and Italian tanneries and a Vibram studded rubber sole. I have a pair of Velasca boots (you can read my review here) and after 4 years of relatively heavy use I'm still really happy with them. So I have no hesitations recommending the brand. Velasca's starting to run low on inventory, but still has a decent selection of sizes available.
The Investment Pieces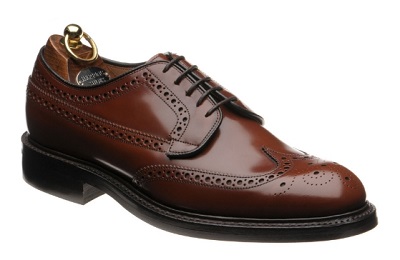 Full grain, polished leather uppers. A Goodyear Welt construction with stormwelt and Dainite soles. And they're made in the UK for Herring by Cheaney, a respected heritage shoemaker based in Northamptonshire. There's certainly a lot to like about the Canning II. And with the strength of the U.S. dollar to the British pound, this is also a great time to score a bit of a deal on them. Plus, Herring Shoes are great people to deal with and work hard to keep their customers happy and satisfied. If you're after some proper British footwear, these are definitely worth checking out.
If you prefer something with even more English country charm in a darker brown, take a look at the Herring Burford Rubber Soled Brogues for $413.00. They use a waxy leather for the uppers with metal eyelets and a Dainite sole.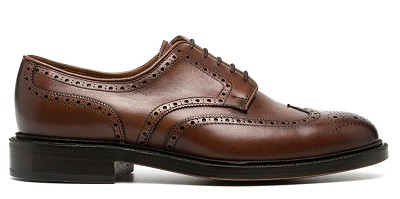 If you like the looks of the Polo Asher but want something with better quality, the Brenton should do the trick. Ralph Lauren is making its higher-end shoes in Spain now. But the styling is still pure English countryside. And they're a Goodyear Welt construction with a cork mid-sole (which will mold to your foot over time for an almost custom fit). So it seems like the quality is there. If you don't mind the lighter shade of brown and like the Polo name, these sound like they're worthy of consideration. Farfetch has sizes most sizes available.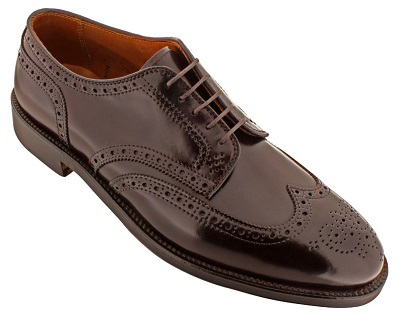 A grail shoe for many footwear aficionados. Why? Because they're made in the U.S.A. from world-class Horween shell cordovan, with a tempered steel shank, Goodyear welt construction, glove leather lining and footbed, and oak tanned leather outsoles. In other words, the best of the best. When people talk about shoes they'll be passing down to their grandkids, these are what they mean. Alden shell in any style is built to last a lifetime and then some. The only problem is actually finding a pair! I've linked to authorized Alden dealer The Shoe Mart above. But they're down to sizes 8.5, 11 and 11.5. Other than that, your best bet is to contact Alden Madison in New York or The Alden Shop in San Francisco and get on a waitlist for any potential reissue of the model.
Have some suggestions for Daniel Craig wingtip derby shoes? Tell us about them in the comments! And don't forget to check out our Shoe Care Guide once you have your new shoes so you can keep them looking great for years. You can also visit our Facebook page, Instagram account, and Pinterest Boards for more James Bond style advice and inspiration!