The Complete Shoe Care Guide Part 1
So you've purchased some really nice shoes. Congratulations! Now what are you going to do to take care of those beauties? Well, you can start by reading our Complete Shoe Care Guide! We've asked shoe care expert and owner of Pure Polish Products Andy Vaughn to walk us through the steps that will ensure your favorite footwear lasts for years! In Part 1, we'll cover the equipment and products you'll need to build your shoe care kit and how to spot the areas that need the most love. Part 2 takes us through the cleaning, conditioning and polishing process in-depth. 
Getting started …
In this article, I'm going to show you a standard shoe care routine that, when used regularly, will help your shoes last for years. We're going to start with the tools you need in your shoe care kit.
For general routine care, I recommend using only a cream polish and a paste (or "wax") polish. The formulas for our Pure Polish Products creams and waxes were developed using only all-natural, non-toxic ingredients that have the pleasant scent of oranges. Each product in our line-up is designed to keep the proper pH balance between the inside and outside of the leather. We don't use silicones, which block the natural air-flow through the leather pores. Instead, we use a coconut oil and beeswax blend that conditions and protects the leather while preventing rot and "funky smells" that can occur over time when leather shoes aren't allowed to breathe.
Ideally, you'll want a cream polish and a wax polish for each shoe color you have in your closet. Other helpful tools include:
Cedar shoe trees
Long natural horse hair brush
Short natural horse hair brush (or boar's hair brush)
Muslin or thin cotton cloth
Water spritzer bottle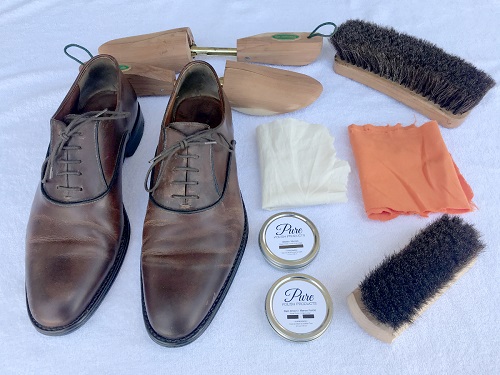 So why do I need all this stuff?
Each product in your shoe care kit does serve a purpose. Let's take a minute and discuss why you'll need each tool.
Shoe trees
Shoe trees have two important purposes. First, they maintain the form of your shoe when they aren't being worn. And second, if you have good quality cedar wood trees, they help absorb the moisture that your feet produce when walking around all day. I recommend always storing your shoes with shoe trees in them when they're not being worn. They really do make a big difference in preserving the life of your shoes.
Nordstrom makes a popular and affordable model that retails for around $20 a pair. But make sure to regularly check Nordstrom Rack. The price there can drop by as much as $8 when you find them on deep discount.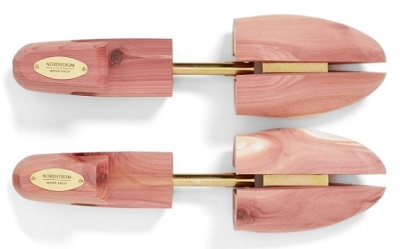 Natural hair brushes
Shoe brushes come in various lengths and types. The reason you want to use natural hair is that is doesn't produce static electricity and affect the leather's response to the waxes and oils. Your brush will also assist in the melting and spreading of the wax, while also warming up the leather and opening up the pores for greater absorption.
The most common brush is a horse hair brush. But you can also find boar's hair brushes (stiffer than horse hair), and goat's hair brushes (softer than horse hair). The length of the bristle also dictates the stiffness of the brush. Different stiffnesses help with different parts of the care process. For example, larger brushes allow for the longer through-strokes that are good for shining. And shorter brushes allow for shorter brush-strokes along the sharper contours of the shoe, for example at the waist.
Valentino offers good quality, made in Germany brushes for reasonable prices. You can see various models on their Amazon Store.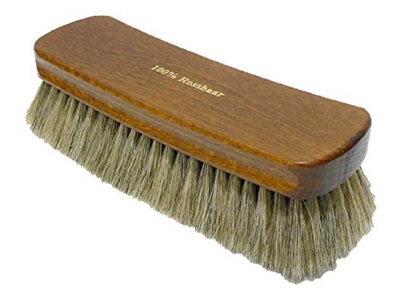 Cotton cloth
The cloths you use can be of varying thicknesses. Normally I use both a lightweight muslin (very thin, non-flexible) cloth and a flannel (thick, absorptive) cloth. I use the thicker cloth for finishing high shines, but find it too absorptive and "sticky" for routine care. So for these articles, I'll be sticking with just the muslin cloth.
Cream Polish
Cream polish is your "everyday" polish for all sorts of leather goods. It serves multiple purposes. First, it conditions the leather. Second, it helps protect the leather from scuffs (like we see on the toes and heels in the photos of our example shoes below). Third, it restores the color to your leather. And fourth, it helps give the leather a shine.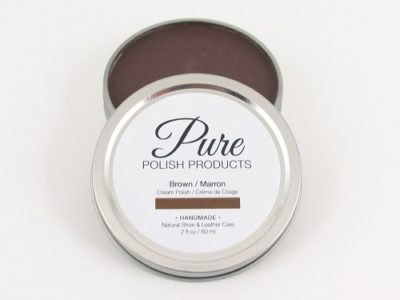 Cream polish can be used on both the non-flexing and flexing areas of the leather. Because it has a softer consistency, you don't have to worry about the "cracked candle" look that can result from using harder paste or wax polishes on the shoes' flex points.
Paste Polish
Paste polish is your "protector" polish. It uses much stiffer waxes, fewer conditioning oils, and is intended to be applied in multiple thin layers. This multi-layer application process accomplishes three things. First, it increases the color depth and enhances the natural patina of the leather. Second, it provides additional protection against scuffing and scraping. And three, it can create a much higher shine.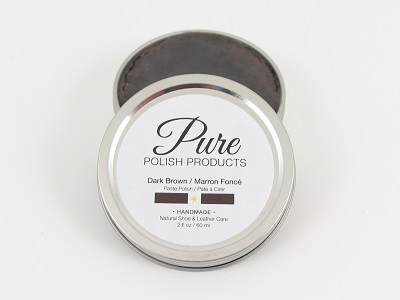 Paste polish should only be used on non-flexing areas of your leather, like the toes and heels of your shoes. Since it dries hard, if you use it at the flex points (across the vamp for example) you'll quickly get that "cracked candle" look. When that happens, you basically need to strip off all the existing wax and start the application process again.
With a good pair of cedar trees and a couple of quality horse hair brushes, various cotton cloths and the right polishes, you can build a shoe care kit that will cover 99% of the work you'll need to do to properly maintain your favorite footwear.
Our example shoes …
For these articles, I'm taking care of an old pair of Swiss Navyboot calfskin plain-toe oxfords. I've been wearing these shoes off-and-on for a few years now. They're Goodyear Welted, meaning the soles can be replaced when they wear out. And, the leather is full-gain (not corrected grain, bookbinder, or patent leather), allowing it to absorb the care products without the impediment of an acrylic top coat.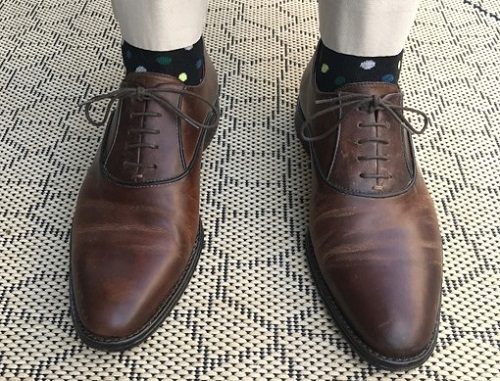 So what's okay and what do I need to worry about?
Before jumping straight into polishing, it's helpful to do an inspection. So take a look at the leather: the toes, the heels, the insoles, and the outsoles.
Do you notice any scuffs, scrapes, tears, or wrinkles? Make a mental note of anything that looks troublesome and see how it looks after your care routine. If it looks like the leather is cracking or tearing or if you have holes in the sole, it's best to ask an experienced cobbler to see what he or she thinks can be done.
Now, as you can see from the close-ups, these shoes have creases and wrinkles on the vamps of both shoes.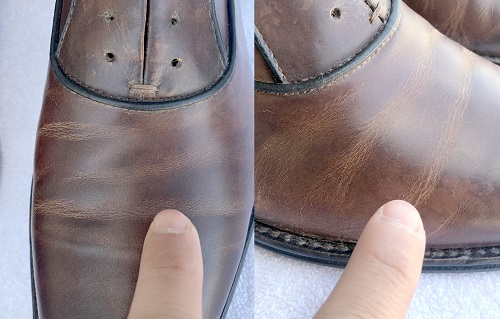 There are also scuffs on the right outside toe, right heel, left outside toe, and some wrinkled leather on the inside of the left heel quarter.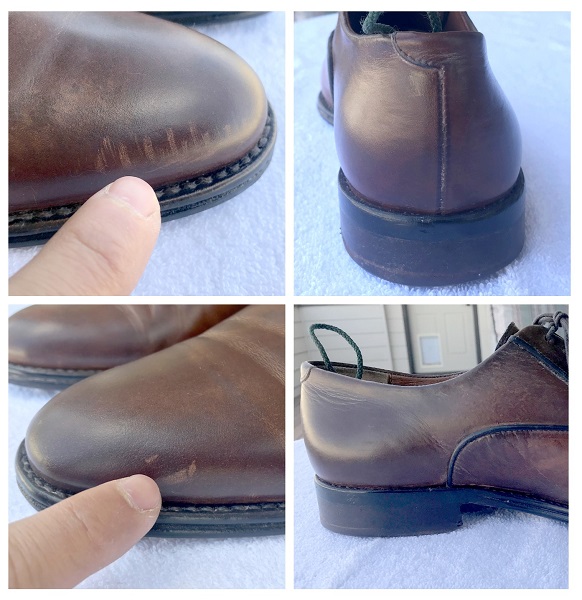 The scuffs aren't deep (thanks to a previous under-layer of polish), so they can be polished. And the creases and wrinkles naturally occur from walking and could use some conditioning (which comes from the conditioning oil in the cream polish). But they aren't worrisome or indicative of damage to the leather integrity. Basically, this pair just needs some love.
In the second part of our Complete Shoe Care Guide, we'll cover in detail the different steps of cleaning, conditioning and shining your favorite footwear. And we'll see how our example shoes come back to life as a result of our process!
This is a non-sponsored post. Neither Iconic Alternative nor the author were remunerated in any way for the mention of the products in this post. Honestly, I just really like taking care of my shoes. And I use Pure Polish Products, so I can vouch for their quality and effectiveness. So when I decided to put together a shoe care guide, I immediately thought of Andy and he was kind enough to say yes!