The James Bond SPECTRE Suede Boots
The James Bond SPECTRE suede boots he wore in the film's Morocco scenes were the J.Crew Kentons. He used them with multiple outfits, first with the Matchless "Craig" Blouson, the Brunello Cucinelli chinos and belt and the Tom Ford polo (alternatives for that here). Later, on the train, he swapped the polo for the Orlebar Brown light blue linen shirt. And last, for his trip to Blofeld's base, 007 went slightly more formal with the Brunello Cucinelli sportcoat, and Tom Ford white dress shirt and knit tie while keeping the chinos, belt and boots the same.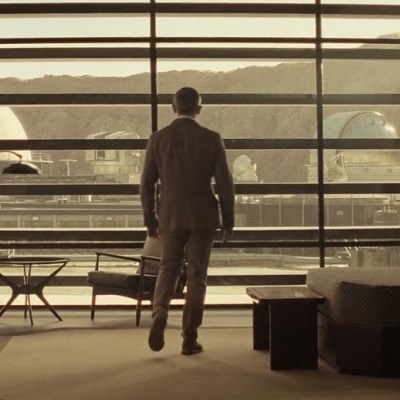 The original J Crew Kentons are no longer available, although they sometimes show up for sale on Ebay and the fan forums. The model had actually been around for a while before SPECTRE came to the cinemas. But then Bond happened and they flew off the shelves.
Features Wanted for the J Crew Kentons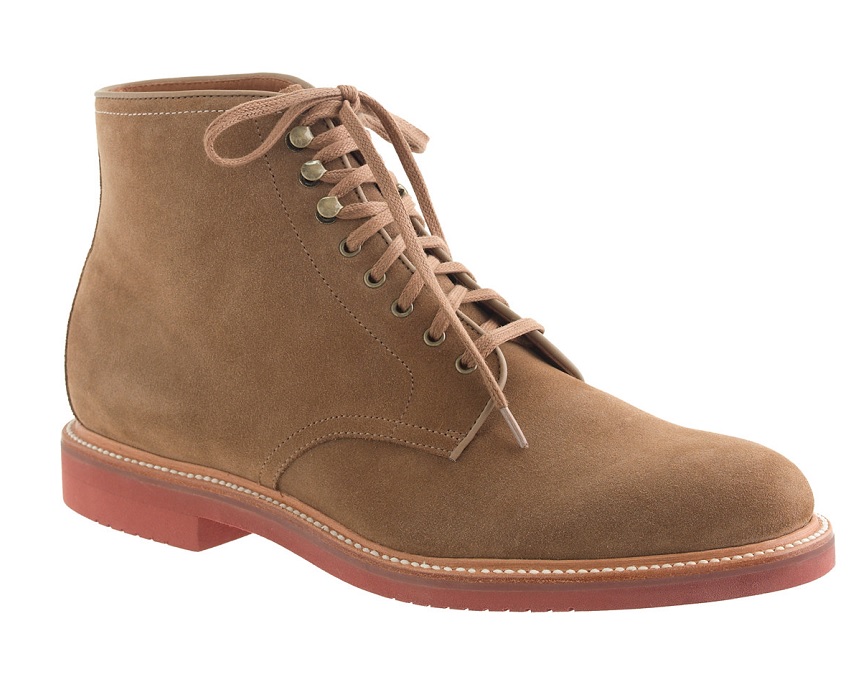 Darker beige or sand colored suede
Higher collar (about 6″)
5 lace holes and speed lacing hooks at the top
Brick red sole
So about that brick red sole: it's simply not a color that many shoe and boot makers are using right now. So it's a feature we're probably going to have to sacrifice. On the other hand, Bond's boots were almost always covered in dust. So the soles looked brown on screen anyway.
Best Option for the James Bond SPECTRE Suede Boots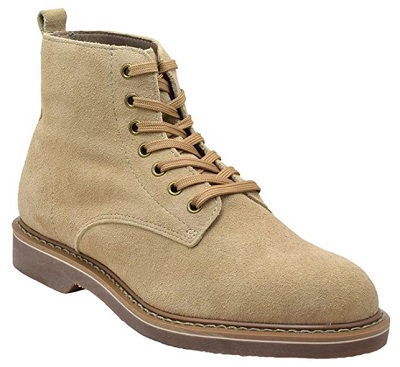 The Golden Fox Boondockers first showed up on our radar 5 years ago. And they're still our favorite alternatives for Bond's J.Crew Kenton boots. You can read our review of the Boondockers here. But long story short: mine are still going strong and look great after four years of regular use. They come with a partially lined, genuine suede upper and are Goodyear welted so you can get them resoled (although mine are barely showing any signs of wear). For a while it seemed like inventory for these was running low on both Amazon and the Golden Fox website. But sizes 8.5 to 13 are back in stock, which is great news. If you're looking to finish off your Bond Morocco looks, these are definitely recommended. With a price under $150, they really do offer great value for the money.
Under $100
If you're on a really tight budget and need a pair for under a hundred bucks, these can definitely get the job done. They've used genuine suede uppers and what they call a "welted" construction. I'm going to assume they mean something other than full Goodyear welted. One thing to note is that pebbling effect on the leather around the collar. But other than that, they come close to the look we want. And that sale price is hard to beat! Zappos still has plenty of sizes in stock.
Under $200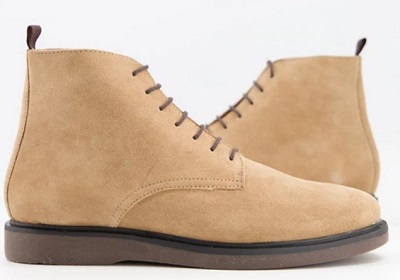 A new entry this season, coming to us from Asos. The Troys have a more streamlined, less rugged look than the Kentons. And I'm sure the construction won't stand up to the same amount of abuse. But they did use genuine suede for the uppers and the overall shape and color are a pretty good match. Could be a decent alternative if you want lighter weight boot. Asos has UK sizes 6 to 12 available.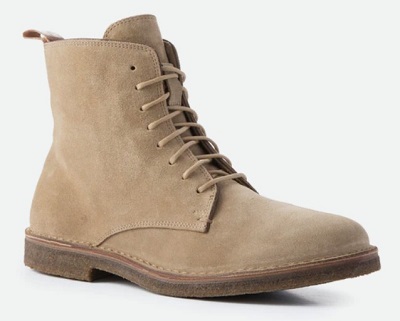 Another pair of lighter weight alternatives. Handmade in Northern Italy using an environmentally responsible construction process, the Bootflex has a suede upper that's attached to the 100% natural crepe rubber sole using a traditional stitch down method. I own a couple of pairs of Astorflex boots: some suede Chelseas and a pair of Dukeflex that I discuss in this post and use as alternatives for the No Time To Die Matera boots. And I love them both. They're super comfortable, the quality of the materials is excellent and the Chelseas have held up incredibly well over 4 years of use. So yes: I highly recommend them. And that sale price at Huckberry makes them an even better value for the money. Sizes 8 to 14 are in stock.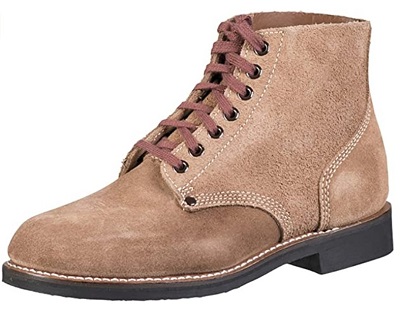 A recommendation from Harry Lewis, who suggested them in the comments for our original post on the Morocco boots. Based on the design of the World War II trench boot (they actually market them as a replica), they feature a rough out suede upper and stiff rubber outsole. No word on the product page about the construction method. The color is a little darker than ideal. But if you want a more rugged style of boot, these could do the trick. U.S. sizes 6 to 13 are available on Amazon.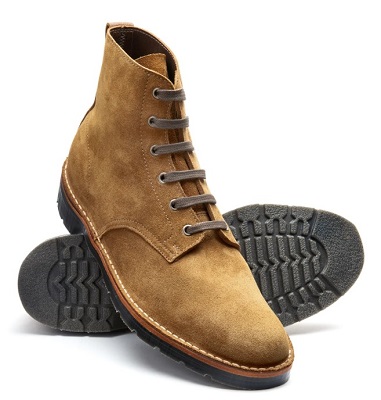 Northhamptonshire Productive Society has a pretty interesting story that's worth reading if the history of shoemaking in England is your thing. Solovair is one of the brands it produces from start to finish in it's Northamptonshire factory. Which is nice for those of us looking for English made footwear at a more affordable price. These 6 eye derby boots use a genuine suede upper, a hard rubber sole and a stitch down construction. So it's more of a fashion boot than true workwear. But, aside from the slightly darker suede, they'll certainly do a good job of capturing the right Bond-in-Morocco look. They have U.S. sizes 7 to 13 in stock.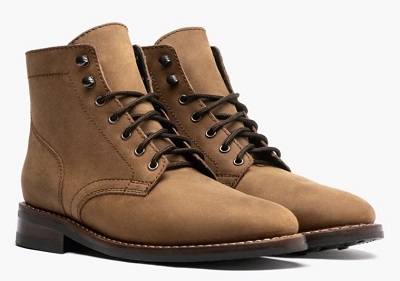 On paper it sounds like the President Boot is offering a fair amount of bang for the buck. For under $200, we're getting a full grain upper, a full leather lining, a Dainite-like studded rubber sole and Goodyear welt construction. Plus Kevlar blend laces that probably won't be breaking any time soon. That's almost enough to make us overlook the darker shade of the uppers. You'll find sizes 6 to 15 on their website, where the model currently has 4.8 out of 5 starts in the customer reviews.
Under $300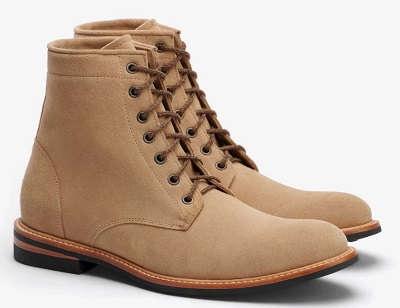 This is another brand that popped up in my Instagram feed. So I really know next to nothing about them. But the Andres looks like a solid match for the Kenton and it has 4.7 stars out of 5 after 133 reviews. Which means they could be worth a try. The uppers are a waterproof suede and they have a gusseted tongue. Both of those features will help these boots stand up to wet weather better than most of the alternatives on this list. However, there's no mention of the construction method used, other than they're "handmade in an ethical, family-run factory in León, Mexico". Nisolo has sizes 8 to 13 in stock.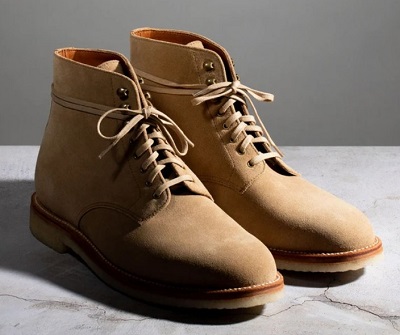 I'm still more than happy with my Golden Fox Boondockers as alternatives for Bond's SPECTRE boots. But if I was in the market for an upgrade these would be very tempting! Grant Stone has a loyal fan base and their quality often gets compared favorably to brands like Alden while staying at a reasonable price. For the Edward Boots, they've used calf suede from Charles F. Stead, a full grain leather lining and a vegetable tanned leather for the insole, midsole and welt. But that natural crepe sole is the real eye catcher. It's attached with a Goodyear welt construction and stiffened with a steel shank. The pre-order window is closing soon, so if you want a pair you'll need to move fast. Just note that Grant Stone doesn't offer cancellations, refunds or exchanges on pre-orders, which can be pretty scary. So I'd contact them to make sure you get the size dialed in the first time.
The Investment Piece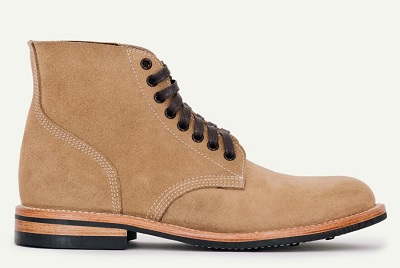 Made in the U.S.A. and built to take a beating. Oak Street Bootmakers has used a rough-out Horween Chromexcel leather for the uppers, which is simply some of the best leather out there. They're attached to the leather mid-sole and Dainite outsole using a Goodyear welt construction and the highest quality materials from Barbour Welting. And then the boots are finished off with triple and quadruple stitching throughout, calfskin linings and solid brass hardware. In other words, they're about as close to bombproof as a suede boot can get. Still a good selection of sizes on the Oak Street website. I'll just add that I have a pair of Oak Street Moc Toe Camp boots, and they're among my favorites: incredibly well made and very comfortable. Just be prepared for some break-in time!
If you have some suggestions for great alternatives for the James Bond SPECTRE suede boots, leave them in the comments below! And we also post affordable alternatives and deals from around the net (as well as other fun and informative stuff) on our Facebook page, Instagram account and Pinterest boards!