The James Bond SPECTRE Polo
You got to hand it to Tom Ford. For the James Bond SPECTRE polo he took what are basically the features of a men's big and tall polyester golf shirt and made them cool. Of course, having 007 strolling around in your shirt with his Matchless suede jacket, Cucinelli chinos and J.Crew Kenton boots doesn't hurt either.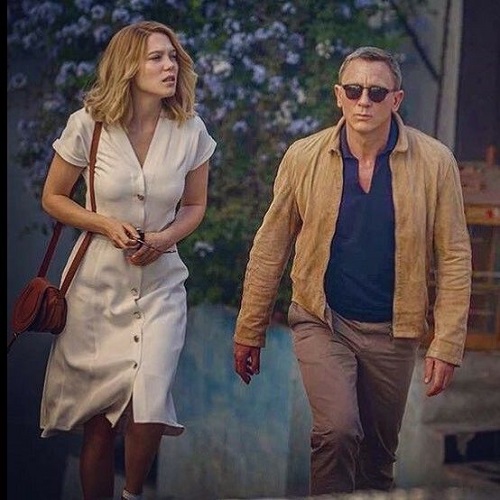 In the past, most of the alternatives had either the Johnny collar or the banded hem. So we basically had to decide which feature mattered most to us. Luckily that's not the case this season!
Features Wanted for the James Bond SPECTRE Polo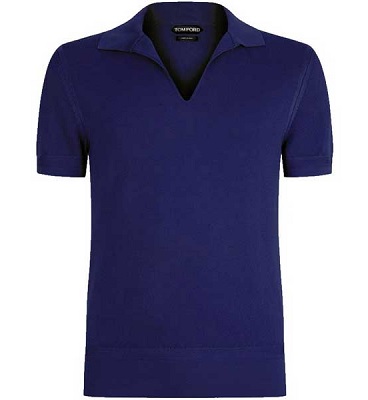 Rib knitted collar with a deep V neckline and no buttons or placket
Banded "sweater style" hem
Blue cotton or cotton blend fabric with a textured, almost piqué style knit
Trim fit
As I mentioned above, this spring we have a lot of alternatives that have both the Johnny collar and the banded hem. So I'm going to be super strict with the options and try to include only those that match nearly everything on our Wish List.
The Replica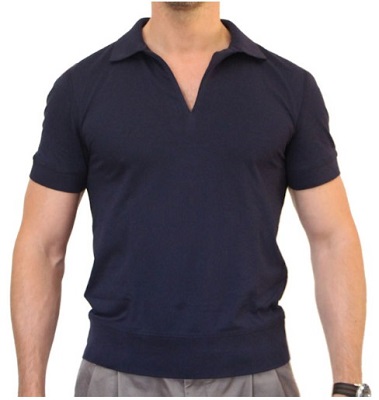 Fan favorite Magnoli Clothiers has their own version of the SPECTRE Polo that retails for a very reasonable $50.00/£34.98. Magnoli is usually pretty good at nailing the details while keep the price low. So this is probably the one to get for the closest screen accurate look possible. Just make sure to check the sizing chart on the site! You can also check out this video from The Bond Experience that does a great job of comparing Magnoli's version to the original Tom Ford.
Best Option for the James Bond SPECTRE Polo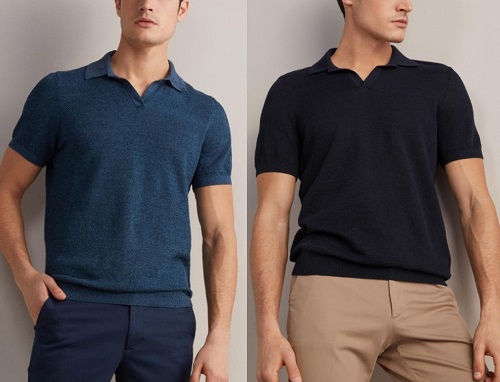 If you've been checking out our recent Best Budget Style Finds posts, it won't come as surprise that this is my choice for "Best Option". I shared the beige version in our post on Steve McQueen Spring Style. And in blue, it works as a great alternative for the SPECTRE polo (I'm sharing it in two colors so you can choose which shade you think is a better match). The neckline on this one isn't exactly the same as the screen used shirt. The V isn't as deep (which some of us may appreciate) and it has a bit of a placket. However what I really love about this polo is the fabric. It has that heavily textured, piqué-like knit that comes very close to the Tom Ford shirt. It's not the cheapest option we've found on this site. But it is definitely one of my favorites. Falconeri has sizes small to XXXXL(!) on their website.
Under $50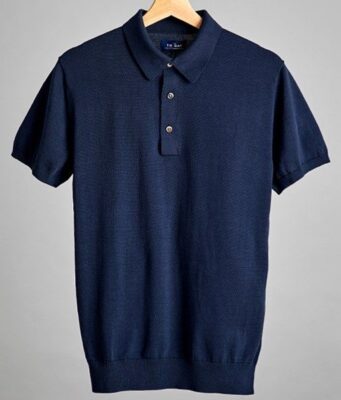 We can start with the fact that it has a button placket. But I wanted to include at least one alternative with buttons since it might be a better choice if you happen to feel the plunging neckline of Johnny Collar is a little too risque. The other details line up nicely with the original for the price. We get the banded hem and cuffs, a little textured 100% mercerized cotton fabric and the color looks like a good match in the product photos. And it currently has five out five starts after ten reviews. So the customers seem to be happy! They have sizes XS to XL available on their website.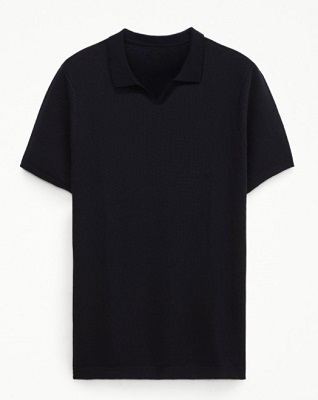 The first of two options from Zara's big brother. I shared this alternative in the post on my Favorite Brands for Affordable Bond Inspired Style. But I really like the style and the price is darn reasonable even at full retail, so it's getting an encore. The banding on the hem and cuffs isn't as wide as we see on the Tom Ford and the color may be a little too dark. However, that thinner placket on the neckline definitely has the right look. And the piqué cotton fabric has a great texture. Sizes small to XXL are available on the Massimo Dutti website. If you do feel that navy is darker than what you want, the shirt also comes in a lighter "Deep Blue". But I've been told that that particular shade leans grey.
Under $100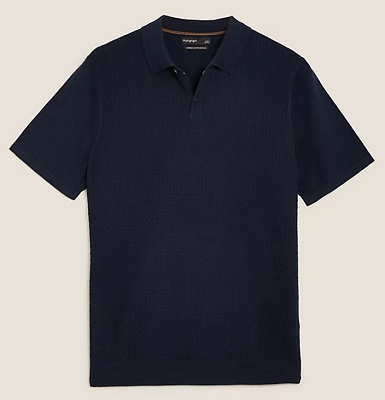 Another option with buttons. But there's some very interesting details on this one that help it stand out. The fabric is an 85% cotton, 15% polyamide blend with a distinctive basket weave pattern. That pattern is only on the front of the shirt body, so the sleeves and back are a plain knit. So may not like that and some may feel it adds to the retro vibe of the design. The polo also seems to have some kind of metal hook at the collar. Not sure how practical that will be. But it does add a fun touch. Marks & Spencer has sizes XS to XXL available.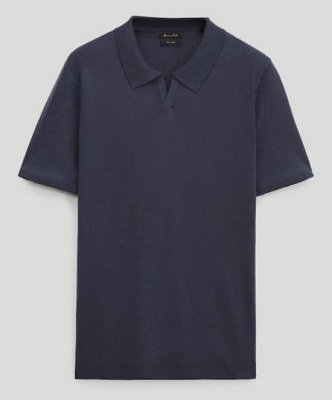 Our second alternative from Massimo Dutti. This one is missing the intricate knit details of the original from Tom Ford. And the ribbed hem doesn't look to be as wide. But that Johnny collar and the tailored fit look to be a great match. Don't let the fact that it's Merino wool scare you off. It's actually a great spring fabric that will help regulate your body temperature and is naturally anti-bacterial which keeps it from retaining odors. Odors caused by things like sweat, for example. Sizes small to XXL are in stock on their website. It's also available in navy if you'd prefer to go with a darker color.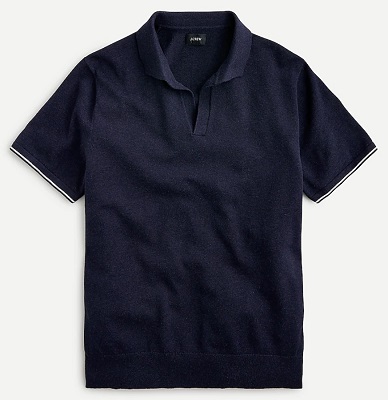 Even though it has that white piping on the banded cuffs, I'm still kind of digging this alternative. The 100% cotton knit fabric doesn't have much texture. But there is a nice heather effect going on that adds some visual interest. The cut is also relatively short, so when the banded hem rides up closer to your waist, there won't be a bunch of excessive fabric flapping around your mid-section (not a good look!). J.Crew has sizes XS to XXL in stock. J.Crew also plays the discount game fairly often, so you may want to wait a bit to see if this one goes on sale in the near future.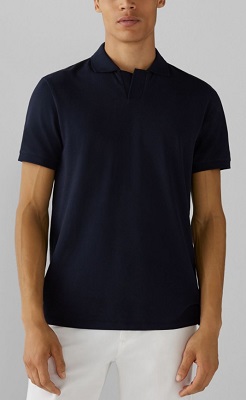 This alternative was suggested by our friend Michael Fisher in the comments for one of our Best Budget Style Finds post. And it looks to be a good one! Maybe it's just me, but I think the addition of the wider button-less plackets at the collar give it a slightly more formal look. The fabric is a 97% cotton, 3% elastane blend and the shirt has a slightly fuller cut. So it should be plenty comfortable. You'll find sizes XS to XL available on their website.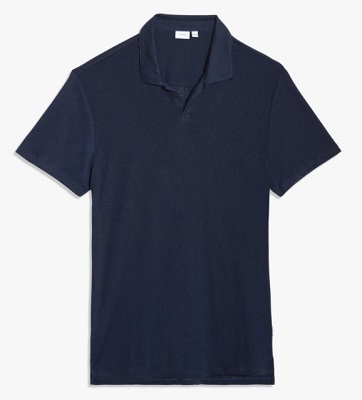 If you want an alternative with a more relaxed feel, the Shaun in worth checking out. The fabric is a 55% linen, 45% polyester blend that looks to have some nice texture and a bit of slubbing. Onia has also pre-washed the fabric for "super softness" to make it even more comfortable. This alternative is missing the banded hem and cuffs which, when combined with the lighter material, should make it a little more airy. They have sizes small to XL in stock on their website.
Under $200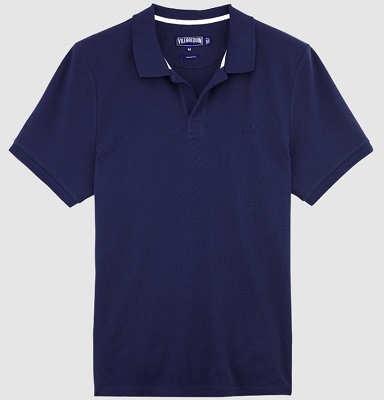 Like the Onia above, the Vilebrequin has an open hem, cut straight so it will look good untucked. But they've stuck with the banded cuffs and used a more textured 100% cotton piqué fabric. If your style is a little more conservative and you want a polo that won't stand out but still has some of that "Bond in Morocco" feel to it, this could be a good option. Sizes small to 4XL are available on their website.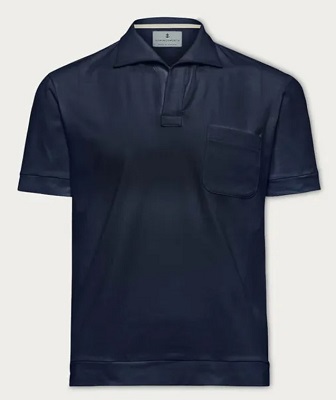 Our friends on Instagram @matchedperfectly are big fans of Hemingsworth. And I have to say, the brand has created a very cool looking polo! They've combined that V-neck with a one piece collar and made the overall cut a little shorter for a cleaner, more sophisticated style. And although it doesn't have the banded hem and cuffs, they are wider so we get a similar effect. The fabric is a 94% cotton, 6% Lycra blend jersey, knitted in Nottingham, England. And it was designed and made in London. It might not be the most screen accurate alternative, but I'm really like the style of this one. Bombinate has sizes small to XL in stock. You can also order it directly from Hemingsworth.
The Investment Pieces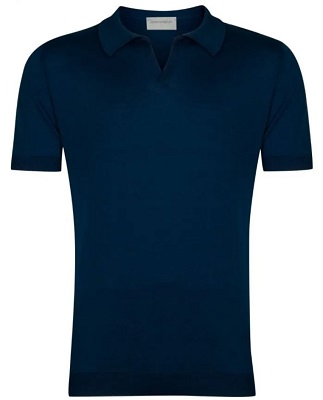 The Noah has been part of John Smedley's polo collection for a while and people regularly recommend it as an alternative for the SPECTRE polo. The company is a heritage British manufacturer of high quality knitwear that has one Royal Warrant. As for the polo, they've used a fine gauge Sea Island Cotton (one of Bond's favorite fabrics!) and designed the polo with the ribbed hem and cuffs and the placketless V neckline. Overall, it's an excellent alternative for the Tom Ford if you want to make the investment.
If you're on the thinner side, you should also check out their Jathan model. It's almost exactly the same design to the Noah, but it comes in a slimmer "Modern Fit"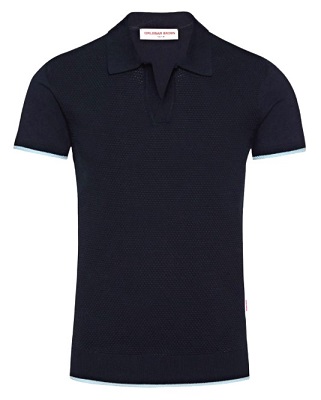 A very interesting design from the well known Bond brand. The fabric on the front of the body is heavily textured lattice pattern. But the back and sleeves are a smoother, tighter knit. There's also that retro style tipping on the ribbed hem and cuffs, with lots of additional stitching detail throughout the polo that gives it a very luxurious feel. The fabric is 100% cotton and Orlebar Brown made the polo in Italy. They have sizes XS to XXL available.
It might also be worth checking out their Holman Sea Island Cotton Polo Shirt in Navy for $525.00. The overall design is cleaner than the Horton (no lattice knit in front or tipping). But they've really gone to town with the stitching detail, especially around the cuffs!
Know of any alternatives for the James Bond SPECTRE Polo we should have included on our list? Tell us about it in the comments! You can also visit our Facebook page, Instagram account, Twitter account and Pinterest Boards for more Bond, Craig and McQueen style advice and inspiration.