Steve McQueen Spring Style Inspiration
Update: you can see the latest version of this post here, with all new alternatives!
I have to admit, I love writing the McQueen posts on this site. As much as I enjoy writing about Bond style (and really, really enjoy it!), the fact is his color palette can get a little … monotonous. With a few notable exceptions (you all know the ski suit I'm talking about!), 007 mainly wore darker shades of blue, grey and brown, with some green making an appearance now and again. But McQueen was NOT afraid of bright colors! He embraced them. And, along with his more traditional Harrington jackets, Aran sweaters, shawl collar cardigans and suede Playboy chukkas, he also seemed to like to play around with some unique designs. Pieces that, at first glance, looked normal, but revealed some fun twists upon further inspection. And so that's what I'd like to explore in this look at Steve McQueen spring style: the King of Cool's colorful and playful side to inspire us all to push the boundaries a little. Let's get rolling!
The Primary Color Sweatshirt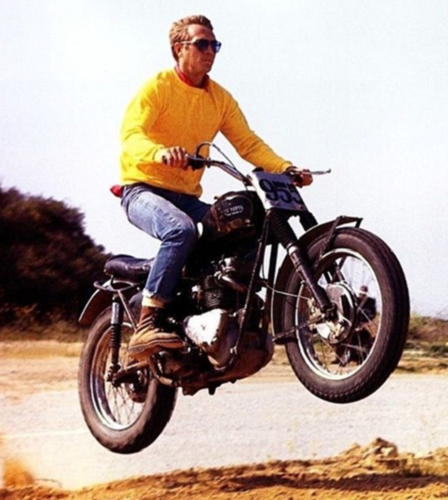 I did say there was going to be some color in this post! A great place to start is with the other famous sweatshirt McQueen wore. The most famous one is, of course, the one he wore in The Great Escape (options for that one are here). But we've all seen those photos of McQueen riding his Triumph TR6 Desert Sled through the Hollywood Hills in 1963. He's wearing his Persols, faded jeans, his 9 hole motorcycle boots. And a bright yellow sweatshirt that pops off the page.
I'll admit bright yellow isn't everyone's color. But the point is that after a year of mostly monotonous lock down, many of us could use a healthy shot of color in our lives. So don't be afraid to try out a shirt, sweater or jacket that really brightens things up. Yellow, red, green, light blue, orange. In my humble opinion, they're all on the table this spring. My only suggestion would be to stick with one strong statement piece per look and keep the rest fairly neutral. Yes, McQueen wore his lemon yellow sweatshirt over a red shirt. But he was the King of Cool. And he was riding a motorcycle while he was wearing it.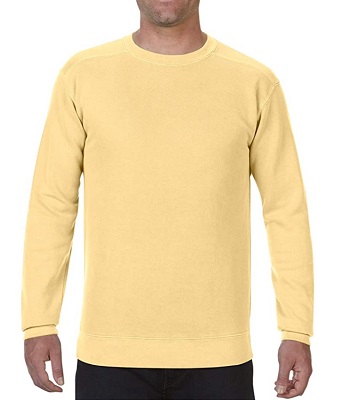 A basic, 80% cotton, 20% polyester sweatshirt in the right shade of yellow. The fabric is garment dyed to give it a bit of richer color that will fade with washing and time. But I will note that I've tried on some Comfort Color sweatshirts and the fit might not be for everyone. I thought they were a little trim through the body, wide in the shoulders and long in the sleeves. Not awful. Just different. Amazon has sizes small to 3XL in stock on the U.S. site. Unfortunately in the UK they're down to size small.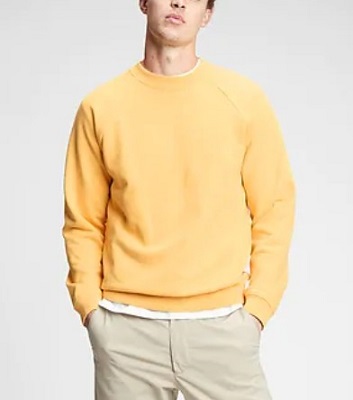 Overlooking the raglan sleeves (which many people actually prefer), this is about as close a match as we can get to McQueen's sweatshirt at any price. I know people tend to look down on Gap a little bit, like it's best days are behind it. But I have plenty of tees and sweatshirts from them that are some of my favorites. For me, they're still a solid place to get quality basics at a good price (unless they decide to stick their logo on it in HUGE letters). For this particular sweatshirt, they've used a garment dyed 100% cotton French terry knit and given it a pre-wash to soften it up. But the color is still that bright-but-not-neon yellow that's a great match for the one worn by the King of Cool. Gap has sizes XS to XXXL in stock.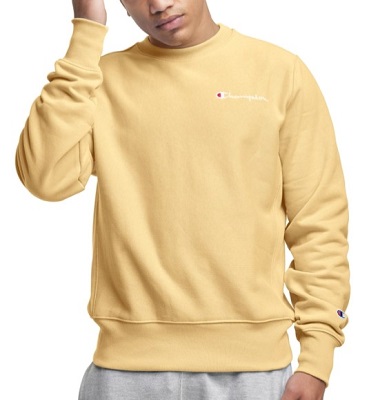 If you don't mind the logo on the chest, this is a solid alternative from the well-known maker of sweats. The fabric is Champion's beloved reverse weave fleece, a heavyweight 12oz 82% cotton, 18% polyester blend that resists shrinkage. They've added the classic ribbed stretch side panels which means this is going to fit much closer to the body than a traditional sweatshirt. And they've used double needle construction at the seams for durability. So you're getting a fair amount for your fifty bucks! They have sizes XS to 2XL in stock.
Also Try:
Amazon Essentials Fleece Crewneck Sweatshirt in Gold: $14.00 to $17.00
J.Crew Factory Garment Dyed Crewneck Sweatshirt in Pale Ochre: on sale for $34.50
Gap Vintage Soft Sweatshirt in Yellow Jacket: on sale for $44.00
Colorful Standard Classic Organic Cotton Sweatshirt in Lemon Yellow: $59.00/£43.00
Banana Republic French Terry Sweatshirt in Blonde Ale: $59.50
Bluemint Fenix Sweatshirt in Canary: $98.00/£70.00
The Denim Trucker Jacket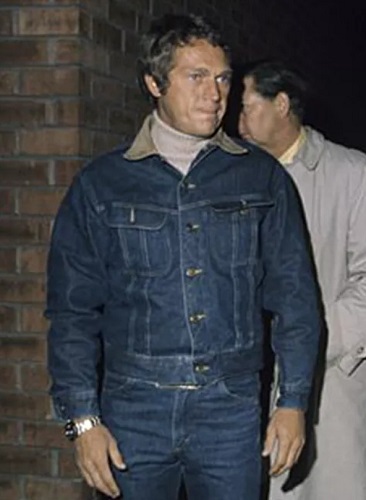 We all know spring weather is unpredictable. Some days will feel like we're in the middle of summer. Others will remind us that winter hasn't given up quite yet. For those colder days we want something that strikes the right balance between a full-on winter coat and a lighter weight windbreaker. Enter the blanket lined denim jacket. It's like a typical jean jacket. But warmer. The most iconic model of blanket lined denim jacket is undoubtedly the Lee Storm Rider, which McQueen is wearing above. With it's distinctive corduroy collar, it's been faithfully serving cowboys and rodeo riders since it was first introduced as the 101LJ in 1949. There's a very good guide to vintage Lee Storm Riders on Heddels if you'd like to learn more. But for the purposes of this post, it's enough to say that it's a timeless design that will keep you nice and warm on those cool spring nights while adding some rugged style to your look.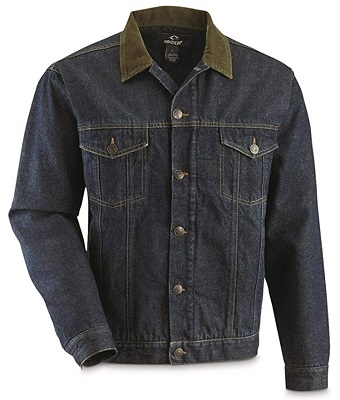 Part of what makes the Storm Rider so iconic is its saddle blanket lining. This alternative does not have a saddle blanket lining. Instead Gear Guide has used a quilted, polyester insulation to help keep you warm. But the outer material is 100% cotton denim, the overall design is a timeless Type III and it has 4.6 stars out of 5 on Amazon after more than 150 reviews. Which, for me, is a pretty good sign that it delivers value for the money. Sizes medium to 3XL are in stock and most of the comments say it fits true to size.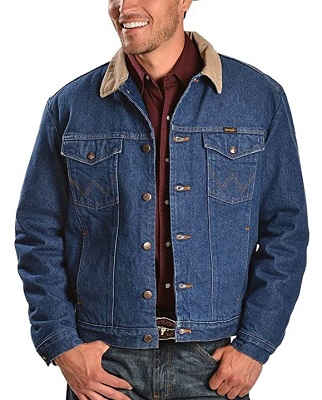 An alternative from another heritage denim brand that's not Levi's. McQueen was actually a fan of the Wrangler brand and wore one of their western shirts in the film Baby, The Rain Must Fall. But just note that in no way is this particular jacket some sort of fashion piece. This is a traditional denim jacket, made with a stiff 100% cotton for the outer material, a thick blanket lining and a boxier, fuller cut. It's built to take a beating on the farm or job site and it's going to take some effort to break it in. If you're fine with all that, then it's great value for the money. Amazon has sizes 38 to 50 in stock. Many of the comments recommend going a size up, which is a little odd considering the jacket's more forgiving fit.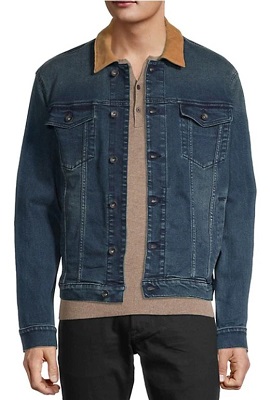 If you like that corduroy collar look of the Stormrider, but don't want the blanket lining, then here's your alternative. Coming to us from John Varvatos (the designer behind Bond's blue suede jacket in SPECTRE), this one uses a cotton, polyester and elastane blend denim to give it some stretch and minimize any break-in time. The sale price is also very nice, considering it originally retailed for almost $350! SaksOff5th has sizes small to XL in stock.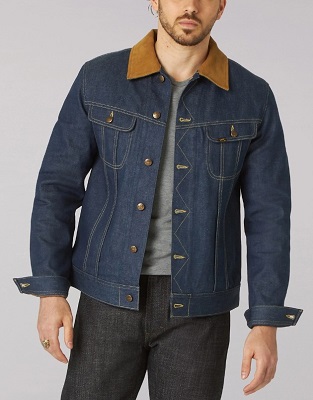 And here is the original. I mean that almost literally. This new Storm Rider is part of Lee's high end 101 collection and is a loving homage to the very 101LJ that McQueen wore. Lee has used a mid-weight 13oz 100% cotton selvedge denim from the renowned Japanese Kurabo Mills, lined it with a period accurate saddle blanket material, and finished it with brass rivets and buttons. And the corduroy collar, of course. It even has the classic Lee Storm Rider neck tag. Perhaps the only odd thing about this version of the American icon is that it's cut and sewn in Italy!
The reality is this is a jacket that's going to take some work. It's going to feel stiff and boxy right off the rack. But it's also the one that's going to last you for years. And the fades that develop in the denim over time are going make it something truly personal.
Also Try
Schaefer Outfitters 581 Legend Denim Jacket in Indigo: $140.00
Ginew Thunderbird Jacket: on sale for $195.00
Classic Canvas Sneakers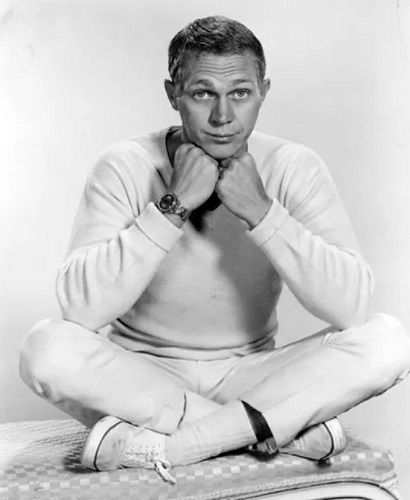 It's not the coolest photo of McQueen we've seen. But it's a great example of that All American trad style he wore in the early sixties. And his white canvas sneakers are classics. They're lightweight and cool in hot weather. They have some support so you can run around in them. You can wear them with jeans, khakis and shorts, which covers most our weekend wardrobe. And they're inexpensive so you won't really care if they get a little trashed. In fact some would argue they look even better when they're beaten up. They're pretty much the perfect spring and summer footwear.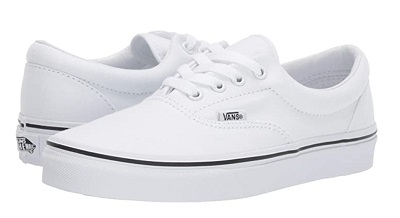 Icons from the world of skateboarding! A world of which I know next to nothing. But there's no denying that Vans have played an important role in the history of sneakers. Sure you can probably find knock-offs for a lot less at Wal-Mart. But when the price is still under fifty bucks, you may as well go with the originals. Zappos has tons of sizes available.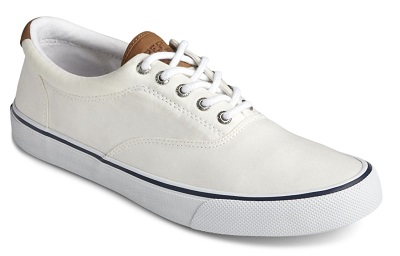 And an equally iconic design from the world of sailing! Again at a very reasonable price. Sperry has used a "saltwashed" canvassed cotton twill material for the uppers, which gives the sneakers a slightly distressed, broken-in vibe. One cute trick is the use of elastic panels along the tongue. Those will keep the shoes securely on your feet, but you can still slip them on and off easily without undoing the laces every time. Of course the CVOs also come with Sperry's patented "Wave-Siping" soles with those razor cuts that provide great traction on wet boat decks (or beach-side bar patios). Still lots of sizes left in stock on their website.
Also Try
Polo Ralph Lauren Harpoon Canvas Sneaker: on sale for $49.99
Timeless Shades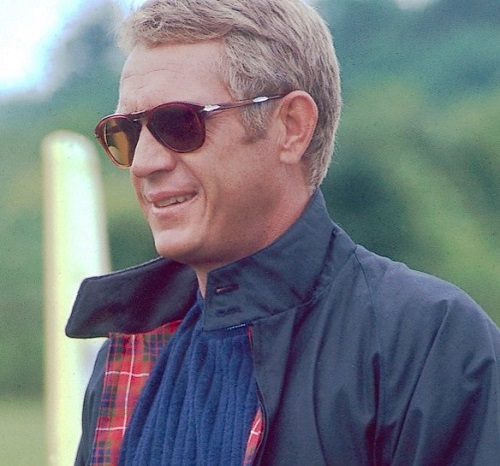 Plenty of well informed people have already written volumes about the iconic Persol PO 0714s and their place in men's style history. So I won't bother trying to pass of their knowledge as my own. I'll just say that investing in a quality and stylish pair of sunglasses to protect your eyes is a very smart thing to do. I can skip the $80 t-shirts. But I'm more than happy to pay $200 plus on good eyewear. And in my personal collection, my PO 0714s are easily my favorite pair. It's not just the McQueen connection. They're also very well made, a classic aviator style that works on plenty of face shapes, and that folding function really does work. My pair are coming up on 6 years old and still going strong. I highly recommend you try a pair yourself.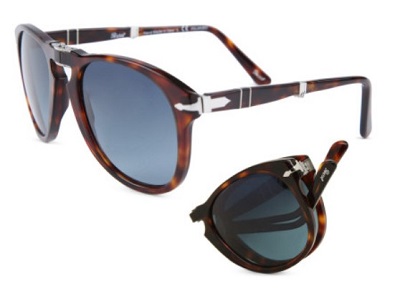 As with the white canvas sneakers, it pays to go with the originals. There really is nothing else like them on the market. And now that the accurate blue lens model is on sale at Overstock for under two hundred bucks, there's never been a better time to pick up a pair. I honestly have no idea how long that sale will last (or when they'll run out of stock at that price). But if you do happen to miss the deal, you can still get the same model at SmartBuyGlasses for $251.00.
If you don't feel like the whole folding glasses thing is for you, but you still want that McQueen cool, you can get the PO 0649 models for $121.90. These are basically the same shape and frame and lens color as the PO 0714s, but without all the hinges. And if you're not crazy about the blue lenses, you can get the PO 0714s with brown lenses instead for about $166. Of course you have to be cautious who you're buying from. I've linked to Amazon here, but, even with its buyer protection, sending money to 3rd party vendors on the site can still feel a little sketchy. If you don't mind paying up for some piece of mind you can also get the PO 0649s with blue lenses for $168 and the PO 0714s with the brown lenses for $251 from SmartBuyGlasses.
The Cool Polo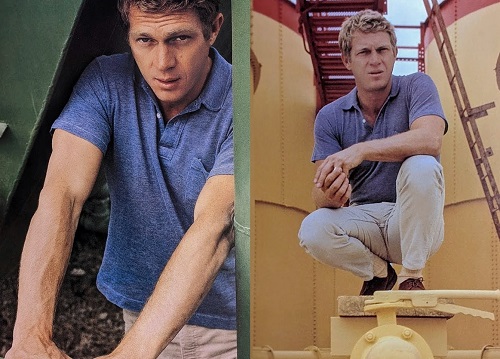 Every guy needs a couple of good polos for the spring and summer. I'm sure many of you already have one or two navy Casino Royale style ones in your closet. Now's a great time to pick up another in a different, brighter color. And (no surprise) McQueen wore a great one. You can tell how it could have served as a source of inspiration for the Sunspel Riviera. Made from a heathered slub cotton in a great shade of blue, it has the self collar, the two button placket and the chest pocket. The fit is also spot on, which is key. When everyone else is wearing a basic pique polo with it's floppy ribbed collar, yours can stand out (in a good way) if you pay attention to the details!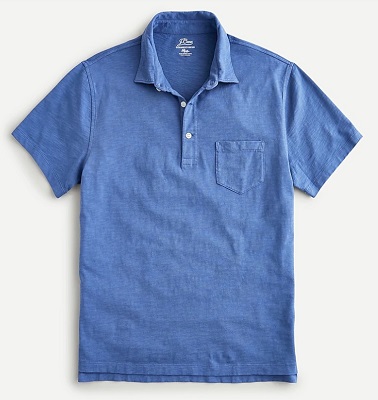 With it's self collar, slubby textured mid-blue color, white buttons and chest pocket, it's going to be hard to find a better match for McQueen's polo for the price. J.Crew has sizes XS to XL available. The also offer the polo in slim, tall and slim untucked options. But unfortunately the color we want isn't available in those fits.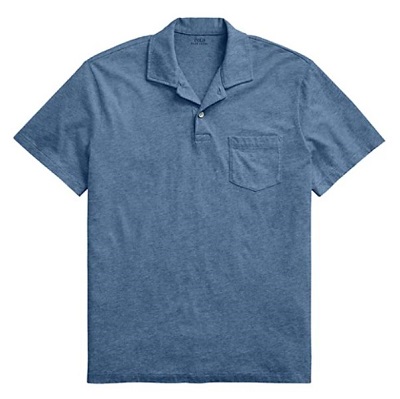 That J.Crew above is a great deal and a really good match. But if its less-than-accurate three button placket bothers you, then this alternative from Ralph Lauren fixes the problem. And it nails nearly every other detail as well. The color may be a shade too dark. But the texture of the slub cotton jersey fabric, the self collar, the chest pocket and the two white buttons are almost perfect. Even the length looks like a good match. It's not cheap. But it will bring to you very close to exactly the right look. Saks Fifth Avenue has sizes small to XXL in stock.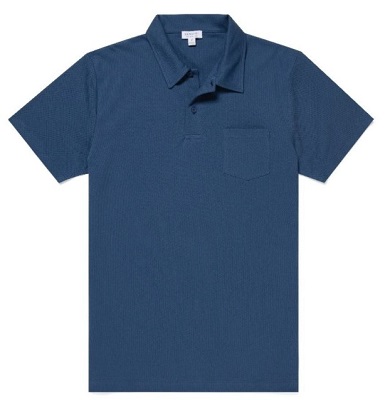 Even when we're talking about McQueen, we have to include a Bond brand. The fabric of Sunspel's Jersey cotton polo might be a closer match to McQueen's shirt. But that model is missing the chest pocket. So we'll go with the tried and true cotton mesh Riviera model in Smoke Blue.. And material and slightly darker color aside, it actually comes very close to what we want. Sizes XS to XXL are available on the Sunspel website.
Also Try
L.L. Bean Lakewashed Organic Cotton Polo in Vintage Indigo: $39.95
Johnnie-O Original Four Button Heathered Polo in Oceanside: $85.00
Faherty Short Sleeve Polo in Dark Wash: $98.00
The Other Retro Cool Polo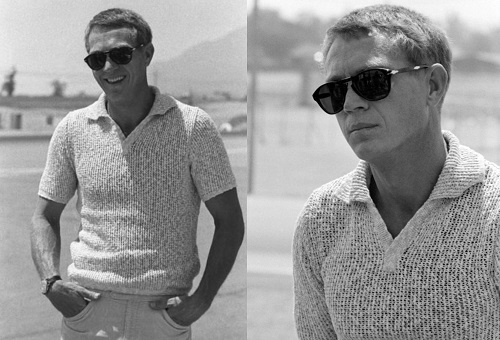 And that, my friends, is a statement polo! I ain't gonna lie: I spent waaay too much time looking for alternatives for it. So I may have gone a little overboard with the number of options below. I just wanted you all to know how hard I worked. Anyway. It is a very cool shirt. And I mean that both figuratively and literally. The wide, heavy rib Johnny collar, the sweater style hem and the "deep-but-not-too-deep" placket exemplify everything we love about retro 60s style. Then there's that fabric, an open weave knit with tons of texture that'll keep you from overheating when things get hot. All together they create a polo that's practical and uniquely stylish. You just have to wear it with the right amount of IDGAF attitude.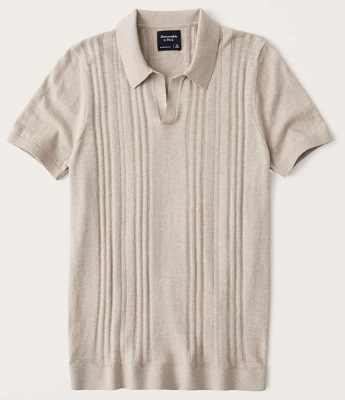 If we can't get an exact match for McQueen's polo at a reasonable price, we still might be able to capture it's swinging 60s vibe. And this alternative from A&F does a fine job of that. The Johnny collar and banded hem and sleeves get us part way there. But it's really the 70% cotton, 20% nylon and 10% silk blend knit fabric and that great retro ribbing that get us over the finish line. All together they give the polo a slightly "cheesy but expensive" look. Which is exactly what we want. They have sizes XS to XXL in stock, but size small is sold out.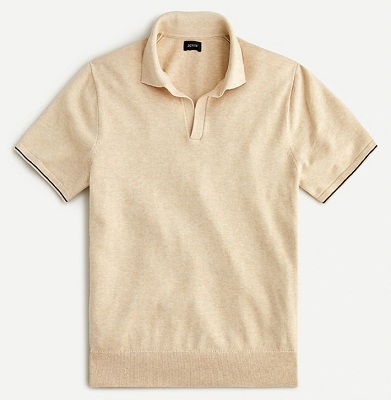 It looks like J.Crew is shifting gears from Preppy to Resort Style this season. And I like it! Even thought this alternative shares a lot of style details with A&F option above, I feel like this one is a little more conservative in its design. Maybe it's the finer texture of the knit. Or the slightly smaller collar. Whatever it is, I think this could be a good option for those of you who want to experiment with the style without going full-on "plunging neckline Tom Ford". Sizes XS to XXL are available on the J.Crew website.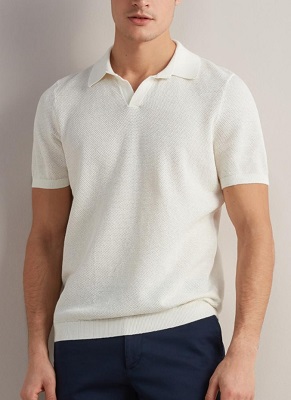 This might be my favorite alternative for McQueen's polo. The 66% cotton, 34% flax yarn doesn't have the original's distinctive marling. But the pique mesh knit gives it a similar loosely woven texture. And the slightly higher placket combined with the bigger collar gives it the right retro feel without showing off too much chest hair. In other words, it's different but not too different. Falconeri has sizes medium to XXL on their website. And just FYI: this polo in the navy color would make a killer alternative for the Tom Ford SPECTRE Morocco polo!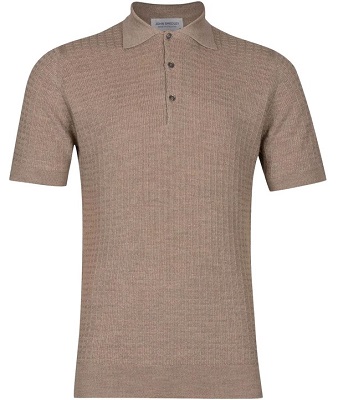 A nice combination of the heavily textured knit of McQueen's polo and a more traditional (and conservative) button placket. This one comes from John Smedley, the maker of the black V-neck "Bobby" sweater Bond wore in Skyfall. For the polo they've used a 24 gauge extra-fine Merino wool and gone with a slimmer fit and more retro styling for the wide ribbed knit collar. The nice thing about an option like this is you can control how deep you want that neckline to go depending on how brave you're feeling (or how sunbaked your brain is). Sizes small to XXL are in stock on the John Smedley website.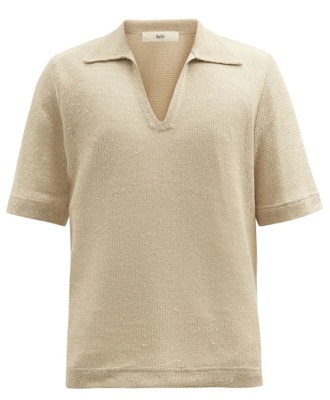 On the other hand, maybe you were doing nothing but pushups in your living room for the entire lockdown and you're totally ready to take the plunge this summer. In that case, here's your shirt. Seriously, aside from the very deep V of the neckline (which actually doesn't look that ridiculous on the model on the product page), this one is a darn good match for McQueen's polo. The collar has that late 60s/early 70s size and the 55% cotton, 28% viscose, 17% linen fabric is a more open knit with a good slub texture. You'll find sizes XS to XXL at Matches Fashion.
Also Try
Bonobos Retro Knit Polo in Grey: on sale for $68.00
Club Monaco Split Neck Polo in Blanc de Blanc: $79.50
Aurelien Shell Terry Towelling Polo Shirt: $89.00/£64.00
NN07 Ryan Honeycomb Stitch Polo in Off White: €89.00
REISS Wilkie Knitted Cotton Polo Shirt in Stone Melange: $135.00/£70.00
De Bonne Facture Boucle Knit Polo Shirt in Ecru: $195.00
NOAH Mesh Knit Polo Sweater: $198.00
Frescobol Carioca Athos Knit Merino Wool Polo in Off White: $295.00/£190.00
Saman Amel Cotton Polo Shirt in Brown: $310.00
Orlebar Brown Dr. No Knitted Polo in Ivory: $445.00/£295.00
Tod's Linen Blend Polo Shirt in White: $545.00
The 60s Style Sweater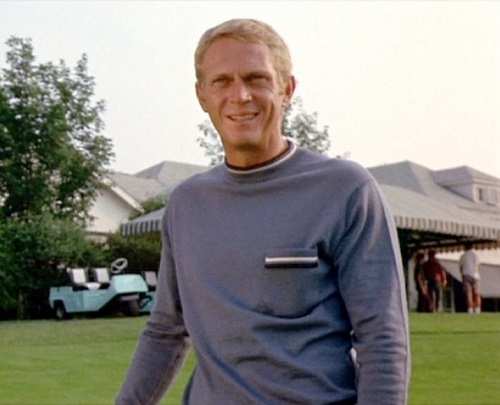 I'm the first to admit this could be a challenging look to pull off. McQueen's mock neck golf sweater from The Thomas Crown Affair screams 1960s. So I think you just have to really embrace that whole vibe and run with it. McQueen wore it with some pale grey trousers with a subtle pattern and mid-brown golf shoes. That's one way to go. Or maybe you could try it with some off-white chinos, white minimalist sneakers and a navy bomber jacket. Any other thoughts?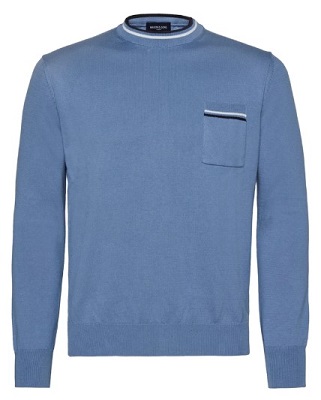 I've spoken before of my appreciation for Mason & Sons' reproduction passion projects. Well, here's another one. Directly based on McQueen's golfing sweater, this interpretation is made from 100% cotton and nails pretty much all the style details to give you a look that's as close to screen accurate as possible. And that's why it's first on this list, despite costing more than some of the other alternatives. They currently have sizes XS to XXL available.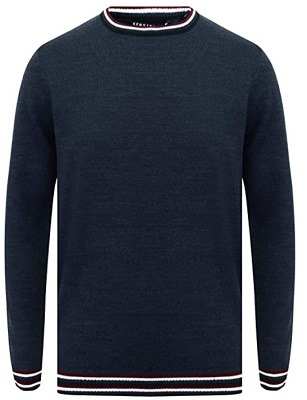 Maybe you want to give that Thomas Crown knitwear style a try, but you're not ready to invest big bucks. Since this option is coming in at under fifty dollars (the shipping cost basically doubles the price if your in the U.S.) it's a pretty risk free way to experiment with the look. Just don't expect any earth shaking quality for the price. The knit is 100% acrylic and I can't say I've heard of the brand before (Kensington Eastside? Or is that Tokyo Laundry? I'm a little confused). And it's undoubtedly made somewhere in Asia since the only sizes available are large to XXL. I've linked to Ebay above for those of you in the U.S. But I'd recommend that those of you in the UK order it from Amazon since you can get free shipping there. Just check the size charts!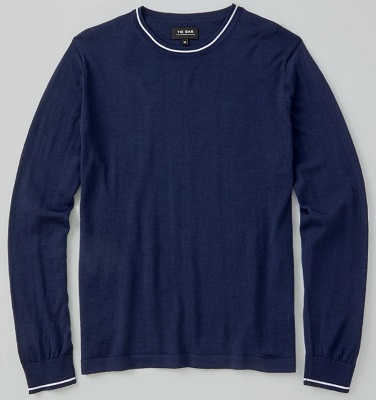 I'd categorize this as an "inspired by" alternative rather than a screen accurate one. If you feel that Crown's knitwear is just too 1960's, but you still want to introduce some retro style to your wardrobe, then a sweater like this is definitely an option you should consider. The tipping around the collar and cuffs is more subtle and the darker navy will draw less attention than that brighter sky blue of the screen used piece. But it's still different enough to stand out in a sea of plain blue sweaters. Tie Bar has used a 100% Merino wool knit and has sizes XS to XL in stock.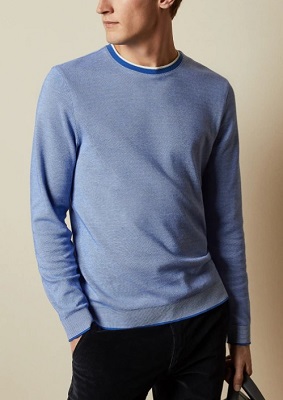 So you want the McQueen sweater's color and tipping. But you don't like the higher collar and chest pocket. Well, this is the sweater for you! The fabric is 100% cotton and I expect it has that trimmer fit Ted Baker is known for. If you're in the U.S., they have sizes XS, small, large, XXL and XXXL available. Unfortunately they're down to size XS on the UK site and I wasn't able to find it at any 3rd party retailers.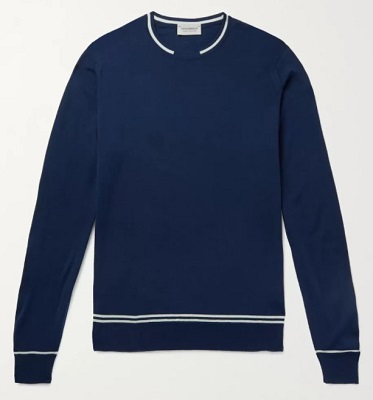 Made in the United Kingdom from an extra-fine 30 gauge Merino wool, this alternative from John Smedley is basically a higher quality version of the Tie Bar alternative above in a slightly brighter blue. So most of what I said about that option also applies to this one. Mr. Porter has sizes small to XXL in stock. But they make it clear this is a slim fit model. Which means you should check the sizing chart before ordering!
The One of a Kind Spring Jacket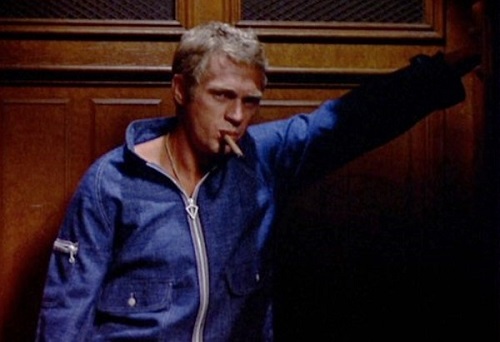 You've got BAMF Style to thank for this one! I really enjoy getting completely lost in Nick's excellent website when I have a little downtime (which isn't as often as I'd like!). It really is an endless source of information and inspiration. And that's where I stumbled across his post on this particular piece of outerwear Steve McQueen wore in The Thomas Crown Affair. Needless to say I was immediately fascinated by it. It's like someone merged an MA-1 with a track jacket and the result was some kind of mutant Harrington that could only be imagined in the sixties. In other words: it's fun, it's unique (without being too far out there) and it would make an awesome spring jacket.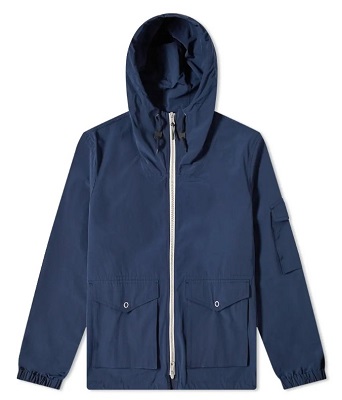 This 50% cotton, 50% polyester alternative from Albam does a great job capturing the retro sporty character of McQueen's jacket. The hood obviously isn't screen accurate (a problem we'll see with a few of the other options below). But it has the contrasting white details, the flap pockets and even the pocket the on the sleeve. You'll find sizes small to XL on sale at END.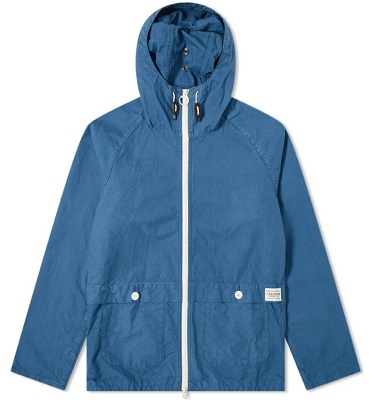 Again with the hood. But this option from Bond-approved brand Barbour does have the white button through flap pockets, the white contrasting zipper and the raglan sleeves. Plus the "Washed Inky" blue color of the 100% cotton drill fabric is a decent match. And we get a large round zipper pull, a nice detail that has a similar look to the one on McQueen's jacket. END has sizes small to XL in stock.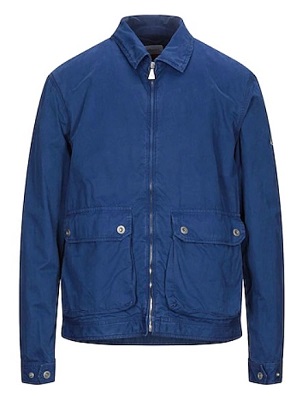 Now we're talking! This made-in-Italy uses snaps rather than white buttons and comes with a shirt-style collar. However, if you can get past those differences, it also checks a lot of the right boxes: flap pockets, the tabs on the cuffs, an open hem. Even the color of the 100% cotton fabric is a good match. The only problem is there's just size 40 left at YOOX. And I couldn't find this model anywhere else. If you want it, grab it fast!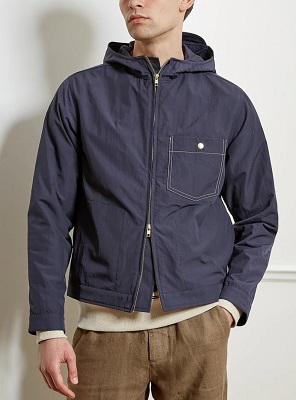 Even though it's missing some of the key details, I feel like this alternative from British designer Oliver Spencer does a solid job of capturing the vibe of McQueen's jacket. It's playful without looking childish. Made in England, the shell fabric is 93% nylon and 7% polyurethane. So it's also practical for those light spring showers. Plus it has some white contrast stitching at the chest pocket and snap button adjustment tabs at the waist and cuffs. It's definitely not screen accurate. But I'm really liking this one. Sizes small to XL are available on the Oliver Spencer website.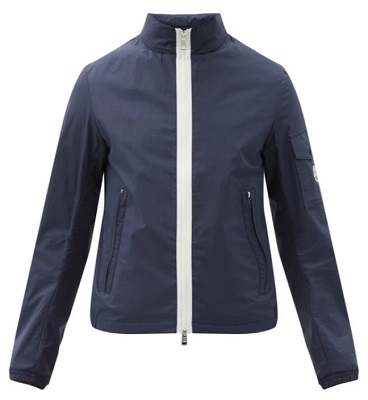 You're a billionaire playboy that just stole a priceless piece of art because you were bored. Of course you're going to wear a nine hundred dollar windbreaker when you head out to neutralize a guard.
Also Try
Pier One Summer Jacket in Dark Blue: on sale for £30.79
Tommy Hilfiger Yachting Bomber Jacket in Navy: $47.99 to $69.99
Lands' End Waterproof Windbreaker in Beacon Blue: $69.95
Levi's Taslan Hooded Windbreaker Jacket: on sale for $90.00
Minimum Hooded Windbreaker in Slate Blue: on sale for $108.00/£83.00
Farah Vintage Fairbanks Jacket in True Navy: $175.00/£115.00
Grenfell Golfer Jacket in Bluebird: $485.00
The Practical Raincoat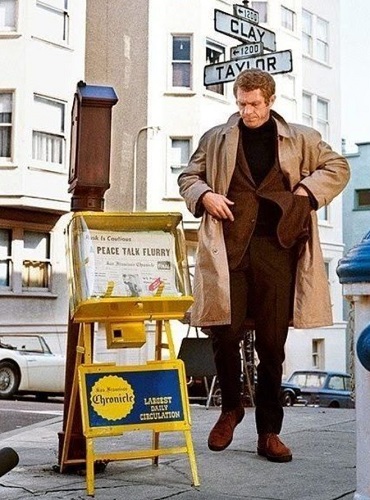 There's really not much to say about the classic Mac. It's a simple and practical coat that was designed to do one thing: keep you warm and dry in the rain (assuming you also have an umbrella or hat to protect your head). Which is probably why McQueen's character Frank Bullitt choose one over a fancier and more complicated double breasted trench coat. Long coats have been making a comeback recently. And a Mac is a great way to try out the style this spring. Try it over a suit (we will wear suits again!) or a sweatshirt and jeans with some suede chukkas. Its a straight forward design that'll work with almost everything.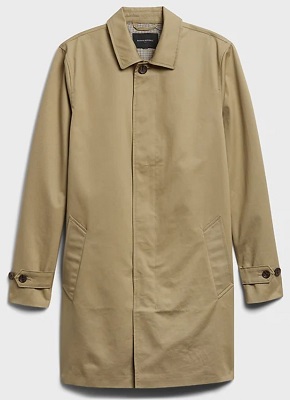 A 100% cotton model treated with a water resistant coating that will keep dry during those light spring showers. This one is a little different than Bullitt's coat. It has set in sleeves and dark brown buttons. But the design is still suitably classic and Banana Republic usually delivers solid rainwear like this for the money. And that sale price is tough to beat! Sizes XS to XXL are available on their Factory website.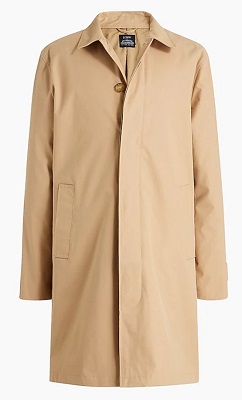 Another option with the set in sleeves at an affordable price. J.Crew has used a cotton polyamide blend fabric for the shell. So expect it to be a little more water resistant than the Banana replicate alternative above. This one also has lighter colored buttons which bring it a little closer to the design of Bullitt's coat. You'll find sizes XS to XXL on their Factory website.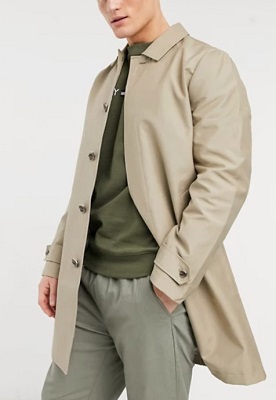 This River Island alternative is very similar to the two above. The main difference is its 100% nylon outer shell material. And, since it's coming from ASOS, it will be easier for those of you in the UK to order. They have sizes XXS to XL available on their website.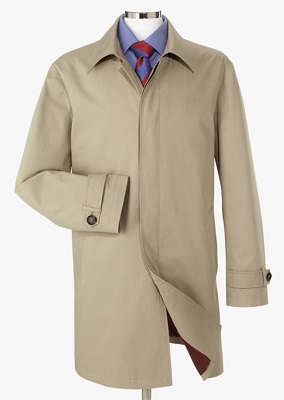 The price for those of you in the U.S. isn't that great a deal. But boy, if you live in the UK then this one's a steal! Again, in terms of design, it's not really that different from our other alternatives. But they great thing about it is that it comes in proper jacket sizes rather than the more common "small, medium, large". That will really let you dial in the fit. Samuel Windsor has sizes 36 to 50 at that sale price.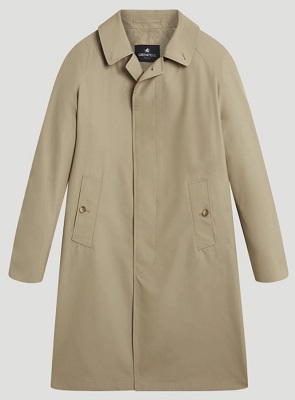 Because we need at least one coat on this list that's screen accurate. And what a coat it is! Heritage British manufacturer Grenfell has been making this exact design since the 1930s. Made in London from a tightly woven 100% cotton, it's lined with their classic check cotton lining through the body, acetate through the sleeves and finished with genuine horn buttons. It's also longer than the options from more contemporary brands, which should please you traditionalists. And, finally, we get the raglan sleeves, which are not only a part of the design of Bullitt's coat but also make it easier to put on and remove the jacket when you're wearing a sport coat or suit. Sizes 34 to 50 in Classic and Standard fits are available on their website.
Also Try
Barbour Colt Coat in Stone: on sale for $197.40
Moss Bros. 1851 Tailored Fit Raincoat in Stone: on sale for $298.00/£149.00
Best Made Mac Coat in Khaki: $324.50
Charles Tyrwhitt Italian Raincoat in Stone: $349.00
Sunspel Showerproof Cotton Mac in Dark Stone: $555.00
Brooks Brothers Single Breasted Trench Coat in Khaki: $598.00
Can you think of something we missed in our Steve McQueen spring style round up? Tell us about it in the comments! You can also visit our Facebook page, Instagram account, Twitter account and Pinterest Boards for more Bond and McQueen style advice and inspiration.