The Steve McQueen Sweatshirt
Updated March 11th, 2021 – You want to talk iconic movie style? Steve McQueen as Capt. Virgil Hilts in The Great Escape has to be part of the conversation. His outfit for most of the film was simple. An A-2 leather jacket, some khaki chinos, a pair M-43 Type III service boots. And what has now become known as the "Steve McQueen Sweatshirt". It's a timeless look that has inspired the "casual style" of countless men. And, along with McQueen's waxed motorcycle jacket, Baracuta G9, Red Wing boots and shawl collar cardigan, it has come to define what's "Cool".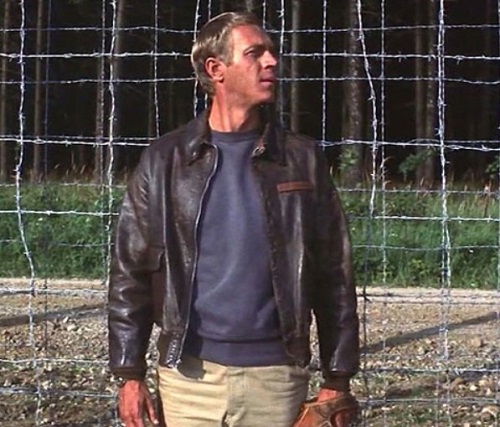 Both BAMF Style and The Rake do an excellent job of breaking down the look from the film and discussing it's impact on the way men dress. In this post we're going to focus on alternatives for the timeless sweatshirt.
Features wanted for the Steve McQueen Sweatshirt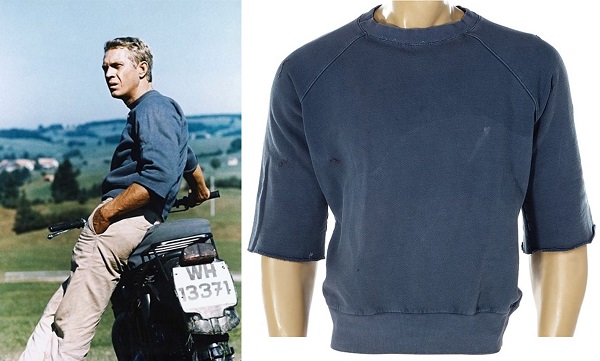 "Air Force blue" mid-weight cotton or cotton blend french terry fabric, preferably with a vintage wash
Heavier and wider ribbed collar and hem
Raglan sleeves
Plain crew neck collar with no notch (this one is difficult this season!)
Would be great if we could get the contrast stitching at the shoulders and sleeve seams
I'll leave it up to you if you want to cut off the sleeves.
Before we get to the alternatives, I'm guessing some of you may be surprised by the brands that are NOT on the list. I did look at popular makers like Champion, Reigning Champ and Flint and Tinder. And they all have some amazing pieces. But for various reasons, their versions didn't meet two or more of the criteria above.
The other funny thing this season is that almost all of the higher end makers are only offering their "vintage" style sweatshirts with that stitched V-notch at the collar. Which is something that McQueen's sweatshirt did not have. Personally, I like the notch and think it gives a sweatshirt some old school character. But it's not screen accurate, so I need to point it out.
The Replica
Back in 2013, high-end Japanese replica maker Toys McCoy released their version of the Steve McQueen sweatshirt from the The Great Escape in both a long sleeve and a cut-off sleeve version.
Made from 100% loop-wheeled cotton and retailing for about $210.00, if you want one you'll need to order it from the Toys McCoy website for about $190.00. Their website is primarily in Japanese, but you can probably use your web browser's translate function to convert it to English. They also now offer a world wide shipping service, which makes it easier to order from them, although I'm not exactly sure how much that will add to the price. However, if you're looking for the "as close to screen-accurate as possible" alternative, it'll be worth the investment..
You also may want to check out the 100% cotton &Sons Escape Sweatshirt in Sky Blue for £75.00.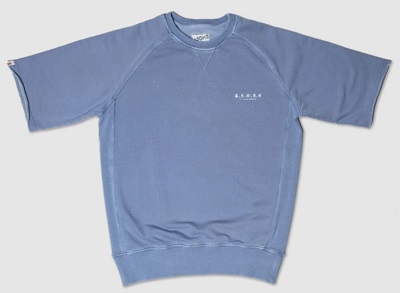 Like the Toys McCoy option, this one comes with the sleeves already chopped, which I guess saves you a bit of work. As far as style details go, &Sons nailed the color, the thick ribbed knit hem and the raglan sleeves. But, considering they're promoting this as "an homage to an icon", I find it strange they'd include the V-notch at the collar and their screen printed logo on the chest. I guess that makes it more of an "inspired by" piece rather than a direct copy. If you like it, act fast. They're getting very low on sizes on their website!
Best Option for the Steve McQueen Sweatshirt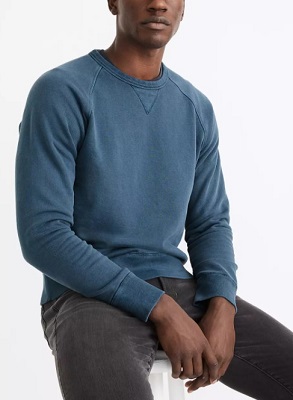 Madewell has used a 100% cotton French Terry and gone with the thicker ribbed knit at the cuffs and hem. It also has the thicker collar and the raglan sleeves. Plus that washed out blue is a great match for the color of McQueen's beaten up sweatshirt. Last, but not least, the price is about smack dab in the middle of the alternatives on this list (and Madewell does run discount codes every once and a while). So, aside from the already noted V-notch, there's an awful lot to like about this one. They have sizes XS to XL on their website.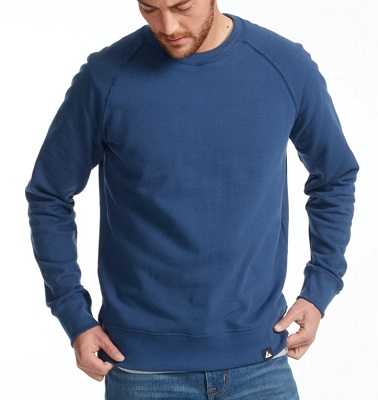 Yes, this is one of those posts where I share two "Best Options". So you get to decide what matters to you more. In my opinion, the Madewell option is the better color match for McQueen's sweatshirt. And it's a little less expensive. But the Carolina from American Giant doesn't have the V-notch at the collar. And it's made in the U.S.A. As the owner of a couple of American Giant sweatshirts myself, I can also confidently say that their stuff is really nice! If you're patient and willing to make the investment, wear and tear will fade it to that perfect McQueen blue naturally over time. And it is built to last a long time! Sizes small to XXL are in stock on their website.
Under $50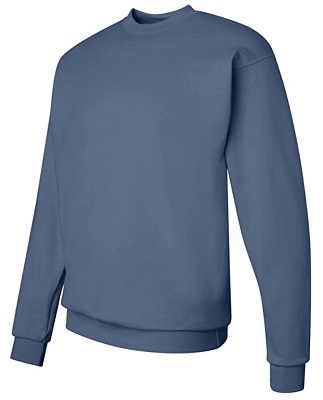 We need at least a couple of lower priced options on this list. The ones that cost less than a large pizza so you won't feel bad cutting the sleeves short to get the screen accurate look. The fact is there are lots of inexpensive sweatshirt options out there. For example, Fruit of Loom and Gideon also make basic cotton/poly blend models under twenty bucks that satisfy the needs of plenty of people. I've decided to share this 50% cotton, 50% polyester one from Hanes because the color is good match for McQueen's. Amazon has sizes small to 3XL in stock.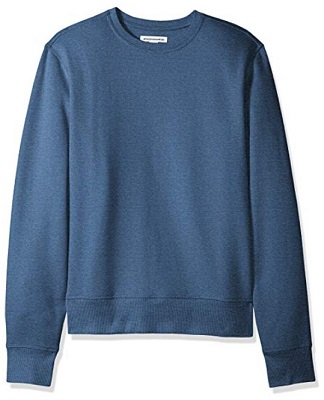 Speaking of Amazon, here's an alternative from one of their house brands. They've used a 52% cotton, 48% polyester fleece fabric and it's sitting with 4.6 stars out of 5 after more than 14,000 reviews. Most of the complaints seem to focus on the sizing, which customers are saying is inconsistent. So it may be a bit of dice roll. Sizes XS to Large are currently available, but I expect this is one they'll keep restocking.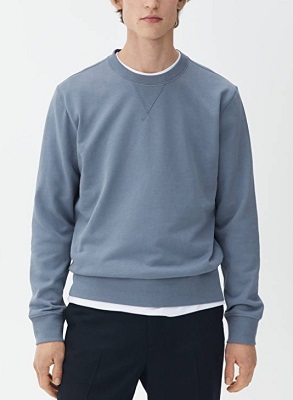 You're paying about thirty-five bucks more than our first two alternatives. But that extra cash gets you 100% long staple cotton French terry, which will wear better than the cheaper fleece backed options above. The thicker collar and hem on this one are a great match for McQueen's sweatshirt. And that faded "Dusty Blue" color also comes close, albeit a little on the light side. Arket has sizes small to XL available.
.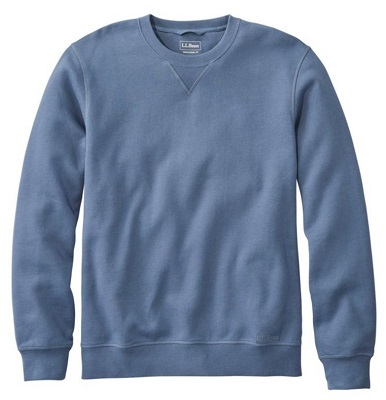 Another alternative that could have been our "Best Option" if only it came with raglan sleeves. L.L. Bean has used a 91% cotton, 9% polyester pre-washed fabric, which should allow you to wash it without panicking about it shrinking. And they do note that this one has a roomier fit. The company is pretty well known for consistently offering solid value for the money. So this could be a good choice for you bigger guys. They have sizes small to XXL in stock.
Under $100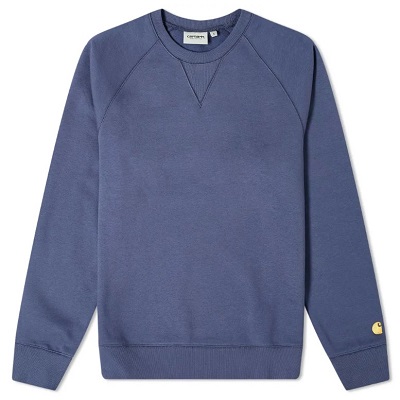 Coming to us from Carhartt's higher end "Work In Progress" collection, which focuses on their collaborations with other designers and more experimental projects. Which is a little ironic considering that the Chase Crew is about as traditional as a sweatshirt can get. But that's exactly what makes it a great match for The Great Escape shirt. Again, this could have been the "Best Option" of the post. But they've used a 58% cotton, 42% polyester fleeced back fabric. And, frankly, I like the 100% French terry of the Madewell better for this price. However, if you live in the UK or Europe, I have no problems recommending you give this one a try. Especially since it's sold by End Clothing, which may make it easier to order compared to the U.S. based Madewell or American Giant. Sizes XS to XXL are available.
The Investment Pieces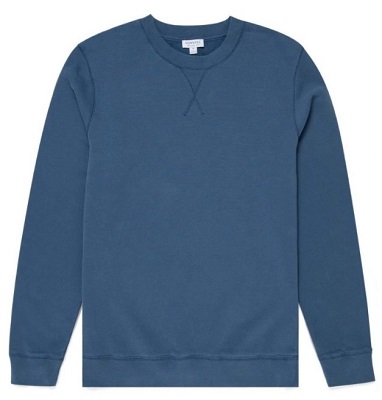 Sunspel of course needs no introduction for Bond fans. And their sweatshirt does a great job matching the color and heavy ribbed knit hem and collar of the original McQueen piece. It's made in Portugal from a 100% cotton looped back fabric, a more premium material than the fleeces and even French terry that we saw above. Hence the jump in price. They have sizes XS to XXL in stock.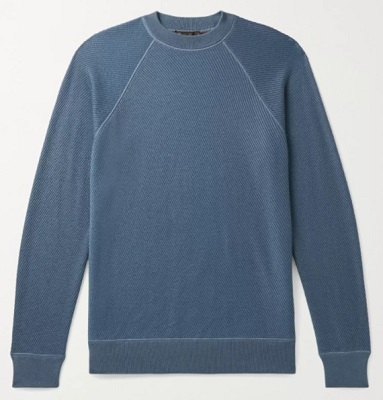 Just wanted to see if you stuck around until the end of the post. Although, to be honest, if you happen to have $2000 just laying around, this would be a pretty good match for the original. And it is cheaper than the actual screen used sweatshirt. Which, I guess, kinda makes this "affordable" ….
Have some suggestions for the Steve McQueen sweatshirt? Tell us about them in the comments! You can also visit our Facebook page, Instagram account and Pinterest Boards for more James Bond style advice and inspiration! And don't forget to check out our Amazon Store. That's where we've organized the James Bond and Steve McQueen alternatives we've found the massive online retailer.