Steve McQueen Baracuta G9 Harrington Jacket
Updated March 11th, 2021 – There's not much I can add to the story of the Baracuta G9 Harrington jacket that hasn't already been written. So I'll just do a quick rundown of the basic facts:
John and Issac Miller invented the jacket in 1937; they went on to found Baracuta. However, rival company Grenfell claims to have invented a very similar style in 1931.
They originally designed the G9 to be a golf jacket (hence the "G" for "golf" in the name).
The G9 became popular in the U.S. in the 1950s and 60s thanks to Elvis Presley, James Dean, Frank Sinatra, and, of course, Steve McQueen.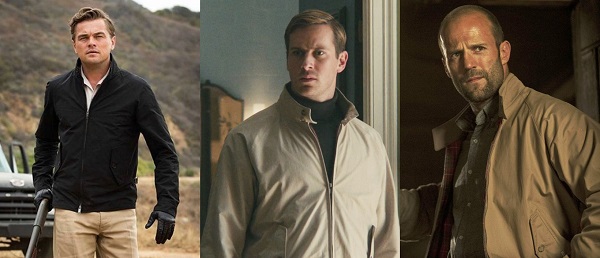 People didn't call it the "Harrington" until 1964. That's when actor Ryan O'Neal's character Rodney Harrington wore the jacket on the popular T.V. show Peyton Place. There's a bit of a legend that the trend was actually started by the iconic storekeeper John Simons, who advertised the G9s he sold in his store as the "Rodney Harrington Style" jacket.
For the last sixty years, the G9 and similarly styled jackets have been a go-to piece of outerwear for preppies, skinheads, suedeheads, mods and other sub-cultures in the U.S. and UK.
Daniel Craig has been photographed wearing a Sand colored G9. As most know, Tom Ford designed the Bond Harrington jacket from Quantum of Solace, which actually has more in common with the Baracuta G4 than the G9.
If you'd like to dig deeper into the history of the Baracuta G9 Harrington Jacket, I've included some links at the end of this post.
The Original Baracuta G9 Harrington Jacket
The G9 Modern Classic goes for £295.00/$429.00 on the Baracuta site. If you want the Daniel Craig look, you can go with the Natural color. For the Steve McQueen look, buy the lighter Mist color. Currently, most sizes are available in both colors. If you're okay with going with a slightly darker tan, then Amazon has plenty of sizes for $390.00. They also have the dark navy at that price if you're interested in McQueen's Thomas Crown style.
Best Affordable Alternative for the Baracuta G9 Harrington Jacket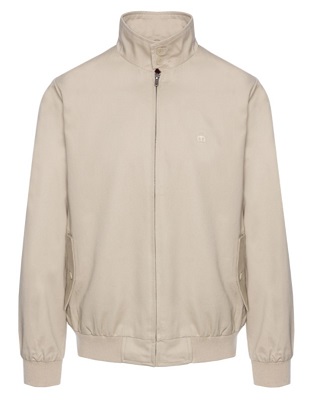 The Merc Harrington Jacket gets a lot of favorable comparisons to the G9. And the Beige color is a good middle ground between McQueen's and Craig's looks. If the men's style forums are to be believed, this is one you should definitely take a look at. All sizes are in stock on the Merc website (XS to XXXL).
Other Options for the Baracuta G9 Harrington Jacket
Honestly, almost every clothing company has some version of the Harrington jacket. From cheap Asian knock-offs to legacy brands, you literally have hundreds of options to choose from. So to keep this simple, I'm going to focus on the more well-known labels and throw one or two cheaper alternatives into the mix. I'm also going to stick with versions that adhere as closely as possible to the design of the original. So no snap buttons, welted pockets, open hems or cuffs, or crazy logos.
Under $50
The Cheapies
A couple of low cost options available on Amazon and Ebay. First, the Pro Scottish LLC in Beige for $55.00/£10.49 to £19.05 (it comes from the brand Style Spot on Amazon UK, but it's the same jacket). Second, the Lambretta Classic Harrington Jacket in Stone/Beige for $61.50/£39.99. I think it's safe to say that all of these are made somewhere in Asia. So don't expect outstanding quality (although both are pretty well reviewed) and make sure to double check the comments on sizing.
Under $200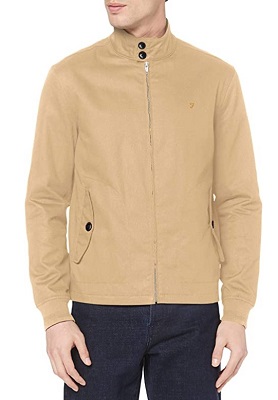 Some stylistic differences set the Farah Hardy apart. First, you're getting inset sleeves instead of raglan. Second, the cut is much slimmer. And third, the jacket is missing that umbrella vent on the back. So, all in all, it may not appeal to traditionalists. But if you're looking for a more modern take, this could be your option. Amazon U.S. and UK have the best prices and sizes small to XL in stock at the time of writing. But you can also get the same jacket directly from the Farah website on sale for $110.00/£70.00. I'm just not 100% sure it's the same color as the one pictured above based on the product photos.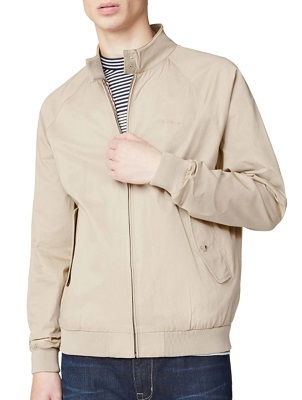 This is a staple piece in the Ben Sherman line, and gets a fair amount of respect for being a quality, slimmer fitting jacket at a decent price. If you prefer something a little darker in tone, you can also get the jacket in Sand for the same price on the U.S. and UK sites. But if you live in the UK or Europe and want a really good deal on it, head over to M and M Direct. They have the Sand color on sale for £34.99 with plenty of sizes in stock. Unfortunately, I couldn't find that Putty color on any of the UK sites.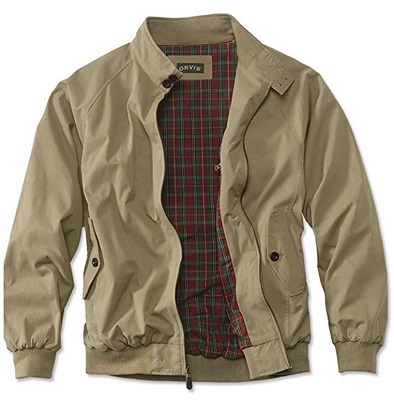 This is an evergreen classic from Orvis, the Weatherbreaker is probably one of their most popular styles with 4.7 stars out of 5 after 850 reviews. The outer shell material is a cotton and nylon blend, so expect decent water resistance. But Orvis is definitely a "traditional" clothing line, so expect a fit that comes closer to the baggier, old school G9. And you may even want to consider sizing down for a more contemporary fit. Plenty of sizes on Amazon and the Orvis website.
The Investment Pieces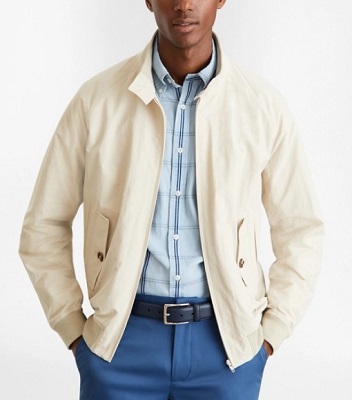 Not really sure what I can add to justify choosing this Brooks Brothers option over, say, the Ben Sherman. The fit actually looks pretty trim and it does have the raglan sleeves and yoke vent. It also has jetted pockets behind the front flap pockets, which is nice if you're looking to quickly stash your keys. Brooks Brothers has sizes XS to XXL on their website.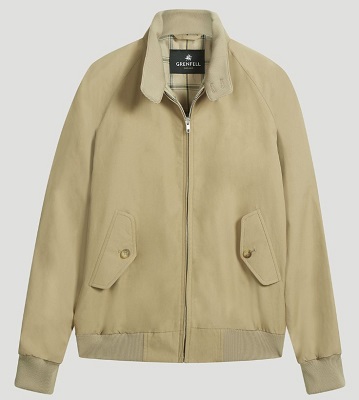 Speaking of history, let's talk Grenfell. Their made-in London Harrington Jacket is about £275.00. Which, while less expensive than the Baracuta, is still a lot to pay for a golf jacket. But as mentioned at the start of this post, Grenfell has a legacy to match Baracuta's. You can read the story behind the company here. And if you'd like to learn more about Grenfell's place in UK clothing manufacturing history, check out these posts on David Evans' excellent Grey Fox Blog. The Peached Cotton version of their classic comes in sizes 34 to 50 in both a Classic (looser) fit and Standard (trimmer) fit.
Now, just a quick comment about fabric and color. The company is most famous for its "Grenfell Cloth", a 600 threads-per-inch, highly water resistant cotton gabardine invented in 1923. You can get the Harrington jacket in Grenfell Cloth for $409.00. But, at least to my eye, the "Beige" color looks closer to an olive green. So there's your conundrum: get the jacket in their classic cloth but in a less than ideal color or go with a better color in a less famous fabric. First world problems ….
If you'd like to learn more about the Baracuta G9 Harrington jacket, check out these articles from James Bond Lifestyle, The Art of Manliness and Gentleman's Gazette. And remember to check us out our Instagram, Facebook page and Pinterest Boards for more James Bond style advice, inspiration and info on where to find the latest deals!