The James Bond Navy Blazer
If you've read our Guide to Contemporary Casual Style, you'll know one of the essential five pieces Timothy from Canoe Club recommended was a navy blue blazer. Which is great news for us Bond fans, since a navy blazer is one of the cornerstones of 007's onscreen wardrobe. In this post we're going to look at two styles of blazers. First, the single breasted Sean Connery style James Bond navy blazer. And second, the double breasted navy blazer that was worn by George Lazenby, Roger Moore and Pierce Brosnan.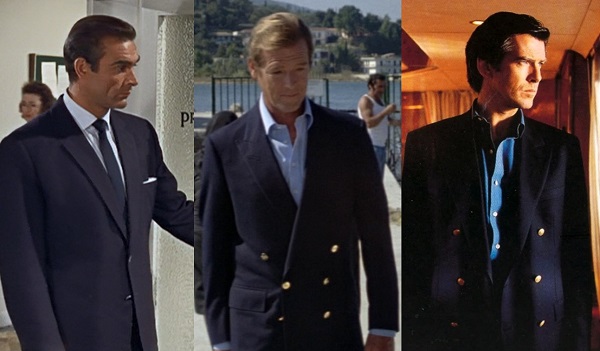 But I'm going to give things a bit of a twist. I'll recommend some classic alternatives for each style. However, I also want to look at updated takes on the traditional navy blazer. Specifically, ones that keep the style details we want, like pocket design and contrasting buttons, but use different fabrics or are a more unstructured design. For better or worse, most of us live in a world with a more casual dress code where a traditional navy blazer is going to look out of place. But the modern interpretations can be incredibly versatile while still giving us the Bond connection we want. And in a couple of weeks, we'll have a new 4 Ways to Wear the James Bond blazer to give you some ideas on how to use it!
How is a blazer different than a sport coat or suit jacket?
Let's get this out of the way first. Many brands are using the terms interchangeably now, which makes it difficult to distinguish one from the other. Especially when it comes to solid color jackets. You can give this in-depth article from The Suits of James Bond a read for more insight. But personally, I think a blazer has three main characteristics that set it apart: you wouldn't feel weird wearing it around boats (unlike a tweed sport coat or pinstripe suit jacket); it's probably some solid shade of dark blue; and it has contrasting buttons in metal or horn. I'd also add that I tend to like blazers with patch pockets more than flap pockets. I just think that design helps dress down a blazer and makes it look less like an orphan suit coat.
The Sean Connery James Bond Navy Blazer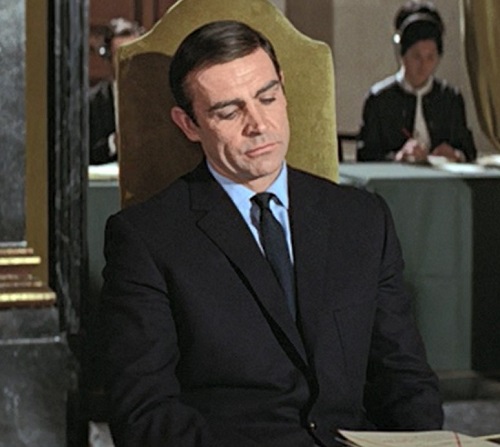 Connery's Bond wore a similar style of navy blazer in three films: Dr. No, Thunderball, and Diamonds Are Forever. Take a look at this post on The Suits of James Bond for more details.  I'm not including the blazer Connery wore in Never Say Never Again in this post, since it was closer to the style of Roger Moore's jackets. For now, we want:
100% wool
3 patch pockets
Double vents
Contrasting buttons in metal or horn
The Traditional Connery James Bond Navy Blazer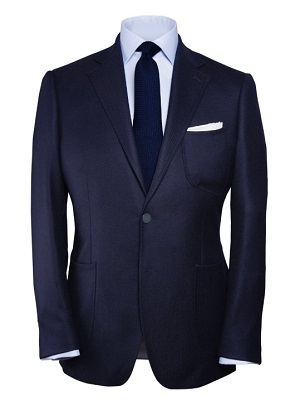 If we want to go traditional we may as well go original! This particular model from Mason & Sons is based on the design that Anthony Sinclair made for Sean Connery during his run of Bond movies. The suiting is a Super 110's Italian worsted wool and it's finished with swell edge patch pockets and screen accurate gun metal buttons. It may be expensive. But it doesn't get any more 007 than this.
However, if the Mason & Sons blazer is simply outside your price range, you can also try options from Lord & Taylor (on sale for $139.99), Spier & Mackay ($328.00), Bonobos ($400.00) and Charles Tyrwhitt ($449.00/£229.95). Just note that some of these alternatives are missing the patch chest pocket.
The Contemporary Connery James Bond Navy Blazer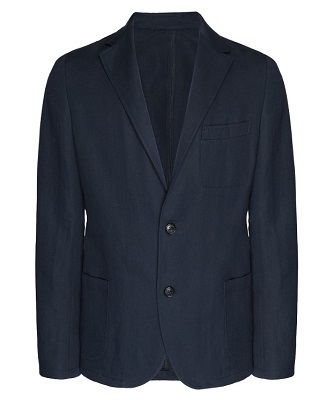 This is almost a perfect example of what we mean by "modern casual blazer". Made from 55% cotton/45% linen, the jacket is unstructured and only partially lined. So the fit is going to be completely natural and relaxed. The three patch pockets, thinner lapels with a higher notch, and dark navy color give it a connection to the Connery blazer. But the cut is trimmer with a cropped tail. Yoox has sizes 36 to 46 in stock.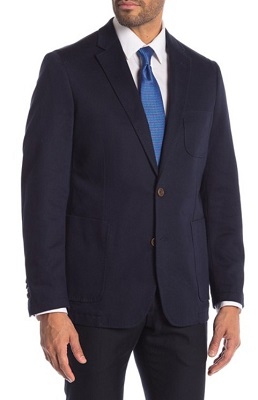 A more structured design and more traditional cut give this option a slightly more formal look. But the fabric is a 98% cotton/2% Spandex blend in a pique weave that helps things from getting too dressy. It's on sale at Nordstrom Rack, where they have sizes small to XL available.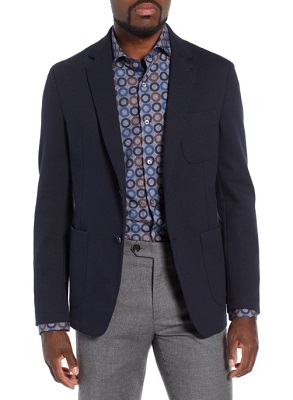 Another stretch cotton option, this time in a 97% cotton/3% elastane blend fabric. Like the Yoox option, this one is completely unstructured and barely lined. But it keeps many of the traditional blazer's style details, such as the double vent and four button cuffs. Nordstrom has sizes 38 to 48 in stock.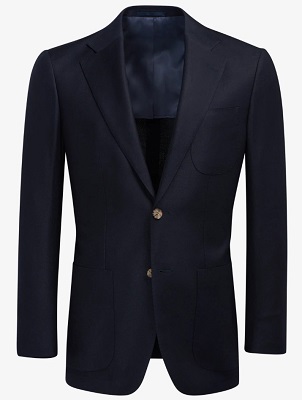 Certainly not the cheapest option. But this one from SuitSupply may do the best job of balancing traditional design details with the contemporary Italian style that's so popular right now. They've gone with a loose weave Vitale Barberis Canonico wool and a half-lined soft construction to keep things light and airy. The cut is more fitted and a little shorter for a more modern silhouette. SuitSupply has all sizes available in short, regular and long lengths.
For something a little less expensive, you can check out SuitSupply's Havana Navy Jacket in Pure Wool for $399.00/£259.00. Just note that this one is missing the patch chest pocket.
The Double Breasted James Bond Navy Blazer
Just in case you haven't been following #menswear on Instagram, I'll give you the heads up that double breasted jackets are back in a big way. Which should make fans of Roger Moore's Bond style very happy. Navy blazers were common during his tenure as 007, with double breasted models making a few notable appearances. And of course we can't forget the beautiful blazer George Lazenby's wore when he visited M in On Her Majesty's Secret Service. Or the double breasted number Pierce Brosnan wore during his investigation of the Manticore in Goldeneye.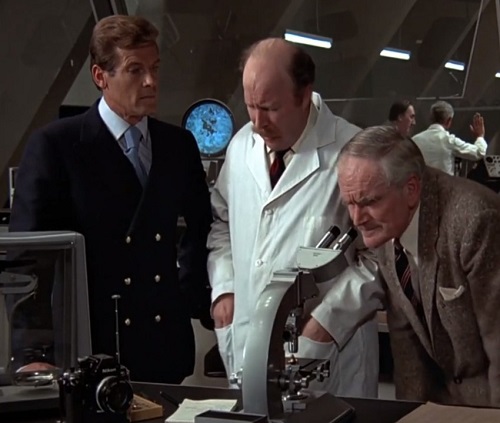 However, I did hit a few obstacles when trying to find alternatives for the Bond double breasted blazers. First, the 6-button-3 style is next to impossible to find off the rack nowadays. The 6-button-2 seems to be the more popular configuration. And patch pockets are far more common than flap pockets (especially slanted ones) on current designs.
When it comes to the comtemporary alternatives, this is also a great time to check out sites like MatchesFashion, italist, Farfetch and Yoox. I found a ton of great options from high-end designers at great prices. Unfortunately, there was usually only one or two sizes available in each. And they tend to sell fast. But if you can find the right one in your size, chances are you can score a great deal.
The Traditional Double Breasted James Bond Navy Blazer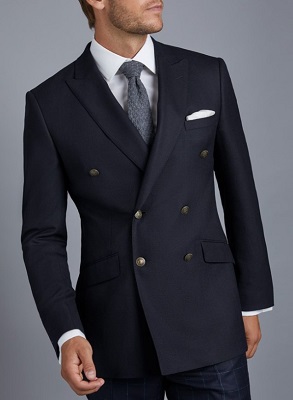 This one ticks most of the boxes. Made from textured 100% wool, it features a more structured design, matte finish gold tone buttons and the slanted hip pockets. On the downside, it's a 6-button-2 and it only has a single vent at the rear. But those inaccuracies should be easier to overlook at that sale price. Hawes & Curtis still has a good selection of sizes left.
If that one isn't doing it for you, try this option from Next (£120.00) or the Charles Tyrwhitt Silm Fit Double Breasted Blazer (£179.95/$349.00; they also have it in Classic Fit here). If you're feeling really spendy, take a look at the Brooks Brothers Country Club Madison Fit Double Breasted Blazer for $798.00 (also available in the slimmer Regent Fit) or the New & Lingwood Yarmouth Double Breasted Hopsack Blazer for £695.00.
The Contemporary Double Breasted James Bond Navy Blazer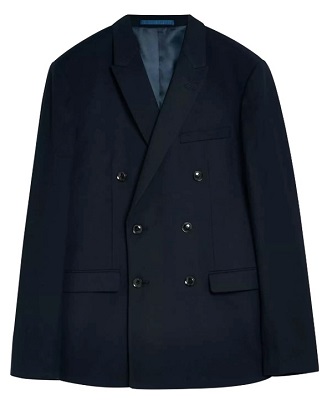 If you just want to test the double breasted style waters, this isn't a bad low-risk choice. Seeing as it's coming from Topman, the cut is much more modern. Especially the chopped tail and narrower lapels. You might also want to think about replacing the buttons with some that have a little more contrast. The fabric is 67% polyester/33% viscose. Which shouldn't be a surprise at this price. Sizes 34R to 44R at still available.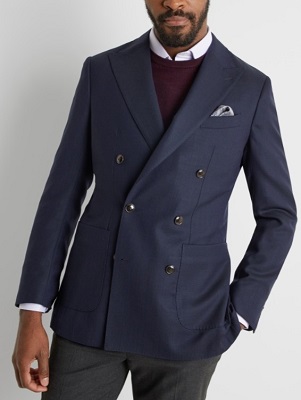 It's a much more traditional design than the Topman that could work well for you bigger guys. And we get the double vents and contrasting buttons. Unfortunately, we're also getting patch pockets. As I said above, I personally don't mind that. They're not screen accurate, but they also help give the blazer a more relaxed look. The suiting is 100% wool and it's half-lined for breathability. They have sizes 42 to 50 in stock.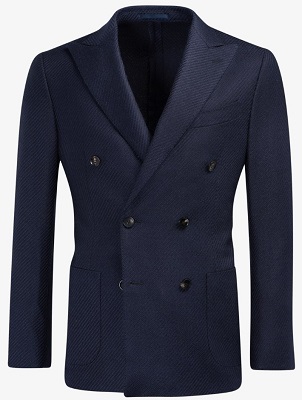 Another one from SuitSupply. And another one with patch pockets. But I have to say, based on the product photos, they've nailed what the whole "contemporary double breasted jacket" is all about. The fabrics is a nicely textured 99% wool/1% elastane from Italian mill Luigi Botti. And the fit is natural through the shoulders and more tailored through the chest and lower body. Again, a well executed balance between formal and casual.
Have some suggestions for the James Bond navy blazer? Let us know in the comments below! We also regularly post alternatives, deals around the net, and assorted fun stuff and general silliness on our Facebook page, Instagram account and Pinterest boards. You can also visit our official Amazon Store Page! We created it to make it easier for you to find all the different alternatives we discover from the giant on-line retailer. Hope you'll check it out and let us know what you think!