James Bond Accessories: Silver and Gold
When it comes to the finishing touches, those James Bond silver and gold accessories can make a big difference. A glint of silver on the tie. A flash of gold at the collar. Or some unexpected shine when you shoot the cuffs. When used judiciously, these little extras can elevate your look and prove that when it comes to Bond inspired style, the details really matter.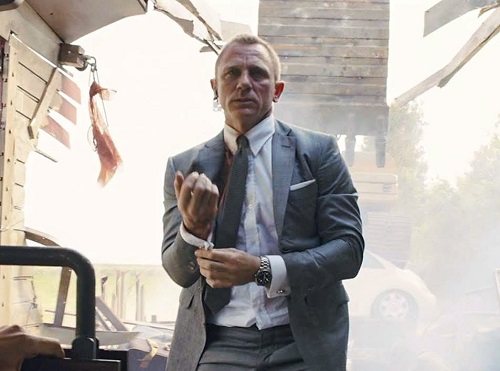 So in this post we're going to be looking at alternatives for Bond's collar bar, cufflinks, tie bar and money clip. There's lots to cover, so let's get rolling!
The SPECTRE Collar Bar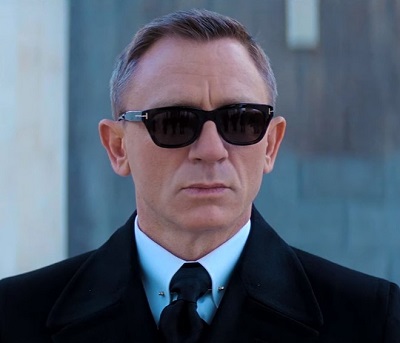 In SPECTRE, Bond goes undercover to attend Marco Sciarra's funeral in Rome. And as part of his efforts to blend in with the gangsters, he wears a Tom Ford shirt with a gold collar bar. Some people really liked the look. Others … not so much. But his "costume" certainly demonstrated how one small accessories can completely change the tone of an outfit.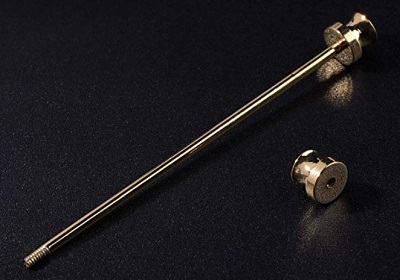 Simple, cheap and a great match for the one we see in Rome. At that price, I'm guessing the quality isn't going to be top of class. But with free shipping, you can grab a couple extras as back ups in case you strip the screw on the first one.
Try Etsy or Ebay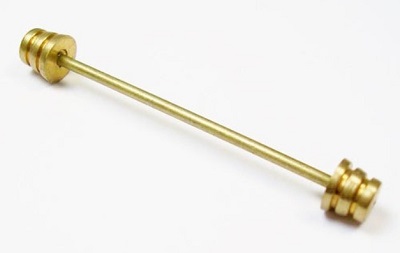 If you liked something a little more special, check out Etsy and Ebay for antique or vintage collar bars. There's plenty available and the prices won't kill your wallet. For example, the 1950s Vintage Collar Bar above is only $12.95 and the design comes pretty close to the Tom Ford, although it is a little shorter.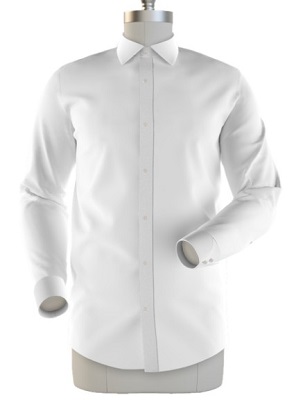 If you don't already have one, now might be a good time to pick up a shirt to complete your SPECTRE Rome look. I've already discussed DeoVeritas's custom shirt service in our post on James Bond Tab Collar Shirts. Using their online process, I designed the one above to be as screen accurate as possible, going with white poplin shirting, cocktail cuffs, the pin collar and mother of pearl buttons. It's not exactly cheap. But by choosing different fabrics and standard buttons you can get the price down to $80.00.
Cufflinks
The Magnoli Clothiers James Bond Cufflink Collection: $40.00 to $50.00
Most of you are already familiar with Magnoli Clothiers and their screen-accurate reproductions. So if you want to get as close to the original Bond cufflinks as possible, Indy's creations are probably the best way to go. Shown above clockwise from the top left are the Montenegro and the Casino cufflinks from Casino Royale, and the Orbis Non Sufficit and Istanbul cufflinks from Skyfall. They also do the Vesper and Macau cufflinks. I've linked to Amazon U.S. here since most people are comfortably dealing with them. But you can also buy directly from Magnoli Clothiers if you prefer.
By the way, you can still get the original Tom Ford "Istanbul" cufflinks at Mr. Porter for the low, low price of $4590.00. Just so you know …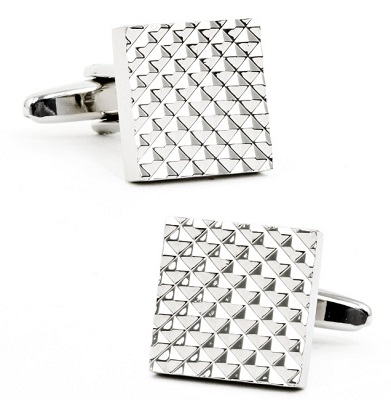 Another option for the Montenegro cufflinks from Casino Royale. These ones are Rhodium plated and feature a swivel back closure.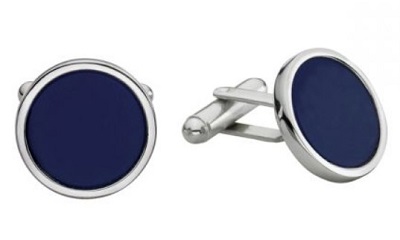 In SPECTRE, Bond wore two pairs of round monogram cufflinks, one with a mother of pearl base and the other with lapis lazuli base. These ones, coming from Cufflinks Depot, aren't a semi-precious stone. But the blue base and overall style isn't a bad match. And you can get them engraved with your own initials. Personally, I'd try the "Circular Monogram" font they offer to give them a similar look to the Tom Fords. Use the code XMASJULY50 to get 50% off the base price of $65.00. The engraving will still run you an extra eight bucks.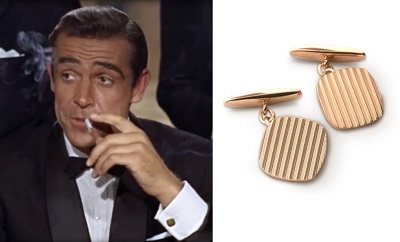 I love these Mason & Sons passion projects! These rose gold plated cufflinks are inspired by the ones Connery's Bond wore in Dr. No and Goldfinger. They're expensive. But that's a timeless design and they connect directly to one of the most iconic scenes in Bond cinematic history.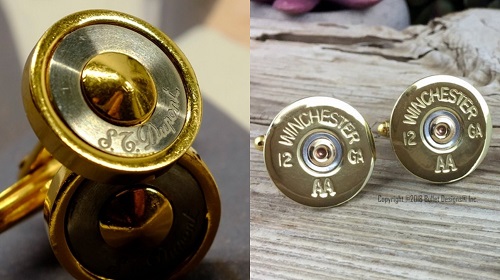 Call me crazy, but Bond's S.T. Dupont cufflinks from Die Another Day (seen here on James Bond Lifestyle) always reminded me of a shell casing. It's a stretch, but you can get a little creative and go with cufflinks actually made from a shell casing to kind of get the look. I chose ones made from Winchester 12 GA shotgun shells, since Sir Roger used a Winchester Model 12 in A View to a Kill. Thanks IMFDB!
The Bond 25 Tie Bar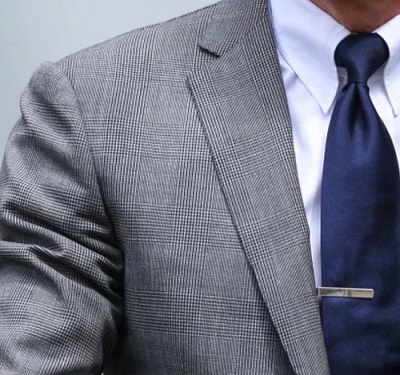 Some people were hypothesizing that the Bond 25 tie clip was made by Douglas Pell, since that company made Bond's Casino Royale money clip. However, if you take a look at the Pell model you'll see that the end is more rounded, while the one Craig is using is more squared off with slightly rounded corners. So, for now, my money is on the Bond 25 tie clip being another Tom Ford accessory.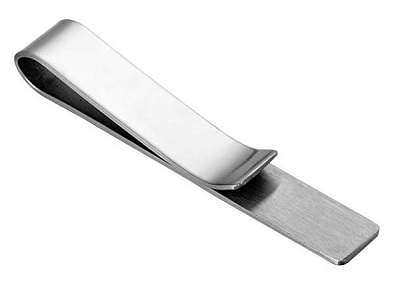 This is the one David Zaritsky shared over on The Bond Experience Instagram account. Not much to say about a metal clip. It's 2″ (50mm) long by 0.3″ (8mm) wide. And, as the name states, it's made from stainless steel.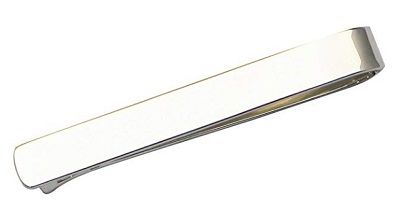 Best bang for your buck? The vendor claims it's made from actual sterling silver. Although I can't see a a registered trademark or maker's mark on it. And I'm not sure if just engraving "925" on the back counts. But in any event, it's a low risk purchase at that price. And the shape and finish make it a very good match for the Bond 25 one.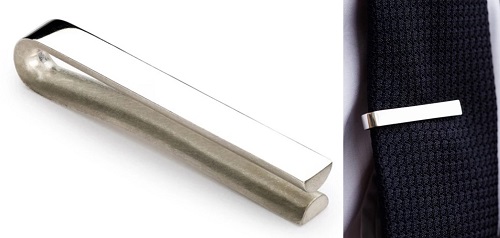 If you've decided that tie bars are your thing, you may want to invest in the design GQ Magazine called one of the "best items in the world". Made in Birmingham, England from solid silver, it's 45mm X 8mm (1.75″ X 0.3″). And it has the stamped hallmarks of both the Birmingham makers and the UK Assay Office. So you know it's the real deal.
The Money Clip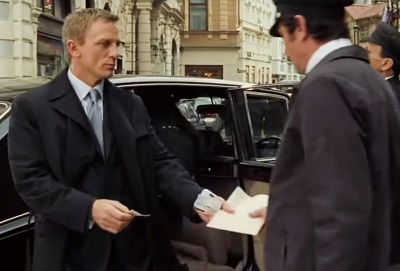 In a blink-and-you'll-miss-it moment, Bond pulls out his Douglas Pell money clip upon his and Vespers' arrival in Montenegro. Yes, that's it in his left hand. Luckily, the screen used money clip was later on display at the Bond in Motion exhibit, which allowed fans to get a better look at it.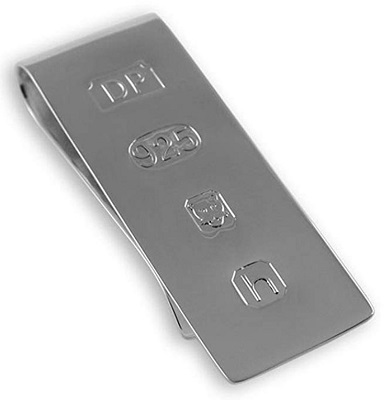 Yes, you can still get the original. Or almost. The 007 Collector does a great job of explaining what the different markings on the clip identify. But the important one is the letter at the bottom. That identifies the year in which the clip was made. And since that will change from year to year, the one you buy today won't have the same letter as the one used during the Casino Royale filming back in 2005.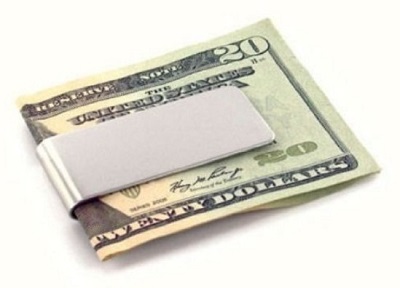 Again, not much to say about a basic metal clip. Except that this one is dirt cheap and has 4.5 out of 5 stars on Amazon.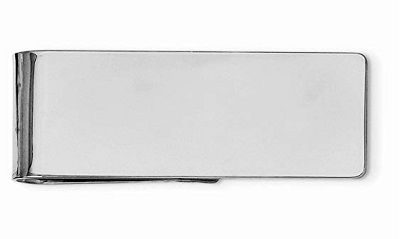 Not hallmarked. But the size and shape are a close match. Two nice things: it is stamped inside with U.S. mark for authentic sterling silver. And it comes with a lifetime warranty.
Have some suggestions for the James Bond Accessories? Tell us about them in the comments! You can also visit our Facebook page, Instagram account and Pinterest Boards for more James Bond style advice and inspiration! And since so many of the accessories we shared in this post are coming from Amazon, check out our Amazon Store. We've organized them all there as well so they're easy to find.