5 James Bond Summer Drinks
We're stuck in the dog days of summer. And things are HOT for many of you. While adopting some 007 Summer Style will help, shorts and espadrilles don't do much to quench our thirst. So this is the perfect time to take a look at some refreshing James Bond summer drinks!
To help us keep things suitably Bondian on the alcohol front, we enlisted the help of expert David Leigh, author of the award winning The Complete Guide to the Drinks of James Bond and your host at The James Bond Dossier. Save us from the heat, David!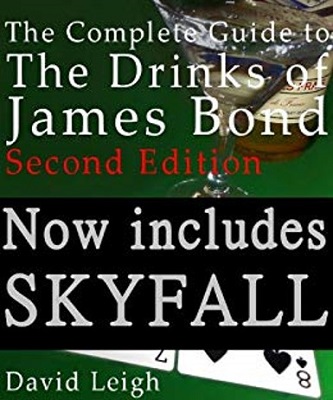 James Bond Summer Drinks
While I love a good dry martini or Vesper as much as the next Bond fan, at the end of a hot summer day I'm really looking for something more refreshing.
So while 007 is probably best known for vodka martinis, in this article I want to take a look at some of Bond's drinks with less of a kick. Something to revive you, not knock you out. If you've been following Bond 25 you'll know that the film's launch event was held at Goldeneye in Jamaica, while filming took place in nearby Port Antonio. And so, given the Caribbean connection, it only makes sense to focus on rum.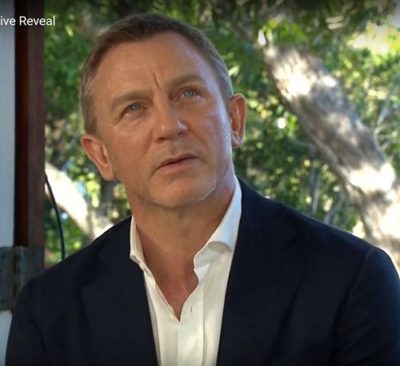 But if rum ain't your thing, then I've got a couple of non-rum options for you to try as well. The recipes are given as guidelines only, something to start with. And if you're mixing at home you can experiment with the balance of flavours to make them your own.
Mojito
With a rum base and refreshing lime, the Mojito was supposedly a favourite of Ernest Hemingway (although there is some doubt about that).
In Die Another Day (2002), Pierce Brosnan's Bond ordered one while in Cuba, a choice that is sometimes credited with the drink's 21st century renaissance. These days it is widely found on cocktail menus around the world.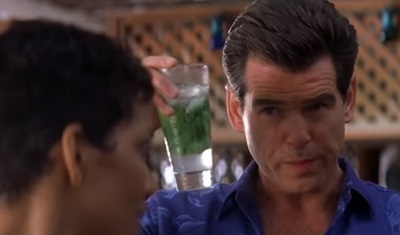 While pre-mixed Mojitos are easy to find on supermarket shelves, they're a pale imitation of the real thing. You'll produce a far better drink by creating them yourself with fresh ingredients. Here's how:
Mojito Recipe
3 or 4 fresh mint sprigs
1 tsp sugar
3 tbsp fresh limejuice
1½ oz light rum
club soda
Add the mint and sugar to a tall glass, then muddle to release the flavour of the mint. Fill with ice and add the rum – preferably Cuban – and limejuice; stir. Top with soda and garnish with a sprig of mint.
Apparently some bars in Cuba also add a drop of Angostura bitters, which helps offset the sweetness of the drink.
Rum Collins
A close cousin of the Mojito is the Rum Collins. It is also sometimes known as the Ron Collins, from the Spanish word for rum and a variation on the Tom Collins. The Rum Collins uses rum and lime juice in place of gin and lemon. This is what Largo offers Sean Connery's Bond when he visits him at Palmyra in Thunderball.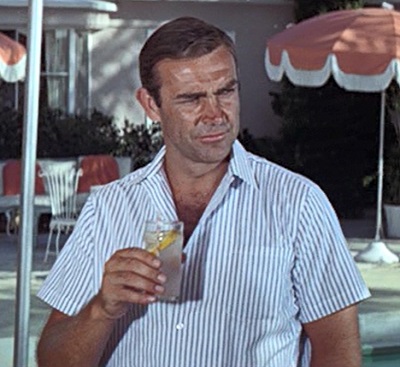 Rum Collins Recipe
2 measures light rum
Juice of 1 lime
1 tsp sugar
Soda water
A lemon slice
A cherry
Shake the rum, limejuice and sugar together and top with soda water; then add the garnish. Serve it in a Collins glass if you have one or a highball glass if you don't.
Rum and Soda
In Casino Royale Bond goes to the One and Only Ocean Club in the Bahamas. There he orders a Mount Gay rum and soda, which is nice and easy to mix at home.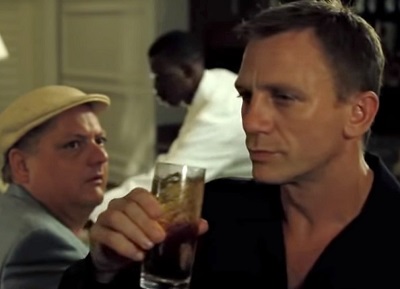 Pour one part rum over ice with to two or three parts soda water, depending on your taste, and add a slice of lime. Although not Bondian, if you want something sweeter then pour yourself a rum and Coca Cola to the same proportions. Add a good squeeze of lime and it becomes a Cuba Libre.
Bacardi would make a cheaper alternative to Mount Gay. But don't make the mistake of mixing this drink using dark rum. It doesn't work well. In the film the rum appears to be golden, but you can substitute white rum if you prefer.
Gin & Tonic
If you're not a fan of rum – or just want a change – it's hard to beat a refreshing G&T on a hot summer's day.
Although not yet seen on the big screen, 007 does order it a number of times in the books. With gin's recent resurgence in popularity it would be great to see him order a gin and tonic on screen at long last.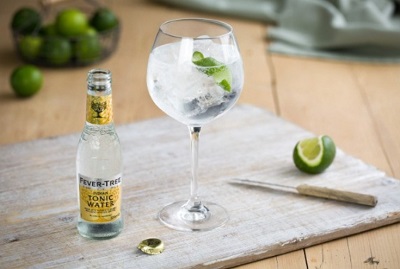 Bond being Bond, in Dr No he orders it in a very particular way, adding the juice of an entire lime to the drink. Personally that's too much lime for me – or perhaps the limes in Ian Fleming's day were smaller.
But the juice of half a lime added to one part gin to two parts tonic and poured over ice is one of the most refreshing drinks you can ask for on a hot evening. A good starting point is 40% ABV Gordon's Export. Use less tonic to balance the drink if your gin is lower strength, or more if it is stronger.
Go upmarket if you prefer, but don't go too far downmarket. Your drink just won't be the same. As for tonic, I usually use Schweppes or Fever Tree these days.
Beer
Sometimes it's hard to beat an ice cold beer. Pull one out of the fridge, pop the top and you're good to go!
Beer isn't really a drink you  normally associate with James Bond and there was quite a fuss when it was revealed that he would drink Heineken in Skyfall.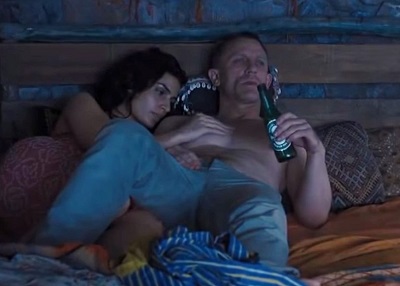 But it wasn't his first on screen brew and in the books he enjoys a beer a number of times. If you want to stay current then Heineken is the obvious brand. But it's not the only one. In Quantum of Solace he quaffs a bottle of "Cervecita" while talking to Felix. Unfortunately it is a fictitious brand so impossible to get hold of.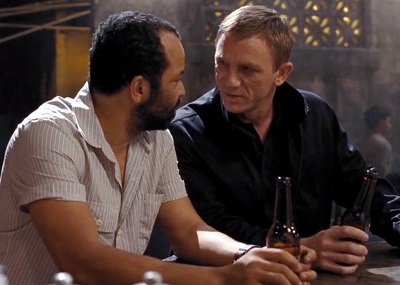 Prior to that he asked for a Bud at the Barrelhead Bar in Licence to Kill. A fight broke out before he got to start it though.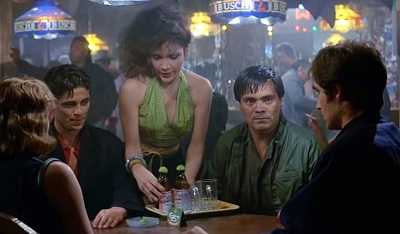 In the novels, Bond orders Löwenbräu on several occasions. He also orders Miller High Life in Diamonds Are Forever while on the road with Felix. And, returning to the Jamaican theme, Red Stripe in The Man With The Golden Gun. In the first Bond, film Quarrel has a bottle of Red Stripe at Pus-Feller's bar and crates of the Jamaican beer are stacked in the storeroom. So Bond and beer aren't exactly strangers.
Last Call …
I hope I've given you some ideas of some Bond inspired drinks to enjoy this summer, whether on vacation or at home. If you like these you might want to check out my book, The Complete Guide to the Drinks of James Bond or you can find my other writing about 007 at https://www.thejamesbonddossier.com/.
Do you have a favorite James Bond summer drink recipe to share? Share it in the comments below! And remember to check out our Facebook Page, Instagram Account and Pinterest Boards for more James Bond style advice, inspiration and info!