The James Bond Tab Collar Shirt
What can I say about that James Bond Tab Collar Shirt from Skyfall? You either loved the look or you hated it.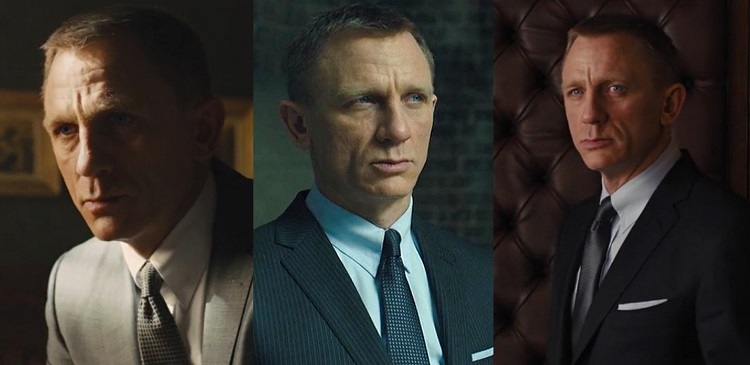 The shirts were, of course, made by Tom Ford. And as near as I can tell, there were three different colors. The white was used in the PTS. The light blue was used in the London and Scotland arrival scenes. And there was a pale blue one Bond wore for his visit to M's office at the end of the film. If I'm missing one, please let me know!
The resurgence of the tab collar seemed to have died down quite a bit in recent years. The style received a lot of attention back in 2012/13 when Skyfall first came out. But most off-the-rack shirt makers and big brands have since dropped the collar option from their offerings.
The Bond 25 Tab Collar Shirt
Of course, the distinctive collar style will probably see another resurgence thanks to Daniel Craig's James Bond wearing it once again in the new movie.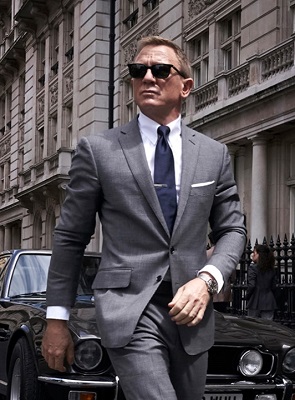 The new shirt is an interesting blend of the styles from Craig's last two Bond films. We're getting the tab collar, which was used extensively in Skyfall, and the cocktail cuffs, which were re-introduced in SPECTRE.
Features Wanted for the James Bond Tab Collar Shirt
Longer, soft point collar with tab closure (preferably with a button instead of snap)
French cuffs or Cocktail cuffs
No chest pocket
Broadcloth or poplin fabric in white, sky blue and/or pale blue
A quick note on the tab collar. Tom Ford used a soft collar. Meaning it was probably stitched and had a lighter interlining. That construction, plus the short tab, gave the collar its characteristic roll.  It seems that most U.S. companies (like Brooks Brothers) prefer to go with a stiffer collar and longer tab. So we don't get the same "pinched" look with them. Just something to keep in mind.
As for the cocktail cuffs, they're very difficult to find on an off-the-rack shirt at a reasonable price. And ready made shirts with both the cocktail cuffs and the tab collar are even rarer.
Best Option for the James Bond Tab Collar Shirt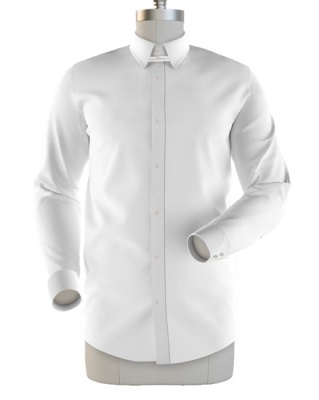 One of the great things about the age in which we live is the plethora of reasonably priced on-line custom shirt makers. For the price of good off-the-rack shirt, you can get one made-to-measure from a growing number of respected services. I wrote an article about ordering your first MTM shirt to get your started (you can read that here).
I've selected DeoVeritas as the "Best Option" simply because they offer cocktail cuffs as a standard choice. The image above is a shirt I created on their website with their very user-friendly design system. I went with the classic white poplin cotton shirting, a sewn tab collar, cocktail cuffs and finished it with mother of pearl buttons for a total price of $140.00. But they have a broad selection of fabrics and customization options that will allow you to bring the price down to as low as $90.
If you're not that concerned with getting the cocktail cuffs, there are currently some excellent on-line services offering made-to-measure shirts. Not all of them do the tab collar as a standard feature. But it never hurts to ask. My Tailor is one that used to offer tab collars. But it seems they've removed that option from the selection menu. Check out this thread on styleforum.net to learn more about what regular clients think of My Tailor. Others include Proper Cloth, Ratio Clothing, and Spier & McKay. Just be aware that any company you order from will require some time to make your shirt, running anywhere from two to eight weeks.
Best "Off-The-Rack" Option for the James Bond Tab Collar Shirt
Not the most surprising choice, considering Paul Fredricks' shirts have been mentioned as alternatives for years now. But there's a good reason for that. First, this is one of the few companies still regularly offering tab collars at a reasonable price The current sale brings the prices down from $115.00 to $59.00 for the white and an amazing $39.00 for the blue. Second, aside from the chest pocket, it gets a lot of the style details right. Especially that collar. It has the soft roll we want and the shorter tab pulls in the points like the Tom Ford.
Under $100
I'm not familiar with John Clothier in the least. Meaning I can't talk about the quality of the shirts. A quick bit of research seems to show that they're made in India? And the description on Amazon UK says these are Made to Order. Oh, and they really like to mention how this is a "James Bond style". As for the design? Well, they've obviously gone with a stiffer collar and a longer tab. So we're not likely to get that nice roll. But, believe it or not, reasonably priced tab collar shirts aren't that common in the UK. And blue tab collar shirts with French cuffs don't seem to be common anywhere!
This alternative from Jos. A. Bank perfectly exemplifies what I was saying about the construction of the U.S. style tab collar shirt. They've used a stiff collar and longer tab. So how can we achieve that sweet collar roll? Also note the standard barrel cuff and chest pocket. The shirt is 100% cotton, but does have some type of "wrinkle free" treatment. Jos. A. Bank has sizes 15.5 to 17.5 available with different sleeve lengths. And they also make it in a Big and Tall option for an extra ten bucks.
This option from the classic menswear icon is very similar to the Jos. A. Bank's alternative in terms of features (and weaknesses). But they've gone with a non-iron Supima cotton. The best thing about Brooks Brothers' offering is the sizing choices. You can get the shirt in Traditional, Milano (slim), Regent (trim), Madison (classic) and Traditional (relaxed) fits. And they have a good selection of sizes in each.
Under $200
Well, that blue may be a little darker than ideal. But they got that collar roll down! The lack of of a chest pocket and the double button barrel cuff kind of cancel each other out. Hawkins and Sheppard have used 100% 2/140s cotton and mother of pearl buttons. This is also a "slim fit". So maybe not so great for you larger fellas. They're only offering collar sizes on this one; make sure to check the sleeve length for your size before ordering!
Indy Magnoli certainly has his fans in the Bond community. And this shirt sure seems like another winner. Needless to say, Magnoli has based his design on the screen-used Tom Ford. So the details should be spot on. It also looks like a quality product, with each shirt made-to-measure using your choice of fabrics. The base model uses a cotton twill. But you can also select Pinpoint Oxford, Sea Island Cotton, or Premium Fabric (not sure what that is) for an additional price.
The Investment Pieces
I have a few Eton dress shirts in my closet. And when it comes to off-the-rack fit they're awesome for my frame. They're also very well made and use high quality fabrics. So, yeah, I'm a fan. Now, I'm not saying you should go out and blow $250 on a shirt. But if you really like tab collars? Then this option from the 90 year old Swedish company is worth a look. Although they're no longer offering the tab collar as a regular off-the-rack model, you can still have one custom made for the same price.
And if you really like tab collar shirts but prefer a UK brand, give Edward Sexton a try. They've decided to use a cotton satin twill fabric for the shirt. There's also French cuffs, mother of pearl buttons and swelled edges on the collar and cuffs. All-in-all, a very Bond-worthy garment. Sizes 14.5 to 17.5 are available.
Have some suggestions for the James Bond Tab Collar Shirt? Tell us about them in the comments! And remember to visit our Facebook page, Instagram account and Pinterest Boards for more James Bond style advice and inspiration!