Canada Goose Lodge Hoody in Spirit Blue
Updated February 3rd, 2021 – I have to admit, I'm still astounded at the way the popularity of a piece of clothing can skyrocket just because Daniel Craig wore it a couple of times. In this case, the item is the Canada Goose Lodge Hoody in Spirit Blue. Mr. Craig wore this incredibly warm piece of outerwear for the SPECTRE photo call in Sölden, Austria back in January, 2015. He's also been spotted wearing the jacket on his down time (no pun intended).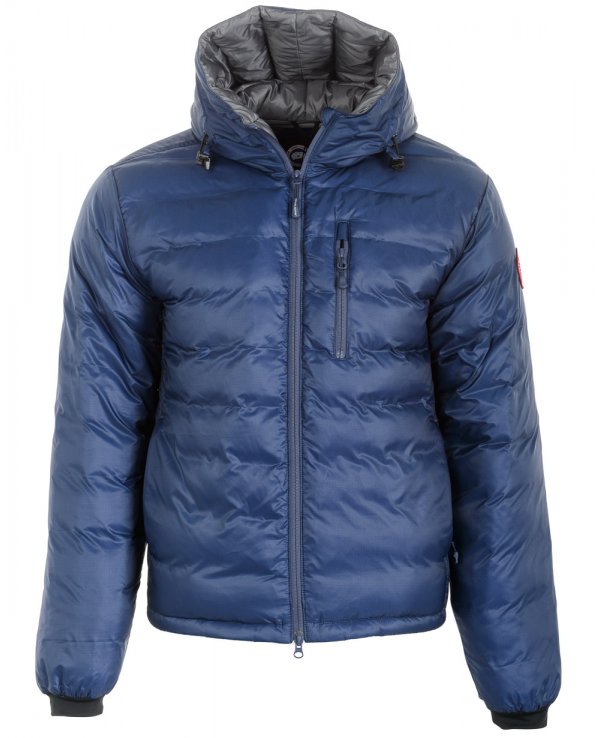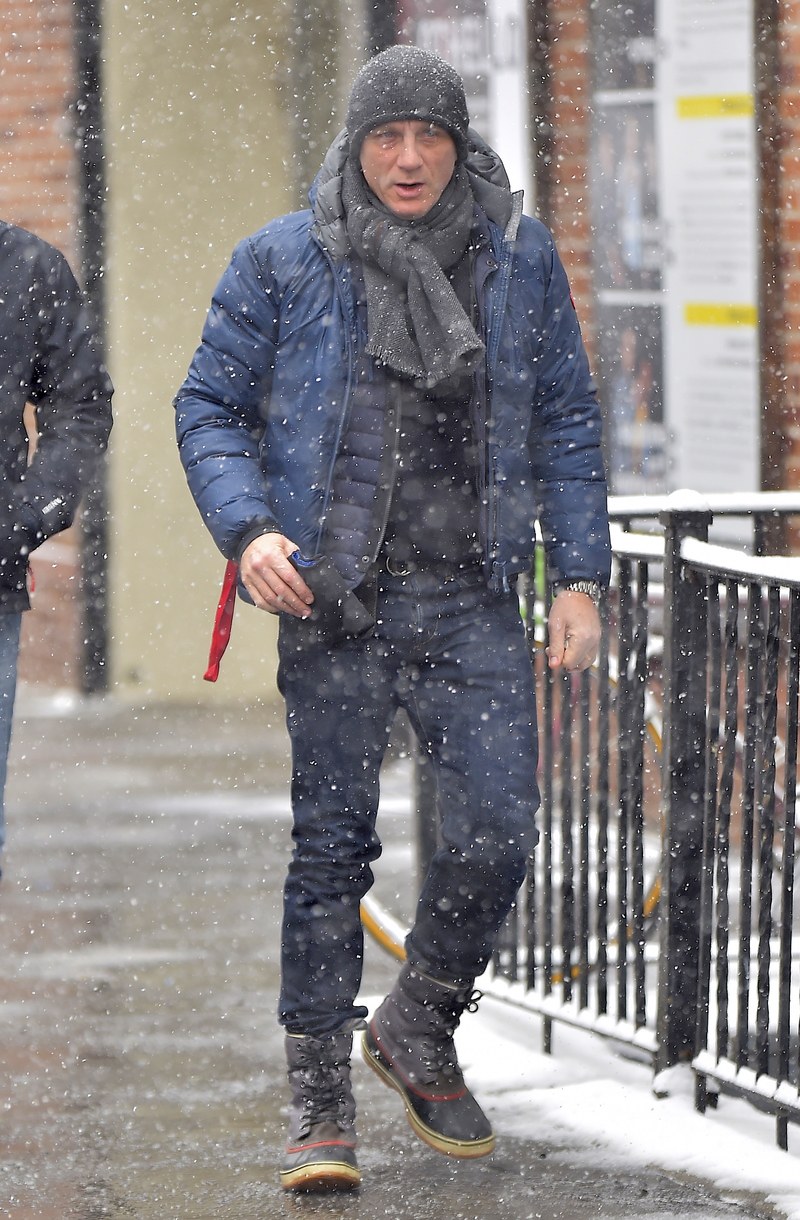 Canada Goose is still making the Lodge Hoody. And the recent version that probably comes closest in color to the one Craig wore is the Matte Finish in Northern Night. It retails for $575.00 and Canada Goose still has plenty of sizes in stock on their webpage. You can also check it out at Backcountry.com, where it goes for the same price.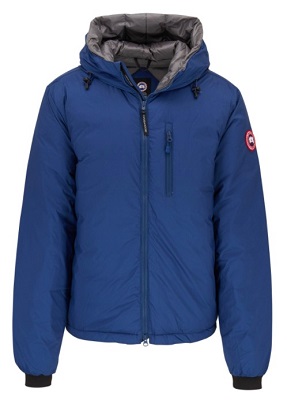 However, the original Spirit Blue color is long gone. Unless you can find one in your size on ebay. And this seems a good time to warn about counterfeits. Seriously, next to maybe Moncler, there are more fake Canada Goose products floating around than you'd imagine. And some of them are really good fakes. Like, really good! So before you get too excited about finding your "grail jacket" for $150, check with the Canada Goose Counterfeit center. Just FYI, a typical give away is the quality of the stitching of Maple leaves on the cookie badge.
Features wanted for the Daniel Craig Canada Goose Lodge Hoody
Muted mid-blue nylon outer shell material
Attached tunnel hood
Wider baffles
Zippered chest pocket
Tonal blue zippers
This made-in-Canada puffer has two unique characteristics. First is the color. We can get pretty close to that smoky royal blue with some of the alternatives. Second is the construction. When you look closely at the jacket, you'll see that the baffles (the tubes into which the down fill is packed) are not sewn through. In other words, there doesn't look to be any exposed, horizontal stitching on the outer shell.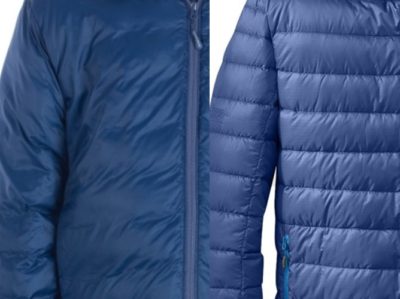 A little bit about down jacket construction …
Canada Goose's particular baffle construction is difficult to match. But it does serve a useful function. Puffer jackets keep you warm because of the loft created by the down. Air is trapped by the down and heated by your body, surrounding your torso in a layer of warmth. When you stitch through a jacket to create the baffles, you create lines where there is no loft. Which means no air is trapped. Which creates cold spots.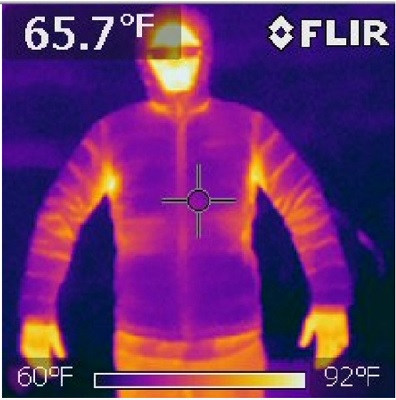 A sewn through construction is not all bad. It tends to make jackets more compressible, so they pack to a small size. It's also a less expensive construction method. And that helps keep costs down. But, obviously, Canada Goose uses a different method. I can't seem to find any information on exactly what that method is, but my guess is it's some type of modified box wall baffle system. But instead of stitching the baffle "walls" to the outer shell and inner lining, they're welded or bonded into place. And that eliminates those stitch lines we see on almost all the alternatives and would create the smoother finish.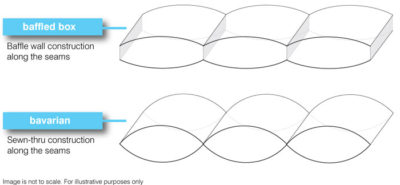 Now, if you're just looking for a casual jacket that captures the looks of the Lodge Hoody, then one of the lower-cost, sewn through construction alternatives below will do the trick. But I've also listed some higher-end options from well-respected outerwear brands that use a baffled box construction. Just in case you're planning on hanging out on a frigid Austrian mountain with Dave Bautista.
And a little bit about Down Fill Power
Another factor to consider when buying a down jacket is something called "Down Fill Power". That's usually the number you see in product descriptions that rates the loft of the insulation used (600 fill, 700 fill, 800 fill). It's often a misunderstood number. And there are other factors to consider when determining the warmth of a jacket (such as the amount of down used, the ratio of down to feathers, and the warmth to weight ratio). But, generally speaking, the higher the down fill power number, the better. You can learn more about the importance of down fill power in this article from Web Togs.
Alright, enough technical stuff. Onto the alternatives!
Best Options for the Daniel Craig Canada Goose Lodge Hoody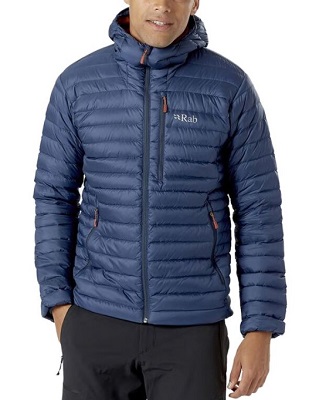 The "Deep Ink" color looks to be a decent match in the product photos. It has the tonal colored zippers and the integrated hood. And the chest pocket, which (as we mentioned earlier) is a little uncommon. On the technical side, the down is a 700 fill power sourced in Europe and RDS-certified (so it's the good stuff). Plus the ripstop nylon shell is treated with a water-resistant coating. Just in case you decide to take a roll in the snow. Actually, about the only strike against the Rab is the brick-red color of the inner lining. If you can live with that, it seems like a heck of a jacket! Backcountry has sizes small to XXL in stock, but unfortunately size large is sold out. You can also try Moosejaw. They have XS and Large available at the same price.
Under $100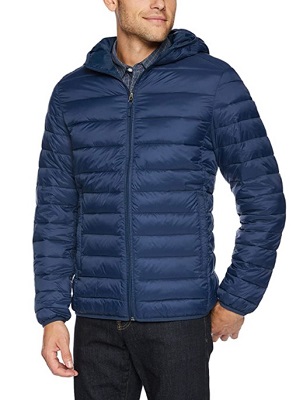 If you're looking to just play around with the whole "hooded puffer" style, this is good and economical place to start. Just don't expect anything super special for under fifty bucks. Amazon has used a lightweight nylon for the shell, a generic polyester fill for the insulation and probably gone with a sewn through construction (it doesn't say so in the product description, but at this price I can't see them using baffle boxes). So it's probably not especially warm. But it should do the trick for those slighter warmer days or as a layering piece. Amazon has sizes XS to XXL in stock.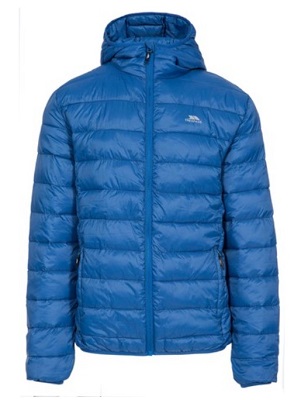 If you fancy a brighter blue, here's a low cost alternative from NEXT. The shell material is nylon, but there's no mention of what they've used for insulation. So let's assume it's a cheaper polyester fill. The Trespass is missing the chest pocket. But the other style details (tonal zippers, integrated hood) are a pretty good match. Just FYI that sizes are starting to run low on the website.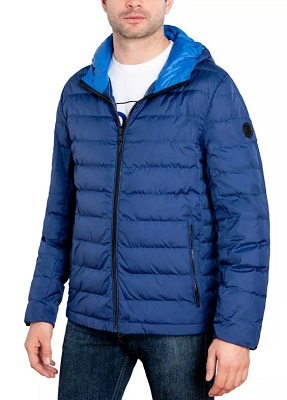 Now we're starting to take advantage of the end of season sales (suggested retail on this one was $225). Have to say I'm not a huge fan of the "MK" cookie badge on the sleeve. But other than that, you could do a lot worse for the price. The body insulation is down (no mention of the fill power) and it sounds like they've used a synthetic insulation in the sleeves, probably to keep manufacturing costs down. Again, no chest pocket. And the zippers are black. However the color looks to be very similar to the Spirit Blue. Macy's has sizes XS to XXL available.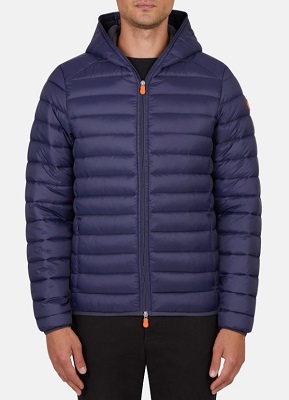 Synthetic insulation from a company that knows what they're doing. And at a great price! Although I'll admit I am having a hard time with that color. On some webpages it looks to be a light enough tone to work for the Spirit Blue. But on others it looks more like a true navy. Oh, and that front zipper extending all the way around the hood? That's just weird. On the other hand: the price! You can pick up sizes small to XXL at Nordstrom Rack. They also offer the jacket in a paler blue "Storm" color that could work as an option.
Under $200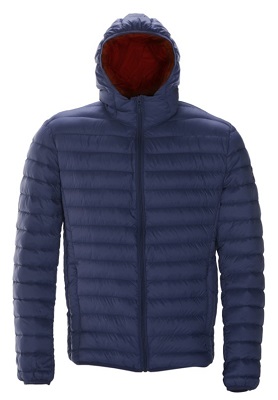 An alternative that's been part of this post since I first wrote it. The navy color is a little darker than ideal. But Schott tends to be a quality manufacturer (albeit mainly known for their leather jackets). Here we're getting a 90% down/10% feather insulation, the tonal zippers (once again, no chest pocket), and an integrated hood. The construction also looks to be a little better than average. You'll find sizes small to 4XL on their website.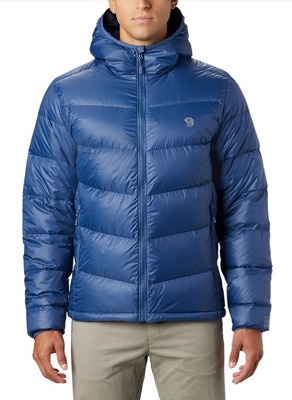 A proper technical down jacket for those that take staying warm seriously. Made with a water-resistant ripstop nylon shell and 600 fill down insulation, Mountain Hardware is on a par with brands like The North Face, Marmot and Outdoor Research. So you can expect the quality of the materials and construction to be top notch. Yes, the price is getting up there. But most of my personal technical outerwear is from them and it's held up season after season. Which is another way of saying Mountain Hardwear offers very good value for the money. Backcountry has sizes medium, large and XXL in stock. You can also get it directly from the Mountain Hardwear website or from Moosejaw for about the same price.
Have some alternatives for the Canada Goose Lodge Hoody in Spirit Blue you'd like to share? Or some feedback on the options we've listed? That's what the comments are for! And you can always check out our Facebook page, Instagram account and Pinterest Boards for more James Bond style advice and inspiration!