Brunello Cucinelli Unstructured Navy Cashmere Jacket
Updated March 4th, 2021 – Back in November of 2015, the Mail Online shared photos of Mr. Craig and his talented wife Rachel Weisz strolling through New York. And Mr. Craig was wearing some very cool outerwear. I'm pretty sure it was Instagram account What's Daniel Wearing that eventually identified it as the Brunello Cucinelli unstructured navy cashmere jacket.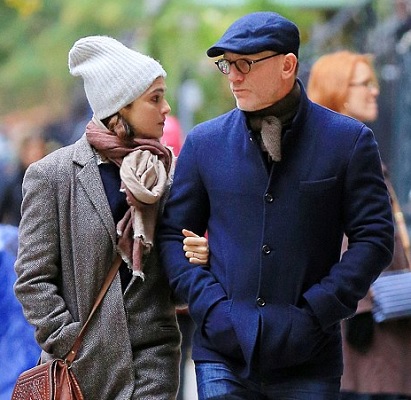 Since then he's been spotted wearing it more than a few times. And it almost always seems to be in an airport. With his Brunello Cucinelli flatcap and Belstaff 554 Messenger Bag (you can find new alternatives for that in this post).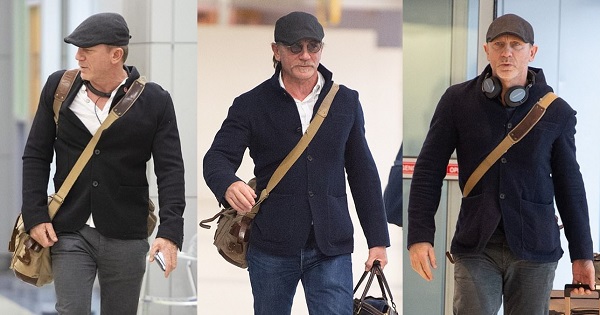 I can understand why it's one of his favorite "go to" jackets. The combination cardigan blazer design is both stylish and a great transition piece for those cool (but not rainy) spring and fall days. And it's easy to use for layering. With a light henley or button down underneath it'll work for those warmer days ahead. But because it's unstructured, you can easily throw a thicker coat on over top to keep you comfortable when the temperature drops.
Features Wanted for the Brunello Cucinelli Unstructured Navy Cashmere Jacket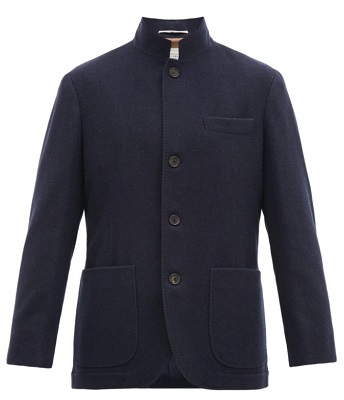 Navy cashmere, wool or wool blend material
Unstructured, unlined construction
3 button closure with a high button stance (would be great if we could get that fourth button on the lapel!)
Welted chest pocket and patch style hip pockets
It's not only the jacket's features that make it cool. It's also the way Daniel Craig wears it. By doing up the 3 buttons and turning up the collar, he gives what is essentially a pretty standard soft construction sport coat some serious style.
Best Option for the Brunello Cucinelli Unstructured Navy Cashmere Jacket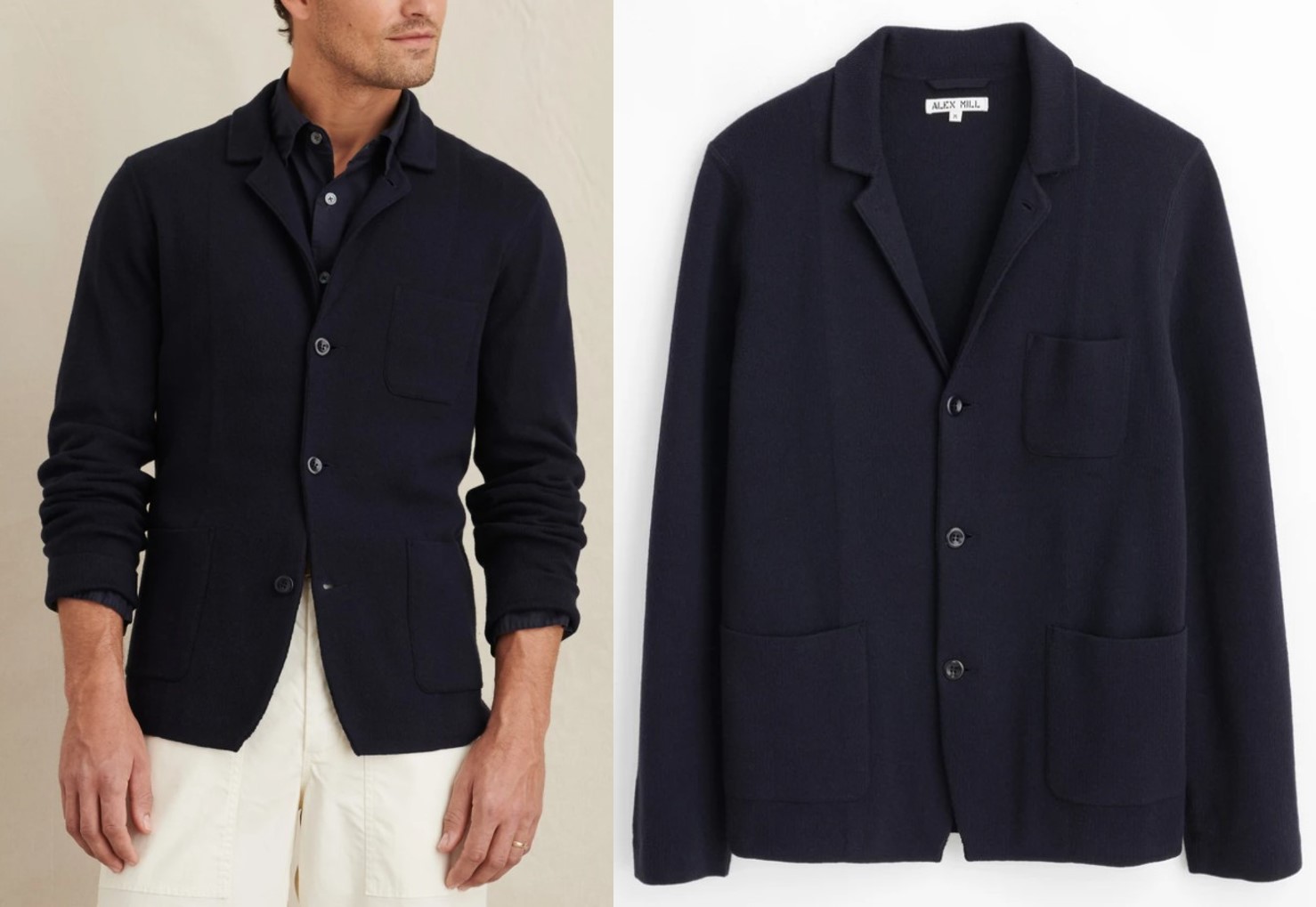 So why did this one take top spot? Out of all the options, the Alex Mill Cotton Cashmere Cardigan nails both the design and the fit. The fabric is a 95% cotton, 5% cashmere blend in a slightly thicker knit with a very subtle ribbing. It has the three button front with the high button stance, plus the button on the lapel. The cut is more "sophisticated Italian tailoring" than "boxy rugged workwear". And it's actually at the lower end of the price range for the alternatives on this list. About the only negative is the the patch chest pocket. But when it gets almost everything else right, I'm willing to overlook that. You'll find sizes XS to XXL on the Alex Mill website (another bonus: sizes for big guys!).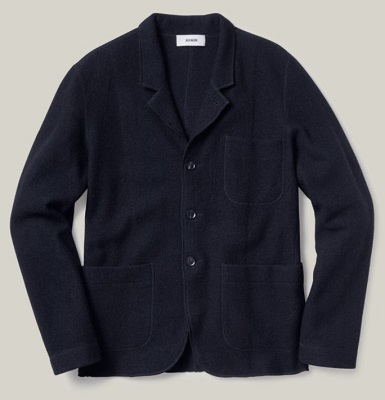 Two "Best Options"? Yep!  Honestly, I think you could go with either one and be happy. For their jacket, Buck Mason has used a mid-weight 12 gauge boiled wool and used covered stitching throughout. In other words, it's not going to come apart anytime soon. And with 4.8 stars out of 5 after 47 reviews, plenty of customers will attest to the quality. In my humble opinion, the decision to go with the Alex Mill or this one really comes down to styling and personal preference. As I mentioned above, the Alex Mill has more tailored, sophisticated look that better matches the Cucinelli jacket. When you watch the product video on the Buck Mason website, you'll see that their chore blazer is a little boxier and the fabric has a courser, felted appearance. So if you like the fitted Italian look, go with the Alex Mill. If your personal style leans more to the workwear side of things, choose the Buck Mason. This one was recommended by R. Phillip and Obi sean kenobi in the comments for this post ages ago. Scroll down to read their feedback!
Under $200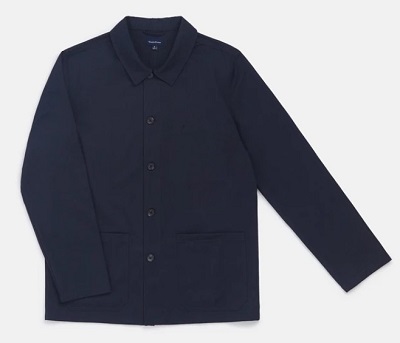 It's more shirt jacket than blazer. But it doesn't have the boxy cut we've come to expect from most workwear. And the collar isn't too large, so it won't look ridiculous when you flip it up to keep your neck warm. They've used a 60% Merino wool, 40% nylon blend fabric, which is thinner than the Cucinelli cashmere. However the blend does give it some durability and water resistance. Sizes XS to XXL are available on their website, although they're sold out of size small.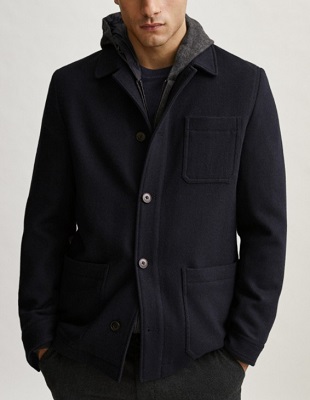 If you're looking for something a little more structured than the Cucinelli, this option could do the trick. The outer shell is a thicker 100% wool herringbone and the jacket is lined. But the styling details are a pretty good match. And even though they call this a "Straight" fit, this is Massimo Dutti, so I'd expect it will lean more tailored than boxy. Given Massimo Dutti's track record for offering solid designs and quality at a reasonable price (especially on sale), it could be a winner for those you wanting a warmer alternative. They have sizes small to XXL in stock, but size medium is now sold out.
Under $200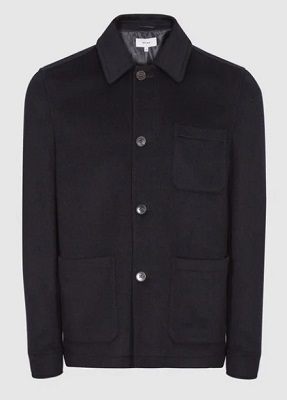 Like our Under $200 options above, this is more of a shirt jacket design than a blazer. But they've also kept the collar a reasonable size so it looks pretty sharp when flipped up. The fabric is a 54% wool, 41% polyester blend (with some other synthetics mixed in) and has that felted look we want. I know many of you are fans of REISS. And that sale price for those of you in the UK makes it a bargain. They have plenty of sizes left on their website.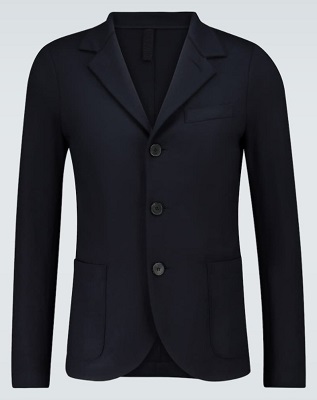 This alternative really could have been the "Best Option". But since the Alex Mill jacket nails so many of the right style details at about half the price, it got the top spot. However, if your budget allows, I'd give this one a serious look. Made from 100% superfine Merino wool, the Harris Wharf blazer has the three button front with the extra button on the lapel, the two patch pockets plus the welted chest pocket. And it's made in Italy. All in all, it really is a dead ringer for the Cucinelli jacket. My Theresa has UK sizes 36 to 44 in stock. They're also currently running a promotion: use the code MYEXTRA and you'll get an additional 10% off the sale price.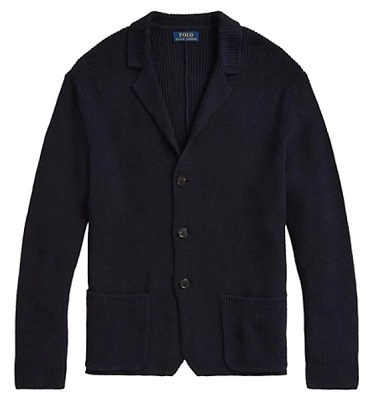 Something a little different from Ralph's House. This is actually a cotton and yak hair blend with a pretty prominent ribbed knit. Sort of a cross between the Cucinelli jacket and the Tom Ford Quantum of Solace cardigan. The fit looks to be more tailored, but it is missing the chest pocket and the extra button on the lapel. Given that's it's made from a softer knit, I'm not sure how well the collar will stay up when you "pop" it. But if you're looking for a cardigan that's more "inspired by" Craig's style, rather than a direct copy, this could be interesting. Saks 5th Avenue has sizes medium to XL in stock.
The Investment Piece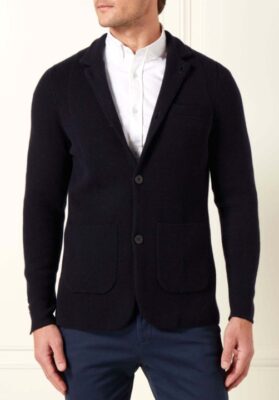 Of course it wouldn't be an IA post about knitwear without an option from N.Peal. This one is part of their 007 Collection released back in 2019. And although the design takes its inspiration from the jacket Connery's Bond wore to M's office in Goldfinger, it also makes an excellent alternative to the Cucinelli piece. Made from 100% Mongolian cashmere, the Milano jacket is certainly an investment. But those who own N.Peal sweaters will tell you they couldn't be happier with their knitwear. They're down to sizes medium and large on their website.
As always, I'll add more alternatives as I find them! If you've found an option you like, please share it in the comments below! And remember to check out our Facebook page, Instagram account and Pinterest Boards for more James Bond style advice and inspiration!