The Steve McQueen Waxed Motorcycle Jacket
Updated November 28th, 2021 – I love a well-cut suit as much as the next Bond-fan. But I have to say: vintage sportswear also holds a special place in my heart. That's where pieces like the Steve McQueen waxed motorcycle jacket come in.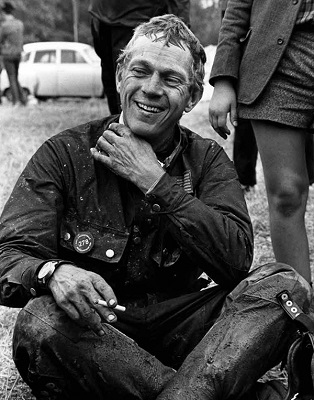 Vintage Outerwear
What is it about vintage outerwear that I find so appealing? It's hard to put my finger on. I definitely find the history behind heritage brands like Barbour and Belstaff fascinating. And because I spent a good portion of my younger years climbing, hiking and kayaking, I certainly learned to appreciate well-designed, bombproof clothing. Trust me: when's it's -30º C on day three of a week long climbing trip, a zipper blow-out can ruin everything.
Then there's the legacy these early designs have left behind. When you check out a book like The Vintage Showroom (or visit their website), you quickly realize that very little about these jackets has changed over the last 80 years. You can also see how vintage military outerwear and civilian sportswear continue to inspire brands today. The earlier designs were just that good.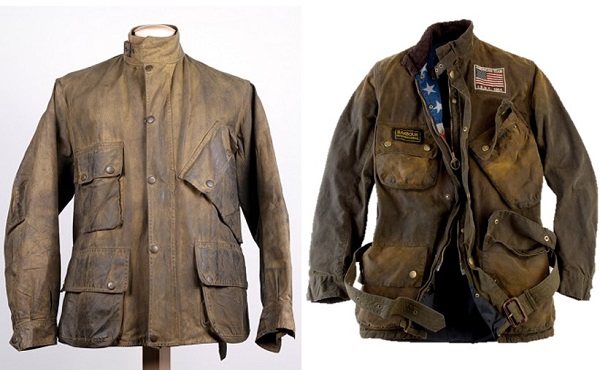 If I had to sum it up, I would say what I like most is that these pieces perfectly bridge the gap between "utilitarian equipment" and "stylish clothing". They're designed to be used … hard. And the more beaten up they get, the better they look. I'm sorry, but (IMHO) you can't wear a new jacket like this and look "cool" or "stylish". It's the wear and tear that tells the story. And that not only gives the jacket character. It's also a reflection of YOUR character. In the end, isn't that what "style" is all about?
The Steve McQueen Waxed Motorcycle Jacket
Well, there are three. At least we can be certain about that. Here's the story as I understand it.
Barbour was the team sponsor for the International 6 Day Trials in East Germany in 1964. And so, as a U.S. team member, McQueen wore their A7 jacket. Most of the iconic pics of McQueen wearing a waxed motorcycle jacket come from that race. So he definitely did wear a Barbour.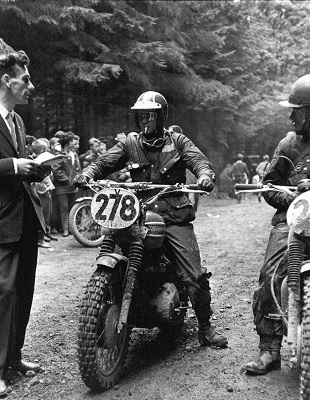 But rumor has it (and many websites claim) that McQueen actually preferred a Belstaff jacket for personal use and wore that brand in many of his other races. One of his favorites was a Trialmaster, a model that at one time came both with and without a belt. What we do know is Belstaff bought one of McQueen's personal jackets at auction in 2006 for $35,000.00. And the jacket they bought did have a belt.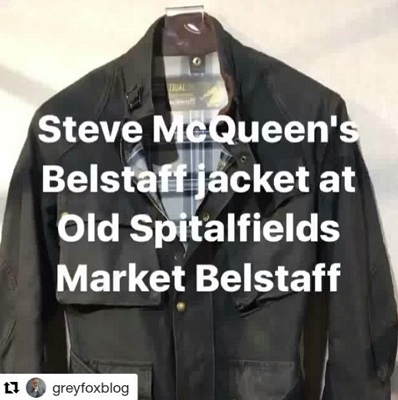 And then lawsuits ensued between Belstaff and McQueen's family, and blah, blah, blah. Basically a lot of stuff that has nothing to do with looking cool.
All you need to decide is this: do you like the jacket with the belt or without?
Features wanted for the Steve McQueen Waxed Motorcycle Jacket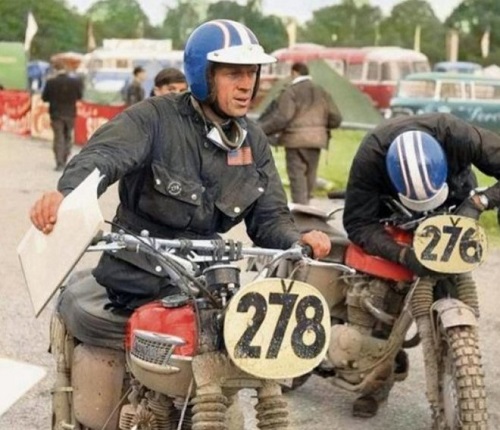 Heavy (10 to 12 oz) waxed cotton in black or dark brown
Almost 3/4 length cut
Short lined collar with strap and buckle closure
Four bellows style pockets with brass snap closures. For the sake of accuracy, the left chest pocket should be on an angle.
Belt? No belt? I've included both options below and I'll leave it to your personal preference.
The Originals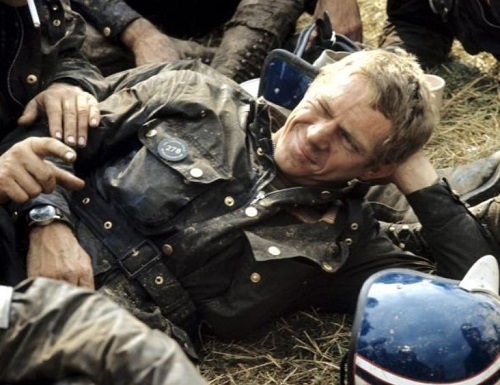 When you can find a good deal, the Barbour models aren't really that expensive. Especially now that we're seeing the prices of the better quality alternatives starting to creep up. I've found that one the best sources with the best prices for Barbour and Belstaff jackets is Michael Stewart Menswear. They consistently have a great selection of the most popular styles at prices that beat almost any other retailer. And now they're generously offering Iconic Alternatives readers an additional 5% discount on the Barbour and Belstaff models below! Just use the code ICONIC at checkout. A big, "THANK YOU!" to Sam and the team at Michael Stewart!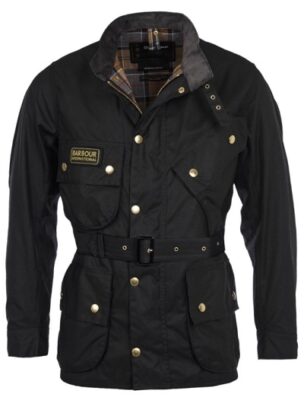 About as close to the 6 Day Trials A7 jacket McQueen wore as we're going to get. Made from Barbour's 6oz Sylkoil waxed cotton, it has all the style details we want. Michael Stewart has sizes UK 38 to UK 48 in stock.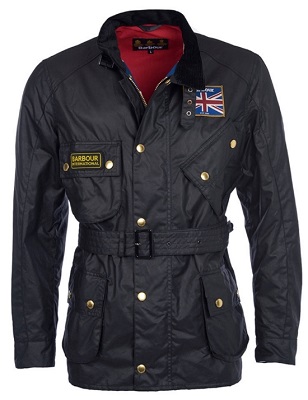 If you don't mind (or perhaps prefer) promoting the United Kingdom, this is a pretty good deal on the classic design. Also made from 6oz Sylkoil waxed cotton, it has the same features as the regular International, just in a slightly different color combo (and lot more Union Jack!). Sizes UK 38 to UK 48 are in stock at Michael Stewart.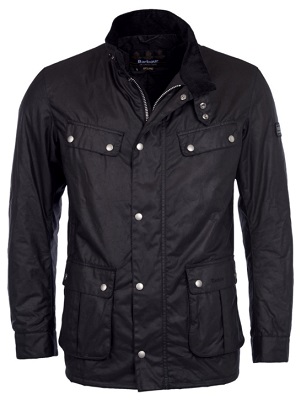 Obviously this model is for those of you who prefer your trad moto jackets sans belt. Also note that although it does have chest pockets, they're not a bellows style. Which kind of gives it a cleaner look. Michael Stewart is running a little low on sizes in the Black. But the Duke is also available in Navy and the deep brown Rustic for the same price. And there's lots of stock in those. However, the Duke is a slimmer fit compared to the International models. So you may want to consider sizing up, especially if you're planning on layering it over a heavy sweater.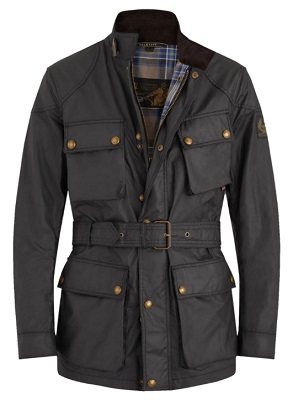 Supposedly McQueen's favorite jacket model. Like the Barbour, it's made from a 6 oz. waxed cotton and uses brass hardware throughout. It's a design that really hasn't changed in decades and it still looks as cool today as it did in the 1960s. Michael Stewart has sizes UK 38 to UK 46 in stock, and it also comes in a Dark Navy. and Faded Olive for the same price.
Best Options for the Steve McQueen Waxed Motorcycle Jacket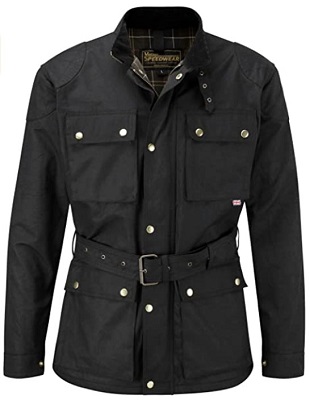 Pros? Just about everything, including the price (for those of you in the U.S., it includes about 20% VAT, which should be deducted). And the fact that it's sitting with 5 out of 5 stars after more than 80 reviews. Cons? Some reviews state that the fit in the shoulders is kind of tight and the cut around the waist is a little loose. The fabric is 12 oz waxed cotton and all the hardware is brass. Those of you in the UK can also order from Amazon for £78.66. If you're in the States? You can go directly to the Speedwear website. If you want something even more robust, check out their Deluxe Traditional Wax Cotton Motorcycle Jacket ($146.38/£109.81). Or if you want something that can accept body armour for actual riding, their Pulford Dry Waxed Jacket is $226.59/£169.99.
Under $100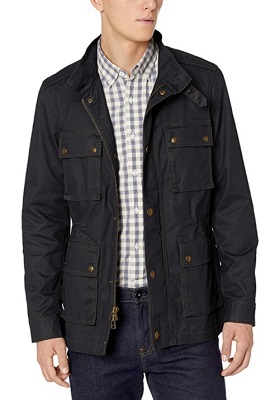 If you want the look but don't have the budget for a $400 Belstaff, this should do the trick. The shell is 100% cotton, but it looks like they've treated it with some kind of water resistant synthetic coating. In other words: it ain't waxed. However, once you accept that, it seems like Amazon is offering a decent piece of outerwear for the price. It currently has 4.4 out of 5 stars after 464 reviews. The negative comments focus more on the fit (it runs small so check the sizing chart!) or were left by folks whose expectations were way too high. Long story short, this one could be worth a shot if you're on a very tight budget. And if it doesn't work out, no worries. Amazon makes returns pretty painless. Sadly, the jacket is unavailable on Amazon UK.
Under $200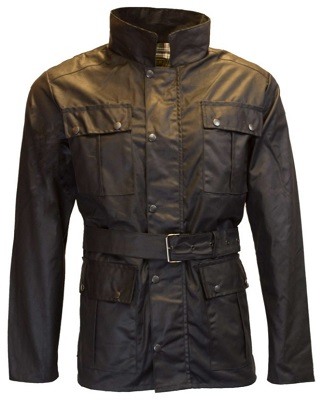 Like the belt but want to skip the collar strap? Here's an affordable option from Walker & Hawkes. The outer fabric is 100% waxed cotton with a 100% cotton tartan lining. You'll find sizes XS to 3XL in stock on their website (where the jacket is also available in Olive and Brown). For those of you in the U.S., they charge a pretty reasonable £12.95 for international shipping.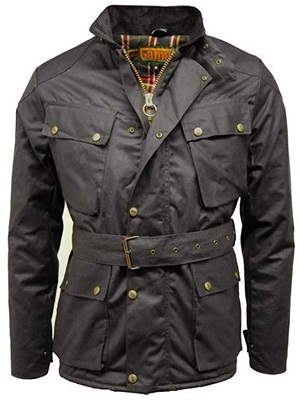 A made-in-the-UK (I think), 12 oz waxed cotton jacket that's modeled after the Belstaff Roadmaster and Barbour A7? For less than £100? Sounds like a good deal for those of you in the UK! Especially when you consider the poor reviews on Amazon are about mainly about the cut of the jacket. Seems like it fits a little on the large size. Which should work for you bigger fellas out there. However, if you're in the U.S., the price with shipping jumps up to more than $150.00 on Ebay (the cheapest place I could find it). At that price I'd recommend spending the extra money and getting a Barbour International.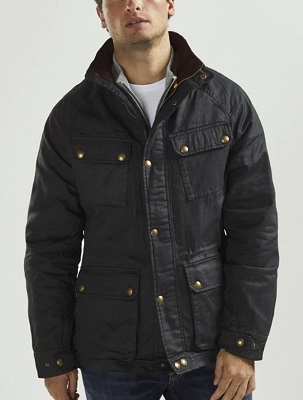 Do you find the belt-less style more appealing? Then this alternative from Vedoneire is definitely worth a look. I actually own this jacket. And after more than five years of steady use, I love it even more. The quality is amazing for the price and it's breaking in very nicely. HOWEVER … it's definitely cut on the trim side. I ordered a medium and there's no doubt it's a slim fit. But that works for me.
And, just in case anyone has any concerns, I ordered my jacket directly from Vedoneire and I had no problems. Shipping from Ireland to the U.S. was quick (about 5 days) and there were no extra customs charges. Plus, the customer service at Vedoneire was really nice and very helpful.
Under $300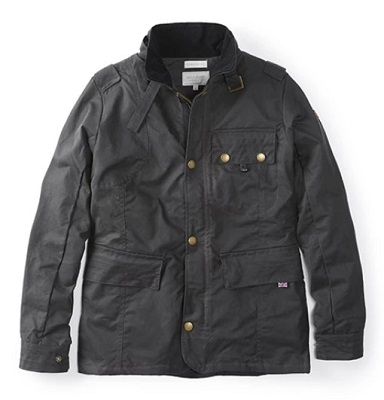 The made-in-England Bexley is kind of a hybrid shooting-motorcycle jacket, combining elements of both designs into one utilitarian piece of outerwear. And since it uses a 6 oz. waxed cotton, it's definitely on the lighter side. Which should make it a great choice for warmer fall days or those of you living in milder climates. Sizes small to XXL are in stock at Thread.
The Investment Pieces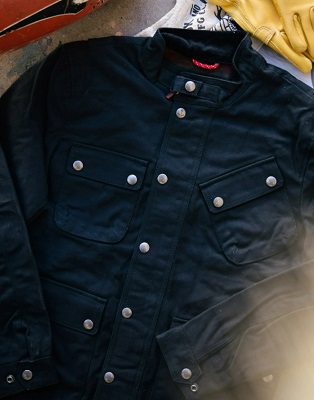 An absolute beast of a jacket. Iron and Resin have used a heavy 14.75oz waxed cotton canvas for the shell and lined it with their cool Najavo-style print Klamath blanket fabric (so something a little different that the stereotypical plaid). The closure at the neck uses a snap instead of a buckle and they've skipped the belt altogether. But other than that it nails the details. It's more expensive than the Barbour International, but still less expensive (and probably better built) than the Belstaff Trialmaster. So pricewise it really hits a sweetspot. Sizes small to XXL are in stock on the Iron and Resin website. This is a tailored fit, so make sure to check the size chart!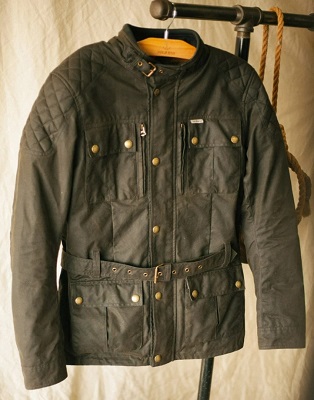 Built by riders for riders (who appreciate some retro-cool styling). The shell is a 12oz 100% waxed cotton canvas from Halley Stevenson in Scotland. And once again Iron and Resin have used their Klamath patterned blanket fabric for the lining. But it's the technical features that really set this one apart. They've included insertable CE Level 2 back armor and CE Level 1 armor at the shoulders and elbows to provide rider protection. There's also a REISSA membrane interlining to increase the water resistance while maintaining breathability. It's stylish and extremely practical. Which something McQueen would have definitely appreciated.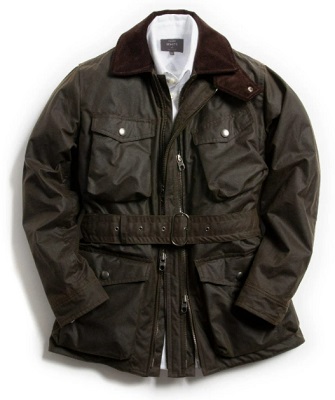 It's expensive. But when you look closely, Private White's incredible attention to detail really shows. They've used a 6oz waxed cotton woven in Scotland for the shell and 100% wool flannel for the lining. The front closure includes a removeable placket so you can expand or contract the fit of the jacket depending on how you're layering (hence the name "Twin Track"). And the zippers and hardware are all best-in-class from RIRI. Around the collar they've gone with a super soft UK woven fine wale corduroy. Last, but not least, it's made in their factory in Manchester. This is a jacket that rarely goes on sale. But Private White is still running their Black Friday sale, which knocks 30% off the price. That brings it in at $710, which is an incredible deal for a beautifully made piece of outerwear that will last for years.
Did we miss one of your favorite alternatives for the Steve McQueen waxed motorcycle jacket? Tell us about it in the comments! And if your favorite waxed jacket is in need of some TLC, take a look at our Re-waxing Guide. You can also visit our Facebook page, Instagram account, and Pinterest Boards for more James Bond style advice and inspiration!