How to Re-Wax a Barbour Jacket
It seems a little crazy to think about it, but I've had my Skyfall inspired Barbour Dept. B Commander jacket for almost six years now. And, I'm a little embarrassed to admit, I still haven't re-waxed it. For the first four years it was in my possession, it really didn't get much use. I was living in a mostly tropical climate at the time and, as most of us who own the jacket know, it not exactly the best choice when the weather is hot and humid. But since my big move to a frostier locale, I've been breaking it out every chance I get. Long story short: my waxed jacket was long overdue for some TLC.
I'll also admit that re-waxing a jacket makes me a little nervous. Normally when it comes to clothes, I don't hesitate to roll up my sleeves and get my hands dirty. I've restored vintage shoes and boots, dyed shirts, re-shaped sweaters, repaired rips and tears and altered trousers and jeans without a second's thought. But re-waxing a jacket always seemed a little different. Like there was some magical element to the process and if I screwed that up I'd end up ruining the whole thing. It was time to get over my fear.
So I reached out to our friends at Michael Stewart for some Best Practices for re-waxing a jacket. Michael Stewart is a specialized menswear shop in North Yorkshire and has been in operation for over 50 years. They also carry one of the most thoughtfully curated selections of Barbour and Belstaff jackets (at some of the best prices) that I've seen. They definitely know their stuff and if anyone was going to give me the right advice, it was these gentlemen!
How To Re-wax Your Barbour
By Richard Blackburn of Michael Stewart
To keep your wax jacket looking fresh and to extend its lifespan, it's important to re-wax at least once a year. The re-waxing method is easy to follow and will have your jacket looking as good as new. Follow these steps to inject new life into your Barbour jacket.
What you will need:
Pan/ bowl
Hot water
Sponge
Old towel or cloth
Hairdryer (optional)
The Process
Step 1: For the ultimate re-waxing experience make sure your room is moderately warm.
Step 2: Wipe down your jacket with cold water using a sponge or cloth to remove any residue. Wipe off the excess water with the towel or cloth and let it air dry. Never, ever use soap on the jacket and definitely don't wash it in washing machine!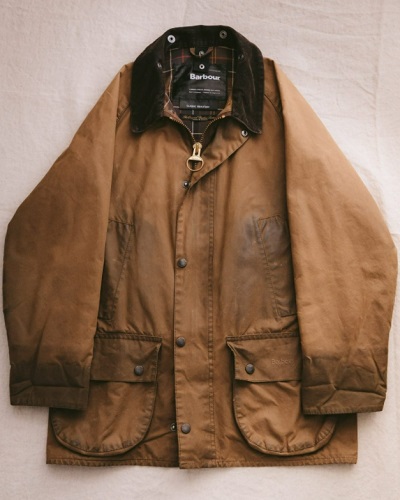 Step 3: Simply fill a pan with boiled water and place your tin of wax in then allow the wax to melt through.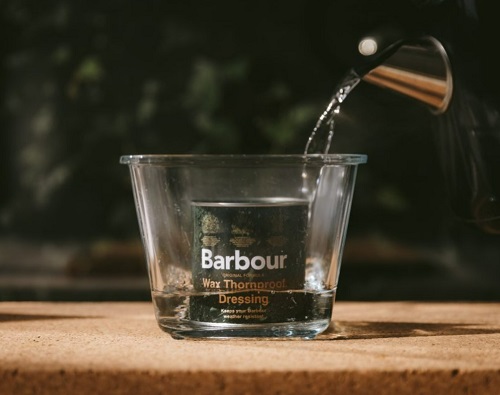 Step 4: Lay your jacket down with the back facing up. Grab your sponge and dip it into the warm, melted wax. You don't need to saturate the sponge with the wax. Just add enough to work on a small area of the jacket. You can always add more wax if you need it.
Step 5: Now work the wax into the jacket with the sponge. Make sure to rub the wax into the fabric evenly (the color should darken uniformly across the jacket). Add more wax to your sponge as needed and make sure to pay particular attention to seams, creases and dry patches. Wipe off any excess wax with the towel or cloth as you move across the jacket.
Step 6: Once the back is complete move on to the underside of the collar and sleeves, repeating the same process described above. Pay particular attention around the pockets and the front zipper storm flap. Try to avoid getting any wax on the corduroy and the pocket and jacket linings.
Step 7: When you've completed the back side of the sleeves, fold them over and work the wax into the front side. Keep an eye on your wax and replenish the hot water if needed to keep it soft.
Step 8: Now its time to turn the jacket over and wax the front.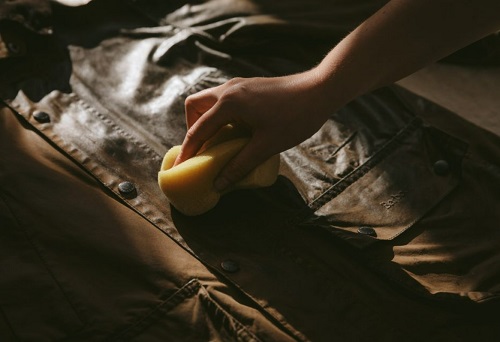 Step 9: Once you've finished applying the wax, use a hair dryer on a warm setting to help start the drying process and create a smoother, more uniform finish.
Step 10: All you need to do is leave the jacket overnight to dry and you are good to go. Initially your jacket will appear darker and have more of a sheen in its appearance. You may also find that some of the excess wax can rub off your jacket the first few times you wear it. So be careful around leathers and upholstery!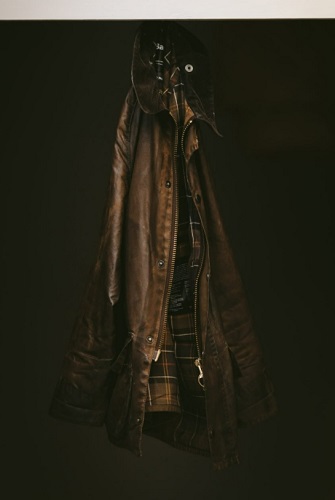 A special thanks to Richard and his team at Michael Stewart! Make sure to visit their website and give them a follow on Instagram. If you're looking to pick up the latest version of the Barbour Skyfall jacket, they currently have Barbour Beacon Sports Coat in sizes medium to XXL for £294.99 (approximately £245.83/$325.00 without VAT and they do ship internationally). They also have a good selection of sizes for the No Time To Die Barbour Covert Jacket for £249.00 (approximately £207.50/$277.00 without VAT). You can find other alternatives for Bond's Skyfall jacket in this post.