The Steve McQueen Bullitt Roll Neck Sweater
It's the iconic look from one of Steve McQueen's most famous films. For some, Frank Bullitt's 1968 Ford Mustang GT-390 steals the show. But the King of Cool's combo of brown tweed sport coat, dark blue roll neck sweater, charcoal trousers and suede Hutton Playboy chukkas delivered a timeless outfit that guys today still look to for style inspiration.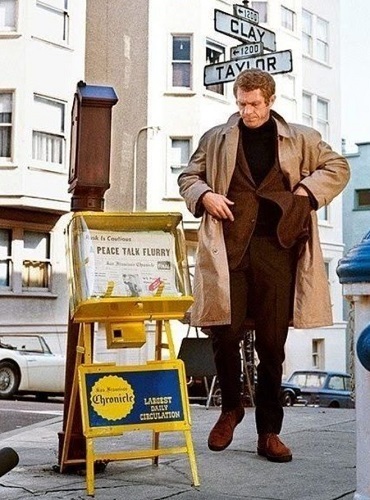 The sport coat is definitely worthy of its own dedicated post. It's a unique design that blends English and American tailoring styles to create a jacket that would look right at home in a man's closet today. But for this post we'll be focusing on the most versatile piece in the outfit: the roll neck sweater. If you are interested in an analysis of McQueen's complete look in Bullitt, I highly recommend this article from our friend BAMF Style.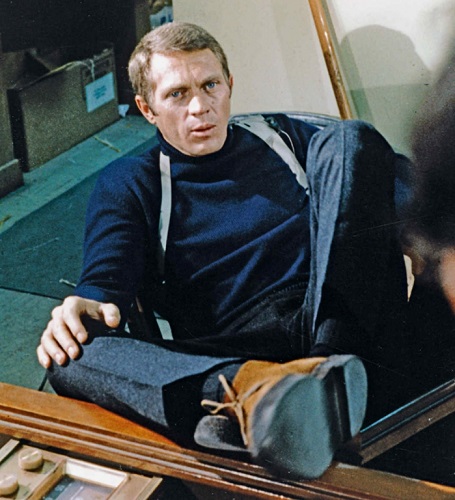 Features wanted for the Steve McQueen Bullitt Roll Neck Sweater
Merino wool or Cashmere
Finer, higher gauge knit through the body and sleeves ("gauge" measures the number of stitches per square inch)
Slightly thicker ribbed knit collar, cuffs and hem
Fully Fashioned sleeves
Off-set shoulder seam, located further down the back
Brighter navy blue color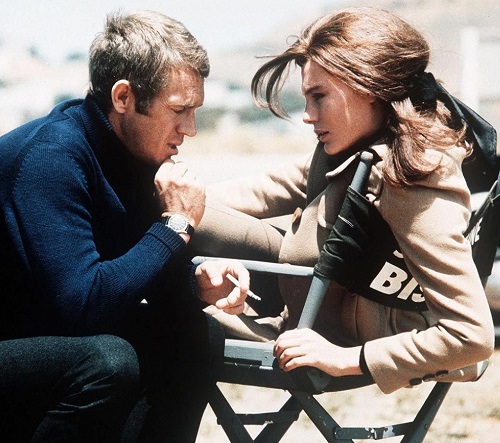 Navy turtleneck sweaters are hardly a rarity these days. But there are some key indicators that Frank Bullitt's sweater is of a higher quality. First there's the knit itself, which appears to be a higher, finer gauge. That gives the sweater a smoother, more refined appearance and a bit of a sheen in brighter light.
Second is the construction. Specifically, the fully fashioned sleeves, which were knitted as individual pieces rather than being cut from a large piece of knitted fabric and then sewn into the body. Fully fashioned construction is a more time consuming (and therefore more expensive) way to make a sweater. And we can see this detail on McQueen's sweater with its slightly flatter knit along the seams at the shoulders. The offset shoulder seam, which runs further down the back, is also a mark of a higher quality piece of knitwear.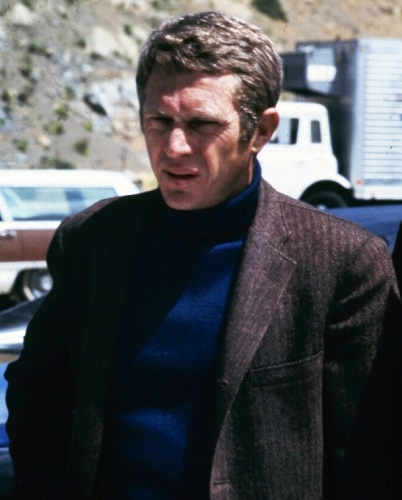 Last is the color. The dark blue has some pop to it that really shows up in the sunlight. Part of that is due to the sheen created by the tight knit and the quality of the yarn. But this isn't a dark, dark navy sweater. So we'll really try to match that shade of blue in the alternatives below.
Best Option for the Steve McQueen Bullitt Roll Neck Sweater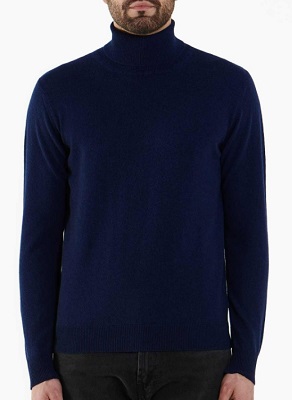 A soft 100% cashmere 2-ply yarn from the world renowned Loro Piana. A not-too-heavy-not-too-light knit. A trim but not skin-tight fit. And it's made in Tuscany, Italy. That's a heck of a lot of sweater for $150! It may just be the product photo, but it also looks like their "navy blue" has a little more pop to it than we normally see. Which would make the color a really good match for McQueen's turtleneck. Plenty of sizes available on the Maison Cashmere website. But since they make each sweater on a per order basis, the wait for delivery might take about a week.
Under $100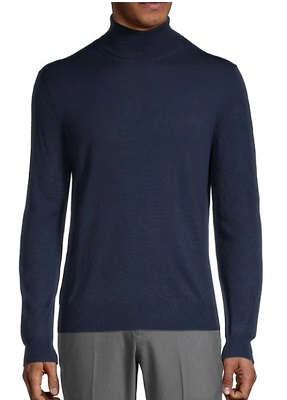 A budget alternative from a normally less-than-budget source. The product description says the fabric is a "Merino wool and acrylic" blend. At this price, I would expect the amount of synthetic to be a little higher than ideal. But it looks like they nailed the slimmer fit. Sizes small to XXL are available on the Saks Off  5th website.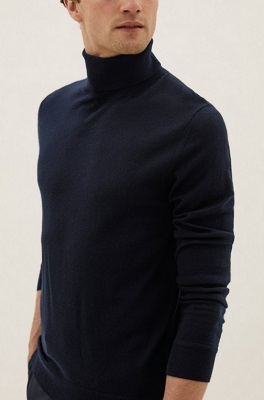 Another solid option that won't break the bank. Paying twenty bucks more than the Saks option gets you a 100% Merino wool yarn, which I honestly think is worth it. And the sweater currently has 4.6 stars out of 5 after more than sixty reviews, so it looks like it's a hit with the customers. Plus it comes in Regular and Long fits, so you taller fellows should be able to get a size that works.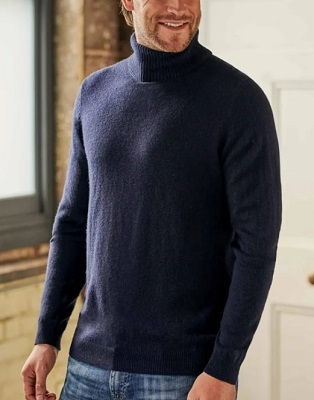 Woolovers has consistently been a pretty reliable source for affordable, good quality knitwear. And their take on the roll neck certainly sounds good on paper. The yarn is an 80% Merino wool and 20% cashmere blend and they've gone with a trimmer, more contemporary fit. So it should work well under a sport coat. They have sizes small to XXL in stock on their website. If you'd like a slightly chunkier knit, check out their Pure Lambswool Turtleneck for $69.00. And if you're willing to pay up for a more luxurious yarn, their 100% cashmere turtleneck is $135.00. Still plenty of sizes left in those options.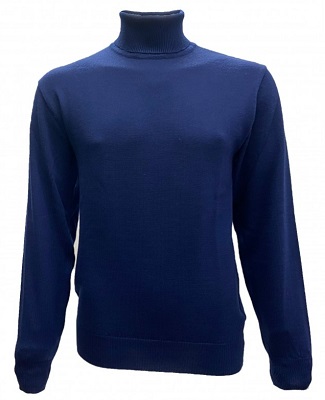 From the makers of one of our favorite No Time To Die Commando Sweater alternatives (more on that in this post). Made from 100% Merino wool, it looks to be a fuller cut than some of the other options on the list. And, like the Maison Cashmere alternative, the Outdoor Knitwear's navy blue looks to be a touch brighter for a more screen accurate Bullitt look. You'll find sizes XS to XXXL on their website.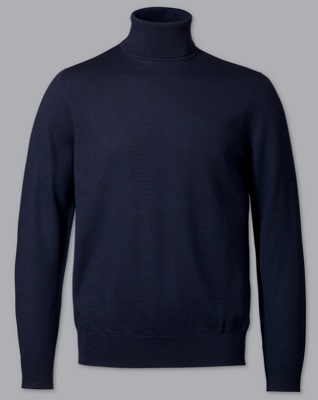 A more refined piece of knitwear that will look good with dressier casual fits. Again we're getting 100% Merino wool. But Charles Tyrwhitt has also garment washed the sweater to make it even softer. The navy may be a little too dark to be a perfect match for McQueen's turtleneck. However, Charles Tyrwhitt has a great reputation for delivering excellent value for the money. So some of you may think it's worth sacrificing a bit of screen accuracy. They have sizes XS to XXL in stock.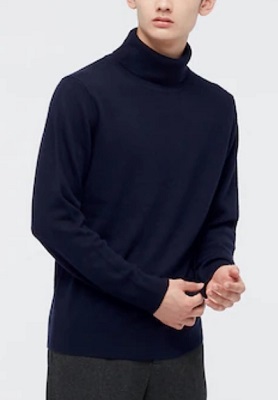 If Uniqlo is famous for anything, it's delivering decent quality basics at low prices. I sincerely doubt they're using the best cashmere for their sweater. But it should be better than average. Uniqlo also used to be notorious for their smaller, tighter fits. However, based on my experience, they've jumped onto the "looser cut" bandwagon and gotten a little more generous with their sizing. Even better, they offer the turtleneck in XXS to 3XL. So there should be a size that works for almost everyone.
Under $200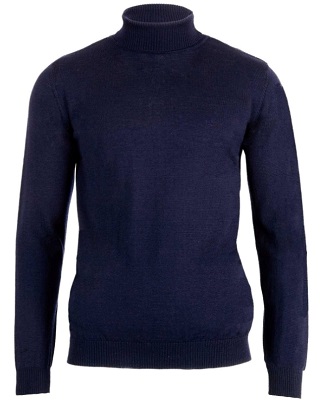 We just reviewed the excellent, made in the UK Paul James Fitted Submariner Sweater (you can read the review here). And I was honestly very happy with the quality and the price. Their Extra Fine Merino Roll Neck is actually made in their factory in India. But I get a very strong feeling that Paul James is a company that truly cares about the product they're delivering to customers, so I'm not too caught up on the country of origin in this case. Plus the sweater currently has 4.9 stars out of 5 after more than forty customer reviews. Which I think says a lot. If you're on a tighter budget, their 100% Ultra Fine Cotton Roll Neck Jumper is on sale right now for $56.00/£40.00 and might be worth a look.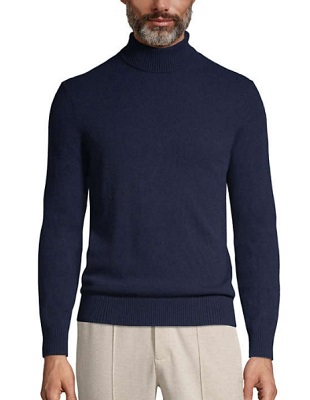 Lands' End tends to get overlooked in today's fashion marketplace. But they still do a great job with core pieces, offering above average quality at prices that won't destroy your wallet (especially when you can catch them on sale). Their 100% cashmere turtleneck is a good example of that. Expect the cashmere to be harder wearing than what you'll get from Uniqlo. And the fit to be more slightly more relaxed (if you really want a "slim fit" consider going down a size). They still have most sizes in stock, but XL is currently on back order under November 19th.
The Investment Piece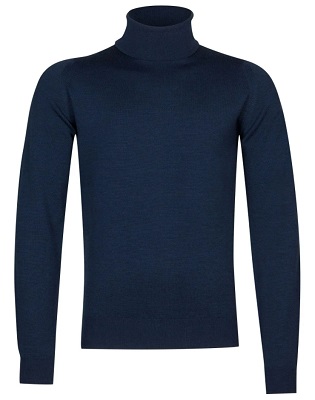 Some of us know John Smedley as the maker of the black V-neck Bobby Jumper Bond wore in Skyfall. But it's a true British heritage brand, with over 230 years of experience making high quality knitwear. And they currently hold two Royal Warrants, providing sweaters to both Queen Elizabeth and the Prince of Wales. As for the Connell turtleneck, it's made with an extra fine Merino wool in a tight 24 gauge knit. The indigo color is dark enough to work with charcoal trousers and a brown sport coat. But it also has a vibrancy that a typical navy blue will be missing. You'll find sizes small to XXL on their website.
Do you have some suggestions for the Steve McQueen Bullitt roll neck sweater? Let us know about them in the comments! You can also visit our Facebook page, Instagram account and Pinterest Boards for more James Bond and King of Cool style advice and inspiration!