The Iconic Indiana Jones Boots
Updated December 4th, 2022 – Does Dr. Henry "Indiana" Jones, Jr. really need an introduction? Since 1981's Raiders of the Lost Ark, the adventures of everyone's favorite professor of archaeology have captured the imaginations of literally millions of fans. As has his vintage action hero style. The fedora, leather jacket and whip have all achieved "icon" status. But Dr. Jones' boots are also a key component of his famous outfit. And, when it comes to our personal wardrobes, they may be the most versatile piece we can add to our closets.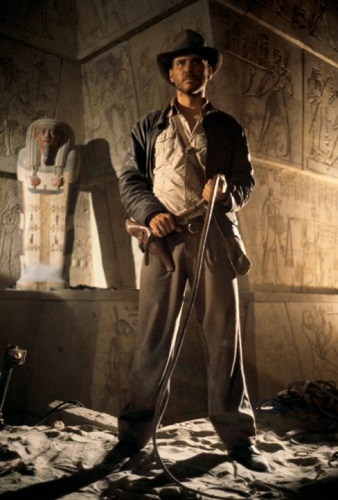 The Original Indiana Jones boots
Let's start with what we know for sure. According to this detailed post from Indy Gear, the boots Indiana wore in Raiders of the Lost Ark (and the sequels) are the Alden Shoe Company's Model 405 on the Trubalance last (now known almost universally as the "Indy Boot"). Harrison Ford was a fan of the heritage American brand's footwear and steered the film's costume department to his favorite source for the boots, Frederick's Shoes in Sherman Oaks, California, to acquire the pairs needed for the movie.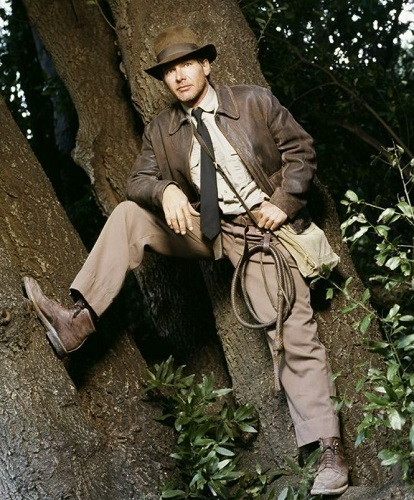 The make up of the Alden 405s from the 1980s featured a full grain brown waxhide upper with a 100% cotton duck lining with leather facings. They used a Goodyear welt construction and a Neoprene Cork outsole with a solid black rubber heel. The excellent website Stitchdown has shared an Alden catalog from the early 1980s that offers more details about the 405 model from that time period.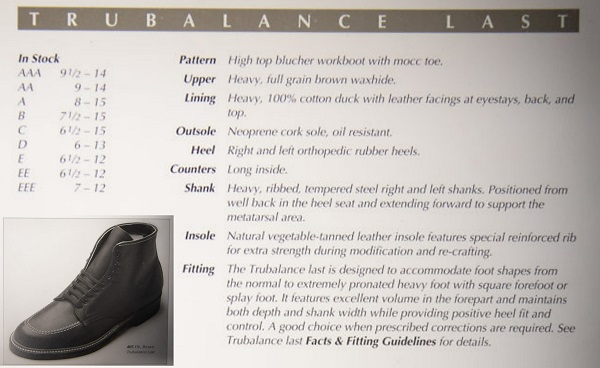 So, about that color …
However, there is still some discussion about the exact shade of brown of Indy's boots, especially any changes in the color from film to film. While most of the authorities on costume, such as Indy Gear and The Raider.net, claim the boots were a dark brown, there is an interesting discussion from 2013 on the Fortune and Glory forum that claims that they were actually a lighter shade of medium brown. Of course the costume department's distressing of the boots, the build up of dust and dirt and the use of different lighting and filters during filming would also impact the color.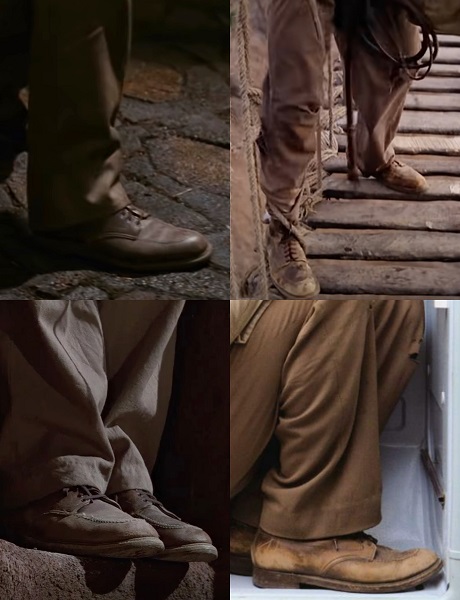 The Alden 405 (and 403) Today
Of course all this discussion about the Alden 405s that Indy wore is purely academic since the company has made some significant changes to the model over the last few decades. The most notable difference is the color, which has gone from a darker shade of brown in the 1980s to a more medium brown with a reddish tone today. But they've also replaced the 100% cotton duck lining with a full glove leather lining and switched the types of leather they use for the uppers. However, the overall design of the boot remains virtually unchanged, from the white stitching that creates the "faux moc-toe" on the vamp to the natural welt to the Neoprene cork outsole.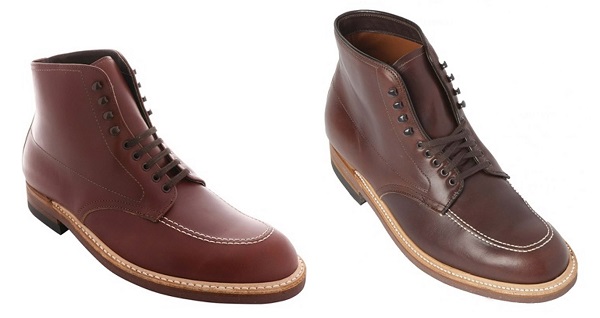 If you're looking at buying a pair of authentic Alden "Indy Boots" today, your main decision will be choosing between the 405 model and the 403 model. What's the difference? The current version of the 405 uses a cowhide leather upper, which comes in that slightly reddish medium brown. The 403 uses Chromexcel leather for its uppers. Chromexcel is a proprietary leather from Horween that goes through 89 separate processes that pack the hides with oils and conditioners. The Chromexcel that Alden currently uses for the 403 is more of a "true" brown that probably comes closer to the color of the boots Indy wore.
Other than the leather used for the uppers, the 405 and 403 are virtually identical. Both have the white stitching on the vamp, the 270° Goodyear welt construction, the glove leather lining and the Neoprene outsole. And both are made in the U.S.A., retail for $607.00 and are almost impossible to find on sale.
And the 405s are back! Actually, it may be a changing of the guard?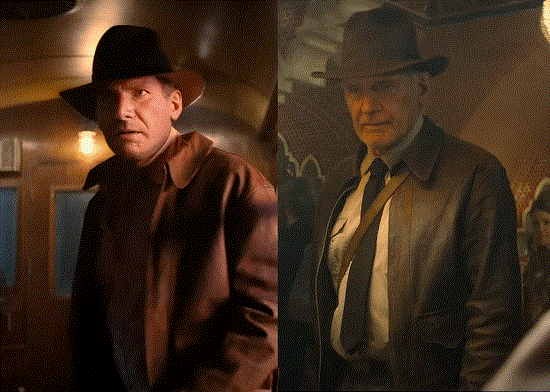 The recent trailer for the latest film in the series, Indiana Jones and the Dial of Destiny, feature both an older and younger Indy back in action and wearing his Aldens Yeah, looks like I messed that up! See below … We get a pretty clear shot of them during the Tuk Tuk race/flight sequence.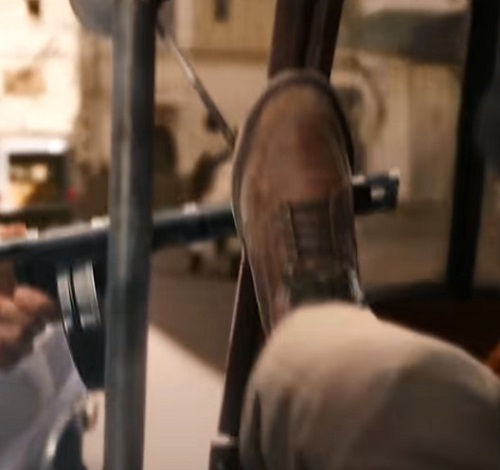 Edit and update:
Jeez, I take one day to get away from the computer and go skiing and I miss all the news! First, big thanks to New Jersey Jones (who left a comment below) and my friends over at AJB007 emtiem and Westward_Drift for the new intel!It's looking like Harrison Ford is NOT wearing actual Aldens in the new film.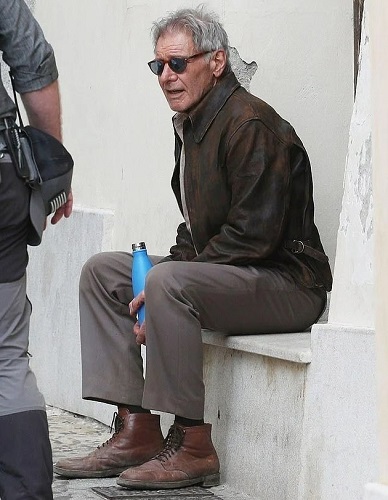 Apparently there was a post on Instagram and possibly Twitter (both since removed) by Canadian custom shoemaker Jeff Churchill revealing that his company Jitterbug Boy had actually made Indy's new boots. And, as New Jersey Jones shares in the comments below, Jitterbug Boy still lists itself as a costume supplier on the production of "Indiana Jones 5".

Why the change? I honestly have no idea. What we do know from scrolling through Jitterbug Boy's list of credits is that the company has worked on some BIG productions, including a plethora of Marvel and Disney films and one of the Mission Impossible movies. And, from the screenshots from the trailer, the "new" boots still look very similar to the Aldens (at least to my eyes). It's going to be interesting to see what the actual differences are and where they show up!
Features wanted for the Indiana Jones Boots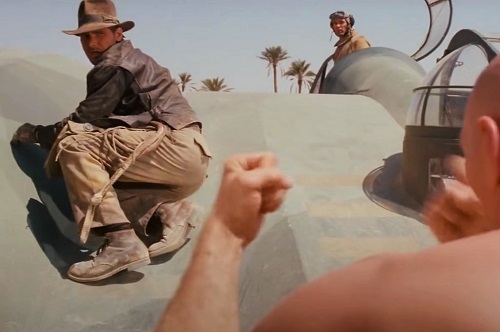 Moc Toe or "faux" Moc Toe design, with contrasting white stitching on the vamp
Medium to dark brown leather uppers
Combination eyelet and speedhook lacing system
Minimal stitching across the boot uppers
Natural color welt and/or mid-sole
Rubber sole with black heel block
Some may say that even thinking about alternatives for Indy's classic Aldens is sacrilege. And I get it. I own a pair of 405s myself and I love 'em. They really are a heck of a pair of boots that can take a serious beating (as this "3 Year Review" of the 403C on Stitchdown clearly shows).
If you really want the Aldens, I've linked to Shoemart above. But there are plenty of retailers offering both the 405 and the 403, including Clutch Cafe (a good source in you're in the UK), Lost and Found (based in Canada) and Milworks. It can also be fun to check out special make-ups of the Indy boots that Alden does for select specialty retailers like Alden Madison, Alden of Carmel and Leffot.
On the other hand, $607 is also a heck of a lot of money. So it's a good thing the current men's footwear market is offering up some pretty solid alternatives. Most of our options below won't be an exact match for the 405s (almost no one except Alden uses a "faux" moc toe, for example). However, if you're willing to make a few sacrifices, you can get a pair of extremely well made boots in a very similar style at a price that won't destroy your wallet.
Best Option for the Indiana Jones Boots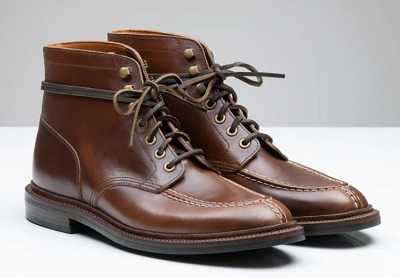 Let's start with the obvious stylistic differences. These are a true moc-toe construction with an additional "split toe" line of stitching down the front of the toe box. And they also have that external heel piece. Now let's talk about why these are investment worthy and our Best Option. Grant Stone was founded in 2016 and has quickly become a favorite in the men's style community for its ability to deliver exceptional quality for reasonable prices. The Ottawa, one of the brand's most popular models, uses a full grain Horween Chromexcel leather upper, a 360º Goodyear welt construction, a full grain leather lining, and vegetable tanned leather insoles, welt and midsole with a medium density studded rubber sole.
The boots are made in Xiamen Island, China. Which may make some of you hesitate. But because of Grant Stone's close relationship with the factory and their stringent quality control, they make no effort to hide the point of origin. In fact, they share it proudly. Anecdotally, I have a few friends that own Grant Stone boots and every one of them says they stack up very favorably against much more expensive brands. That opinion seems to be backed up by the 4.9 stars out of 5 the Ottawa has after 47 customer reviews. You'll find sizes 6 to 13 in D and E widths on their website. Want something even more rugged? Check out their Brass Boot in #8 Chromexcel, which also goes for $380.00.
Under $200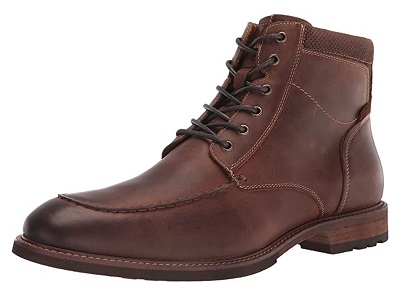 A decent alternative for the budget minded among us. This are true moc-toe and, perhaps more importantly, have a zipper opening on the side of the boot shaft. But the Crazy Horse leather and mini-lug sole give them an appropriate rugged look. Not "life time" boots for sure. But they should be okay for casual duty on the weekends. I've linked to Amazon above, where the price varies by size. You can also get them directly from Florsheim on sale for $89.90.
Another good budget option, especially at that sale price. There's not a lot of information about these on the product page, other than the uppers are 100% leather. As for the construction, I'd guess cemented, with the "welt" stitching being just for show. You can still find a good selection of sizes on their website.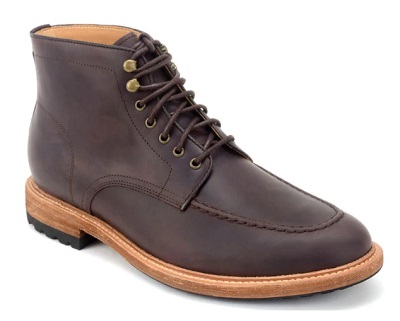 Last year's Marshal Boot from Warfield & Grand was a darn good alternative for the price (and sizes 8, 9 and 10 are still available on sale for $129.00!). But I think this season's Trench does an even better job giving us the "Indy" look we want. And they've packed in plenty of value for the price. The uppers are a full grain oiled leather with a full leather lining and brass hardware. They've used a Blake Stitched construction (so they can be re-soled) and finished the leather outsole with a partial rubber mini-lug for traction and protection from puddles. Definitely more of a casual boot. But it has the right look and should work great for city walks and some light bushwacking. Sizes 8 to 13 are available on their website.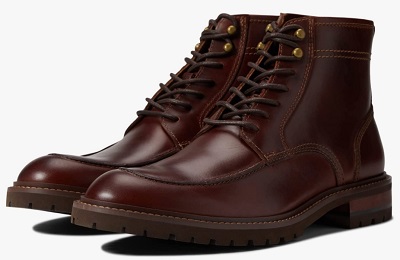 The style of the Barrett is an interesting blend of dressy and rugged. But based on the construction and materials, this is most definitely a casual boot. That's not necessarily a bad thing, since J&M have decided to focus on comfort for city walking. The key is the EVA foam mid-sole and outsole combination, which will provide more cushioning on hard surfaces than the typical leather and hard rubber found on true workboots. Durability will probably be an issue over time. But if you don't plan on going too far off the beaten path (or visiting any archeological dig sites), these are worth a look. Sizes 8 to 13 are currently in stock.
Under $300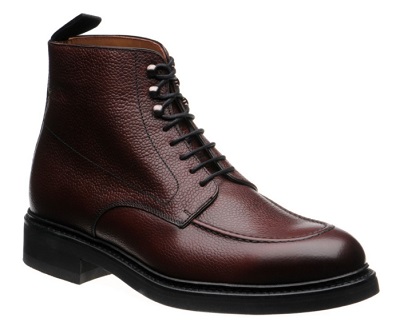 Indy style boots with some British countryside flair. The made in Spain Parkes feature a full grain pebbled leather upper, Goodyear welt construction with a slightly higher sidewall for additional water resistance, a thicker mid-sole and studded rubber Vibram soles. The Herring Shoes house brand has earned a great reputation for both quality and value. And, to my eyes at least, the Parkes deliver a solid Indy boot alternative with a bit of a Skyfall Islay boot vibe. Just note that sizes are starting to run low on their website.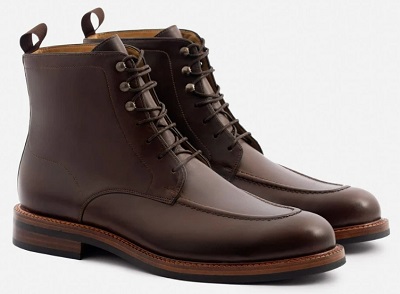 With it's sleeker profile and full-grain Italian pull-up leather, these are a slightly more refined take on the classic moc-toe design. But they can definitely still take a beating. Beckett Simonon uses a Blake stitch construction, which makes break-in a little easier and still allows for re-soling. And the Vachetta leather lining and leather insole will make them comfortable for all day wear once they've molded to your foot. Now for the bad news. They won't ship until April 2023. But if you're not in a rush or you're looking for a solid pair of boots for the spring, then they're definitely worth a look.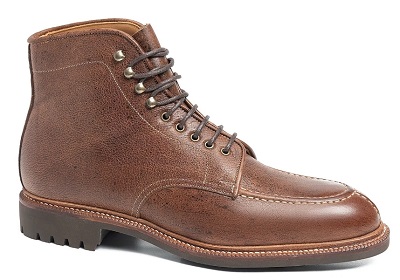 An interesting alternative from the Mallorca, Spain based Meermin. In terms of style, the boot has a slightly higher shaft and a Norwegian Split Toe desing. As for the construction, it's Goodyear welted with a medium lug rubber outsole and steel shank for extra rigidity. It also has a cork filled mid-sole topped with a leather footbed and a full leather lining. That means the boot will comform to the shape of your foot over time to provide a near custom fit. But the waxy Kudu leather is what really sets this one apart. Kudu is a wild antelope that lives in the southern region of Africa. The Kudu hide has very dense fibers that makes light but incredibly durable. And the leather also features the natural blemishes and scars as well as a unique texture that gives it a great rugged character. If you're in the market for something a little different, this is definitely one to check out!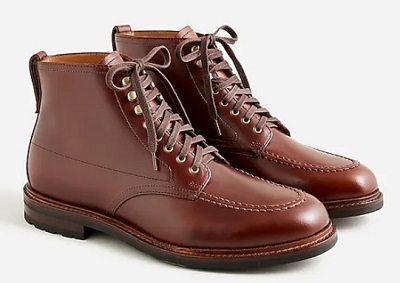 They get a lot right for half the price of the originals. Pull-up leather, Goodyear welt construction and a full Vibram mini-lug sole. In terms of design, these are a true moc-toe with a two-piece vamp. They also have pull-loops at the back. But other than that, the looks are almost spot-on, especially with the new Root Beer color leather and medium brown mid-sole. J.Crew has a pretty good reputation for delivering solid value for the money with their Kenton line. About the worst that can be said about their Pacers is that they're made in Asia and not the U.S.A. It's understandable if that's a deal breaker for some of you. However, if it's not a huge concern, then you'll find a lot to like for the price. Sizes 7 to 13 are available on their website.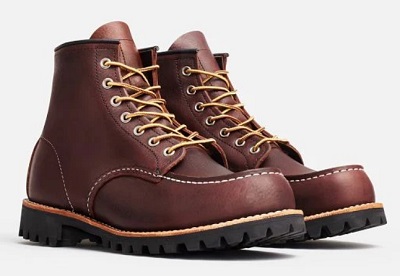 Since the original costume design for the character of Indiana Jones had him wearing Red Wings boots, I sort of feel it's appropriate to include an option from the heritage American brand in this post, despite the obvious design differences. Up top, the Rough Necks are very similar to Red Wing's famous 875 model (more about those in this post). But instead of the classic off-white wedge sole we're getting a pretty aggressive Vibram lug outsole. And, also like the 875s, these are made in the U.S.A. using a Goodyear Welt construction. They may not be the best match for Indy's boots. But they definitely have an iconic look all their own. Sizes 9 to 11.5 are available on the Red Wing website.
The Investment (and Rare!) Piece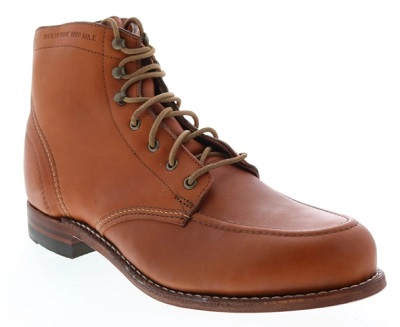 Wolverine's 1000 Mile collection isn't as well known as Alden or Red Wing. But it certainly has it's fans in the world of workwear inspired style! Recreated from a design from their archive, Wolverine's 1940 is made in the U.S.A. using a Goodyear Welt construction and features Horween vegetable tanned leather uppers with a proprietary "seamless contour back" design. The only drawback may be the Butyl treated leather sole, which won't provide quite the same traction or protection from the elements as rubber. This is also a discontinued model. Luckily Amazon still has a good selection of sizes in stock. But once those are gone, they're gone.
The Replicas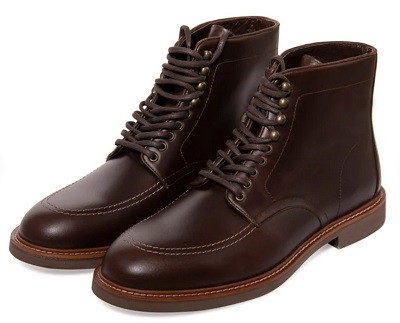 We've had a few comments from readers about these repros since I first shared them a year ago (see below). Originally, I wasn't sure where or how they were made. The construction method has now been revealed (they're Goodyear welted, which is pretty nice at this price!). However, the country of origin is still a bit of a mystery (we just know it's not China). But the good news is the positive reviews for them keep coming in! Wested Leather is probably best known for its selection of excellent Indiana Jones leather jacket replicas. And in terms of looks, they've continued their excellent track record with these boots. They've pretty much nailed the style we want right down to the faux moc toe and "Sure Grip" sole. All in all, it seems like there's a fair amount of value on offer for the price! Big thanks to Island Boy and IndySolo for sharing some info in the comments!
Do you have some alternatives for the Iconic Indiana Jones boots you'd recommend? Let us know about them in the comments! For more rugged footwear ideas, check out our post on the 6 Essential Boots for Fall. Eager for more 80s Action Hero style? This post should deliver what you're looking for! And remember to visit our Facebook page, Instagram account and Pinterest Boards for more James Bond and Steve McQueen inspiration!