The Iconic Indiana Jones Boots
Does Dr. Henry "Indiana" Jones, Jr. really need an introduction? Since 1981's Raiders of the Lost Ark, the adventures of everyone's favorite professor of archaeology have captured the imaginations of literally millions of fans. As has his vintage action hero style. The fedora, leather jacket and whip have all achieved "icon" status. But Dr. Jones' boots are also a key component of his famous outfit. And, when it comes to our personal wardrobes, they may be the most versatile piece we can add to our closets.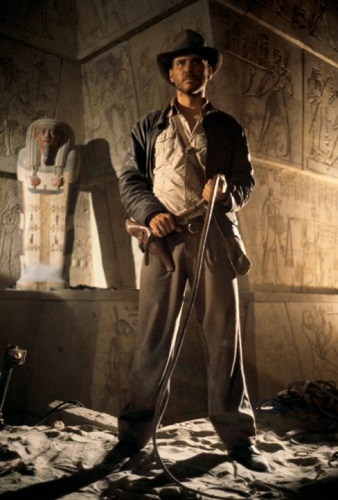 The Original Indiana Jones boots
Let's start with what we know for sure. According to this detailed post from Indy Gear, the boots Indiana wore in Raiders of the Lost Ark (and the sequels) are the Alden Shoe Company's Model 405 on the Trubalance last (now known almost universally as the "Indy Boot"). Harrison Ford was a fan of the heritage American brand's footwear and steered the film's costume department to his favorite source for the boots, Frederick's Shoes in Sherman Oaks, California, to acquire the pairs needed for the movie.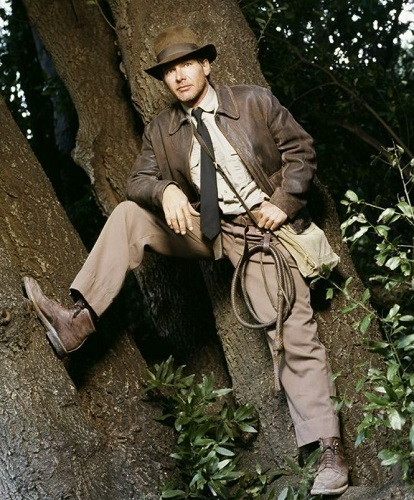 The make up of the Alden 405s from the 1980s featured a full grain brown waxhide upper with a 100% cotton duck lining with leather facings. They used a Goodyear welt construction and a Neoprene Cork outsole with a solid black rubber heel. The excellent website Stitchdown has shared an Alden catalog from the early 1980s that offers more details about the 405 model from that time period.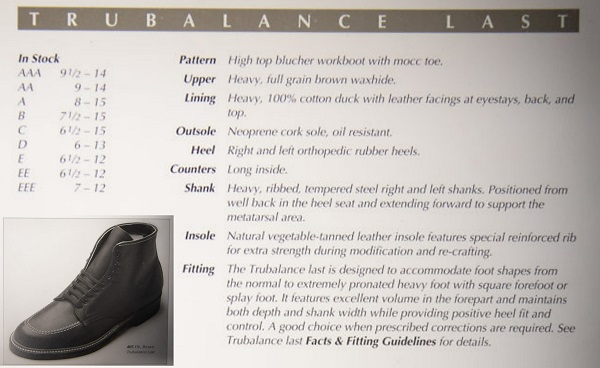 So, about that color …
However, there is still some discussion about the exact shade of brown of Indy's boots, especially any changes in the color from film to film. While most of the authorities on costume, such as Indy Gear and The Raider.net, claim the boots were a dark brown, there is an interesting discussion from 2013 on the Fortune and Glory forum that claims that they were actually a lighter shade of medium brown. Of course the costume department's distressing of the boots, the build up of dust and dirt and the use of different lighting and filters during filming would also impact the color.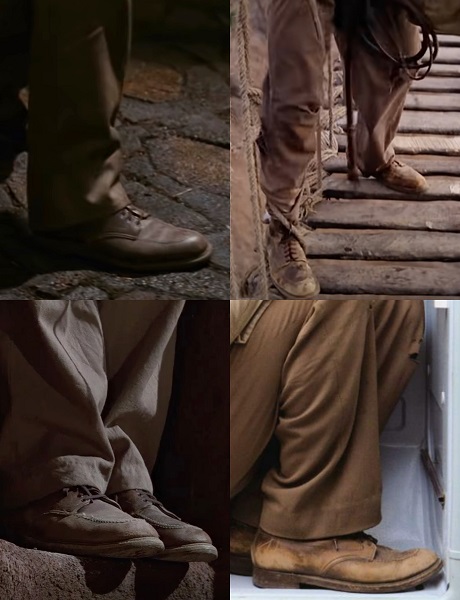 The Alden 405 (and 403) Today
Of course all this discussion about the Alden 405s that Indy wore is purely academic since the company has made some significant changes to the model over the last few decades. The most notable difference is the color, which has gone from a darker shade of brown in the 1980s to a more medium brown with a reddish tone today. But they've also replaced the 100% cotton duck lining with a full glove leather lining and switched the types of leather they use for the uppers. However, the overall design of the boot remains virtually unchanged, from the white stitching that creates the "faux moc-toe" on the vamp to the natural welt to the Neoprene cork outsole.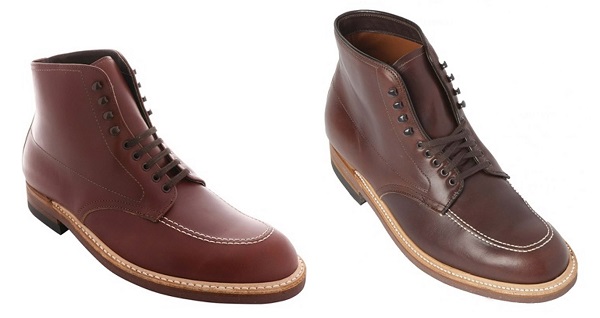 If you're looking at buying a pair of authentic Alden "Indy Boots" today, your main decision will be choosing between the 405 model and the 403 model. What's the difference? The current version of the 405 uses a cowhide leather upper, which comes in that slightly reddish medium brown. The 403 uses Chromexcel leather for its uppers. Chromexcel is a proprietary leather from Horween that goes through 89 separate processes that pack the hides with oils and conditioners. The Chromexcel that Alden currently uses for the 403 is more of a "true" brown that probably comes closer to the color of the boots Indy wore.
Other than the leather used for the uppers, the 405 and 403 are virtually identical. Both have the white stitching on the vamp, the 270° Goodyear welt construction, the glove leather lining and the Neoprene outsole. And both are made in the U.S.A., retail for $579.00 and are almost impossible to find on sale.
Features wanted for the Indiana Jones Boots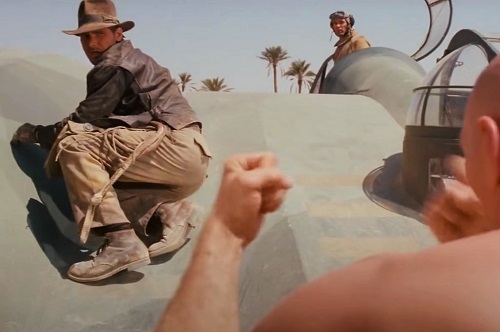 Moc Toe or "faux" Moc Toe design, with contrasting white stitching on the vamp
Medium to dark brown leather uppers
Combination eyelet and speedhook lacing system
Minimal stitching across the boot uppers
Natural color welt and/or mid-sole
Rubber sole with black heel block
Some may say that even thinking about alternatives for Indy's classic Aldens is sacrilege. And I get it. I own a pair of 405s myself and I love 'em. They really are a hell of a pair of boots that can take a serious beating (as this "3 Year Review" of the 403C on Stitchdown clearly shows).
If you really want the Aldens, I've linked to Shoemart above. But there are plenty of retailers offering both the 405 and the 403, including Clutch Cafe (a good source in you're in the UK), Lost and Found (based in Canada), Milworks, Sid Mashburn and Supply & Advise. It can also be fun to check out special make-ups of the Indy boots that Alden does for select specialty retailers like Alden Madison, Alden of Carmel and Leffot.
On the other hand, $579 is also a hell of a lot of money. So it's a good thing the current men's footwear market is offering up some pretty solid alternatives. Most of our options below won't be an exact match for the 405s (almost no one except Alden uses a "faux" moc toe, for example). However, if you're willing to make a few sacrifices, you can get a pair of extremely well made boots in a very similar style at a price that won't destroy your wallet.
Best Option for the Indiana Jones Boots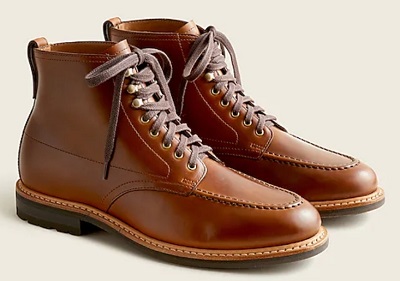 They get a lot right for almost half the price of the originals. Horween Leather Chromexcel uppers, Goodyear welt construction and a Vibram mini-lug sole. In terms of design, these are a true moc-toe with a two-piece vamp that's actually stitched together. They also have pull-loops at the back. And obviously the lighter colored leather isn't ideal. But other than that, the looks are almost spot-on. J.Crew has a pretty good reputation for delivering solid value for the money with their Kenton line. About the worst that can be said about their Pacers is that they're made in Asia and not the U.S.A. It's understandable if that's a deal breaker for some of you. However, if it's not a huge concern, then you'll find a lot to like for the price. Sizes 7 to 13 are available on their website.
Under $200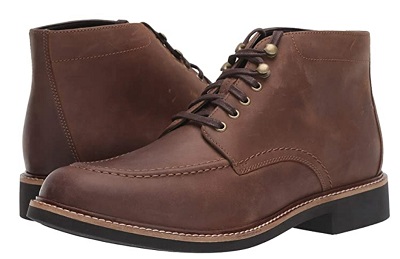 More of a "fashion boot" than a true work boot. However, if you like the looks for the Alden Indys, but want something more casual and lighter weight, these can get the job done. And those beeswax leather uppers should develop a nice patina with some wear to give them a more rugged feel. The Walkers are being sold by a 3rd party vendor on Ebay and they have a good selection of sizes in stock.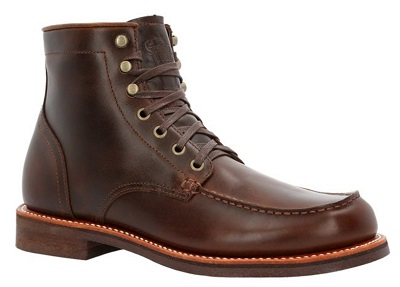 These might actually be the best deal on the list. Right now, the Georgia Boots Moc-Toes go for $230.00 on Amazon and Zappos. But Overstock has some sort of crazy deal going on that knocks $130 off the price. And they have plenty of sizes in medium and wide widths. Looks-wise, the finishing is a little rougher, especially around the apron-toe style vamp. They're also made in China. On the other hand, they have full grain leather uppers, a Vibram Eton studded rubber soles and use a Goodyear welt construction. Plus they have pretty solid ratings around the internet. Sounds like they could be worth a shot if you don't mind a more rustic looking boot.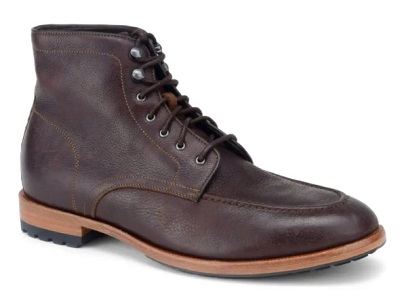 The leather has a distinctive pebble grain. And this is a true moc-toe design, without the contrasting white stitching. There's also no mention of the construction (maybe Goodyear? Or Blake? Or just stitched through?). But they still do a decent job in the looks department. Warfield & Grand has used a full grain leather upper and a full leather lining, so you should get a few years out of them if you don't abuse them too much. You'll find sizes 8 to 11 on their website.
Under $300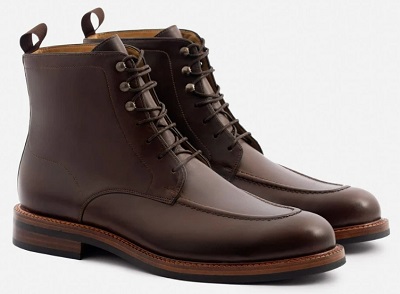 With it's sleeker profile and full-grain Italian pull-up leather, these are a slightly more refined take on the classic moc-toe design. But they can definitely still take a beating. Beckett Simonon uses a Blake stitch construction, which makes break-in a little easier and still allows for re-soling. And the Vachetta leather lining and leather insole will make them comfortable for all day wear. Now some good news and some bad news. The good news: Beckett Simonon is having a limited time sale and the price on the Gallaghers has dropped to $169. They really are a steal at that price. The bad news? They won't ship until February 2022. But if you're not in a rush or you're looking for a solid pair of boots for the spring, then I'd suggest jumping on these at that sale price.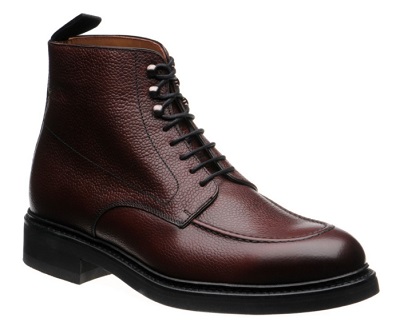 Indy style boots with some British countryside flair. The made in Spain Parkes feature a full grain pebbled leather upper, Goodyear welt construction with a slightly higher sidewall for additional water resistance, a thicker mid-sole and studded rubber Vibram Eton soles. The Herring Shoes house brand has earned a great reputation for both quality and value. And, to my eyes at least, the Parkes deliver a solid Indy boot alternative with a bit of a Skyfall Islay boot vibe.
The Investment Piece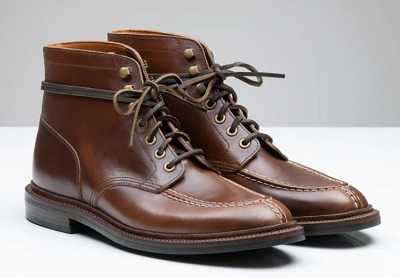 Let's start with the obvious stylistic differences. These are a true moc-toe construction with an additional "split toe" line of stitching down the front of the toe box. And they also have that external heel piece. Now let's talk about why these are investment worthy. Grant Stone was founded in 2016 and has quickly become a favorite in the men's style community for its ability to deliver exceptional quality for reasonable prices. The Ottawa, one of the brand's most popular models, uses a full grain Horween Chromexcel leather upper, a 360º Goodyear welt construction, a full grain leather lining, and vegetable tanned leather insoles, welt and midsole with a medium density studded rubber sole.
The boots are made in Xiamen Island, China. Which may make some of you hesitate. But because of Grant Stone's close relationship with the factory and their stringent quality control, they make no effort to hide the point of origin. In fact, they share it proudly. Anecdotally, I have a few friends that own Grant Stone boots and every one of them says they stack up very favorably against much more expensive brands. That opinion seems to be backed up by the 4.9 stars out of 5 the Ottawa has after 42 customer reviews. You'll find sizes 6 to 13 in D, E and EE widths on their website. Want something even more rugged? Check out their Brass Boot in Crimson Chromexcel, which also goes for $360.00.
The Replicas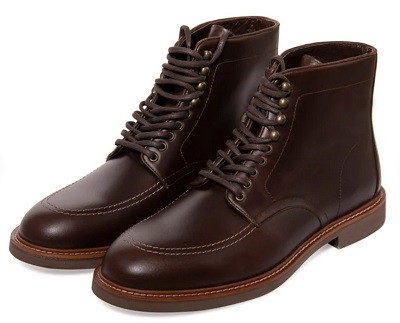 Wested Leather is probably best known for its selection of Indiana Jones leather jacket replicas (although fans of Bond style might also know them for their versions of some popular 007 jacket styles). The Indiana Jones boots are a relatively new addition to their portfolio, but they're already getting some very positive reviews around the internet. Unfortunately, there just isn't that much information about the construction, materials or where they're made. The product page says they've used "high quality chrome tanned hides" for the uppers and "Sure grip oil resistant bonded rubber soles", which makes me think they're a cemented construction. But, putting all that aside, Wested has definitely nailed the look. I've linked to Etsy above for those of you in the U.S. If you're in the UK, best to just order directly from the company.
Do you have some alternatives for the Iconic Indiana Jones boots you'd recommend? Let us know about them in the comments! For more rugged footwear ideas, check out our post on the 6 Essential Boots for Fall. Eager for more 80s Action Hero style? This post should deliver what you're looking for! And remember to visit our Facebook page, Instagram account and Pinterest Boards for more James Bond and Steve McQueen inspiration!