The James Bond Skyfall Scotland Jacket
According to GQ Magazine, James Bond's Skyfall Scotland outfit is one of the most influential menswear looks in cinema history. And nearly nine years since Skyfall's release it still remains a fan favorite. When it comes to the individual pieces, the corduroy jeans, the N.Peal sweater, the Tom Ford scarf and the Crockett & Jones Islay boots all play an important role. And the fact that the outfit is so closely associated with the iconic DB5 and the beautifully crafted Anderson Wheeler rifle certainly doesn't hurt. But it's Bond waxed jacket that really steals the show.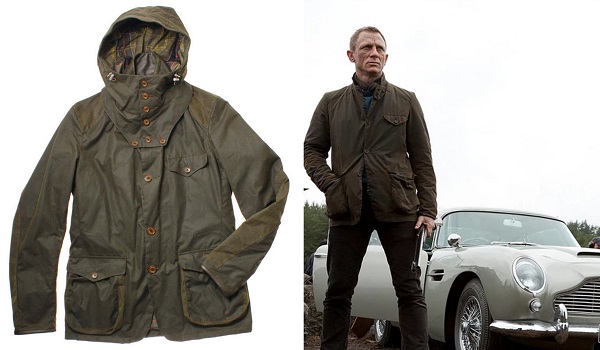 By now most of us know that the screen used jacket was the Barbour Beacon Heritage X To Ki To Sports Jacket. Designed in collaboration with Japanese designer Tokihito Yoshida, it was released as part of their 2012 collection. However, the Skyfall costume department, lead by Jany Temime, made some significant modifications to the original for the film, removing the hood and hood attachment zippers and buttons and the internal storm flap.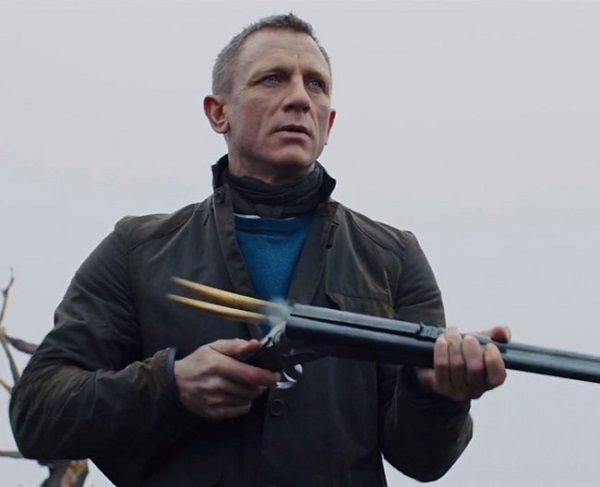 Since the To Ki To was a limited edition jacket, Barbour couldn't do a re-release when the model became overwhelmingly popular after appearing in Skyfall. Instead they launched another limited edition model, the Dept. (B) Commander Sports Jacket, in 2013. The Commander came without the hood and storm flap, but most of the other details were the same as the To Ki To. When the Commander sold out, Barbour launched another version in 2014, the Beacon Heritage Sport Coat, which is still part of their regular collection today. James Bond Lifestyle has an excellent article examining the differences between the To Ki To, the Commander and the Beacon Heritage.
Features Wanted for the James Bond Skyfall Waxed Jacket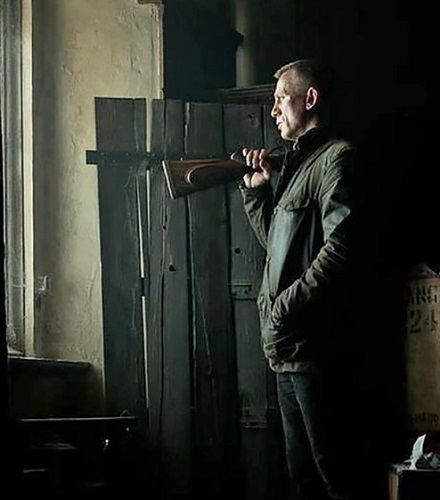 Waxed cotton shell fabric in a dark olive green color
Button front closure
Sport coat style design with narrow lapels
Leather trim on collar
Flapped bellows hip pockets with button-through closures
Flapped chest pocket with button-through closure
Zippered game pocket in the back
The To Ki To is clearly a very unique jacket. So finding the right combination of simpler blazer design in waxed cotton in the right color and fitted style really is next to impossible. Search around and you'll most often turn up more traditional "Barbour" style barn coats with corduroy collars, basic travel blazers, or waxed cotton field jackets with busier military details. Unless you're ready to buy the latest version of the Beacon Heritage from Barbour, we're going to need to sacrifice some details with the alternatives.
The Barbour Options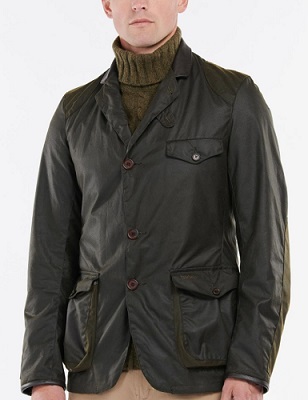 The latest iteration of the Skyfall waxed jacket, which really hasn't changed too much since it launched in late 2014 to replace the previous Dept. (B) Commander model. As we mentioned above, it's probably more screen accurate than a new original To Ki To would be since it already comes without the hood and interior storm flap. So no modifications necessary!
The trick right now is finding one at a reasonable price. The official Barbour site has sizes small to XL available, but it's going for $745 for U.S. customers, which is pretty steep. The best price I could find was at Michael Stewart, a great independent retailer in North Yorkshire. That's who I've linked to above. Even with the shipping cost, they're offering a heck of a deal. Unfortunately, they only have sizes XL and XXL available at the time of writing, but they are working on getting a re-stock. If you need another size and you're in a rush, you can also try Coggles (sizes small to XXL; $542.64/£399) Farfetch (sizes XS, small, XL and XXL; $380/£400) and Aphrodite (sizes XS and medium; $551.82/£399).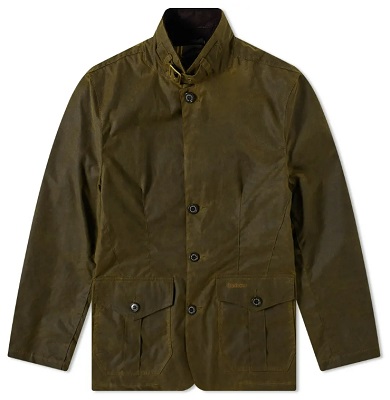 The most frequently cited alternative from Barbour's collection. There are some key differences between this one and the To Ki To (corduroy rather than leather at the collar, no chest pocket, no back game pocket, zipper and button front, button cuffs). But many guys (especially larger gentlemen) like the more relaxed fit of the Lutz. And when you have it all buttoned up on rainy, windy day it will certainly have a similar vibe. I've linked to Michael Stewart above. Again, they have a reasonable price and a good selection of sizes.
Under $200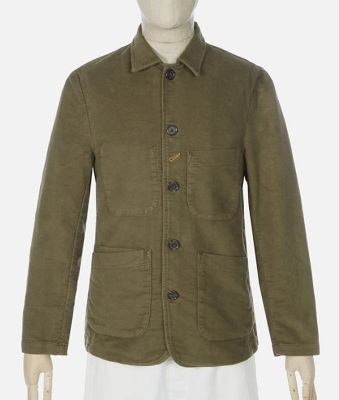 Maybe you love Bond's Scotland look, but you live someplace where the climate is warm year round. Which means a heavier waxed jacket like the To Ki To just isn't going to see much use. Time to look for some lighter weight "inspired by" options that have the right style but won't boil you to death when you wear them. Something like this Bakers Jacket from Universal Works for example. Made from a soft 100% cotton moleskin, it has some structure and texture but is unlined through the body to keep it breathable. Of course the design is much simpler than the Barbour. However, it still does a good job of capturing that "workwear meets British countryside" look. Sizes XS to XXL are on sale on the Universal Works website.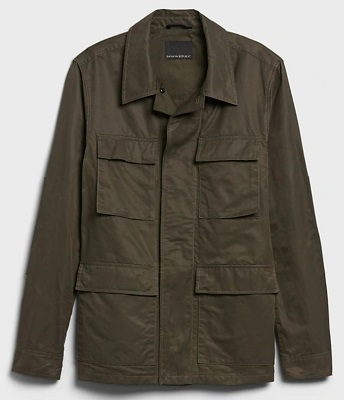 As the product name clearly states, this is more of a field jacket than a waxed blazer. But the design immediately caught my eye when I saw it in a Banana Republic store. I thought it could be an interesting option for those you with a personal style that leans more contemporary than traditional. I'll also say I was pleasantly surprised by the weight of this thing. The 63% cotton, 37% nylon shell material is definitely lighter than the Barbour's, but it still has the "waxed cotton" look and some heft to it. You'll find sizes XS to XXL on their website.
Under $300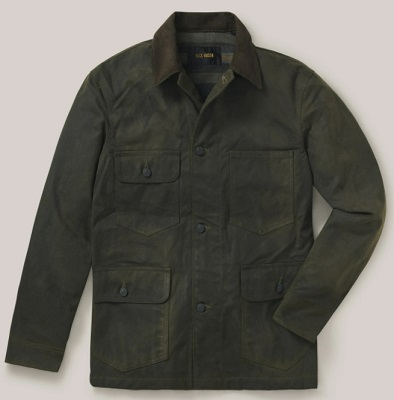 This could be a very interesting choice for those of you looking for a fuller cut jacket. The design is more "chore coat" than "blazer". But it does have many of the details we want: button closure front, flapped hip and chest pockets (plus an open pocket up top), dry waxed cotton shell from the renowned Halley Stevenson mill in Scotland. The color is also a solid match. And while the collar is lined with corduroy rather than leather, it still provides a nice contrast. Plus it's blanket lined for warmth and built like a tank. If your personal style is a little more work wear oriented, I think this one is definitely worth a look.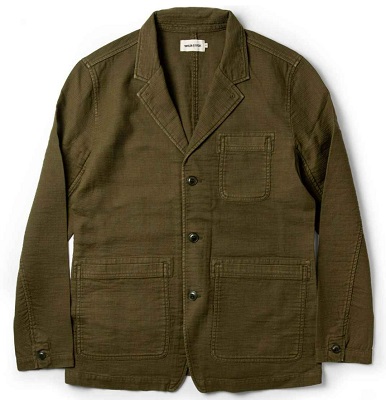 And back to a blazer style jacket. Again, this is an unlined, unstructured design. But Taylor Stitch has used a double layer of 9oz organic cotton to give it some it some weight. The pockets are missing the flaps, but the stitching around the openings adds some visual interest. And the single needle stitching, genuine Corozo buttons and more tailored fit create a nice balance between rugged and refined. You'll find sizes XS to XXL on their website.
The Investment Piece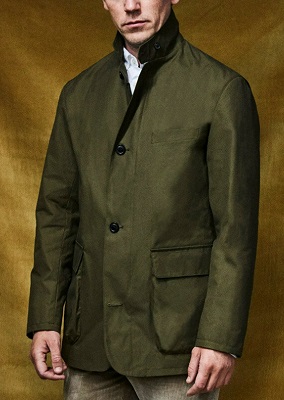 A smaller British company that's committed to making garments of the highest quality. That's Chrysalis in a nutshell. And the Voyager is an excellent example of their philosophy in action. Made from a dry wax cotton, it features a zip and button-through front closure, flapped bellows hip pockets and a welted chest pocket. Around back, the pleated action back and half-belt give it the look of a modern half-Norfolk jacket. And each jacket is handmade in the UK especially for each client. It's an investment piece for sure. But if you live outside the UK, it may also be difficult to get your hands on one. To find out more, I'd recommend contacting Chrysalis directly.
As always, feel free to share your best finds for the James Bond Skyfall Scotland jacket in the comments! If you're looking for some rugged wingtip boots to complete your look, check out our post on the 6 essentials boots for fall. For options for the blue sweater, check out this post. And for more Bond-style inspiration, remember to visit us on Facebook, Instagram and Pinterest.