Bond Style for Bigger Guys
Alright, big guys! First the bad news. The recent Bond-style trend of dressing in slim-fit clothing ain't gonna work for you. Daniel Craig's tight suits are not what you're looking for. Some would argue they're not what Craig should have been looking for either! So you can feel good about that.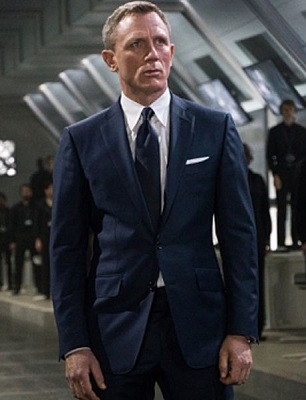 Which leads us to the question: how can a big guy get the "Bond look" when he's not built like Bond? Let's start with the basics ….
Proportions and balance
When we say "Big Guy", we're normally thinking of a man that's noticeably heavier from the lower chest area down to the knees. You may be carrying extra weight around the buttocks, mid-section and lower chest. You're upper arms will tend to be bigger. And jowls and a double chin are going to hide the jawline and shorten the neck.
The classic big guy strategy is to buy clothing that's too big in an effort to cover-up the extra weight. And almost every article on the internet related to this topic agrees: this is a bad idea! A bunch of loose cloth flapping around your body just creates the appearance of more bulk and doesn't hide anything.
Instead, we need to focus on finding clothing that actually fits your body AND helps you balance your proportions. We want to achieve four things: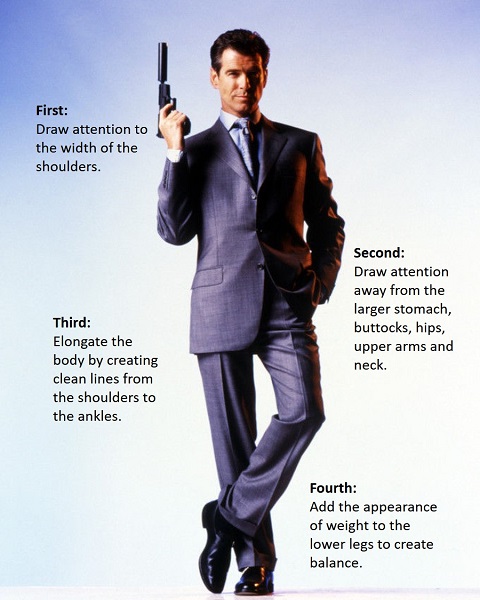 By using the right fit, cut, colors, and fabrics, we can create an optical illusion that accomplishes these goals. We're going to analyze three classic Bond looks that illustrate these strategies.
Roger Moore's suit from The Man With The Golden Gun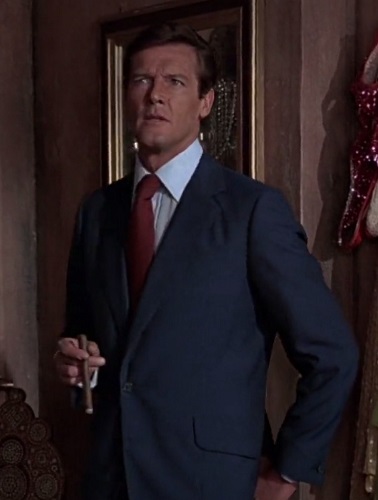 What works for bigger guys
First, in general, the jacket is a beautifully tailored. A nice reminder that fit comes before all else. It's also a timeless style. So no worries about it going out of fashion anytime soon. What else works?
The suit is made from a lightweight fabric (in this case a mohair blend) in a solid, neutral color. The lighter weight suiting is going to drape more naturally and avoid adding bulk to your frame. The solid color creates creates a continuous flow along the length of the body and lets the shape of the suit do the talking.
The shoulders are slightly wider and more structured, but still look natural. That structure is going to help draw attention to the width of your shoulders and away from your waist.
The balance between the width of the lapels and the gorge is spot on for larger gentlemen. The lapels are a healthy medium width. This adds breadth to chest, again emphasizing the upper body. That higher gorge (the notch in the lapel) gives length to the lapel and helps elongate the torso.
The stance of the top button, combined with the spacing between the two front buttons and longer overall jacket length, also helps elongate the body. This can be a tricky equation to work out, and you also need to consider your height. But basically, taller guys can go with a longer jacket and slightly higher top button stance. Shorter guys should opt for a shorter jacket and lower top button stance. The goals are a) avoid having the top button close directly on top of your stomach and b) have enough drape in the skirt of the jacket so it comfortably covers your mid-section and rear without flaring open.
Other elements are the fuller cut chest with suppression at the natural waist. This is not a tight jacket! But it does have a nice taper from the top of the shoulders to the waist. This will help create that "V" shape we all want.
The trousers are a higher medium rise. The trick with suit trousers is to make sure the rise is high enough so that, when the jacket is buttoned, no shirt is showing between the button and the top of the trousers. This creates a solid vertical line of color which helps elongate the body.
For our other case studies below, we'll also share some other looks that work. But when it comes to suits, the simple truth is Bond has worn so many throughout the franchise's history that almost any of them will work. There's just a few more questions to consider.
Two buttons or three? Personally, I think the button stance is more important than number of buttons. A well tailored, two button jacket with the right button stance will create a nice "V" down your chest and allow for longer lapels. This, once again, helps elongate your body. And it shows off more of your tie.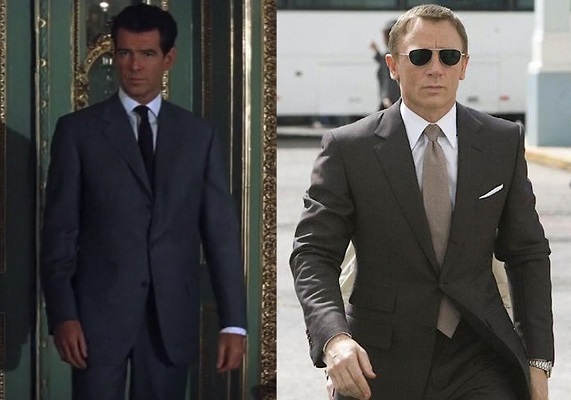 Single vent or double? Bond's used both. But in this case the answer is simple. Double vents will help cover the buttocks more effectively.
Solid colors or patterns? Solids whenever possible. If you want to mix things up a little, try a subtle pinstripe.
Belt or braces? Most guys with a gut know that belts are pretty useless for keep up their pants. Since trousers with a higher rise are preferable for larger men, braces (suspenders) are the way to go. Bonus points if you're in the U.S. and you can find off-the-rack suit trousers that don't have belt loops!
Sean Connery's Switzerland Look from Goldfinger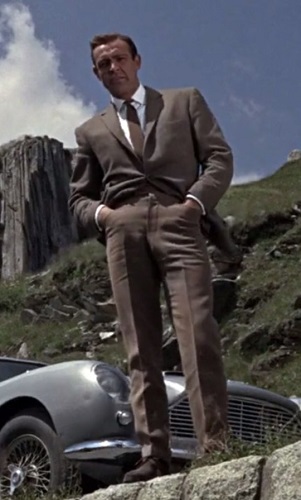 What works for bigger guys
Let's start with the colors. Bond has always been a tone-on-tone kind of guy. And that's good news for larger gentlemen. As with the suit above, our objective is to allow the viewer's eye to travel smoothly along the length of the body without introducing any visual interruptions. Especially around the waist area. Connery's outfit here, pairing a mid-brown barleycorn tweed hacking jacket with dark taupe twill trousers, gives that effect, without looking like a mismatched suit. What else works?
The use of textures here is very effective, especially given how close the colors of jacket and trousers are. The slightly heavier tweed jacket contrasts with the smoother twill of the trousers to maintain visual interest in the overall look. Throw in the suede derby shoes and the mid-brown knit tie and you have an excellent example of how bigger guys can use texture to keep things from getting boring.
The semi-spread, medium point shirt collar is a staple of the Bond wardrobe. And, luckily, it's exactly the type of collar that works for rounder faces. The collar you want to avoid is Craig's tab collar from Skyfall. That narrow, pinched shape will draw more attention to the weight around your neck and jawline and just make your head look bigger.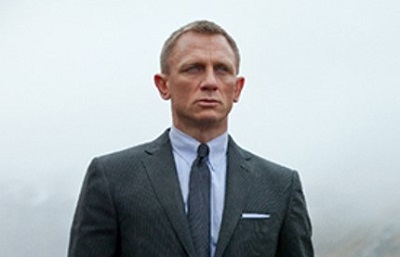 Some other notes on buying dress shirts. First, buy shirts that fit you in the shoulders and neck. The shoulder seam should sit right at the outer edge of your shoulder. And you should be able to comfortably fit 1-2 fingers between the collar and your neck when it is buttoned. You may need to try on shirts from different brands to find one that has the right ratio of collar size to the shoulder width. But believe me, that's time well spent. Second, go to a tailor. This has nothing to do with your bigger size. Almost everyone buying off-the-rack shirts needs to visit a tailor to bring in the sides of the shirt to remove the excess fabric that bags out around the tops of our trousers. Yes, you too can get a shirt with a more tapered fit. You're no different than anyone else.
About those twill trousers. There's a lot to like. The slightly tapered cut and minimal break help to lengthen the lines of your frame. But they're not skin tight. So they create balance with the weight of the upper body. And moving to frogmouth pockets removes excess fabric from the hip area. Trouser pockets at the sides can flare open, which adds width to the hips. Something you want to avoid. The medium to high rise (by today's standards) is also a plus, for the same reasons mentioned above with the suit. Finally, the flat front design is a cleaner look, especially for big and tall gentlemen. Your longer legs will allow the fabric to drape in a straight line and follow the taper. But shorter guys with a large waist (think 38 waist with 30″ or less inseam) will need to pay particular attention to the cut. You want trousers that fit comfortably in the waist but don't have a lot of excess fabric in the hip, thigh and butt areas. Going with a straighter cut may work better for you.
Other Bond Looks that Work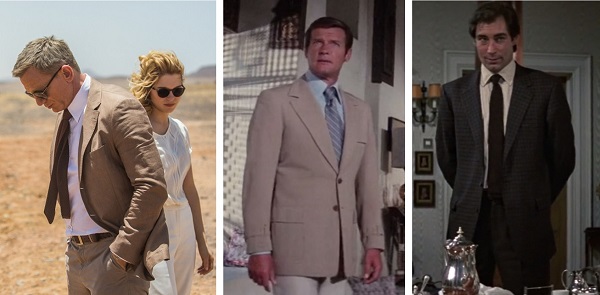 Here are three other Bond looks that demonstrate that tone-on-tone principal and combinations of textures. Please note that I'm not recommending the tighter fit of Craig's Brunello Cucinelli outfit for bigger guys. But you can definitely play with those colors and fabrics. On the other hand, the fit of Moore's sport coat is once again a good guide for larger men. Though you can probably pass on its safari jacket details. And Dalton's look is a nice example of a darker take on tones and the use of a smaller, more subtle pattern. However, I'm not recommending the cut of that jacket to anyone!
Daniel Craig's Bolivia Look from Quantum of Solace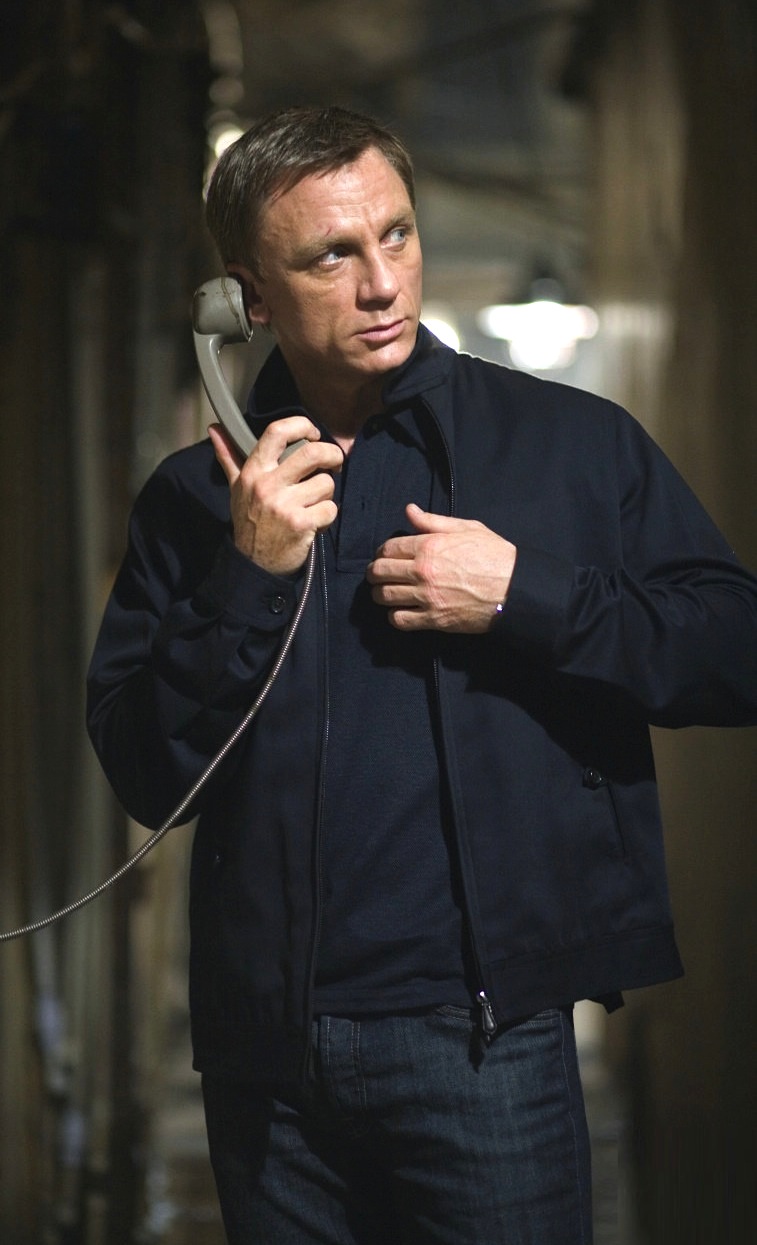 What works for bigger guys
Remember that comment about using tone-on-tone for combining colors? Well, a dark navy polo shirt under a dark navy Harrington jacket with a pair of dark wash jeans is about as tone-on-tone as it gets. This is also the perfect time to point out that darker colors have an inherent slimming effect. But there are other lessons to learn from 007's Bolivia outfit. Specifically: strategies for casual jackets, casual shirts and jeans.
Let's start with casual jackets. There are three things to keep in mind. First, avoid knit elastic hems like the plague. They'll will inevitably ride up and bag out around your waist, adding volume to the mid-section. An open hem, as on Bond's jacket, will hang straight, maintaining a clean line from the shoulder and down the leg. Second, even bigger guys can get away with a "slim fit" jacket in the right size. For example, the classic Baracuta G9 Harrington is a more generous cut through the mid-section, with larger armholes and wider sleeves. So an XL or XXL in this model comes with a lot of excess fabric that can look baggy. But Bond's Tom Ford Harrington? That's a slimmer, straighter cut with higher armholes and an open hem. That's the type of design your looking for. Third, stay away from raglan sleeves. The visual line of the shoulder seam, which angles up from the shoulder to the collar, makes your shoulders look narrow. The opposite of what we want.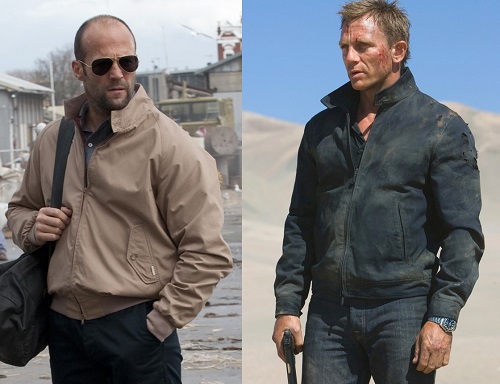 What about casual shirts? Believe it or not, you have a lot of Bond-style casual shirts to choose from. Ideally, long sleeve shirts in lighter fabrics like linen or poplin work very well for guys with bigger builds. Think Craig's Orlebar Brown light blue linen shirt from SPECTRE.  A shirt like that, properly tailored and with the sleeves rolled up, paired with lighter colored chinos is a great look for the heavier guy.
Then there's polo shirts. I've read more than a few articles that suggest larger men should avoid short sleeve shirts altogether. But, personally, I don't think that's either practical or realistic. Again, the style and the fit are the key considerations. Craig's Bond went with polos that had shirt-style or self-collars. These types of collars basically have the same advantages as a semi-spread dress shirt collar. Namely, they have more structure and stand higher than your typical floppy knit polo collars. That helps frame the face and elongate the neck. Especially if you leave the top two buttons undone. They also had shorter sleeves that end about mid-bicep with open sleeve cuffs, which allowed them to drape more naturally. You may want to go a little longer with the sleeves. But please, don't let them reach your elbows! The fit in the shoulders is likewise spot on. As with dress shirts, you want the shoulder seam to sit at the edge of the shoulder, not half way down your bicep. And finally, the hem ends around mid hip. The overall all effect is to create a "T" of color that emphasizes the width of the shoulders and chest.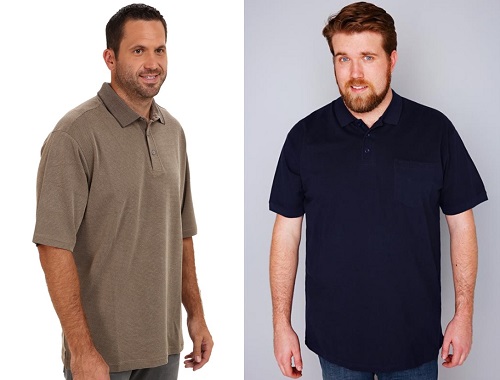 The strategies for polos also apply to Connery's favorite camp collar shirts from Thunderball and You Only Live Twice. In general, this style of shirt tends to be a generous cut to begin with. So you'll need to get the sleeves shortened and narrowed, the length shortened and the sides taken in. Or you'll be dealing with the "baggy shirt" problem again.
Jeans. Can we please forget about "husky" jeans and "relaxed" fits? Honestly, you don't need them! Craig's jeans work because they're a straighter cut with a little bit of taper and they're the right length. They're not flapping around his thighs and they're not pooling around his ankles. Nor are they a cropped, super-skinny fit that look like they've been painted on. In other words, they're a classic style that fits his body. Jeans can be a very personal thing. So my recommendation here is to get to a store and try on a bunch of different brands. Start with some benchmark models, like the Levi's 501s, 505s, 514s and 541s (those last two come in big and tall fits). Then branch out from there. Experiment with jeans that have some stretch. A little bit of elastane (2% to 5%) in the fabric blend can make a big difference in terms of comfort. I would stay with darker washes (because Bond), but if you also like Daniel Craig's personal style, don't be afraid to check out some different fades.
Other Bond Looks that Work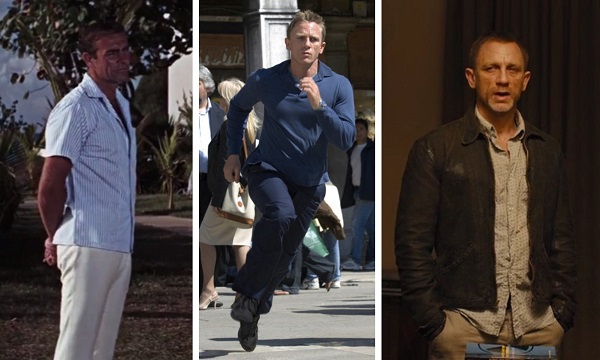 Let's start with Connery's camp collar shirts from Thunderball. What works here is the pairing of the lighter colored shirt with the lighter colored trousers. The vertical stripes of the shirt also give the effect of lengthening his frame. And please note that it's as carefully tailored as his dress shirts.
Next is Craig's mid-blue long sleeve polo and navy chinos from Casino Royale. Again, we have a nice balance of color running from top to bottom. Notice how the shirt fits across the shoulders and the way he wears it unbuttoned? Again, the width of his upper body is emphasized, drawing attention away from the mid-section.
The last look may be a little controversial. Personally, I think it's a great example of how bigger guys can wear patterns. The Zara shirt has a small floral print that doesn't overwhelm the pale blue background of the fabric. And he wears it untucked over a pair of light grey chinos. Wearing shirts untucked is another strategy recommended in many articles focused style for larger men. Now, on to the leather jacket. Obviously, the Levi's Menlo is a more slim fitting garment and its cropped length isn't ideal for larger men. Instead of trying to find a Menlo in your size, use it for inspiration to go out and find a tailored leather jacket that does work on your frame.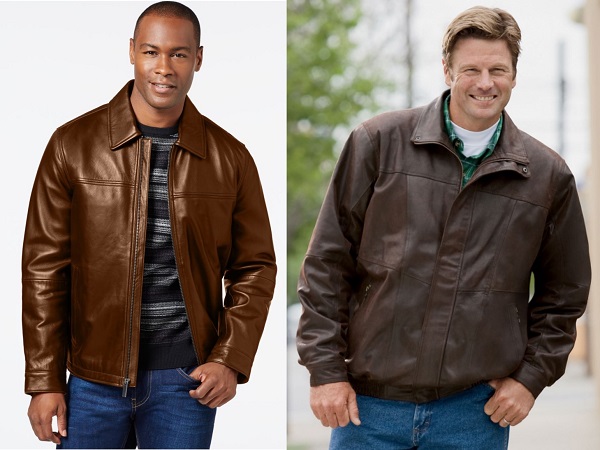 Some final thoughts on …
Sweaters
Once again, fit is king. As a general rule, avoid sweaters that bag out around the waist. That's true for everyone. Look for sweaters that follow the lines of your body and fit in the shoulders. For larger men, v-necks tend to work better than crew necks, since they help create the effect of a longer face and neck.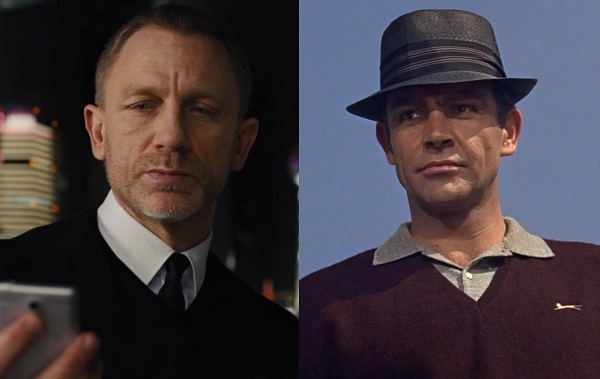 Another great sweater option for sweaters is the long sleeve polo collar. Check out Connery at Shrublands in Thunderball for example. In the case of both v-neck and polo collar sweaters, stick with darker, solid colors. Not only do they work better for your larger frame, it's what Bond would do.
"But what about Bond's oh-so-popular Mathis Villa black shawl collar cardigan?" you ask. Well, many articles recommend that big guys stay away from cardigans. My thoughts? If you want to wear it, then wear it and own it. Just focus on the fit in the shoulders and make sure it doesn't get sloppy in the mid-section. And remember: the bottom button stays open!
Ties
In terms of materials and patterns, I can't think of a single Bond tie that you couldn't wear. From Connery's grenadines and knits, through the bolder patterns of the Moore and Brosnan eras, up to Craig's more monochromatic designs, they should all work.
In terms of width, sticking with the classic 3″ to 3.5″ is a safe strategy.
What about knots? Men with thicker necks and rounder faces tend to benefit from heavier knots that help balance the weight above them. If you're wearing a tie made from a thicker fabric, such as heavy silk, the traditional four-in-hand gets the job done. If you're using a thinner material, such as grenadine or lighter silk, then consider a half-windsor.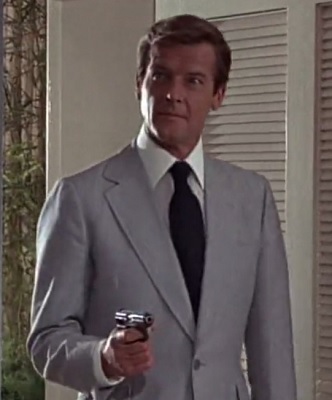 Footwear
Let's not forget that one of the key strategies for larger men is too the appearance of weight below the knee to help create balance with the heavier upper body. Footwear certainly plays a big role in that!
For dress shoes, you want to avoid smooth finishes and thin leather soles. Instead, consider something with some broguing at the toe and heavier soles. The Church's Diplomat, which Brosnan wore in Goldeneye, is an excellent example.
If you want to try something a little different (but not too out there), think about experimenting with some monk straps or even dress chukkas like the Crockett & Jones Tetbury boots.
For casual footwear, boots are your friends. Which is great news, because Bond loved his boots! Dark brown suede chukkas are an obvious choice. But brogue wingtip boots, like the Crockett & Jones Islays, are also a way to go.  And to mix it up, try out something like the beige suede J.Crew Kenton field boots from SPECTRE. The actual Kenton boots are difficult to find. But the Golden Fox Boondocker Boots are a great alternative.
Conclusions
I'm going to skip the traditional article wrap-up here. Instead, I want to open up this discussion so all you big and tall Bond fans out there can share your Bond style for bigger guys strategies. How do you capture the Bond-look? What works for you? What doesn't? Let us know if the comments below!