Bond's Favorite Warm Weather Suit Fabrics
Some of the perks of being a 00 agent are meeting gorgeous women, drinking perfectly mixed martinis, wearing the world's finest tailored clothing, and travelling to luxurious tropical destinations in search of bad guys and damsels in distress. HOT tropical destinations. And unfortunately for James Bond, he's still human. And humans can get hot. Really hot. With summer fast approaching, it's important for us to stay as cool and comfortable as possible in the overbearing heat, while still looking sharp and tailored.  So in this article we're going to be looking at Bond's  favorite warm weather suit fabrics.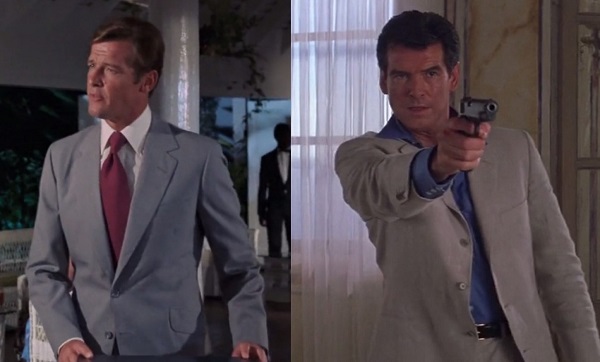 While worsted wool may be the king of tailored wear (for good reason), there are many other options that provide much more breathability to keep you cool and comfortable while still looking smart & refined. Three of Bond's favorites, which he used frequently and can be seen wearing in films from The Spy Who Loved Me to SPECTRE, are tropical weight wool, linen, and cotton. All three fabrics have distinct properties and characteristics. And all three serve as remarkable alternatives to more common suiting during the warmer months.
Tropical weight wool
Wool is the ultimate natural chameleon fiber, embodying many diverse aspects. Wool can be satisfyingly soft, warm, cozy, and sensuous. Or it can be rugged, tough, and functional. Different weights allow its finest fibers to appear lustrous, sleek and elegant.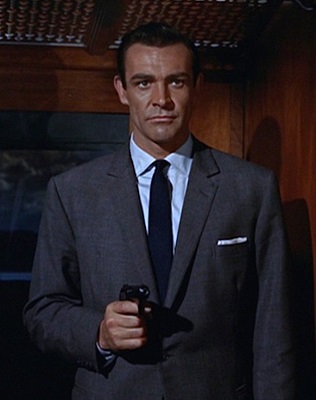 Good tropical wool will most nearly always be made of worsted yarns. So before we delve in to what makes a wool "tropical", let us first step back and explain worsted wool.
Worsted spun yarn is yarn that has been carded (the process of brushing raw or washed fibers to ensure that they are thinned and evenly distributed), drawn (a process that further improves the evenness and regularity of the yarn), and combed (the process of making fibers smooth). The fibers lie almost parallel to each other, so worsted wools tend to have a flatter, smoother finish and a much more visible fabric structure. It could be described as having a clean-cut appearance. Worsted wool is used for fine tailoring, as well as some specialty knitwear, where a flatter, less "wooly" texture is desired. The fibers used are finer and more even in length, making worsteds perfect for suits.
Tropical Weight Wool
There are different lightweight wools made from worsted wool, and tropical is one of them. However, tropical is a species of lightweight wool, as not all lightweight wools are tropical.
Tropical weight wool is made with the use of tightly spun, straightened worsted yarns, with a looser more porous weave to better permit the flow of air through the fabric. It may also have a degree of wrinkle-resistant material, since thinner, lighter fabric tends to wrinkle more easily. Great examples of tropical weight wool are the Fresco Jacket and the Hopsack (sometimes known as the basket weave) jacket.
Because a good wool made to the standards that we have discussed is not easily obtainable for less than $500, I have instead provided two, more investment-worthy options for a tropical wool suit that  hover right around $400-$500.
UNDER $400
Gagliardi Mid-Grey Hopsack Suit: $345.00
Perfect hopsack weight suit for summer, and because of the mid-grey color, it is an all-occasion suit for those hot days. Dress it up with a white shirt and navy grenadine tie for an outdoor summer wedding. Or dress it down and go tieless for a night out with the guys. Either way, this looker from Gagliardi is sure to catch some eyes this season.
UNDER $500
SuitSupply Lazio Blue Suit: $499.00
Cut from pure S110's wool by Vitale Barberis Canonico and with its vibrant blue color, there is not much to dislike about this stunner from SuitSupply! Perfect for spring and summer. And just look at the texture of the basket weave on the wool. You bet that this beautiful suit will keep you cool and looking hot during this summer's heat.
Linen
Linen, made from cultivated flax, reflects a heritage and aspirational lifestyle that speaks of refinement and quality. It has been highly valued for many centuries for its incomparable hand and unique visual appeal. Fabric made from linen embodies a desirable, authentic, low key luxury that continues to transcend the vagaries of fast fashion. Which can also be said of James Bond.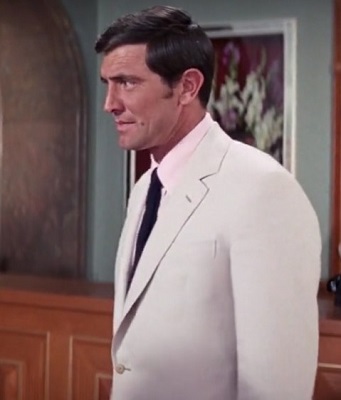 The perfect starter suit for those looking to up their style for the summer. While technically this suit is a linen/cotton blend, it's a great option for the warm weather. Buy it separate as a jacket, or buy it as a full suit. Either way, you won't go wrong!
UNDER $500
Spier & Mackay Copper Linen/Silk Jacket and Trousers: $415.00
92% Irish Linen and 8% mulberry silk, this suit ticks just about every box desirable. And for the price to quality ratio, it's going to be a tough one to beat! Half canvassed, genuine horn buttons, double vented, modern 3.5" lapels, and ¼ butterfly lining in 100% Bemberg. Wow! And that 8% silk will help with the drape and create a bit of wrinkle resistance as well. It is available in two cuts: contemporary and slim. And it ships for free.
THE INVESTMENT PIECE – BEST IN SHOW
Gagliardi Stone Linen 3-piece Suit: $435.00
A gorgeous 3-piece 100% linen stunner from Salvatore Gagliardi. It's half canvas and available in two fits, slim and contemporary. And just look at that perfect warm weather color. This suit is sure to put some swagger in your step! The best part about this suit? It's mix and match sizes. So if you're a hard-to-fit kind of guy, no worries. Ships free to the US. You can read our review of an earlier version of this suit here. 
Have some thoughts on Bond's warm weather suit fabrics? Share away in the comments below! Or look us up on Facebook, Instagram and Pinterest. We're always posting more fun Bond-style inspiration there! And last, but definitely not least, you have to check out Ollis's Instagram feed!