Aklasu Navy Micro Pattern Six-Fold Tie Review
Updated November 15th, 2021 – I can't speak for all fans of Bond's style. But for me, 007's suit and tie from the Greene Party scene in Quantum of Solace remains one of my favorite looks from the franchise. The dark navy Tom Ford suit, with it's near perfect fit, combined with the crisp white shirt and subtle navy and white basket weave tie is about as timeless as it gets. We'll discuss alternatives for the midnight blue suit in a later post. Right now, I want to focus on that tie.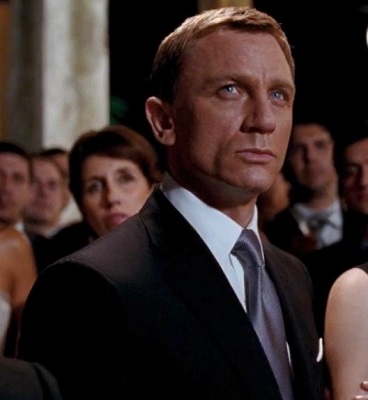 Honestly, basket weave ties are pretty common. So there are plenty of options available at almost all price points. But I was looking for something special, a statement tie. At the right price, of course. Which brings us to the Aklasu Navy Micro Pattern Six-Fold tie.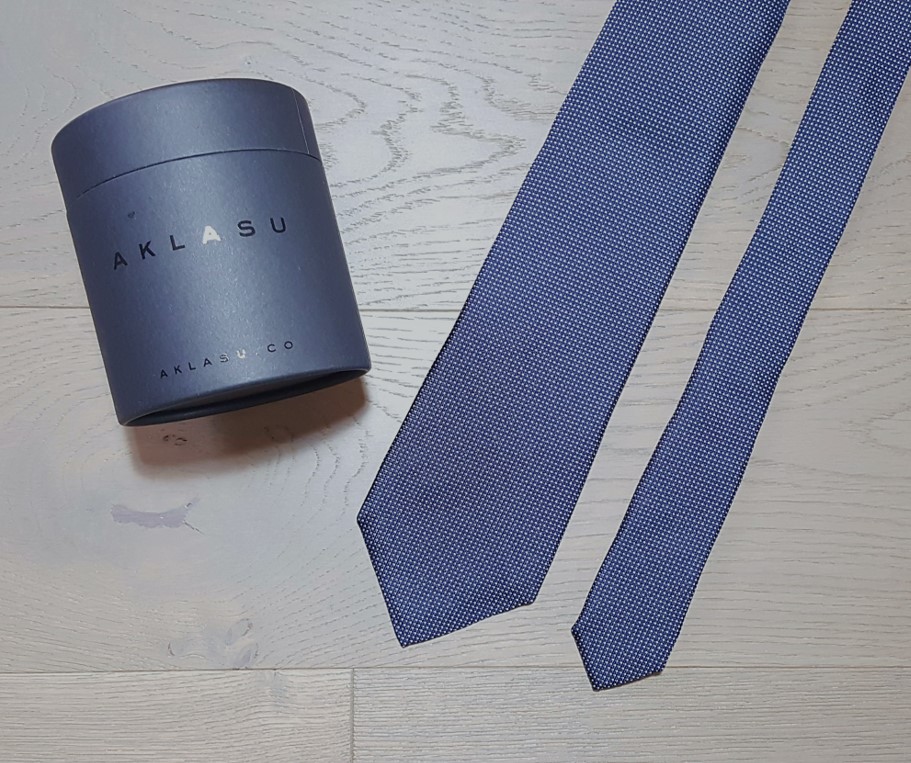 About that Pattern …
No, the Aklasu tie is not a basket weave. Meaning it's not screen accurate. And if that's going to be a deal breaker for you, I understand.
But in person, the Aklasu's subtle white and light blue micro pattern on the navy background gives a similar effect to what we see onscreen. Up close, the pattern is remarkably detailed and gives the fabric a certain depth and texture you just won't find on cheaper ties. Definitely Bond-worthy.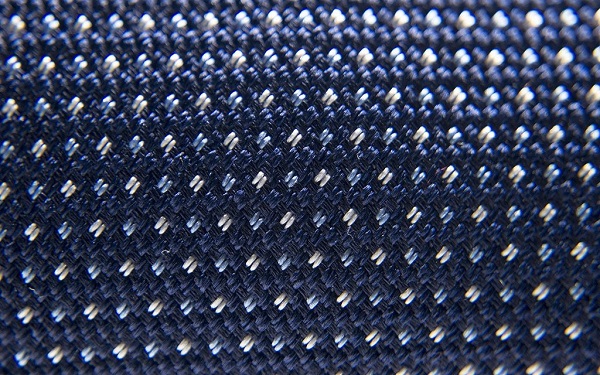 However, the real reason I decided the Aklasu was the right tie for me was the way it's made.
The Construction of the Aklasu Navy Micro Pattern Six-Fold Tie
I am really hesitant about recommending "close enough" alternatives to people. You want things to be as screen accurate as possible. I want things to be as screen accurate as possible. So if something isn't as screen accurate as possible, there better be a damn good reason why I'm sharing it.
In the case of the Aklasu tie, that reason is the construction. Mensah, the owner and main designer at Aklasu, starts with a high quality, medium weight silk woven in Como, Italy. This is also where Aklasu has each of its ties handmade. In the case of the six-fold, they've gone with a self-tipped design. Meaning the "envelope" on the back of the blade is made of the same material as the rest of the tie. The silk is then wrapped around a 100% wool interlining and folded six times to give the tie it's shape.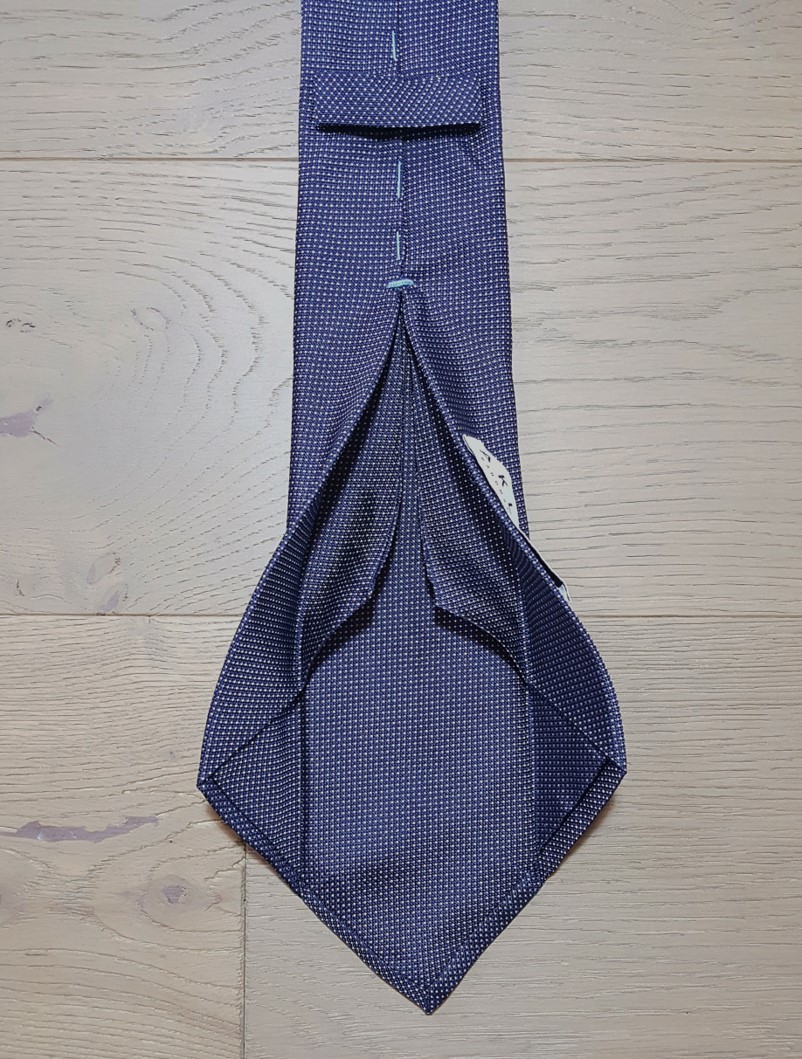 The Result?
When done right, a six-fold construction using high-quality materials results in tie that perfectly balances weight, drape and durability. And Aklasu has nailed it. With the medium weight silk and just the right amount of heft to wool interlining, the Navy Micro Pattern drapes beautiful and almost naturally creates a four-in-hand knot with a great shape and an excellent dimple. The 3.25″ blade width is also spot on for me.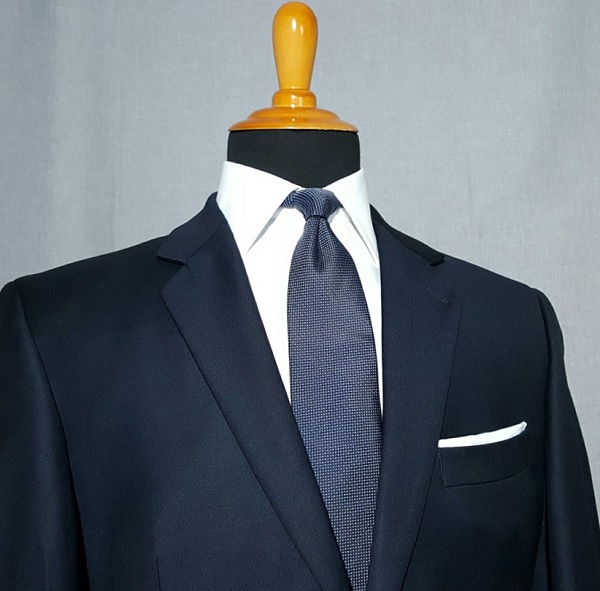 This is one of those cases when I was happy to trade some screen accuracy in return for a high quality product at a great price that gives me the look I want. Aklasu sells their Navy Micro Pattern Six-Fold tie for $110.00 U.S/£82.00. And that may seem like a steep price. But when you consider that most quality six-fold ties on the market start at $140 and go up from there, you quickly realize what a deal you're getting from Aklasu. Personally, when I factor in the quality of the material and construction and the tie's timeless design and width, the price seems even more reasonable.
In conclusion: this will easily become one of the "go to" ties in my collection!
Update 2021: The No Time To Die Connection
I originally reviewed the Aklasu tie in 2017 as an alternative for Bond's Quantum of Solace Greene Party neckwear from Tom Ford. But our good friends on Instagram Matched Perfectly brought up an interesting point in this post: the Aklasu tie is also a great match for the tie Bond wears in No Time to Die with his navy Prince of Wales check suit.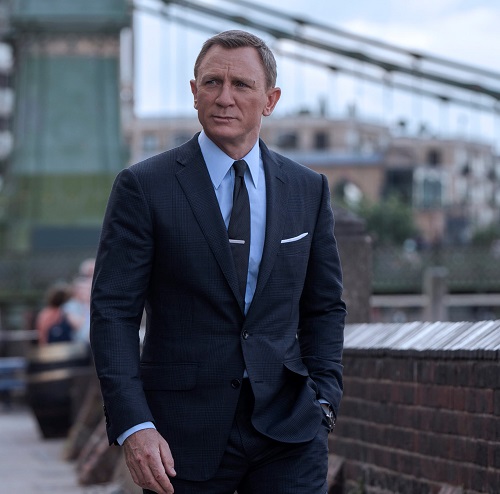 When it comes to the details about Bond's No Time To Die tie, all credit has to go to the Instagram accounts Tie Another Day and Mattia De Verti (with an assist from Matt Spaiser from Bond Suits). After some relentless detective work, these two Bond fans have presented some very strong evidence that the No Time To Die tie is actually from Prada. They go into detail about their work in this article on the excellent From Tailors With Love website and in this Instagram post. Both are worth a read, especially if you want to learn more about how the dedicated sleuths of the 007 community uncover the "hidden" brands Bond wears in the films.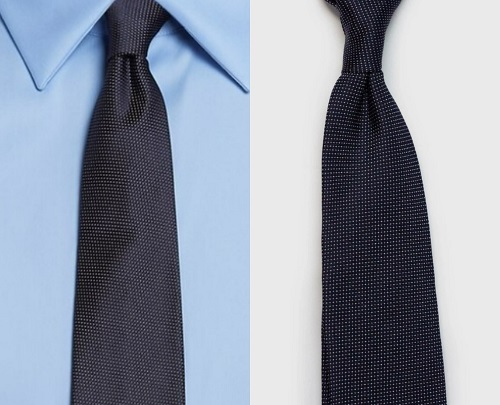 Similarities and Differences
As you can see from the images above, the navy base color and microdot pattern of the Aklasu tie come very close to the Prada. As for the differences, there's some good news and some news that will come down to your personal taste.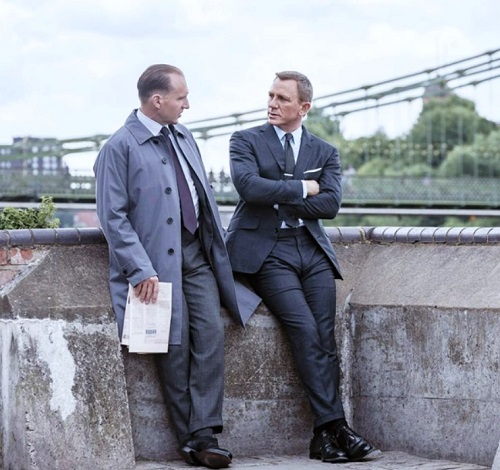 First up, the Aklasu tie is 3.125″ wide at the blade (about 8cm). That's a full centimeter wider than the Prada's 7cm (2.75″) wide blade. It may not sound like a lot, but it really can make it difference. There are also some differences in the microdot or pinpoint patterns. As noted in the review above, Aklasu uses a combination of white and light blue threads in the pattern and it's positioned horizontally across the tie. The Prada's dots are white only and positioned at a slight angle. The pattern on the Prada also seems to be a little denser than the Aklasu's.
Now the good news. Prada has used a relatively basic 3-fold construction for its tie. Really, it's nothing special. Aklasu uses a much more complex 6-fold construction. As I said above, this gives the tie more heft and a real luxury feel. And with a $110 price tag compared to the £145.00/$195.00 (or is it £210.00/$280.00?) you'll be paying for the Prada (if you can find one), the Aklasu starts looking like an amazing deal as well as being a beautiful piece of neckwear in its own right.
I'm still loving my Aklasu 6 fold tie and highly recommend it. The fact that it can now work as an alternative for both the Quantum of Solace Greene Party tie and the No Time To Die tie is just icing on the cake.
The Aklasu Navy Micro Pattern Six-Fold Tie is available from their website. Priced at $110.00 U.S., Aklasu offers free shipping in Canada and the U.S. You can read our review of the Aklasu Grenadine Ties here. 
Aklasu provided the author with one tie at no cost for the purposes of this review.