SPECTRE Matchless Craig Blouson
Updated March 23rd, 2021  – While most of us probably wouldn't choose suede for the heat of Morocco, Bond manages to make to make the SPECTRE Matchless Craig blouson work without breaking a sweat. 007 wears the jacket with the Brunello Cucinelli chinos and belt, the J.Crew Kenton suede boots, and both the Tom Ford polo and the Orlebar Brown linen shirt. For details on the original, check out this article from James Bond Lifestyle. The jacket can be purchased directly from Matchless for $1682.00.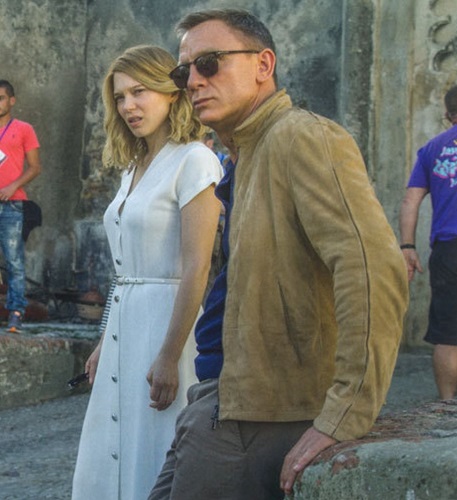 Sadly, I don't have $1700.00 to spend on a suede jacket. And unless you want to go with faux-suede, microsuede, or some other pleather jacket, non-replica options under $400.00 are thin on the ground. I've listed a few and will keep adding others as they show up.
Update: Linea Fashion currently has the genuine Matchless Craig Blouson on sale for $963.27 (£695.00, €806.00), which is an incredible deal for the original! Just note that if you're in the U.S. there will probably be duty and taxes on top of that since I think it will be shipped from the UK (I'm not sure about the VAT though). Still, it's a pretty substantial savings. They have sizes small to 3XL in stock. No idea how long the sale will last, so if you want one it may be wise to act fast!
Features Wanted for the SPECTRE Matchless Craig Blouson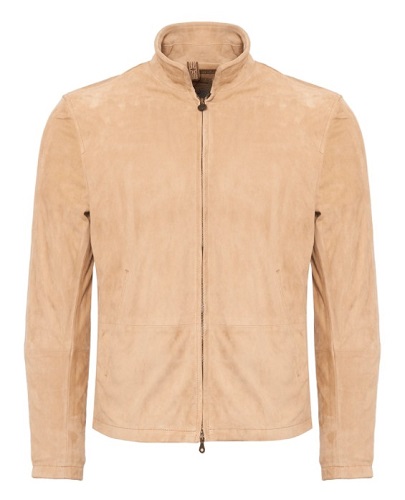 Light beige suede
2 way exposed front zipper
Slash front pockets
Mao style standing collar
Open hem and cuffs (no ribbed knitting)
Best Option for the SPECTRE Matchless Craig Blouson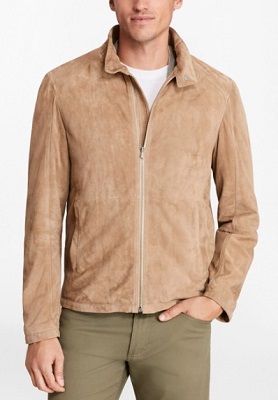 I can't tell you how happy I am that this option survived in the Brooks Brothers line-up, despite their recent troubles. It's about as close as we're going to get to the Bond look in an off-the-rack, non-replica jacket. The color is a nice match, there's no sign of ribbed knit anywhere near the cuffs or hem, and it has the exposed front zipper and slash side pockets. It even has the single line of stitching running across at mid-body! A quick trip to the tailor to remove that throat latch and your good to go. Is it cheap? No. Is it one thousand dollars cheaper than the Matchless? Yes. Hey, sometimes we have to ask, "Affordable compared to what?" Brooks Brothers has sizes small to XXL in stock.
Under $100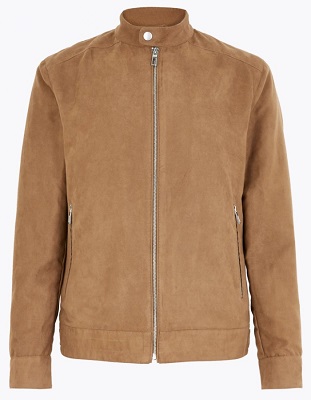 It's faux suede. But the color and styling are a pretty good match for Bond's jacket. I've spoken before about my concerns with faux animal skin: done wrong, it can end up looking like cheap velour. But based on the customer ratings (4.8 stars out of 5 after 12 reviews), M&S nailed it. The comments are also very positive about the fit: not boxy, more slim and contemporary. There are also some nice details (extended hem at the back, snap button waist adjusters) that, while not screen accurate, give the jacket some character. But I have to ask about M&S's pricing strategy. That sale price makes it a solid deal for those of you in the UK. But they seem committed to charging those of you in the U.S. a premium. Doesn't seem quite right. Sizes small to 4XL are in stock.
Under $500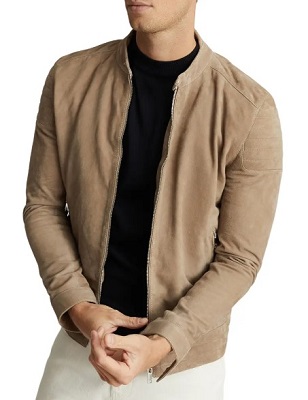 With the quilted shoulders and throat latch, this option from REISS has more of racing jacket feel than the Matchless. But the overall design still comes across as relatively clean and simple. And the color and trim fit have the right Bond-in-Morocco vibe. Nordstrom is down to a size Large at the time of writing. Just note that according to the reviews this is a very slim fit through the sleeves!
The Replicas
I usually shy away from sharing straight-up copies as alternatives. Especially when the original is still available. But I'm making an exception in this case simply because there are so few options from other brands available right now. Everyone seems to want to add ribbed knit cuffs and hems to their designs this season! And any option I've seen that does meet our criteria is so expensive you may as well get the Matchless at that sale price at Linea. I'll just add that when it comes to replicas, there are a LOT of really bad knock offs out there. So I've tried to only include ones that have good customer reviews and can be purchased from sites where there's at least some buyer protection.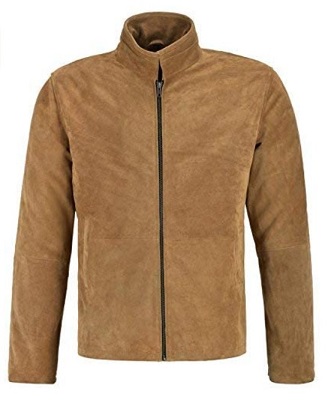 This one has been out on the market for a while. And it's sitting with 4.4 out of 5 stars after thirteen reviews on Amazon UK. Smart Range also offers a fairly wide range of non-Bond leather jacket designs, and those tend to be pretty well reviewed as well. Which is definitely a point in their favor when it comes to gauging customer satisfaction and quality. Sizes small to 3XL are available.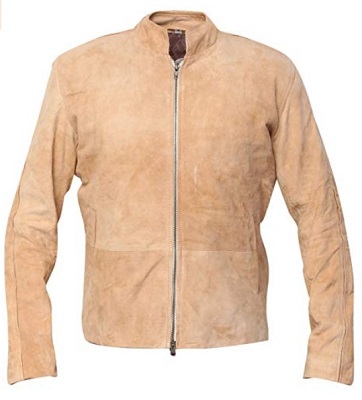 Another one that we've shared as an alternative in the past. It originally caught my attention for a few reasons. First, RHS Leathercraft use photos of their own jacket on the product page, instead of just posting a pic of the actual Matchless and saying, "Our jacket will look just like this one!". Second, it seems like they've nailed a lot of the details, including the unique seam on the sleeves. Third, they offer an "easy return backed by a money back guarantee". Which is nice. And fourth, some of their other jackets have real customer reviews in the 4 to 5 star range. So these guys might just be worth a shot. The jacket is made from lambskin suede and they have sizes XS to XXXL available on Amazon U.S.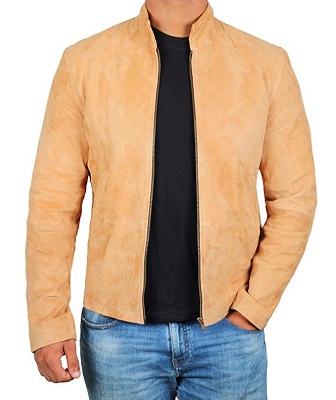 This is a new one to me. And it's less "screen accurate" than the other replicas. Especially when it comes to that distinctive stitching down the sleeves. So less of a direct copy and more of an "inspired by" alternative. Decorum has 4.2 out of 5 stars after 142 reviews on Amazon U.S., although many of those are for another model that they make. And the comments do mention that the jacket fits large and recommend ordering a size down for a more fitted look. The jacket comes in sizes XS to 3XL.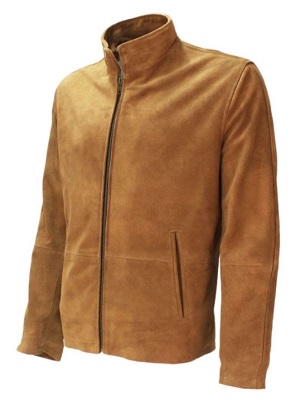 A jump up in price. But Wested is a very well respected jacket maker among fans for both their quality and customer service. So you can feel pretty confident buying from them. Wested makes their jackets in England and this particular one uses a "soft Italian suede". However, there's no mention if that suede originated from a cow, goat or sheep. It's available off-the-rack in sizes 38 to 48 rather than the more common small/medium/large, which should help you get a more accurate fit. They also offer a made-to-measure program is standard sizing just doesn't work for you. If you're able to invest a little more in your alternative, I think this would be a solid choice.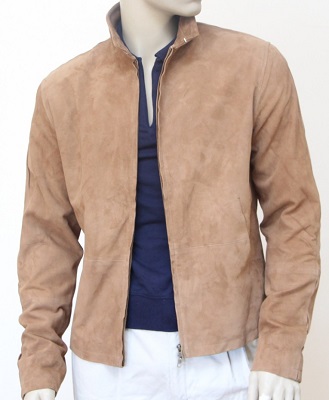 If you're a fan of affordable Bond style you're probably already familiar with Magnoli Clothiers. The owner, Indy, takes pride in offering his customers high quality pieces that come as close to screen accurate as possible. His take on the Morocco jacket is significantly more expensive than the other replicas. But he uses genuine goat suede and each jacket is made-to-measure. And the details are spot on, from the sleeve and shoulder seams to that collar hook we see in the movie but isn't included on the actual Matchless that's currently available. It's an investment in terms of both money and time (it takes 2 to 3 months to have the jacket made). However, if you love this style it'll be worth it!
Feel free to share any alternatives you find for the SPECTRE Matchless Craig Blouson in the comments! And as always, if you want some more info on Bond style and sales and deals we find around the net, you can find us on Instagram, Facebook and Pinterest.