4 Ways to Wear the James Bond Grey T-shirt
At Iconic Alternatives, we try to focus on affordable clothing that will help us get the Bond style we want without emptying our wallets. So it doesn't make a whole lot of financial sense to invest in a piece and then only use it with one "screen accurate" look. Versatility is the name of the game. That's where our "4 Ways to Wear It" series comes in. We take one piece of iconic Bond clothing and combine it with other affordable 007 inspired alternatives to extend our wardrobe and get the most bang for our buck. In this post we look at the classic James Bond grey t-shirt.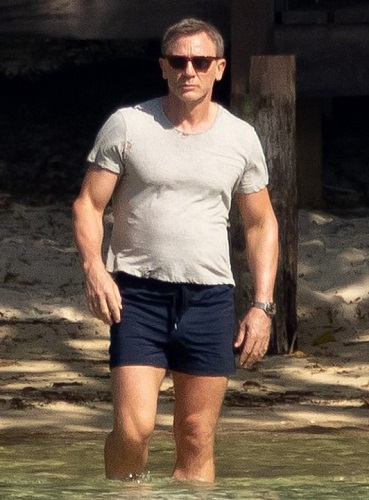 The James Bond Grey T-shirt
Ah, the humble t-shirt. If you're anything like me, you've probably treated t-shirts like disposable items. Buy 'em cheap and toss 'em when they start to look worn out. But if you've read our Guide to Contemporary Casual Style, you'll have learned that t-shirts can form the foundation for many of our best looks. Which means investing in well made tees with a great fit actually makes sense.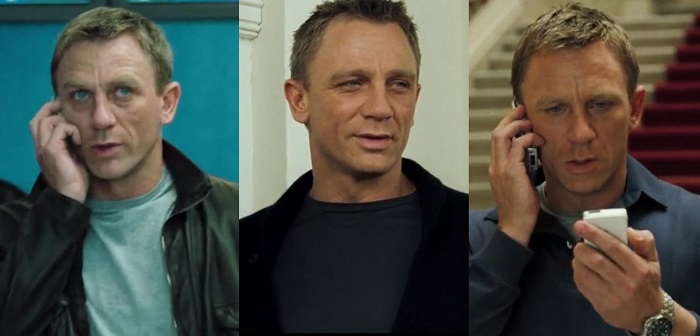 For this post, I've used the Sunspel Classic Cotton T-shirt in Charcoal Melange (£59.00/$90.00), mainly because it's a Bond brand. We'll be looking at other options in future posts. But the qualities that make a t-shirt "perfect" can be very personal. So the best thing you can do is get to a store and try some on. Pay attention to the quality of the stitching (particularly around the collar) and the weight of the fabric. Lots of people prefer 100% cotton. But cotton/poly blends can also be great, especially during the hotter months. If you want to opt for more custom options then you may want to consider going with Imprint's embroidered t-shirts which you can have made to your liking and specifications. Head to this website (https://imprint.com/custom-embroidered-shirts) to check out what's available to you.
As for fit, here are some tips …
How to get a great fitting t-shirt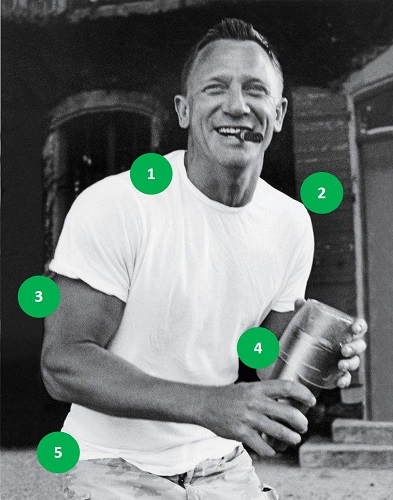 With a crew neck tee, you want the collar line to sit at the divet at the base of the throat in the front and where your shoulders meet your neck at the sides. Pay attention to the collar band construction. You want it to be a heavy enough to stand up to being pulled over your head multiple times without stretching. But not so stiff it feels like it's strangling you when you're wearing it.
The sleeve seams should line up with the tops of your shoulders.
The sleeve should end around the middle of the upper arm.
You want the fabric to skim the skin through the body. A slightly tighter fit across the chest is okay, especially if you've been working out and want to show off your progress. But keep the fit a little looser from the chest down to the hem.
You want the hem to end around the middle of your pant fly. And if the t-shirt is fitting you great everywhere else, but is just too long, you can get it hemmed to the right length. It's actually a pretty easy and cheap procedure.
Okay, let's get to the looks!
Moore Military Style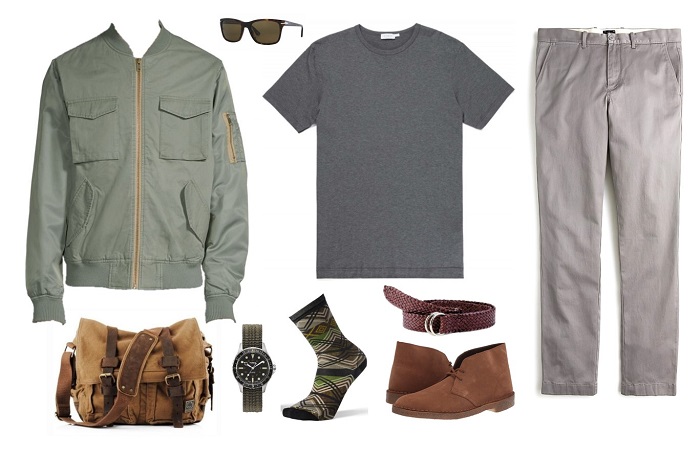 Options:
Notes:
I'm convinced the key to wearing military inspired pieces is to limit them to just one or two per look. More than that and you risk crossing into cosplay territory. I'll admit the desert boots, messenger bag and dive watch are bringing this outfit real close to that line. But I think they're "generic menswear" enough to keep us on the safe side. And the sunglasses, belt and fun socks let people know you're aiming for "casual" rather than "off-duty mercenary". As for the jacket: Bond's worn more than a few military-style pieces in the films. We'll explore those further in a future post. The Zorin Industries bomber is maybe more suitable for a security guard, but you can definitely see how it takes inspiration from an MA-1 flight jacket.
Back in Black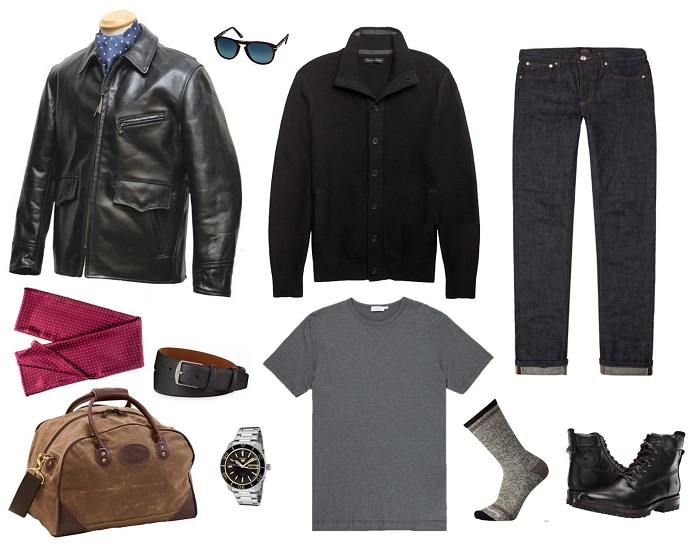 Options:
Notes:
First off, almost nothing in this look is cheap. Especially that leather jacket. We'll be looking for more affordable alternatives for the Craig's favorite Belstaff very soon. But I will say that a great leather jacket in a timeless style is a very worthy investment. Take care of it and it'll last decades. Craig is also a master at the whole "cardigan under a jacket" style move. When things cool down, it's definitely something to try. A quick comment about the scarf. As with the military outfit above, when you wear a black leather jacket, jeans and boots, it's pretty easy to drift into a "wanna-be biker" look. But the scarf, worn under the cardigan, adds a little sophistication that balances out the rugged nature of the rest of the pieces. Not sure how to wear it? Check out this guide at Art of Manliness.
That McQueen Cool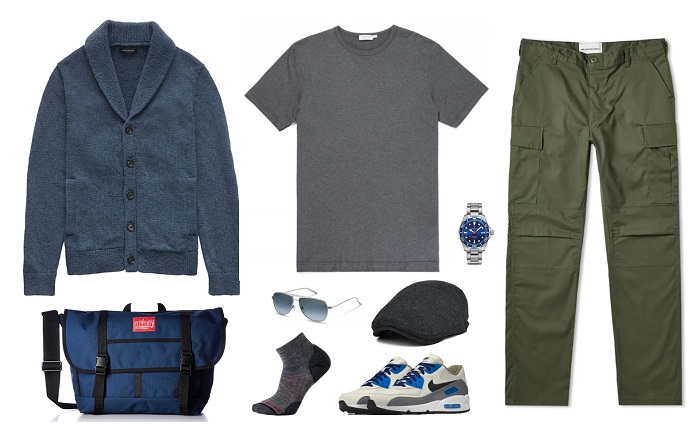 Options:
Notes:
The designs of today's cargo pants have been updated to give them a contemporary fit and look. But if you still feel they're too 90s, try some tailored fatigue pants instead. These ones from orSlow are nice. One of the tricks to keeping a casual outfit looking "put together" is coordinating colors. You don't want to get all matchy-matchy with the pieces. But you can tie the main color of one piece into a secondary or tertiary color of another. For example, the colors of the cardigan, t-shirt and cap pick up on the blue and grey accent colors on the sneakers.
There's also a lesson to be learned here about matching the "stories" behind the pieces. In this look, the t-shirt, sneakers, dive watch, sunglasses and bag are all sportier designs. So they work well together. And the utilitarian cargo pants, despite their military heritage, can also connect to that story. The casual cardigan and cap help to soften the general feel of the outfit and keep it from getting too "tech ninja"; as mentioned above, their colors tie them in with the other pieces. But imagine if we replaced the sneakers with Doc Marten boots. Or the dive watch with a dress watch. What else would you change to keep all the stories aligned?
Q Branch Called …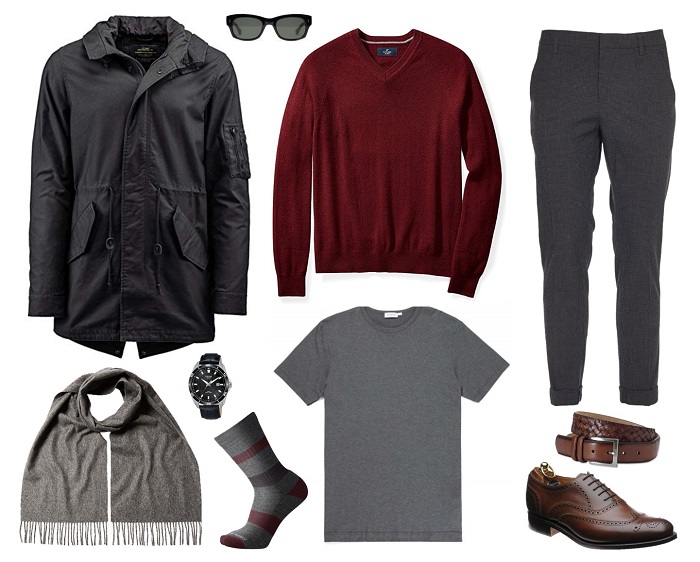 Options:
Notes:
I'm a fan of mixing greys with warmer, darker colors. In this case, the burgundy sweater and the brown leather belt and shoes. The base layers of the outfit are actually a pretty conservative outfit. Which is fine, since the coat is the piece doing the real heavy lifting here. Honestly, unless you're a very confident dresser, that longer, fishtail design with the military-inspired technical details can make it a bit of a challenge to wear. A good reason to go with a more subdued, contemporary look underneath.
A couple more notes on this one. First, I'm not sure I'd recommend this look for guys under 5'9″. The black of the coat does closely tone with the charcoal of the trousers, which is one of the "style guidelines" for guys trying to appear taller. But the length of the coat and the oddly shaped hem could still make your legs look kind of stubby.
Second (and this could just be me), I feel like this outfit is more appropriate for younger gentlemen. As an over 40 guy myself, I'd substitute a couple of pieces to make it more "age appropriate". I'd probably swap the t-shirt for an off-white, soft-collared button down or maybe a turtleneck sweater on it's own. And I would use a classic Mackinstosh style coat in black instead of the M-59.
Do you have some suggestions for a great James Bond Grey T-shirt or a favorite way to wear it? Let us know in the comments below! We also regularly post alternatives, deals around the net, and assorted fun stuff and general silliness on our Facebook page, Instagram account and Pinterest boards. You can also visit our official Amazon Store Page! We created it to make it easier for you to find all the different alternatives we discover from the giant on-line retailer. Hope you'll check it out and let us know what you think!