We're smack dab in the middle of summer. But there's still plenty of time to pick up one or two pieces to round out your warm weather wardrobe. So we've put together a quick list of 007 Summer Style Extras. While I wouldn't call the items this list "essentials", they are nice to have in your closet when you're ready to mix things up a little.
A Warmer Layer for Cool Summer Nights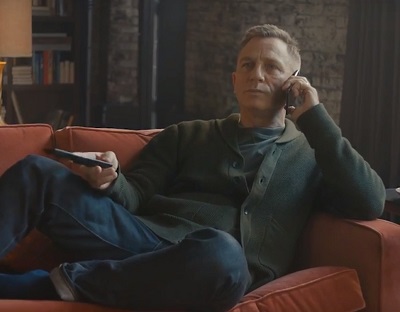 Back in March 2017, Daniel Craig starred in a Vodafone campaign in Germany. And for that production he wore a Rag & Bond Avery Shawl Collar Cardigan in Army Green. That particular color is still very popular right now. And a lightweight cardigan is going to be pretty much the perfect layering piece when it starts to cool down at night.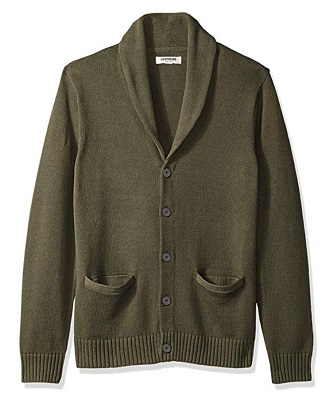 The 100% cotton knit is missing the more detailed stitching of the Rag & Bone Avery. Otherwise it's a pretty good match at a very affordable price. Unfortunately, Amazon U.S. is running low in sizes for the Solid Olive options. But there are plenty of other colors to choose from. All sizes are still available on Amazon UK.
The Retro Racing Jacket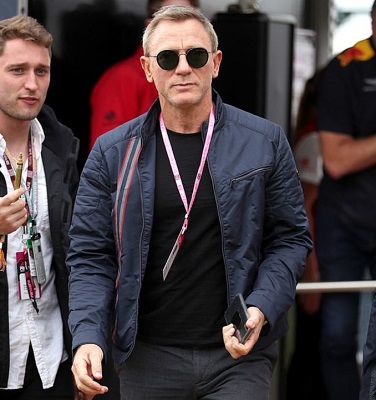 By now we've all seen the photos of Daniel Craig at the British Grand Prix wearing that very cool Hackett London X Aston Martin jacket. Very similar in design to Belstaff K Racer, I'm expecting we'll see more of this jacket style with those vertical Speedway stripes in the fall.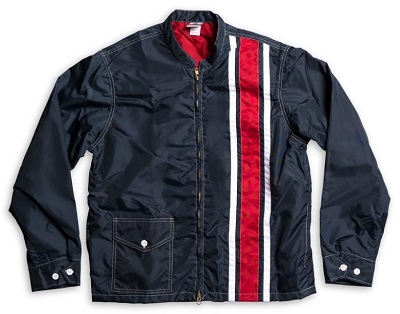 This particular brand was recommended by our Facebook friend Sean and on Instagram by @svarooom. And when two guys are telling you to check something out, you check it out. Obviously this option is more of a true retro style than the Hackett. But it's also one damn cool looking piece of outerwear that definitely has that racetrack vibe. Made in Santa Ana, California, Birdwell currently has sizes small to XXXL in stock.
Some 60s Style Swim Shorts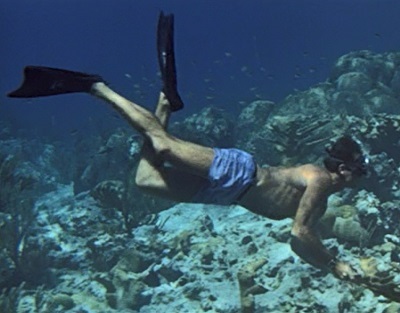 The heat on the Orlebar Brown 007 collection seems to have died down now. But just in case you didn't get your Connery-Bond style fix, this is a great time to look for some swim shorts. We may only be in July, but most of the brands are discounting their summer inventory to make room for the fall stock. So there's some great deals to be found.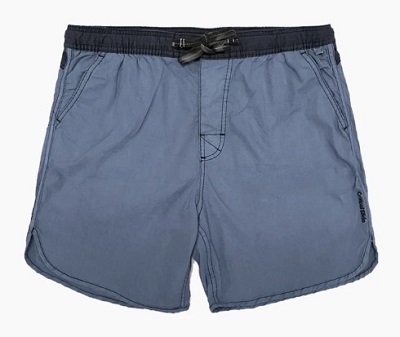 These ones aren't on sale. But they're not a bad match for the Thunderball shorts. Just in a slightly washed out blue cotton poplin that gives them an even more relaxed feel. Those in the market for a new pair of shorts may want to check out the products over on the Unionbay website. I've mentioned before how I enjoy discovering and sharing smaller brands that are looking to do things right. And The Critical Slide Society certainly fits that profile. Established in 2009 by two surfers and artists in Australia, the company is passionate about clothing design, celebrating the beach lifestyle and doing what it can to help protect the environment. I definitely recommend checking them out. You can find more Bond-style swim wear in this post.
Something other than a dive watch …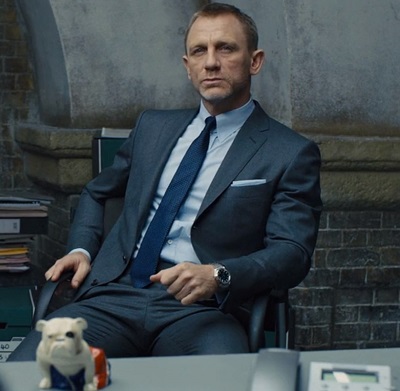 Sure a dive watch is versatile. But there are those times when it can be just a little too casual. Or maybe you want to change things up a bit. Whatever the reason, having a second watch in your collection is never a bad thing. And you can't go wrong with a model inspired by the Omega Aqua Terras from Skyfall and SPECTRE.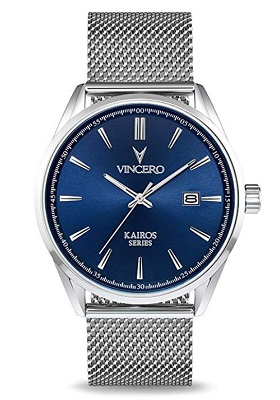 I missed this option when we did our original post on alternatives for the Daniel Craig era Omegas (you can read that post here). The case is 316L stainless steel, water resistant rated to 5 ATM and topped with a sapphire coated mineral crystal. The movement is the time tested Miyota quartz. And with a 42mm diameter, it's probably going to appeal more to fans of the larger SPECTRE Aqua Terra. So an overall solid watch, but nothing groundbreaking. What Vincero did nail is the looks. The Kairos does a very good job of capturing the feel of the Aqua Terra without trying to be a direct copy. And the fact that it comes on a mesh band like the one used on the new Bond 25 Omega is a fun way to mix and match some 007 timepiece style.
Something other than jeans or khakis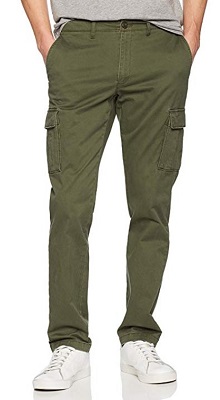 In our "4 Ways to Wear a Grey T-Shirt" post, I included some green cargo pants as alternatives for the ones Pierce Brosnan wore in the Tomorrow Never Dies PTS. Thanks to brands like Engineered Garments, orSlow and Nigel Cabourn, military inspired pieces have become very popular. And with a more tailored look, they strike a nice balance between heritage and contemporary style. If you're a little nervous about trying something like this out, these trousers from Amazon are a pretty risk free way to give the look a shot. Believe me, I was hesitant at first as well. And now I have four pairs of modern cargo pants in my closet.
Okay, some jeans. But off-white jeans …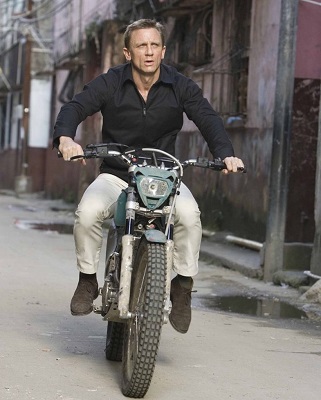 In the hotter months, a pair of off-white jeans can be very useful. The 5-pocket style keeps them casual. But the lighter color gives them a slightly dressier, sophisticated feel compared to regular old blue denim. They look good with polos, tees, long and short sleeve button downs, and even unstructured navy blazers. For shoes, pair them with sneakers, loafers, suede chukkas, even some leather bluchers. They can all work. If you don't already have a pair, now's the time to give 'em a try.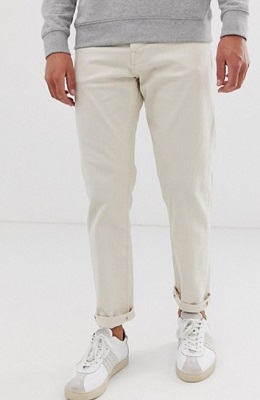 Recommended by AJB007 Forum member DB6, this pair from Selected work as an alternative for Bond's Levi's 306 STA-Prest jeans from Quantum of Solace. Made from a 98% cotton/2% spandex blend fabric, the fit has a higher rise, a roomier fit through the thighs and a taper from the knee to the cuff. You can find more alternatives for the Levi's STA-Prest jeans in this post.
Stylish Protection for Your Eyes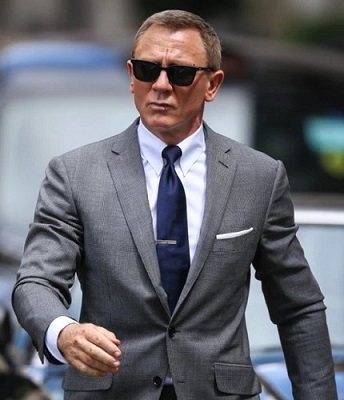 It looks like Bond is going with a new eyewear maker in the next movie. Instagram account @whatsdanielwearing was quick to ID the sunglasses from the Bond 25 London set photos as black Barton Perreira Joes.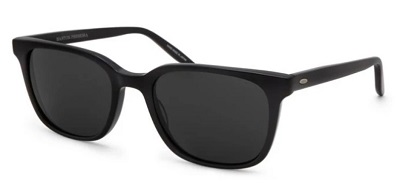 Of course, these are sold out now. But rumor has it that they'll be making a return in January 2020. Wink Optics (which is quickly becoming a fan favorite source for sunglasses) says they'll be stocking them. So you might want to contact them to reserve your pair.

If you have no plans to invest around $400 in a new pair of sunglasses (or you just can't wait for the Barton Perreiras to return), these alternatives from Hugo Boss should do the trick. At 55mm, they're bigger than the 52mm Joes. But the frame shape is certainly a solid match and the sale price isn't going to wreak your bank account.
Have some suggestions for any of our 007 summer style extras? Let us know in the comments below! We also regularly post alternatives, deals around the net, and assorted fun stuff and general silliness on our Facebook page, Instagram account and Pinterest boards. You can also visit our official Amazon Store Page! We created it to make it easier for you to find all the different alternatives we discover from the giant on-line retailer. Hope you'll check it out and let us know what you think!