James Bond Swimwear from Connery to Craig
Update: We have a more recent version of this post with all new alternatives. You can see it here!
Beach weather is coming on fast. Which means it's time to start looking at some James Bond swimwear! In this post, we're going to be looking at affordable alternatives for every pair of swim shorts that Bond has worn in the films (or at least the ones I can think of). If I've missed any, just let me know in the comments. And if you're looking for some Bond-style summer shirts to wear with the shorts, check out our series starting with this post. Okay, let's dive right in!*
The From Russia With Love Boat Shorts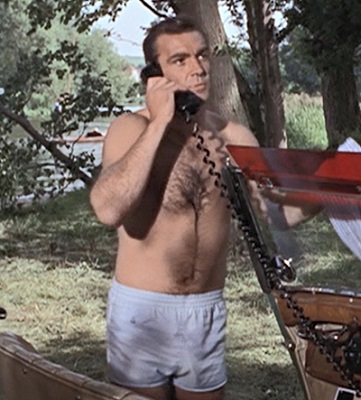 Connery's Bond wore this pair during his riverside afternoon date with Ms. Sylvia Trench. And it's not easy to find a good match for them. To start, that pale blue color isn't common. The combination of the elasticized waist (no drawstring) with the coin pocket also makes it tougher. Then there's the white piping. I'll keep looking, but for now we need to sacrifice some features. Check out BAMF Style for a complete analysis of Bond's look from this scene.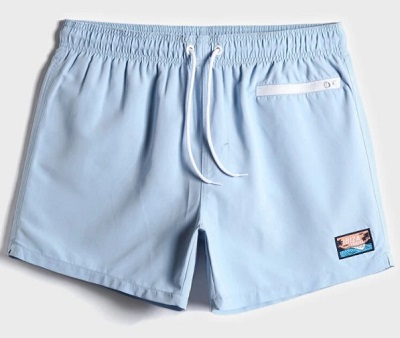 A very affordable, albeit more modern, take on the From Russia With Love shorts. The coin pocket has a zip rather than the button closure. And of course there's that drawstring. But the color and the length look good. Maybe just take a seam ripper to that "Ibiza Travel" patch to give them a cleaner look? You'll find sizes small to 2XL on the Newchic website.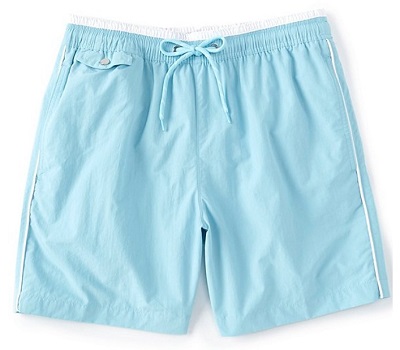 There are no model pics on the Dillard's product page. But I have feeling these will fit a little baggier and longer than the ones Bond wore. The aqua color and drawstring are also less than screen accurate. But we do get the coin pocket and the white piping! They have sizes small to 2XL in stock.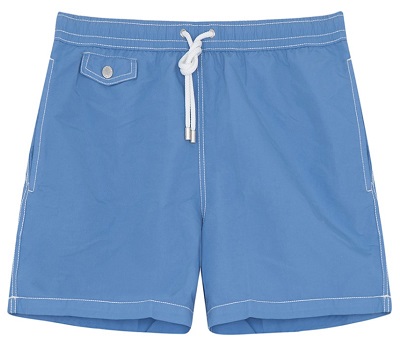 I'm really liking these alternatives for the From Russia With Love shorts. But there are three problems. First, they're expensive. Second, they only have sizes medium and large in stock. And third, I'm not sure if you can order them if you live outside mainland Europe. But if any of that criteria applies to you and you don't mind paying up, I wouldn't hesitate to grab these. Hartford really does make some nice clothing.
Also Try:
Parke & Ronen Angelleno Solid Stretch 2″ Swim Shorts in Powder Blue: $130.00
Orlebar Brown Standard Mid-Length Swim Shorts in Mineral: $147.00/£125.00
The Goldfinger Miami Beach Swim Shorts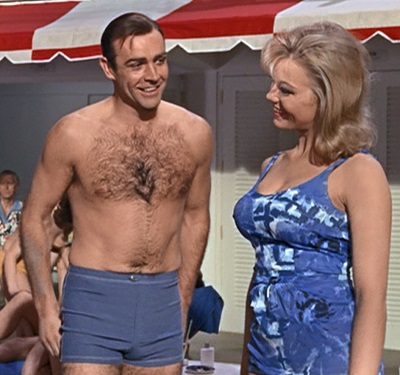 I don't want to tell you the things I saw searching for a modern alternative for these shorts. Seriously, if I shared product photos from some of the sites I visited, this whole post would be flagged NSFW. And I should probably clear my browser history ….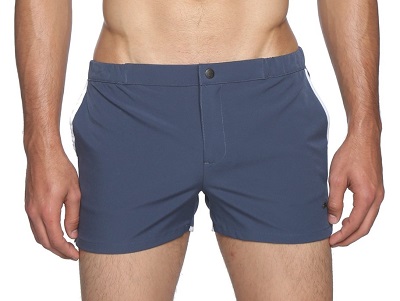 About as close a match as I could find. Yes, they have the white piping on the side and a zip fly. But the color and general styling makes them a great modern match for the Goldfinger shorts. Parke & Ronen have sizes 28 to 36 in stock on their website.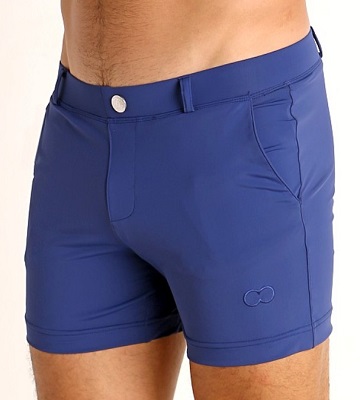 That blue is obviously brighter than ideal. And the shorts come with a lot of extra design features (zipper fly and pockets and belt loops). But, if I'm being totally honestly, finding swimwear that fits as snugly as Bond's without crossing a line into the potentially obscene ain't easy. So at least we're getting a similar look and the silver button.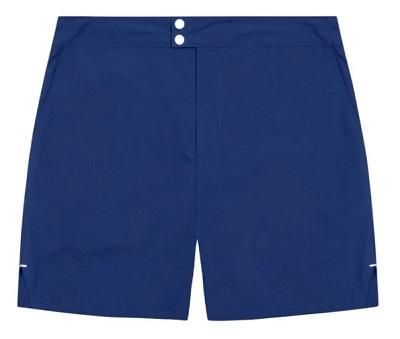 If you like that Goldfinger look but prefer a more modest fit and cut, these could do the trick. These have a looser, more classic swim short style. But the two offset buttons at the waist give them a bit of that "007 in Miami" vibe. Goodlife has sizes 30 to 38 on their website.
Also Try:
LASC Malibu Swim Shorts in Teal: $84.00
Onia Calder 5″ Swim Trunks in Deep Navy: $130.00
Orlebar Brown Springer in Blue Wash: $245.00/£165.00
Orlebar Brown 007 Collection Goldfinger Swim Short in Mid Blue: $395.00/£245.00
The Thunderball Jantzen Trio
This is the big one. A whole post could be dedicated to affordable alternatives for Bond's swimwear in this film alone. For more information on the complete looks, see BAMF Style's article here and The Suits of James Bond's articles here, here and here.
The Pale Blue Belted Jantzens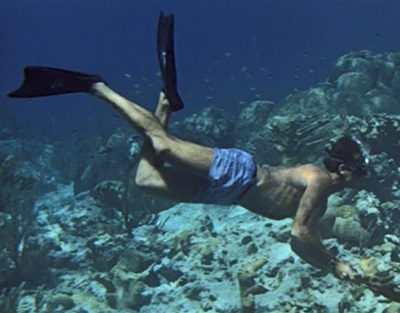 Probably the most famous shorts from the film. These pale blue Jantzens have a short inseam and button-down belt loops to hold a black belt. As most already know, Orlebar Brown recently re-released a pair of Setters inspired by them as part of their 007 collection (see below).
Obviously, the belt feature is the most difficult detail to match. So we're going to take a cue from Orlebar Brown and look for alternatives with a darker colored waistband that gives the effect of the black belt. However I'm happy to report that this season we also have some options in good colors with the belt loops. So we have choices, my friends!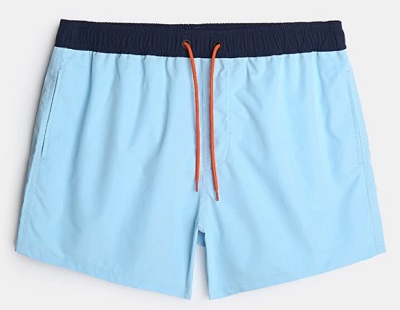 A no-frills budget option from Newchic. These are made with a quick dry polyester and the contrasting navy waist band gives them a little of that Thunderball style. Sizes small to 2XL are in stock.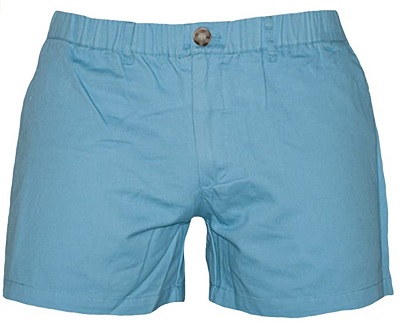 The first of our alternatives with the belt loops. That "Carolinas" color might not be the best match. But the 5.5″ inseam is short enough to have a retro feel while still working for those of us that want a little more coverage. The four-way stretch fabric should also be comfortable. Just note it is a cotton and spandex blend, so don't expect them to be super quick drying. And I'd also strongly suggest you read about the sizing and consider sizing up to get the correct fit. Amazon has small to XXL available. Sadly, I couldn't find these on Amazon UK.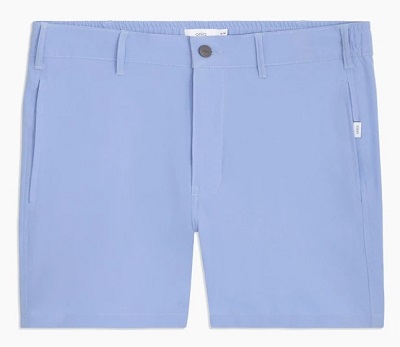 And our second belt compatible option. Onia is a big step up in both price and quality. The color isn't quite the shade of blue we want. But the clean design and tailored fit makes them a perfect "pool to restaurant" short. Combine them with a black webbing belt and you've got a great modern interpretation of the Thunderball swim trunks. Unfortunately, they're down to sizes small, medium and XXL on the Onia website. However, you can find large and XL at Saks Fifth Avenue for the same price.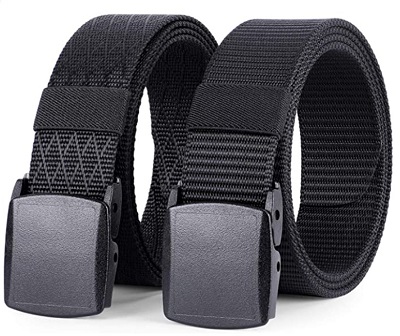 These are really just an example of the kind of belt you could use with the Meripex or Onia alternatives to give them that final Thunderball touch. There are tons of options on Amazon and Ebay. But I would recommend going with a plastic buckle, especially if you plan on spending more than a few minutes in the water.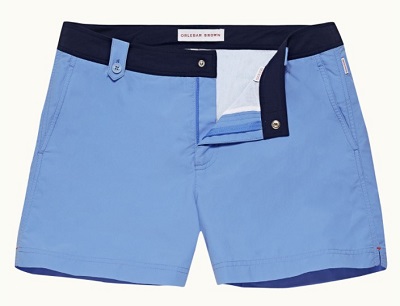 Now for Orlebar Brown's interpretation. By now, almost every fan of Bond-style knows that OB has just re-released their greatest hits from the 2019 007 collection. And personally I think these modified Setters are one of the stand-outs. The regular Setters are already a great design. But the addition of the contrasting waist band and the buttoned belt loops is a nice homage to Bond's shorts, without making them look like a costume. There are still plenty of sizes available on their website. But we all know these can sell out fast.
Also Try:
Yuyangdpb 5″ Quick Dry Shorts in Light Blue: $19.99
Vuori 5″ Banks Shorts in Azure Linen Texture: $68.00
The White "Drive with Fiona" Jantzen Shorts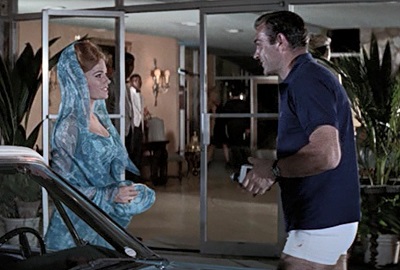 Although these ones were a big part of Thunderball's  promotional artwork, they actually don't get a lot of screen time. We mostly see them poking out from below Bond's red wetsuit (cuz nothing says "secret-underwater-nighttime-recon mission" like BRIGHT COLORS!). But the general assumption is they're a similar style to the other Jantzens in the movie.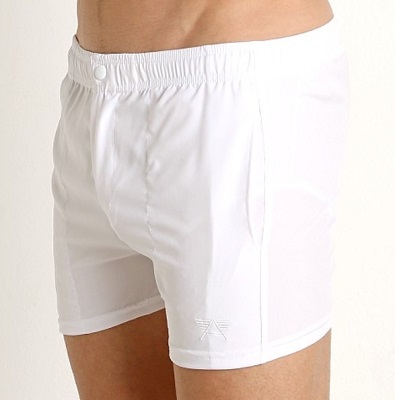 Short and a little tight. Yep, that sounds like 1960s era men's swim shorts to me! LASC has used a 90% nylon, 10% spandex fabric for this made-in-the-U.S.A. pair. That should make them comfortable and quick drying for all day use. But the material does look a little thin which, with white shorts, can make wearing them when they're wet slightly risky. You'll find sizes medium (waist size 31-32) to XL at International Jock, which (ironically) only seems to ship within the U.S.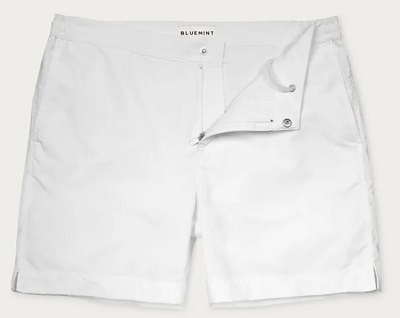 Bluemint is another relatively new company that's found success designing sophisticated, tailored swimwear. This particular pair is made with a 100% micropolyester fabric that's lightweight and quick drying, but opaque enough to maintain decorum when wet. Bombinate has sizes 30 to 40 in stock.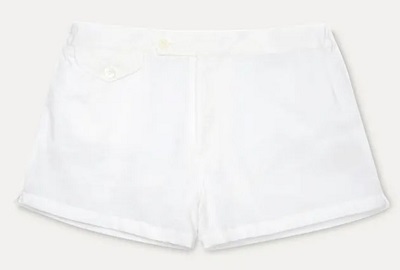 As the name suggests, PIER Sicilia makes it's swimwear in Italy using designs inspired by the founder's stylish grandfather. They also add a few luxury touches, like premium fabrics and mother of pearl buttons. The Ugo model is most certainly a "short" short and with it's coin pocket, it gives me a bit of a From Russia With Love meets Thunderball vibe. Which sounds spot on for a fan of Bond style. You'll find sizes XS to XL at Bombinate.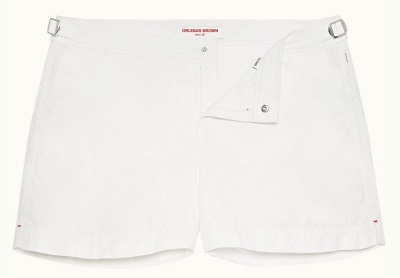 When I first saw Orlebar Brown's 007 collection, I immediately thought their Springer model would make better alternative for the white Thunderball Janzens than the Tighty Whitely Bassetts they ended up using. And now after re-visiting the collection, I can't say my opinion has changed. The Springer has the shortest inseam Orlebar Brown offers, so it's almost perfect for a 60s era Bond short. And since they use high quality fabrics, there're no worries about transparency when they get wet. I'd easily go with these ones over the officially licensed shorts and just imagine there's a "007" label inside. Plenty of sizes are available on their website.
Also Try:
2(x)ist Ibiza Swim Short in White: $70.00
Polo Ralph Lauren Monaco Swim Shorts in White: $108.00/£100.00
Orlebar Brown Setter Swim Shorts in White: $160.00/£165.00
Frescobol Carioca Classic Swim Shorts in White: $215.00
The "Real Men Wear Pink" Shorts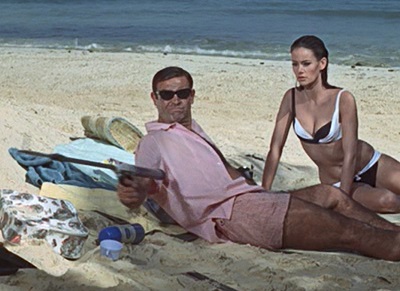 Just keep telling yourself, "I CAN wear pink!" Again, the style is similar to the blue Jantzens, with the shorter length and button down belt loops. But this time Bond goes sans belt. The fabric also seems to be a natural fiber (or at least a blend) instead of 100% synthetic. Which explains the more muted or faded appearance.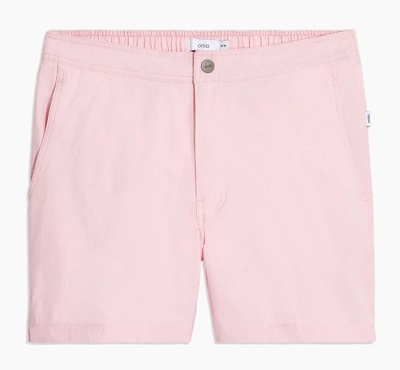 Another pair from Onia in a Connery-Bond appropriate shade of pink. Unlike the All Purpose model above, these have a shorter 5″ inseam and a mesh lining. The 95% nylon, 5% spandex fabric also has a fair amount of stretch and is quick drying, so they'll be comfortable for all day, multi-activity use. The Calders don't come in numerical waist sizes. But that elasticized back waist band should keep them fitting snug.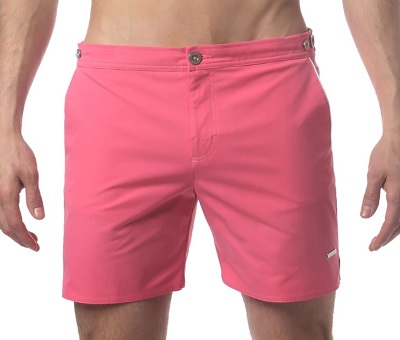 If shorts that are pink, short and tight are a bridge too far for you, consider the Catalonias. Yes, that brighter color is going to draw attention. But the longer length and more relaxed fit help balance it out. These do come in numerical sizes and they have the adjustment tabs at the waist. So you should be able to really dial in the fit.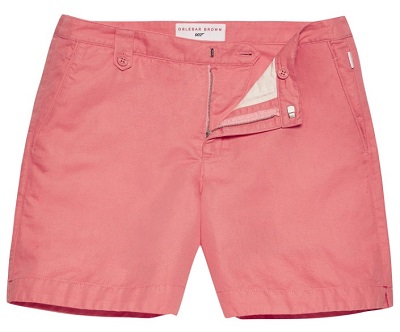 Another pair from Orlebar Brown's relaunched 007 collection. The most noticeable thing is these ones have the screen-accurate button-down belt loops. Now, I understand that these are "inspired by" the Thunderball shorts. But a couple of their design decisions have me scratching my head. First, why go with a deeper, almost brick-toned pink instead of a paler shade? Second, why the longer Bulldog cut? If the Bond shorts are known for anything, it's how short they are. Finally, the 51% cotton, 49% linen fabric is undoubtedly nice. But it's not really practical for any activity around the water.
Luckily, Orlebar Brown also has the Thunderball Swimshort in Watermelon Warm Pink for $295.00/£195.00 and, in my humble opinion, it's the better choice. The color is a good match, we still get the button-down belt loops and they're actually designed to be worn in water. Plus, they still have lots of sizes available in this model.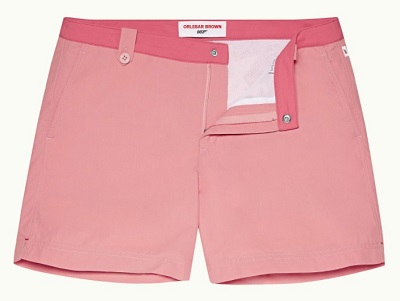 The Goldeneye Steam Bath Shorts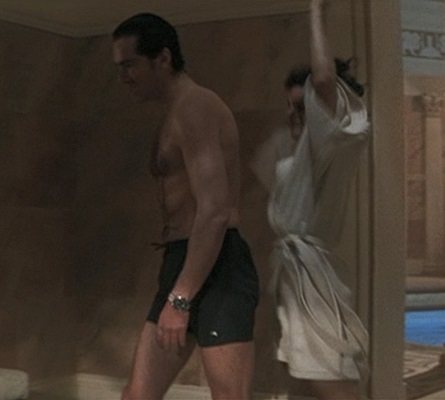 For his relaxing swim in the pool and friendly tussle with Xenia Onatopp in the steam room, Pierce Brosnan's Bond wears a pair of simple black swim shorts. There's really not much to say about them. They have open side pockets with white liners, an elasticized waist and a black drawstring. There is a white logo on the front left, but I can't figure out what brand it's from. In any event, if you're looking for some basic, no-nonsense swimwear, these are a good place to start.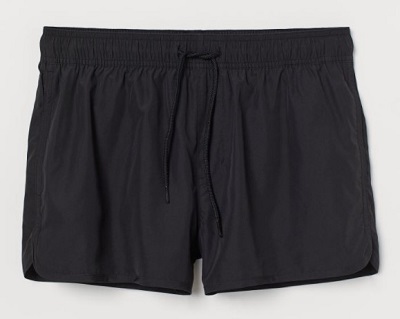 Dead simple and inexpensive. The only real issue is the slits at the hem, which are not screen accurate. But if you just want a pair of beater shorts that have some of that Goldeneye style, these will work just fine. Just be aware that sizes are running out fast at H&M.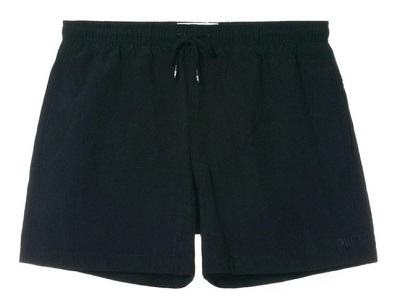 When we pay up for a simple design, we have to assume that extra money is going into things like the fabric, construction and cut. And Solid & Stripe doesn't disappoint on those fronts. The 100% polyamide fabric is lightweight and quick drying but durable enough to take some abuse and won't fade after numerous dives into the salt water. And the 4″ inseam gives the shorts a sportier look but still provides decent coverage. The sizing on these does tend to run large, so they recommend sizing down to get a more tailored look.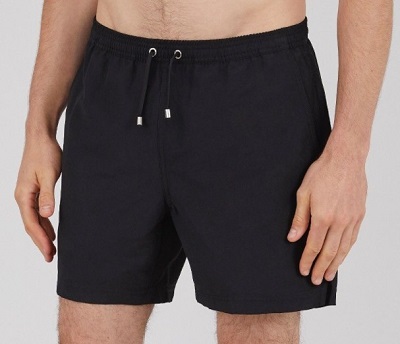 Sunspel makes more than just Bond approved polo shirts. And it turns out their black swim short is a solid alternative for 007's black Goldeneye trunks. These are a simple design with a slightly longer length and nice details like metal grommets and aglets for the drawstring. Unfortunately they also have the split hems, which aren't screen accurate but do help with freedom of movement. However, the material is the real star here. They've used a 100% polyester fabric called Seaqual that's made with upcycled plastic waste recovered from the oceans. So the shorts are stylish and helping us clean up one of our most precious resources. Sizes XS to XXL are in stock on the Sunspel website.
Also Try:
Dolfin Solid 5-inch Swim Trunks in Black: $41.99
Patagonia 5-inch Baggies in Black: $55.00
Bluemint Arthus 4 Way Stretch Swim Shorts in Black: $110.00/£90.00
CDLP Recycled-Fiber Swim Shorts: $145.00/£128.00
The Casino Royale La Perla Grigioperla Lodato Briefs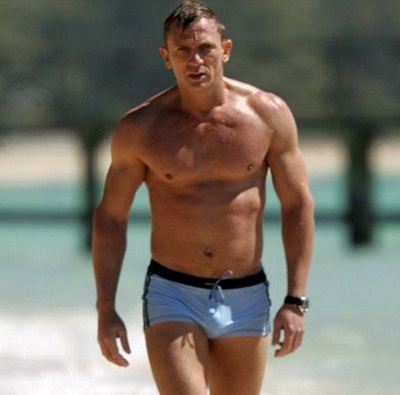 We Bond fans should be thankful for these shorts. For many of us, the publicity photo of Craig wearing them is what finally convinced our non-Bond-fan significant others to share our passion for 007. So if you think about, the La Perlas really helped us bridge our differences, find common ground and ultimately brought all of us closer together. You can learn more about the screen-used shorts at James Bond Lifestyle.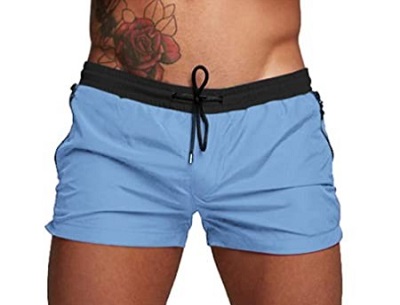 Not quite the skin hugging design of the originals. But the fit is short and snug and, although we're missing the stripes down the side, the color-way is a nice homage to Bond's La Perlas. Plus they have zippered pockets, which minimizes the risk of losing your keys in the sand. And they're very affordable! Amazon U.S. has sizes small to XXL available, however I would definitely recommend checking the size chart. I'm almost 100% positive these are the same shorts as the No Time To Die Everworth alternatives below. So for more info on quality and fit, check out that entry.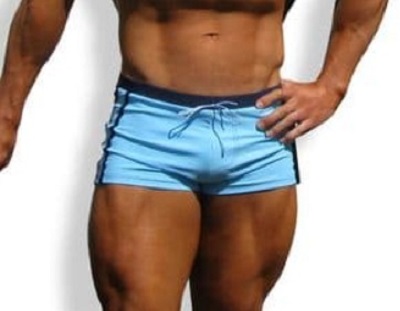 A great suggestion from Ian McDonald in the comments for this post down below. As you can probably tell from the product photo, CTP Fashion's main market is body builders (their URL is "clothestopose.co.uk" so that should also tell us something). Their website is filled with things like thongs, pouches, g-strings and the like. But they also make these alternatives for the La Perlas. The fabric is an 80% polyamide, 20% elastane blend so there's plenty of stretch. And it looks like they nailed most of the design details. Plus they're manufactured in the UK, which is very nice at this price point.
Also Try:
GustinBem Spandex Quick Dry Swim Trunks in Light Blue: $17.84
Sauvage Swimwear Two-Tone Swim Trunks in Teal/Black: $82.00
The Casino Royale Black and White Swim Briefs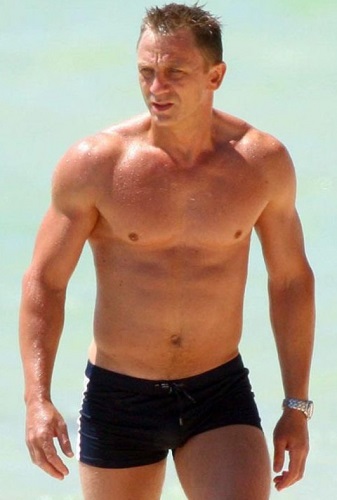 As far as I know, the maker of Bond's second pair of swim shorts from Casino Royale still hasn't been identified. And we really only see them on-screen for a few seconds. The paparazzi shots from the set give us a better look at the details. Like the La Perlas, they're short and tight, with a drawstring waist and white stripes at the side. In his post on the shorts, Matt Spaiser of Bond Suits also identifies a burgundy color block that curves over the back of the shorts. For the alternatives, I didn't look for that particular feature and instead focused on options that have the black-white color combo and/or the right fit.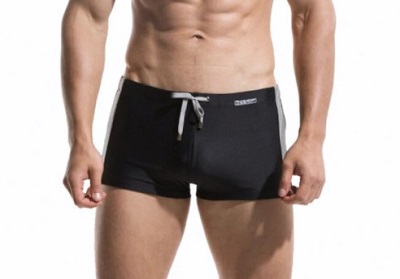 Not an exact match, but they come pretty close for an off-the-rack alternative. Plus they have an interesting secret. There's actually an internal pocket at the crotch where you can insert a foam cup. I'm sure it will come as a surprise to absolutely no one that shorts this tight will leave little to the imagination. So that cup is more about keeping things decent (and comfortable) than enhancing specific parts of our anatomy. Sizes are running low on Newchic. But these do run very small, with the XL fitting a 32″ waist.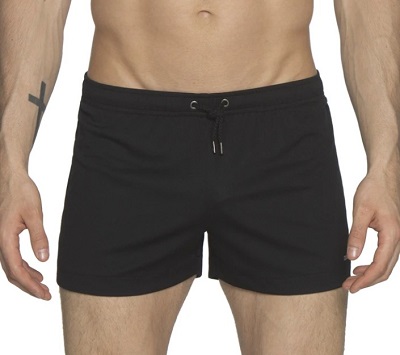 And we return yet again to Parke & Ronen. These are missing the white stripes and other color accents. But they'll probably be a more comfortable design for most of us. The cut is more relaxed and slightly longer than Bond's shorts. And the fabric is a 100% polyester knit that adds some texture and minimizes the sheen we get from most synthetics. I'd definitely call these an "inspired by" option that would also work as an alternative for Bond's Goldeneye swimwear. Sizes XS to XL are in stock on their website.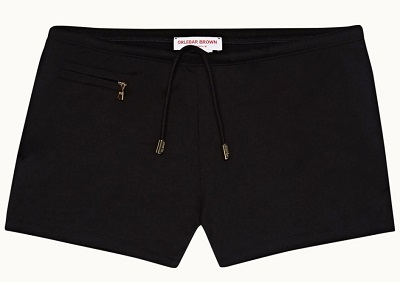 Like the Parke & Ronen's, these are missing the white and burgundy color blocks. Instead we get a zippered coin pocket and some subtle gold accents with the hardware. However the overall style is very similar to what Bond was wearing, with a short inseam and tight fit. Thread has sizes XS to XL available, but mediums are out of stock. But you can also find sizes small to large at Orlebar Brown for two dollar more.
Also Try:
AIMPACT Square Leg Swimsuit in Black: $18.99/£17.40 to £23.11
CTP Fashions Bond Swim Trunks in Black and White: £19.99
Sauvage Riviera Swim Short in Black: $58.00
Sauvage Retro Lycra Swimmer in Black: $62.00
Onia 3″ Swim Trunks in Black: $120.00
The Skyfall Orlebar Brown Setters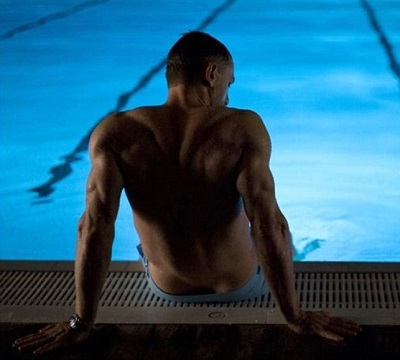 I don't want to say Orlebar Brown wouldn't be successful today if it wasn't for Bond's Setters in Skyfall. But I'd be hard pressed to put a price on the impact their 10 seconds of screen time had on the company. And we never even see them from the front!
None of that is to say Orlebar Brown doesn't make great swimwear. They re-invented a style that dozens of companies have tried to copy over the last decade. Their execution of that retro-look and the quality of their manufacturing are top notch. And the brand has been very savvy as it's grown, constantly re-enforcing its "Resort Lifestyle" image and leveraging the Bond-connection to maximum effect. Some may feel that Orlebar Brown's prices are unreasonably high. But no one can argue that their products sell.
However, a nice side-effect of that style's popularity is that we, the more price conscious buyers, have plenty of great affordable alternatives to choose from.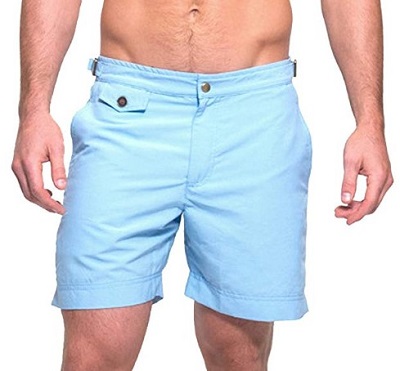 We're getting a great color match, plus the button front and adjustable side tabs. The button-closure coin pocket, while not screen accurate, is a nice call-back to the From Russia With Love shorts. The length is longer than we want. But I'm a big believer in hemming to take care of that problem and it's super easy to do with swim shorts. All in all, not bad for just under fifty bucks. Amazon has sizes 28 to 38 in stock.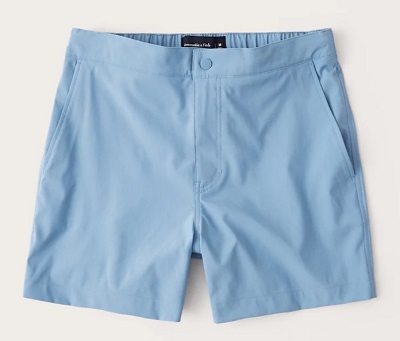 They don't have the adjustment tabs at the waist. But that shade of blue and the shorter, more tailored fit makes them a solid alternative at a very reasonable price. One interesting thing to note: rather than going with a traditional mesh lining, Abercrombie & Fitch has used a lightweight interior compression short to keep everything in its place. I really have no idea how that will affect drying time after a dip in the pool. But, for me, that design decision makes these more of an "active" short instead of all-day casual swimwear. Having said that, I should also point out that they have 4.8 stars out of 5 after 13 reviews. So customers seem to be pretty happy with them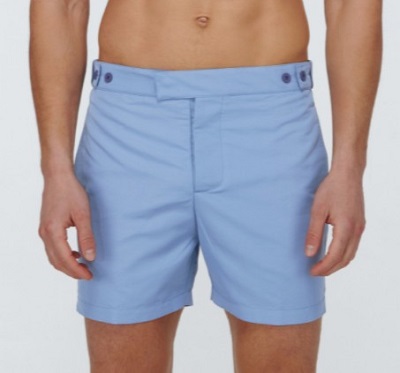 Since swimwear from Frescobol Carioca is usually priced north of two hundred bucks, this is a great deal for a pair of their shorts. And the pale blue color and "retro resort" styling makes them a solid alternative for Bond's Skyfall trunks, especially if you prefer a longer inseam. MyTheresa has sizes 30 to 38 available.
And the originals have returned! Nearly ten years after their quick appearance in Skyfall, they remain one of the most popular styles from Bond's collection of swim shorts. Orlebar Brown releases similar colors each season, but seems to reserve this specific shade of "Sky" blue only for their 007 collections. Currently sizes 28 to 38 are available on their website. But, like the Thunderball shorts, I'd expect these to sell out relatively fast.
Also Try:
Onia Elastic Calder 6″ Stretch Nylon Swim Trunks in Periwinkle Blue: $95.00
Benibeca Tailored Swimwear in Sky: $126.00/£89.00
Hemingsworth Clipper Swim Shorts in Light Blue: $265.00/£185.00
The No Time To Die Mystery Jamaica Shorts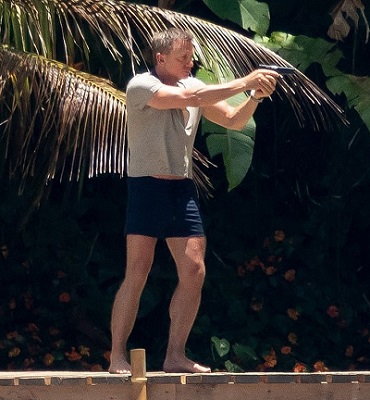 Nope, I still don't have a clue about the brand. But thanks to recent set photos, I can tell you what we do know. First, the shorts have a shorter inseam. Let's say around 5″, or about the same length as the Orlebar Brown Setters. Second, they have an elasticized waist with a dark blue drawstring that has metal aglets. Third, the set photos appear to show vertical zippered side pockets. And fourth, it looks like there's no rear pockets. So that's what we're looking for.
Until we know the actual brand and can confirm the details of the shorts, I'm hesitant to recommend anything too expensive. So the options below are definitely on the low cost/low risk side. They should give you the look, but you won't be cursing me too much if I've missed anything.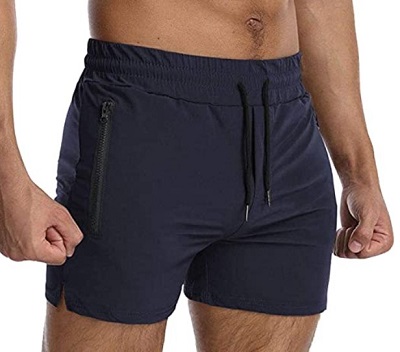 I've shared this alternative a few times in our Best Budget Style Finds posts. So some of you may already be familiar with them. Aside from the notch at the hem, they look to be a solid match for the pair we see Bond wearing while he plays in the water. I ordered a pair of these just to see what ten bucks buys us. And … they're actually not that bad. Not Orlebar Brown level quality, obviously. But the fabric does have some stretch and although it's thin, it doesn't feel particularly cheap. The same can't be said for the zippers on the pockets (chunky plastic) or the drawstring (basically a low quality shoe lace). However, the cut is decent and true to size. I'm a medium in almost everything and ordered a U.S. medium and the fit is trim but not skin hugging tight. Long story short, we could do a lot worse for the price. The Everworths aren't available on Amazon UK in this color. But the Vanvene Quick Dry Short for £14.66 to £15.66 seems to be exactly the same design and sizes medium to XXL are in stock (I would definitely double check the size chart since it looks like they run smaller).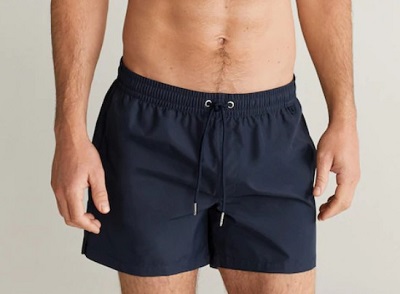 If you're not to worried about the zippered pockets, this pair from Mango has most of the other design details we want at a good price. Sizes small to XL are available on the U.S. Outlet site, but they're sold out in the UK. However, you can get the mainline Mango Cord Plain Swimming Trunks for £35.99. To me, they look very similar but seem to have a slimmer, slighter longer cut.
Okay, so did we miss anything? Or do you have some better recommendations for the James Bond swimwear alternatives? Let us know in the comments! And don't forget to check out our Facebook Page, Instagram Account and Pinterest Boards for more James Bond style advice, inspiration and info!
*Sorry about that … couldn't resist ….