The James Bond Safari Jacket
Updated June 26th, 2022 – Why is this the perfect time to look at the James Bond safari jacket? Well, the classic style has definitely made a comeback in recent years. And it's also being re-interpreted so that it can work as both a casual piece and with more tailored looks. Just check out #safarijacket on Instagram to see what I mean. We're also seeing lots of great options with interesting designs, fabrics and colors at prices that won't kill our wallets. Which is a thing we like around these parts!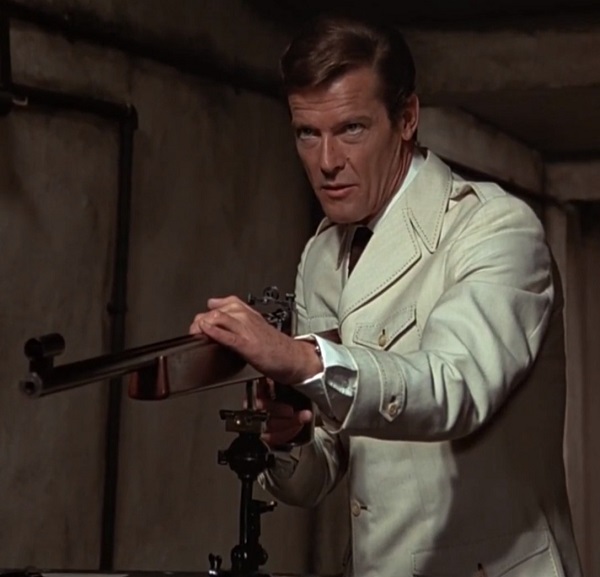 There's already been some great think pieces written about the safari jacket, discussing everything from its origins to contemporary ways to style it. If you're interested in learning more about the jacket's history, these articles from The Rake and Fashion Beans are good. For more on modern styling, check out this article from Style Forum. You can also check out our "4 Ways to Wear It" post on the safari jacket for some personal style inspiration.
The James Bond Safari Jacket
As for Bond's wardrobe, according to Bond Suit's Matt Spaiser's excellent infographic, there are seven pieces that fall under the "safari" label. First is the navy blue leisure suit jacket from Live and Let Die. Next, the green camp shirt and the cream leisure suit jacket from The Man with the Golden Gun. From Moonraker, we have the beige cotton shirt jacket. And a similar style shirt jacket in tan wool from Octopussy. For this post, I didn't look for options for the tan sport coat from The Spy Who Loved Me or the Octopussy military shirt that Matt included on his list.

Because we're looking at so many different jackets, it's a little difficult to put together a "Features Wanted" list for the alternatives. So I've gone a slightly more general route in this post, looking for options that have similar style details to what we see in the films and also capture the spirit of Sir Roger's safari jackets.
Best Option for the James Bond Safari Jacket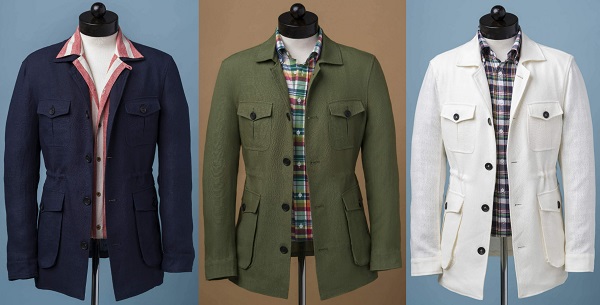 Spier & Mackay's rock solid interpretation takes top spot this year. Made from 100% linen in an unlined construction, it's definitely more relaxed and casual than Bond's lounge jackets. But it still strikes a nice balance between the classic and the contemporary. I could see this working equally well with jeans and a tee or a collared shirt, tie and proper trousers. They currently have sizes 34 to 46 available in all the colors above (plus six others). However, popular sizes tend to sell out quickly at Spier & Mackay. So if you want one I'd act quickly!
If you'd like something in the same design but a slightly more interesting fabric, check out their Seersucker Field Jacket in Navy or Olive Green for $248.00. Spier & Mackay also has a similar design in navy seersucker from the Hardy Minnis mill for $198.00.
Under $100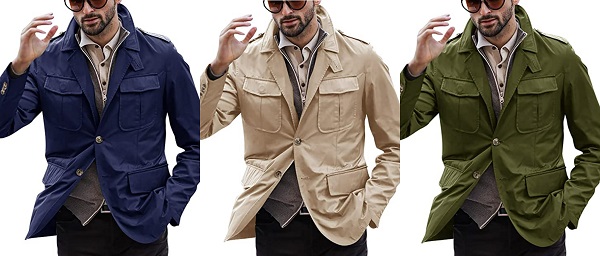 It's a real budget alternative. So I'd be a little suspect about the quality. The 70% cotton and 30% polyester fabric also looks like it has a bit of sheen to it. But it does do a good job of capturing Bond's leisure jacket look. Amazon has sizes medium to XXL in stock.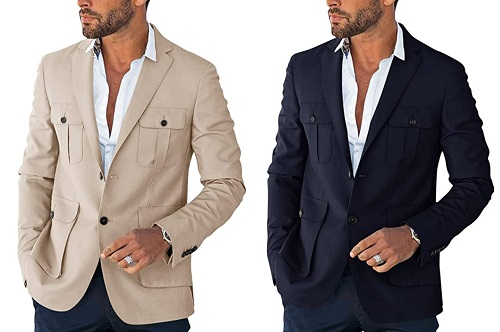 Another Amazon special that has the right styling for Moore's cream and navy jackets. Makkrom has used a 70% cotton, 20% polyester and 10% spandex blend material and a lined construction. So while you're getting a bit of stretch, it's probably going to wear much warmer than some of the unlined linen options below. It's availabe in sizes medium to XXL.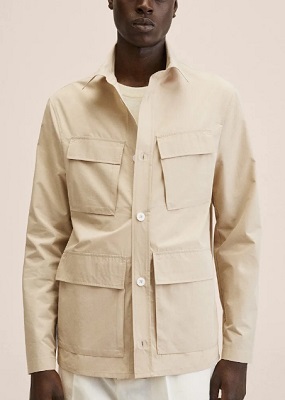 A more contemporary and minimalist take on the classic safari jacket. Although this is a 63% cotton and 37% polyester blend, Mango has left the body unlined to help with breathability. They have sizes small to XXL in stock on their website.
I'll also mention another option from Mango that's worth a look. The 100% Linen Saharan Jacket in Pastel Grey (on sale for $79.99) has a very similar style to the one above. But (as the name suggests) it's made from 100% linen, which helps explain the slightly higher price tag. You can find sizes small and large to 2XL at Mango Outlet.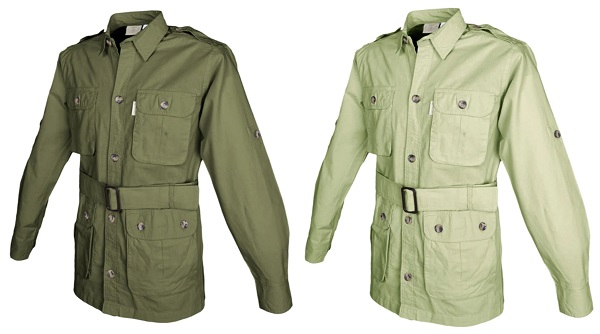 Embrace your inner Papa Hemingway! This wouldn't really be an article about safari jackets if I didn't include at least one ultra-traditional style. And this one from Tag Safari is about as traditional as you're going to get. Made in Africa from a pigment-dyed, pre-washed, pre-shrunk 5½ oz lightweight tropical cotton, it has all the details you could want if Clark Gable in Mogambo is your style icon. Amazon still has a decent selection of sizes available. But you can also ordered it directly from TAG Safari in Olive or Stone for the same price. And they have all sizes in stock.
If you're looking for other more traditionally styled jackets definitely check out Avedon & Colby's Signature Safari Bush Jacket ($239.00). It's a beltless design. But it's also a more technical safari-style shooting jacket.
Under $200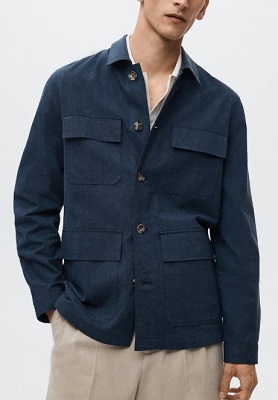 In terms of the style, this is basically the navy blue version of the beige Mango jacket above. But the fabric is a 55% linen and 45% cotton blend. So it should wear lighter and cooler. Sizes small to XXL are in stock. I'd also recommend checking out Mango's 100% Linen Saharan Jacket, on sale for $89.99 at Mango Outlet. That one has a stand collar and a placket covered zipper front closure. But it's a nice modern interpretation and the fabric has a really interesting texture.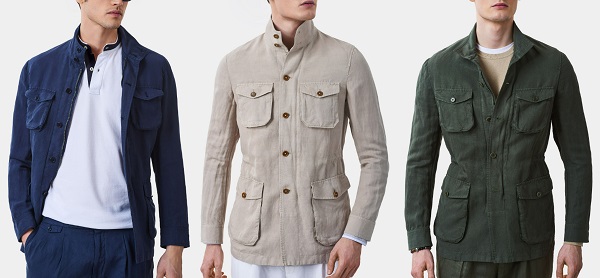 A more classic style, with a few contemporary details. They've used a 55% linen and 45% Lyocell blend fabric for the outer shell and a combination zipper and buttoned placket front closure. I think Gutteridge has found a nice balance between modern and heritage in the design, which should make this an easy jacket to dress up or down. They still have a good selection of sizes available in all colors.
If you'd like an even more contermporary blazer style jacket, Gutteridge's Saharan Lapel Jacket in Sand or Navy (on sale for $160.30) is also an interesting piece.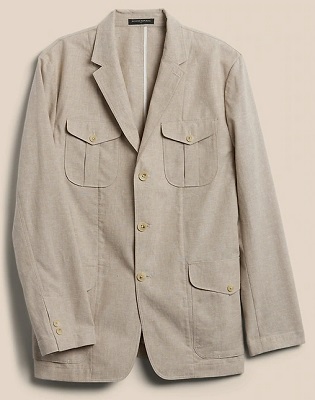 That Sandcastle color is a little dark. But the style makes it a solid lighter weight option for Bond's cream leisure jacket. With its 55% linen, 45% cotton blend fabric and unlined construction, it would choice for your dressier looks this summer. You'll find sizes 36 to 48 on the Banana Republic Factory website. And good news for you taller gentlemen: it also comes in a longer length in sizes 40 to 48!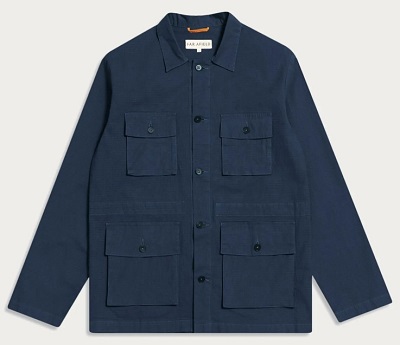 Traditional styling, but with a more technical fabric. Far Afield has used a cotton blend ripstop for the shell and a slightly boxier cut, which give the jacket a bit of streetwear vibe. Sizes XS to XXL are available on Bombinate.
Under $300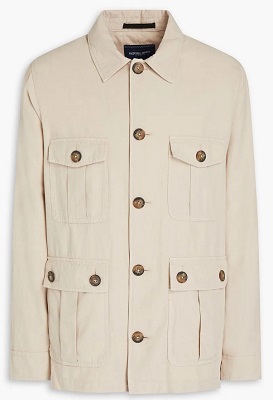 With a regular retail price of $478.00, this might be the best deal on the list. And Brazillian based resort-wear brand Frescobol Carioca makes some really nice stuff! They've used a 56% cotton, 31% acetate and 13% Lyocell blend twill fabric, which will have a slightly heavier hand. But I think it would make a killer (albeit slightly more casual) alternative for Bond's cream leisure jacket. Thread has sizes small to 3XL in stock.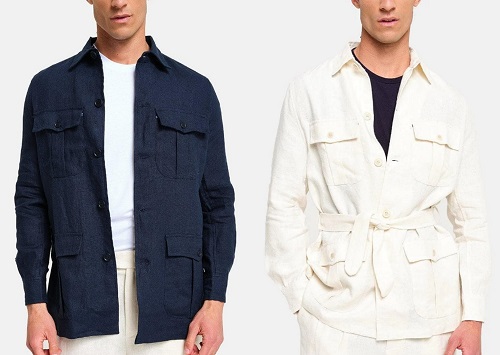 This 100% linen option has some fun little details. The jacket is made in Italy and is more of a lightweight shirt jacket design. It also comes with two removable belts, one in a solid color that matches the jacket fabric and the other in a fun pattern for those days when you really feel like getting noticed. Ad Hoc has sizes small to XXL available in the blue and sizes large to XXL in the white.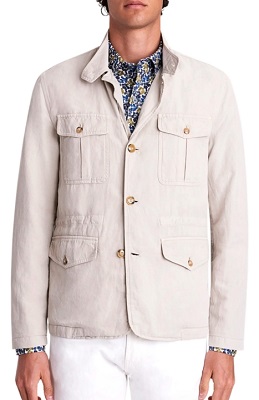 The details are fairly traditional. But the cropped cut and cotton and spandex fabric give it more contemporary vibe. I also kind of like that they've gone with jetted and flapped bottom pockets rather than pleated patch ones like those on the chest. It gives the jacket a cleaner feel. Sizes medium to XL are available at Neiman Marcus.
Under $400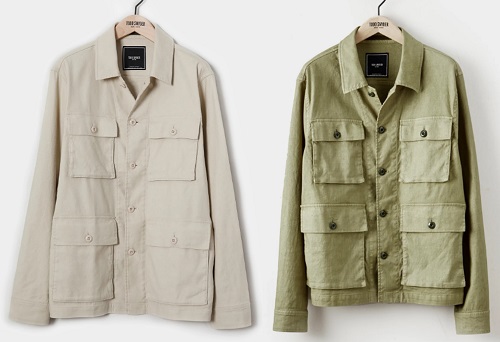 Todd Snyder doing what he does so well: taking a classic design and updating it with a great fabric and fit. The material is a medium weight 54% linen, 44% cotton and 2% elastane blend from the Italian Sondrio mill. And the jacket is finished with genuine Melamine buttons to add a vintage touch. Sizes XS to XXL are in stock on their website. The jacket also comes in a blue color. But personally I think it's a little too bright to be a good match for Sir Roger's lounge jacket.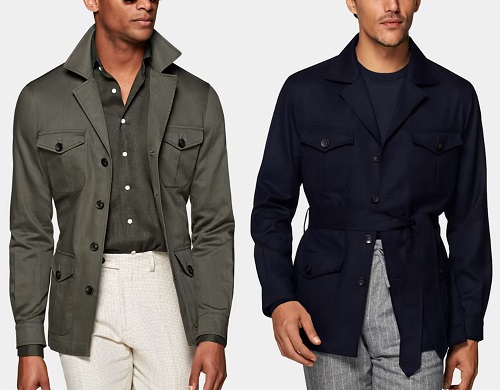 If your personal taste runs more towards a blazer style safari jacket, this option from Suit Supply will get the job done. The green is a 63% cotton, 37% linen fabric from the Italian Albini mill and has a relatively smooth finish. The navy is a 100% S120's wool flannel from Vitale Barberis. It's definitely heavier but also a little more formal. And both jackets come with a removable belt if you want to wear it as more of shirt jacket. Although Suit Supply has some standard sizes in stock, you can also go the MTM route if you need a particular fit. It's the same price but the wait time is two to three weeks.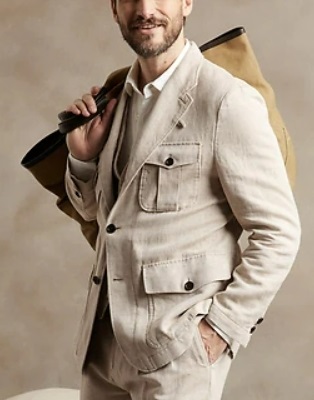 I came very close to making this one the "Best Option" for Bond's cream leisure jacket. But two things held me back. First, I think the Spier & Mackay alternative above does almost as good a job and it's $130 less expensive. Second, the cusomer comments note that the fit of this jacket can be a little … weird. Now I will say that I've checked this one out in person. And although it is undoubtedly a slim fit (and didn't really work for my body type), I didn't feel there was anything particularly bizarre about. And that 51% cotton and 49% linen herringbone fabric is actually quite nice IRL. If you're on the thinner side, I'd say this one is worth a look if you don't mind paying up a bit. You'll find sizes 34 to 50 in short, regular and long lengths on the Banana Republic website.
The Investment Piece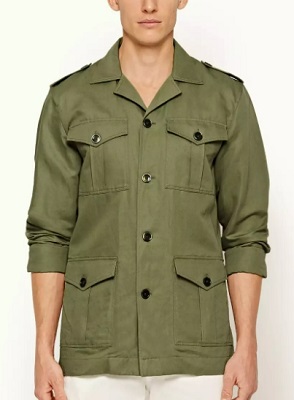 Of course we have to include Orlebar Brown's interpretation of Bond's military green safari shirt jacket from their 007 collection. Made from a 51% cotton and 49% linen fabric and finished with imitation mother of pearl buttons, it captures almost all the details of the screen-worn piece. They're down to just a size large in the UK. But sizes small to XL are still available on the U.S. website.
Do you have some alternatives for the James Bond safari jacket? Or any thoughts on the style? Let us know about them in the comments below! And don't forget to check out our Facebook Page, our NEW Instagram Account and Pinterest Boards for more James Bond style advice, inspiration and info! Also remember to enter our $100 Gift Certificate giveaway with Thread! You can find more details on that in this post.
Some images in this post were sourced from Esquire and The Suits of James Bond.