The James Bond Safari Jacket
Updated May 14th, 2021 – Why is this the perfect time to look at the James Bond safari jacket? Well, the classic style has definitely been making a comeback. And it's being re-interpreted so that it can work as both a casual piece and with more tailored looks. Just check out #safarijacket on Instagram to see what I mean. We're also seeing lots of great options with interesting designs, fabrics and colors at prices that won't kill our wallets. Which is a thing we like around these parts!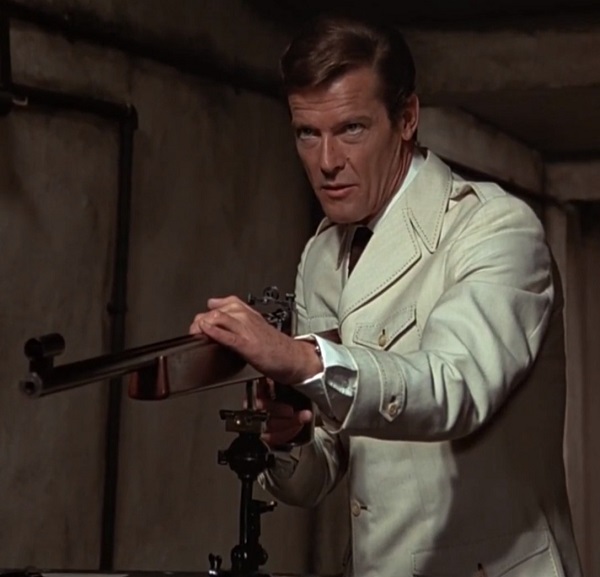 There's already been some great think pieces written about the safari jacket, discussing everything from its origins to contemporary ways to style it. If you're interested in learning more about the jacket's history, these articles from The Rake and Fashion Beans are good. For more on modern styling, check out this article from Style Forum. You can also check out our "4 Ways to Wear It" post on the safari jacket for some personal style inspiration.
The James Bond Safari Jacket
As for Bond's wardrobe, according to Bond Suit's Matt Spaiser's excellent infographic, there are seven pieces that fall under the "safari" label. First is the navy blue leisure suit jacket from Live and Let Die. Next, the green camp shirt and the cream leisure suit jacket from The Man with the Golden Gun. From Moonraker, we have the beige cotton shirt jacket. And a similar style shirt jacket in tan wool from Octopussy. For this post, I didn't look for options for the tan sport coat from The Spy Who Loved Me or the Octopussy military shirt that Matt included on his list.

Because we're looking at so many different jackets, it's a little difficult to put together a "Features Wanted" list for the alternatives. So I've gone a slightly more general route in this post, looking for options that have similar style details to what we see in the films and also capture the spirit of Sir Roger's safari jackets.
Best Option for the James Bond Safari Jacket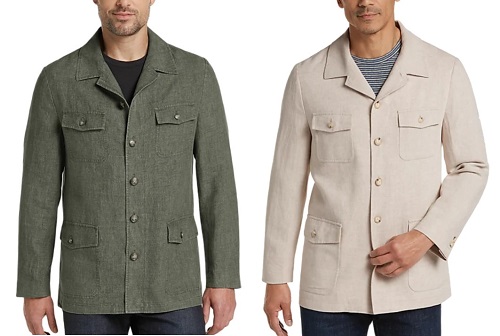 The green 100% linen  version (it also comes in Navy) is missing some of the finer details of Bond's safari jacket (no epaulets, no box pleats on the pockets). And the 48% cotton and 52% linen tan model is lacking the original's tailored fit. But both have a contemporary slimmer cut and the cleaner overall look will certainly appeal to some of us. The linen jacket is completely unlined and unstructured. However, the tan jacket does have a full lining. That will give it a little bit of structure, but it will also wear warmer. I wouldn't let the fact that these are coming from Men's Wearhouse put you off. In my opinion, the Joseph Abboud brand really nailed the modern safari jacket style. And that 50% off sale price is a great deal. Sizes small to XXL are in stock.
Under $100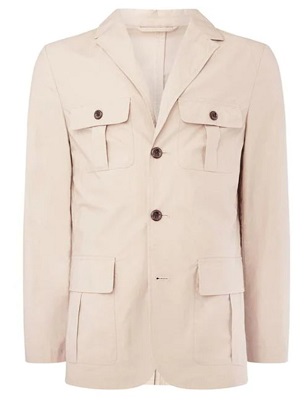 One for the slimmer guys. House of Fraser only has sizes 38 and 40 left in stock. But if that's your size and you like this style, it's a great updated interpretation of Sir Roger's look from The Man With The Golden Gun. No mention on the website about the fabric. But looking at the close up product photos, I'd guess it's a 100% cotton or cotton blend.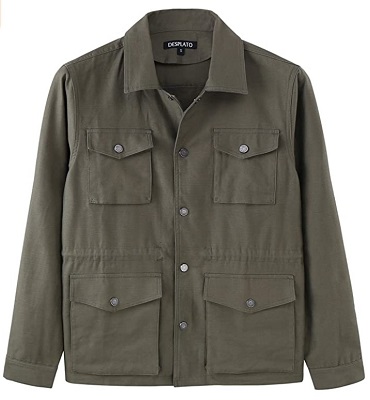 If you just want to experiment with the safari jacket style, here's a cheap way to try it out. This one uses a 100% cotton fabric and snaps instead of traditional buttons on the front placket, pockets and cuffs. But those kind of give it a bit of a workwear vibe some of you may appreciate. It also has a draw string at the waist, which allows you to adjust the fit depending on the look you're going for. Sizes medium to XL are available at Amazon U.S. and UK.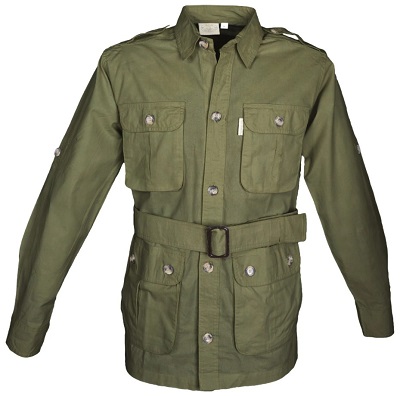 Embrace your inner Papa Hemingway! This wouldn't really be an article about safari jackets if I didn't include at least one ultra-traditional style. And this one from Tag Safari is about as traditional as you're gonna get. Made in Africa from a pigment-dyed, pre-washed, pre-shrunk 5½ oz lightweight tropical cotton, it has all the details you could want if Clark Gable in Mogambo is your style icon. You can choose from four colors and Tag Safari has sizes small to XXXL in stock. You can also get it from Amazon, but the available sizes are a little more scattered.
If you're looking for other more traditionally styled jackets definitely check out Avedon & Colby's Signature Safari Bush Jacket ($239.00) and the made-in-England William Evans' Military Style Safari Jacket (on sale for £150.00). The William Evans one in Moss is an especially nice option if you want Bond's The Man with the Golden Gun green safari camp shirt look.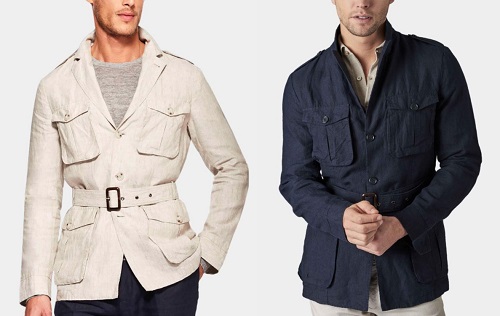 A sportier take on Bond's safari jacket inspired blazers. The belt obviously won't be to everyone's taste. But if you can pull of the look, more power to you! I'd just remember that it looks better tied rather than buckled. Also note that these are lined, so expect them to be more structured and warmer. You'll find plenty of sizes on their website.
You might also want to check out Gutteridge's Cotton Twill Field Jacket in Green on sale for $69.00/£69.00. The style is kind of "safari jacket meets Belstaff Trailmaster". And I think it does a good job of adding a little edge to the traditional design. If you want to stick with a more classic look without the belt, their Linen Blend Sahariana Jacket (on sale for $89.00/£89.00) is also worth a look. This one has a zipper and button through front closure, bellows patch pockets and comes in green, navy and ecru.
Under $200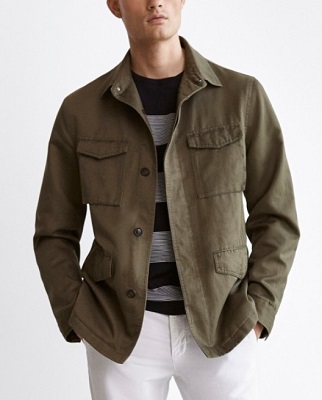 Massimo Dutti doing what they do so well: taking a classic design and tweaking it a little to make it more contemporary. The plain pocket flaps and covered front placket keep the styling clean. But the 55% cotton and 45% linen fabric has some texture to keep things interesting. And it has a drawstring waist so you can adjust the fit for different looks. However, it is lined so expect to be a little heavier. Sizes small to XXL are available on their website.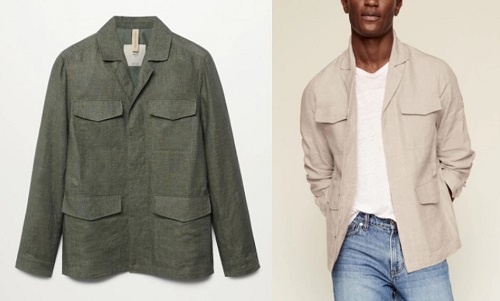 Very similar to the style of the Massimo Dutti alternative above. But with a 100% linen fabric and a revere collar. The description says the jacket has a zip closure. However, I can't spot it in any of the product photos. This one is also lined with a cotton-poly fabric. So the same warning about it wearing warmer applies. They have sizes small to XXL on the website.
After a lot of back and forth and trying on different jackets, this is the one I ended up going with for my closet. Since I plan on using it as a lightweight summer layer, I liked the fact that it's unlined and more shirt like so I can roll up the sleeves. And it has some solid The Man With The Golden Gun vibes. Personally, I've never been a fan of epaulets so I don't mind it not having them. The fit is pretty true to size (I'm a medium in most things and took a medium in this). But it is a looser, boxier cut. So it'll work well with fuller, more casual trousers. Bergdorf Goodman has sizes small, medium and XL in stock. But if you have a Nordstrom Rack or Saks Off 5th close by, you might want to pop in and see if they have any hanging around. I've seem some great deals on this model in those stores.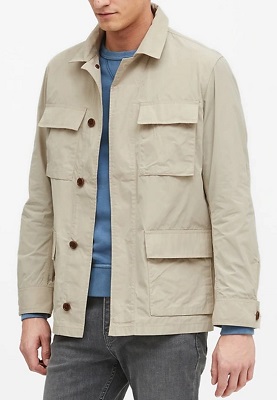 If you're looking for a more practical outer layer in the safari jacket style, this water resistant 100% polyester option is worth checking out. As with the Massimo Dutti and Mango alternatives above, the Utility Jacket has a more streamlined style thanks to the hidden button pocket flaps and covered front placket. It doesn't fully capture Sir Roger's lounge jacket style. But it should keep you relatively dry on a drizzly day. Sizes small to XL are in stock. And seeing as this is Banana Republic, keep an eye out for sales to bring that price down.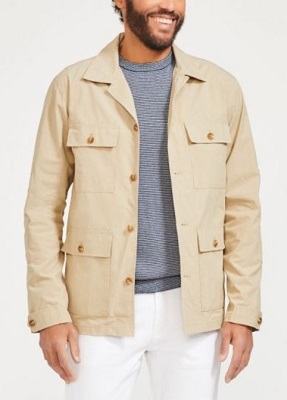 I was so close to making this one the "Best Option". For me, it perfectly captures the look of Roger Moore's cream jacket in The Man with the Golden Gun. And then they update it in all the right ways. We still get the button front, four button pockets and camp style collar. But the shorter, trimmer cut and cleaner overall design make it a great choice for both casual and more contemporary tailored looks. The fabric is a practical 72% cotton. 20% polyester, 8% nylon blend. J. McLaughlin has sizes small to XL available on their site.
Under $300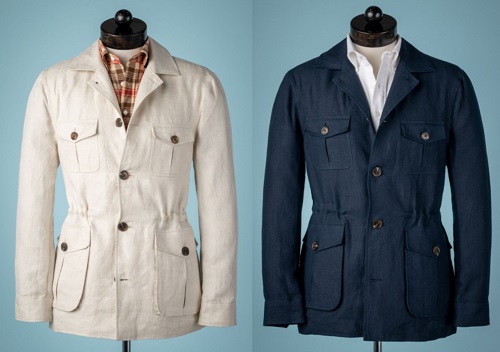 Shout out to our friend Enjoying Death, who shared this alternative in the comments below. And Spier & Mackay really did nail the style this season. While the design of their Field Jacket is definitely more relaxed and casual than Bond's lounge jackets, it still strikes a nice balance between the classic and the contemporary. I could see this working equally well with jeans and a tee or a collared shirt, tie and proper trousers. The natural color is available in sizes 38 to 46, while they're down to sizes 40 to 46 in the navy. Popular sizes tend to sell out quickly at Spier & Mackay. So if you want one I'd act quickly!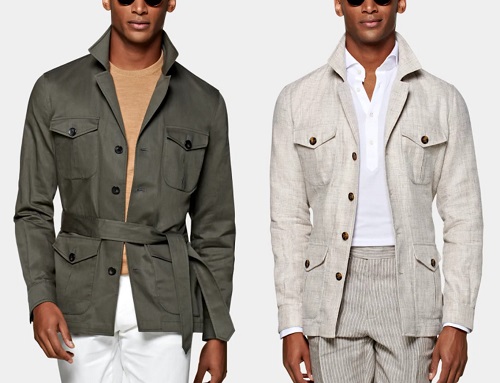 If you can't get your hands on one of the Spier & Mackay jackets or if you have your heart set on the olive color, this option from SuitSupply will get the job done. The green is a 63% cotton, 37% linen fabric from the Italian Albini mill and has a relatively smooth finish. The light brown uses a 51% cotton, 49% linen fabric from the Di Sondrio mill in Italy and has a looser, slubbier texture. And you can remove the belt if you want to wear this as more of shirt jacket. Plenty of sizes left in both colors on their website.
The Investment Piece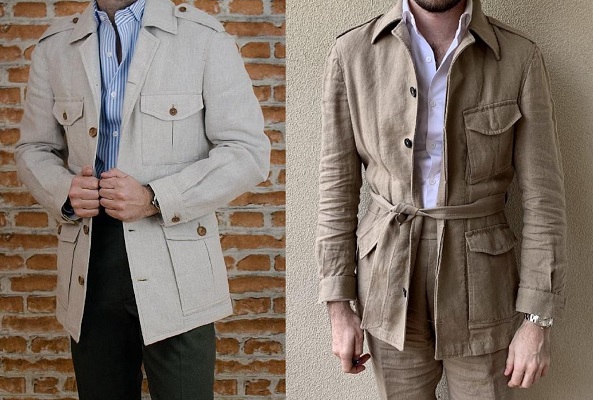 I'm going to talk a little more about this Toledo, Spain based tailor in a future post. For now, I'll just say: He makes really nice clothing! Great fabrics, awesome cuts and beautiful quality for a very fair price. I have a pair of his cotton/linen pants, and they're some of my favorites for hotter weather. Take a look at his Instagram account to see more of his creations. Lopez Aragon is a Made to Order service. Which means you get to choose the fabric and fine tune the details on your jacket to get exactly what you want. The wait time for the final product is normally about a month.  Personally, I think that Masai Safari Jacket is already a great alternative for Sir Roger's cream jacket just as it is. If you prefer a looser more casual look, the unstructured Borneo is a solid choice.
Do you have some alternatives for the James Bond safari jacket? Or any thoughts on the style? Let us know about them in the comments below! And don't forget to check out our Facebook Page, Instagram Account and Pinterest Boards for more James Bond style advice, inspiration and info!
Some images in this post were sourced from Esquire and The Suits of James Bond.