James Bond Casual Summer Shirts Part 2
Updated May 22nd, 2022 – Welcome to part two of our look at affordable alternatives for James Bond casual summer shirts! If you haven't already seen part one, you can check it out here. Folks, we have a LOT to cover in this post. So let's get right to it!
The Thunderball Patterned Shirts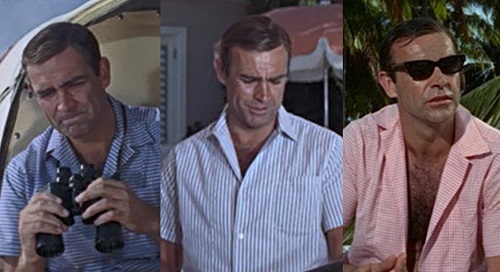 007's patterned shirts in Thunderball share a lot in common with his solid color shirts we saw in the last post. The blue and the pink gingham shirts are soft camp collars, while the candy striped shirt has a slightly stiffer collar with the reveres. And all of them have a straight hem so they're meant to be worn untucked.
For our affordable alternatives, I'm trying to stick as closely as possible to the style of the shirts. So while a true camp or revere collar may not be possible in all patterns, I won't be including any button down collars. And that's especially tricky with the gingham ones. Gingham is often considered a "preppy" fabric. Which means the vast majority of retailers out there seem to feel any shirt made from it also needs a button down collar. But we've done our best to find a few that'll get the job done.
The good news is that striped camp collar shirts are apparently a "thing" this season. And we have plenty of great alternatives for that style to look at.
The Blue Gingham Camp Collar Shirt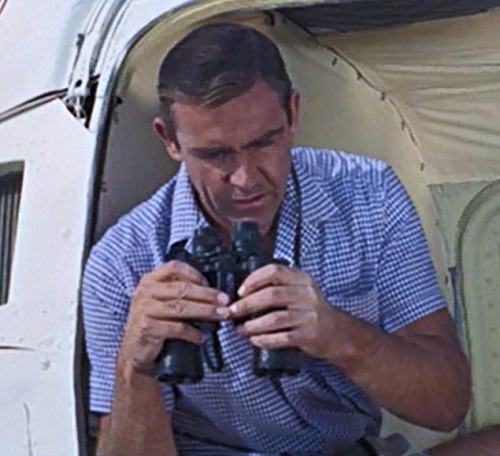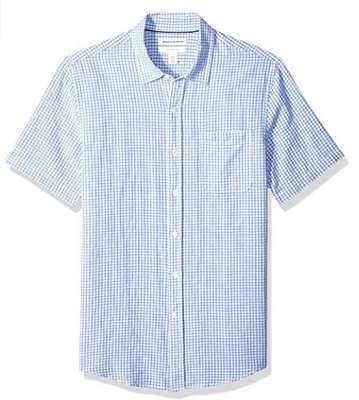 Not a revere or camp collar, unfortunately. But that 55% linen, 45% cotton, mid-blue gingham fabric looks a lot like what we see on screen. You'll probably want to get this one tailored to give it the straight hem. Even with the extra work, this is still a very affordable option. Lots of sizes available on Amazon.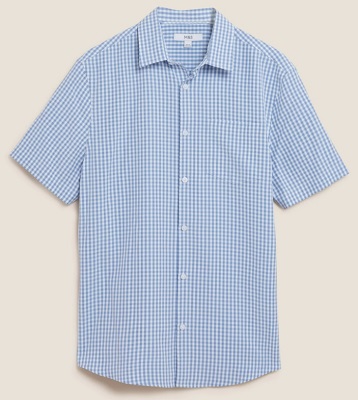 Another regular style button up. And it has a dressier look thanks to the stiffer fused collar. The 68% modal and 32% polyester fabric won't have the breezy drape of linen. But it should still wear cool and comfortable on those hotter days. Plus it will likely wrinkle a lot less so you'll stay looking crisp when the humidity peaks. Sizes small to 5XL are available on the Marks & Spencer website. You can also find it on sale for $43.00 at Thread.
Given the shortage of true camp collar gingham shirts out there, we're turning to custom shirt maker Proper Cloth once again. For the example above, I went with their Light Blue Medium Gingham, a very lightweight 100% cotton shirting with a slightly larger check pattern than the one on Bond's shirt. But they have plenty of other options ranging in price from $100 to $175. If you want screen accurate, it seems like the MTM route is the best way to go this season.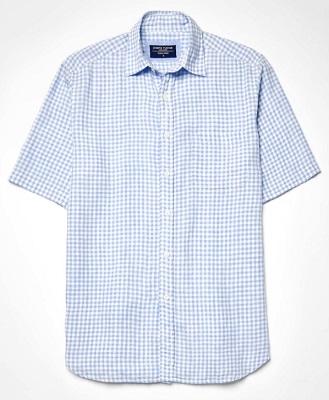 A 100% linen option from the Yorkshire based brand. Once again, this isn't a camp collar. But the fabric looks spot on. And it has some nice details like a pleated back with a locker loop. They have sizes small to XXL available on their website.
Also Try:
Blue Striped Camp Collar Shirt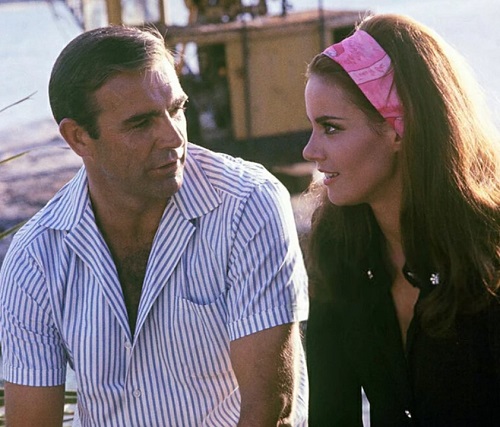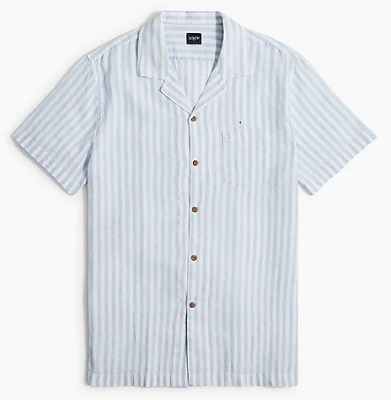 A great affordable option from J.Crew's second tier line. The stripe is slightly too pale and slightly too wide to be an exact match. But the linen and cotton blend fabric should be light and airy. And replacing the buttons would be a low cost project to make it even more screen accurate. Sizes medium to XXL are still available at post time.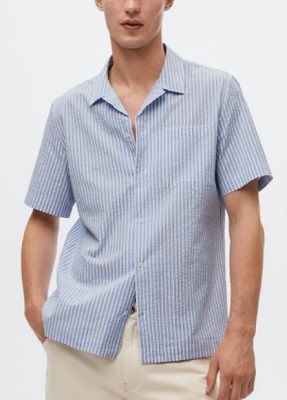 Easily this year's winner for Bond's striped shirt. The pattern is actually a modified track stripe rather than a solid candy stripe like the original. But it's barely noticeable unless you stare right at it. And the 100% organic cotton seersucker, while not screen accurate, will help with air circulation around your body and keep you cooler. Plus, since it's coming from Mango, the price is pretty affordable and there's a good chance a discount code will show up at some point to bring it down even further. You'll find sizes small to XL on their website.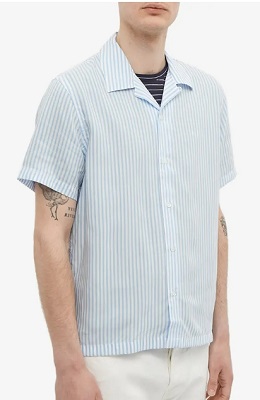 The Mango option offers more bang for the buck in my humble opinion. But other than the fact that the Christophe is missing a chest pocket, it really is about as screen accurate as we can get off the rack. Yes, even more accurate than the Orlebar Brown repro below (look at the width of the stripes). The shirt is made in Portugal from a lightweight Tencel material and finished with genuine mother of pearl buttons for an extra touch of luxury. END Clothing has sizes small to XL in stock.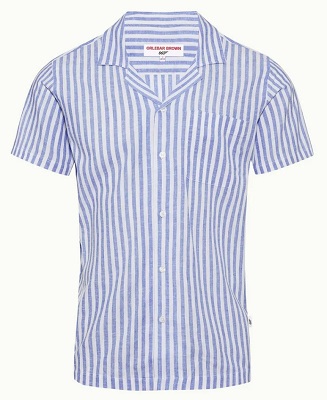 Of course we have to include this option from OB's 007 collection. Ironically, as we mentioned above, this one is not all that screen accurate due to those wider Bengal stripes. If you really want to get nitpicky, Bond's shirt has 7 stripes on the collar. The OB Thunderball shirt only has five. But it does have "007" on the tag! I've linked to Thread above, where they have sizes medium to XXL available at the sale price. Need something smaller? Orlebar Brown also still has some sizes in stock for $295.00.
Also Try:
The Pink Gingham Camp Collar Shirt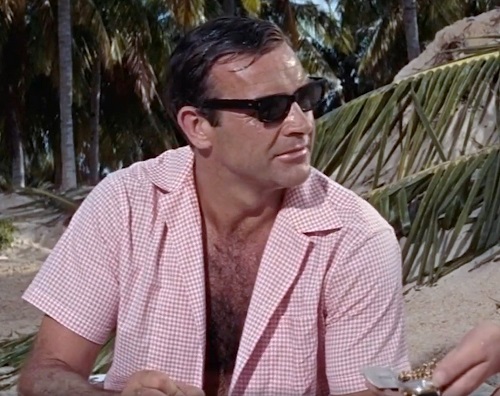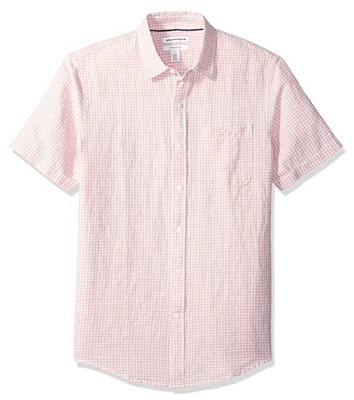 The pink gingham version of the shirt we've already shared above. Like the blue gingham check, this one uses a 55% cotton, 45% linen fabric and is missing the camp collar. But given this season's shortage of gingham shirts without a button down collar, I'm thinking this one might be our best bet. There are plenty of sizes left on the Amazon U.S. site. And it also comes in a Slim Fit for about the same price if that's your preference.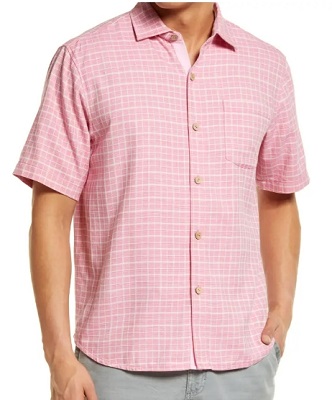 The fabric is 100% silk. And the pattern is obviously a larger square rather than gingham. It's also not a camp collar. But, as we've noted, pink linen gingham is an obscure fabric right now in the world of men's casual shirts. So this Tommy Bahama is actually one of the better alternatives available at the moment. Nordstrom has sizes medium and large available. If you're a larger gentleman, you can find the Big and Tall version on the Tommy Bahama website for $148.00.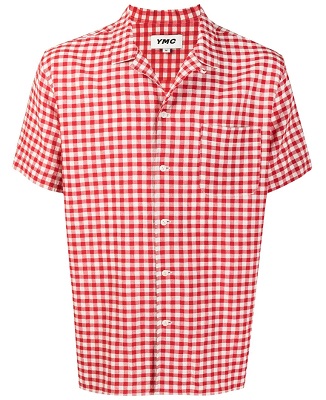 It's gingham. It's got the camp collar. The cotton and viscose blend fabric should be comfortable in hot weather. But it's red. And kind of expensive. The link above goes to Thread, where they only have sizes small and XL in stock. You can also get it directly from YMC for £125.00, where they have all sizes available. And you can find medium and large at Garmentory for $152.00.
Also Try:
Die Another Day Brioni Cuba Shirt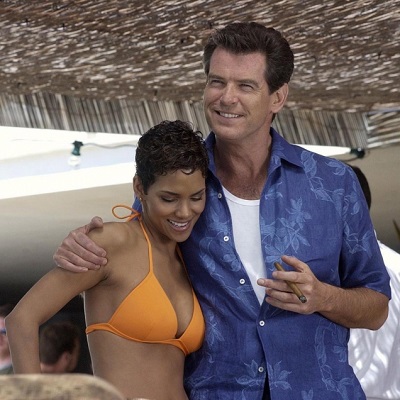 Bond's first Aloha shirt, which has been identified as coming from Brosnan's favorite tailoring house Brioni. Both BAMF Style and BondSuits do an excellent job of breaking down the entire look from those scenes. If you like the idea of an "Aloha" style shirt, but want to avoid anything that screams "BRO!", then this is a good style to go after. The color is summery without being overly bright. And the tonal pattern, while noticeable, isn't loud or obnoxious. You can learn more about the actual screen used shirt in this post on Bond Lifestyle.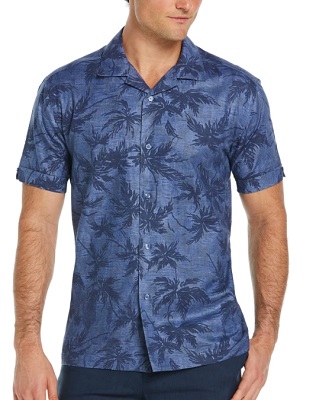 A nice 100% cotton option from the Guayabera specialists. Here the colors of the pattern are the reverse of Bond's shirt, with darker navy palms on a lighter blue background. That's not a deal breaker for me and I think the overall style is still pretty elegant (for an aloha shirt). The link above goes to Amazon, where they have most sizes in stock. Just note that some of the customer comments state the fit is on the small and trim size.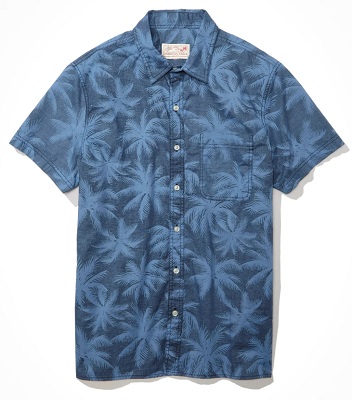 It's a little less refined and a little more rugged than Bond's shirt. But the blue-on-blue palm print does a pretty good job capturing the pattern. You'll find plenty of sizes on the American Eagle website.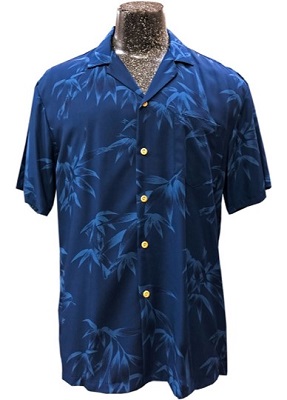 It's the brand Thomas Magnum wore. And if there was any white guy that knew about Aloha shirts, it was him. Made in Hawaii from a 100% rayon fabric, it's a little brighter than the one Bond wore. But when it comes Hawaiian shirts, this is the real deal and there's definitely something to be said for authenticity. There are lots of sizes available at the Paradise Found website. Just note that this is a slightly oversized style. So if you want a slimmer fit, you'll need to order a size or two down. Their size chart gives lots of detail to help you make the right choice.
Also Try:
The Casino Royale Madagascar Shirt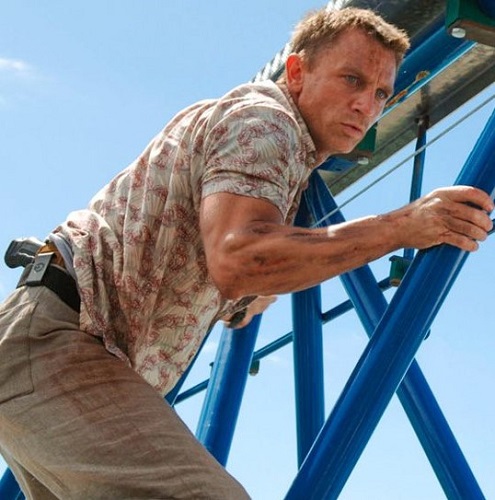 It would be an understatement to say there was some controversy when fans first saw Bond in this shirt. But it's actually a pretty versatile piece. The colors and pattern aren't too in-your-face and work well with both beige linen trousers and jeans. The shirt also has some cool style details that set it apart. There's the shorter length and slimmer cut, which keep you from looking like a regular at Margaritaville. And the button tabs on the cuffed sleeves are also unusual. I said it before: this feels like a serious man's Hawaiian shirt.
Again, both BAMF Style and Bond Suits do a great job of analyzing the entire look. And we're very lucky to have two alternatives at two different different price points that come as close to screen accurate as possible. The other options are more for those of you who like to be inspired by Bond's style, but aren't worried about the shirt being a perfect match.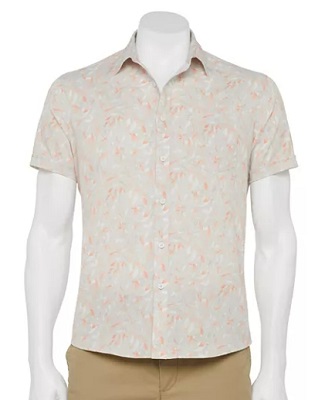 The pattern's not ridiculously loud. And it has the cuffed sleeve detail. However, the techy polyester and spandex fabric probably isn't the lightest thing out there. Although it will help wick away sweat if you ever find yourself doing parkour while chasing after a bomber in a tropical climate. It also comes in a slim fit if you happen to be on the thinner side.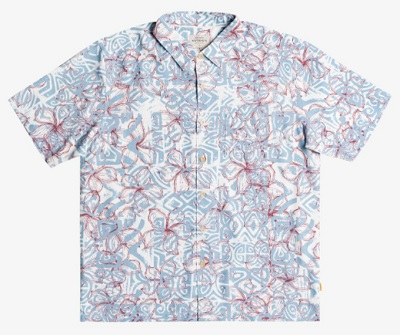 The pattern of bright plum florals over a light blue and ecru geometric background certainly has the right vibe, even if the colors are a little off. But based on the model photos on the product page, this 86% modal and 14% polyester option has a very boxy, almost oversized fit. So I'd consider sizing down to a more screen accurate look. Now for the (possibly) bad news. Quicksilver only has size XL left on their website. But I did find all sizes available on website called us-surf.com. The problem? It looks a little sketchy and I can't find any reviews for it online. That definitely spooks me, so be extra careful before handing them any credit card info.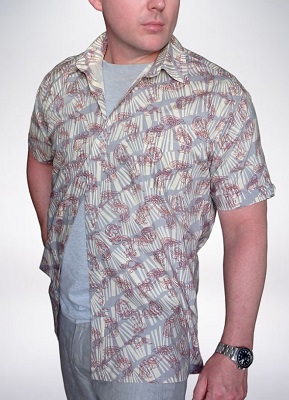 Once again: Thank you, Daniel Love! As per usual, he's applied his keen eye for detail to produce a great repro of the custom made on-screen shirt. This his latest version, released in 2021. So Royale has fixed the color problem from the past and added a few more upgrades to make it even more screen accurate. Sadly only sizes small and XL to XXL are in stock right now. Check the very detailed size chart on the website and remember that the cotton fabric is NOT pre-shrunk! And if those aren't your sizes, send Daniel an email to get on the wait list for the next release.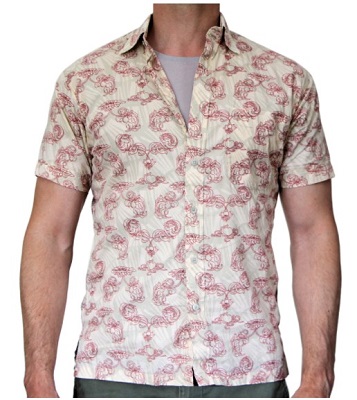 And finally, Indy Magnoli's interpretation of the shirt. It's quite a jump in price. But each shirt is made-to-measure, so you can customize the fit to work best for your body. It also has 5 stars out 5 after 16 customer reviews, with almost unanimous praise for the screen accuracy and quality of the fabric and construction.
Also Try:
Have some suggestions for alternatives for the James Bond casual summer shirts we've shared in Part 2? Tell us about them in the comments! And if you're looking for Bond's solid colored summer shirts, remember to check out Part 1 of our series. For more on Bond's polo shirts, take a look at Part 3. And Part 4 is all about Bond's long sleeve summer shirts. You can also visit our Facebook Page, our NEW Instagram Account and Pinterest Boards for more James Bond and Steve McQueen style advice, inspiration and info!
Some of the images used in this post were sourced from Thunderballs.org.