Updated May 26th, 2022 – Welcome to the third part in our series on 007 inspired summer shirts! In this post, we'll be focused on the James Bond polo shirts. Below we've shared some great alternatives for the classics, from the first polo Bond wore in Dr. No up to the fan favorite Johnny collar shirt from SPECTRE. Just two things to note. First, I'll be covering the long sleeve polos in a separate post. So no fear, I didn't forget them! Second, I'm going to skip the grey polo and black polo Connery's Bond wore in Goldfinger.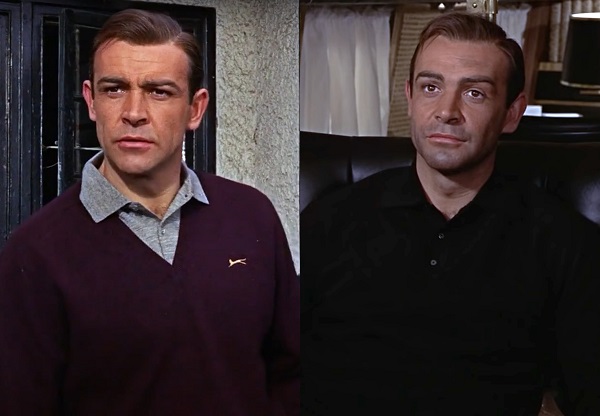 Both of those polos were worn under sweaters, so we never really get a good look at them. And to be honest, based on what we do see, they seem like pretty generic shirts. I don't think it would be that hard to find decent alternatives for them. For example, this Charles Tyrwhitt Grey Polo for $39.95 is a great match for the grey golf one, IMHO. Or you could choose one of the options for the Dr. No polo or Thunderball polo in a grey or black color.
But even with those omissions, there's lots to look at. Let's get started!
The Dr. No Pale Blue Polo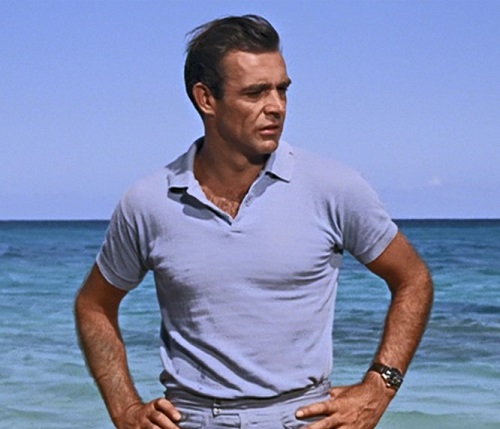 The first polo Bond wore was also the simplest. Just a basic, light blue pique cotton shirt with a knit collar and sleeve cuffs and two dark buttons at the placket. It was a classic then and it's a classic today. The best part is there's no shortage of affordable alternatives available. In fact, there's a ton of alternatives available! So I've added a few options that bring something a little different to the table, just case you want to play around with some "inspired by" looks.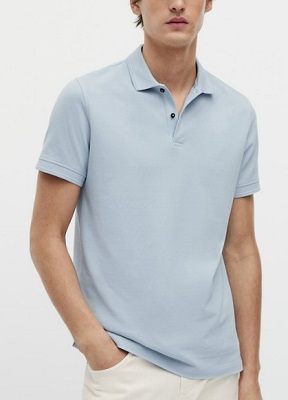 The color may be a touch too light. But those darker buttons are spot on. And the shirt has some nice knit detailing around the collar and cuff that elevate it over your run of the mill pique polo. Sizes small to XXL are available..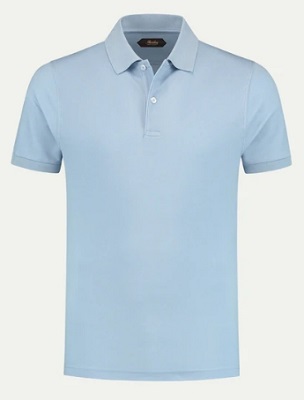 We've been big fans of Aurélien's Towelling Polo Shirt for a while now. And it's still a great choice if you want to mix things up a bit with your Dr. No look. But their more conventionally styled polos are also worth a look. While the design is simple, their use of super soft Egyptian extra long staple cotton gives the shirt a smooth, silky hand that adds a touch of luxury to this wardrobe basic. You'll find sizes small to XXXL on their website.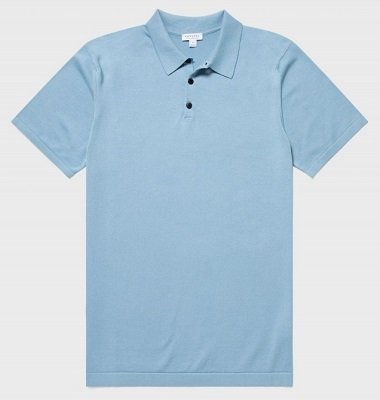 A polo made from one of the literary Bond's favorite fabrics coming to us from a cinematic Bond brand. It's hard to beat those connections! Yes, paying over two hundred bucks for a polo shirt is a big ask. But the beautiful knit construction and elegant detailing really make this one something special. Sunspel still has sizes XS to XXL in stock at that sale price.
Also Try:
The Thunderball Navy Blue Polo Shirt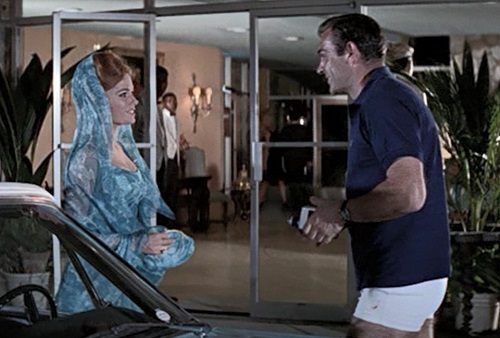 Like the pale blue Dr. No polo, Bond's navy Fred Perry shirt from Thunderball is also a classic design: a simple pique cotton with ribbed knit cuffs and collar. And so we are again faced with the challenge of sorting through thousands of possible alternatives. The good news is that original brand still makes a polo in a very similar style at an affordable price. But this is also one of the few times Bond has worn clothing with a prominently displayed logo (unless you count sweeping shots of folded Brioni shirts and long close-ups of Omegas). So I've included some other alternatives from well known labels that will help us get that casual, just-back-from-the-beach look.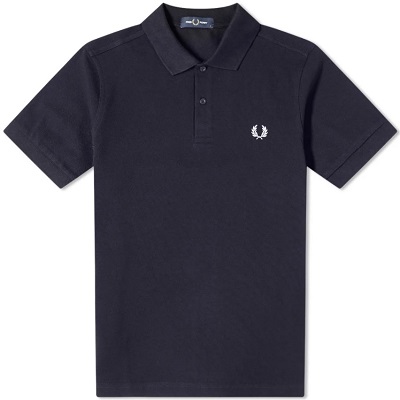 May as well get the original! This is the 100% cotton piqué slim fit model with the white embroidered laurel leaf logo. So it should be about as close to what Bond wore as we can get. The best price I could find was at END Clothing, where they have sizes XS to XXL in stock.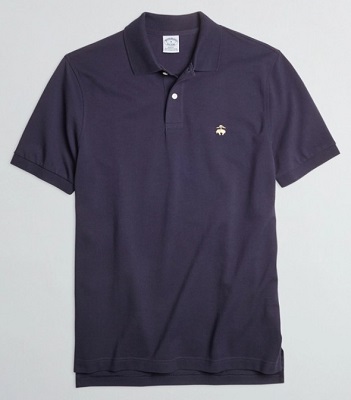 Another 100% cotton piqué option, this time made with American grown Supima cotton and featuring the Brooks Brothers classic "sheep" logo embroidered in gold on the chest. The shirt is available in sizes XS to XXL in slim and the more forgiving "Original" fits.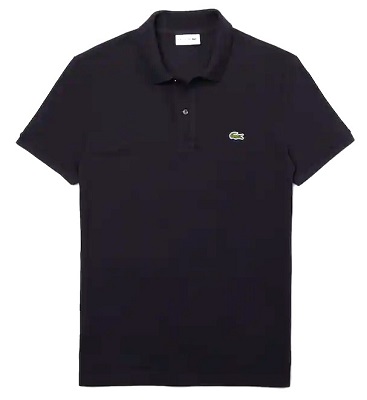 If Fred Perry just ain't your thing, you can always go with a polo from a brand established by another iconic tennis player. Once again, we're getting 100% cotton pique fabric and the ribbed knit collar and cuffs. But we now have the famous crocodile featured on the chest instead of the white laurel wreath. Lacoste has plenty sizes in stock on their website. And you can also get it in Slim Fit and Regular Fit for the same price.
Also Try
The Casino Royale Navy Pocket Polo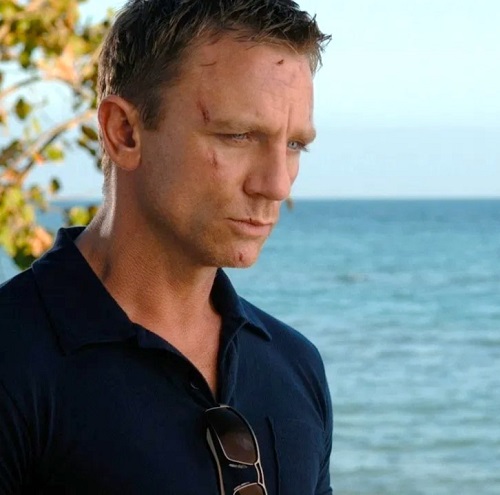 Still a warm weather favorite among Bond fans 16 years after it's introduction. As most of us know, the screen used polo was developed by heritage British brand Sunspel specifically for Daniel Craig. At the time of its launch, the self-collar and chest pocket set the Riviera apart from the sea of floppy collared pique polos on the market. But it was the fabric Sunspel used that really deserved the attention. Developed by the grandson of the company's founder, the special cotton mesh is knitted on lace machines to make it as light and airy as possible. For many of us, the Riviera was the "gateway drug" into Bond style.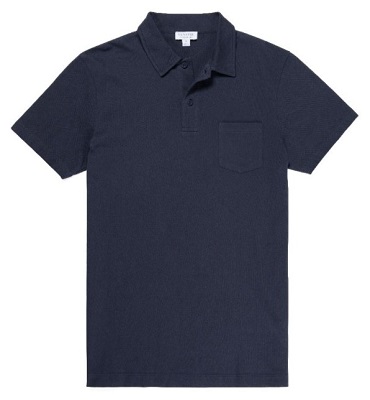 The original. It's expensive. But many of us have made the investment with no regrets. The Riviera is the quintessential Bond shirt from the Craig era. And, compared to some other pieces (Tom Ford suits and Omega watches come to mind), it doesn't seem that expensive. Plus, it's incredibly versatile. Relaxed enough to wear with jeans or chinos but refined enough to use under a sport coat. Farfetch seems to have the best price going right now and sizes XS to XXL are in stock (just note that size medium is about $30 more expensive for some reason). But you can always order it directly from Sunspel for about fifty dollars more.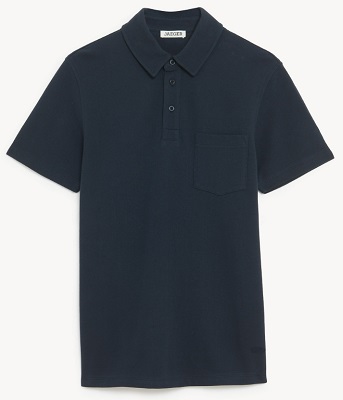 Aside from the three button placket, this is one is coming pretty close to checking off all the "Features Wanted" boxes. The 100% cotton pique fabric has a nice, tightly woven texture. But it is definitely a bit heavier than the Sunspel. Marks & Spencer has sizes small to XL available on their U.S. and UK website.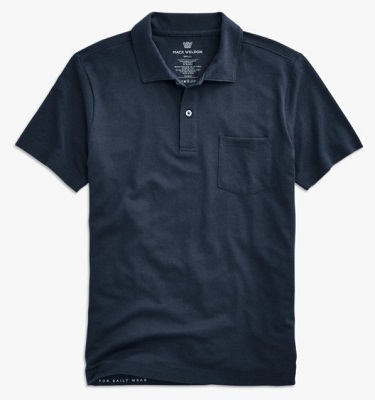 Is this offering from Mack Weldon the perfect Casino Royale polo alternative? Some seem to think so. Am I still hesitant about including it on this list? Yep, and it really has nothing to do with the actual shirt. If you're interested in knowing my reasons, you can read this post on AJB007. If you couldn't care less about my ethical quandary, then buy it and be happy. Most customers seem to be satisfied with the shirt (it has 4.3 stars out of 5 after more than 650 reviews), with complaints focused mainly on the sizing (apparently it runs small). Cheverian also notes in the comments below that the Vesper is made with a 47.5% cotton, 47.5% modal and 5% polyester fabric. So the material has a different feel than the Riviera. You'll find sizes small to XXL available on their website.
Also Try:
The Quantum of Solace Navy Pocket Polo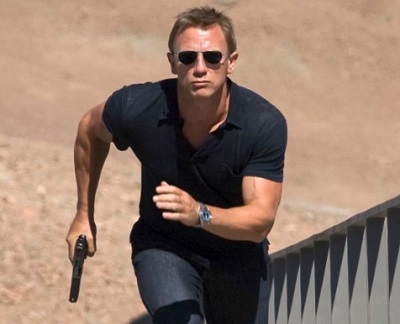 Way back in 2008, when the first Quantum of Solace trailers came out, many of us thought that the Sunspel Riviera had made a return. But, after a bit of research, it turned out that Bond's new polo was actually by Tom Ford. While many of the style details were very similar, this new one was made from a lighter weight fabric (apparently a cotton and linen blend). More importantly, according to David Zaritsky of The Bond Experience in this video, the big difference between the Tom Ford and the Sunspel was the cut. The Quantum of Solace polo belled out through the body and had a wider hem. This, plus that lighter weight material, gave the shirt what David affectionally calls a "swing" when you're in motion.
It's almost impossible to find out which alternatives will have that same "swing" without trying on hundreds of polos. So I've decided to focus on options in lighterweight fabrics that should provide more movement around the body than your typical pique knit.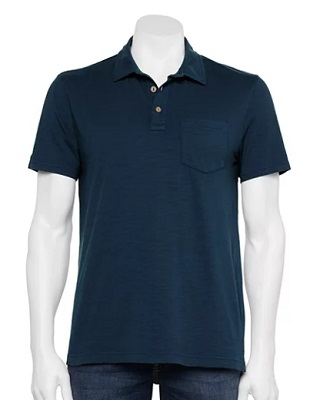 It's made from a lightweight 100% cotton slub material. It has the self collar and the chest pocket we want. And it's CHEAP! Will it have the exact "swing" we want? Not sure. Will it last you more than one summer? I honestly have no idea, but I'm skeptical. However … it's CHEAP! You can find sizes small to XXL at Kohl's.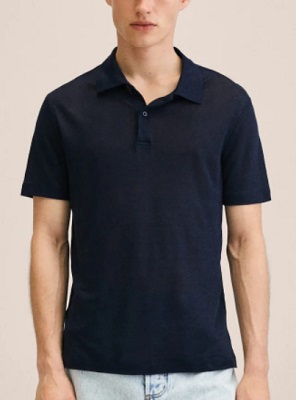 This one is clearly missing the chest pocket. But the dark navy blue color, two button placket and self collar are details we want. And that 100% linen knit material looks like it will be plenty light and airy. Mango has sizes XS to XXL in stock.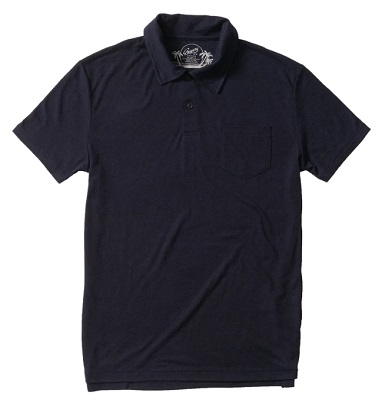 This the one I used as the alternative in our post on the 4 Best Looks from the Craig Bond Era (which you can read here). I still thinks it's a sold choice, especially at that sale price. It has all the style details we want: self collar, two button placket, chest pocket, a dark navy color. And the 55% linen, 45% polyester fabric will be light enough to give us some "swing" without being translucent. The only problem is Grayers is down to sizes medium and XL. Let's hope they decide to do a restock!
Also Try
The SPECTRE Navy Johnny Collar Polo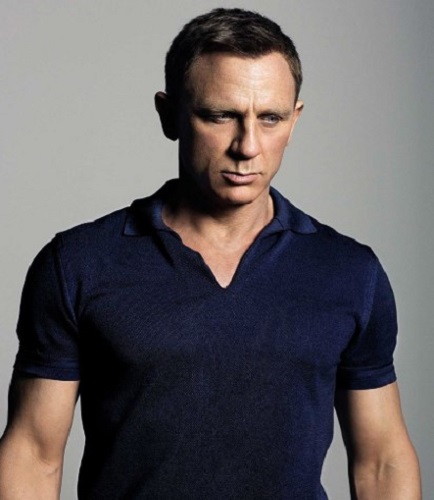 Another Craig-era Bond polo that almost immediately became a fan favorite. And it certainly is different from anything we saw him wear before. Designer Tom Ford went with a buttonless Johnny collar with a deep "V" neckline and a sweater-style banded hem that gave the shirt a serious 1970s retro-cool vibe. When it first hit the screens in 2015, there really wasn't anything else like it on the market. Now, seven years later, it's a style that's been adopted by almost every fashion brand out there. Which means we have a great assortment of alternatives this season at all price points.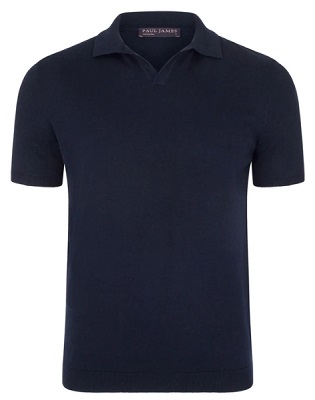 I'm going a little out of order to share what I think is this season's best alternative first. Paul James has gone with an ultra-fine long staple cotton and a slightly more conservative design for their take on the Johnny collar polo. That means the V-neck isn't quite as deep and the sleeves and body are just a touch longer. The retro-cool spirit of the SPECTRE polo is definitely present. But those small design differences result in a shirt that's probably more wearable for us mere mortals. You'll find sizes small to XXL on their website.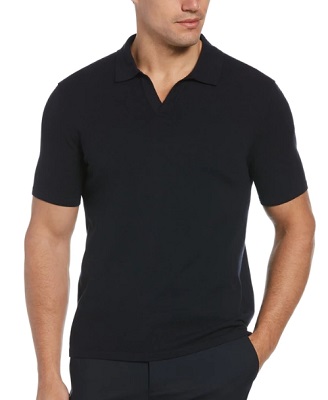 A great afforable option that nails almost all the style details for a very reasonable price. The material is a mix of 59% linen, 22% cotton and 19% model. So it should wear a little cooler than some of the heavier all cotton options. And like the Paul James alternative, they've made the design a touch more conservative compared to the Tom Ford, with a higher V neck and slightly longer sleeves and body. They have sizes small to XXL on their website.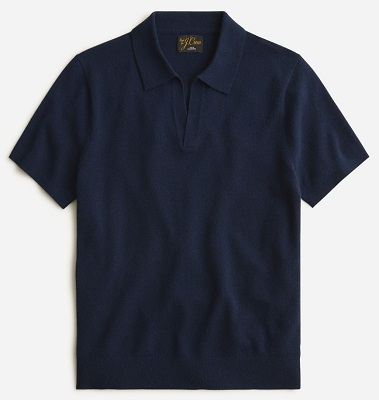 In terms of screen accuracy, this is probably our best bet this season for a few reasons. J.Crew normally leans heavily into their preppy heritage. But their interpretation of the Johnny collar features a more risqué (for J.Crew) lower V-neck, a shorter cut and overall trimmer fit. The 100% knit cashmere fabric certainly raises the price, but also offers a Bond appropriate level of luxury. And the slightly brighter shade of navy comes closer to the blue tone of the original. Sizes XS to XL are currently in stock.
Also Try
Have some suggestions for alternatives for the James Bond polo shirts we've shared in this post? Tell us about them in the comments! If you're looking for Bond's solid colored short sleeved summer shirts, remember to check out Part 1 of our series. And you'll find alternatives for his short sleeve patterned shirts in Part 2. For more on Bond's long sleeve summer shirts, take a look at Part 4. You can also visit our Facebook Page, our NEW Instagram Account and our Pinterest Boards for more James Bond and Steve McQueen style advice, inspiration and info!