James Bond Inspired Summer Shirts Part 4
Updated May 29th, 2022 – Welcome to Part 4 of our look at James Bond inspired summer shirts! In this post we'll be focusing on alternatives for Bond's long sleeve summer weight shirts from You Only Live Twice all the way up to No Time To Die. There's plenty to cover here, but before we get started I just want to note one thing. Some of you may notice a few shirts are missing from our list below, specifically the two white ones Bond wore in Cuba in Goldeneye and the black Tommy Bahama silk shirt he wore in Jamaica in No Time To Die.
Just to be clear, I didn't exclude these shirts because I dislike them. For the Tommy Bahama, we recently looked at alternatives in our post on Bond's Jamaica style from the latest film. But more importantly, I'm a pretty practical kind of guy. And I think one black summer weight shirt can work as an alternative for both the new Jamaica model and the Alfani from Casino Royale.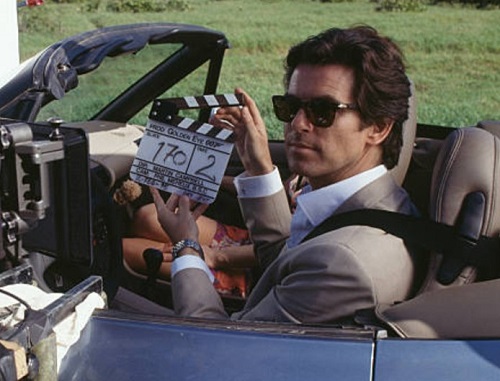 Likewise with the white Goldeneye Cuba shirts (yes, there were two; read about them on Bond Suits and BAMF Style). Linen-cotton dress shirts (even ones with French cuffs) aren't all that difficult to find. So rather than having three different entries for white shirts, I decided to focus on the one from Die Another Day with it's unique one-piece "Cooper" collar. In my humble opinion it's the more interesting shirt (and it's more challenging to source good alternatives for it). Now on to our finds!
The From Russia With Love Gingham Shirt Jacket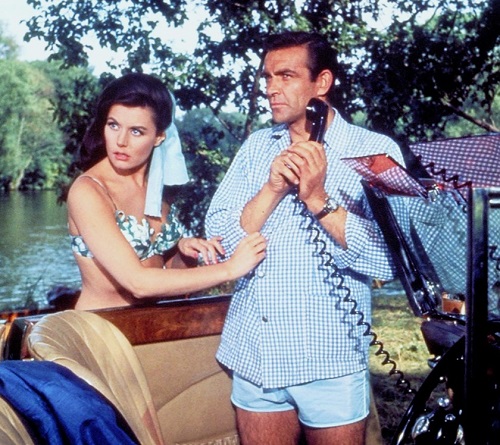 Is it the perfect shirt to throw on after a dip in the pool? It just might be. Needless to say, Bond's gingham masterpiece is a very unique design. Part shirt jacket, part cabana shirt and part pyjama top, it's almost impossible to find a good match for it without paying a fortune or going custom. But we've managed to dig up a few options that might just do the trick. To read more about the look, check out this article from Bond Suits.
I will mention one option I didn't include below: the Danton Blue Check Poplin Shirt Jacket. The good news is it's a great match for Bond's shirt. The bad news? It's sold out almost everywhere. The only online store that has is it is called The Wicked Introvert (where it's on sale for $70). And I can't find any information about them. Are they legit? Is it a scam website? I honestly have no idea. So if you do decide to try them out, please proceed with caution!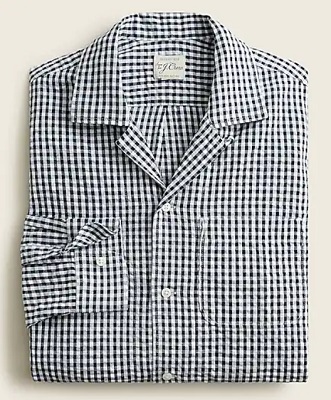 There's a LOT going on with this shirt. We've got the camp collar, the 100% seersucker fabric and the two patch pockets at the hips. Unfortunately, the color of the gingham is a little dark, it has a chest pocket and it's missing the metal buttons (good luck finding those on any alternative). But for an off-the-rack option, this one comes about as close as we're going to get at a reasonable price.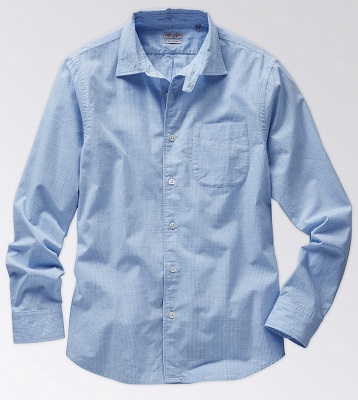 Even thought it's missing the hip pockets, I feel like this option best captures the spirit of Bond's cabana shirt. The light blue gingham is the right color. It's a looser, more relaxed fit. And the addition of that throat latch adds some character. Get a tailor to make the hem straight and I think it would be a winner.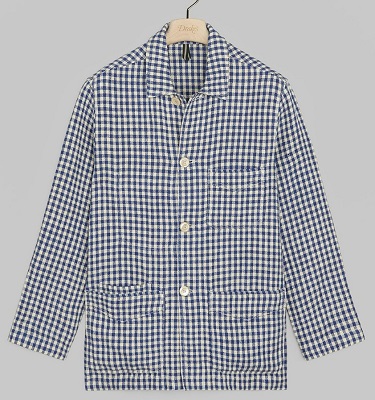 And then there's this alternative, which is pretty much exactly what we want. I'll leave it up to you to decide how much you want to spend to look like Bond …
Also Try
The You Only Live Twice Pink Linen Shirt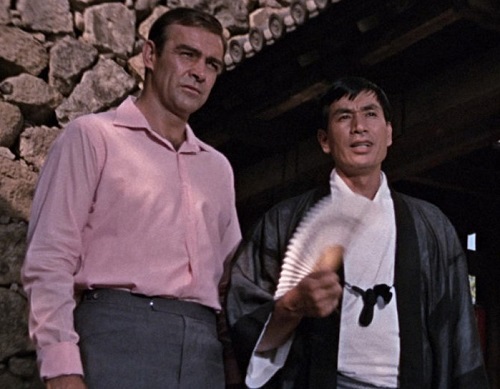 I'll admit I don't find Sean Connery's overall outfit in the film to be particularly inspiring. But it does give us a chance to look at a darn near perfect summer shirt. The fabric is most likely a cotton/linen blend in a nice warm pink. Wear it with the sleeves rolled up and untucked over some jeans, chinos or Bond-style swim shorts and you're pretty much ready to go. Seriously, pink is definitely an underrated color for guys.
The most interesting thing about the Bond's shirt design are the cocktail-style cuffs, a signature feature of Connery's Turnbull & Asser shirts. Now you can always to pay to have a shirt custom-made by the venerable London tailoring house to get that feature. But online Made-to Measure shirt maker Deoveritas also lets you custom design one with cocktail cuffs for about $150.00.  However, we'll be sticking with off-the-rack options below. To read more about Bond's look in this scene, check out Bond Suits and BAMF Style.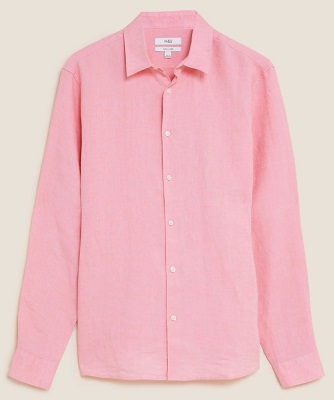 A basic linen shirt in a good shade of pink. In the past, Marks & Spencer have delivered great value for the money with their linen shirts. But, based on the customer reviews, it seems like the quality has dropped a little this season. Just something to be aware of.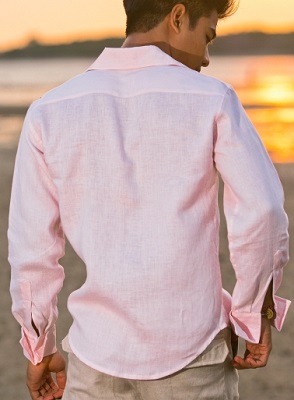 I wanted to include at least one option that had the dressier cuffs. And although these aren't the cocktail cuffs Bond wore, the French cuffs will definitely help elevate the level of formality.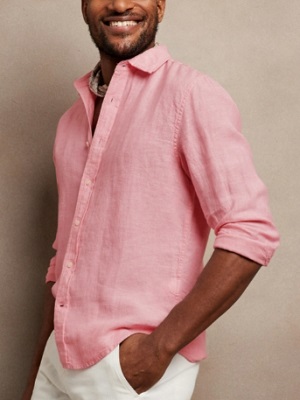 A more casual style in a slightly thicker linen. Banana Republic is also running a sale right now that knocks 30% off the price. And at $56.00 it's a solid deal.
Also Try
The License to Kill White Utility Shirt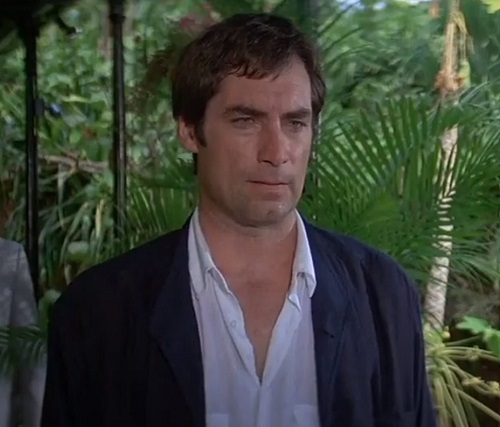 If we can look past the fit and just focus on the design, Timothy Dalton's Bond actually wore some pretty cool pieces. This utility shirt is one example. Those double chest pockets are really what make it stand out in a sea of plain white linen shirts. And it can add a fun workwear touch to your summer style. Roll up the sleeves, leave it untucked and wear it with some faded lightweight jeans and espadrilles and you've a great look for evening drinks by the water. You can read more about the look in this post from Bond Suits.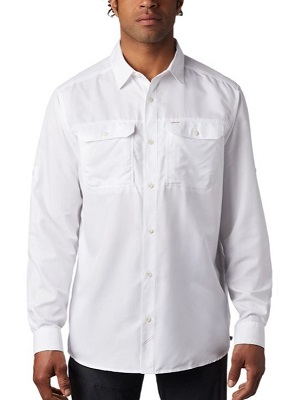 A more technical shirt that does a good job of capturing some of that Dalton Bond style. The fabric is a lightweight 100% polyester, which wicks away moisture and provides UPF 50+ protection. There's also built-in ventilation panels at the chest (under the pockets), sides and back to help keep you cool and button tabs on the sleeves to help them in place when you roll them up. Not the most stylish alternative. But it's definitely practical if you planning any on-the-water trips off the coast of Florida. Backcountry has sizes small to XL in stock.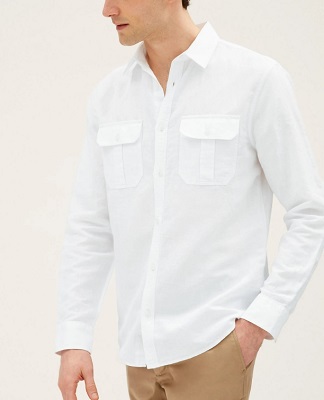 Another linen option from the heritage British retailer. And this one is getting better reviews. The fit is trimmer and the pockets are less dramatic than we saw with Dalton's shirt. But it captures the spirit of the original and gives the design a more contemporary look.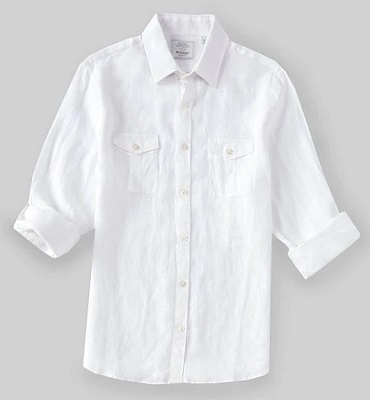 Very similar to the Marks & Spencer option above. But now we're upgrading to linen from the famed mill Baird McNutt. And this one comes with the sleeve tabs, which keep your rolled up cuffs from falling down and add a bit of a military vibe to the design.
Also Try 
The License to Kill Khaki Utility Shirt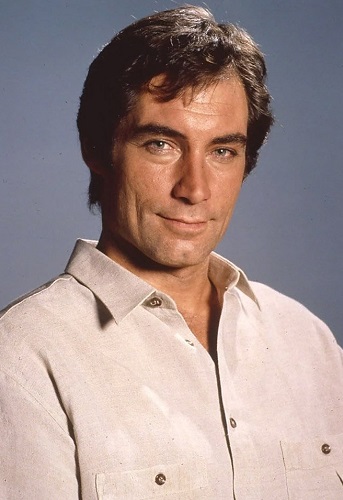 A briefly seen shirt from Dalton's second Bond film. But I have to say, I really like the style. The beige/khaki colored linen is very close to the Connolly X Finamore shirt Craig wore in No Time To Die (more on that one below). And, like the white shirt above, the twin chest pockets give it a miliary/workwear vibe that appeals to my personal style. As I've said before, if you keep an open mind there are some real gems to be found in the Dalton Bond wardrobe! Once again, Bond Suits has an article detailing the entire outfit.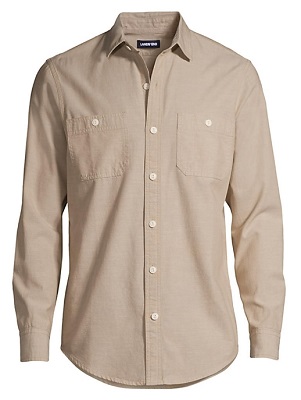 That will do quite nicely! The fabric is cotton chambray instead of linen. But it will still be lightweight enough for summer use. And replacing the buttons with more screen accurate ones in dark brown is a cheap and easy project.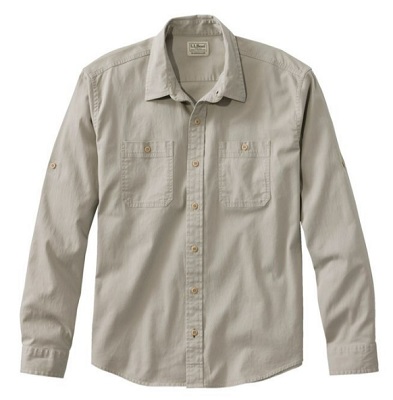 The 63% cotton, 39% Tencel and 1% elastane fabric is heavier than linen. But it should still be lightweight and airy enough to keep you cool when the temperature rises. The addition of the sleeve tabs is also a nice practical feature that leans into the shirts inherent military styling.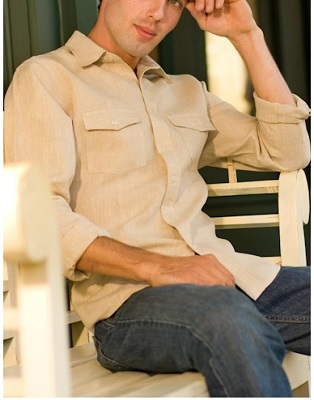 As you can see in the photo above, this 100% linen option comes with flapped chest pockets, which give it even more of a utilitarian look. And there are vertical seams running down the front and back of the shirt to add some visual interest.
Also Try
The Tomorrow Never Dies Blue Linen Shirt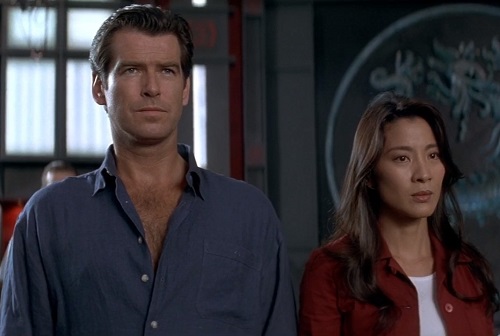 There's no denying that Pierce Brosnan's blue linen shirt was oversized in that oh-so-1990s way. But it was also a great shade of blue in a perfect summer fabric. Not to mention that it got a ton of screen time during the best stunts of the movie. Bond jumped out a window, dangled on a banner from a tall building, jumped a BMW motorcycle, dodged helicopters and escaped explosions. All while being handcuffed to the incredible Michelle Yeoh! And he wore this shirt for every minute of it. So, with an updated fit, it's definitely a Bond worthy summer shirt!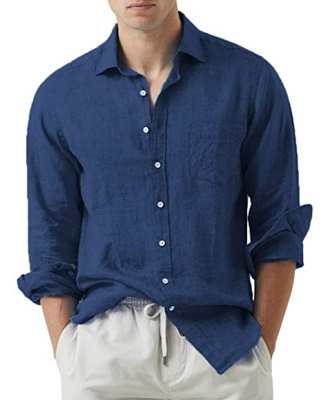 It's very affordable and the blue looks like it will be a great match. Will this be the best linen shirt you've owned? Probably not. But pair it with some navy linen trousers and it'll give us the look with want. I'll also mention that the same shirt in the Sky Blue and Pink colors make decent alternatives for Bond's SPECTRE and You Only Live Twice linen shirts. Just in case you want to buy in bulk.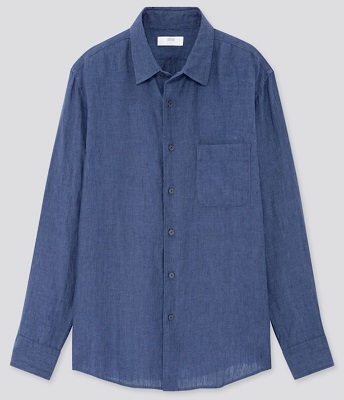 I actually have this shirt from a couple of seasons ago. And from what I've seen in store, not much has changed. The fabric is lightweight, but still has some substance to it and the color is a deeper, richer blue than it looks online. Stitching is a little better than you'd expect on a sub-forty dollar shirt. And Uniqlo has given it a looser cut, so it fits pretty much true to size. The have XXS to XXL available.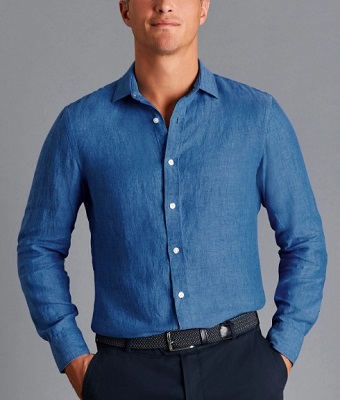 The shade of blue isn't quite as dark as we'd like. But Charles Tyrwhitt knows how to make a great shirt. And that sale price is a steal. They're also running a "3 shirts for $99" special right now. So if you want to think about grabbing ones in Pink and White to bring the price per shirt down even further.
Also Try
The Die Another Day White Linen Shirt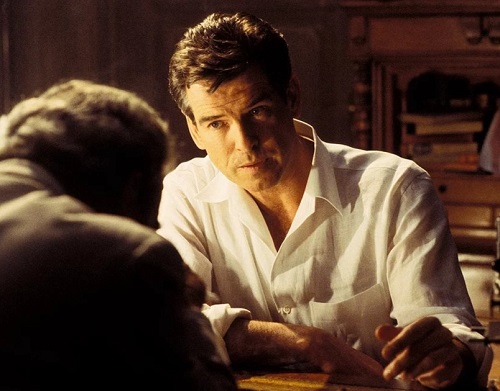 This is the white linen Bond shirt I mentioned at the start of this post. At first glance it might not seem particularly noteworthy. But if you take a closer look at that collar, you'll notice it's a one-piece "Cooper" style that's unlike any other shirt Bond wore before. A favorite of actor Gary Cooper (hence the name), the Cooper collar is not that same as the camp collar we see on 007's Thunderball shirts. The one piece construction allows it to sit higher around the back of the neck and it has a distinctive roll that gives it a very cool 1930s Hollywood vibe. Deoveritas has a good blog post that explains the style in more detail.
Today, Cooper collared shirts are very difficult to find off the rack and you normally need to go Made-to-Measure to get one. One company to look at is Yeossal. They seem to specialize in one-piece collars and offer a full customization program so you can nail down the details. Spier & Mackay and are also now offering Cooper collar shirts. But again, you'll need to use their customization program to get exactly the style we want. And Proper Cloth offers white linen shirts with camp collars at a reasonable price as part of their MTM program. All those companies worth checking out. As for the other options, as I mentioned above standard collar white linen shirts aren't exactly rare. So I'll be sticking with alternatives that have the proper collar design below.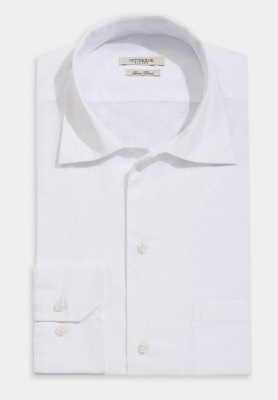 Every season I stress over finding an affordable Cooper collar shirt to include in this post. Luckily this year we have Gutteridge is delivering almost exactly what we want at a great price. This one is more a soft camp collar style (so no top button). But it has the longer points and a good ironing with a bit of starch will help give it the right roll. The 85% cotton and 15% linen fabric will also help it hold its form. If you want Brosnan's Die Another Day look without breaking the bank, this is the one to get.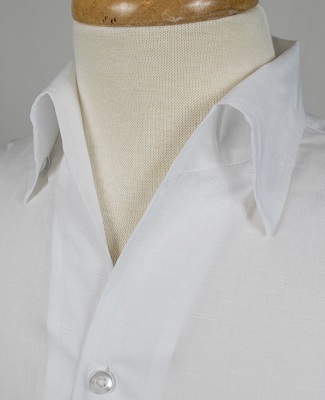 It's not exactly screen accurate. But boy, it does have that "Golden Age of Hollywood" style! The unlined collar has longer points and hidden buttons to give you a great roll. And the shirt comes standard with Bond-inspired cocktail cuffs! Fabric is lightweight 66% Egyptian cotton and 34% linen blend. Since each shirt is Made to Order, you can probably request some changes like the addition of a chest pocket or a non-button down collar using their custom shirt design tool. You can also select standard shirt sizing or upload personalized measurements to really dial in the fit. Yes, it's expensive. But it's also delivers almost everything I'd want in a James Bond inspired summer shirt.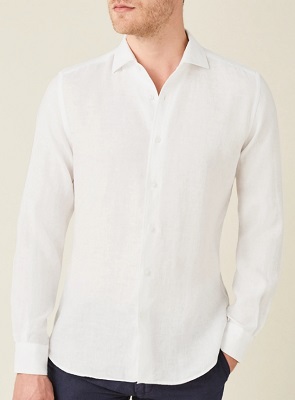 The smaller collar and no chest pocket means this option isn't exactly screen accurate. But it is a true Cooper collar with the top button. And it's certainly not lacking in luxury touches. Made in Northern Italy from Italian linen, the shirt is finished with mother of pearl buttons and comes in slim and regular cuts in sizes XS to 4XL. So you should be able to really dial in the fit.
Also Try:
The Casino Royale One & Only Ocean Club Poker Shirt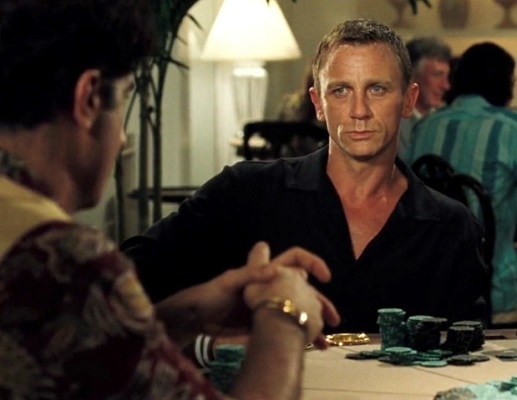 It's been a while since we looked at alternatives for Bond's black sueded polyester shirt from Macy's house brand Alfani. And, to be honest, this is probably not the most practical shirt to be wearing for playing poker on a hot, humid night in the Bahamas. So we've added some alternatives below in more summer appropriate fabrics that still capture the style we want. And, as we mentioned at the start of this post, if you would like your black summer shirt to be more of the style of the Tommy Bahama Bond wore in Jamaica in No Time To Die, you can find plenty of options in this post. For more information on the entire Casino Royale look, BAMF Style has a great write-up.
The fabric is a knit cotton and polyester blend. So expect it to be heavier than a linen shirt (but still cooler than the 100% sueded polyester of the original) with less of a sheen. And it comes with a slightly shorter length and a straight hem, so it's ready to be worn untucked. Plus that price is super affordable!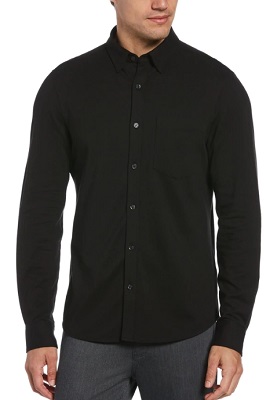 The 65% cotton and 35% polyester fabric is a pique knit, similar to what you normally see on polo shirts. It won't wear as cool as linen, but it will still be plenty breathable. And the style checks almost all of our "Features Wanted" boxes.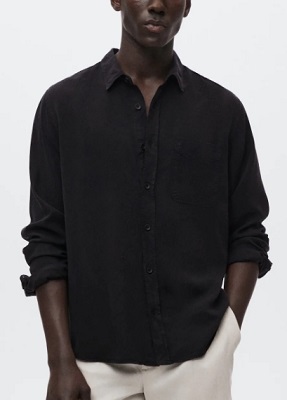 If you want a bit of the sheen we see on Bond's shirt without the weight of sueded polyester, this 100% Lyocell option from Mango is definitely worth a look. The cut is a little oversized to increase airflow, which will help keep you comfortable when the stakes get high at the poker table.
Also Try:
The Skyfall "Enjoying Death" Shirt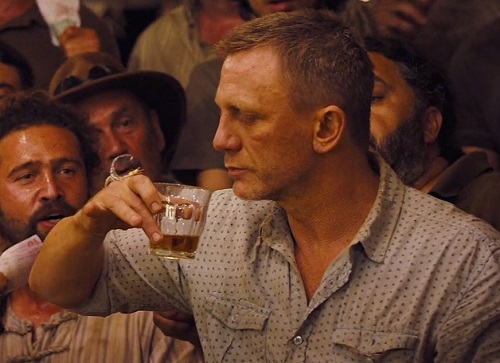 Finding a decent alternative for the Skyfall Zara Enjoying Death Shirt has been a noble quest for many a fan since the movie premiered in 2012. The shirt used in the film was a Zara Youth model in light blue with a darker navy and royal blue floral motif micro print. The images below from James Bond Lifestyle give an excellent look at the shirt's details.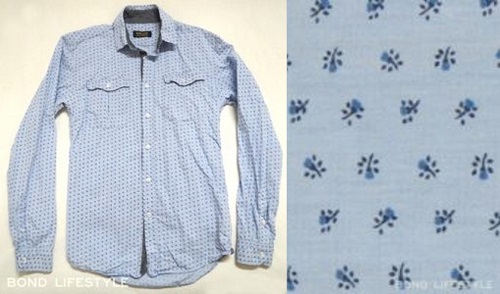 You can learn more about Bond's complete "Enjoying Death" look at Bond Suits and BAMF Style.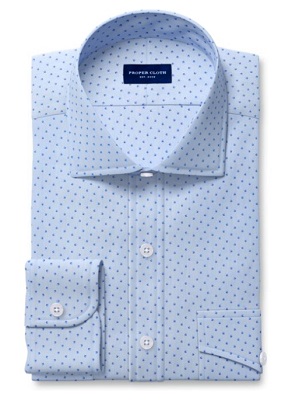 If you're a little patient and don't mind going the Made-To-Measure route, Proper Cloth has a 100% cotton fabric that comes very close to the one used for the Zara shirt. And you can add all the stylistic touches necessary to make it almost screen accurate. Here's how to get it: start by clicking on the link above. Next select the fabric (it's the "Light Blue End-on-End Micro Floral Print", code PCF2096). Now you'll be able to select the collar style (I'd suggest the unfused "Soft Semi Spread", but there are other options), the cuff ("Soft One Button"), the pockets ("Reverse Pleat Pockets"), and the placket ("Soft Front Placket"). After that you can play around with the back yoke and hem. Once you have the details entered, you can use one of Proper Cloth's various sizing tools to enter your size. And then you wait for your custom "Enjoying Death" shirt to be delivered!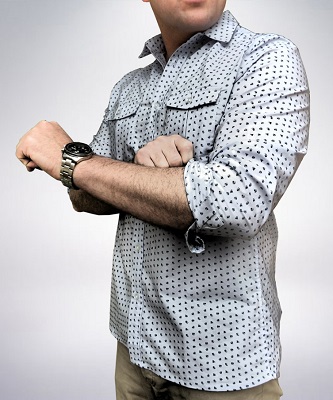 Or you can just spend a few more bucks and get the latest ROYALE Filmwear interpretation. Owner Daniel Love is well respected for his commitment to producing the most screen accurate garments possible. And with the new version of his fan favorite Enjoying Death shirt, he's worked extra hard to capture all the details we want, right down to that micro floral pattern. Sizes XS to XXXL are currently in stock!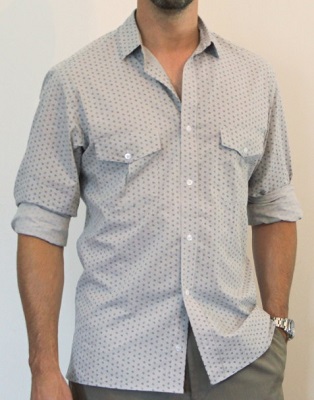 Now, if you're willing to go fully custom made (and pay for it), then you can get pretty darn close to the perfect shirt. Magnoli Clothiers has a Made-to-Measure program, so you'll be able to get a great fit. And they've nailed down the style details, from the printed fabric to the mitre-cut cuffs to the reverse pleat chest pockets. Indy's also very well-known in the Bond-style community and has created a lot of great pieces for many fans.
Also Try:
The SPECTRE Blue Linen Shirt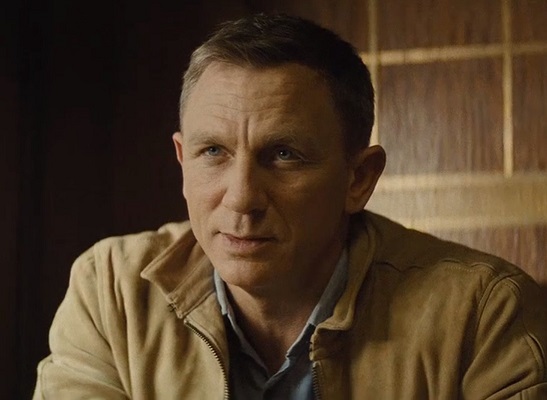 Briefly seen during the daytime train sequence in SPECTRE, the Orlebar Brown Blue Linen Shirt Bond wears under the Matchless suede blouson and with the Brunello Cucinelli chinos and J.Crew Kenton boots has definitely caused some confusion. The shirt is from Orlebar Brown, but (as far as I know) seven years later the exact model still isn't 100% confirmed. Options from their past lineups including the Malone, the Morton Classic in Butterfly Blue, the Morton Tailored in Butterfly Blue, and the original Morton in Sky.
Malone                                                                         Morton Classic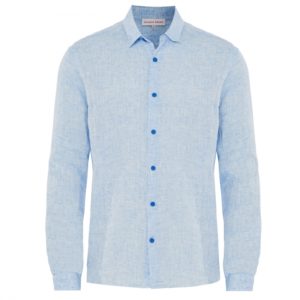 Morton Tailored                                                       Original Morton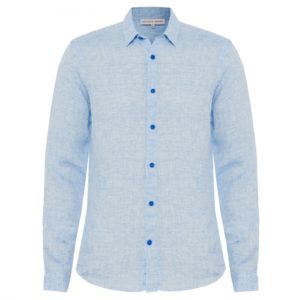 The good news is we've got lots of great option this season, so I'm being stricter with the main alternatives. No chest pockets, no button down collars and we want to get as close as we can to the color we see on screen. If you don't mind (or actually prefer) a chest pocket, I've included some additional options with that feature under the "Also Try" heading below.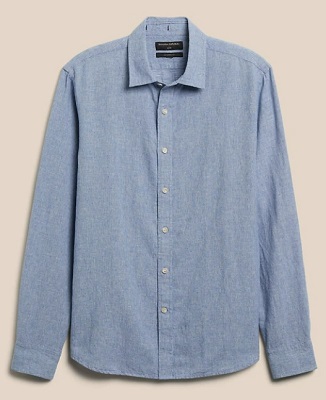 A 55% linen and 45% cotton blend fabric will help with wrinkling. And I'm actually really liking that slightly darker, more muted shade of blue. I think it would look great with the taupe color of the chinos Bond wears with the shirt. Plus the 50% off sale price (plus an extra 15% off at check out!) makes it very affordable.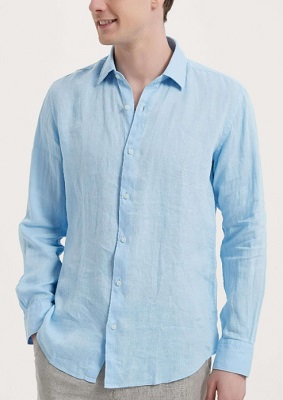 Full disclosure: after I wrote about Atlinia's bedsheets in our post on the Bond inspired bedroom, the company sent me a couple of their new linen shirts for free to review. I'll be doing a more indepth look at them very soon. So for now I'll just say that I was pretty impressed with them. I own a fair number of linen shirts, and the quality of the French linen Atlinia uses is right up there: much softer from the start than what you get from Uniqlo or other cheaper brands and slightly thicker so the lighter colors aren't see-through. It easily measures up to my much more expensive linen shirts from Vince and Onia. However, this particular blue color has more pop to it. I'd say it's closer to the shade of the Orlebar Brown Morton above. So if you want a paler light blue shirt, you'll want to select the "Aqua Blue" color. But all in all, it's definitely delivering solid value for the money.
Just a note on sizing: check the size chart carefully because the fit is small. I'm a medium in most brands (J.Crew, Barbour, Banana Republic) and I needed to go with the size Large in the Atlinia shirt. But the fit is spot on: relaxed but not baggy and it hits perfectly at the shoulders. However, if you are a bigger guy that normally takes a size XL or larger, I don't think their XL is going to do it for you.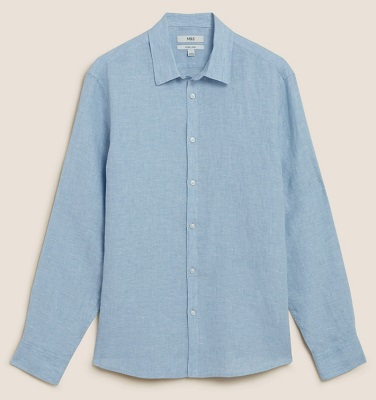 The SPECTRE appropriate light blue version of the pink shirt we shared earlier in this post. And it has the same pros and cons. They currently have sizes small to XL in the regular fit in stock.
Also Try:
The No Time To Die Beige Linen Cotton Shirt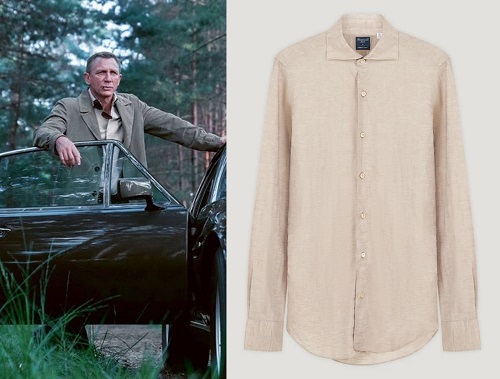 And we'll end with the latest linen shirt in Bond's collection. It didn't get much screen time in the film. But the distinctive color (not blue!) and the cutaway collar help it stand out from most of the other summer shirts he wears. The original shirt was a collaboration between British brand Connolly and the Italian shirting company Finamore and was initially only offered in a limited run. But it looks like it's now a part of Connolly's regular offerings, priced at $355.00. You can check out this video from The Bond Experience for a detailed analysis of the actual shirt.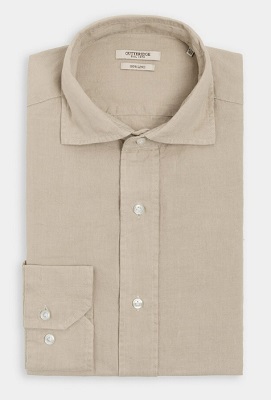 Another option from Gutteridge. And although it doesn't have a proper cutaway collar, the smaller semi-spread design comes close to what we want. And the color looks to be a solid match. Like their alternative for the Die Another Day Cooper collar shirt above, it's a heck of a good deal at that sale price.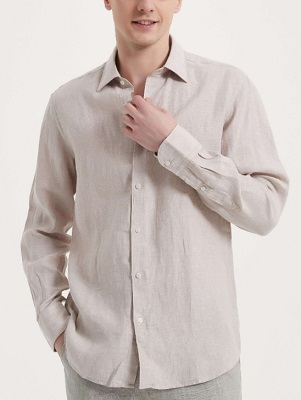 This is the second shirt I received from Atlinia. And my notes on the blue version above apply to this one. Two additional things I'll note. First, the color in real life is a little darker and leans more brown. It really does come very close to the product photos of the original shirt on the Connolly website. Second, it is definitely NOT a cutaway collar. It's more of a standard spread with longer points. But, as I said above, the quality of the linen and the fit is very nice for the price. Just remember to check that size chart! You'll probably want to go up a size. Full review coming soon!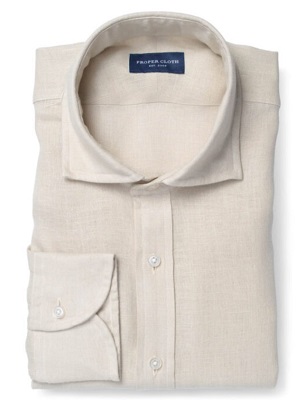 And for our last alternative, we'll turn once again to Made-to-Measure shirt company Proper Cloth. The color of the linen from renowned Irish Mill Baird McNutt is a little lighter than the Connolly shirt. But we can customize the shirt to get the screen accurate cutaway collar (although the soft president spread shown above could also work). Probably the best thing about going this route is the broad selection of sizes they have available. It comes in Super Slim, Slim and Classic cuts in a wide range of collar and sleeve sizes. So almost any of us should be able to find the perfect fit.
Also Try:
Have some suggestions for alternatives for the James Bond long sleeve casual summer shirts we've shared in Part 4? Tell us about them in the comments! If you're looking for Bond's solid colored short sleeved summer shirts, remember to check out Part 1 of our series. And you'll find alternatives for the short sleeve patterned shirts in Part 2. And we covered Bond's polo shirts in Part 3. You can also visit our Facebook Page, our NEW Instagram Account and Pinterest Boards for more James Bond and Steve McQueen style advice, inspiration and info!
Some of the images used in this post were sourced from Thunderballs.org BAMF Style, Bond Suits and Bond Lifestyle.