Best Budget Style Finds May 27th
Welcome to our Best Budget Style Finds for May 27th! This is where we share some of the great alternatives for Bond (or Craig or McQueen) style that either slipped through the cracks when I was writing the original dedicated posts or deserve a special mention. Sometimes the posts will be short. Sometimes there'll be a ton of new options. A lot will depend on what we, as a community, find and share. So if you have any suggestions, let us know in the comments. On to the alternatives!
Some Fan Favorite Bond Inspired Jackets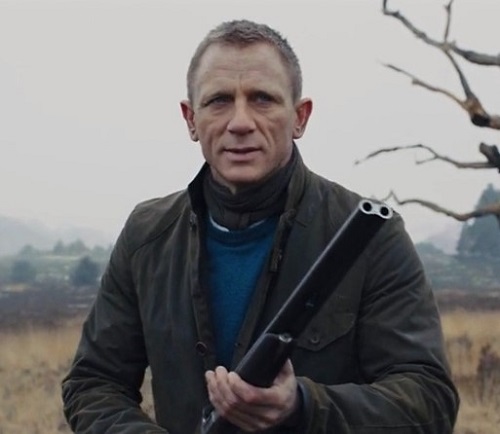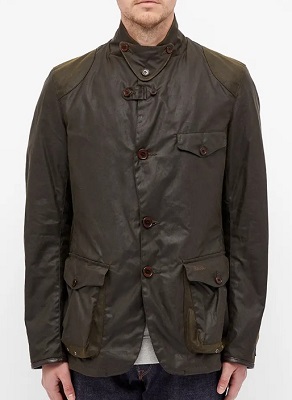 The To Ki To from Skyfall has been a fan favorite Bond jacket for almost a decade. The Beacon is Barbour's latest iteration, which in some ways (no hood or inner storm flap) is actually more screen accurate than the original. Being able to score one new for just over $300 really is quite the deal and I have almost no doubt they'll go quickly. But, as I write this, End Clothing still has sizes XS to large in stock.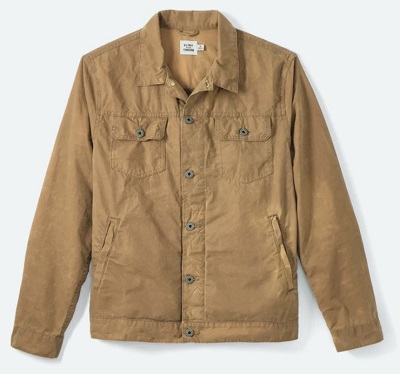 I love the Rogue Territory Supply Jacket Bond wears in No Time To Die since that workwear style is right up my alley. But the nearly $300 asking price could be a little step for some of us. In our recent post on the Bond Waxed Trucker, this Flint and Tinder piece earned the coveted "Best Option" spot for a few reasons. The styling is similar without being a direct rip-off (Huckberry's been making it for a few years now); the 6oz Millerain Tekwax fabric is lighter and softer, but will stand up to some abuse; it's cut, sewn and finished in Los Angeles. The jacket normal sells for $188. But this new sale price makes it an even better deal. Sizes XS to XXL are in stock.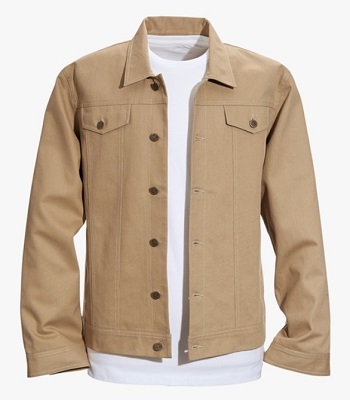 And an alternative for the No Time To Die jacket for those of you that want the look, but can't be bothered with the whole waxed cotton thing. This one is made from 100% and lined. So don't expect any stretch. Sizes small to XXXL are available on the Samuel Windsor website. It's a solid deal for those of you in the UK. But for those of you in the U.S. that want an unwaxed jacket, I think you'd be better off going with the Wallace & Barnes Duck Canvas Trucker Jacket from J.Crew. It's down to an affordable $65.99 right now.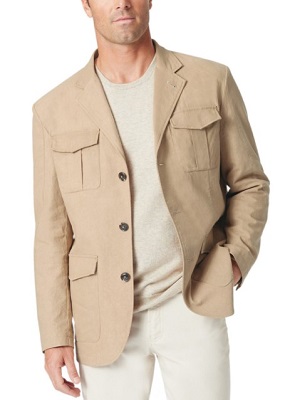 A little Roger Moore Bond safari jacket style. The blazer-like styling of this one makes it a pretty good alternative for the cream jacket he wore in The Man With The Golden Gun. And although it's fully lined, the 55% cotton, 45% linen outer fabric should be relatively comfortable in warmer weather. Even better, it comes in standard suit jacket sizing and they have 38R to 50R in stock. So you can dial in the fit more accurately. You can find more alternatives for the various Bond safari-style jackets in this post.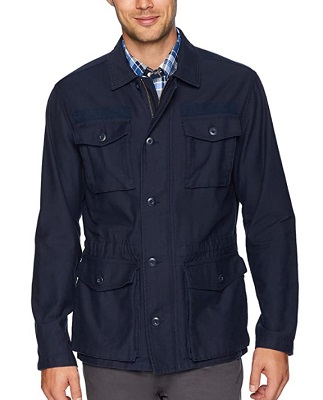 And an affordable alternative for Bond's navy blue safari-style jacket, primarily seen in the promo photos for the film. With it's zipper plus storm placket front closure and drawstring waist, this is obviously more of an M-65/field jacket style. But I think that casual styling will make it more versatile for many of us, while the navy color adds a touch of formality. Sizes small to XXL are in stock on Amazon U.S. Unfortunately, it doesn't look like Amazon UK is stocking it.
Boots for some classic Bond (and Craig) style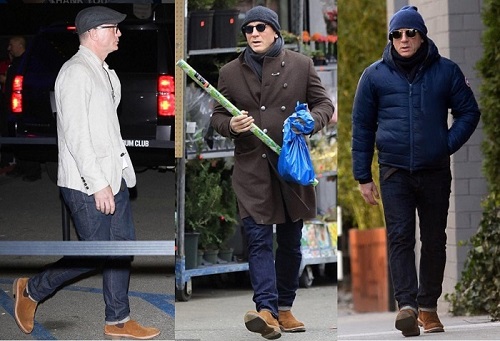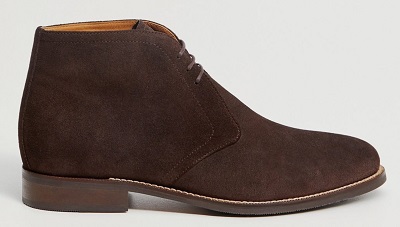 A pretty inexpensive way to capture some of that No Time To Die suede chukka style. At this price we're only getting a glued on sole. But the uppers, most of lining and the insole are genuine leather. And they certainly have the right three eyelet, higher collar look. Heck, I might even be tempted to give them a light coating of wax to make them even more screen accurate. Mango has plenty of sizes left on their U.S. and UK sites.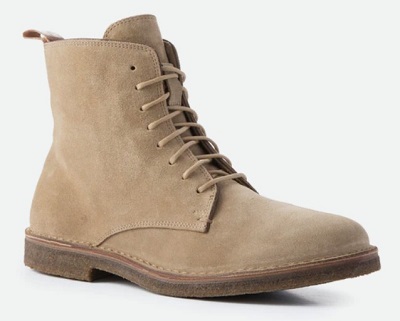 Some lightweight alternatives for Bond's J.Crew Kentons from SPECTRE. Handmade in Northern Italy using an environmentally responsible construction process, the Bootflex has a suede upper that's attached to the 100% natural crepe rubber sole using a traditional stitch down method. I own a couple of pairs of Astorflex boots: some suede Chelseas and a pair of Dukeflex that I discuss in this post and use as alternatives for the No Time To Die Matera boots. And I love them both. They're super comfortable, the quality of the materials is excellent and the Chelseas have held up incredibly well over 4 years of use. So yes: I highly recommend them. And that sale price at Huckberry makes them an even better value for the money.
And here are the Chelseas I mentioned above. Personally, I think they make a great alternative for a pair of Daniel Craig's favorite boots, the R.M. Williams Gilchrists. Astorflex is kind of a cool company. It was started in the late 1800s, and the current 6th generation owners have shifted to a more environmentally friendly and ethical manufacturing process. That means vegetable tanned leathers, water-based colors, non-solvent glues, natural rubber soles and transparency from material sourcing to sales. I'm always a little wary of crepe soles. But as I said, after 4 years, mine still look almost brand new. I have seen the price on the Bitflex go lower. However, I think $156 is more than fair. Sizes 7 to 14 are in stock at Huckberry.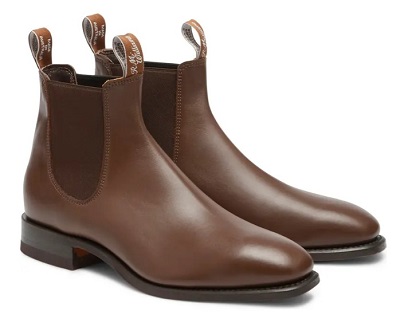 Speaking of R.M. Williams, Nordstrom is currently offering some pretty healthy discounts on a few classic models. The link above goes to the Classic, which has a leather sole. But you can also get the rubber-soled Comfort model or the suede Comfort Turnout for the same price. Just know that sizes are already scattered and selling fast!
Get the Bolivia style (but stick to two Vespers)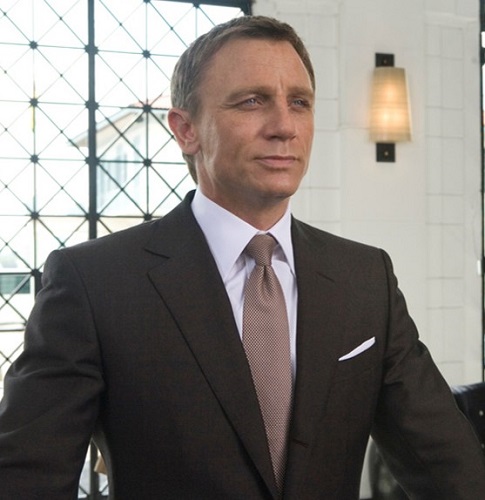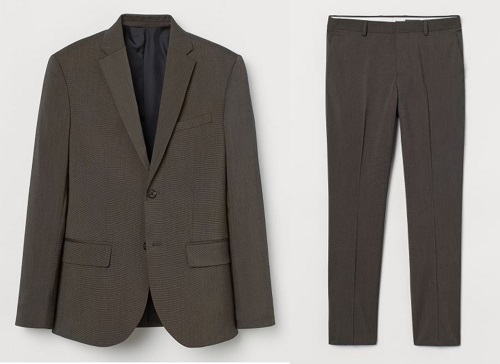 A inexpensive suit for those of us on a budget who are still craving some "Bond in Bolivia" Quantum of Solace style. Given the price, the jacket is undoubtedly a fused construction. And the suiting is 82% polyester, 15% viscose and 3% elastane. So this ain't a "buy for life" kind of suit. But also costs just over a hundred bucks. And dark brown suits at a reasonable price are surprisingly difficult to find. Sizes 34R to 50R are in stock. And it's size they're using actual jacket sizes to help us get the right fit. Just remember this is an H&M slim fit and double check the size chart. To learn more about how to get a great fitting suit, check out this article from our "Affordable Bond Wardrobe" series.
Sweaters, Swimsuits and Sunglasses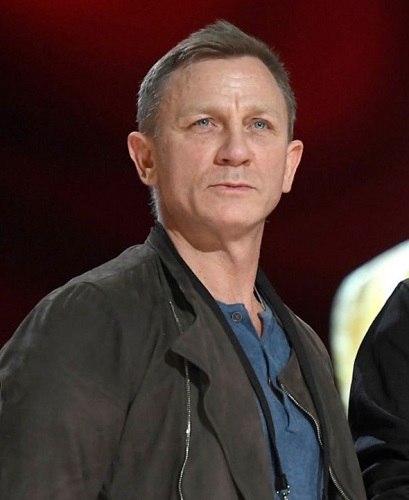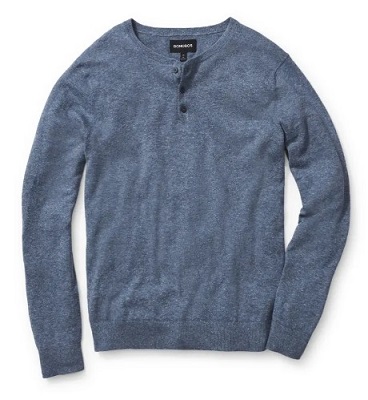 Another deal from Nordstroms Mid-Year sale. I'll admit I was actually a little surprise at how many people were interested in alternatives for that blue John Varvatos henley Daniel Craig owns. But I'm personally a fan of the style, so I'm more than happy to include more options for it. This one captures the knit sweater vibe of the original and uses a 70% cotton, 20% hemp and 10% silk yarn. Not quite as luxurious as the original, but still pretty darn soft. Sizes small to XXL are in stock. If you want something a little more rugged, the Faherty Cloud Henley in Navy Heather: on sale for $58.80 is also a nice option. There's also the Faherty Slub Cotton Henley in Blue Nights on sale for $58.50 if a more refined style appeals to you.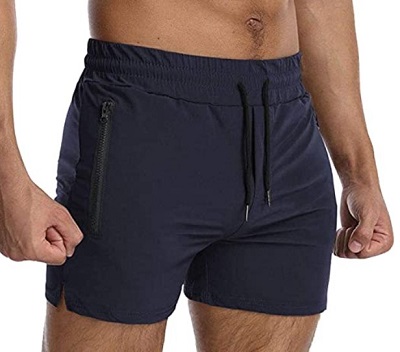 A quick update on this alternative for the No Time To Die swim shorts that we shared in our last Best Budget Style Finds post. I ordered a pair of these just to see what eighteen bucks buys us. And … they're actually not that bad. Not Orlebar Brown level quality, obviously. But the fabric does have some stretch and although it's thin, it doesn't feel particularly cheap. The same can't be said for the zippers on the pockets (chunky plastic) or the drawstring (basically a low quality shoe lace). However, the cut is decent and true to size. I'm a medium in almost everything and ordered a U.S. medium and the fit is trim but not skin hugging tight. Long story short, we could do a lot worse for under $20.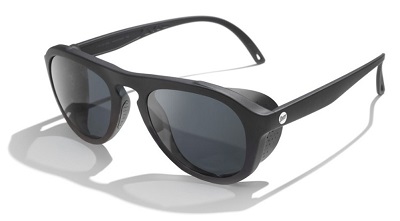 Some Bond in Sölden mixed with a little No Time To Die sporty style. These are more than just fashion sunglasses. The polycarbonate frames and tri-acetate cellulose lenses will handle some abuse, while the non-slip nose pads will help keep them from sliding off your face. And they're polarized to reduce glare. Some of you let me know you weren't all that crazy about the look or the fit of Vuarnet Edge model. So these could be a solid "inspired by" alternative.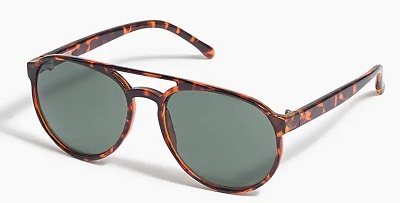 Now these are most definitely "fashion glasses". But I do like that Roger Moore in "A View To Kill" styling, which is making a comeback. No notes on the product page about the actual size. But most reviews state they fit a little smaller than expected.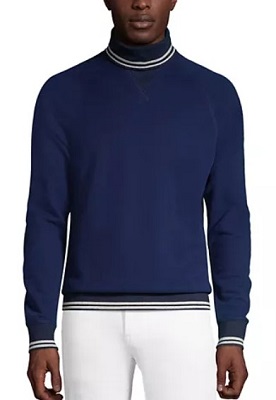 Totally out of season. But we always welcome some Thomas Crown McQueen inspired style around here. And the design is interesting. The "sweater" is actually made from French terry, which makes it more like a turtleneck sweatshirt (hence the V-stitching at the collar). The blue is also brighter than what McQueen wore to play golf. However, the tipping gives it the retro-cool 60s vibe we want and it certainly sounds comfortable! Sizes small to XXL are available at Lands' End. Just a note on the price: I listed the full retail above, but they've been running 30% off codes pretty regularly. That would bring it down to about $35.00.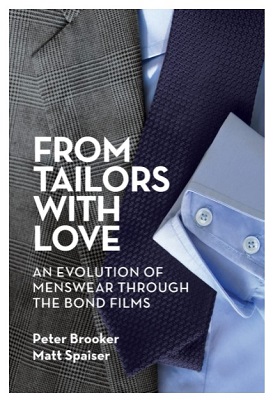 A big "Congratulations!" to Bond Suits Matt Spaiser and Pete Brooker of From Tailors With Love on the publication of their book! It is now available for pre-order from Amazon, and I can almost guarantee it will be a must-read for any fan of Bond style.
Some Bond Inspired Summer Shirts I Missed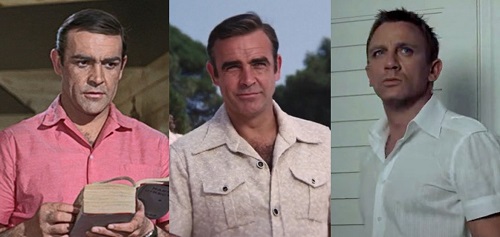 After publishing Part 1 in our series on Bond inspired summer shirts, I realized that I hadn't included all that many options for those of you not living in the U.S. So I took a second look around the internet and turned up some great alternatives that come from the UK and Europe. Hope this makes up for my earlier lapse!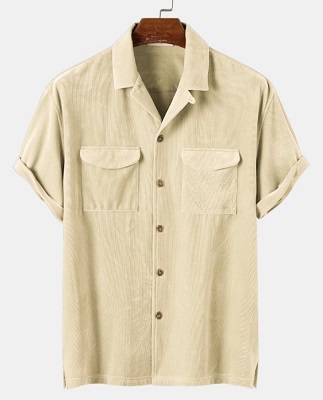 I know next to nothing about Newchic. I did a quick search on Trustpilot and the results were … okay. It's a legitimate company, but don't expect great quality. And make sure to double check the sizing before ordering, since it seems everything runs small. With that out of the way, this shirt looks like a solid alternative for the one Bond wore in Diamonds Are  Forever. Velour instead of toweling, but the effect with be similar. And the twenty dollar price makes it pretty low risk.
Other options for the Diamonds Are Forever Toweling Shirt
ChArmkpR Ribbed Texture Solid Color Revere Collar Shirt with Flap Pockets in Beige: $19.99
Burton Twin Pocket Short Sleeve Shirt in Stone: £14.00
Forét YAK Regular Fit Resort Shirt in Light Yellow: €120.00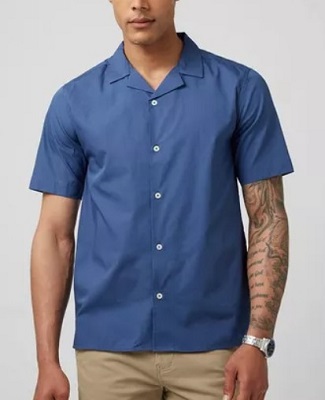 Made from a 100% cotton poplin fabric and, like most alternatives, it's missing the patch hip pockets. But the color and the rest of the styling looks spot on. This is coming to us from Debenhams, where older inventory continues to get discounted as they finish up their transformation into an online only retailer. Sizes small to XXL are in stock. The Stone color would also be a good option for Bond's You Only Live Twice khaki camp collar shirt.
Also Try:
Burton Twin Pocket Seersucker Shirt in Navy: on sale for £17.50
John Lewis & Partners Cotton Linen Revere Collar Shirt in Indigo: £40.00
Bluemint Mars Short Sleeve Linen Camp Shirt in Ocean: £90.00/$110.00 (Suggested by Filmnobelpreis in the comments below; thanks!)
Universal Works Organic Poplin Road Shirt in Navy: $148.00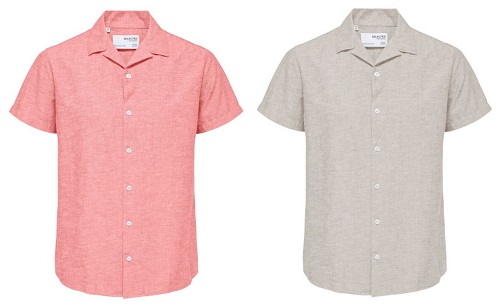 A clean design made from a 60% organic cotton, 29% linen, 11% regular cotton fabric. That "Bittersweet" pink color looks like a great match for Bond's Thunderball shirt in the website product photos. Bright, but not fuchsia, and a relaxed, but not boxy, fit. Sizes small to XXL are in stock. Really a shame these aren't available in the U.S.
Also Try:
Jack & Jones Short Sleeve Shirt in Beige: on sale for £12.85
Shein Revere Collar Short Sleeve Shirt in Beige: on sale for $14.00/£9.95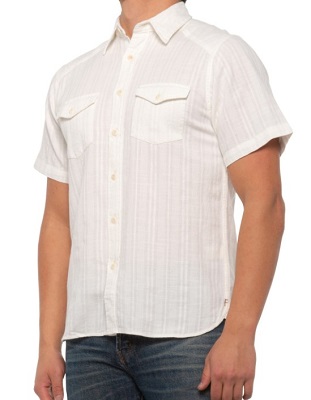 The tone-on-tone, varied width striped fabric comes very close to that used for Craig's Casino Royale "Bahama Arrival" shirt. And the flapped chest pockets help give it a similar military/safari vibe (and keep your nipples from showing through that material!). At $10, if you're really missing the epaulets, buy a second shirt and have a tailor make them from the fabric. Sierra is down to sizes small and medium.
Know of any alternatives we should feature in our next Best Budget Style Finds post? Or do you have another option for this post? Tell us about it in the comments! If you'd like to see our previous Best Budget Style Finds posts, you just need to click here. And you can always visit our Facebook page, Instagram account and Pinterest Boards for more Bond, Craig and McQueen style advice and inspiration.