The James Bond Inspired Bedroom
It would be a bit of an understatement to say James Bond has occupied a lot of beds in his time. But the majority of those have been located in various hotels around the world. When it comes to his own personal space, we've only seen 007's preferred sleeping set up in three movies: Dr. No, Live and Let Die and No Time To Die. So for our look at the James Bond inspired bedroom, we'll try to stay focused on the furniture, bedding and lighting we find in those films. There's a lot to cover, so let's get to it!
The Bed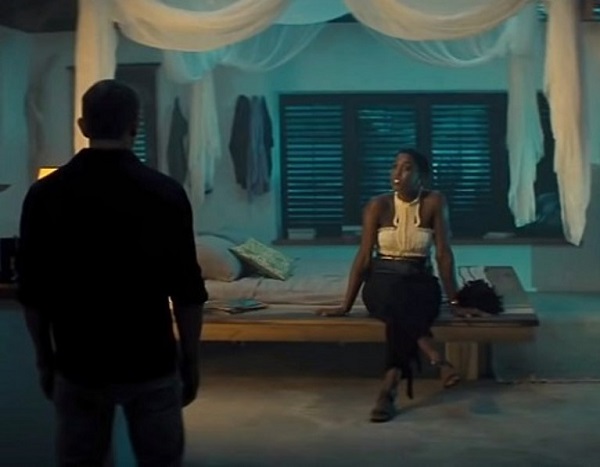 We're going to use Bond's bed from his No Time To Die Jamaica home as inspiration for two simple reasons. First, we get a pretty clear look at it in the film, so it's relatively easy to identify it's key features. Second, it's almost impossible to find an alternative for that riveted cowhide headboard from Bond's Live and Let Die bedroom.
Besides the above reasons, it's also a very interesting design, a sort of modified and oversized Tatami platform bed with some added Caribbean island vibe. Like much of the furniture from Bond's SPECTRE apartment, the frame is big and blocky. But because it's so simple, it should work well with other furniture styles. Which, as we'll see below, can be a real advantage when we're trying to design a room with character.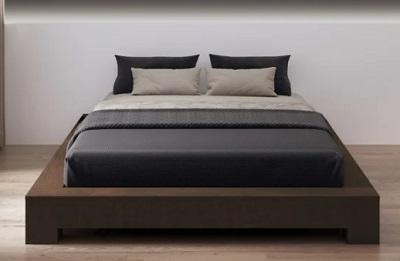 This one is made from a lower end manufactured wood (which explains the lower price). But it's an inexpensive way to get the look of Bond's bed for those of us on a tighter budget.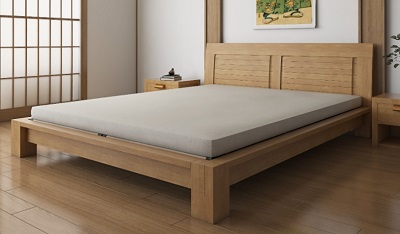 We shared this option in our dedicated post on Bond's No Time To Die Jamaica home. So I'll just highlight a couple of the key features. Haiku Designs has used an eco-friendly and sustainable solid Para wood, which doesn't use any particle board or chipboard (or the toxic glues that hold those together). Also, the price above does not include the headboard (that's an extra $450.00). But if you're ready to invest in a good looking and well built bed frame, this is a great choice.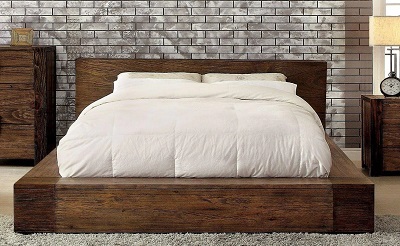 Another from our "Bond Jamaica Home" post. It doesn't have the chunky legs we saw on his bed frame. But it does have the extra wide edges we want. If you like this design, but want something with extra storage, check out the Foundstone Alea Platform bed for $1669.99. It has two large drawers built into the base.
The Bedding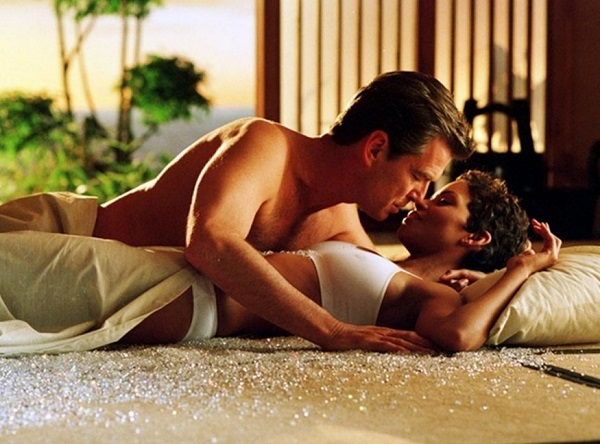 For many of us, bedding is a bit of an afterthought. When we go shopping for sheets, more often than not our priorities are a lower price and how easy it is to wash them. But if you really value your sleep, great bedding is one of the best investments you can make, second only to your mattress.
Sheets
A quick note on sheets. When it comes to the colder months, I'm still a fan of old school cotton flannel. However, 20 years living in a tropical country taught me that nothing beats linen when we're dealing with warmer temperatures. It doesn't absorb nearly as much moisture as cotton, so you don't get that damp, clingy feeling that comes with sleeping in a hot room. But it's still a lightweight natural fiber that helps regulate your body temperature better than a synthetic like polyester. And that makes a big difference in keeping you comfortable all night. Yes, the sheets are going to wrinkle like crazy. But I think that's a small price to pay for a great night's rest.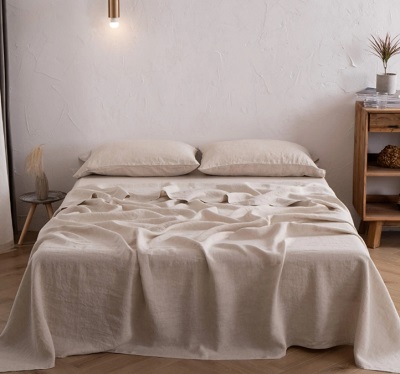 After trying cheaper linen and linen blend sheets from a variety of brands over the years, I finally decided to invest a little more to see if paying up made a real difference. And I can definitely say it's worth the extra money. I chose a sheet set from Atlinia for a few reasons. First, they use longer staple premium French organic linen for the yarn. Those longer individual fibers make the sheets even more durable and provide a more supple hand. Less expensive sheets use a shorter fibre, which can make the sheets stiffer and scratchier and doesn't stand up as well to wear and cleaning. Second, Atlinia also garment washes the sheets to make them even softer. With cheaper sets, I sometimes found there was a "break-in" period of 3 to 5 washes before the sheets lost their initial stiffness and really started to soften up. In comparison, the Atlinia sheets were comfortable right from the start.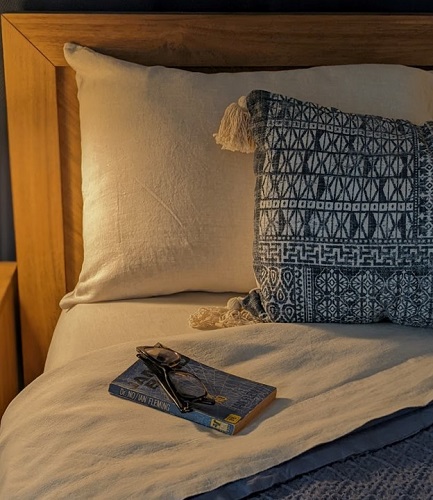 The third reason was the price. I completely understand that $230 isn't exactly "budget". But the Atlinia sheets offer many of the qualities you'd only find in bedding that's significantly more expensive. I've been using this particular set for almost four months now, rotating it with my tried-and-true flannel sheets, and I've been very happy with them (as has my wife!). The fit on my queen sized bed is spot on. They're cooler than my flannel sheets but still keep me comfortable all night. And they've just become softer and softer with wear and washing. Since I know from experience that linen sheets can last longer than cotton or synthetics, I consider these to be great value for the money.
The Duvet Cover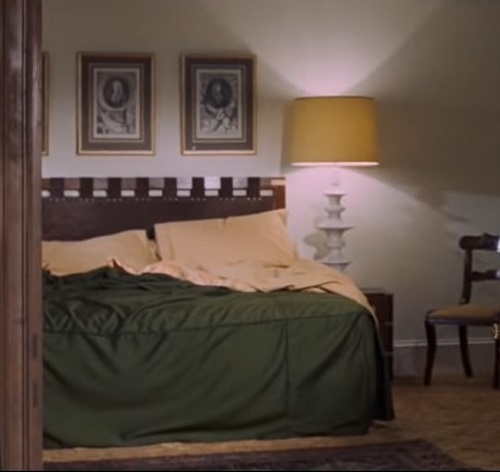 One of the few times we see Bond's bedroom is in Live and Let Die. And while green may not be the first color that comes to mind for a duvet cover, it's actually a great choice if you want a good night's sleep. In its more subtle tones, green is one of the most relaxing colors for the human eye and can even help alleviate feelings of anxiety and nervousness. Sounds like exactly what many of us need when we crawl into bed at the end of a long day!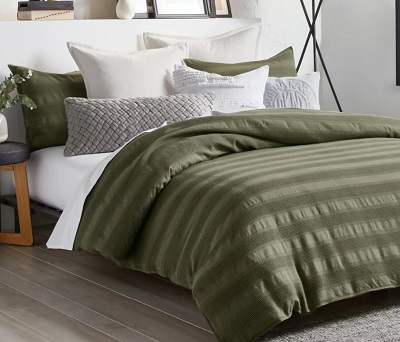 If solid green seems a little overwhelming, this option captures the look of Sir Roger's bedding but adds some tonal stripes for visual interest. And the 100% cotton material should feel nice and cozy while still being easy to care for.
From the same company that makes our linen sheets suggestion above. The set includes the duvet cover and two pillow cases, made from a 55% premium French linen and 45% cotton and accented with tonal buttons that add a bit of character.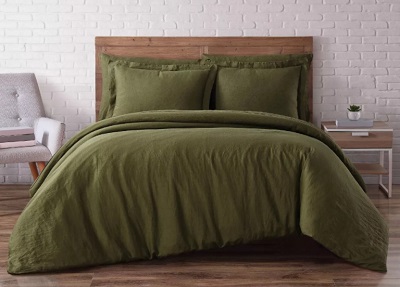 If you want to go all in on the olive green color, this cover delivers what we need. They've used a 100% linen fabric, which will have a great texture that works well with the linen sheets. And it'll just keep getting softer with use.
The Nightstand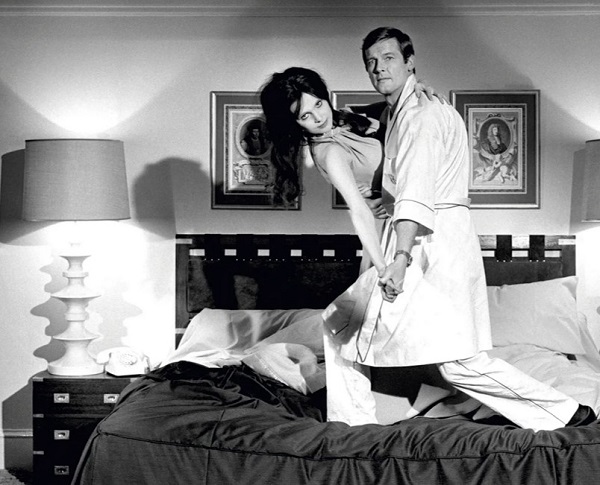 We'll turn once again to the Moore-era Bond for our bedside furniture. And the campaign style night table is a great choice. It strikes the right balance between sophisticated and utilitarian and the long history and timeless military-inspired design means you can easily combine it with a variety of other furniture styles.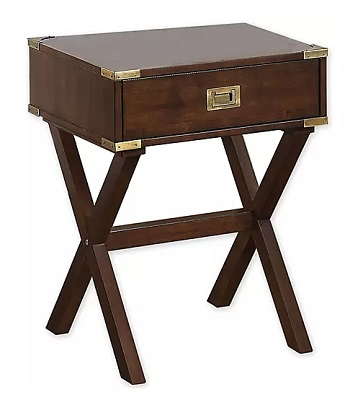 If your bedroom space (or budget) is limited, this smaller table has the right "campaign" aesthetic with a minimal footprint. The product description says it's made from solid wood, which would be pretty nice at this price, even if it's just a cheaper pine.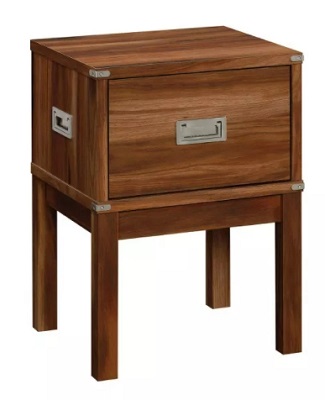 It terms of the space it will occupy, it's almost the same size as the option above. But some of you might appreciate the deeper drawer. It has a slightly more "filing cabinet" look, but still captures the spirit of the campaign design.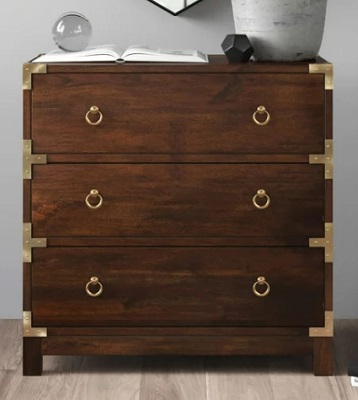 About as good a match as I could find for Bond's nightstand at a reasonable price. The product photos make it look quite tall. But the height is actually only 28″. So it should work just fine with a lower platform bed frame. Especially if you use a thicker mattress. If you're really feeling this design and want to invest a LOT more in a solid wood alternative, Restoration Hardware has their Cayden Campaign Nightstand series starting at $2115.00.
Storage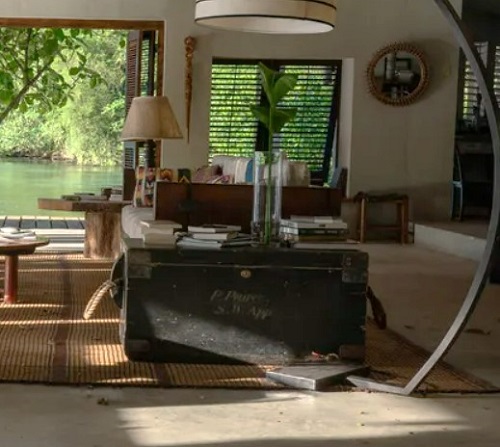 One thing I think we can all agree on: you can never have enough storage space. So we'll turn to Bond's Jamaica house for a classic solution. A weathered steamer trunk is a great place to store extra bedsheets and comforters or your winter or summer clothing in the off-season. And the rugged design will work well with the heavy wood of the bedframe and the military style of the campaign side tables.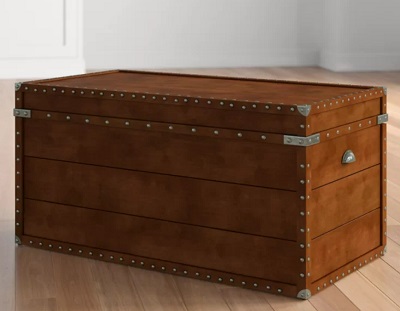 A clean and simple chest that should easily integrate into almost any bedroom design. Made from MDF wood with a walnut veneer, it won't be an heirloom piece. But if you're on a budget, it will help add the right character to your space at a reasonable price.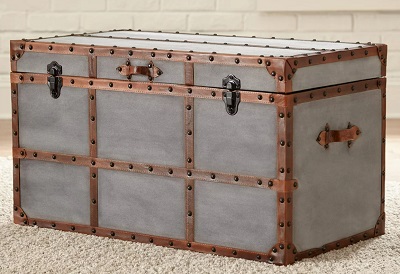 Lightly distrissed wood in a neutral grey and genuine leather accents give this relatively affordable option an appropriate vintage look. And the cotton canvas lining will help protect whatever you store inside. Measuring 34″ wide by 19.25″ high, it's a good size for smaller spaces.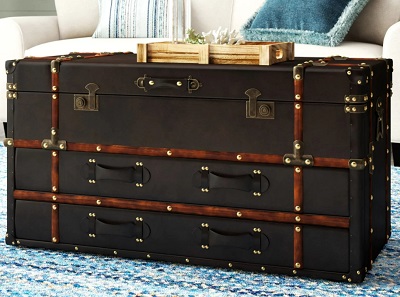 A larger (and more dramatic) piece with some interesting features. With its shallow top section and two drawers, it's probably not the best choice for storing bulkier items like duvets and pillows. But it could be a great solution for those of you that need easy access to things like sweaters, blankers or bedsheets. If you like the style but want something smaller (and/or less expensive), check out the Alcott Hill Ehlert Vintage Trunk for $215.99.
The Rug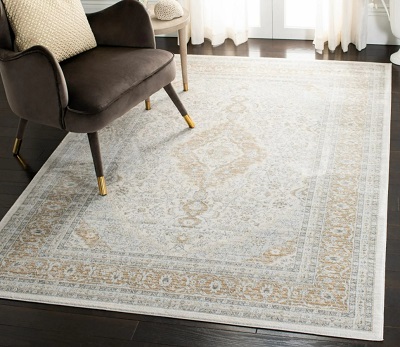 I'd recommend avoiding lighter colored rugs in the high traffic areas of your home. But they can work great in the bedroom where you're more likely to be walking around barefoot than in street shoes (see Bond's No Time To Die Jamaica bedroom as an example). Something like this area rug, with its combination of faded grey, gold and cream, blends well with a variety of colors and helps balance the darker wood tones of the furniture. I've linked to the 8′ by 10′ option above. But it comes in different sizes so you can choose the one that best suits your space.
The Accent Chair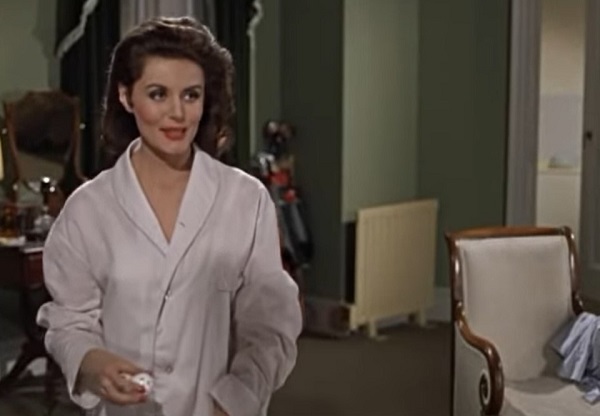 We didn't get a great look at Bond's bedroom in Dr. No. But I'm always happy for an excuse to share a photo of the original Bond girl, Sylvia Trench. And that classic armchair would also make a perfect addition to any Bond inspired bedroom. The simple, traditional design makes it a versatile piece, with a wood frame to match the other furniture and a softer, upholstered body to tie into the bedsheets and rug.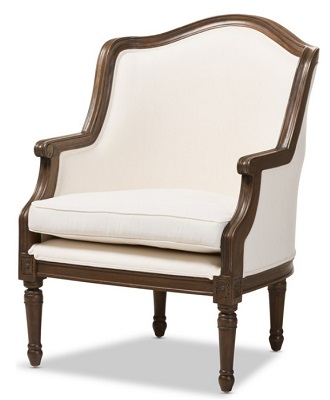 About as classic as they come. The wood frame includes some interesting details (like the scrolling on the arms and carving at the legs) that give it some extra character.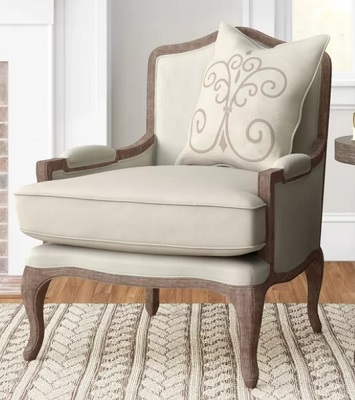 Looking for a little extra comfort? The thicker cushion might make you think twice about just throwing your clothes on it and actually using it for sitting.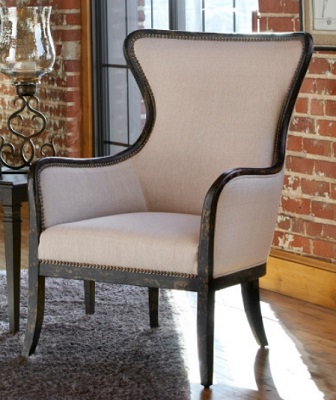 Expensive! But the higher wingback design, the weathered black finish of the exposed wood frame and brass nail accents give it tons of character. Definitely a more dramatic addition to your bedroom.
The Lighting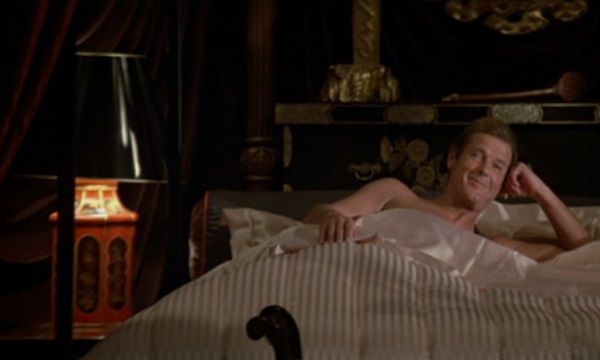 So far we've kept things pretty conservative with our Bond inspired bedroom design. But if there's one area where you can get a little more creative it's with the lighting. When it comes to their personal spaces, all the Bonds have shown an appreciation for bold lamp designs (seriously, Craig's Bond has about 30 different ones scattered about his Jamaica home alone!). So don't be afraid to play around a little and mix different styles!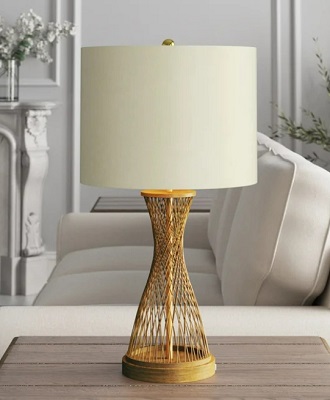 A design inspired by the rattan chairs we see on the deck of Bond's No Time To Die Jamaica home. Just to give you an idea of what we can come up with when we think outside the box a little.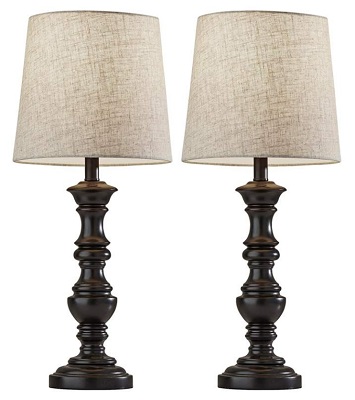 Another set inspired by Bond's Jamaica house. Although this classic lamp shape would have fit in perfectly with the more traditional interior design styles of either Connery's or Moore's Bond if those better match your personal taste.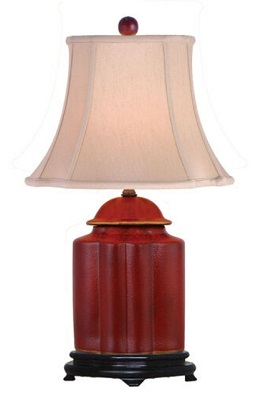 An Asian inspired style stolen from Max Zorin's interior designer. Just a reminder that we shouldn't take all this too seriously. If you want something with the same vibe at a lower price, check out this Red Porcelain Accent Lamp for $98.00.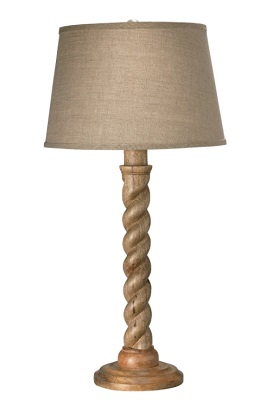 Craig's Bond has the floor lamp version of this design in the living room of his Jamaica house. But the table lamp version delivers the same rustic retro vibe to your bedroom.
Do you have any suggestions for what you'd include in your James Bond inspired bedroom? Or some feedback about the finds we've discussed here? Share away in the comments! For more Bond inspired interior design ideas, check out our articles on Bond's SPECTRE apartment and his No Time to Die Jamaica house. You can also visit our Facebook page, our NEW Instagram account and Pinterest Boards for more James Bond style advice and inspiration!