Spy Movie Style from Cruise, Brosnan, Clooney and Hardy
It's no secret we're big fans of James Bond's style around these parts. But it's always fun to look beyond the world of 007 at some other spy movie style for inspiration. So in this post we'll be exploring some key outfits from some our favorite secret agents and discuss how we can use those looks in our daily lives.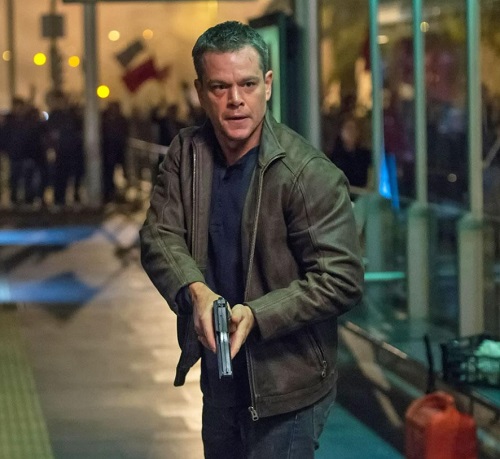 Update: Entries are now closed
To help us in our task, we turned to Thread.com to find all of the clothing we've used in this article. We recently wrote about Thread in our article on Where to Find Great Deals Online. To summarize: Thread offers designs from hundreds of different brands, making our search for the perfect shirt, sweater or pair of trousers significantly easier. And when you create an account on Thread, you'll be asked to complete a "Style Survery" to help them learn more about your personal style. They will then assign a stylist (yes, it's a real person) to your account to make clothing recommendations based on your survey results. All of this is free of charge. Plus they only email you when something they think will genuinely interest you comes up (in other words: no spam!).
Update: Entries for the giveaway are now closed. We'll be annoucing the winner of the draw for the $100 gift certificate on Saturday, July 2nd, 2022. Good luck, everyone! And now, on to some of our favorite examples of great spy movie style!
Tom Cruise in Knight and Day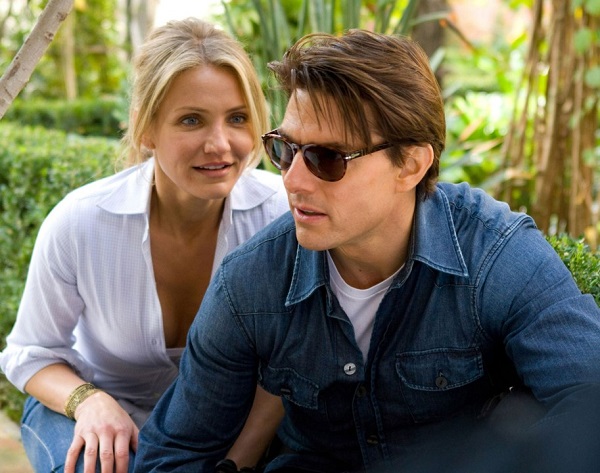 If I had to sum up 2010's Knight and Day in one word, it would probably be "goofy". The plot, such as it is, basically revolves around Cruise's rogue CIA agent Roy Miller/Matthew Knight trying to keep a McGuffin out of the hands of the bad guys. There's also a wedding, some classic car restoration and Cameron Diaz frequently being drugged and kidnapped. And lots of action.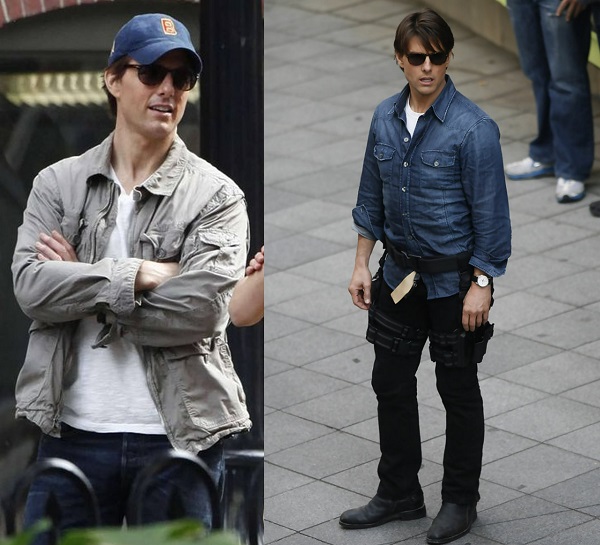 While the story's nothing to write home about, there's still a fair amount to enjoy about the film. Cruise was trying to do some career damage control at the time, so he turned his star-powered charm up to eleven as Roy. And some of the aforementioned action is quite inventive. Then there are the costumes by designer Arianne Phillips . Cruise's style in Knight and Day is pure Americana, a mix of Steve McQueen inspired Harrington jackets, jeans, denim western shirts and white tees.
The look below is mainly based on Cruise's indigo-denim-on-black-denim outfit from the film. I added two pieces to the look from another costume, that cool M-65 style shirt jacket and the ball cap, to add some versatility and mix things up a little.
The "Roy Miller" Look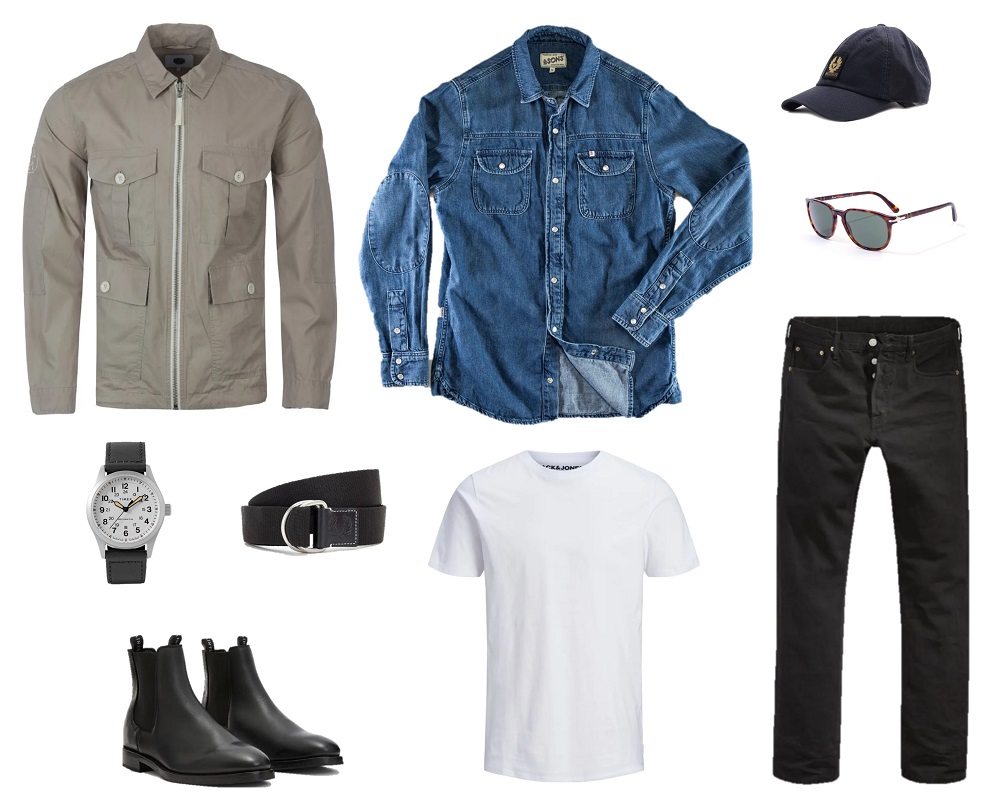 Options:
Notes:
For me, the denim shirt is the real standout piece here, a play on the classic western style but with buttons rather than the typical pearl snaps. I've gone with an elevated yet more traditional design for the alternative. However, if you have your heart set on getting a shirt closer to what Cruise wore, check out the Superdry Limited Edition Dry Denim Work Shirt for $101.00. I should also note that Cruise's footwear looks like some type of Engineer Boot, with a buckled leather strap running around the heel. But I decided that a simple classic Chelsea style would probably be more versatile for most of us.
The lightweight shirt jacket is another interesting piece. Modeled after an M-65 field jacket, it has a shorter cut and an extra pocket on the left sleeve. If you're looking for something a little longer, the &Sons Carver Jacket in Ecru ($201.00) or the Hartford Jamwood Cotton Jacket in Gray ($199.00) would also be good choices. And if you're okay with a darker shade of green, the Only & Sons M65 Jacket ($77.00) is also worth a look. Keeping with Roy's all-American aesthetic, the jeans are a pair of classic 501s in black. As for the ballcap, I sure as heck ain't gonna tell you what team to root for. So I went with an option from Belstaff.
Pierce Brosnan in The November Man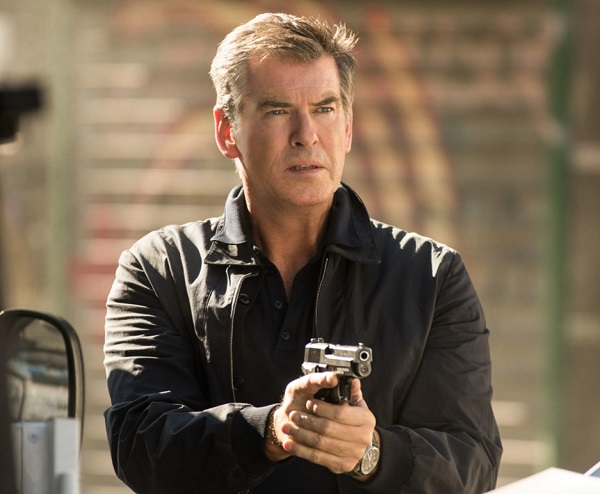 Twelve years after leaving Bond, Pierce Brosnan returned to the world of spies in 2014's The November Man. As Peter Devereaux, a retired CIA agent with a decidedly un-American accent, Brosnan traded in "suave and sophisticated" for a more gritty, world weary persona. And his minimalist, tone-on-tone style was designed to match his no-nonsense attitude.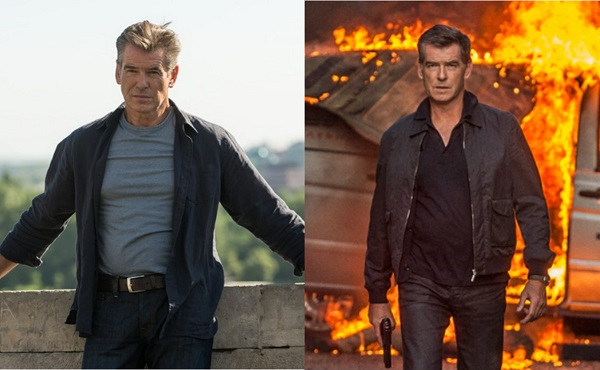 Bojana Nikitović, the film's costume designer, stayed with a darker color palette for Brosnan's casual looks. And while the brands may be luxury (Brunello Cucinelli and Brioni), most of the pieces are more utilitarian in both design and materials. Devereaux's outfits incorporate dark wash denim jeans, leather belts, tees, polos and that good ol' action movie staple, the bomber jacket. He also wears them in a pointedly careless fashion. Shirts are untucked and the fabrics left wrinkled. It's a style that gives the impression of man who's ready to spring into action at any moment, even when he's "relaxed".
Both James Bond Lifestyle and From Tailors With Love have great articles analyzing Brosnan's The November Man style in more depth. For our interpretation, I've gone with a selection of basic yet core pieces that any of us can easily incorporate into our wardrobes.
The "Peter Devereaux" Look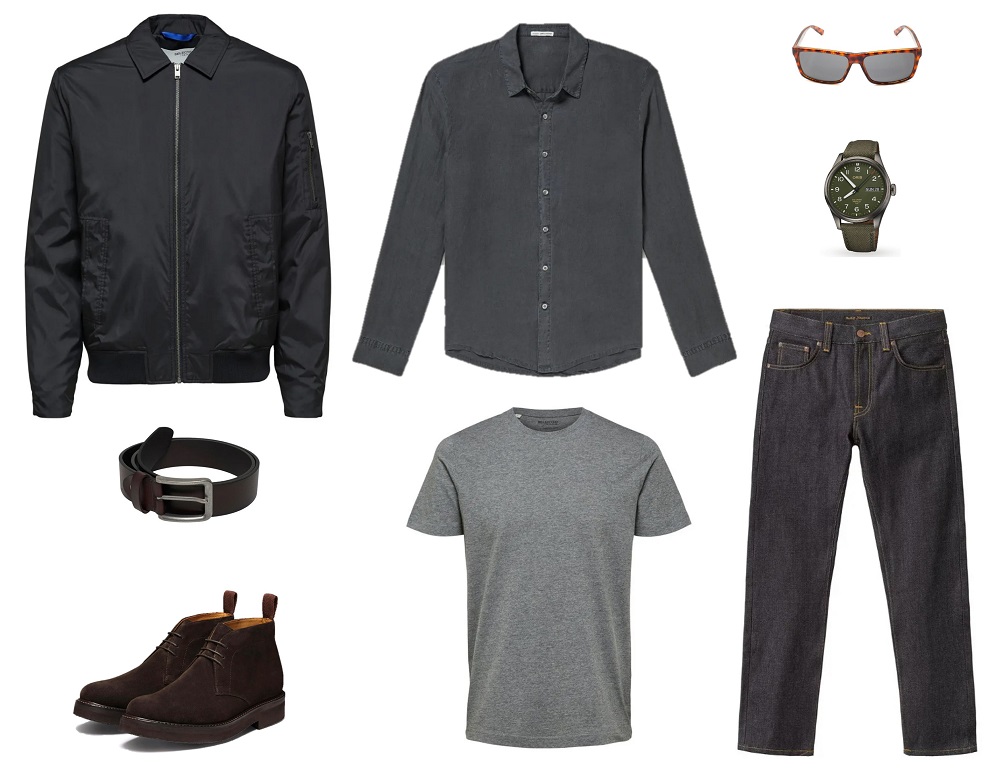 Options
Notes:
I think the old acronym "K.I.S.S." is well suited for Brosnan's The November Man style. The designs of the individual pieces aren't going to draw much attention. But this is exactly where it makes sense to invest in quality. Good linen shirts, jeans and chukkas can quickly become favorites and see a lot of use. So spending a little more to get the elevated versions that can handle that wear and tear is smart decision. There's also the strategy behind how we wear them. I'm particularly drawn to the way Brosnan leaves his dark linen shirt unbuttoned and untucked, but tucks in the grey tee to show off the belt. It's a simple move. But it adds some depth to the layering.
I also want to mention the watch. As James Bond Lifestyle notes, Brosnan uses a relatively low-end Lorus RF847CX9 chronograph on a dark green woven strap. Just for fun, I chose to go with the more upscale timepiece from Oris. You're probably saving a few thousand bucks going with our bomber alternative rather than the screen-used Brioni. So you can always take that extra cash and spend it on the watch.
George Clooney in The American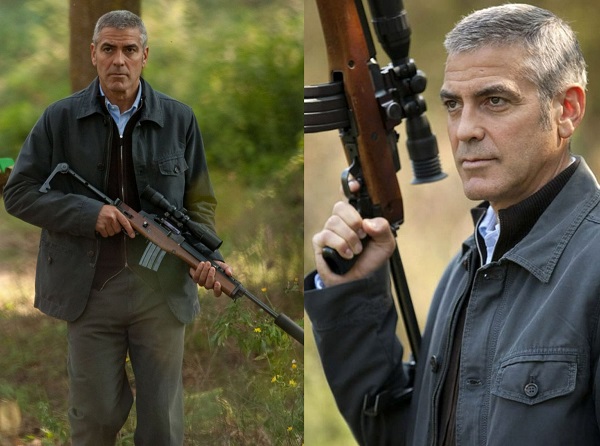 You want a great example of sophisticated casual style that works for gentlemen with some grey at the temples? Check out George Clooney in the 2010 film The American. For his role as contract killer Jack, the actor shelved his typical self-deprecating humor and dialed up the intensity. And he had a wardrobe to match. The mix of practical yet well-cut pieces in muted shades of blue, grey and brown allowed him to blend in with the locals of the small Italian town of Castel del Monte and still look sharp.
Clooney's costumes were designed by Suttirat Anne Larlarb, who was also in charge of clothing Daniel Craig in No Time To Die. And in The American we can see clearly see her talent for mixing high and low pieces to create outfits that are both rugged and elegant. For this post, I've gone with the Zegna jacket look from the rifle-testing scene in the forest. For more information on Clooney's style in the film, you definitely need to check out this in-depth article from our friend BAMF Style.
The "Jack/Edward" Look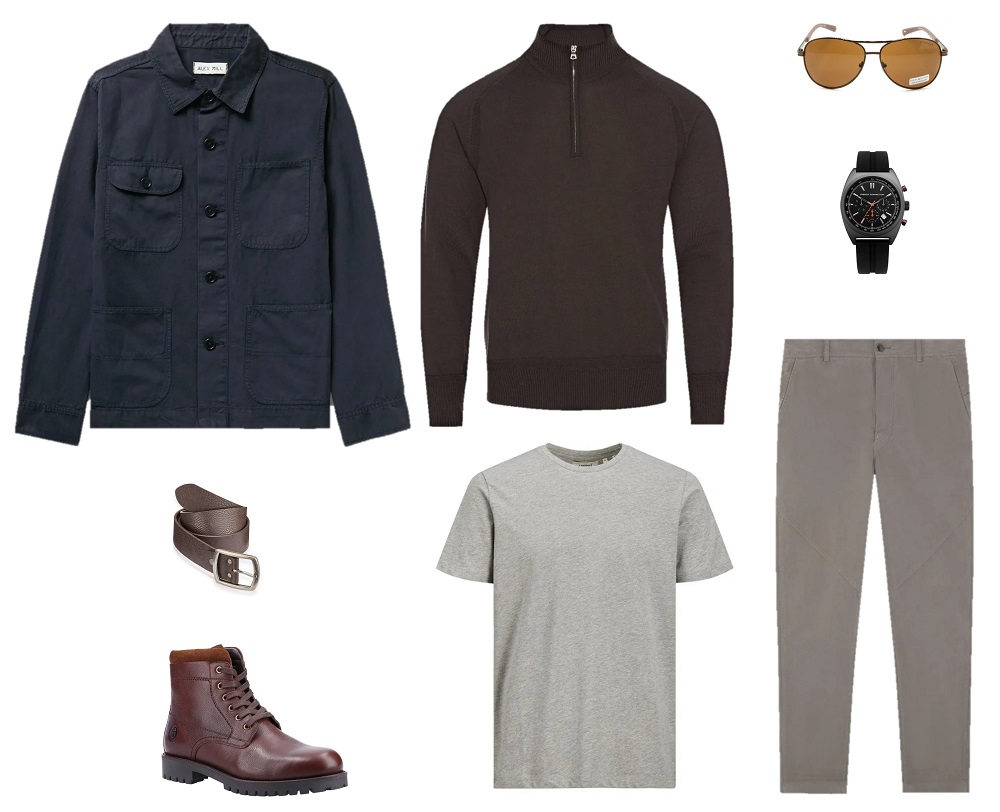 The Options
Notes:
The real star of the show is obviously Clooney's jacket. The style has a clear workwear vibe. But one that's been filtered through the eyes of a heritage Italian design house. So the construction is softer and the fit more tailored while still being loose enough to provide freedom of movement. The rest of the outfit is relatively straight forward. Nothing too fancy. Just a collection of well made pieces that add visual interest through textures and layering. I decided to forgo the button down shirt for this look (honestly I thought it made things look a little too business casual). However, if you think the outfit needs one, the Polo Oxford Slim Fit Shirt in Light Blue ($109.00) will do the trick.
Tom Hardy in Tinker Tailor Soldier Spy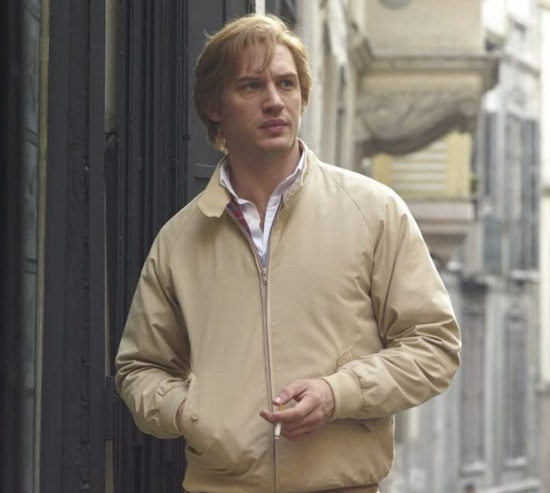 One quick look at Tom Hardy's Ricki Tarr tells you everything you need to know about the inspiration for his character's style. The Baracuta G9, white OCBD, light colored V-neck sweater and suede chukka boots are about as King of Cool as you can get. And costume designer Jacqueline Durran has made no secret of it. But she gave the look a British mod twist with the addition of the plaid, frogmouth pocket trousers. While some may feel plaid trousers are a bit of an ask, the pattern on Hardy's pair is pretty subdued. And, out here in the real world, some darker tan chinos will also work just fine.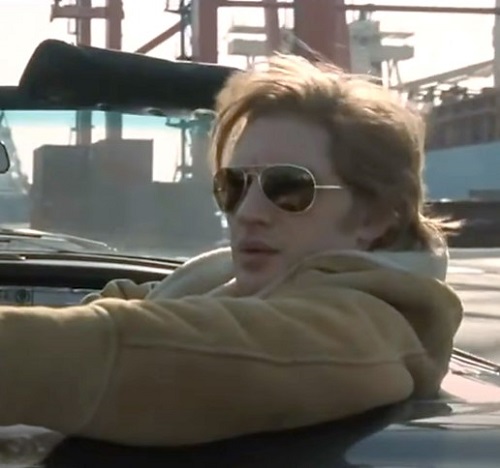 For our interpretation of Ricki's style, I've tried to stay as close to screen accurate as possible. But I've added some gold framed aviators like the ones we see him wearing while out for a drive with Irina in her Mercedes. And a woven leather belt similar to what he wore with his sheepskin jacket outfit. If you're interested in the details of Hardy's Tinker Tailor Soldier Spy style, check out this article at BAMF Style.
The "Ricki Tarr" Look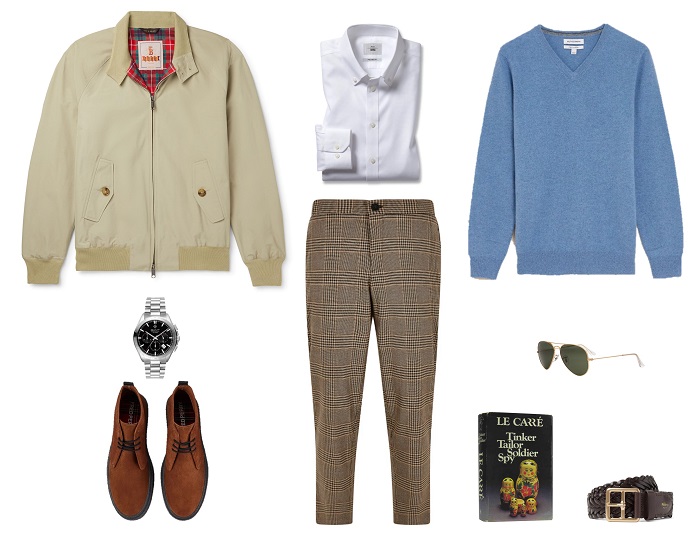 The Options
Notes:
Don't mess with the originals! There are plenty of Harrington style jackets out there (we explored some lowered priced options in this post on McQueen's style). But for Hardy we stuck with the Baracuta. I also tried to stay true to Ricki's British roots for the rest of the look (although the character was actually French-Australian in John le Carré's novel). So we've got classic UK brands like Marks & Spencer, Moss Bros. (established in London in 1851), Fred Perry and Mulberry.
As I mentioned above, plaid trousers might be a bridge too far for some of us. If you find yourself in that camp, feel free to substitute some plain chinos in a darker tan color. The Selected Homme Organic Cotton Slim Fit Trousers ($79.00/£55.00) will do the trick.
Have some ideas for what spy movie style we should tackle next? Or other suggestions for alternative we can use in the looks above? Let us know about them in the comments! I'd also like to thank Thread for their generous contribution to this post. Remember to follow the link at the start of this post to create your account for a chance to win the $100 gift certificate! And you can always find more style inspiration on Iconic Alternatives' Facebook Page, our NEW Instagram Account and Pinterest Boards!