Best Budget Style Finds July 1st
Welcome to our Best Budget Style Finds for July 1st! This is where we share some of the great alternatives for Bond (or Craig or McQueen) style that either slipped through the cracks when I was writing the original dedicated posts or deserve a special mention. Sometimes the posts will be short. Sometimes there will be a ton of new options. A lot will depend on what we, as a community, find and share. So if you have any suggestions, let us know in the comments. On to the alternatives!
A Few Bond Style Summer Shirts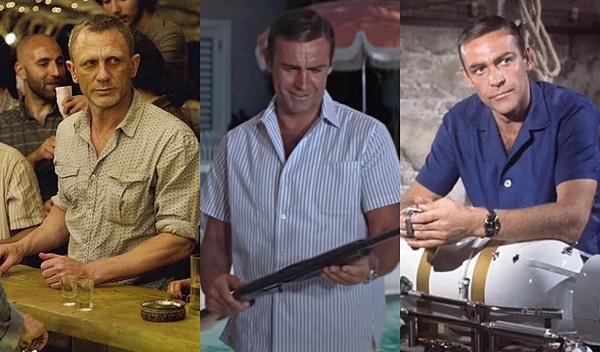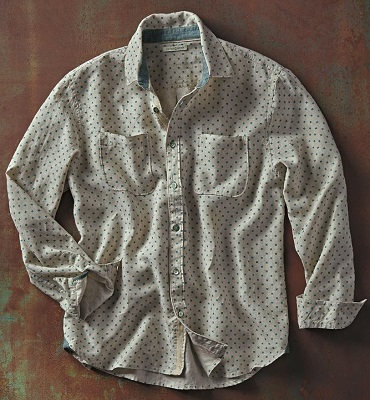 Is it a perfect match for Bond's Enjoying Death shirt from Skyfall? No. But it's the closest non-replica I've come across in a long while. And the 100% linen fabric should help keep you cool on a hot night at your local beach bar. Sizes medium to XXL are in stock.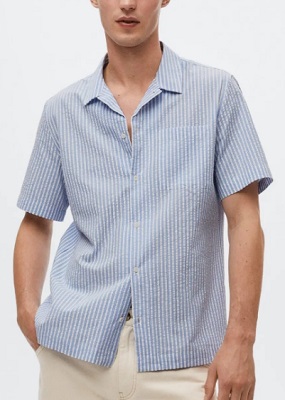 Recently featured in our post on Bond Summer Shirts. And now it's on sale. I'll note that the pattern is actually a modified track stripe rather than a solid candy stripe like the original. But it's barely noticeable unless you stare right at it. Otherwise it does a great job capturing the look of the original. Mango has sizes small to XL available on their U.S. website. Over on the UK site, their down to large and XL.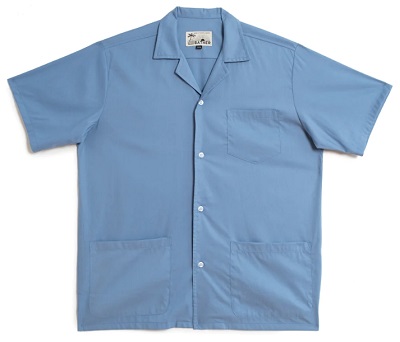 The hardest part of finding an alternative for Bond's solid royal blue camp collar shirt from Thunderball are the two hip pockets. Although this made-in-Canada option from Bather is a lighter blue, it comes close to the design of the original. Let's call it a good "inspired by" choice. Sizes XS to XL are in stock.
And a Few Jackets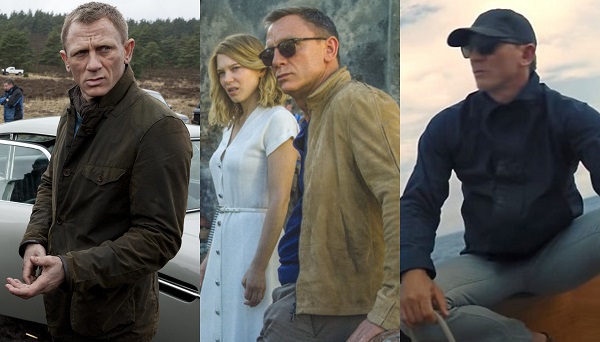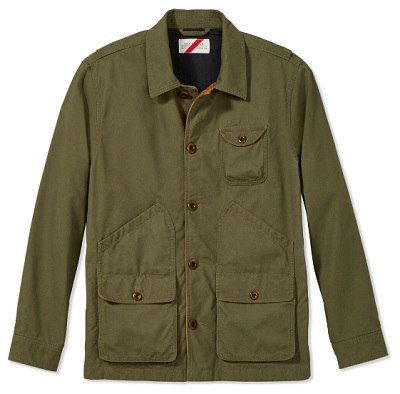 With summer weather heating things up here in the Northern Hemisphere, most of us probably aren't thinking about heavy waxed cotton jackets. But I still like to share good alternatives for the Skyfall Barbour when I stumble across one. This option from Best Made Co. uses a 9.9oz cotton canvas from Spain that's been treated to give a similar finish to a traditional waxed cotton. The fit is also a little trimmer than your typical barn coat. All that, combined with flapped, button through pocket design, make it worth a look if you find the fit of the Beacon Sport Jacket just doesn't work for your body type.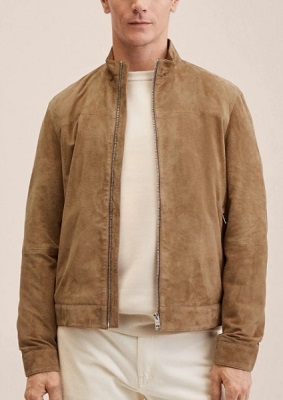 The suede is a darker shade of tan that what we saw Bond wearing in SPECTRE. But the clean and simple design has the style we want. The U.S. Mango site has sizes large to XXL available. In the UK, they're down to XL and XXL.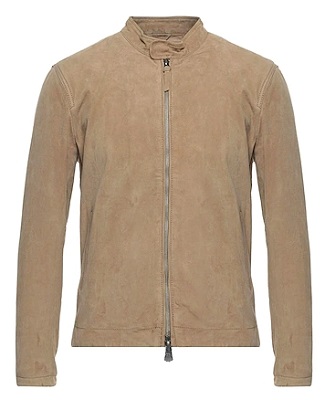 A great minimalist design. A nearly spot-on color match. And a huge discount off the original $691.00 price tag. Lots to like about this alternative! To see more head over to YOOX, where they have sizes medium, large, XXL and 3XL in stock.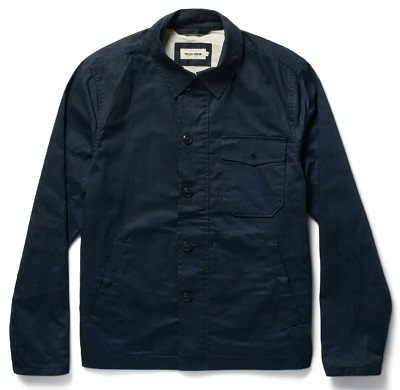 I have no doubt that many of you that wanted Bond's No Time To Die Barbour jacket took advantage of that ridiculous sale on the Covert at the end of May. But just in case you missed it (or there's something about the Covert you don't like), I offer another option from Taylor Stitch. The Watts has more of a workwear vibe than the Barbour. But the dark navy, dry waxed 7oz cotton fabric and wider, button closure storm flap give it the good looks of a classic A-2 deck jacket. Which certainly fits the nautical theme we're going for. They have sizes medium to XL available on their website.
Some Daniel Craig Favorites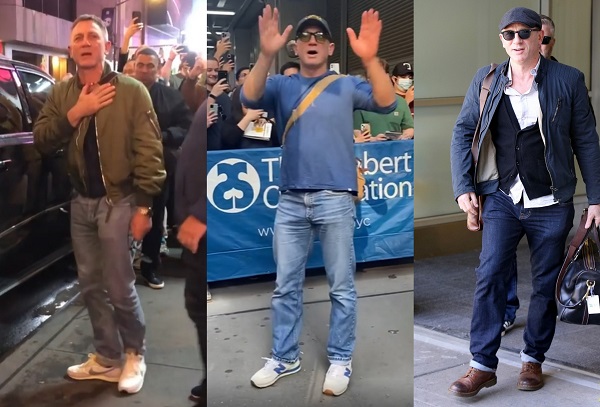 Over the last few months, the great Instagram account @whatsdanielwearing has been chronically the daily fashion show Daniel Craig's been putting on as he exits the Longacre Theatre in New York. And @legallybond (another awesome account to follow!) certainly hasn't missed the sneaker inspo on display. He's picked up some Craig style Nikes and New Balances to add to his collection. And you can do the same!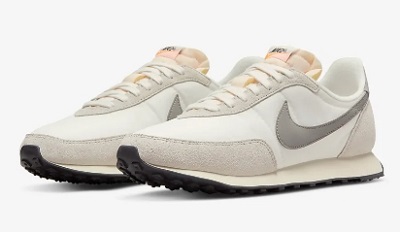 In his IG post, LegallyBond mentions that the Trainer 2 SE colorway that Craig wears is no longer available. But I think these ones come pretty darn close! Nike has sizes 4 to 15 available on their website at that sale price.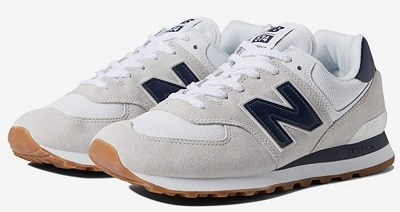 LegallyBond once again notes in his IG post that Craig's white and royale blue colorway is no longer available. So I'm going to take his suggestion for the alternative and share the White with Navy option. I've linked to Zappos above, where they have sizes 8 to 14 in stock. But you can also find them for the same price at Dick's Sporting Goods or Footlocker. You could also order directly from New Balance, but sizes are running low there.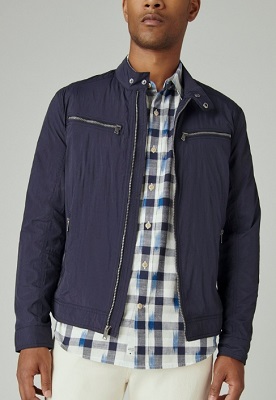 Not sneakers. But Craig's Belstaff K Racer Jacket is an old favorite. Lucky Brand's Bonneville series has always been a good alternative. Finding it priced below sixty bucks makes it even better. They have sizes small to 2XL available.
A Unique Timepiece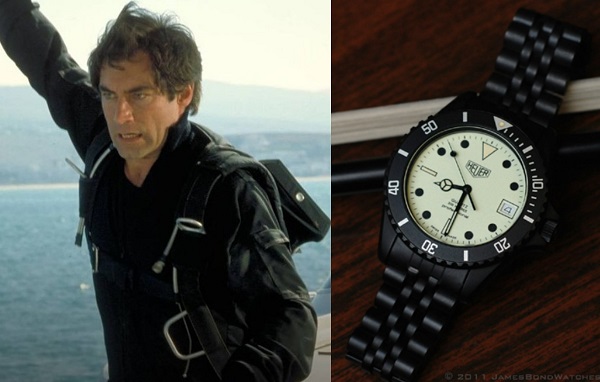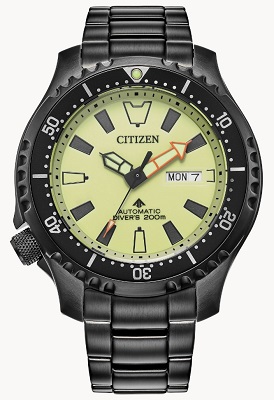 The Heuer Night-Diver that Timothy Dalton's Bond wore at the start of The Living Daylights doesn't get nearly as much attention as 007's Rolexes and Omegas. Which is a real shame because it was a very cool looking watch. It's also darn difficult to find a suitable alternative in that black case/yellow tinted dial colorway. Of course you could always pick up the TAG Heuer re-issue for $2800. Or, if you're on a tighter budget and still want a quality watch, you can check out this option from Citizen. At 44mm, it's definitely on the large size. But the specs say it will deliver both the performance and the looks we want. The link above goes to Macy's, where the watch is on sale for about $195 off the MSRP. For more information on Dalton's Heuer, head over to James Bond Lifestyle.
Our Friends Have a Few Things in the Pipeline!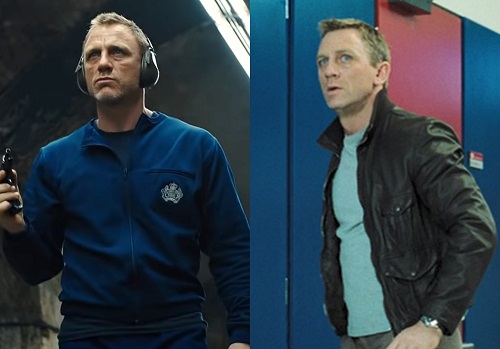 Full, honest, disclaimer: I seriously have no special insider information about these upcoming projects. These are just a few things I've caught word of on the fan forums and Instagram. And since they're being made by friends and serious fans of Bond style, I though they were worth a share!
I know a LOT of fans are excited to see this one launch! SIS Training Gear is well known in the Bond community for both their 007 inspired workout gear and their amazing Bond themed tees. And now they're tackling a screen accurate reproduction of Craig Bond's "new digs" track jacket and pants from Skyfall. You can read more about the project on this thread on the AJB007 forum. Considering how much attention to detail is being given to the designs, I have no doubt they'll be winners when they're ready to go!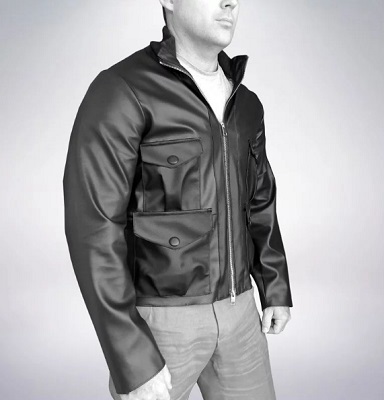 You kow we're fans of Daniel Love's great work at ROYALE Filmwear. So when the man himself posts a photo on Instagram of what looks to be a prototype for the Casino Royale Armani leather jacket (captioned only with word "ELLIPSIS"), we sit up and take notice. How much will it cost? It seems somewhere around $499. When is it coming? Fingers crossed some time later this year. Whenever it arrives, I'm certainly excited to see the final version!
And while you're over on the ROYALE Filmwear site, check out one of his other works-in-progress: the SPECTRE Puppy Tooth Trousers! Like the Armani leather jacket, it's very difficult to find an alternative for those London finale trousers from Neil Barrett. So it's great news that Daniel's taking a run at those as well!
Know of any alternatives we should feature in our next Best Budget Style Finds post? Or do you have another option for this post? Tell us about it in the comments! If you'd like to see our previous Best Budget Style Finds posts, you just need to click here. And you can always visit our Facebook page, our NEW Instagram account and Pinterest Boards for more Bond, Craig and McQueen style advice and inspiration.
Photos of Daniel Craig and Timothy Dalton used in the Featured Image were sourced from Thunderballs.org.