All Hail the Classic White T Shirt!
When it comes to summer men's fashion, I think most of us can agree that the last couple of seasons have been all about the knit short sleeve shirt. Whether it was a polo or a button front, it seemed to be everywhere, its dramatic colors and bold patterns a clear callback to the retro casual style of Mad Men and The Talented Mr. Ripley. Then on June 23rd of this year, something interesting happened: The Bear premiered on FX on Hulu. And we all suddenly remembered how awesome a classic white t-shirt can be.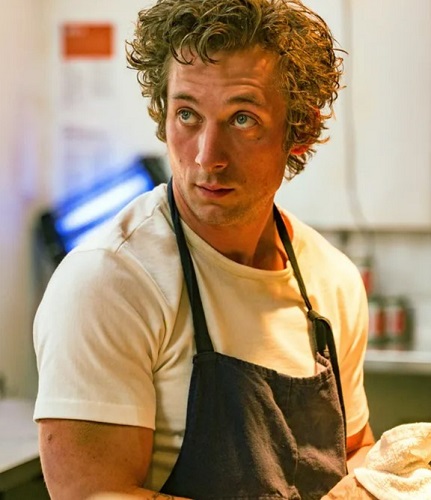 If you haven't seen The Bear, the plot is pretty simple. Jeremy Allen White stars as Carmen "Carmy" Berzatto, a young chef and rapidly rising star in the world of fine dining who returns to his home in Chicago to take over the Italian sandwich shop left to him by his late brother. And while FX and Hulu may want to categorize the show as a "comedy", the only word I can use to describe it is "intense". I highly recommend it.
Aside from his culinary talents, Carmy also knows how to pick out a great white t-shirt (although his knowledge of vintage denim is a little sketchy: Type IIIs were launched in 1962 and were never pleated #IFYKYK). As this article in The Strategist shares, The Bear's costume designers Christina Spiridakis and Courtney Wheeler chose tees from Merz b. Schwanen and Whiteville for the character, two brands that carry a lot of weight with fans of heritage workwear.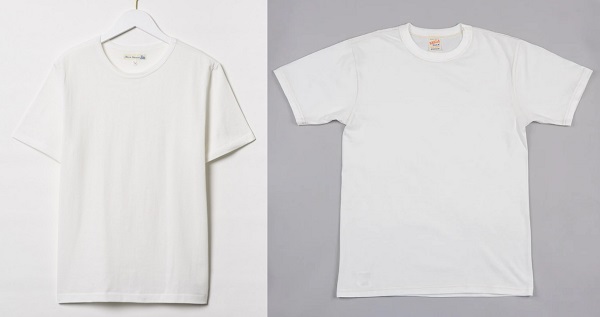 The Power of a Great White T-Shirt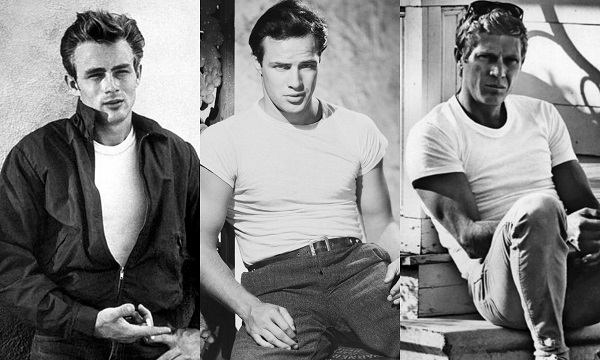 Of course, the plain white t-shirt has been a staple of men's style for decades (as you can see above on some of our favorite icons). It's also about as All American as faded denim and leather jackets. So it's really no surprise that a character like Carmy would use one as a core piece in his wardrobe. What is interesting is the ones he chooses.
Much like the way Carmy brings the techniques of haute cuisine to the dilapidated kitchen of a blue collar sandwich shop, his t-shirts are an elevated version of the basic t-shirt. Both Merz b. Schwanen and Whitesville use a premium long staple cotton fabric and loopedwheel construction, a manufacturing process used in the good old days before modern mass production took over that eliminates the need for side seams. There are also small details to look for: the design of the collars and the stitching around the cuffs and hem. And, perhaps most importantly, there's the fit. Obviously we're all built differently. So what works for Carmy (or James Dean or Steve McQueen) won't work for everyone. But there are some key things to look for when trying to find a great fitting tee.
How to get a great fitting t-shirt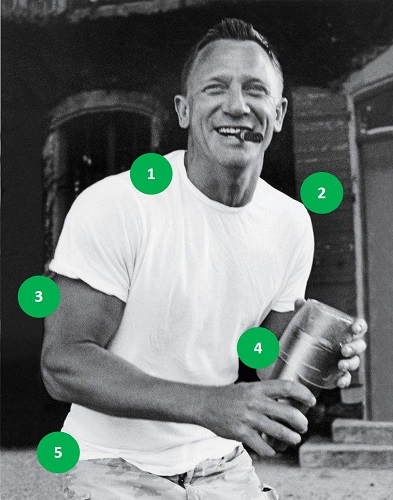 With a crew neck tee, you want the collar line to sit at the divet at the base of the throat in the front and where your shoulders meet your neck at the sides. Pay attention to the collar band construction. You want it to be a heavy enough to stand up to being pulled over your head multiple times without stretching. But not so stiff it feels like it's strangling you when you're wearing it.
The sleeve seams should line up with the tops of your shoulders.
The sleeve should end around the middle of the upper arm.
You want the fabric to skim the skin through the body. A slightly tighter fit across the chest is okay, especially if you've been working out and want to show off your progress. But keep the fit a little looser from the chest down to the hem.
You want the hem to end around the middle of your pant fly. And if the t-shirt is fitting you great everywhere else, but is just too long, you can get it hemmed to the right length. It's actually a pretty easy and cheap procedure. Just make sure to wash the tee first to account for any shrinking!
Alright, let's get to our alternatives!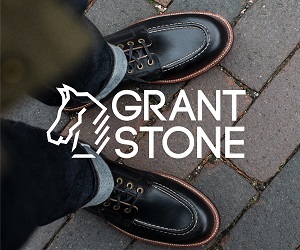 Best Option for the Classic White T-Shirt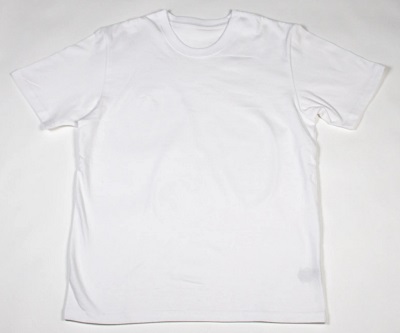 A heavier 7.5oz combed cotton jersey fabric means this one can handle a lot of wear and tear. Made by Roopa Mills in Mississauga, Ontario, it has a classic fit that should work for most body types and some great details that add to the heritage workwear vibe. Plus the price is pretty reasonable for the product they're delivering. Heddels Shop has sizes small to XL in stock, but size medium is currently sold out.
Under $20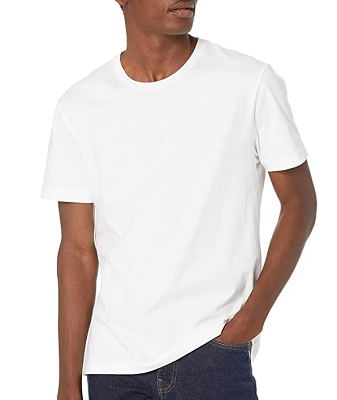 In my experience, Amazon's in-house Goodthreads brand can be very hit and miss. But I've been pleasantly surprised with their tees. The 100% cotton fabric is soft and heavier than you'd expect. And although the construction doesn't feature any fancy details, I've had a couple for a few years now and they've held up just fine. Plus the cut is pretty spot on for my body type. You can find sizes XS to XXL in Regular and Tall fits on Amazon.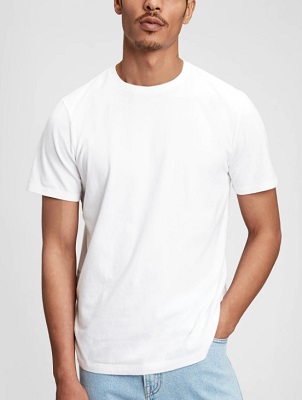 GAP has had its fair share of ups and downs over the years. But it's still a solid choice when you want to stock up on basics on a budget. And while there's nothing particularly fancy about the tee, it's made with a soft medium weight cotton jersey and has a relaxed but not-too-baggy fit. We could do a lot worse for fifteen bucks. Sizes XS to XXXL in Regular and Tall fits are available on the GAP website.
Under $50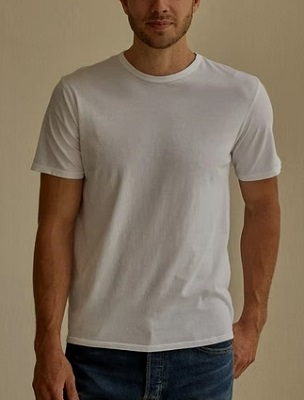 Made in LA from a soft, 100% USA-grown Sumpima Cotton, this option is about as All American as you can get. The cut is based on vintage tees from the 1960s and 70s. So expect the fit to be a little trimmer through the body with a slightly long sleeve length. Some of the customer comments mention they've used a lighter weight fabric, which should make this one a good choice for those hotter summer days.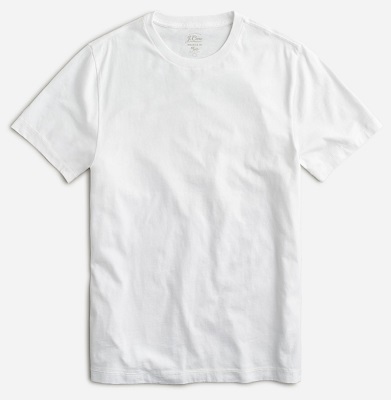 I've always found J.Crew's tees to be way overpriced at full retail for what they are. But when you can catch one of their frequent discount codes, they definitely start to become worthy of consideration. One thing J.Crew does nail is the fit: not too skinny, not too baggy, great length in the sleeves and body and a collar that's big enough to squeeze your head through but doesn't sag around your neck. Plus it comes in sizes XS to XXL and they have Classic, Slim and Tall cuts.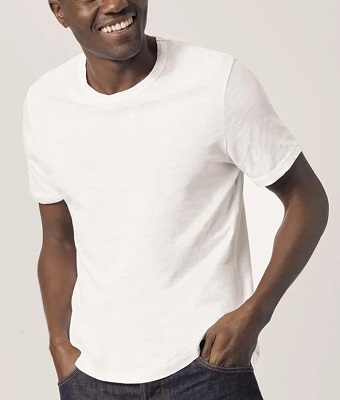 Buck Mason is all about that SoCal Americana style. So it's no surprise their tees deliver many of the features a discerning fan of heritage menswear would love. Cut and sewn in LA with a 100% USA-grown cotton fabric, it's been twice laundered and pre-shrunk for a soft, broken-in feel right from the start. It also has a curved hem and a self-fabric collar which helps dress it up a bit. I have a couple of Buck Mason tees and find the fit to be true to size but very relaxed. Sizes XS to XXL are available on their website in Short, Standard and Tall cuts. And to learn more about Buck Mason and their design philosophy, check out this article.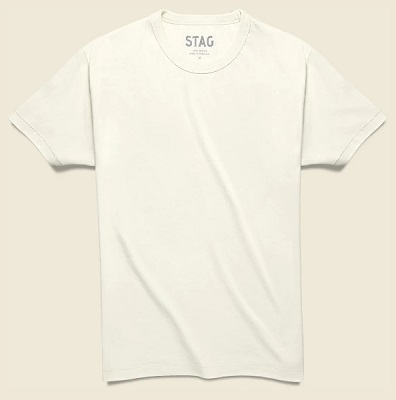 A clean and simple option that gets everything just right. Made in Portugal from a slightly heavier weight 100% cotton fabric, it has a classic fit that's relaxed without being baggy and features great details like a mounted collar construction, single stitch cuffs and a blind-stitch hem. You'll find sizes small to XL on the Stag website.
Under $100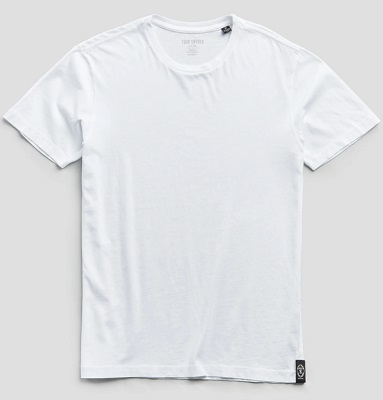 New York designer Todd Snyder doing what he does best, offering a clean and simple basic that nails the fabric, fit and details. They make the shirt in LA with long staple cotton fabric. And the thinner ribbed collar gives it a slightly more refined look. They have sizes XS to XXL in stock on their website.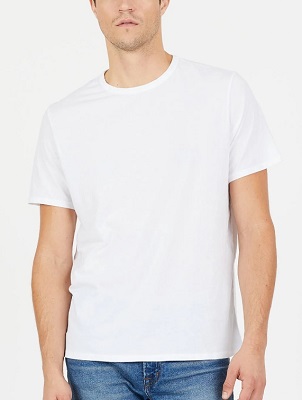 This is the shirt Chris Evans wore for the Berlin premiere of The Gray Man. So interest in the brand has definitely taken off over the last month. Luckily Cotton Citizen delivers a pretty darn good tee. Made in Los Angeles with a 100% Supima cotton fabric, the main features are the unique side-seam construction and lower profile self fabric collar. Sizes medium to XL are in stock on their website.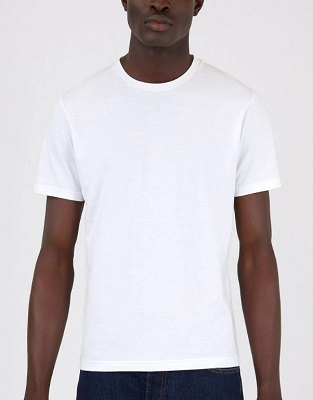 Of course we have to include a Bond brand on our list. Most of us know Sunspel for their now iconic Riviera Polo Shirt that Daniel Craig's 007 wore in Casino Royale. But the heritage British brand also made his grey t-shirts, which have also become fan favorites over the years. The narrower collar band with its blind-stitch finish gives this one a dressier look. But if you want something a slightly more rugged vibe, check out the Sunspel Classic T-Shirt, which is made in their factory in Long Eaton, England.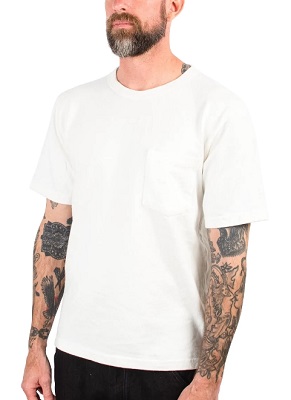 Expensive! But about as authentic as it gets. Founded in Cincinnatti, Ohio in 1932, Velva Sheen almost went out of business before being bought by Japanese company Topwin. Luckily, Topwin devoted itself to staying true to the brand's heritage and now makes their shirts in Los Angeles using the traditional "tubular-knit" construction method. Even the packaging has a great 1950s retro feel. If you want to buy a t-shirt like the one your dad or grandad wore, this is the brand to go for.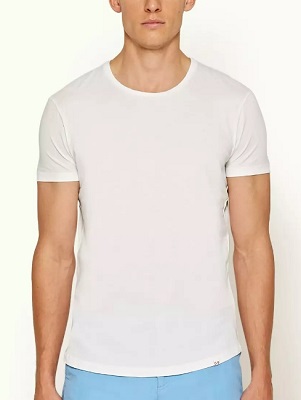 Another Bond brand and a personal favorite of Mr. Daniel Craig himself. The actor wore both the grey and white versions in No Time To Die. And like the Sunspel option above, the smoother 100% cotton fabric and thinner, blind-stitched collar give it a more refined look while the curved hem make it easy to wear untucked. They currently have sizes XS to XXXL in stock on their website.
The Investment Piece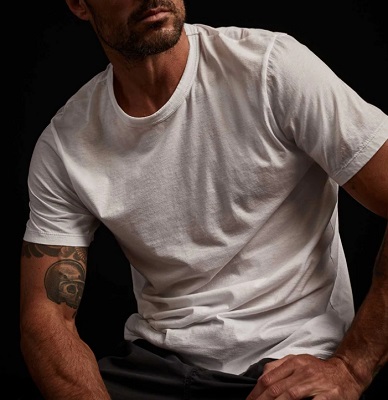 Honestly, I have no idea why this one is so expensive. The 100% cotton fabric, with its "smooth texture that mimics an ultra soft, matte satin like hand feel", sounds interesting. And it's made in Japan, which adds some cachet. But that's still a hefty price tag. Having said that, I know more than few people that are huge fans of James Perse tees. And that definitely counts for something around here. If you want to try something a little more affordable from the brand, take a look at their standard Short Sleeve Crew Neck Tee for $80.00. That one's made in the USA.
Know of a great classic white t-shirt that we missed? Let us know about it in the comments! And remember you can always find more Bond and McQueen inspiration on our Facebook page, our NEW Instagram account and on Pinterest!