Authenticity and Personal Style: An Interview with Buck Mason
At Iconic Alternatives, it's no secret who inspires our take on men's style. We're constantly referencing classic icons like James Bond, Steve McQueen, Robert Redford and Paul Newman as touchstones. But where do we draw the line between "inspiration" and "imitation"? It's one thing to wear exactly the same outfits that our style heroes wore in our favorite films. And the truth is that's often the easiest route for many of us to go. But if that's the path we choose to follow, do our clothes truly represent who we are as individuals? Or are we sacrificing an opportunity to inject some authenticity into our personal style in our efforts to replicate the looks we know and love?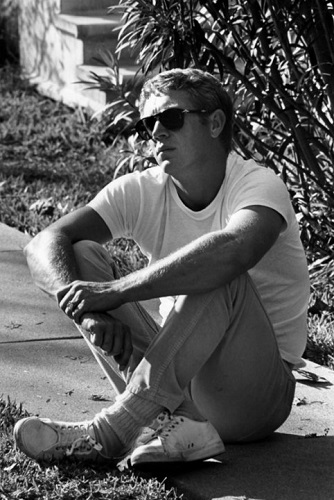 About Buck Mason
To learn more about how we can find the right balance between style icon inspiration and authentic personal style, we spoke with the team at Buck Mason. Although the brand is relatively young (it was started in 2013), founders Sasha Koehn and Erik Allen quickly mastered the art of adding innovative twists to classic clothing designs rooted in Southern California Americana. The fact that Buck Mason has grown from a garage-based startup in Los Angeles to a retail operation with over twenty stores throughout the U.S. in less than ten years is testimony to the broad appeal of their "heritage meets contemporary" collections.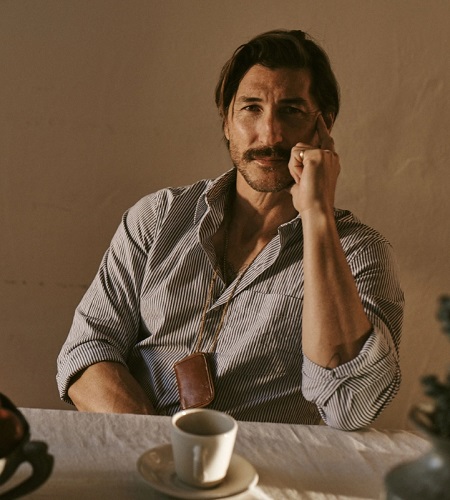 Alex Goldberg, the Head of Merchandising for Buck Mason, shared some of the thinking behind the brand's design process. Alex joined Buck Mason in 2020, bringing with him over a decade of experience, including roles at J.Crew and Best Made Company. Having worked with some of the best of the best in industry, he has some simple yet powerful insights that can help us take our own style to the next level while staying true to who we are.
Our talk with Alex of Buck Mason
Where does Buck Mason find the inspiration for your designs?
At its core, Buck Mason is rooted in the California lifestyle. That means we're always searching for the balance between the relaxed and the refined in our designs. There has to be an ease to wearing the pieces, a feeling of comfort. But there also needs to be an elevated and more sophisticated aspect.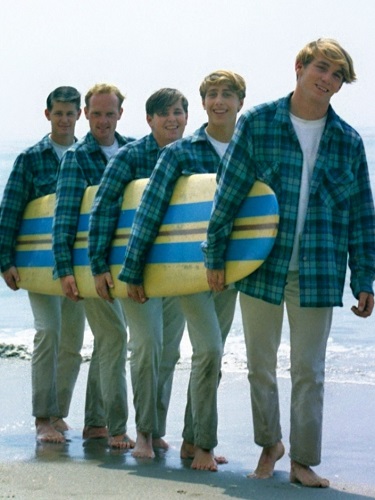 One of the interesting things about finding inspiration in that casual California lifestyle is that there are so many areas to choose from: the beach, skate and street culture, workwear, the outdoor lifestyle. And of course it's been home to some of the all time great style icons.
Exactly. It really does encapsulate all these different facets of Americana. And the idea of what California represents adds a layer of romanticism to it. Historically, this is where people came when they wanted to escape the old, rigid social rules they found on the east coast.  So there's an attitude of adventure and independence built into the culture. It gives us a lot to work with as designers.
When you're designing a collection for a season, how do you manage all those different sources of inspiration?
We try and start with a specific era or location. It could the 1960s surf scene or maybe the sportswear from the Golden Age of Hollywood. And we also look at the people who were the most prominent creatives from that time and place, the ones who were really influencing the culture. That's what gives us a frame of reference for what we want to create.
From there it really comes down to curating the key pieces from the era and looking at ways we can improve them or adapt them to the way men dress today. By staying focused on the best of the best from that time and place, we can usually plan tight, cohesive collections that tell an interesting story.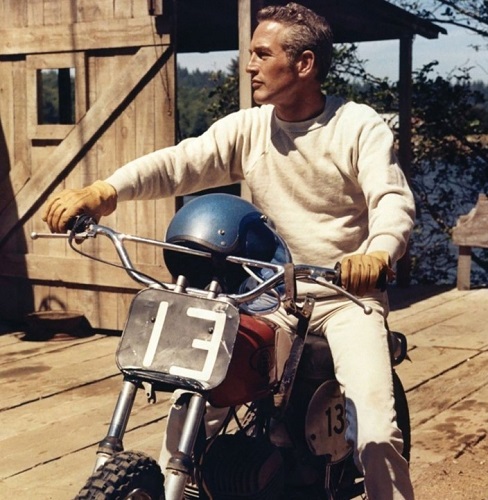 What does that curation process look like? Because I think if we can learn something about your strategy for putting together a collection that may help us adapt it to developing our own personal styles.
When we're choosing those pieces to use as inspiration, probably one of the first things we consider is how it fits into Buck Mason's overall design philosophy. It needs feel right for us and for our customers. And we also think carefully about the versatility of the piece. Is this something we can easily wear with the other pieces in our wardrobe? Does it serve a purpose or fill a gap in the way we want to dress?
Because we're always asking those questions, we tend to avoid anything that might considered too "fashion". We definitely want our pieces to have a specific look and feel. But they also need to be approachable and have a range of uses.
"Approachable" and "versatile" seem to be the key words that a lot of guys will gravitate towards when it comes to their personal style. But I don't find any of your pieces to be generic. You always seem to add something to the designs that, to use your word, elevates the piece and makes it a little special.
We try to approach every shirt, jacket or pair of pants that we make so it can be the "hero" piece in any look. For example, Buck Mason doesn't have dozens of different pant styles. We really stay focused on just a handful of specific designs. So each of those has to be the very best we can deliver. That means we're obsessed with the fit of the clothing, the fabric choices, and the quality of the construction. That's our approach even for something that seems simple like a t-shirt or Henley. I think it's that attention to detail that sets our clothing apart.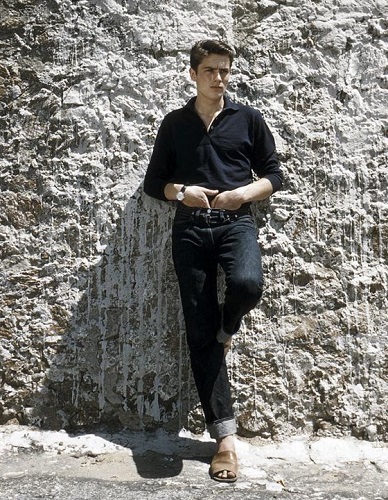 "Attention to detail" is also a great way to describe how someone can elevate their personal style.
Absolutely. But those details have to be rooted in authenticity for it to work. At Buck Mason, we know where our inspiration comes from and staying true to that California approach to Americana is the defining principal of what we do. A person's individual style also has to be true to who they are. If you're missing that, then you're never going to feel at home in your clothing.
So when we talk about concepts like "comfort", "easy to wear" and "approachable" we're not only talking about the softness of the fabrics or how a piece fits your body. Those are important elements to consider. But those concepts also need to refer to your attitude when you're wearing the clothing. Do you feel confident? Is it easy to add some personal touches that express your individuality? Does a specific piece fit with your lifestyle?
Sometimes it feels like we forget to ask ourselves those questions when we're choosing clothing. Maybe we feel it's easier to just copy someone else's look instead of using it as inspiration and then making it our own?  
Most people don't really want to radically change their style. They just want to look better in the clothing they're already comfortable wearing. It's more about upgrading and refining what's already there. So I'd suggest keeping it simple and investing your time in choosing elevated versions of the pieces you like: jeans, chore jackets, chinos, polos, flannel shirts, whatever it may be. Focus on the fits and the fabrics. Check out the quality of the construction and look for the unique details. I think that's the easiest way to improve your style while staying authentic and true to who you are.
5 Key Pieces from Buck Mason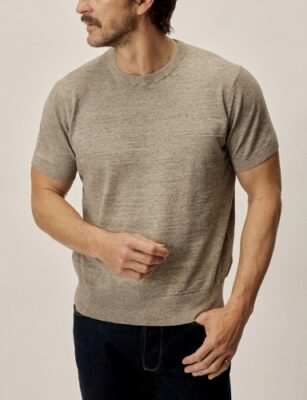 This is how you elevate a basic. Grey t-shirts are a dime a dozen. But by using a heavier weight 16oz yarn dyed cotton jersey and adding ribbed knit finishing at the cuffs and hem, they've created a piece that's both timeless and versatile. It's sporty and rugged enough to wear with a bomber jacket and denim (like Buck Mason's excellent Japanese Selvedge Denim Full Saddle Jeans) . But throw it on with some tailored chinos and suede loafers (no socks) and you've got a look that's straight out the Golden Age of Hollywood.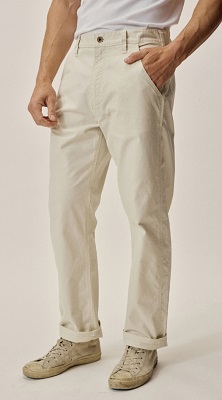 The Craftsman Canvas Workpants are a great example of what Buck Mason does so well. These have that authentic heritage workwear look we all want. The cut is more relaxed, straighter through the leg with a medium rise. But it usually takes most people a long time to break-in a heavier pair of canvas work pants (especially if you're just wearing them on weekends). To overcome that challenge they've gone with a softer 7.5oz cotton canvas with bit of stretch and then garment washed them to make them comfortable right from the start.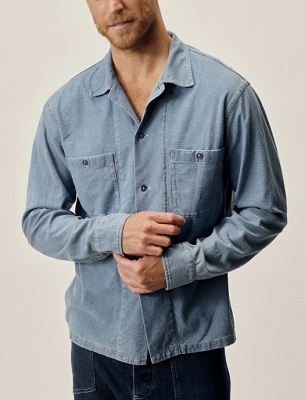 It's vintage military style made modern. Or, if you prefer, a shirt jacket with some actual character. Or it's just a very cool overshirt to throw on to watch a sunset at the beach. Like the grey t-shirt, there are no shortage of utility shirts out there to choose from. But Buck Mason has introduced some very cool design details to set theirs apart. The 7oz 100% cotton chambray jersey fabric has a soft, broken-in feel from the get go. And the extra-wide front placket and camp collar gives it a more relaxed, casual look than your typical utility shirt. The shorter, boxier fit just adds to that vibe.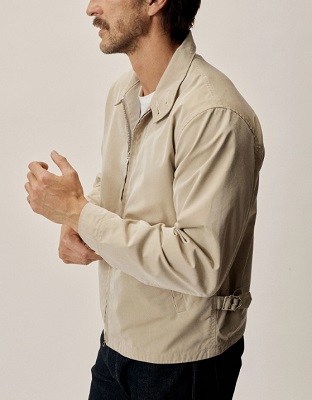 How to do McQueen without looking like you're copying McQueen. At first glance the Ghia Driver looks like a traditional Harrington jacket. But the mid-weight poly-cotton blend twill fabric gives it more rugged, workwear edge. And the no-knit open cuffs and hem and slightly cropped length help keep the style clean and simple. As for the technical details, the outer material is treated with water resistant coating to give you some protection from the rain. It's also lined with Bemberg (the fabric used for lining higher end suit jackets) which adds a touch of luxury.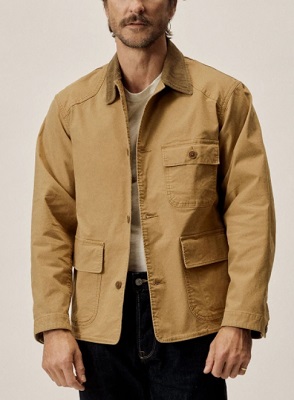 Another piece from Buck Mason's Craftsman Canvas Collection. The style is pure 1950s hunting jacket, the kind of outerwear you used to find at L.L. Bean, Sears & Roebuck and JC Penney and your grandad had hanging in his garage. And while Buck Mason has kept many of the heritage details (a boxier fit, flapped patch pockets, corduroy collar, reinforced shoulders), they've used a more modern fabric, a 7.5oz sueded cotton canvas with just a bit of stretch. Want to know what it could look like after some wear and tear? Just check out Robert Redford in 1980 film Brubaker.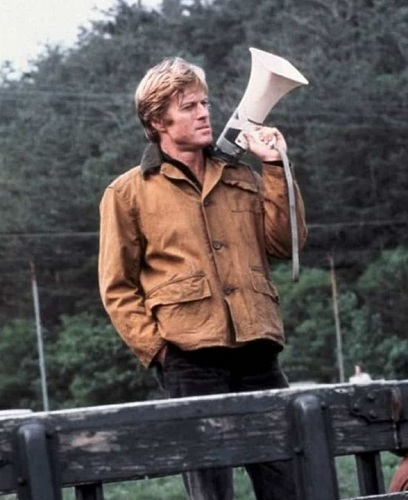 We'd like to thank Alex Goldberg and Jim Davis from Buck Mason for taking the time to speak with us and share more about their company's design philosophy. To see more from the Buck Mason spring and summer collection, visit their website or drop by one of their stores. You can also follow them on Instagram @buckmason. For talk about the role of style icons and personal style, check out our interview with Jeremy Kirkland of the BLAMO! Podcast here. And you can always find more Bond and McQueen inspiration on our Facebook page, our NEW Instagram account and on Pinterest!