Ryan Reynolds Style: The David Letterman Interview
On May 20th, season four of David Letterman's interview show My Next Guest Needs No Introduction premiered on Netflix. And one of his guests was Canadian actor Ryan Reynolds. During his 40 min talk with the late night veteran, Reynolds shared stories about growing up with three older brothers, the early days of his career and life as a father. He also made pizza and wore a very cool piece of knitwear.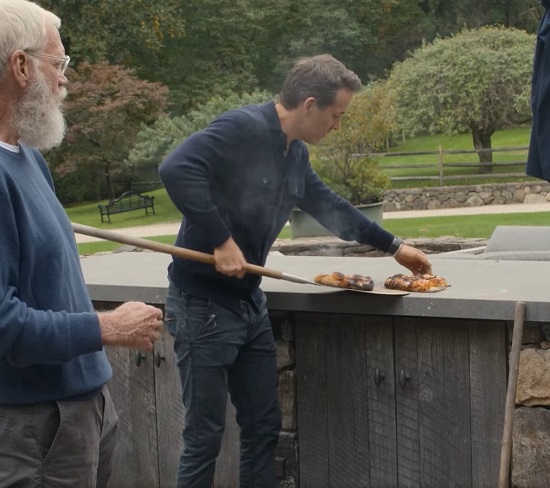 While the interview was certainly fun and, at times, insightful (I've shared a video of one the more emotional moments below), this post is about what Reynolds wore. I have to admit I've become something of a fan of Reynold's style over the last few years. While I probably gravitate towards a slightly looser fitting chino than the actor, I think in general he really nails that elevated casual look a lot of guys today can connect with. The simple combo he chose for the Letterman show is a great example of this.
Ryan Reynolds' Style for the David Letterman Interview
We'll start with that awesome cardigan. It's the Brunello Cucinelli Two Pocket Cashmere Cardigan in Navy. And, believe it or not, there are actually still a few of them floating around out there! Farfetch has a size XXL on sale for $1975.00. You can also find the very similar wool, cashmere and silk version in size XXL on sale at Saks Off 5th for $1459.99. Unfortunately, it's "happy hunting!" for those of us that need a smaller size in the blue. If you're not stuck on the color, it comes in a grey wool, cashmere and silk blend this season for $3650.00.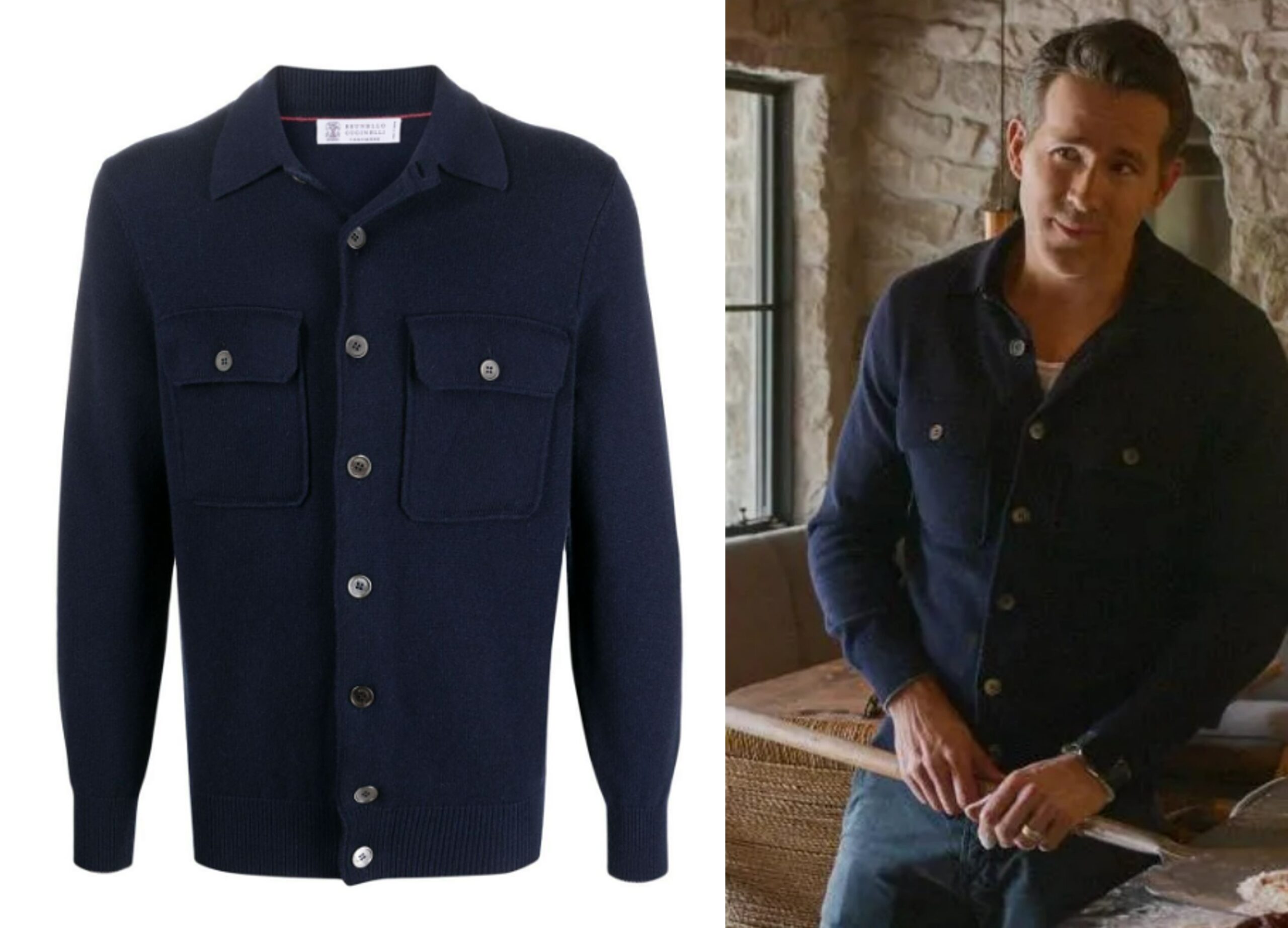 Reynolds keeps the rest of the look basic and tonal. The exact color of those chinos is a little difficult to nail down. But to my eye, they look like a dark steel blue in a garment washed fabric. The trousers have two angled front pockets and jetted back pockets. Reynolds wears them without a belt and leaves the longer length uncuffed so they stack over his boots. And, in keeping with his preferred cut, they're definitely a slim fit.
His boots are a Boondocker style in a dark beige or taupe colored suede. I've seen suggestions that they may be the Frye Chris Lace Up Zip model in Stone. And those actually look like they could be a good match. But because the boots get such limited time on-screen, I can't tell if Reynolds' have a zipper or not.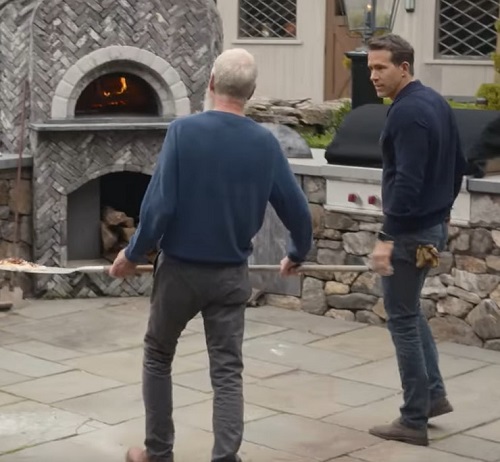 Then there's that white shirt he wears under the cardigan. We only see a glimpse of it. But given the low-cut neckline I'm assuming it's some kind of tank top.
The Extras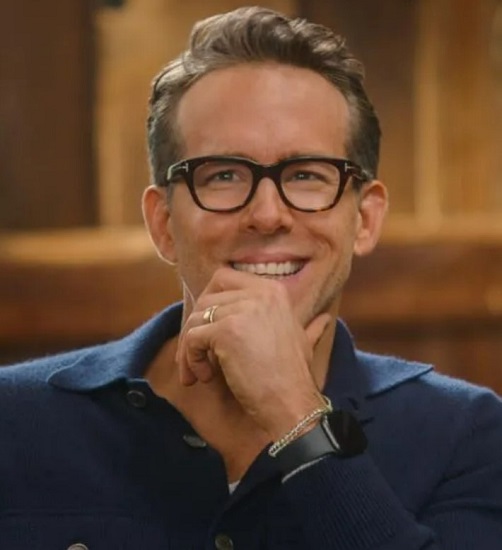 When it comes to accessories, Reynolds also keeps it dialed down. He wears his thicker rimmed Tom Ford glasses (FT 5178 in Dark Havana), an Apple Watch (an interesting choice considering his collection includes timepieces from Omega, Cartier, Panerai, Piaget and Chopard), his wedding ring and what looks to be a homemade clear plastic bead bracelet. So nothing ostentatious. And, thankfully, most of the extras fall into a price range many of us can afford.
Our Take on the Ryan Reynold's Look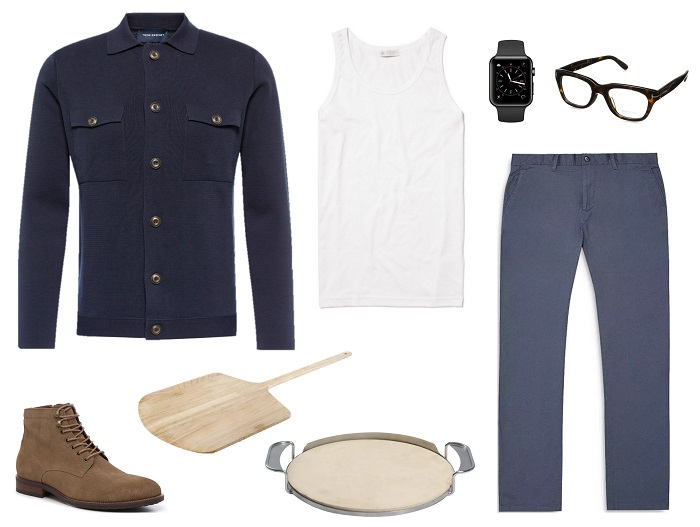 Options
Notes
Again, let's start with the cardigan. Yes, our alternative is expensive. But for this post I decided to go with one that came as close to the design of the orignal as possible. The 100% cotton Thom Sweeney cardigan has almost exactly the right look and it's about a quarter of the price of the Cucinelli. But I completely understand that five hundred bucks is still a hell of a lot cash to lay down for some knitwear. So I've included some more price friendly options below.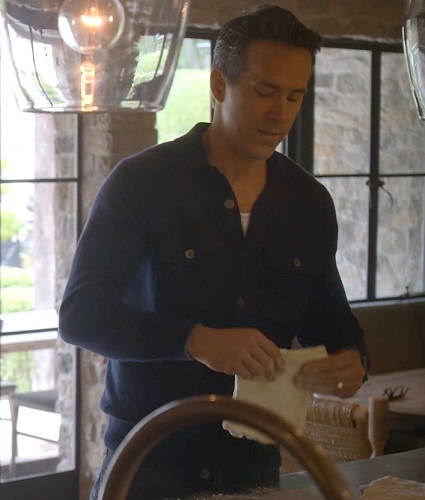 As I said above, I'm not exactly certain about the color of the chinos. But I think this pair from REISS come close. And if Reynolds' boots are indeed the Frye Chris model, then these alternatives from Vince Camuto have a similar zip closure up the inside shaft. Again, I've included some other options for the pants and the boots below just in case you're not liking my choices.
For the glasses and watch, I figured I'd stick with the originals. Tom Ford frames aren't that expensive when they're on sale. And although the FT 5178s are a little hard to find now, the designer has plenty of other models that come close and often go for around $200. As for the watch, most of us know we can pick one up via our cell phone provider.
Cardigan Options
Trouser Options
Boot Options
 A Short Clip of Ryan and Dave 
Interested in more Ryan Reynolds style? Check out our post on alternatives for his green suede trucker jacket! If you have a suggestion for another modern style icon look we should tackle next make sure to tell us about it in the comments below. And remember you can find more style inspiration on Iconic Alternatives' Facebook Page, our NEW Instagram Account and Pinterest Boards!