Ryan Reynolds Green Suede Trucker Jacket
We're going to take a break from our usual style icons to focus on a more contemporary piece of outerwear that (imho) deserves a closer look. Ryan Reynalds has been wearing his green suede trucker jacket for years now to create some great casual looks almost any guy can wear. And, considering that he's a movie star with easy access to almost any article clothing he could possibly want, the fact that he keeps going back to same piece again and again is clear evidence that a well designed leather jacket will prove its worth over time.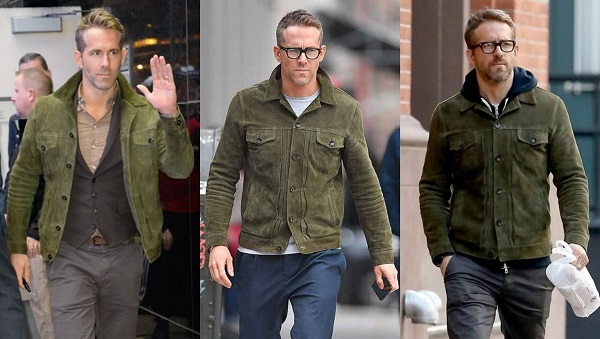 Reynold's jacket is the Officine Générale Liam model in a darker shade of olive. Sadly, it's sold out in that color everywhere now. But you can get the same model in the current Asphalt color for $1370.00 on the Officine Générale website. And olive green ones do show up on Ebay, Grailed and Poshmark from time to time if you're patient.
Features Wanted for the Ryan Reynolds Green Suede Trucker Jacket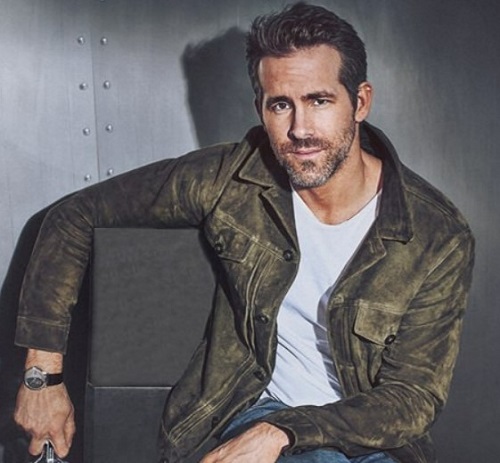 Trucker style jacket in olive green suede
Button through front closure with brown horn buttons
Button through flapped chest pockets
welted hip pockets
Pleats down the sides of the front placket
In terms of its design, the Liam takes a lot of inspiration from the classic Levi's Type II denim jacket, especially the pleating down the sides of the placket. But with its higher chest pockets and the addition of the lower handwarmer pockets, there are also elements of the later era Type III. All in all, it's a great combination of vintage and contemporary details that creates a trucker that looks unique but still very wearable.
For the alternatives, most of our suede options stay in the safe lane and use the design of the Type III as their base model. But I've also included some non-suede options for those of us on a tighter budget (or that prefer not to wear leather). For those, I've tried to focus on options that put a bit of a spin on the classic style to give them more character.
Best Option for the Ryan Reynolds Green Suede Trucker Jacket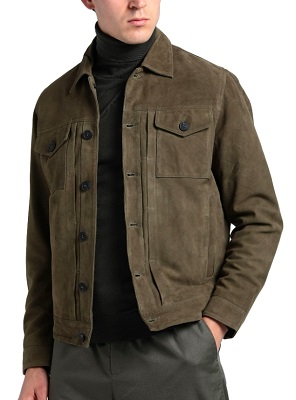 As far as the style details go, this 100% goat suede option from Selected is easily the best match. Especially the pleating down the sides of the front placket. And the prices aren't so bad either. So what's the problem? Well, it's sold out almost everywhere. Yoox has one size medium left for $260.00. Need a size large? Then you'll need to go to Trouva where they'll sell you the one that's left in stock from a French store called Harold for $387.49 (plus approximately $25 for shipping to the U.S.). If you want an alternative that comes as close to the original as possible, I'd strongly recommend acting fast!
Suede Options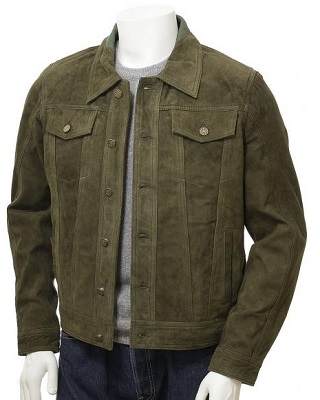 More of tried and true Type III design from one of the better known MTM online services. However, it is genuine suede, the color looks to be a good match and the price is pretty reasonable. The only thing I'm not sure about is that piece of contrasting trim around the collar. Is it also suede? Does it serve a purpose? Or is it just for aesthetics? These are the mysteries that keep me up at night ….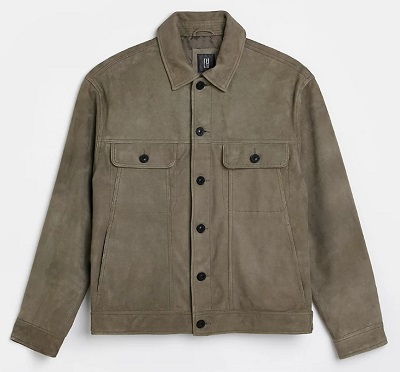 The Khaki color leans more greeny-brown than olive. But I actually really like the styling of this trucker. Like the Officine Générale, it feels contemporary but still in touch with its heritage. You'll find sizes small to XL on the River Island website.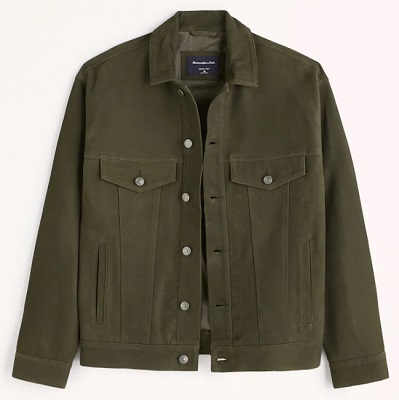 Another classic Type III design made with a dark olive green lamb suede. Based on the model photos on the product page, I get the feeling this one may have a boxier cut. Sizes XS to SSL are in stock on their website.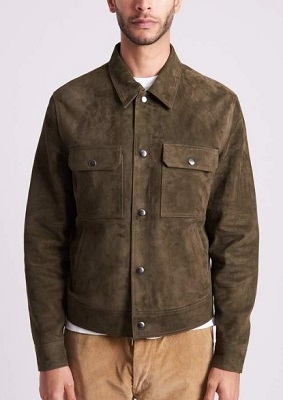 Even though it differs in many of the key style details (squared off chest pockets and flaps, snap buttons, no pleating along the placket), I still feel like this option does a great job of capturing the spirit of Reynold's jacket. Maybe it's the trimmer fit? I just think it would be an easy one to dress up if your personal style leans more minimalist. Garmentory has sizes medium and large available.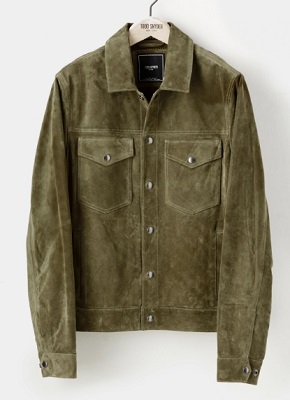 It has a similar minimalist styling to the President's jacket above. But New York designer Todd Snyder has kept some of the more authentic trucker touches: pointed flaps on the chest pockets, side tab adjusters and pointed cuff tabs. Those give the jacket a slightly more rugged feel. I've also seen this one in store and I have to say that olive suede is pretty awesome in real life. You'll find sizes XS to Large on the Todd Snyder website.
The Non-Leather Options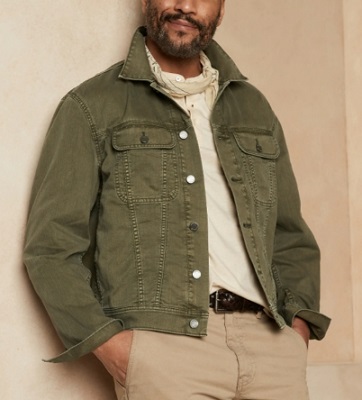 A classic Type III design in a great shade of olive green. The fabric is 100% organic cotton, so you may need to break this one in a little to get the fit just right. They have sizes XS to XXL on their website.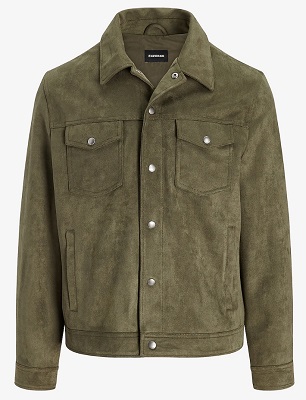 Faux suede can really be hit or miss. Done wrong, it just looks spongey, shiny and cheap. Done right, it can come very close to the real thing (even if it will never be as durable). So which category does this Express jacket fall into? Based solely on the product photos (which is always risky) it seems like they've done a pretty good job of capturing the finish of natural suede. As for the details, the jacket has clean style that balances elements of a classic trucker with more contemporary elements. You'll find sizes XS to XXL on the Express website.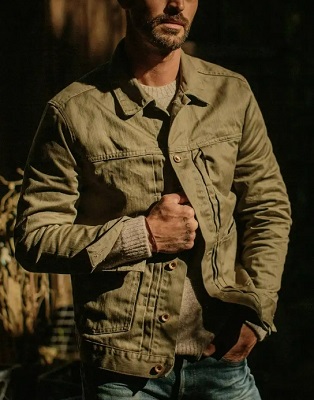 The Ryder jacket definitely has more of a heritage workwear style. But it's packed with some very cool features. Made in the USA from a uniquely textured 100% cotton fabric woven by the Yoshiwa Mills in Japan, it's finished with copper hardware and double needle felled construction. About the only thing it shares in common with Reynold's jacket is the pleats along the placket. However, it certainly has a character all its own that will make it stand out. This one is available for pre-order on the Taylor Stitch website.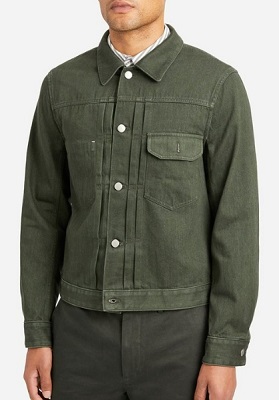 About as close to a cotton version of Reynold's jacket as we're going to get. Even though it only has one flapped chest pocket (so it's acutally more like a vintage Levi's Type I), it does have that distinctive pleating down the front and a more tailored fit. I've linked to Garmentory above. But you can also order it directly from O.N.S. for the same price.
Do you have an alternative for the Ryan Reynolds Suede Trucker Jacket that we missed? Any opinions about the options we've suggested? Let us know in the comments below! Want more suede jacket inspiration? Check out our post on alternatives for Daniel Craig's suede trucker. And remember to give us a follow on our Facebook page, our NEW Instagram account and Pinterest Boards for more Bond, Craig and McQueen style advice and inspiration.