Best Budget Style Finds April 12
Welcome to our Best Budget Style Finds for April 12th! This is where we share some of the great alternatives for Bond (or Craig or McQueen) style that either slipped through the cracks when I was writing the original dedicated posts or deserve a special mention. Sometimes the posts will be short. Sometimes there will be a ton of new options. A lot will depend on what we, as a community, find and share. So if you have any suggestions, let us know in the comments. On to the alternatives!
Update Your SPECTRE Morocco Look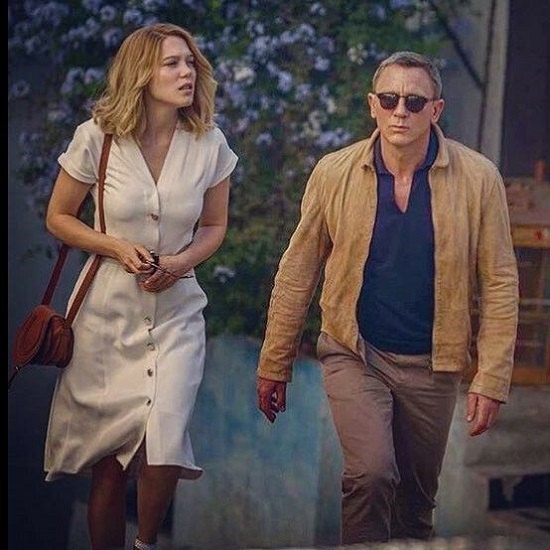 It's a look we all still love. And, lucky for us, we're starting to see some great alternatives for the key pieces show up this season. I'll be updating the dedicated posts for the jacket, chinos, polo and boots soon. But here's an early look at what we can get right now.
Mango doing what they do best: offering solid alternatives at reasonable prices. This time they've come up with one of the better options I've seen in a long time for Bond's Morocco suede jacket. The outer is 100% goat suede and they've gone with a stand collar style that's very similar to the design of the original. The color may be a shade or two darker than ideal and a few of the other details don't quite hit the mark. But for an off-the-rack alternative, it's coming really close. Mango has sizes small to XXL in stock.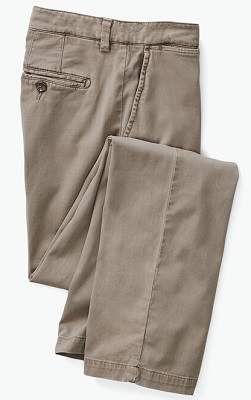 A great alternative for Bond's Brunello Cucinelli Morocco chinos suggested by our AJB007 friend armenianmovieman (with back up from St_John_Smythe). Johnston & Murphy are better known for their shoes and boots. But they also have a pretty complete line-up of clothing. These particular chinos are a blend of cotton, tencel and lycra. So they'll a nice soft feel and some extra stretch for comfort. And the washed treatment gives them just the right broken in look. You'll find sizes 30 to 40 in 30″ and 32″ inseams on their website.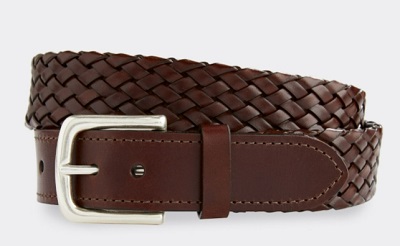 This option was suggested by AJB007 forum member asd007. And the combination of the woven leather strap with the solid leather tongue make it a pretty great match for Bond's Morocco belt. Of course the traditional buckle they use isn't screen accurate. But that's actually a relatively easy and inexpensive fix. You can pick up a replacement center bar full frame rectangular buckle for under $10. And most cobblers won't charge too much to make the switch. Plenty of sizes left on the Vineyard Vines website.
And a few more SPECTRE pieces ….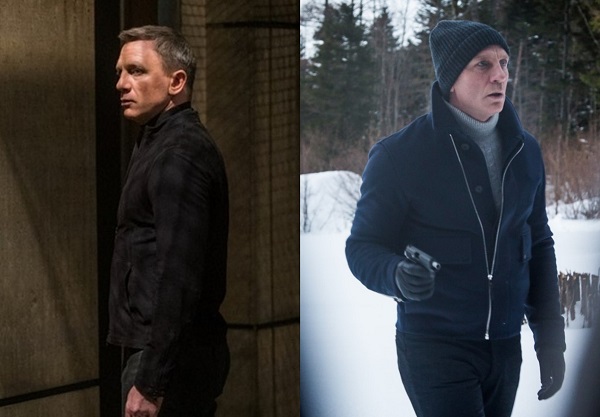 Two more fan favorite outerwear styles from the film. While the John Varvatos suede Racer jacket was a pretty clean and minimalist design, the details on that cashmere Dior Homme piece Bond wore to visit Mr. White really made it one of a kind.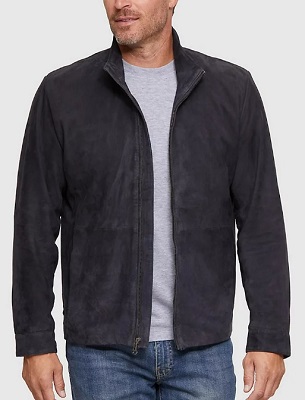 Most people know Overland for their shearling coats and jackets. But they also make some nice suede and leathers pieces. And their Bennett model is a great alternative for the navy suede cafe racer Bond wore at the end of SPECTRE. Made with a lightweight yet durable goatskin suede in a deep indigo color, it has a clean and simple design that makes it easy to dress up or down. Overland has sizes small to XXL in stock.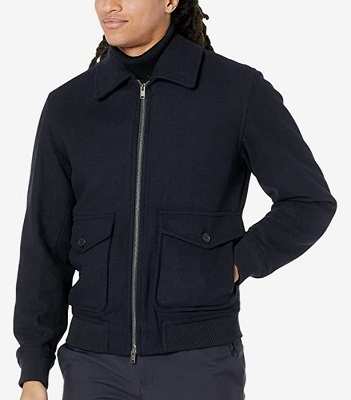 Most of us have already turned our attention to the warmer weather ahead. But this is a great time to find deals on winter outerwear. We've shared this Selected Homme jacket in the past as good alternative for Bond's Dior Homme "Mr. White" jacket from SPECTRE. That 50% price drop just makes it even better. Zappos has sizes small to XXL available.
Bond inspired odds and ends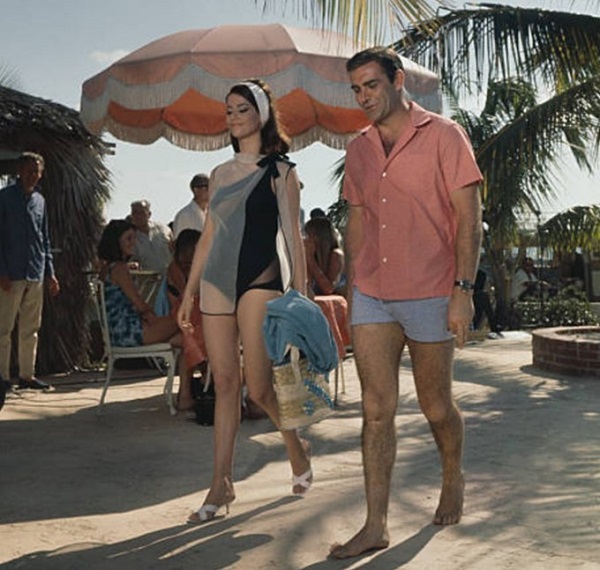 The alternatives for Bond inspired warm weather style are hitting the store shelves. Which means it will soon be time to revisit our posts on Bond's summer shirts and swimwear. But if it's already beach weather where you live (or you're someone who believes in planning ahead), here are a few options to get you ready.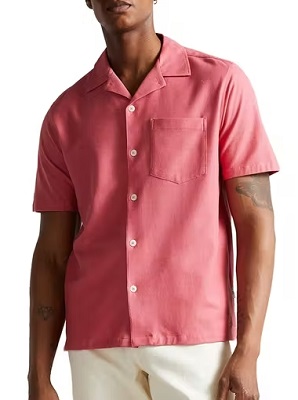 Credit to AJB007 forum member Mailfist for sharing this option for the Connery Bond Thunderball shirt. And further credit to AJB007 forum member Smudge7 for finding it on sale. This one from Ted Baker is a little unique. It's made with a 83% cotton, 17% lyocell pique fabric (the same type of material that's normally used for polo shirts). That's going to give it an interesting drape and make it fairly breathable. Country Attire has sizes small to XXL at that discount price on their website.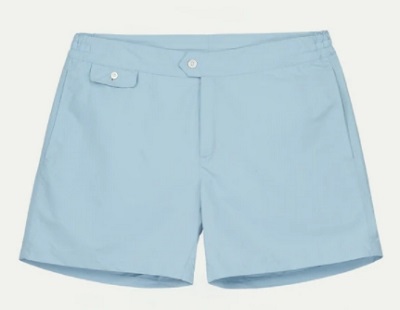 A versatile light blue short that we can use an alternative for Bond's swimwear in From Russia With Love, Thunderball or even Skyfall. They have the right retro-cool design combined with a modern polyamide fabric so they'll dry quickly after a dip in the pool. They're on the expensive side. But in a sense we're getting one pair of shorts that will work with three Bond inspired looks. And in my experience, Aurélien really delivers on the quality.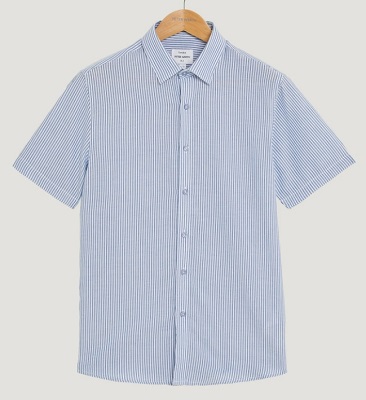 It doesn't have the camp collar. But the thinner blue stipes and relaxed-but-not-baggy fit make it a good option for Bond's Palmyra shirt from Thunderball. Undo that hidden button collar collar to give it some spread, open up the top two buttons and you'll be ready for some drinks by the pool (and maybe a little shooting). Sizes small to XL are available on the Peter Werth website.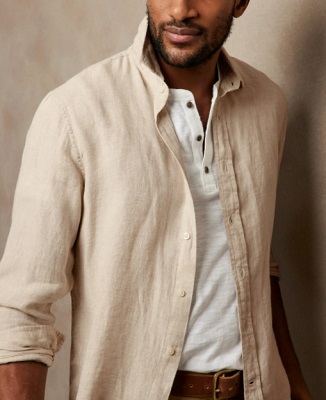 I caught this shirt hanging in my local Banana Republic store and my first thought was "Bond in Norway in No Time To Die". The color of the 100% linen fabric is a little lighter IRL and has a bit more of brownish tone than you see online. And while the collar isn't a cutaway style like we see on the screen used shirt, it has a nice spread to it that gives a similar look. Sizes XS to XXL are available on the BR website.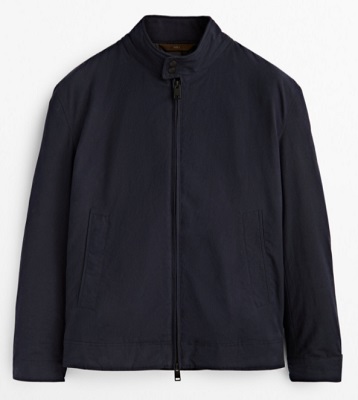 An early contender for this season's best Bond inspired Harrington jacket from Quantum of Solace. Online, the color looks to be the deeper navy that we want. And although Massimo Dutti has gone with snap buttons instead of the regular buttons we saw on the original, the jacket's overall design does a good job of capturing the more contemporary style of the screen-used piece. The waxed finish on the fabric also differentiates it from the masses of cheap G9 knockoffs out there. They're currently sold out of size medium on their webiste. But sizes small and large to XXL are still available.
McQueen and Cruise Inspo …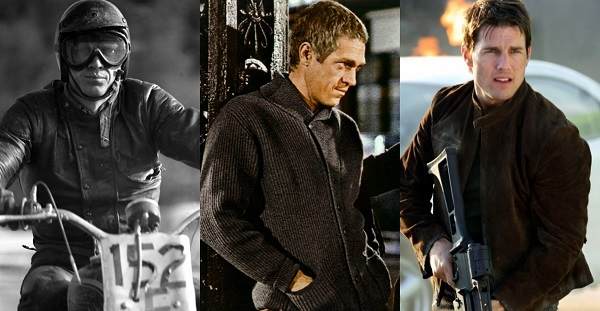 We recently took a look at Steve McQueen's iconic leather Mojave jacket. And we just finished our post on our four favorite Tom Cruise jackets from the Mission Impossible series. But (as almost always happens) I missed a few great alternatives that definitely deserve sharing.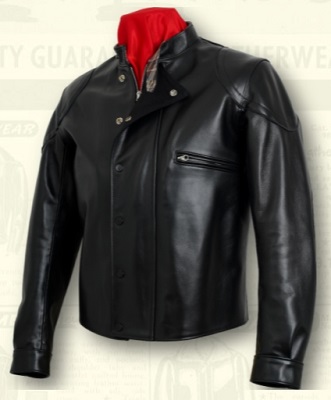 As I mentioned in our McQueen Mojave jacket post, finding a good match for the original proved to be a challenge. Well our AJB007 friend TheExit148 did what I failed to do and uncovered an amazing alternative. Lewis Leathers' Universal Racer Mk 2 is based directly on the King of Cool's jacket. In fact, they claim they were the makers of the one McQueen wore during the Greenhorn Enduro Race in 1963, and not Belstaff as my research had first indicated. Considering Lewis Leathers' history with the design (they introduced their version in the late 1930s), it's certainly a possibility. No doubt the Mk 2 is pricey. But each jacket is custom made and you can choose from cow, horse or sheep leather depending on your specific needs. And with its bombproof construction, this one is going to last you decades.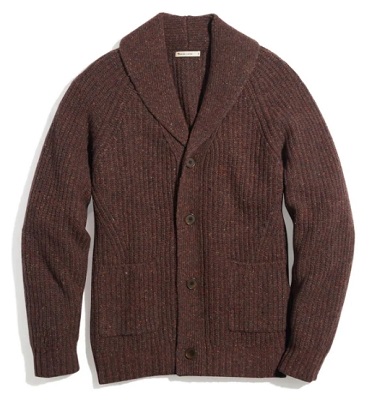 The color is a little lighter than the shawl collar cardigan Steve McQueen wore in The Cincinnati Kid (you can learn more about that look in this article from our friend BAMF Style). But comes pretty close and brown is a more versatile color for knitwear than you may think. This will look good with khakis, dark rinse or faded denim, and olive green fatigue pants. Plus the 65% Merino wool, 30% nylon and 5% alpaca yarn should feel plenty soft for a spring layering piece. Sizes small to XXL are still available on the Marine Layer website.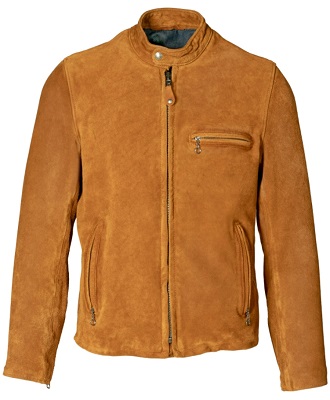 It's a great match for Tom Cruise's "Ethan" jacket from Mission Impossible 3 in every way except two: it's missing the side tab adjusters and the color is a much lighter brown. But if you can get past that, you'll find it has almost all the other details we want: the snap button throat latch, zippered chest pocket (although it's on the wrong side), even the pleated "action" back. Even better, it's made in the U.S. from a heavy duty suede that can handle a beating. You'll find sizes small to XL on sale on the Schott website.
Know of any alternatives we should feature in our next Best Budget Style Finds post? Or do you have another option for this post? Tell us about it in the comments! If you'd like to see our previous Best Budget Style Finds posts, you just need to click here. And you can always visit our Facebook page, our NEW Instagram account and Pinterest Boards for more Bond, Craig and McQueen style advice and inspiration.