Tom Cruise Mission Impossible Jackets
This post has been a long time coming. While we mainly focus on James Bond, Daniel Craig and Steve McQueen style around here, we have to hand it to Tom Cruise: when he plays Ethan Hunt in the Mission Impossible series, the guy shows up in some killer jackets. So a closer look at four of our favorite pieces of outerwear from his collection is definitely overdue.
Before we get started, I have to give a big shout out to the crew over at AJB007 forum. The members there have done an awesome job of investigating Hunt's looks in the various films, specifically in this thread on his MI:3 suede jacket and this thread on his MI: Fallout trucker. And they currently hunting down the details on his jackets Cruise will be wearing in the next films in this thread. They really deserve the bulk of the credit for the information I share in this post. Now on to the alternatives!
Mission Impossible II Suede Work Jacket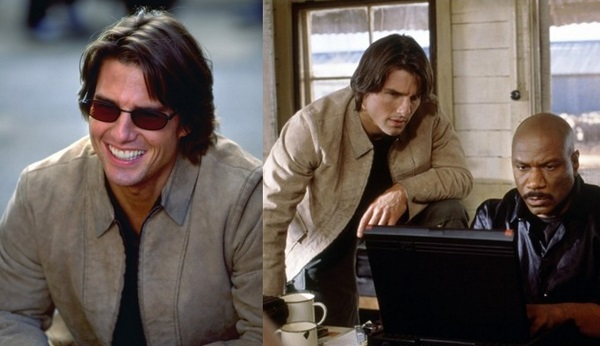 Our first jacket comes from 2000's Mission Impossible II. Directed by John Woo, the film doesn't receive the same attention from fans as the later installments in the series. But that suede work jacket Cruise wears during his meeting with IMF director Swanbeck (Anthony Hopkins) and on the remote station in the Australia where he gathers his team definitely deserves a second look.
To the best of my knowledge, the exact make of the jacket has yet to be identified. It's basically a lightweight suede shirt jacket, with a few interesting details. It has a zip closure, with curving vertical seams running up the front. There are two flapped patch pockets at the hips. As for the alternatives, those vertical front seams are the hardest detail to match; you'll probably have to go with a repro if you really want those. And for some reason, flapped hip pockets on suede jackets are a little rare this season. The trucker style, with the pockets on the chest, is much more common.
I'll also add that this is a great opportunity to try and find a second hand alternative. Many older (late 90s, early 00s) suede jackets from brands like Banana Republic, GAP and even Wilson have a very similar look. And you can often find them for under a hudred bucks on Ebay, Poshmark and Etsy.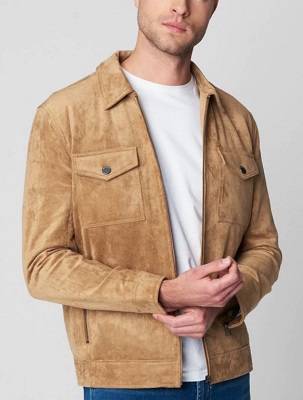 A faux suede option with the trucker style chest pockets. But it has the right workwear vibe. And if you throw it on over a black t-shirt and pair it with some olive green cargo pants, it should give you the look we want. Unfortunately BlankNYC is down to sizes small and medium on their website.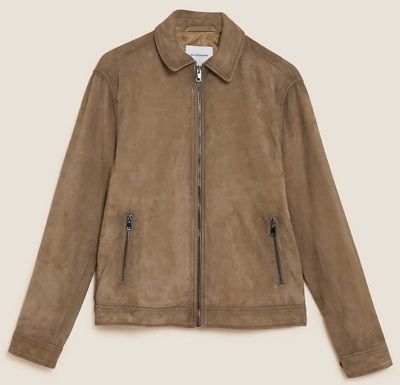 Coming to us from Marks & Spencer's in-house brand, this genuine suede option is obviously missing a key detail: those flapped hip pockets. It's really more of a cafe racer design with shirt collar. But it could still work for those of you wanting an urban take on Hunt's outback look. Thread has sizes small to 3XL in stock. You can also order it directly from M&S, however the price jumps up to $315.00.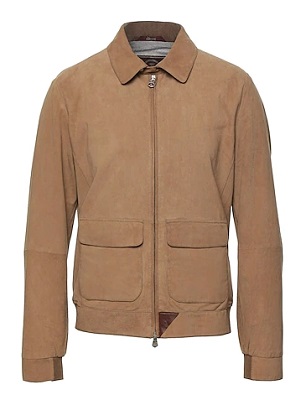 A big jump up in price. But it's really the closest off-the-rack match I could find. From the front, this made in Italy option looks like it has almost all the key features we want: shirt collar, zip front, flapped patch hip pockets. Unfortunately, the cuffs and hem use a ribbed knitting around the back, which kind of kills the simple, rugged vibe we get with the original. You can find sizes medium to XL on YOOX.
Also Try:
Mission Impossible III Tactical Jacket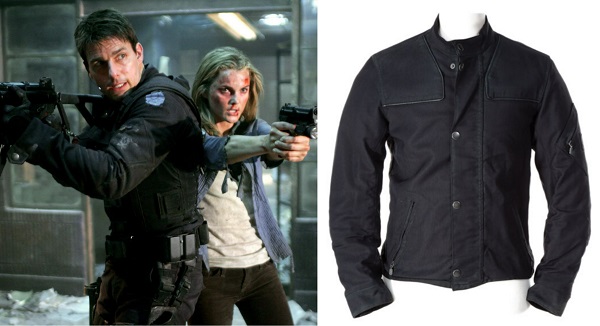 Of all the jackets in this post, the Belstaff Delta Force M Blouson that Cruise wore during the rescue mission in MI:3 is probably the most difficult to match. There just aren't that many options out there with those reinforced shoulder patches. Add in the ballistic nylon fabric, angled sleeve pocket and classic Belstaff style front storm flap, and you have what can only be described as a "unique" design. If you are desperate for an original, there are still a few floating around out there (for example, here's a size large on Debop for £350.00).
For the alternatives, I decided to go with options that embraced the "tactical" style of the Belstaff without going overboard, even if they don't manage to capture all the details of the original. But I am definitely open to any other suggestions you fine folks may have!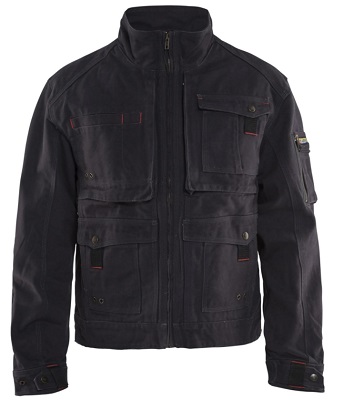 Well, it certainly has the right tactical look! The Blaklader is actually made for construction work and features a heavy 12oz 100% cotton canvas shell and plenty of pockets. But unlike your typical Carhartt or Dickies outerwear, the reviews are quick to mention that this one has slimmer, more contemporary fit. Because it's a true utility jacket, it's mainly sold by retailers focused on uniforms, safety gear and workwear. I've linked to FullSource above. But you can also get it from Amazon and the Blaklader website. Smaller sizes are getting hard to find, so you may need to search around other places to get a medium or a large.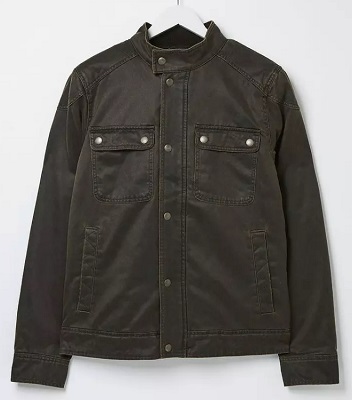 It has more of a Belstaff Racemaster style. But it could work for those of you that want to avoid looking too "commando". The Hadley uses a unwaxed 70% cotton, 30% polyester fabric for the shell, so it has more of a matte finish. It's also blanket lined, so it should wear a little warmer. I've linked to Thread above. But you can also get it directly from the FatFace website. If you want more Roadmaster style alternatives, check out this post on Steve McQueen's Mojave Jacket.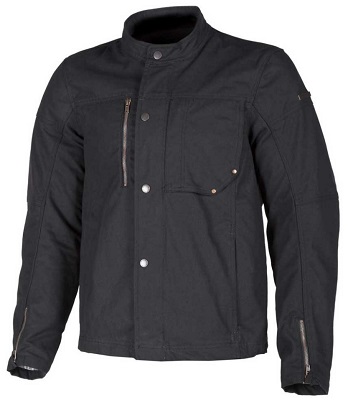 And now a true motorcycle jacket. Again, this one captures the more utilitarian look of the Belstaff without going overboard on the tactical features. It also has pockets for body armor at the elbows, shoulders and back in case you actually want to use it for riding. Motorcycle Gear has sizes medium, XL and 2XL available. But you may be available to find other sizes if you hunt around a little (for example, Trade Inn has size large for $310.49).
Mission Impossible III Brown Suede Cafe Racer
Another Belstaff. And in my humble opinion, this is definitely one of the coolest jackets Cruise wore as Ethan Hunt. Made from a heavier, dark brown deer suede, it was simply called the Ethan jacket when Belstaff released it back in 2006 (although it has to be noted that the commercially available version was missing some key screen accurate details). If you really want to dig into the features, I strongly recommend reading this excellent overview offered by our friends at From Tailors With Love. They have an actual Ethan jacket and go over it with a fine tooth comb.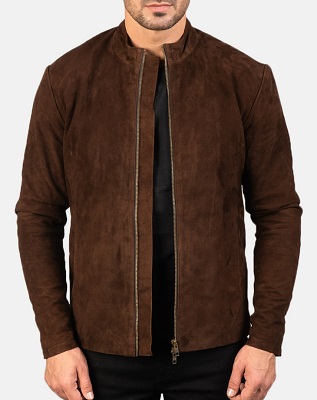 In it's off-the-rack configuration, this option has more in common with Bond's SPECTRE Morocco jacket than the Ethan. But the good news is we can customize the design to add the features we want: the throat latch, zippered chest pocket, pleated action back and side tab adjusters. Of course this will raise the price. But it's still a relatively affordable way to go if you want a more screen accurate jacket.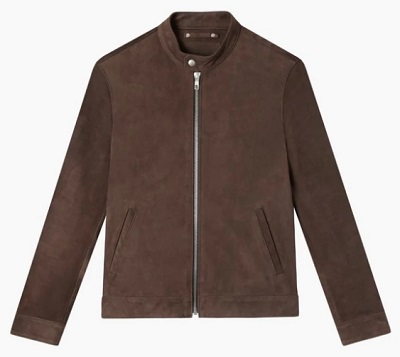 They've used a shorter nape suede than we see on the Belstaff. And it's missing some key details (the chest pocket, action back and side tab adjusters). So the overall look is leans more "refined" than "rugged". But if you want a cleaner cafe racer style, this is a solid option. Sizes small to XXL are available on the Thursday Boot Co. website in Slim, Athletic and Relaxed Fits.
It's very similar to the Thursday Boot Co. option above. And it's also missing some of those same details. But when it comes to leather and suede jackets, Massimo Dutti usually offers a pretty good bang for the buck. You'll find sizes small to XXL on their website.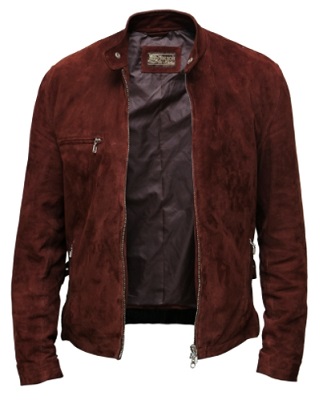 Probably the most screen accurate alternative, offered by a fan favorite repro maker. Magnoli has managed to include most of the features we want (the throat latch, chest pocket and side tab adjusters). However it's still missing the action back we see on the original. But since this is a made-to-measure option, you may be able to get that added for an extra cost.
Also Try:
Mission Impossible: Fallout Black Trucker Jacket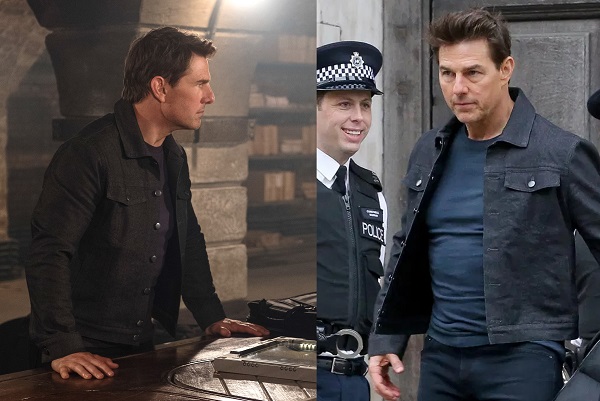 Nearly four years after the film's release, and it's the jacket that still has people scratching their heads. As far as I know, the maker has yet to be identified. And given some of the unique details, finding an exact match for it is pretty challenging. To my eye, the fabric looks more like a lighter weight chambray (or even linen) rather than denim. Inside it's lined with some type of black fabric. The jacket also has seven plain metal buttons up the front, with the two lower buttons set very close together, instead of the six you typically find on a trucker. The lower slash pockets are set closer to the side seams. And it doesn't have any tab adjusters at the waist.
As you can imagine, there's been plenty of speculation about the jacket. Some think it was custom made for the film, while others believe it's a long gone off-the-rack piece that was tailored to better fit Cruise. If it is from a brand, I think Saint Laurent (they were using seven buttons on their trucker jackets around the same time) or Kiton (they're known for placing the two bottom buttons close together) are possibilities. The excellent finishing around the jacket's button holes is also a clue that it comes from a higher end design house. But unfortunately, until someone gets a chance to directly ask the film's costume designer Jeffrey Kurland, the jacket's origins are likely to remain a mystery.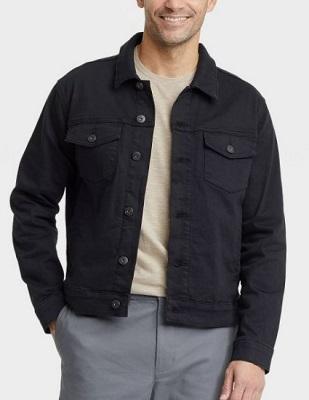 I have to say, I wasn't expecting one of the best options to also be one of the cheapest. But this alternative from Target's in-house brand actually does a pretty darn good job of capturing the details we want. The overall design is clean and minimalist, the top of the chest pockets line up with that cross-body seam and the side pockets are set farther back. They've also used a stretch polyester denim, which gives the jacket a bit more sheen than your normal denim. It's not perfect. But you could do a heck of alot worse for forty bucks.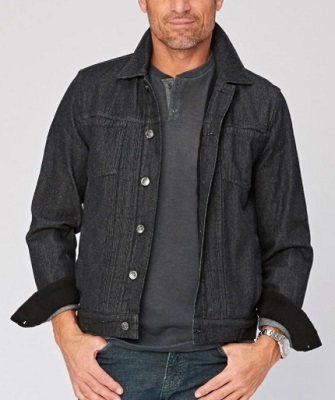 The chest pockets are missing the flaps. But I still think there's a lot to like about this alternative. The fabric is a lighter weight black denim, backed with a black sherpa fleece to add some insulation. The overall design is also very clean (for example, they've done away with the side tab adjusters). Like Cruise's jacket, it's a more refined take on the original trucker style. Think of it as a good "inspired by" option. Agave has sizes small to XXL for sale on their website.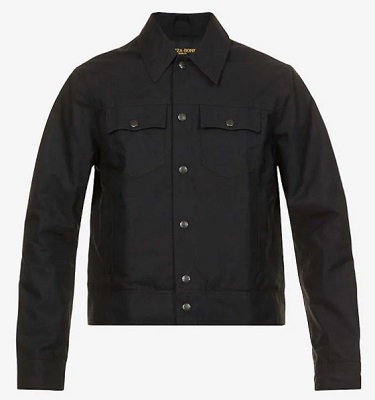 Expensive! But it's the best alternative I've found so far. Driza-Bone is sort of the Australian version of Barbour. For their Lasso Jacket, they've used a mid-weight 100% cotton fabric with a dry wax finish so you can expect some water resistance. In terms of the details, it has the clean design we want, with flapped chest pockets set along that top seam, tonal buttons (which are snap, unfortunately) and no side tab adjusters. And the bottom two front buttons are set closer together. I've linked to Thread above, where they have sizes small, large and XL available. You can also try and order it directly from Driza-Bone, but I'm not sure if they offer international shipping.
Also Try:
I'll keep looking for alternatives for the Tom Cruise Mission Impossible jackets. But if you have a suggestion for a great option (or a comment about one of the ones we shared) let us know in the comments! And remember to follow us on our Facebook page, our NEW Instagram account and Pinterest Boards for more style icon advice and inspiration!