Daniel Craig Suede Trucker Jacket
On September 30th, an interview with Daniel Craig written by Dave Itzkoff was published in The New York Times online. Accompanying that article were a series of black and white photos of Craig by Devin Oktar Yalkin (@dedecim on Instagram). I decided to share those photos on our Iconic Alternatives Instagram account. And almost immediately I had people DMing me asking about the suede trucker jacket Craig was wearing.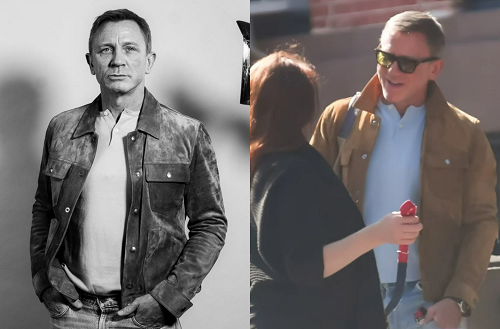 I knew the jacket was Tom Ford as soon as I saw the photos. But it was thanks to another Instagram account, the excellent @whatsdanielwearing, that I was reminded where I'd seen it before. The photos by Yalkin were actually taken over a year ago, in March 2020. He was photographed on the street that same day by Elder Ordonez, wearing exactly the same outfit. And What's Daniel Wearing had posted about the look.
Long story short, I think the overall fit is pretty cool. Relaxed and casual, but still refined thanks to the quality of the individual pieces. And, based on the messages you sent, more than a few of you seem to agree. So let's look at alternatives for the Daniel Craig suede trucker jacket to see if we can capture some of that style!
Features Wanted for the Daniel Craig Suede Trucker Jacket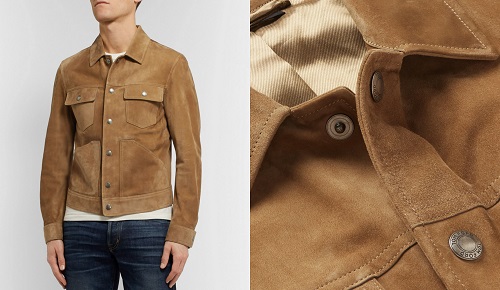 Light brown or tan suede
Snap button front closure
Two patch chest pockets with straight edge flaps and snap buttons
Two open hem patch pocket lower pockets
As you'll see with the alternatives below, suede truckers aren't exactly rare. But Tom Ford's design puts a bit of a twist on the classic style. The top block is pretty traditional, although Ford forgoes the typical points on the chest pocket flaps in favor of straight edges. However, down lower the vertical seams and slash pockets we're used to seeing on denim truckers have been replaced with two large patch pockets. The look actually bear some resemblance to the Rogue Territory Supply Jacket Bond wears in No Time To Die. But it's a more unique feature on suede truckers. And not one that many alternatives use.
Best Option for the Daniel Craig Suede Trucker Jacket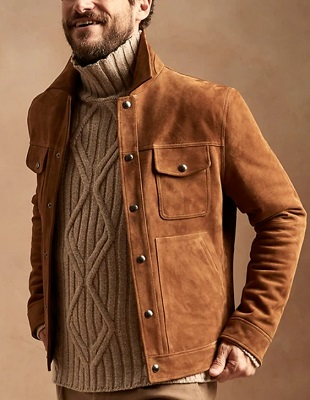 The suede is a darker Tobacco brown. But it really nails the other style details, so I'm willing to let that go. In fact, those lower pockets are kind of an interesting design, a combination patch pocket with a jetted opening. Call me crazy, but I think they almost look more refined than the Tom Ford. The leather itself is a soft goat suede and it's lined through the body with a comfortable 58% viscose rayon, 42% organic cotton. It seems like ages since Banana Republic last included a leather jacket in their collection. It's good to see them make a comeback. You'll find sizes small to XL on their website.
Under $500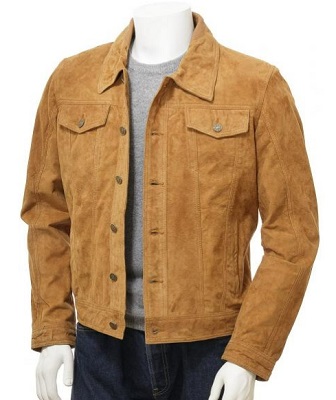 More of a traditional trucker style. But the light tan color of the goat suede looks to be a pretty good match. And, based on the information on their website, Caine Leather seems to be a small company that cares about the quality of its jackets and its customers, offering a "no fuss" return policy if you're not happy with your purchase. They also have a score of 4.2 out of 5 on Trust Pilot, which is pretty good. However, I should note that the poor reviews mainly focus on the customer service. And more than a few suggest you can get the same jackets for less on Amazon (for example this Infinitely Suede Trucker Jacket for $149.99). Caine Leather does address this issue on their website, so I'll leave it up to you to decide.
Under $1000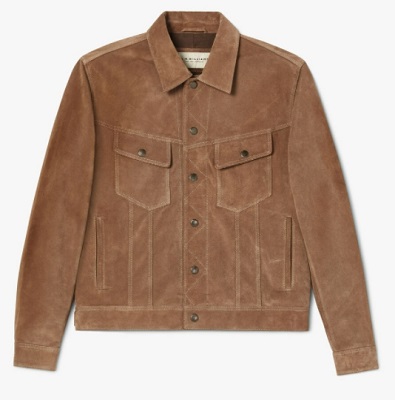 Coming to us from one of Daniel Craig's favorite boot brands. Again, this is more of a traditional trucker style, although it looks like R.M. Williams decided to have some fun with the chest pocket design. They've used a heavier calf suede, so you can expect the jacket to be a little stiffer and require some break-in time compared to the softer goat suede options here. They have sizes small to 4XL on their website.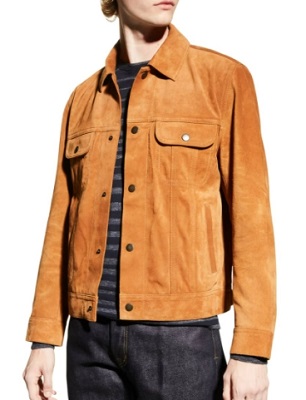 I'm hoping that bright orange color is just a result of studio lighting and the jacket is a little more subdued in real life. If that's the case, then this calf suede number from the luxury department store could be a solid option. Although it's missing the patch pockets down below, the design of the flapped chest pockets looks to be a decent match. You'll find sizes small to 2XL on their website.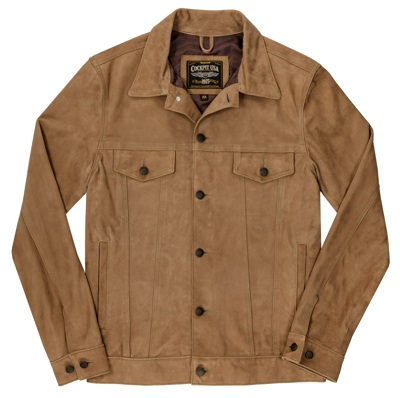 Unlike the other options on this list, this Cockpit USA jacket uses button-through closures on the front, the pockets and the cuffs rather than snaps. Other than that, it's a pretty classic trucker design with the slash pockets at the bottom. However, when it comes to the material, I'm a little confused. The product description lists it as goat suede in the paragraph and lambskin suede in the bullet points. And I'm pretty sure those are two different animals. Might be a good idea to contact them to confirm before ordering.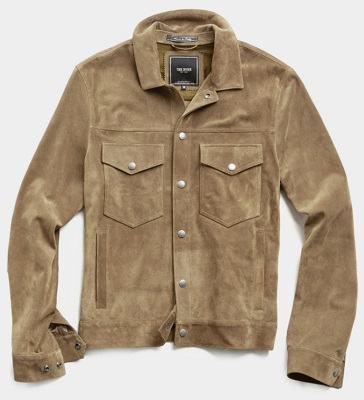 On the one hand, it's expensive (no surprise since it's Todd Snyder). On the other hand, the Dylan is one seriously nice looking piece of outerwear. Made in Italy from a supple calf suede, it's mostly unlined so expect it to wear almost like a heavy shirt. The slash pockets and pointed chest pocket flaps aren't exactly what we're looking for. But skipping the typical vertical seams up the front has kept the design clean and contemporary. A really balance between rugged and refined, in my humble opinion. Todd Snyder has sizes XS to Large in stock. And check out the Olive Green version if you feel like copping some of Ryan Reynold's Officine Générale style.
The Pale Blue Knitted Henley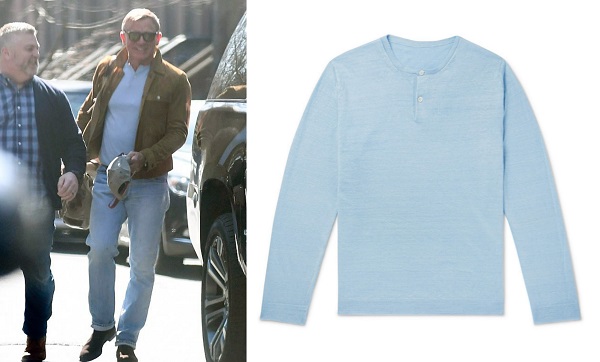 According to What's Daniel Wearing, the rest of Craig's look consists of light wash Levi's jeans, Jacque Marie Mage Dealan Noir 3 sunglasses ($586.00), R.M. Williams Chelsea boots (more info and alternatives for those in this post) and a knit Anderson and Sheppard Henley in Sky Blue. That Henley is of particular interest since it's been revealed that Bond's No Time To Die Matera Henley is also from Anderson & Sheppard (their long sleeve Linen Henley in Off-White, $290 at The Rake). The Sky Blue Linen version is currently sold out almost everywhere. But Anderson & Sheppard do offer a Knitted Cotton Henley in Sky for £235.00 that would do the trick.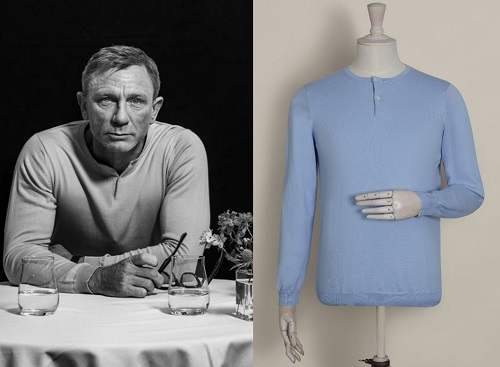 Of course, since this is Iconic Alternatives, we could also look for a more budget friendly option.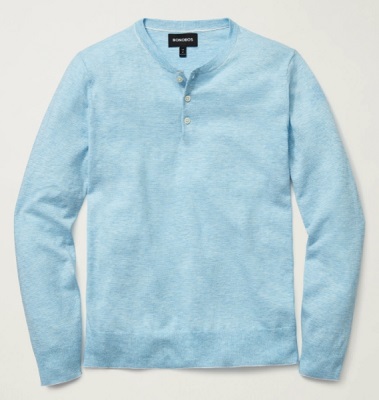 It has three buttons at the neck rather than two. But the overall placket design and ribbed hem and cuffs give it a very similar look. And that shade of blue also works, especially for the linen version of the original. The knit fabric does have a slight stripping effect. But with colors this light, it's very subtle and looks more like a slub texture. I've linked to the current version of the shirt above since they have sizes XS to XXL in stock. However, this design has been part of Bonobos lineup for a while and there are other iterations of it on sale in limited sizes. They have a size Large in the older Blue Microstripe for $28.00. And a Cotton Hemp Henley in a slightly darker Deepwater Blue available in Large and XL for $79.00.
Have some alternatives for the Daniel Craig suede trucker jacket you'd like to share? Or for the Henley? Share away in the comments below! And remember, you can also visit our Facebook page, Instagram account and Pinterest Boards for more James Bond, Daniel Craig and Steve McQueen style advice and inspiration!