The Best Bond No Time To Die Style
Every new Bond movie delivers a wealth of wardrobe inspiration to fans of 007 style. So which pieces represented the best of Bond from No Time To Die? Here is my totally subjective list of the jackets, suits, boots and shirts I'd invest in for my closet (plus a more budget friendly option for each). The criteria for making it onto the list is pretty simple: I think the piece looks cool and I could see myself using it on a day-to-day basis.
.
The Rogue Territory Supply Jacket in Tan Ridgeline: $295.00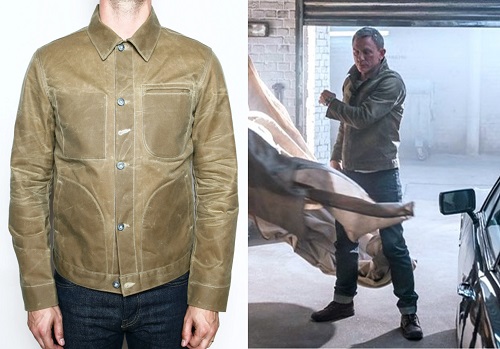 Affectionately known as the "Garage Jacket", Bond is wearing the Rogue Territory Supply Jacket in the Tan Ridgeline color as he dramatically sweeps the cover from his Aston Martin V8. Made in Los Angeles from 10oz Martexin waxed canvas and finished with custom metal hardware, they're currently down to sizes XS and small on their website. But re-stock is expected anytime now. We recently updated our post on alternatives for Bond's waxed trucker jacket and you'll find some more budget friendly options there. However, in my opinion, $300 is a fair price the original and worth the investment.
Why is it on the list?
Because unlike some of his other wardrobe pieces from No Time To Die, the Supply Jacket has been a near universal hit with fans of Bond style. And it's definitely one rugged piece of outerwear. The few negative comments from fans about the jacket tend to focus on how stiff it is when new. But that's actually part of the beauty of a piece like this. It's going to feel like cardboard at the start. However regular wear will soften it up and the waxed finish will darken and develop a unique patina that adds more and more character over time. It takes a little work and patience. But it's worth it!
The Drake's Crosby Suede Chukkas in Brown: $395.00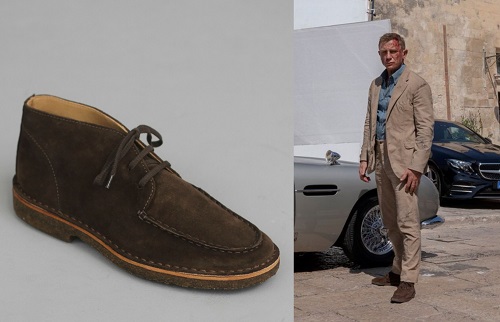 Drake's is now proudly advertising on their website that their Crosby Chukkas ($395.00) are, "Worn by James Bond in No Time To Die". And it looks like they get a lot of use in the film's Matera scenes, as Bond wears them with both the blue Connolly blouson outfit and his beige corduroy suit from Massimo Alba (more info on that look in this post).
Why are they on the list?
Because, to be completely honest, I already have too many regular brown suede chukkas in my closet. So the Crockett & Jones Moltons (which came very close to being the boots of choice) felt a little redundant, even if they do come in a more rugged rough out suede. However, the moc-toe design of Crosbys makes them just different enough. And, having worn a similar style from Astorflex with everything from faded jeans to creased linen trousers, I've found them to be incredibly versatile. Basically, I'm just happy to have them. What more do we want from an article of clothing?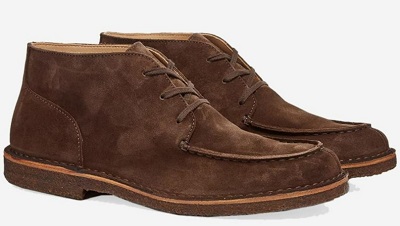 The rumor around town is that Astorflex made the Crosby for Drakes. However, Drake's asked for a different last and a few upgrades here and there (not sure what those may be). In any event, from a looks standpoint, the Dukeflex design is nearly identical to Bond's boots, although the Dark Chestnut brown looks to be a couple of tones lighter. I'll also add that I have a pair of the Dukeflex (in a lighter brown color) and I love 'em. They're a great fit and super comfy. But they do run about a half size large in my experience (even taking into account the UK sizing). Garmentory currently has EU sizes 41 to 45 in stock, but they're selling fast!
The Tom Ford Glen Check Suit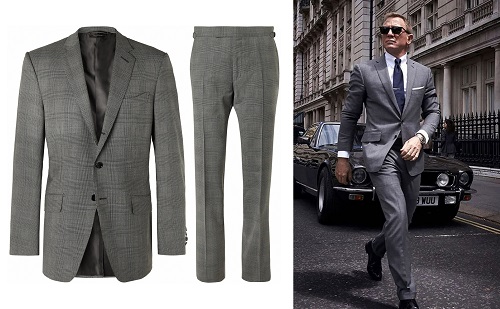 For his return to London, Bond wears a Tom Ford O'Conner suit in a medium scale black and white Glen Check. We did a more detailed write-up on Craig's outfit when the first images of him in No Time To Die appeared back in 2019. There we discuss things like suit construction and fit. so I think it's still worth a read. But the main thing to note here is that suiting Tom Ford used doesn't have a larger check overlay (so it's not technically a Prince of Wales, even if Ford wants to call it that).
Why is it on the list?
It's great to see Daniel Craig wearing a Bond classic. And wearing a suit that doesn't look like it's going to squeeze him to death! While the Glen Check (or Glen Urquhart) suiting most closely resembles that worn by Connery in From Russia With Love (both Bond Suits and BAMF Style have excellent write-ups on the look from that film), both Lazenby's and Brosnan's Bonds have donned suits in similar patterns for their films. The crisp white shirt and navy tie (I wish it was grenadine!) are also nice nods to Bond sartorial tradition. But the tab collar and tie slide give the look a retro 1960s feel and help Craig make the look his own. If you already have a nice navy and charcoal grey suit in you closet, this is the next style I'd recommend saving up for!
First: don't let the peak lapels and ticket pocket put you off. This is a made-to-measure, half-canvassed suit. So you can customize the details to get as close to the Bond 25 one as possible. Unfortunately, they don't have a three-roll-two option. But you can choose notch lapels (with pick stitching if that's your thing), a single vent, slanted jacket pockets, and trousers with side tabs instead of belt loops. And the suit will be delivered to your door in about a month's time. You can check out recent reviews of the Black Lapel experience of The Peak Lapel and Tools of Men.
The Rag & Bone Henley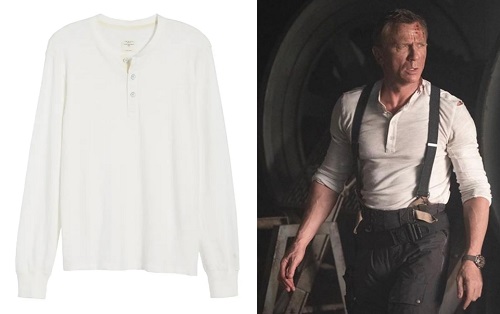 This shirt was identified pretty early on during the initial publicity for film. I first heard it was from Rag & Bone from AJB007 forum member cederic0011 back in October, 2019. And the great news is it's still available. In fact, it's currently on sale on the Rag & Bone website for $112.50 (down from the regular $150) with sizes XS to XXL in stock. So if you want the original, now is the perfect chance to grab one! You'll also find plenty of sizes available at Nordstrom (they're currently matching that sale price). You'll find more information about the Henley (and more alternatives) in this post.
Why is it on the list?
A good Henley is a workwear wardrobe staple. And it's not often that we get something like that from Bond. So this one was a bit of a no-brainer for me. The decision was really that simple.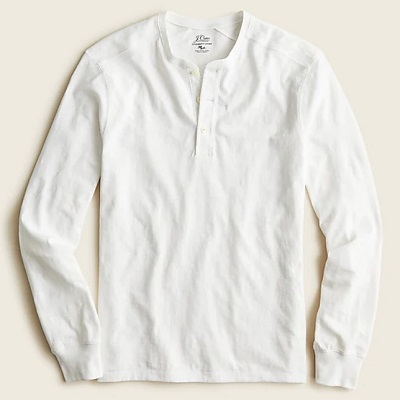 The shoulder yoke design is a little different. But all the other key features are there. And that's a pretty good sale price. One of the things I like about J.Crew is that they offer their t-shirts in "Classic" and "Tall" fits so you can really dial in the sizing to work for your body. Plus I've generally found their products to be pretty good value for the money (especially when you can catch them on sale).
The Brunello Cucinelli Blue Shirt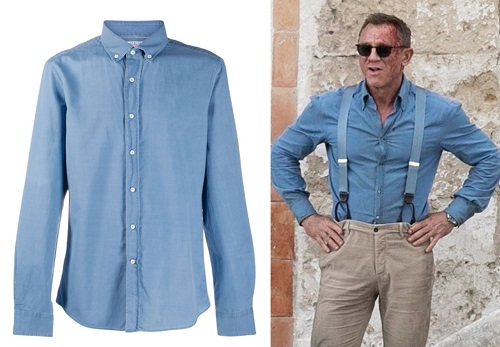 In Matera, Bond pairs his light beige Massimo Alba corduroy suit with a medium blue lightweight denim or chambray shirt from Brunello Cucinelli. Although I'm not sure if the exact model has been identified, we've been assuming the film's costume department changed the buttons to the more tonal blue ones. This post by AJB007 forum member DBS goes into detail about his hunt to secure the most screen accurate version. And you'll find more information on the entire Matera look in this post.
Why is it on the list?
Bond in a button down collar? That's not something we see everyday. Again, some might perceive this as a riskier choice for a British secret agent (even a retired one). And the lightweight denim fabric is also an interesting fabric. But, if you think about it, in today's dressed down world a shirt in this style can be incredibly versatile. It can easily be worn with a casual sport coat and grenadine tie to add a rustic touch to your office wardrobe. Or layered under a heavy knit sweater to add a pop of color on a cold day. Or roll up the sleeves and pair it with some jeans for a more refined take on the double-denim Canadian Tuxedo. It's a powerful piece to have in your sartorial arsenal.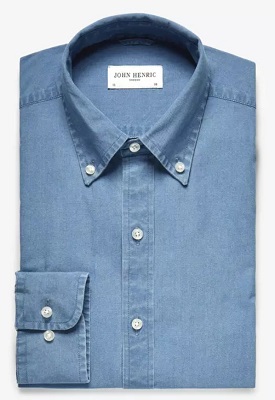 I first saw this option shared by AJB007 forum member Agent Eternal back in October, 2020. And it definitely looks like a solid match for Bond's Brunelli Cucinelli. Of course the buttons will need to be changed for the screen accurate look. But that's true of almost any alternative we've found (and, as we've mentioned above, even the film's costume department changed the buttons on the original shirt). What really makes me happy is the collar. It seems to have a decent roll to it, so that a thicker silk tie will fit comfortable underneath. Plenty of sizes available on the John Henric website. And if you sign up for their newsletter, they'll give you 15% off your first order.
The Tom Ford Grey Selvedge Denim Jeans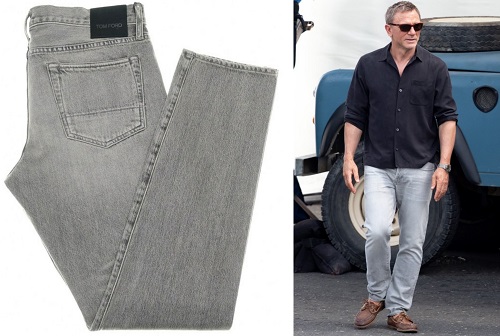 Thanks to AJB007 members TroyIkeda and TheExit148, we also discovered the jeans Bond's wearing pretty early on in No Time To Die's production. They're a pair from Tom Ford in a light grey selvedge denim (to learn more about selvedge, check out this post). Near as I can tell, they originally retailed for about $600. And there's still an ongoing argument about whether they're the straight fit or the slim fit cut. In any event, that exact model is sold out now (although I think this pair for $790 at My Teresa comes close).
Why are they on the list?
In my humble opinion, grey is a seriously underrated color for jeans. It's a neutral color in a cool tone that can add something different to a fit without looking like you're trying to draw attention to yourself. And it's very versatile. In fact, we explored some different ways to wear them in this post. Pick up a pair in a light to medium weight denim and a slim-straight cut and you'll have some great 3-season jeans to help you break out of your "dark wash" rut.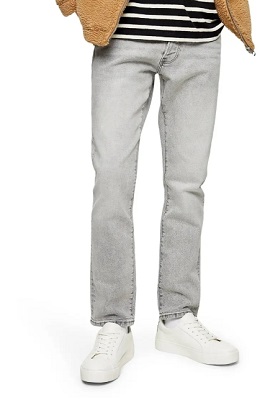 The tone of grey is pale enough. And they have a light distressing to give them the proper broken-in look. It's also a cut that should work for a lot of body shapes: slim but still roomy through the top block and thighs, with a slight taper below the knee. Plus they added a bit of elastane to the fabric mix to give them some comfortable stretch. Nordstrom currently has sizes 30 to 36 in stock, but they're selling fast!
The Barton Perierra Joe Sunglasses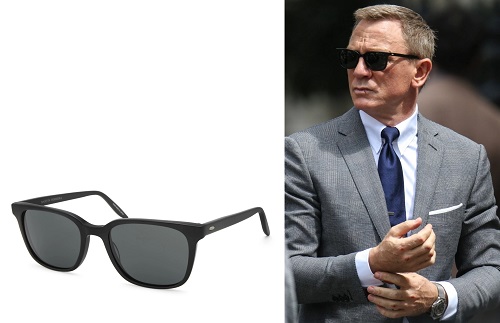 No Time To Die saw Bond wearing two sunglasses models from Barton Perreira: the round tortoise frame Norton in Matera and the black frame Joe in London. Barton Perreira is a relative newcomer to the luxury eyewear scene. Patty Perreira and Bill Barton combined their extensive design and operational experience at Paul Smith, Prada and Oliver Peoples to launch their brand in 2007. And they were a hit with both celebrities and the in-the-know style crowd almost immediately. Now that Bond's wearing them, they've re-released both the Norton and the Joe with some subtle 007 branding. The Joe is available on their website for $440.00.
Why are they on the list?
I love me some Vuarnets. And I think the  vintage styling of the Nortons is pretty nice. But in my opinion, the Joes are the winners of this round of the Bond sunglasses game.  I just think Barton Perreira totally nailed the style. They're strong without being heavy. They go perfectly with a suit, but I could easily see them working just as well with a black leather jacket. And they do a great job of balancing "timeless" and "contemporary". In other words, they're perfect for Bond. Plus, that streamlined Wayfarer shape and the 52mm size will work well on most faces.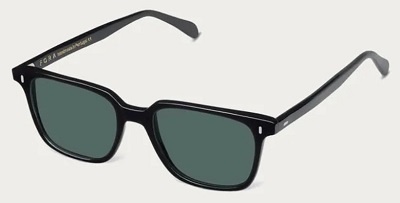 This Portuguese boutique brand makes a killer option for the Joes. Like Barton Perreira, they've gone with a slightly thinner rim. But because they've kept the top of the frames relatively straight and the curves elsewhere more gradual, the look stays strong. Overall, it's a sophisticated but structured, no nonsense style. Handmade in Portugal using Italian acetate and Zeiss Sunlens lenses, they also deliver in terms of quality. The 50-20-140 measurements are a little smaller than the Joes. So I'd expect these to work best for small to medium size faces.
Have some personal favorites you think we should add to the best Bond No Time To Die style list? Tell us about them in the comments! And remember to visit our Facebook Page, Instagram Account and Pinterest Boards for more James Bond and Steve McQueen style advice, inspiration and info!