No Time To Die Matera Suit
Updated September 12th, 2021 – I have a very strong feeling that Bond's No Time to Die Matera look is going to be a divisive one. As far as I can tell, it was AJB007 forum member cederic0011 that first identified the suit he's wearing as a Massimo Alba design from the Spring/Summer 2019 collection after contacting the Italian design house.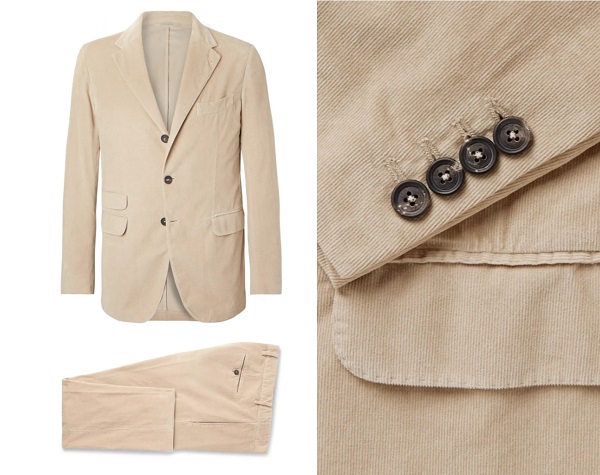 If you looked closely at the product photo above (or read the caption), you probably noticed something interesting. The suit is made from a very fine wale corduroy. And that's why I said it's probably going to be a "love it or hate it" part of Bond's wardrobe. Although a corduroy suit may not be for everyone, this particular one (it's the SLOOP suit model, artic. T0301 in color U714) has been pretty popular. You can still get the suit directly from Massimo Alba or at Mr. Porter for $1425.00.
Luckily, cederic0011 managed to get his hands on one. And he gave me permission to share a few photos of him wearing it with the Drake's Crosby suede moc-toe boots. Note that his is a size 52 and he's normally a 50. So the fit is big. But he plans on getting it tailored.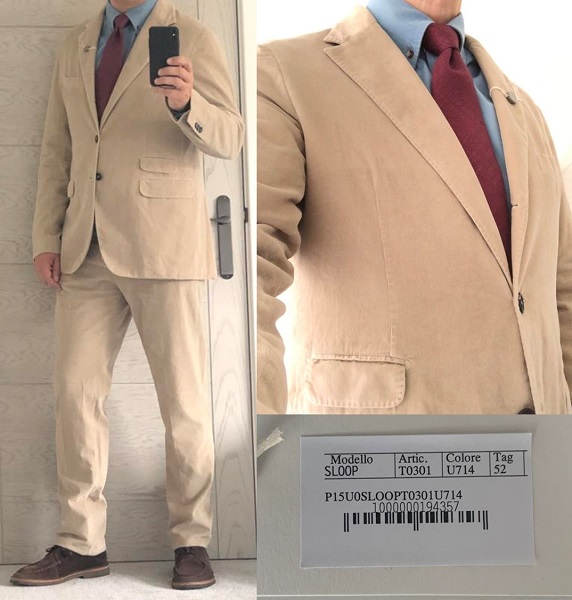 Features wanted for the No Time To Die Matera Suit
Fine wale cotton corduroy (12 to 18) in a light beige or sand color
Unstructured and partially lined jacket design
3-roll-2 jacket button closure
Flap pockets with a flapped ticket pocket
Double vents
4 buttons on the cuff
Flat front trousers with belt loops and jetted back pockets
Just a quick note on corduroy. Usually made of cotton, the fabric is characterized by its distinctive rows of "cords". The number of cords per inch is normally referred to as the "wale". So the higher the wale number the finer looking the fabric. In the case of the Massimo Alba suit, the corduroy is still noticeable, but it's extremely narrow. So that's why we're looking for alternatives in the 12 to 18 wale range.
Best Option for the No Time To Die Matera Suit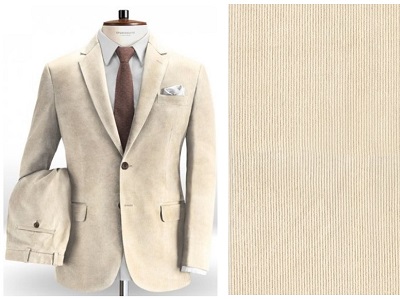 If you're comfortable with going made-to-measure, I'm not sure I'd bother looking any further. The suit in the photo above is the base model. And as it stands, it's already a darn good match. Especially that 100% cotton, 14 wale corduroy fabric. But StudioSuits allows you add a variety options to bring it even closer to the Massimo Alba. For example, you can go with a three button front (I think you'll need to ask if you can make it a 3-roll-2) with four on the cuffs. And then add the double vent, ticket pocket and a light colored Bemberg lining. Next, you can select from a full lining (with a half canvassed construction), half lining or unlined interior, depending on the how heavy you want the suit to be. And finally, you can fine tune the design of the pants.
All those extra tweaks will raise the price. But even after adding details like pick stitching and natural shoulders, the price is still only $327.00. Obviously the key to any of this being a good value is the fit. But entering your measurements is a relatively easy process. And if you have a suit you love, they also offer a "Clone a Suit" option. Our fellow Bond community member Jeremy A. wrote a great review of his Studio Suits experience for us that provides a ton of details. Definitely a "must read" if you're considering this alternative!
The Blue Matera Shirt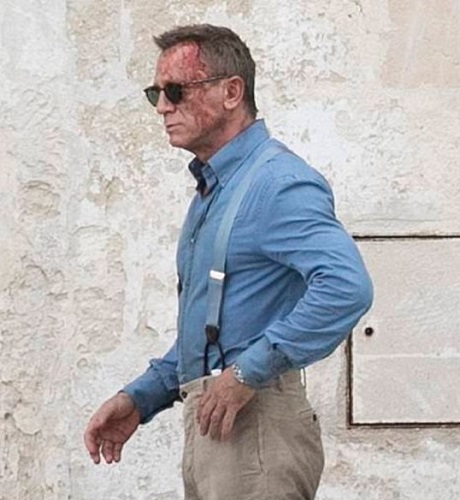 Bond in a button down collar? Again, some might perceive this as a riskier choice for a British secret agent (even a retired one). The lightweight denim fabric is also an interesting choice. The screen used shirt is from Brunello Cucinelli. Although I'm not sure if the exact model has been identified, we've been assuming the film's costume department changed the buttons to the more tonal blue ones. This post by AJB007 forum member DBS goes into detail about his hunt to secure the most screen accurate version.
Best Option for the Matera Shirt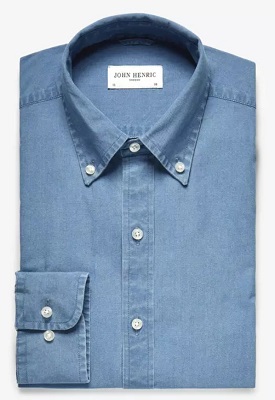 I first saw this option shared by AJB007 forum member Agent Eternal back in October, 2020. And it definitely looks like a solid match for Bond's Brunelli Cucinelli. Of course the buttons will need to be changed for the screen accurate look. But that's true of almost any alternative we've found (and, as we've mentioned above, even the film's costume department changed the buttons on the original shirt). What really makes me happy is the collar. It seems to have a decent roll to it, so that thicker silk tie will fit comfortable underneath. Plenty of sizes available on the John Henric website. And if you sign up for their newsletter, they'll give you 15% off your first order.
Under $100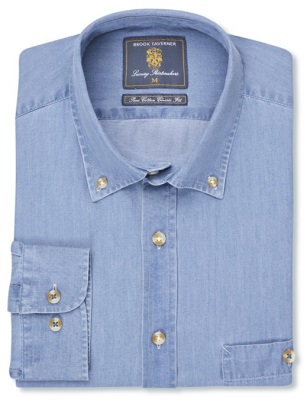 And a nice alternative from Instagrammer @malcolm.campbell.980. He's already picked one of these up and so far he sounds pretty happy with it. There are some clear differences between this one and Bond's Brunello Cucinelli shirt (aside from the price). The lighter colored buttons would need to be changed to something darker for a more screen accurate look. The button through chest pocket might be a bigger issue for a few of you. But the shirt comes in both Classic and Tailored fits to accommodate our various body shapes. The roll of the collar also looks pretty good and that's key to achieving the look. Plus, it's sitting with 5 out of 5 stars after 61 reviews, which says something about customer satisfaction. Brook Taverner will include free shipping on orders over £100. So it might be a good time to take advantage of their 4 shirts for £100 promotion and stock up on some staples.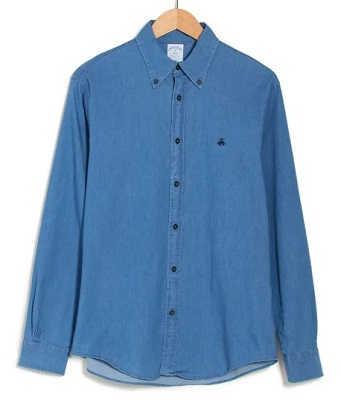 The blue is a little darker than we'd like. But at least it comes with something other than white buttons. And if anyone knows about collar roll it's Brooks Brothers. The lightweight denim fabric is a 98% cotton, 2% spandex blend. So even though the cut is their slightly trimmer Regent fit, the extra stretch should keep things comfortable. The shirt is currently on sale at Nordstrom Rack, where they have sizes small to XXL in stock.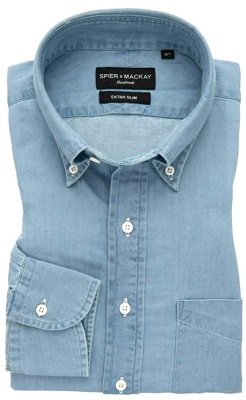 A 100% cotton option from the well-respected Canadian brand. They make it in extra-slim, slim and contemporary cuts in a variety of sizes. But be aware that inventory is starting to run low. Sadly, this latest version has that chest pocket. And the model that would be an even better match (their Italian Button Down Sport Shirt) is currently sold out. Fingers crossed they do a re-stock of that one. Or you could check with Spier & Mackay about doing a made-to-order. It would cost more, but you'd get a custom fit with all the details you want.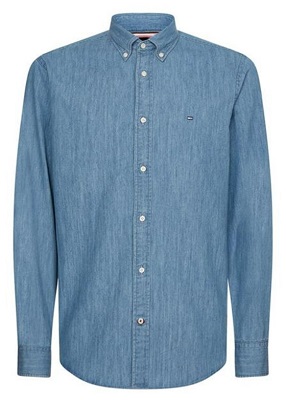 If you can get past the little flag logo on the chest (which, to their credit, is more subdued than it has been in the past), this looks to be a solid alternative. The heavier denim fabric is a little more rustic than the Brunello Cucinelli Bond wears. But it should still work well with the corduroy suit and the weight and texture of the heavier silk tie. You'll find sizes small to 2XL at House of Fraser.
The Brown Suede Matera Chukka Boots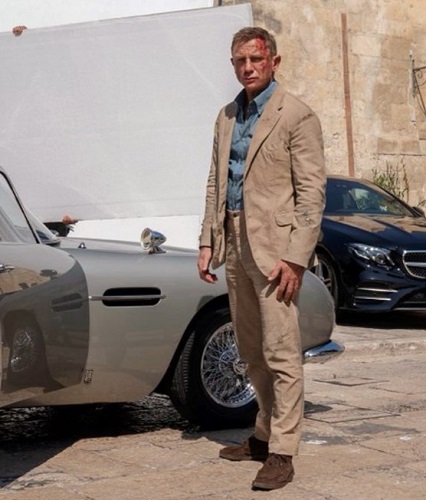 As far as I know, we now have 100% confirmation that the boots Bond's wearing in the Matera scenes are the Drake's Crosby moc toe chukkas in dark brown suede.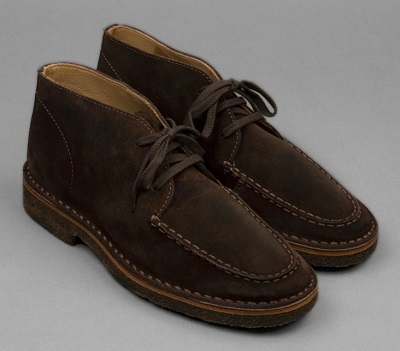 You can still get the boots directly from Drake's for £275.00/$395.00. However, Oslo based Cavour also has a decent selection of sizes for $320.00, with free shipping. So you might want to check them out.
Best Option for the Matera Chukkas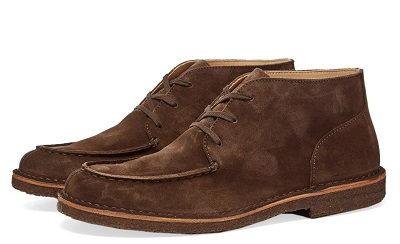 The rumor around town is that Astorflex made the Crosby for Drakes. However, Drake's asked for a different last and a few upgrades here and there (not sure what those may be). In any event, from a looks standpoint, the Dukeflex design is nearly identical to Bond's boots, although the Dark Chestnut brown looks to be a couple of tones lighter. I'll also add that I have a pair of the Dukeflex (in a lighter brown color) and I love 'em. They're a great fit and super comfy. But they do run about a half size large in my experience (even taking into account the UK sizing). END Clothing currently has UK sizes 6 to 10 in stock.
Under $200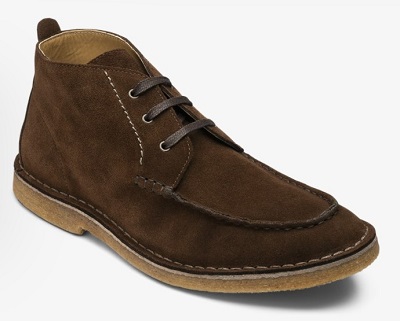 AJB007 forum member Jellyfish suggested these chukkas from Bond brand Loake and they certainly like they could play the part. Most of us know Loake as a heritage shoemaker based in Northamptonshire, although it should be noted that these particular boots were made in Portugal. The sole is a natural crepe rubber which tends to wear very well. And they've built the boot with a stitched down construction on their new Quad last for a roomier, more comfortable fit. All in all, a very respectable alternative that's almost $200 less expensive than the originals. Not sure if Loake calling them the "Daniels" is a coincidence or not ….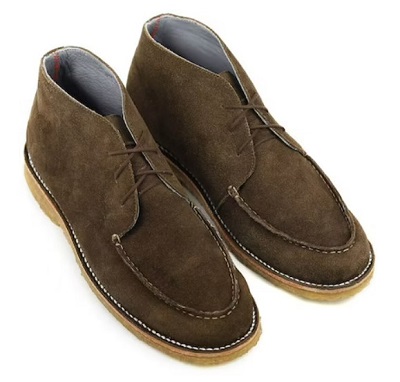 Here's an interesting option. Miles and Louie are an indepentent seller on Etsy that handmakes their boots in Mexico. The standard color for their version of the Moc-Toe Chukka is a dark olive green. You could get these and try to dye the suede yourself (or get a 3rd party service to do it). But Miles and Louie will also make them in a dark brown suede as a custom order for an extra 20% of the price (about $30). There's also a $20 shipping fee to consider. So these aren't cheap when you add all the costs together. But if you're loving the style of Bond's chukkas and can't find your size (or need a different fit), these could be worth the investment.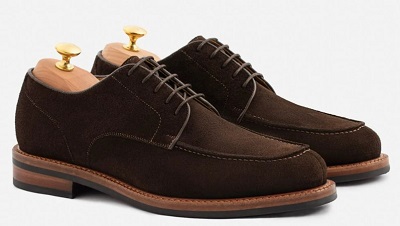 Maybe you like the idea of the moc-toe chukkas, but want something a little more sophisticated. Beckett Simonon's take on the classic Norwegian split-toe derby shoe would do the trick. For the uppers they've used a beautiful water resistant Italian suede and a Vachetta leather lining. The Blake stitch construction helps to minimize break-in and can be re-soled when the time comes. Not really a screen accurate choice. But certainly an elegant one. Sizes 7 to 14 are available on their website.
The Polka Dot Tie and Grey Braces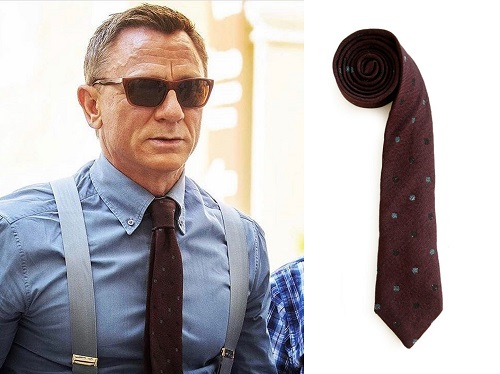 For the Matera scenes, Bond wears the Avery tie from Alexander Olch. You can still get the originally for $150.00. But I found it interesting that it's the 3.5″ wide version that's labelled as the "007" model. I honestly didn't expect the blade to be that wide based on the photos and footage we've seen so far. If you feel that 3.5″ is too much tie, it also comes in 2″, 2.5″ and 3″ widths. Check out this interview with Olch on Bond Suits to learn more about the designer and his neckwear.
Best Option for the Matera Tie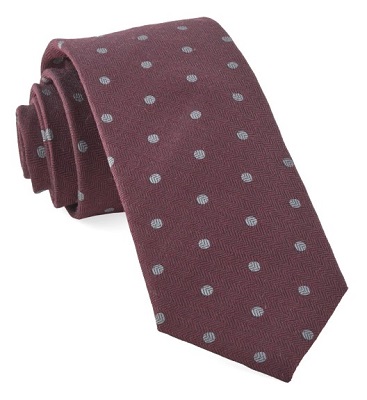 The base color seems like it'll be a good match. Sadly the circles are only grey. But the general design and the matte finish of the 30% wool, 70% silk material gives it a very similar look. Tie Bar only has the Super Skinny (2″ blade) and Skinny (2.5″ blade) in stock. So while we can't get a more screen accurate width, the Skinny model should work for you thinner gentlemen.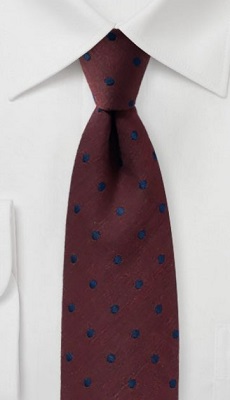 Similar to the Tie Bar Option above. But dots are blue rather than grey on this one. And the 3″ blade width comes closer to what Bond wears. The fabric is a 50% wool blend. The site doesn't mention what the other 50% is. One would hope for silk, but at this price point I'd be more inclined to think it's a synthetic.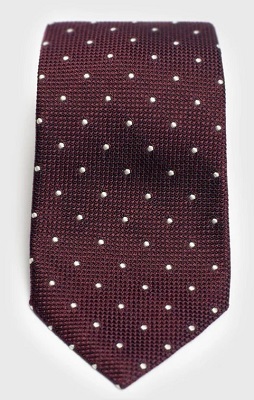 The white pin dots aren't really what we're looking for. But the burgundy base color looks like a good match. And the 3″ blade width is an appropriate size for many of us. I'm also loving the fact that this one is made from grenadine garza fina, a unique silk weave made in Italy that gives the tie its interesting texture that will compliment the heavier corduroy and denim of the rest of the outfit.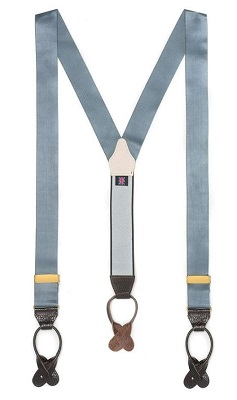 Bond will be wearing braces from Albert Thurston to complete his Matera outift. This British heritage brand (they first opened their doors in 1820) already has a Bond connection, having made the white Moiré braces Craig's 007 uses in the casino scenes in Casino Royale. The No Time To Die set is made in the UK from silk barathea ribbon and features polished brass hardware and goatskin leather button tabs. They're also some of the more affordable screen accurate accessories we can get. So consider going for the originals. Currently Benson & Clegg has the best price. They're currently sold out on the website, but Benson & Clegg have informed me they are expecting re-stock very soon. You can also order them directly from Albert Thurston for $119.95.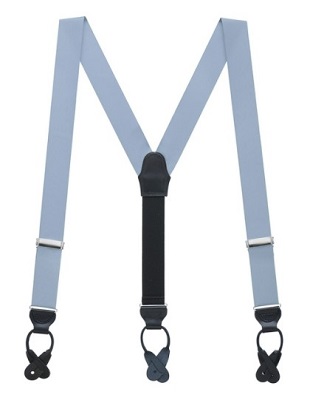 A great alternative suggested by our Facebook friend Sean. As I said, paying for the original Albert Thurstons won't break the bank and they are the originals so probably worth the investment. But if you're still not sure braces are your thing and don't want to spend more than fifty bucks, then these will give you the look for about half the price. They're made in the U.S.A. from a grosgrain ribbon material with genuine leather tabs.
The Watch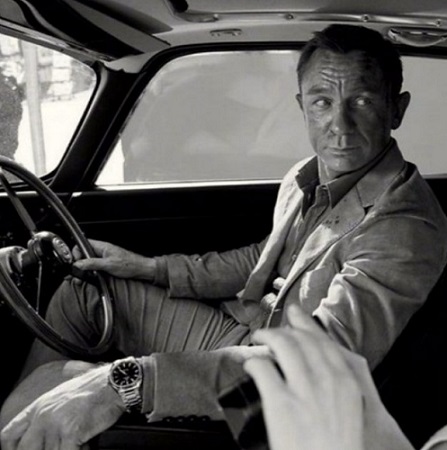 Even though the new Omega Seamaster 300M (alternatives in this post) that's been getting all the hype, it looks like Bond will be wearing his trusty Seamaster Aqua Terra when he visits Matera. We've already added lots of alternatives for the Aqua Terra in our most recent update of Craig's Bond-era watches, so I won't repeat them here. I'll just say that there a lot to choose from at prices that should work for most budgets.
Have some ideas for the No Time to Die Matera suit? Or any of the other pieces from Bond's outfit? Tell us about them in the comments! And if you're looking for more style inspiration, check out Iconic Alternatives on Facebook, Instagram, and Pinterest!