The Bond Wardrobe: Sport Coats and Outerwear
Now that we've discussed some of the strategy behind 007's style and looked at the shirts and sweaters, pants and suits you need for your Bond Wardrobe, next up are sport coats and outerwear.
Some Thoughts on Sport Coats and Blazers
Up until Tomorrow Never Dies, sport coats and blazers played a pretty important role in Bond's wardrobe. Especially during the Roger Moore era. But after Pierce Brosnan's double breasted blazer in Goldeneye, the costume design shifted exclusively to suits and they disappeared until Daniel Craig wore the Brunello Cucinelli jacket in SPECTRE.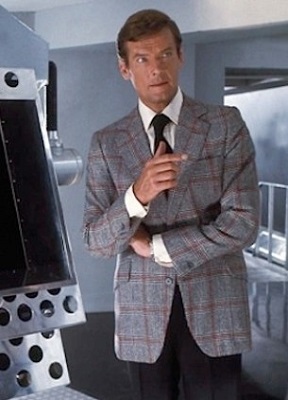 For many men today, a sport coat can actually be more useful than a full suit. They're easy to dress up with a tie and some pressed trousers for an outfit that will be formal enough for most business settings. But it's also easy to wear them as part of a more casual look, pairing them with jeans or chinos when you want to take a relaxed style up a notch.
Personally, I found it a bit of challenge to wear sport coats more casually at the start. I often felt like I was just too "dressed up" for a night out with friends. One thing that helped me get more comfortable was simply substituting a piece of outerwear with a sport coat or blazer. For example, instead of going with my navy Harrington, I'd throw on an unstructured navy blazer. Or I'd use a tweed jacket instead of my Barbour. It was a conscious decision to treat sport coats like any other jacket. And pretty soon I wasn't thinking about it all that much.
A quick note on fit and construction …
Bond's sport coats and blazers were usually more structured and were cut in a similar style to his suit jackets. The fit was a little more relaxed, but the majority of his jackets still featured padded shoulders, roped sleeve heads and, in most cases, a full canvas construction. It was really the fabrics, colors and patterns that told us they were more casual pieces. However, given current trends in men's style, that structured look can come across as anachronistic today. I've tried to address that below, focusing on designs that will work with a contemporary wardrobe while still capturing some of Bond's style.
The Tweed Sport Coat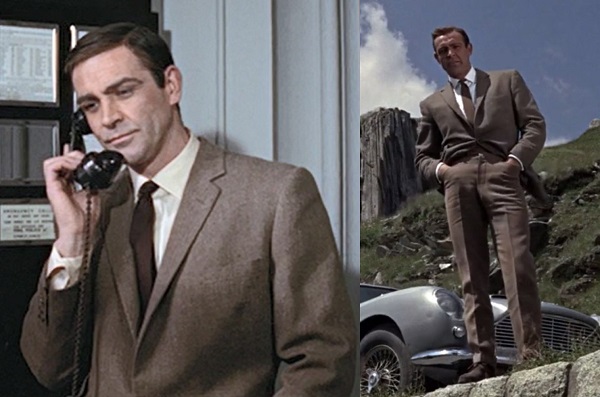 Key Features:
Medium to dark brown tweed in a barleycorn or herringbone weave
A softer, unstructured design. In other words, little to no padding or roping in the shoulders, with minimal interlining and a lighter weight inner lining. If you're not sure what those terms mean, take a look at the "Suits" article in our Affordable Bond Wardrobe series.
Three button or three-roll-two closure.
Single vent or double vent (your preference, although a longer single vent is more a characteristic of a true hacking jacket).
Patch pockets or flapped pockets? That depends (more on this below).
Tonal horn buttons
Of course we all know the most famous Bond tweed sport coat. And there's no denying that Connery looked damn cool in Goldfinger and Thunderball in his barleycorn hacking jacket. But tweed has been a staple fabric for Bond beyond this one example. He's worn variations, from herringbone to check, in On Her Majesty's Secret Service, Diamonds Are Forever, Moonraker, Octopussy and A View to a Kill (seen in the featured image for this post). Check out The Suits of James Bond for more information on all those specific looks.
Still, when it comes to contemporary style, a brown tweed sport coat can sound a little … old fashioned. Usually what comes to mind is an overly structured jacket in a heavy Harris or Donegal tweed with suede elbow patches. The kind of thing we imagine the stereotypical university professor wearing. And that's too bad. Because the truth is the right tweed sport coat can be one of the most versatile jackets a man can own.
I'll have an article dedicated to tweed jacket alternatives coming in the very near future, as well as a "4 Ways to It" post. But for now I'll just warn you that this is where I'm going to put "screen accurate" on the back burner. Instead I'm going to recommend going with a modern interpretation of the classic.
A Note About Tweed Sport Coat Styling …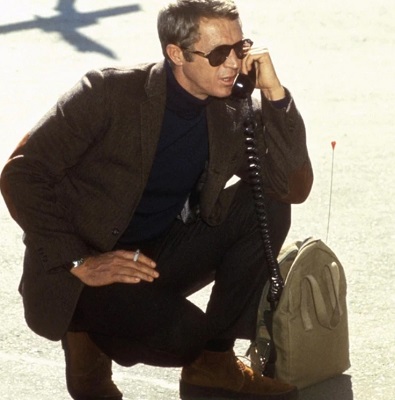 Okay, why is there a photo of Steve McQueen as Frank Bullitt in an article about Bond style? Because (in my humble opinion) he's wearing the style of tweed sport coat you're looking for. As BAMF Style points out in their excellent analysis of the above look, Bullitt's jacket is a softer, American style construction with a three-roll-two closure, flapped pockets and a ticket pocket.
So why is this design preferable to the styles worn by Connery and Moore? To put it simply, it's more casual. Remember, one of the goals when we're building our wardrobe is to match not only colors, but to also start thinking about how we can combine textures and styles as well. And tweed is one of those wonder fabrics that looks great with other heavy, textured materials. In today's more relaxed world, a tweed sport coat with a softer construction is going to look more contemporary and be easier to wear with jeans and flannel, corduroy, and cotton pants.
Which brings us to the pockets. Basically, patch pockets are inherently more casual. So if you're planning on wearing your jacket more with jeans, chinos or 5 pocket cords (like the Skyfall All Saints Iggys), go with those. However, if you see yourself using the tweed sport coat more frequently with pressed flannel or wool trousers, flapped pockets are the better choice. The slightly more formal pocket style will work better with the dressier bottoms.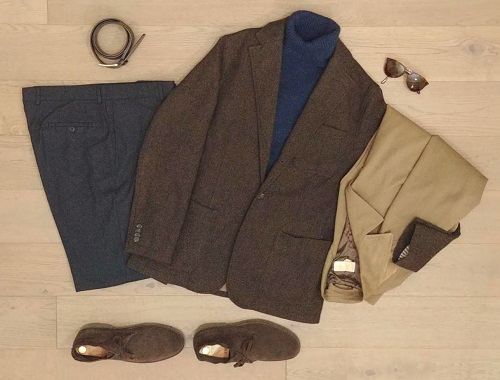 The Navy Blazer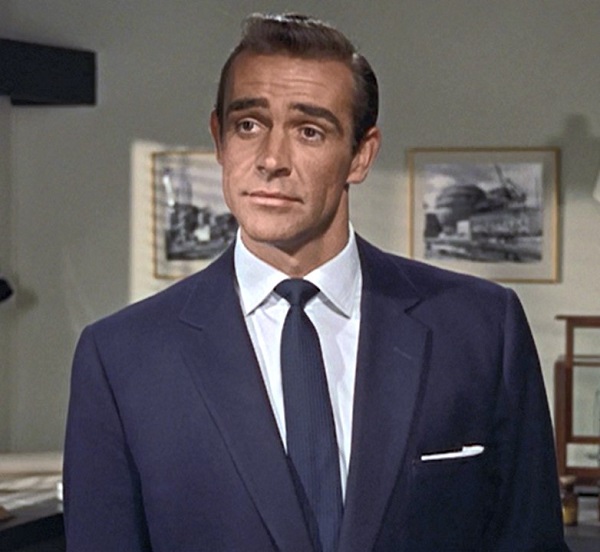 We've already taken an in-dept look at Bond's navy blazers in this article. And discussed how it can fit into your wardrobe in this 4 Ways to Wear It post. So I'm just going to do a quick summary here.
Like the tweed sport coat, the traditional navy blazer design can seem a little too "old school" for many people. But, as Timothy from Canoe Club suggested in our Guide to Contemporary Style, a modern interpretation can be incredibly versatile while still giving us the Bond connection we want.
So I'm going to suggest going with the a blazer with a little bit of structure in a more traditional hopsack, serge or doeskin fabric. However, I'd recommend going with the slightly more casual Connery style (with patch pockets and metal buttons) over the dressier Roger Moore models. If metal buttons are still a little too formal for you, dark grey or dark brown horn buttons can also work. Just be aware that some purists may no longer consider it a true blazer.
The Lightweight Sport Coat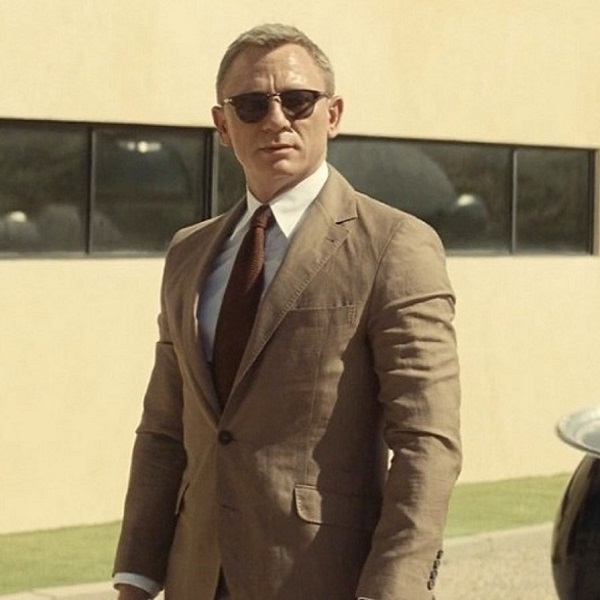 Key Features:
Linen or linen blend, with some texture, but no pattern
A softer, unstructured construction with medium width notch lapels
3 buttons (3-roll-2)
Slightly cropped tail
Flap pockets
Light brown/British khaki/dark camel
Here's a jacket that needs no introduction. Think of the linen/linen blend sport coat as the warm weather version of the tweed jacket. It can be dressed up a little with a white shirt and tie (as Bond did in SPECTRE). Or worn more casually with a linen shirt and some lightweight denim. We took a detailed look at the Brunello Cucinelli jacket and suggested some alternatives in this article. And explored how to combine it with other pieces in your wardrobe in this 4 Ways to Wear It post.
The Harrington Jacket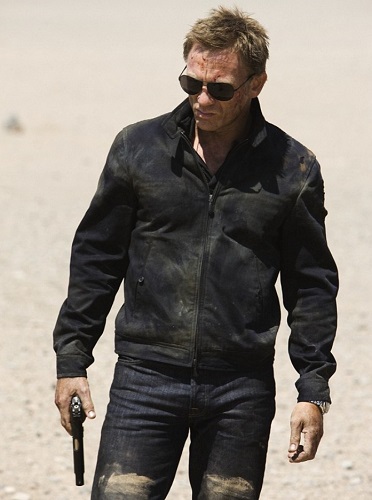 Key Features:
Harrington/Barracuda style collar
Navy blue cotton or cotton blend
No elasticized or knitted cuffs or hem.
This one's a no brainer. The Baracuta Harrington (sometimes referred to as a Barracuda jacket) is a classic style that's been around for more than 75 years. Popular with Steve McQueen, Elvis and Frank Sinatra, both Daniel Craig and James Bond find themselves in good company with this choice of outerwear.

Bond's Tom Ford Harrington in Quantum of Solace is based more on the Baracutta G4 style, which lacks the knitted cuffs and hem and has a trimmer cut, giving it a more up-to-date and refined look. The best affordable alternative that comes closest to what Bond wore is undoubtedly the Royale Filmwear Quantum Harrington Jacket, which was recently re-stocked (thank you, Mr. Love!) and retails for $199.00. You can read my review of an earlier version of the Royale Filmwear jacket here. And we also included some additional alternatives in our "7 Essential James Bond Jackets for Fall" article.
Fit and Tailoring Tips:
Since the Harrington was originally designed as a golfing jacket, traditional versions tend to have a fuller cut with wider sleeves. We're looking for a more modern fit. So slimmer through the body with narrower sleeves.
Because G4 style Harringtons have shirt style cuffs (with a tab and button closure), it can be very difficult and/or expensive to get the sleeves shortened. If you look at the photo above of Daniel Craig in Quantum of Solace, you'll notice that the sleeves on his jacket are stacked. So don't worry if the sleeves on yours are an inch or two too long.
Try and find a jacket with a stiff collar so it stays standing. A Harrington can go from "cool" to "old man feeding birds in the park" pretty quickly if the collar material is too floppy.
The Pea Coat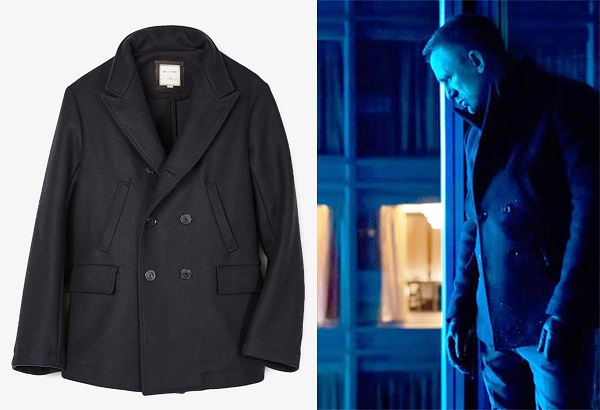 Key Features:
Dark navy wool or wool blend in a trim, slightly shorter cut
6 button front
Peak lapel collar
Single vent
Chest height hand warmer pockets
Flap pockets at hem
Another classic style, the great thing about the peacoat is it looks good dressed up or dressed down, making it a pretty versatile piece of winter clothing. Although Bond also wore a peacoat in Casino Royale, it's the one he used in Skyfall that most people remember. That coat came from Billy Reid and an updated version of it is still available for $695.00 (although some sizes are going for $565.00 on Amazon). You can learn more about the Billy Reid version at The Suits of James Bond,BAMF Style, or check out this vlog from The Bond Experience.
There are literally thousands of peacoats on the market. So the one you choose will be mostly based on your budget and how close to Skyfall screen accurate you want to get. Some would suggest starting at an Army/Navy Surplus store. There great places to find bombproof traditional peacoats at affordable prices. But the peak lapels on Bond's coat are not that common. Hell, finding alternatives with the patch pockets and chest pockets ain't so easy!
If you're interested in an excellent reproduction, you can once again check out Royale Filmwear. Their Shanghai Peacoat ($229.00) is about as close to screen accurate as you can get without going with the original. Head over to this post to read my review of an earlier version of the coat.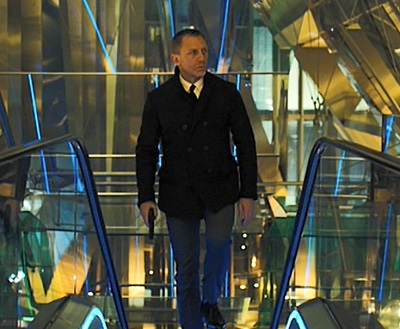 Fit and Tailoring Tips:
It's pretty well known now that Craig wore a medium in the Billy Reid to give him a more tailored look when he was just walking around, and then switched to a size large for the action scenes. Being realistic, expect to size down in most "traditional" peacoats to get a shorter, trimmer fit. But don't forget you need to be able to move in the thing!
Yes, you can have your peacoat tailored to achieve the fit you want. But it won't be cheap. Especially if you choose a heavier melton wool. As for the length? If you select a coat with the flap pockets, it's going to be next to impossible to shorten it.
There's definitely some debate about the best fabric: 100% wool or a wool blend? Some say that high quality wool is worth the price since it won't pill as much. Others side with an 80%/20% wool/nylon blend because you can still get a high quality fabric that will resist pilling at a lower price. If this is a discussion you're interested in, check out this thread on Reddit.
I'll be updating our post on alternatives for the Skyfall peacoat in the very near future.
The Trench Coat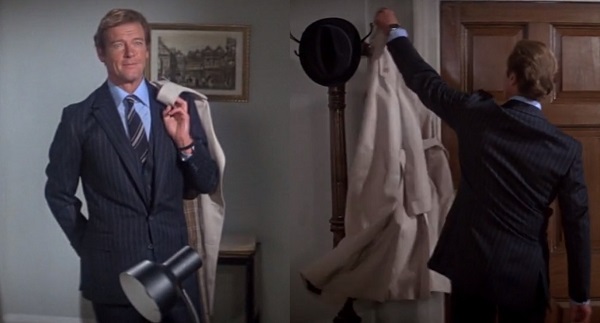 Key Features:
Beige 100% cotton gabardine
Double breasted design with 6 or 8 buttons (the number of buttons will depend on the coat length you choose).
Button down "gun flap" shoulder patch
Epaulets
Belt (D-rings on the belt give it more of a military vibe).
Removable wool or wool blend liner.
We see James Bond actually wearing a traditional beige cotton trench coat exactly zero times in the films. In fact, the iconic outerwear only appears twice in the series. Once when we get a peek into Bond's closet in Live and Let Die (check out this post on The Suits of James Bond to learn what else is in there). And once when Roger Moore's 007 enters Moneypenny's office with one slung over his shoulder in For Your Eyes Only. But hey! At least we know he has one!
Despite it's very limited appearances in the Bond films, there's an endless list of reasons why a man should have a classic, double breasted trench coat in his closet. I'll give you three to start with. First, almost every cool actor you can think of has worn one: Bogart, Michael Caine, Redford, Alain Delon, even Brad Pitt. Second, if you get one with a removable liner, it's the perfect coat to wear over a suit for rainy days in the spring and fall or on those winter days when a down jacket would be overkill. Third, it works well for more formal business environments or as a casual piece of outerwear.
We'll be looking more closely at trench coats in an upcoming post. And we'll also discuss how to wear one as part of a more casual look.
Fit and Tailoring Tips:
Traditionalists will claim that a true trench coat has to come down to your knees (at least). Which can be a bit of a problem for us guys under six feet. A coat that long is just going to make us look shorter than we are. Luckily, there are plenty of more modern trench coat designs that end around the mid-thigh. That's plenty long enough to cover a suit jacket without making you look like you're missing 80% of your legs.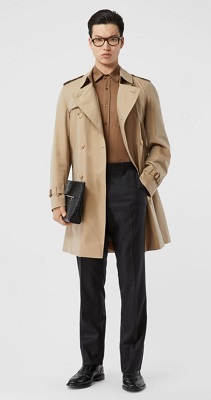 Trench coats are cut to be worn over suits, so expect the fit to be a little large. That goes for the sleeves as well. The cuff should end around an inch to an inch and a half below your wrist to provide good coverage for the cuffs of your suit jacket and shirt.
Regarding tailoring, there's really not much you can do. It is possible to shorten the length. But due to the folds of fabric at the back vent, it can be trickier than you might expect. Better to get a model that works with your height and body shape from the start.
About the belt: don't buckle it! Instead, if you're going to wear the coat unbuttoned, tie the belt at the back to stop it from flailing around. When you've got the coat buttoned up, tie the belt at the front.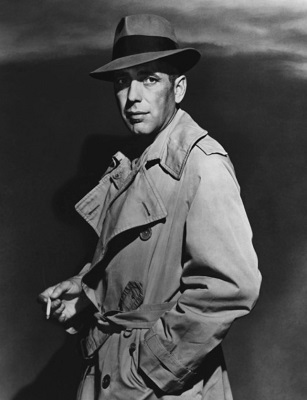 The Affordable James Bond Wardrobe Series:
Shoes and Boots (coming soon!)
Details and Extras (coming soon!)
Next we'll be looking at the shoes and boots you need for your  Bond wardrobe! Remember, you can visit our Facebook page, Instagram account and Pinterest Boards for more James Bond style advice and inspiration!