The Affordable Bond Wardrobe: Shirts & Sweaters
When it comes to building an affordable Bond wardrobe, there are a ton of "Style the Style!" and "Get the Look for Less!" articles out there for dressing like 007. There's two big problems with 99% percent of them. First, the pieces they recommend are usually only for one outfit from the films. And second, they believe you want to dress like you're going to a James Bond cosplay party. Let's leave the costumes for Halloween, shall we?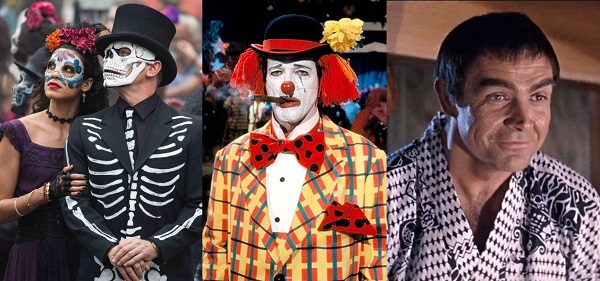 Anyway, this isn't one of those posts. Instead, I'd like to discuss what it takes to build a basic affordable Bond wardrobe that's going to last. Our goal here is to identify those key pieces that are versatile enough to work with multiple outfits. And then look at how to choose the ones that have the correct style details and will best fit your body.
Before we get to that, let's layout some general guidelines for building an affordable Bond wardrobe.
Shopping guidelines for an affordable James Bond wardrobe
When it comes to price, do NOT buy the best you can afford. Buy the best you'll feel comfortable wearing. And then wear the hell out of it. Bond of both literature and film understands that the clothes serve a purpose. They're means to end, not an end unto themselves. And that end is to live life to the fullest. That's pretty hard to do if a) you have no money in your wallet because you spent it all on an expensive polo shirt and/or b) you walk around like you're on eggshells because you don't want to scuff your $500.00 "investment" shoes. This 11 year old article from James Bond Lifestyle discusses the psychology behind a practical Bond wardrobe.
I discuss the basics of what to look for regarding fit, color, fabric and details in this article.
Be patient. Unless you've just lost everything in a natural disaster, there really isn't any need to rush out and get everything on these lists. Methodically waiting has several advantages. First, you can save up to get "the best you'll wear". Second, stuff always goes on sale, which helps your budget (Yay! more money for single malt whisky my kid's education fund!). Third, and perhaps most importantly, you are building a timeless wardrobe So you can afford to take the time to find pieces with the right details rather than settling for "close enough" options.
Find a good tailoring service (yes, even for casual clothes), and leave room in your budget so you can use it. I included "tailoring tips" for some of the items on this list.
I'm going to assume we already have socks, underwear and t-shirts in grey and white. So we're going to start with shirts and sweaters. Future articles will explore trousers, outerwear, suits, footwear and accessories. Let's get started!
The Navy Polo shirt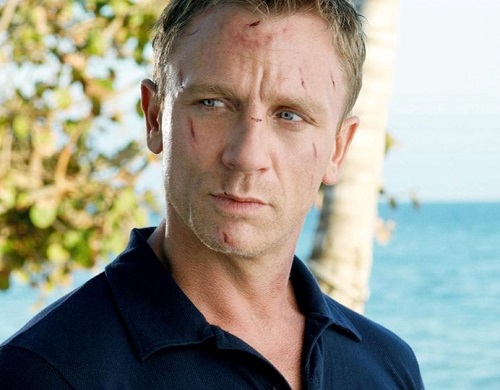 Key Features:
Self collar (this is key!)
Chest Pocket
Two button placket
Trimmer, more tailored fit
A good navy polo is one of those staple shirts every guy should own. So it's probably worth investing a little bit more to get the right one. The most famous Bond polo at this point is probably the Sunspel Riviera from Casino Royale. You can still get the original from Sunspel. But if you're patient, it frequently shows up at MatchesFashion at a better price. And we have other alternatives in this post.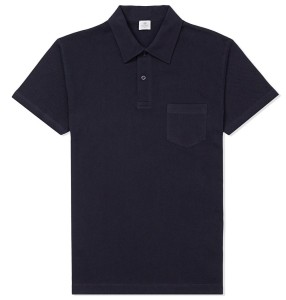 The Casino Royale style navy polo shirt can also work for the Quantum of Solace Haiti look, the Thunderball Fred Perry and, in a pinch, the SPECTRE Matchless Morocco outfit. Although it won't be screen accurate for all the looks, I think an important feature of the polo you choose should be the shirt style "self collar". It really dresses it up and makes it more suitable for wearing under a sport coat or blazer.
Fit and Tailoring Tips:
Ideally, the hem of the shirt should fall around the middle of your hips. This length keeps the polo looking contemporary. But it won't expose your stomach when you need to reach for something on the top shelf.
The sleeve should end around mid-bicep when your arms are hanging straight at your sides.
If the polo has a longer tail, consider getting it tailored so the hem is as straight as possible.
The Long Sleeve Light Blue Linen/Cotton Shirt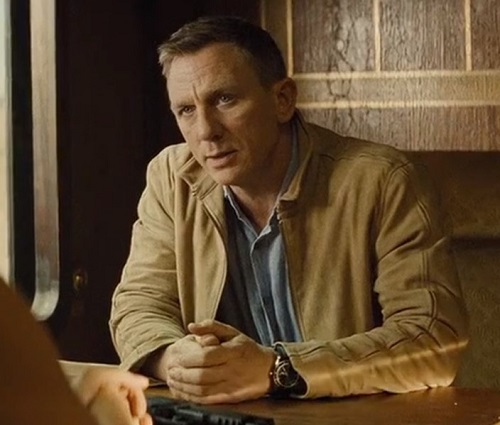 Key Features:
Light blue, long sleeve shirt in a linen or linen blend
Shorter, non-button down collar
Tonal blue front buttons
Trim or slim fit
No chest pocket
Although it was only seen briefly in one scene in SPECTRE, I still think a light blue linen shirt is a good pick up. The lightweight, more open weave fabric is going to help keep you cool in hotter weather. And, in the right style, it's easy to wear casually (untucked, sleeves rolled up) or with a slightly dressier outfit.
The shirt Bond wore was from Orlebar Brown. But the actual model is still being debated. I've shown the original Morton in the "Sky" color below. But others think it could have been the Malone, the Morton Classic or the Morton tailored. In any event, those models in the right colors are no longer available. The closest shirt in Orlebar Brown's current lineup is probably the Giles in "Riviera/White" for $245.00. You can find other alternatives in this post.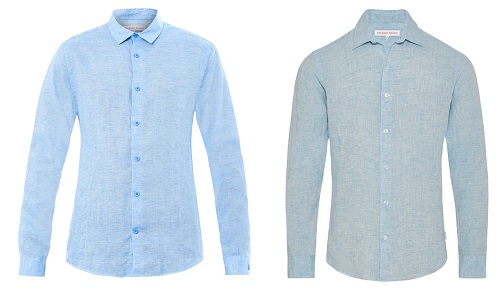 Why a choose a shirt that received such little screen time? It's true that Bond favored wearing white linen shirts in the past. But I'm trying to be practical. And, in my experience, there are two disadvantages to white linen. First, it's hard to keep clean, especially around the inside collar and underarms. Second, unless you go with a thicker (and usually more expensive) linen fabric, white shirts are more transparent. Bond don't show no nipple! Even going with a very light blue linen helps alleviate those problems.
Fit and Tailoring Tips:
For a good fit, the shoulder seam should lie at the top of your shoulder. The edge of the cuff should land at the bottom of your wrist bone when your arms are straight at your side.
When the top button is undone, the second button should lie about one inch below the bottom of the hollow at the base of your throat (it's called the "suprasternal notch", just in case you wanted to know).
Even the "slim cut" shirts are probably going to need some tailoring to bring in the sides to give you a more fitted look.
Some tricks: the Italian sleeve roll and the military shirt tuck will both help you stay looking put together.
The White and Pale Blue Dress Shirts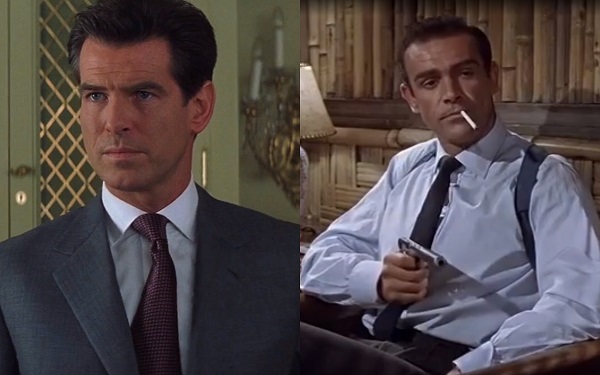 Key Features:
100% Cotton fabric. It's down to personal preference if you want a fabric with some texture or want to stay with a smoother weave.
Even though Bond has been experimenting with different types of collars lately, I would suggest sticking with a medium spread collar with medium length points. It's a style that works well with most face shapes.
French cuffs? Cocktail cuffs? Go for it if you want them. Obviously French cuffs are more common in off-the-rack shirts. But some made-to-measure companies (such as Magnoli Clothiers and Deoveritas) are offering cocktail cuffs as a part of their standard offerings. If you want more advice on how to order a made-to-measure shirt, check out this article.
No chest pocket.
The shirt maker most often associated with 007 is undoubtedly Turnbull & Asser. And their very Bondian sea island cotton shirts with the classic collar are still available in light blue and white for $435.00. Unfortunately, aside from being very expensive, they no longer offer the cocktail cuff as a standard feature.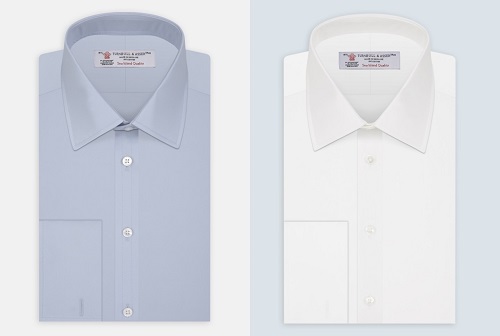 The other Bond shirt maker to know about is Frank Foster. He was responsible for the majority of Sir Roger Moore's shirts. Frank Foster only works on a custom made, by appointment basis. But the prices are little lower. And Matt Spaiser of The Suits of James Bond swears by them. He wrote an excellent article on his collection if you'd like the learn more.
Lastly, for off-the-rack Bond style dress shirts with the cocktail cuffs, you should take a look at Mason & Sons. Their 100% cotton shirts in white and pale blue are a very reasonable £125.00/$125.00 (ex. VAT). And if you've convinced yourself that you want at least one of the dress shirts in your affordable Bond wardrobe to be in the Skyfall and Bond 25 tab collar style, we have options for those in this post.
Fit and Tailoring Tips:
Basically the same as for the light blue linen shirt. But in the case of dress shirts I've personally found that the sides of the shirt will need to be brought in by a tailor, no matter how "Super-Slim" they say the fit is.
Focus on the fit around the neck (1 to 2 finger rule) and the sleeve length. These are the most difficult and expensive to have adjusted by a tailor.
Look for a shirt with higher armscyes (the hole where the sleeve joins the shirt body); this will help prevent the "bat wing" effect and make the shirt look more fitted.
The Short Sleeve Camp Collar Shirt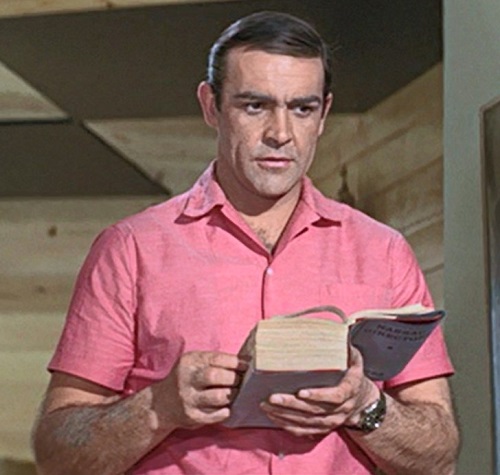 Key Features
Lightweight cotton or linen
Single chest pocket or no chest pocket
Revere style collar
If there's a place in your affordable Bond wardrobe to play around with brighter colors, this is it. And you definitely have choices. Take your pick from solid pink, royal blue or khaki. Or blue or pink gingham or blue stripe if you prefer something with a pattern. Any of those will do the trick.
Orlebar Brown's version of the pink Thunderball shirt was a big hit when their 007 inspired collection was released earlier this year. But Mason & Sons also has a complete collection of camp shirts based on the designs from that film. And you can find even more alternatives in our posts on Bond Summer Shirts.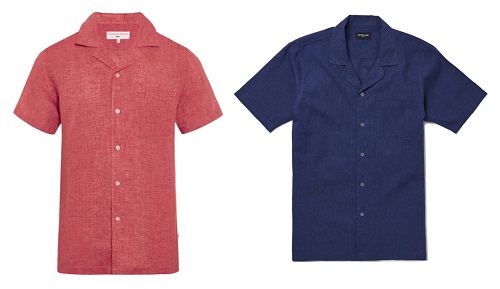 Whichever one you choose, a short sleeve camp collar shirt is a very versatile piece to have in your closet. Pair it with some lightweight chinos and nice loafers and you're good to go for a summer's night out at a nice restaurant. Or just keep it nearby when you're at the beach for when you need to make a quick store run.
Some Notes on Fit:
Lightweight cotton and linen camp shirts tend to be … let's say "generous" in their cut. Part of this is just inherent in the style. But the other part is practical. A looser fit around the body allows for more air circulation, which keeps us cooler in hot and humid weather. Still, many of the alternatives out there are going to be pretty baggy in comparison to today's more popular trim fitting style. In other words, it probably wouldn't be a mistake to consider sizing down for a more fitted look. And even then you may need some tailoring, especially in the sleeve length.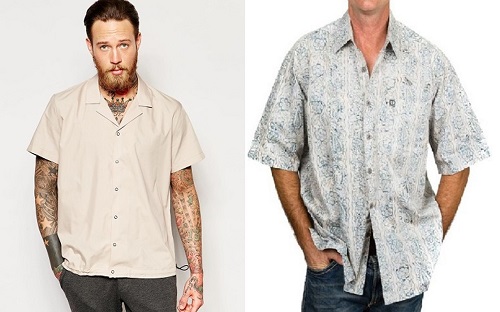 The Black Shawl Collar Cardigan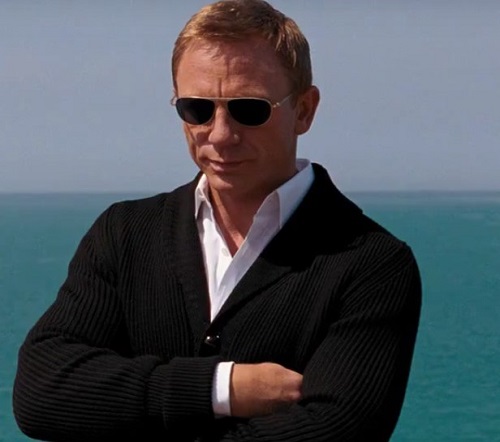 Key Features:
Wool or a wool blend in which the natural fibers are a higher percentage.
Ribbed knit
Two pockets
Leather wrapped buttons (although these are pretty easy to add later if your alternative doesn't come with them)
A more intricate knit pattern on the collar and shoulders if possible
A lot of people talk about how influential Bond's Skyfall Scotland look has been on men's fashion. But personally, Craig's outfit when he went to visit Mathis in Quantum of Solace was the one that really got me hooked on 007's new casual style. And I'm pretty sure it almost single-handedly resurrected the the shawl collar cardigan as a menswear "must have". When it's the knitwear of choice of two style icons, Steve McQueen and 007, you know it should be a staple in your wardrobe.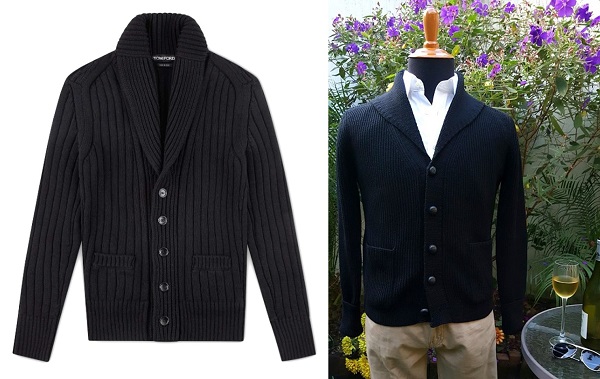 Since 2008, Tom Ford's original cardigan has gone through numerous iterations. The current version (the "McQueen") uses horn buttons in place of the leather wrapped ones and the knit style, collar shape, placket and cuffs are all pretty different to what we saw Bond wearing onscreen. Our good friend ROYALE Filmwear was producing an amazing replica, but sadly it's currently sold out. Here's hoping it comes back at some point. In the meantime, we'll be updating our dedicated post on alternatives very shortly.
Fit and Tailoring Tips:
If the cardigan you choose is predominantly natural fibers (either cotton or wool), expect it to stretch, especially around the elbows and waist. So don't be too worried if the fit is a little snug when it's new.
Changing buttons is about the easiest thing in the world. Pick up some black leather covered buttons to switch out the originals on your cardigan.
Leave the bottom button of the cardigan undone when you're wearing it.
Black Long Sleeve Polo Collar Sweater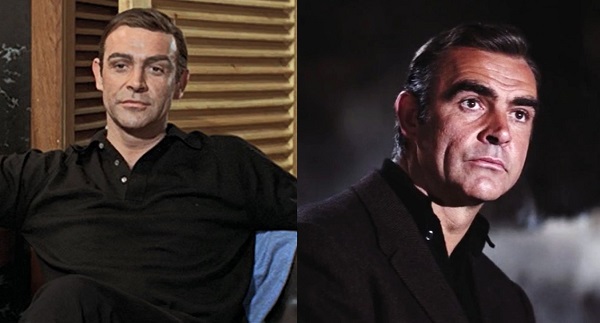 Key Features:
Cotton, wool or cashmere if you can find a good deal.
Smooth, tight knit
Trim fit, but not skin tight.
No logos.
A black, long sleeve polo shirt/sweater is as much a part of the classic "spy" look as the tactleneck. And so you should definitely consider making one part of your affordable Bond wardrobe. 007 has worn some variation of the sweater in a few of the films. Connery wore one in Thunderball and Diamonds are Forever. More recently, Craig wore one when he broke into M's flat in Casino Royale. But a black polo shirt can also act as a stand-in for the dark navy blue shirt Timothy Dalton wore in The Living Daylights. Or even the black polo/black v-neck sweater combo 007 wore in Goldfinger.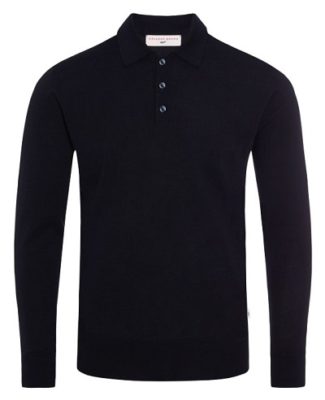 Orlebar Brown also released a long sleeve, 100% Merino wool polo as part of its 007 collection. However, its version only comes in dark navy instead of black. Which kind of confuses me since it's based on the Thunderball polo. Anyway, high quality black polo sweaters at reasonable prices are not exactly rare. And we'll be updating our dedicated post on the this sweater style very soon.
Fit and Tailoring Tips:
Like shirts, the shoulder seam should lie at the very top part of your shoulder.
This may sound silly, but try the sweater on with the top two buttons undone. Believe me, it can be a challenge finding a polo shirt that has the right button spacing so it opens up "just enough" at the neck.
Pay attention to the fit of the sweater at the bottom. There should be no bagging or bunching of the material around your waist and the bottom of the hem should lie 5″ to 7″ below your navel, again depending on your height.
The Affordable James Bond Wardrobe Series:
Shoes and Boots (coming soon!)
Details and Extras (coming soon!)
Next we'll be looking at the pants and belts you need for you affordable Bond wardrobe. And in a later post, we'll be covering other shirts and sweaters you can add if your budget allows. But if you have some suggestions or ideas about shirts and sweaters you think we missed, let us know if the commenst! And you can also visit our Facebook page, Instagram account, and Pinterest Boards for more James Bond style advice and inspiration!
The feature image used in this post was sourced from BAMF Style.