Daniel Craig James Bond Omega Watches Part 2
Updated August 22nd, 2021 – We've already looked at the Daniel Craig James Bond Omega watches from Casino Royale and Quantum of Solace in this post. Now we'll dig into the timepieces he wore in Skyfall and SPECTRE. And before anyone says anything: yes, there were three different Omegas in SPECTRE. But I'm saving that third one for our next watch post! And you can check out options for the latest No Time To Die Omega in this post (we'll be updating it again with new options in September).
The Skyfall Omega Planet Ocean 600M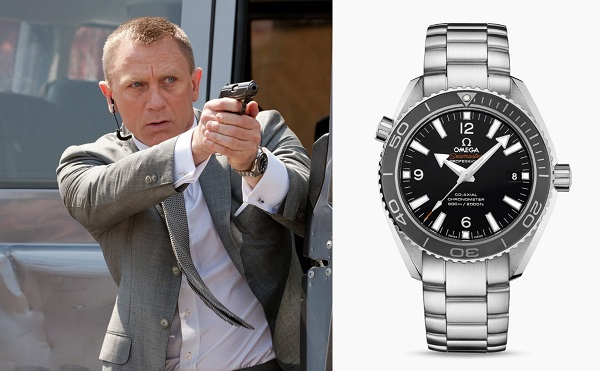 The Skyfall Planet Ocean ref. 232.30.42.21.01.001 is incredibly similar to the watch Bond used in Quantum of Solace. In terms of technical differences, Omega upgraded the self-winding Co-Axial escapement movement, giving the Skyfall watch a 60 hour power reserve instead of the older version's 48. Design-wise, they also reduced the amount of silver showing on the bezel and modified the shape of the broad arrow hands slightly. Despite the similarities, I have to say I'm still partial to the earlier ref. 2201.50.00 model. But the Skyfall Planet Ocean has plenty of fans.
Because the two models are so close in looks, many of the Quantum of Solace Omega alternatives we found in this article will also work for the Skyfall Planet Ocean (and vice versa). So I'm just going to add a few extra models here.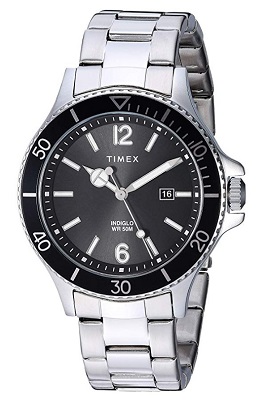 Kind of mashup between a Rolex and a Planet Ocean. At 42mm, the size of stainless steel case is spot-on. But with a water resistant rating of only 50M, this is a "dive watch" in name only. Mercedes style hour hand aside, the other details aren't too bad. We get the Arabic numerals at 12 and 6, and the tone-on-tone date window. And it's powered by Timex's typically reliable quartz movement. The popular Indiglo function is also a bonus.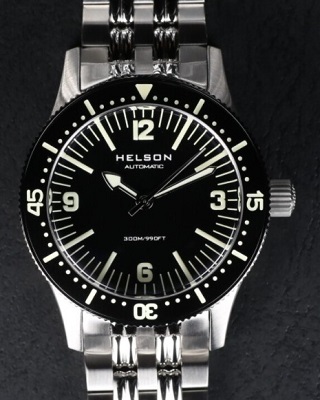 A great recommendation from our Instagram friend @watchthatsweep. Although the overall face design looks busier than the Omega's, we do get the mix of Arabic numerals and stick indices and the guardless crown. Helson uses a basic but reliable Miyota 9039 automatic movement, which might make us wonder about the higher price. But it looks like they take the build quality pretty seriously, giving the 40mm, 316L stainless steel case a solid 300M water resistance rating. This is a watch that was built by divers for divers, and the reviews around the internet are all extremely positive.
The Skyfall and SPECTRE Omega Seamaster Aqua Terras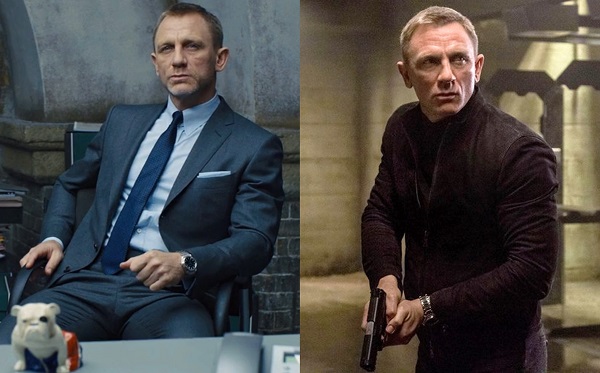 Craig's Bond has worn two versions of the Omega Aqua Terra. The first, the Skyfall 38.5mm Aquaterra 150M Co-axial ref. 231.10.39.21.03.001 (on the left below), was his watch of choice after returning to MI6 from his "enjoying death" vacation. The second model, the 41.5mm Aqua Terra 150M Master Co-axial ref. 231.10.42.21.03.003, was worn twice in SPECTRE: during the Mexico City scenes and during the film's big finale in London.
If I'm being completely honest, the Aqua Terra never really caught my eye. Maybe it's the shape of the indices. Or the face color and the striped detailing. The plain but pronounced bezel doesn't really do it for my either. I know some might call the design "sophisticated". I just think it lacks the character of the other Omegas. But that's just purely personal preference. As a "dressier" watch, it certainly has a place in every man's collection.
Once again, because the two Aqua Terra models are so close in style, I'm going to group the alternatives for them together. I've tried to include a variety of sizes on the list. So there should be something here that appeals to you, no matter which Aqua Terra version you prefer.
Best Option for the Omega Aqua Terra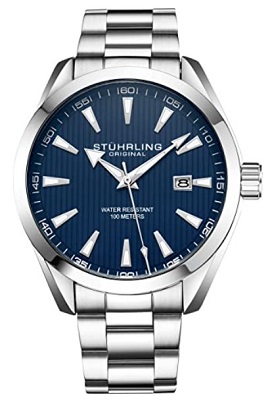 As far as looks go, it's about as close as you can get without crossing the line into "knock-off" territory. And that price is going to be pretty hard to beat. Obviously, this isn't a high performance watch. They've used a basic Miyota quartz movement housed in a 42mm case. And I'd be a little hesitant to test that 100M water resistance rating. But if you're looking for an inexpensive watch with all the right style details, you won't find much better.
Under $100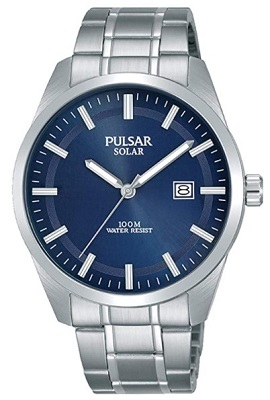 A solar powered option from the Seiko owned Pulsar. The overall styling is similar to the Aqua Terra, although the regular stick indices and baton hands give it a slightly more conservative look. They've upgraded this model to give it a 100M water resistance rating. Available on Amazon U.S. and UK.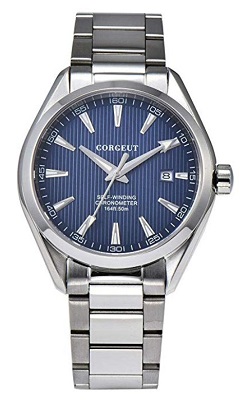 Homage? Knock-off? I'll let you decide. We discuss who and what "Corgeut" is below in the section on the SPECTRE Omega Seamaster. For now, I'll just focus on this watch's specs. According to the product pages, they've used a reliable Japanese Miyata 821A automatic movement and placed it in a 316L stainless steel case with a sapphire crystal. All of that sounds pretty good for the price. I've linked to Ebay above where the watch is $88.00 or "Best Offer", which means you can probably get it cheaper. That particular seller only has 6 left in stock.
Under $500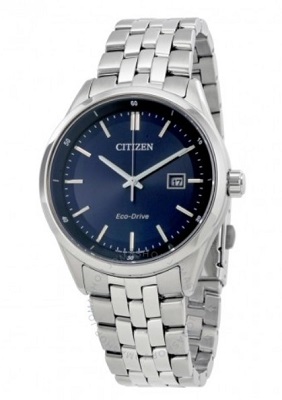 And now we move onto the other famous Japanese movement: the Citizen Eco-drive. Before we get into details about the watch, it's important to note that the less-than-Omega-like stainless steel band is fixed. So if you don't like it, there's no easy way to change it. Having said that, the BM7251's 41mm case comes close in looks to the Aqua Terra. The face is missing the line pattern and the hands and indices are a more standard stick/baton style. But the outlined date window and the addition of the numerical markers around the edge of the face are a good match.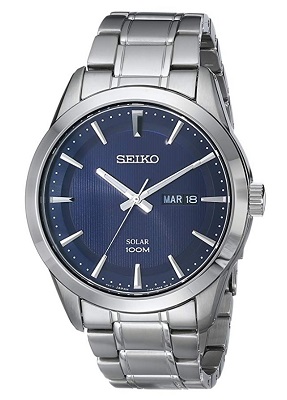 At 43mm, the SNE361 is getting a little big for an Aqua Terra alternative. But it does come with Seiko's popular solar powered quartz movement and it has a 100M water resistant rating. So it won't run out of juice anytime soon and it can handle some pool time. Looks-wise, the baton-style hands aren't an exact match. However, the textured face, slightly tapered indices and the tone-on-tone date window give it some Omega style.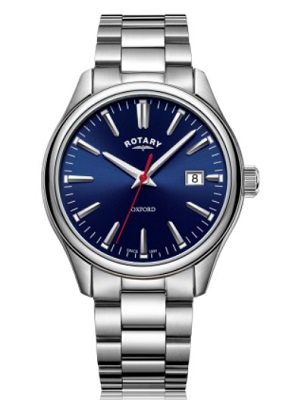 I don't really know that much about Rotary watches. So if anyone has experience with them, please share your feedback in the comments. According to Rotary's website, the company was started in Switzerland in 1895 and it's still owned and operated by the same family. The Oxford comes with a 50M water resistant rated, 40mm stainless steel case and bracelet and a sapphire crystal. No real notes about the quartz movement. As for the style, personally I think it really captures the spirit of the Aqua Terra. You can learn more about Rotary on their website.
Under $1000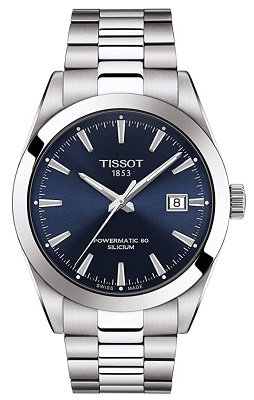 I used to have a lower priced Tissot alternative on this list. But now that we have more sub-$250 options, I think it's worth sharing this more expensive model. Tissot is part of the Swatch Group that also owns Omega. And so we see some of the design elements from their flagship luxury brand trickle down to their mid-tier offerings. Although the Swiss made Tissot is missing the Aqua Terra's arrow hand and textured face, it still does a great job of emulating the Omega's looks. The 40mm stainless steel case has a 100M water resistance rating and houses Tissot's Powermatic 80 automatic movement, which provides an 80 hour power reserve. I've linked to Amazon above. But if you want to buy from an authorized dealer, Macy's also has it for $775.00. Jomashop has a leather strap version on sale for $539.99 if you don't mind adding your own bracelet.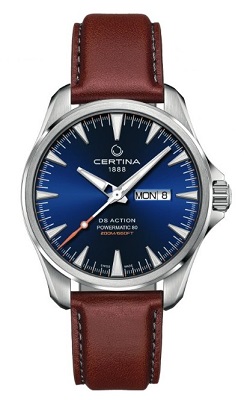 As with Tissot, the Swatch Group owns both Certina and Omega. So we're also going to see some similar designs show up in this brand. And the DS Action Day Date offers great value for the money. Made in Switzerland, it features Certina's Powermatic 80 automatic movement which provides an 80 hour power reserve. The watch comes with an exhibition case-back to show off the engine. Its 41mm, 316L stainless steel case is topped with a sapphire crystal. And with its blue face and sharp indices, it looks a lot like the SPECTRE Aqua Terra. The big problem is the leather strap. But you can pick metal bracelet in the Omega style to fix that. This is a discountinued model unfortunately. However you can still find some floating around if you look. I've linked to one on Ebay above.
The SPECTRE Omega Seamaster 300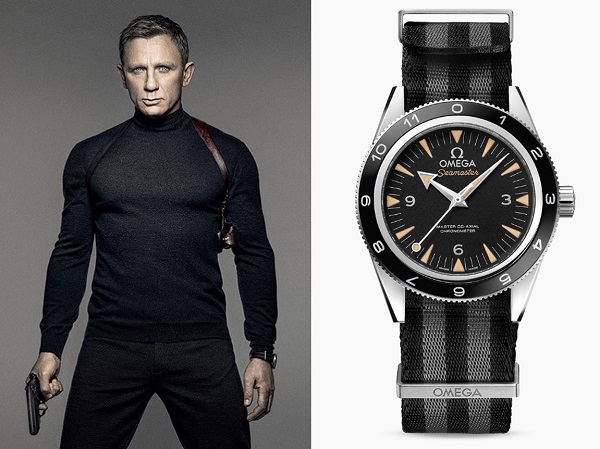 Ah, the "Hero Watch"! A definite departure in design from his earlier models, the 41mm Omega Seamaster 300M Master Co-axial ref. 233.32.41.21.01.001 uses their 8400 automatic movement, which is resistant to magnetic fields greater than 15,000 gauss. The distinctive orange tinted indices and 12-hour scale bezel markings set it apart visually. Of course, the NATO strap is another key characteristic. Seriously, I think the SPECTRE poster alone increased sales of grey and black NATOs by about a thousand percent.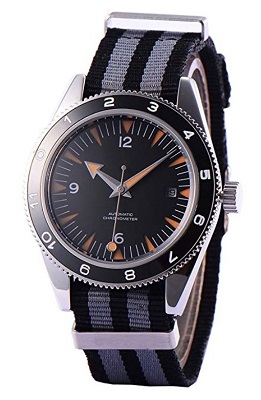 Well, I guess that's about as close to an "homage" as you can get without involving lawyers. This watch has been floating around for a while now under different brand names (Debert is one some of you may know). And five years after it's initial appearance, it actually has okay reviews. Obviously we don't need to discuss its looks. So I'll just focus on the specs. They've used a pretty trustworthy Miyata 21 jewel 821A automatic movement, a 316L stainless steel case with ceramic bezel and sapphire crystal. All of that sounds pretty good, especially at the sale price. Just note that one of the main complaints in the customer comments on various websites is the quality of the bezel.
Now, where to get it? This is clearly one of those generic Asian made watches that anyone can slap their logo on. So you'll see the same model showing up from a variety of brands on Ebay and Aliexpress, sometimes with logos from Corgeut or Debert and sometimes with no branding. The one I've linked to above on Ebay has the best price I've seen.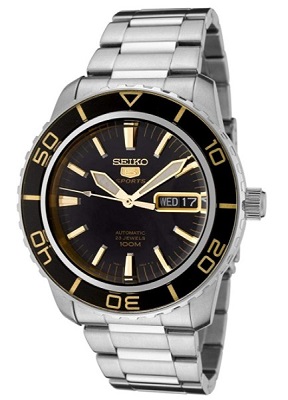 And another Seiko. At 43mm, the watch is on larger size, which some may prefer. It also comes with an in-house Seiko 7S36b automatic movement, a Hardlex crystal, and display case back. It may not be the best match for the Omega. But it has some of the same vintage vibe. And we all know that Seiko is a solid brand that offers good value for the money.
I'll also note that Seiko recently released a couple of new higher models in their higher end Prospex line that are inspired by the company's heritage divers. We'll include those in a future post since they're not yet widely available.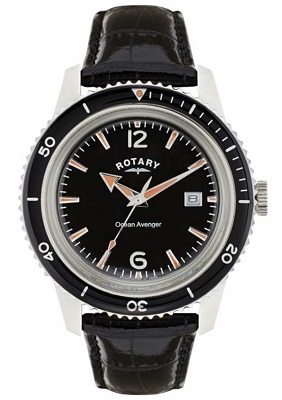 A solid alternative suggested by Matt in the post comments for this post. And it sounds like he's been pretty happy with his! We've already discussed the Rotary brand and its history earlier in this post. So I'll just add two key pieces of information with regards to this particular model. First, the movement is the Swiss Ronda Calibre 505.01 quartz. Second, the watch only has a water resistance rating of 100M and the crown is not screw down. So it's a diver in looks only. This review on TickTalk goes into much more detail (and includes some nice pics of the watch on a NATO). Also, that $332 asking price from Kay Jewellers is pretty steep, but it was the only store I could find that had decent inventory. If you dig around a little I'm sure you'll able to find one for about $100.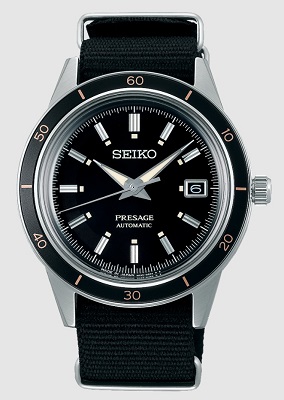 Another new offering from Seiko. This isn't the Prospex we mentioned above and comes from their more affordable Presage line. But we are getting their 23 Jewel Calibre 4R35 automatic movement and a well-sized 40.8mm stainless steel case with a Hardlex crystal. Lookswise, it's missing the Arabic numerals and arrow hand. However, the bezel design, with that wider insert and the vintage lumes give the right Omega vibe. The big drawback here is the minimal water resistance (only 5 bars or 50M).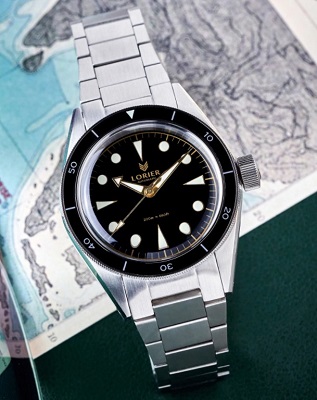 Like the Timex at the start of this post, the Lorier borrows design elements from Rolex and Omega to create something pretty unique. The dot indices are obviously the biggest deviation from the Seamaster style. But the arrow hour hand, the guardless crown and thinner bezel with the prominent aluminum interior insert really help give it the right retro diver look. Lorier has used a trustworthy Miyota 90S5 automatic movement and a 39mm, 316L stainless steel case topped with a dome Hesalite crystal to complete the vintage style.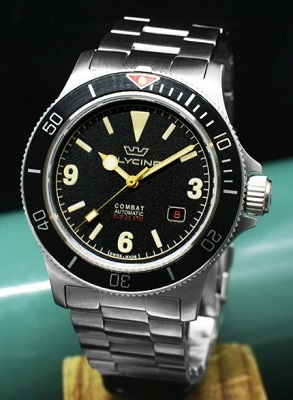 Glycine is a brand that first popped up on our radar with the release of the Combat Sub Ref. 3908, a watch that did a great job of capturing the No Time To Die Omega's style without slavishly copying it. Their Combat Sub 42 Vintage Ref. GL0261 doesn't do quite as good a job of nailing the SPECTRE Seamaster's looks. But it still has some of the same spirit and would look pretty sharp on a NATO. This one is a collaboration between Glycine and GNOMON, so the watch is exclusive to that seller. If you're looking for solid quality Swiss made, Rolex and Omega inspired retro-diver at a fair price, this is a pretty good package.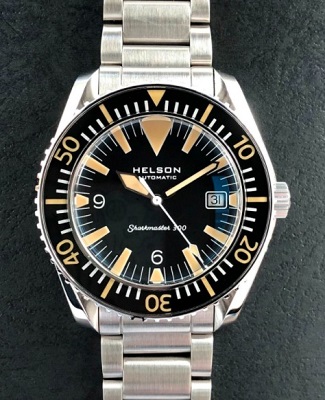 Another recommedation from our Instagram freind @watchthatsweep. Instead of the Hammerhead's Miyota engine, Helson has used the 25 Jewel Swiss ETA 2824-2 automatic movement, which helps explain the difference in price. The other specs are also solid: 40.5mm 316L stainless steel case, domed sapphire crystal and a 300M water resistance rating. In terms of looks, the orange tint and the combination of Arabic numerals and stick indices give it some of the same flavor as the Omega.
If I'm being honest, it really was a toss up between this one and the Hammerhead at the top of the post in the black dial/vintage lume combo. That model would also make a solid alternative for eightly bucks less.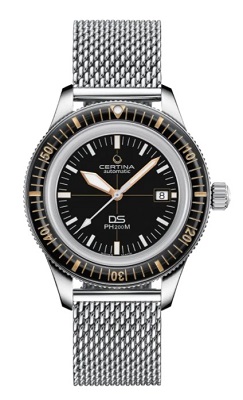 The DS PH200M is definitely packing some great value for the money. Based on a model from the company's 1960s archive, the 316L stainless steel case is on the larger size at almost 43mm and is water resistant rated to 200M/20 bar. The Swiss automatic movement has an 80 hour power reserve. The watch also comes with an extra navy blue NATO strap and everything is packed in a hard-shell box that looks a heck of a lot like a Pelican Case. Which is a fun touch. With the Milanese strap you're kind of getting a SPECTRE–No Time To Die Omega combo!
The Investment Piece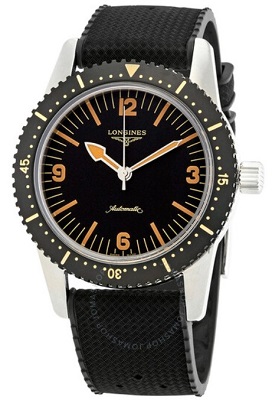 And now for the obligatory "budget is relative" statement. Yes, $1800 is a heck of a lot of money. But SPECTRE Seamasters are still going for five grand and up on the market. Do with the that comparison what you will. Anyway, the Longines certainly has the right look. And some solid specs to back up it's pretty face. It's powered by their propritary L888 automatic movement, which is based on the 21 Jewel ETA A31.L11 and has a 64 hour power reserve. At 42mm, it's on the larger side and it has a 300M water resistance rating.
The extra detail ….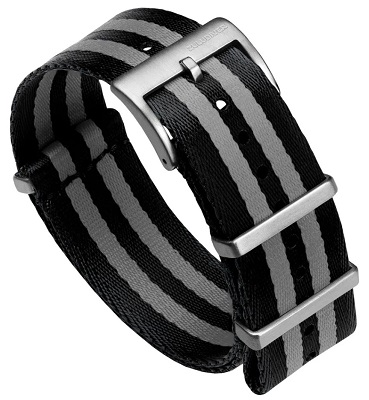 Of course you're going to need a decent quality NATO. We all know there are lots of cheap options available on Amazon and Ebay. But the Zuludiver from Watch Gecko is definitely one of the nicer options on the market. And the price won't empty your wallet. Made from a high strength seatbelt nylon webbing, it still has a soft, smooth hand that will wear comfortably on the wrist. It's available in 18mm, 20mm and 22mm widths and you can get the stainless steel hardware in a polished or satin finish.
Watch Gecko is offering IA readers a 30% discount on their NATOs (also check out their heavy duty Premium Seat Belt NATO for $32.99)! Just use the code ICONIC30 at check out! Thank you, Watch Gecko!
Have some suggestions for affordable alternatives for the Daniel Craig James Bond Omega watches? Tell us about them in the comments below! And remember you can also find Iconic Alternatives on Facebook, Pinterest, and Instagram, just in case you're looking for even more Bond inspiration.
Some of the images used in this post were sourced from the Omega website.