The James Bond Glen Check Suit
So far, it looks like the fan response to the new James Bond glen check suit from the London set photos has been extremely enthusiastic! The Tom Ford O'Conner's classic suiting pattern is certainly a call-back to 007's style from past films.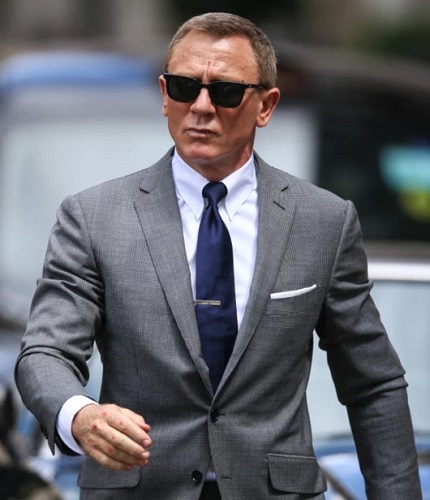 Our Instagram friend @mybudgetbond (great account, check him out!) mentioned it's similarity to Sean Connery's suits in From Russia With Love. Both The Suits of James Bond and BAMF Style have excellent write-ups on the looks from that film. But the distinctive glen check (or glen plaid) pattern has been one of Bond's favorites since the beginning of the franchise.
Connery wore a suit in this pattern in Dr. No. And of course his famous Goldfinger grey 3-piece was a glen plaid. George Lazenby wore a Glen Urquhart variation with a light blue overcheck in On Her Majesty's Secret Service. Jump forward a few decades and Pierce Brosnan was wearing a black and sand glen check in Goldeneye. And most recently, Daniel Craig wore a darker version from Tom Ford in Skyfall.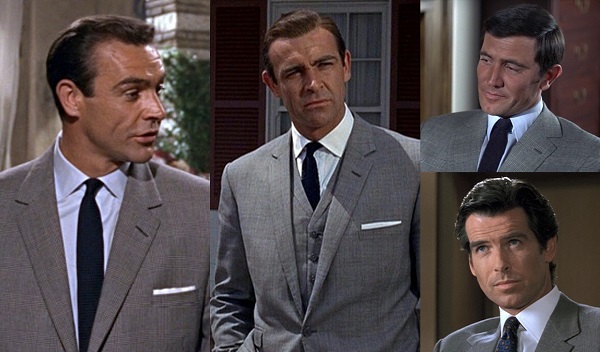 The fact that Craig is wearing this most recent glen check suit with a navy tie and the black Crockett & Jones Highbury derby shoes (alternatives in this post) further strengthens the look's connection to earlier Bond styles. Although, to be honest, I would have loved to see the return of the grenadine. And some may feel the white tab collar shirt (you can find alternatives for it in this post) and tie clip are a little too dandyish for 007. The Omega, however, is already looking like a classic in my opinion (alternatives for the watch can be found in this post). All in all, I think Bond's off to a very a strong start in the suit department for Number 25!
Features Wanted for the James Bond Glen Check Suit
Suit jacket: Three-roll-two button closure with slightly narrow notch lapels, barchetta chest pocket, two flap hip pockets, and a single vent.
Trousers: slim or tapered fit, flat front style.
Black and white Glen Urquhart suiting
As noted above, Bond has worn many style of glen check throughout the franchise's history. But in this post, I'm going to focus on alternatives for the one from Bond 25. However, I do want to make a few quick notes about construction, fit and fabric.
Suit Construction
There's simply not enough space in this post to go into all the details of suit construction. So I'll just put it simply: unless the product description notes otherwise, assume the suit uses a fused construction. Basically, that means that the outer fabric and innner layers that make-up the jacket are glued together. It's an inexpensive way to build a suit. And when it's done well it's actually not that bad. The trouble really starts when you need to get the jacket cleaned. The high heat used by most dry cleaners softens the glues, creating wrinkles and bubbles across the front of the jacket.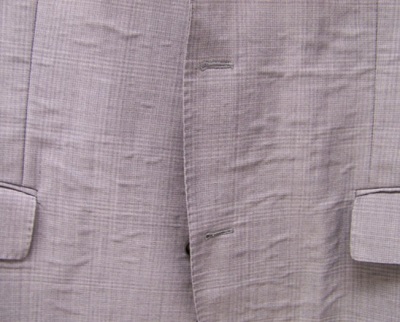 Once those show up, the jacket is pretty much shot. How do you avoid it? Try to clean your jacket as little as possible. If you spill something on it, try spot cleaning first. When you absolutely have to take it to the cleaner, ask them to use the lowest heat possible. And make sure you store your jacket on the proper hanger to keep it from wrinkling.
Suit Fit
Time for a little truth: we're not all built like Daniel Craig. Or Sean Connery or Pierce Brosnan or George Lazenby when they were playing Bond. All of our bodies are different. And the best strategy for picking the "right" suit is choosing the one that fits your body.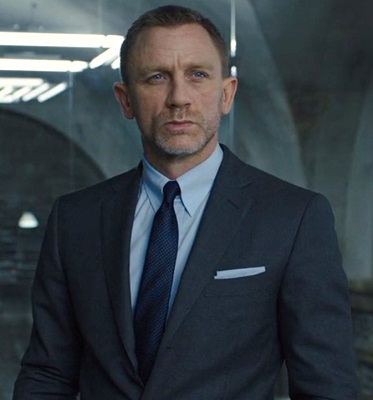 Check out this article from The Art of Manliness for some great advice on finding the right fit and how to tailor your suit. Yes, tailor. It's highly unlikely an off-the-rack suit is going to fit you perfectly. So expect to spend a little extra to make the necessary adjustments. For example, shortening or lengthening the sleeves, bringing in or letting out the sides of the jacket, and hemming the trousers and adding the cuffs. It'll be worth the investment. An inexpensive but well fitted suit is always going to look better than an expensive suit that fits like a sack.
The Suiting
Finding an affordable suit in the medium scale black and white Glen Urquhart pattern of the Bond 25 suit is actually kind of tough. It seems like most glen checks these days feature a bolder colored overcheck, which gives the fabric a different vibe and is more noticeable from a distance. Matt Spaiser of The Suits of James Bond does an excellent job of breaking down the characteristics of the different types of glen plaid suiting.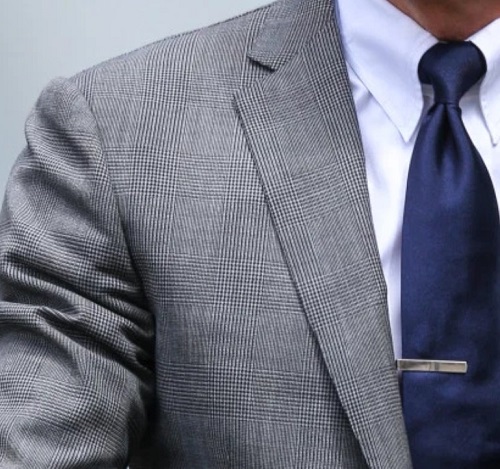 For the alternatives, finding ones with the correct pattern is going to be key. So I'll be trying to avoid any that have an overcheck, even though the limits our selection.
Best Option for the James Bond Glen Check Suit
Update: Sold out now. But I'm on the hunt! When it comes to the pattern, this option from Next is pretty darn close. It does okay with the other style details as well. The jacket is a true two button. But it does have the narrower lapels, single vent and a decent length. The trousers are the flat front, trimmer fit we want. And it looks like they actually have a reasonable rise. The fabric is a 70% wool/30% poly blend; not the best, but not horrible. There's still a great selection of sizes left on the website in short, regular and long lengths. Even better, the trousers are sold as separates. So you're not stuck dealing with some standardized drop!
Under $200
Coming to us from Saks Off 5th, Penguin is using a slightly darker shade of glen check. We also have that jetted ticket pocket and the double vents to consider. But for a budget alternative, it gets the "close enough" seal of approval. The cut is described as a "slim fit. However, the wool/poly blend fabric has some stretch to keep things comfortable. There's still a decent selection of sizes available. Just note that this is a nested set. So you'll have to take the trousers that come with the jacket. And Saks isn't mention what kind of drop we're dealing with.
Under $500
One for the bigger guys. I'm breaking my own rule with this option since the pattern has a very faint, light blue overcheck. But, aside from the side vents, the other style details are a pretty good match. They've used a 97% wool/2% spandex/1% "other fibers" fabric that uses something called "brrrº" technology. They claim it will help wick moisture and keep you cooler when things get hot. Which will be nice if it works. The suit is currently sitting with a rating of 4.7 out of 5 stars on the website. And there's plenty of sizes to choose from in short, regular and long lengths, with a 6″ drop for the trousers.
The Investment Piece
First: don't let the peak lapels and ticket pocket put you off. This is a made-to-measure, half-canvassed suit. So you can customize the details to get as close to the Bond 25 one as possible. Unfortunately, they don't have a three-roll-two option. But you can choose notch lapels (with pick stitching if that's your thing), a single vent, slanted jacket pockets, and trousers with side tabs instead of belt loops. And the suit will be delivered to your door in about a month's time. You can check out recent reviews of the Black Lapel experience of The Peak Lapel and Tools of Men.
Have some ideas about affordable alternatives for the James Bond glen check suit? Head down to the comments and share away! And remember you can always find more Bond style and inspiration on our Facebook Page, Instagram Account and Pinterest Boards! You can also now visit our official Amazon Store Page! We've used it organize by category all the different alternatives we've found on that massive online marketplace.
Some of the images used in this post were sourced from BAMF Style.