James Bond Casual Summer Footwear
Hello! We have a new version of this post updated with current alternatives. You can see it here!
When it comes to formal footwear, most of us know that 007 can serve as an excellent source of inspiration and education. However, when it comes to James Bond casual summer footwear, it may seem that he starts to let us down a little. Of course, the Thunderball espadrilles are a clear option. And we already did a deep dive into alternatives for those in this post. But is there anything else?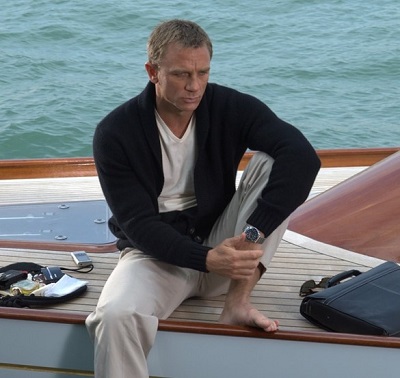 Yes there is. In fact, if we dig a little deeper, we find that the film-Bond has worn plenty of footwear that works just fine when the mercury starts to climb. And the best part? Many of Bond's "classic" footwear choices for warmer weather are as popular and stylish today as when he first wore them.
The Boat Shoe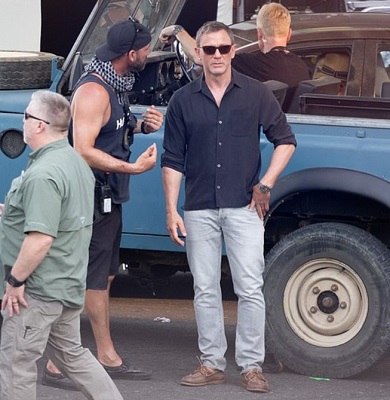 The Jamaica set photos from Bond 25 brought the classic boat shoe back into the limelight. But this isn't the first time 007 has worn the preppy staple. Timothy Dalton also sported them for a good chunk of The Living Daylights.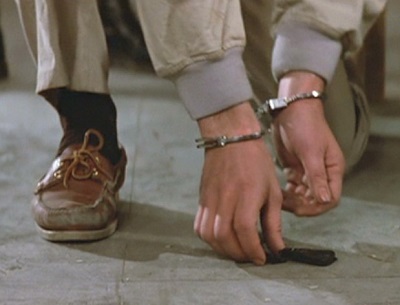 It's really hard to think of a more versatile summer shoe to wear around water. The design hasn't changed significantly in decades and they look great with jeans, chinos and shorts. Personally, I'd just avoid wearing them with dress socks ….
The Bond 25 Boat Shoes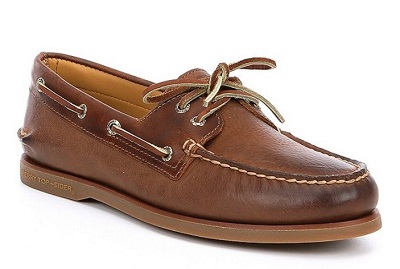 Given how many times the Bond 25 set photos have been shared, the Rivington really needs no introduction. It's part of Sperry's Gold Cup line. Which means better materials, an upgrade in construction and more foot support over their regular models. I've linked to Dillard's above. They still have the best price as far as I can tell. They're also available directly from Sperry, where they're on sale right now for $111.99. But sizes there are running low.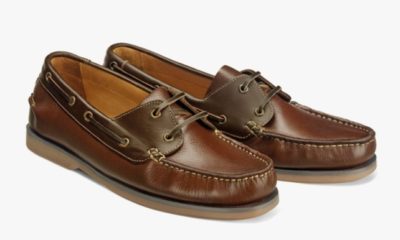 A budget alternative for the Rivington. It's slightly darker in color and don't expect the same quality you'd get from the Sperry. But it definitely has the right look at a lower price. And customers are giving them an 88% satisfaction rating on the Samuel Windsor website. Sizes UK 5 to 14 are available.
The The Living Daylights Boat Shoe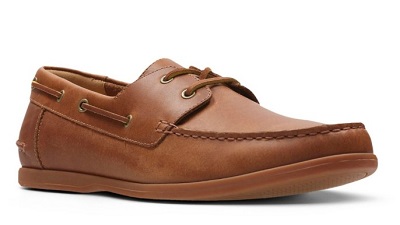 Thanks to rudi, who let us know about these in the comments for the Daniel Craig Bond 25 Jamaica Style post. In the product photos, it looks like there's a slight color contrast between the quarters and the lower part of the shoes. So maybe they could work as an alternative for both the Rivington and the The Living Daylights boat shoes? Clarks has sizes 7 to 13 available on their website.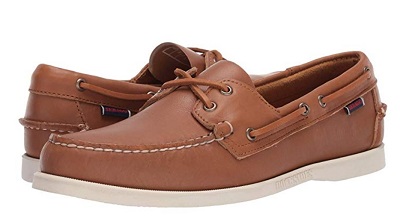 Rumored to be the make the Timothy Dalton wore in the film, Sebago also makes a great boat shoe. In terms of styling, their Dockside Portland model is about as classic as it gets. Zappos has sizes 7 to 15 in stock.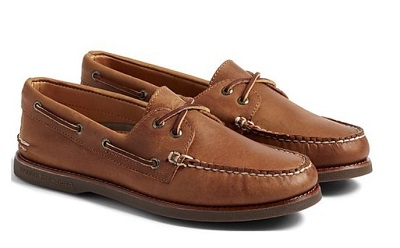 Another Gold Cup model in a different colorway. It has the same features as the Rivington above, although the brown sole may not be the best match for the boat shoes Dalton wore. This model is also on sale at Sperry, where they have sizes 7 to 15 in stock.
Sneakers
Daniel Craig's Bond has been especially generous in providing us with sneaker inspiration. And once again, he tends to stay with the classics. Which means if we follow his lead, we can choose some timeless athletic style footwear that'll work in a variety of situations.
The Casino Royale White Jack Purcells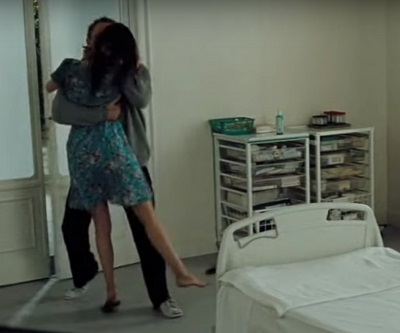 While self-evaluating the progress of his recovery with Vesper in Casino Royale, Bond can be briefly seen wearing a pair of Converse Jack Purcells. The blue "smiley face" on the toe is a dead giveaway.
Basic white sneakers, such as the Adidas Stan Smiths or Common Projects, are getting most of the love these days. But I really love the Purcells in white. They're still very clean and contemporary looking sneakers, with that distinctive rubber toe cap giving them some character that sets them apart from all the GATs out there.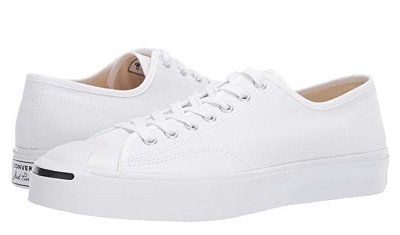 May as well go with the originals! As the name clearly states, this is the canvas model. Which should be more breathable (and keep your feet cooler) in hot weather. Since this is considered a uni-sex shoe, guy's with smaller feet will be happy to hear Zappos offers them in sizes 3 to 15.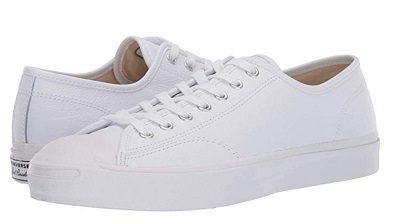 Same as above, but with canvas lined leather uppers. They're missing the blue contrast on the smiley face. But that also gives them an even cleaner look, which some of you may prefer. I've been wearing Purcells forever and I've had a pair of the white leathers for almost three years now. They're still very much personal favorites of mine. Zappos has them in sizes 3 to 15.
The Skyfall Adidas Gazelle IIs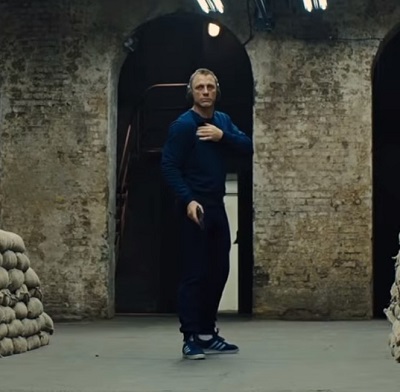 Bond's recovery tests in Skyfall were significantly less enjoyable than in Casino Royale. The montage of him being evaluated upon his return to MI6 is a classic. And it made the Adidas Gazelle IIs in the Dark Indigo/Argentina Blue colorway an almost instant collector's item.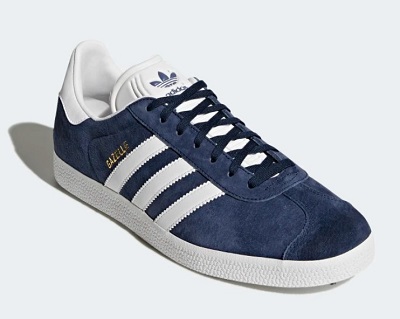 The color-way used in the movie is long gone. But you can still get the same model from Adidas with the navy suede uppers. Obviously, the white leather tongue, stripes and accents make them less than screen accurate. I've linked to Adidas above, but you can also get them at Flight Club for $69.00. For those of you in the UK, you can get them at Schue for £70.00 or ASOS for £56.00.
If you want a slightly more screen accurate colorway, Voucherslad has a navy suede Gazelle model with the navy leather tongue and lighter blue stripes for £59.35. However, BIG WARNING! I find the website very suspect and would be more than a little hesitant to give them my money.
The same goes for the Topangas in a close colorway at JKA Auto and Truck for £58.54. The name of the website alone should tell you to approach this deal with extreme caution!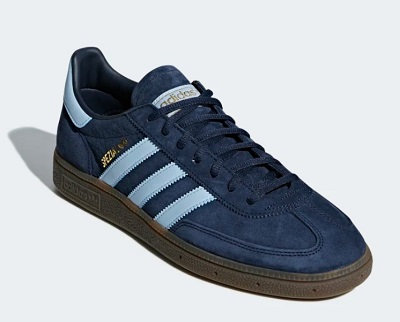 If you can live without the white soles and want a 100% legit pair with an upper that's a good match, try the Handball Spezials. They use a navy nubuck upper with styling details across the vamp that look close to the Gazelles. The gum rubber outsole will also provide good cushioning for more comfort. Adidas has sizes 5 to 14 in stock.
The Casino Royale Converse Jack Purcell OTR
We've known for some time that James Bond wore the Converse Jack Purcell OTR Mids in chocolate and paprika during the Madagascar chase sequence at the start of Casino Royale.
Much like the Coca-Cola® bottle, the shape of that toe bumper is a classic. And just like the Skyfall version of the Adidas Gazelle IIs, it's a model that's long gone and one that collectors are always on the hunt for.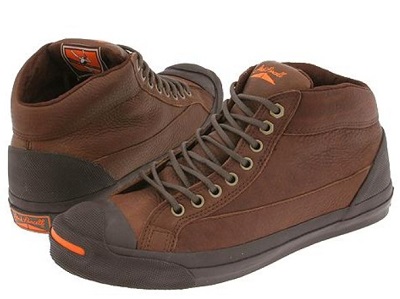 As for alternatives? Well, with the different materials, features and design details used in the OTR model, what you end up with is some sort of vintage basketball/skateboarding/rock climbing approach shoe hybrid that's pretty distinctive and hard to match. But we've done our best to find a couple of options!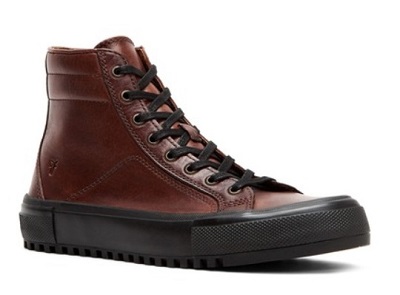 I can't say these are exactly the same style of shoe as the OTRs. But the color of the leather uppers and the black rubber outsole are solid matches. Swap out the black laces for some cord ones in a lighter brown and they'll definitely give you the look we're after. And the sale price (down from a MSRP of $248.00) makes them a steal. The Varicks are currently available at Nordstrom Rack and a decent selection of sizes are still available.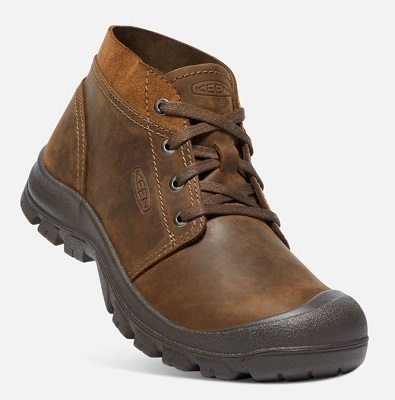 If you want a shoe that can also handle some light hiking, check out the Graysons. These are a lightweight, unlined boot with leather uppers and a dual density PU outsole. So the key word is "comfort". I always find the wide forefoot of the Keen designs to look a little … clunky. But, then again, the OTRs weren't exactly the most sleek looking shoes ever made.
The Tomorrow Never Dies Navy Plimsolls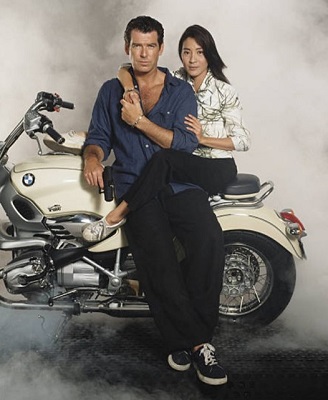 The lightweight canvas sneakers Pierce Brosnan's Bond picked up while in Vietnam were undoubtedly meant to be cheap, off-the-street throwaways. But they seemed to serve him well for jumping out of windows, roof-top motorcycle chases and dodging exploding helicopters. And they are a very classic style that can work with a variety of looks during the summer months.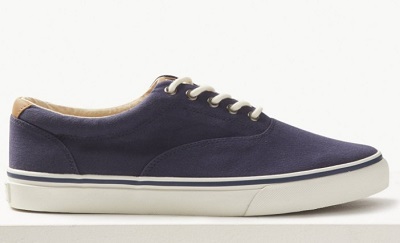 About as close to the dictionary definition of "plimsoll" as you can get. Marks & Spencer has added their proprietary "Fresh Feet" technology which … keeps your feet fresh, I'm guessing? They still have a good selection of sizes left on their website.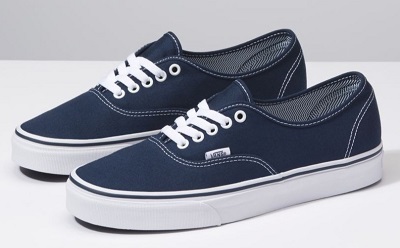 An alternative from the famous skate shoe maker. The Authentics are classic sneakers in their own right, and remain a popular men's footwear choice summer after summer for good reason. The fact that they look like something Bond wore in a movie once is just a bonus. Vans has sizes 8 to 16 in stock on their website. For some reason, I can't find this colorway on their UK site.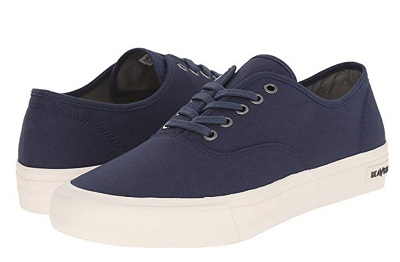 You'll need to change the navy laces for some white ones. But I'm a fan of SeaVees. They're a little heavier and feel just a touch more substantial than most other plimsoll style shoes out there. And, personally, I find them very comfortable to wear around for a full day. Sizes 7 to 13 are available at Zappos.
The Connery Bond Leather Sandals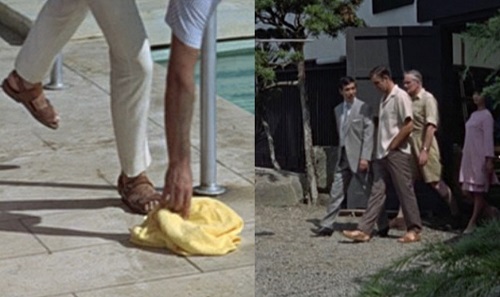 Much like print camp shirts, leather sandals are also having a "style moment" right now. Sean Connery's Bond gave us to two examples we can use for inspiration. He wore the first pair during his visit to Palmyra in Thunderball. You can read more about that look in this article from BAMF Style and this one from The Suits of James Bond. The second pair is from You Only Live Twice.
Both pairs of sandals are similar in style. They feature a broad strap across the forefoot, a slightly narrower strap across the instep and a third strap that goes around the back of the ankle. The main difference is that the Thunderball sandals appear to have buckles at each strap. Believe or not, it's actually a little challenging to find a contemporary match for them.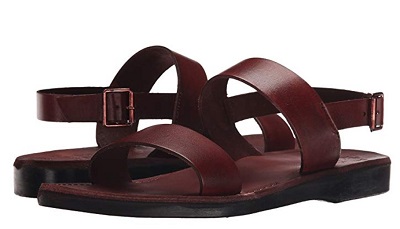 About as close in style to what Bond wore as we're going to get. Jerusalem Sandals has used a full grain leather for the straps, a leather covered footbed and natural rubber for the outsoles. Customer opinion on the sizing of these is all over the place. So I'd recommend reading the reviews before buying. Zappos has European sizes 40 to 47 in stock.
Have some suggestions for James Bond casual summer footwear? Tell us about them in the comments below! And remember you can also find Iconic Alternatives on Facebook, Pinterest, and Instagram, just in case you're looking for even more Bond inspiration. You can also now visit our official Amazon Store Page! We created it to make it easier for you to find all the different alternatives we find on the giant on-line retailer. Hope you'll check it out and let us know what you think!