When the conversation turns to formal footwear, most of us know that 007 can serve as an excellent source of inspiration and education. But what about those times when our sartorial needs lean towards a more relaxed style? Thankfully, James Bond has built up quite a collection of suitably casual summer ready shoes over the last 60 years that will also serve us well.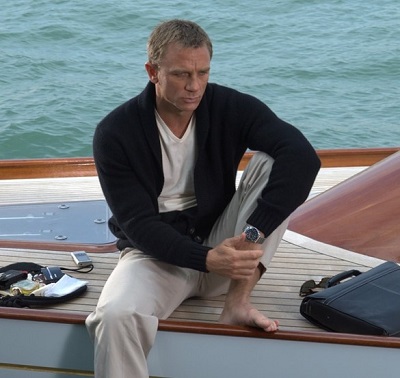 And the best part? Many of Bond's classic warmer weather footwear choices are as popular and stylish today as when he first wore them. In this post we'll look at six 007 inspired options that will see us through almost any situation we may find ourselves facing this summer.
The Thunderball Pale Blue James Bond Espadrilles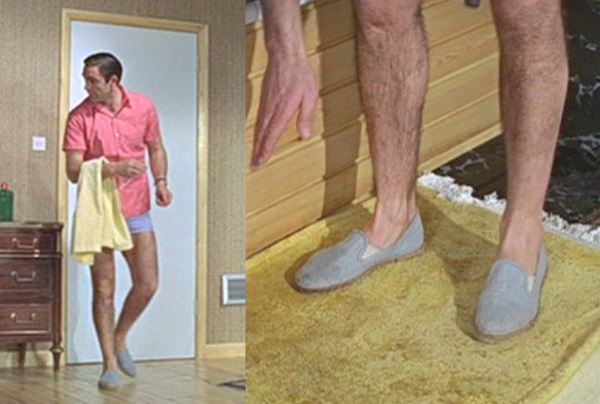 It's safe to say that espadrilles have made a very serious comeback over the last few years. Which is a very good thing. The timeless design is one of the most comfortable pair of shoes you can wear in summer. Part slipper, part sandal, it's also incredibly versatile. In the traditional construction of cotton canvas and jupe, they're lightweight and breathable, with a sole that will mold to your foot over time. Basically perfect for wearing with shorts or more casual looks. Go with a more luxurious suede upper, and you have a dressier alternative to deck shoes or sneakers for a night out. And since almost all models come with a rubber sole, they'll give you some traction when you're heading from a slippery pool deck to the bar.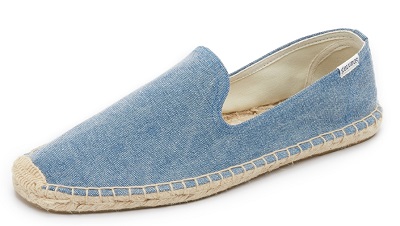 A classic design at a very reasonable price. Even though it's missing the elastic inserts, the color and overall style is a great match. I've had a pair of Soludos for years now, worn them a ton, and only now is the jute weave starting to come apart. I would recommend getting your normal shoe size. They'll feel a little snug at first, but the 100% cotton upper will stretch. I've linked to Shopbop above, which seems to have the best price (and a good selecction of sizes) at post time. But you can also order them directly from Soludos for $85.00.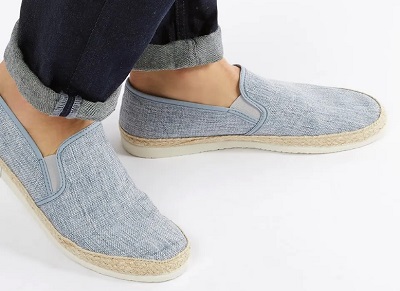 The two part vamp isn't screen accurate. But other than that these check almost all the right style boxes. The pale blue color, the jute mid-sole (without the toe bumper), the elasticized gussets. The Frampos have them all. And the price isn't crazy expensive. You can find them at Thread, where they have whole sizes U.S. 7 to 13 in stock.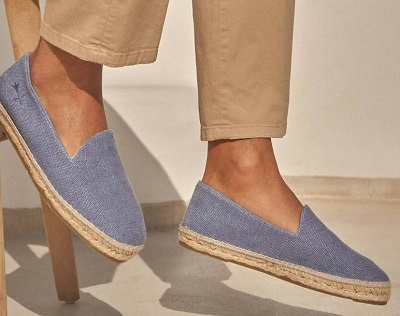 With their one piece uppers, these are more of a French style espadrille (as were Bond's). But the Manebís certainly bring the authenticity. Designed in Milan and handmade in Spain from stone washed cotton canvas and natural jute and rubber, they'll look amazing for a stroll around your resort. The link above goes to Farfetch, where they have European sizes 40 to 44 in stock. However that version has a palm tree embroidery on the heel. Over on the Manebí website, they have sizes 40 to 45 and 47 available in the same color but with a stylized embroidered arrow. And the price jumps up to $114.00.
The No Time To Die Boat Shoes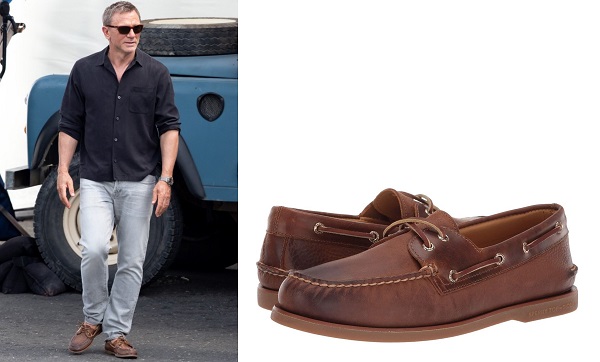 We already covered Bond's choice of footwear for his retirement in Jamaica in No Time To Die in this recent post. So I'll just do a quick recap: the model was the Sperry Rivingston in Titan Tan and it's sold out everywhere now. But it's also worth noting that this wasn't the first time 007 has worn the preppy staple. Timothy Dalton also sported them for a good chunk of The Living Daylights.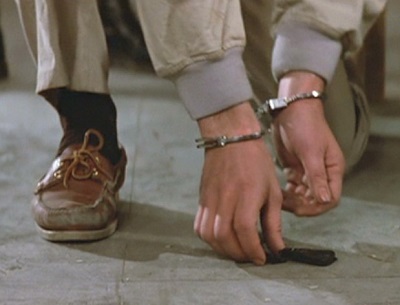 It's really hard to think of a more versatile summer shoe to wear around water. The design hasn't changed significantly in decades and they look great with jeans, chinos and shorts. Although I'd personally avoid wearing them with dress socks.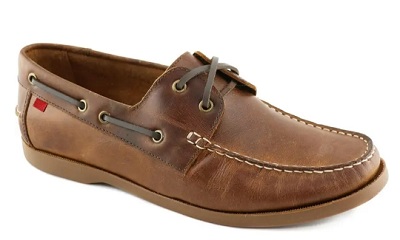 The online photos make it a little difficult to discern if the uppers are actually two different tones of brown. But general color and the sole are certainly a good match. The heavily discounted price (they normally retail for $195.00) also makes them an attractive option. Nordstrom Rack has sizes plenty of sizes available on their website.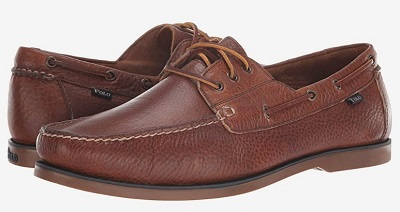 Going with a full pebble grain leather is definitely a way to let your boat shoes stand out while capturing some of that Rivingston spirit. And the use of the mid-brown rubber sole certainly helps. As for the three eyelet design: I actually like it. Again, it adds something different to the look without veering too far from the traditional style. Zappos has a good selection of sizes in stock. But if they're missing the one you need, you can also try Macy's, where the Bienne is on sale for the same price.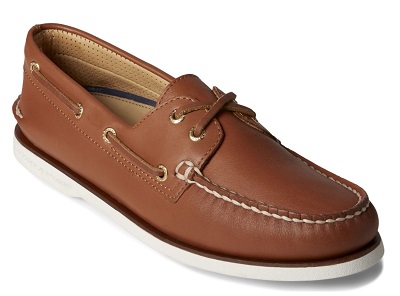 Maybe your personal taste leans more to Dalton's style as Bond. If that's the case you can't go wrong with some original Sperry Gold Cups. This is the same model Craig's Bond wore in No Time To Die. But the colorway is a solid match for the ones from The Living Daylights. You'll find a good selection of sizes on the Sperry website.
The Suede Horsebit Loafers from The Spy Who Loved Me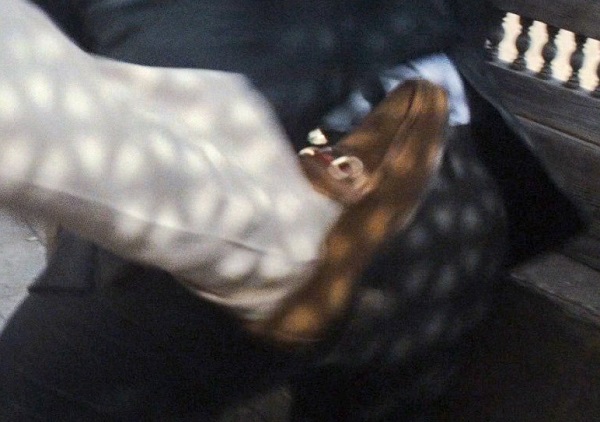 We can thank Matt Spaiser of the excellent Bond Suits for bringing these to our attention. Roger Moore was well known for favoring various types of loafers during his tenure as Bond. Both Ferragamo and Gucci were favorites, as Matt details in this article on his site. For our summer shoe inspiration, I'm going to go with the brown suede Gucci horsebit loafers Bond wore in The Spy Who Loved Me. The suede uppers and moccasin style construction make them inherently more casual. But the leather sole adds a dressy element, which means they'll still look good with a linen suit for those slightly more formal events.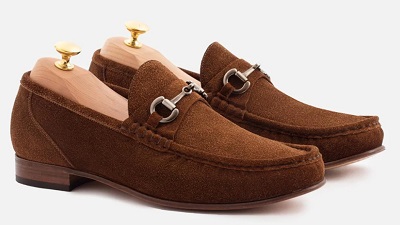 These pretty much nail exactly the look we want. Beckett Simonon has used a water repellent calfskin suede for the uppers and a Blake stitch construction so they can be re-soled. The rounded toe shape and silver metal make the style a little more casual and dials down the flash. However, we do have to note that these are made-to-order. And they're not expected to ship until September. So if you need a pair for a summer wedding, you'll probably want to look elsewhere.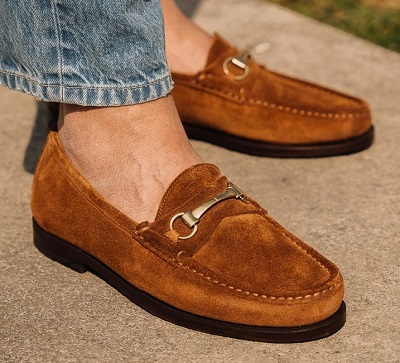 A jump up in price. But you can get this made in Italy option almost immediately. Again the styling is on the more casual side, with a rounded toe, a brushed brash bit and a slightly higher profile leather sole. They're also unlined, which will help with breathability in the hot weather. Velasca has European sizes 38 to 47 in stock.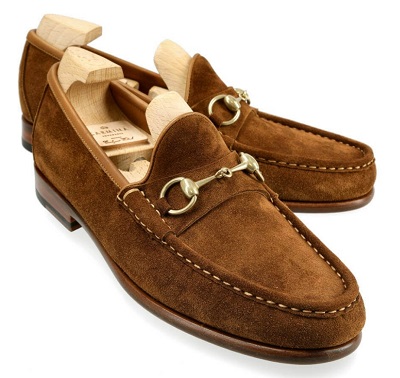 Handcrafted in Mallorca from high quality suede from the Charles F Stead tannery, Carmina's loafers are a casual yet classic design that you can wear for years. The toe is still rounded, but they've gone with the slightly elongated vamp which makes the loafers look a little more elegant. Especially when combined with the gold colored metal hardware. Carmina currently has UK sizes 5 to 14 available for pre-order, with shipping expected in about 45 days. And if you feel like trying something even more formal, check out their model 80670.
The Casino Royale White Jack Purcells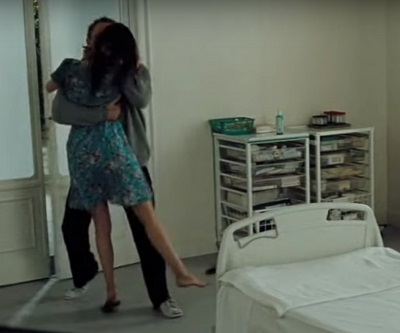 While self-evaluating the progress of his recovery with Vesper in Casino Royale, Bond can briefly be seen wearing a pair of Converse Jack Purcells. The blue "smiley face" on the toe is a dead giveaway.
Basic white sneakers, such as the Adidas Stan Smiths or Common Projects, are getting most of the love these days. But I really love the Purcells in white. They're still very clean and contemporary looking sneakers, with that distinctive rubber toe cap giving them some character that sets them apart from all the GATs out there.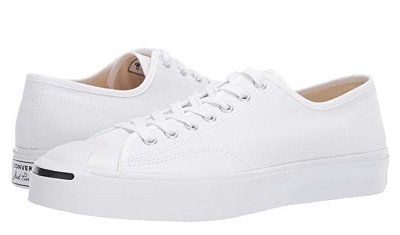 May as well go with the originals! As the name clearly states, this is the canvas model. Which should be more breathable (and keep your feet cooler) in hot weather. Sizes are running low on the Converse website. But since this is such a core model in their lineup, I have no doubt they'll be restocked soon.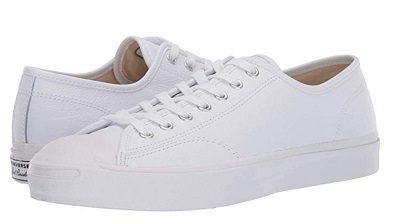 Same as above, but with canvas lined leather uppers. They're missing the blue contrast on the smiley face. But that also gives them an even cleaner look, which some of you may prefer. I've been wearing Purcells forever and I've had a pair of the white leathers for almost five years now. They're still very much personal favorites of mine.
The Tomorrow Never Dies Navy Plimsolls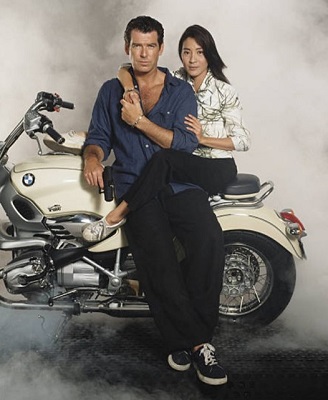 The lightweight canvas sneakers Pierce Brosnan's Bond picked up while in Vietnam were undoubtedly meant to be cheap, off-the-street throwaways. But they seemed to serve him well for jumping out of windows, roof-top motorcycle chases and dodging exploding helicopters. And they are a very classic (and somewhat underated) style that can work with a variety of looks during the summer months.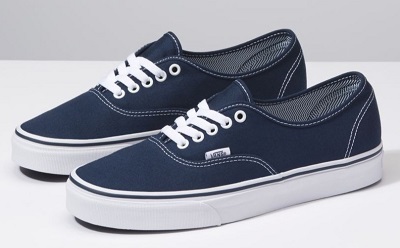 An alternative from the famous skate shoe maker. The Authentics are classic sneakers in their own right, and remain a popular men's footwear choice summer after summer for good reason. The fact that they look like something Bond wore in a movie once is just a bonus. Vans has sizes 6 to 13 in stock on their website.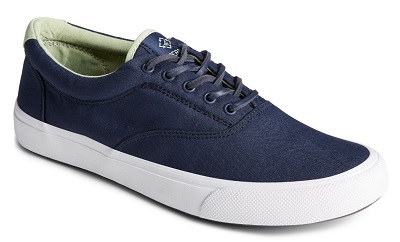 Coming to us from the makers of Bond's boat shoes. Although these are styled like a plimsoll with a canvas upper, the sole features the same siping (those wavy razer cuts) that Sperry uses on their leather Top Siders. So they'll provide you with plenty of traction on wet decks. You'll find sizes 7 to 16 on the Sperry website.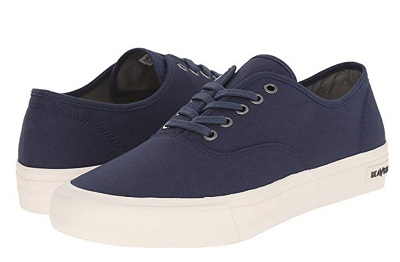 You'll need to change the navy laces for some white ones. But I'm a fan of SeaVees. They're a little heavier and feel just a touch more substantial than most other plimsoll style shoes out there. And, personally, I find them very comfortable to wear around for a full day. Sizes 8 to 11.5 are available at Zappos.
The Connery Bond Leather Sandals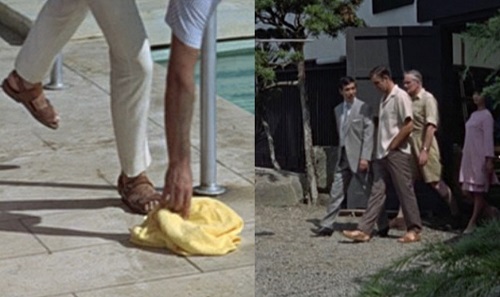 Much like print camp shirts, leather sandals are also having a "style moment" right now. Sean Connery's Bond gave us to two examples we can use for inspiration. He wore the first pair during his visit to Palmyra in Thunderball. You can read more about that look in this article from BAMF Style and this one from The Suits of James Bond. The second pair is from You Only Live Twice.
Both pairs of sandals are similar in style. They feature a broad strap across the forefoot, a slightly narrower strap across the instep and a third strap that goes around the back of the ankle. The main difference is that the Thunderball sandals appear to have buckles at each strap. Believe or not, it's actually a little challenging to find a contemporary match for them.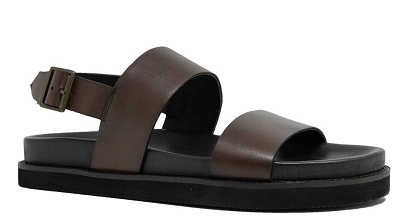 A more contemporary interpretation of Bond's classic sandal style. These ones feature an EVA foam mid-sole (the same material used in running shoes). So Walk London has really tried to dial the comfort level up to eleven. They have UK whole sizes 6 to 12 on their website.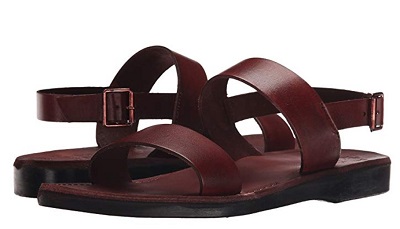 About as close in style to what Bond wore as we're going to get. Jerusalem Sandals has used a full grain leather for the straps, a leather covered footbed and natural rubber for the outsoles. Customer opinion on the sizing of these is all over the place. So I'd recommend reading the reviews before buying. They currently have European sizes 40 to 47 available.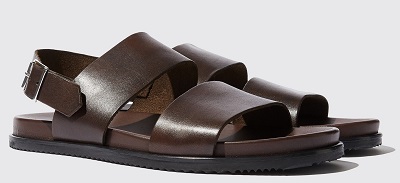 So why would you pay more than a hundred bucks extra for this alternative? Well, they're handcrafted in Italy and feature a soft leather mid-sole that will mold to your foot with wear. Other than that I'm not really sure how much more bang for your buck you're going to get considering the simplicity of the design. But if you want to invest, they're certainly a nice looking option. You can find European sizes 39 to 46 on their website.
Have some alternatives you'd like to suggest for the James Bond summer shoes? Tell us all about them in the comments below! You can also check out our Facebook Page, our NEW Instagram Account and Pinterest Boards for more James Bond and Steve McQueen style advice, inspiration and info!
Some of the images used in this post were sourced from Bond Suits, BAMF Style and Bond Lifestyle.