The Casino Royale James Bond Linen Trousers
Now that we've taken an extensive look at 007's summer shirts (you can read all about them starting with this post), it's time to turn our sartorial attention to the lower half of his outfits. And for hot weather, a pair of James Bond linen trousers are always a reliable source of inspiration. Needless to say, trousers are almost always going to look more "put together" than shorts. And linen is a lightweight, breathable fabric that's perfect for summer. So you won't really be sacrificing much in the way of comfort by wearing something that covers the bottom half of your legs. The four styles of linen trousers we saw in Casino Royale should keep us looking stylish in almost any situation.
The Pre-Title Sequence Navy Suit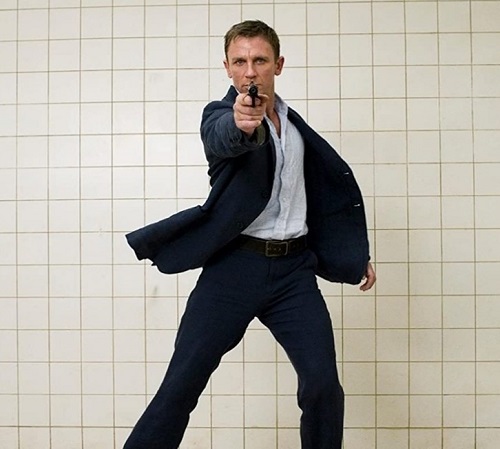 Yes, these trousers were part of a suit. So it's a bit of a cheat. But navy trousers can get a bad rap in the #menswear community. Personally, I think they're more versatile than some people realize. You can dress them up with a nice crisp white shirt (tucked in). Or dress them down with a simple grey t-shirt (see Bond on a boat in sailing into Venice). And of course we can't forget Pierce Brosnan's Bond wearing his pair with a subtle blue on blue Hawaiian shirt from Brioni in Cuba in Die Another Day.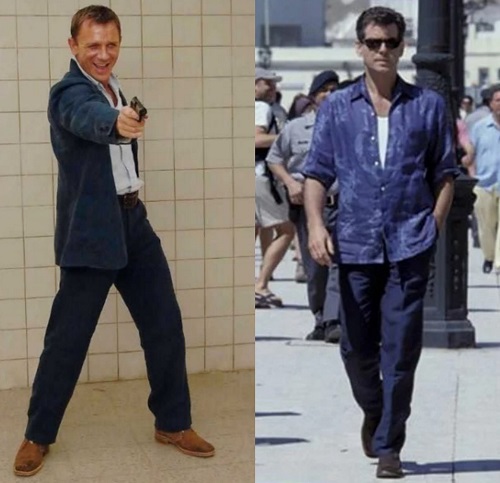 For the options below, I have selected trousers that are on the more casual side. If you do find yourself if in the market for a complete navy linen suit, this option from Studio Suits for $240.00 should do the trick. And you can customize it to get the screen accurate patch pockets. Our friends at Bond Suits and BAMF Style have excellent write-ups of the complete Casino Royale PTS outfit.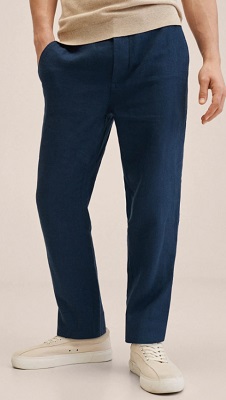 A 100% linen option in a chino style (so no drawstring at the waist). Probably best used as a casual pant and they'd work great for Brosnan's Die Another Day Cuba look. However if you're looking for something a little dressier, try Mango's Slim Fit Linen Suit Pants in Dark Navy for $89.99. You can even pick up the matching Slim Fit Linen Suit Blazer for $169.99 to complete the Casino Royale PTS outfit. It has the screen accurate two button front closure, dual vents and four button cuffs. But unfortunately the hip pockets are flapped not patch.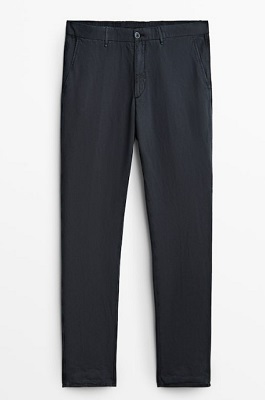 Another pair that leans a little more casual, this time in a 58% linen and 42% cotton blend fabric, which should help reduce wrinkling. Like Mango, Massimo Dutti also offers a more formal Twill Linen Trousers in Navy ($129.00) with a matching 100% Linen Twill Blazer ($249.00). But they're running real low on sizes in the jacket.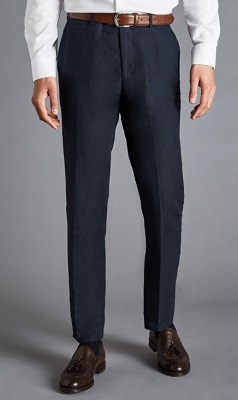 And now some proper suit trousers. Made from a more finely woven 100% linen fabric from Italy, they feature a button tab closure, a curved split waistband and a permanent crease down the leg. The sad news is the matching jacket is almost completely sold out (there's a lonely 44R Classic Fit left). Still, if you're looking for a more elegant pair of linen trousers, these ones are going to look pretty sharp.
Also Try
The Madagascar Tan Pull-Ons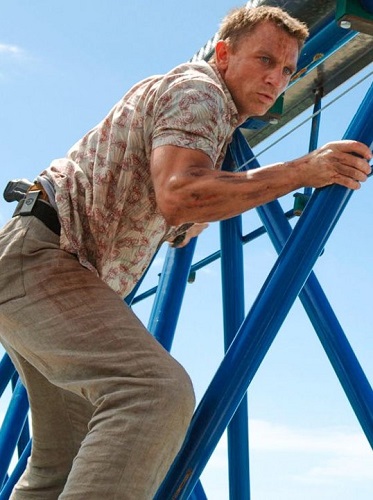 The most casual of our linen trouser options. The screen used pants featured a drawstring waist without belt loops, two patch pockets at the back and a very relaxed fit. If you're looking for some pants to throw on to run errands on a hot summer day, these could easily become your go-to favorites. Once again, BAMF Style has a great article on the total look.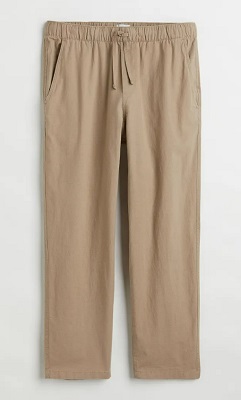 The color of the 53% linen, 47% cotton fabric might not be a spot-on match. But that relaxed fit is pure early 2000s. These have the drawstring waist and the more-or-less screen accurate patch back pockets. And they're certainly affordable. Sizes XS to XL are in stock.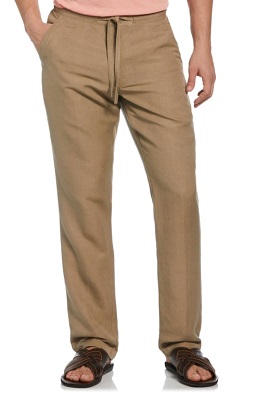 Once again, the color isn't a perfect match (leans a little too dark and brown, I think). But the style is pretty close, even if the patch back pockets have a button closure. You'll find sizes small XXL on the Cubavera website in 30″ and 32″ inseams. Which means you taller fellas may be out of luck. Amazon also has some available for $49.00 if that's your preferred retailer.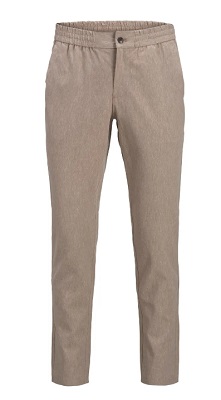 In terms of color and style, this option probably comes closest to what we see Craig's Bond wearing (although the fit on these is likely a little more contemporary). I'm honestly not sure if they have a drawstring waist. But the 55% linen, 45% cotton fabric has the right slubby texture and they have the correct patch pockets at the rear. Thread has sizes small to XL available.
Also Try
The Bahamas Arrival Grey Linen Suit Trousers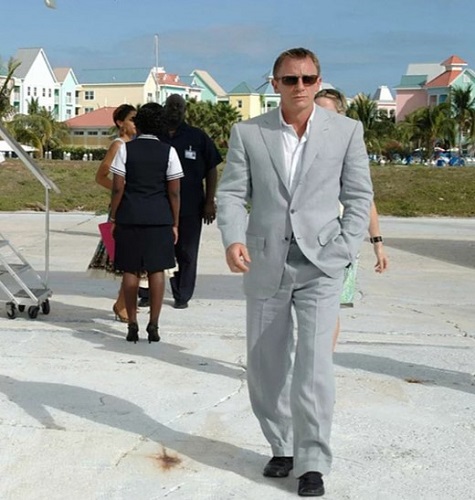 Again, these were originally worn as part of a suit. But the jacket lasted for maybe 10 seconds on-screen. As soon as Bond jumped in this Ford Mondeo rental, it was all about the light grey linen trousers and the custom made white shirt (alternatives for that can be found in this post).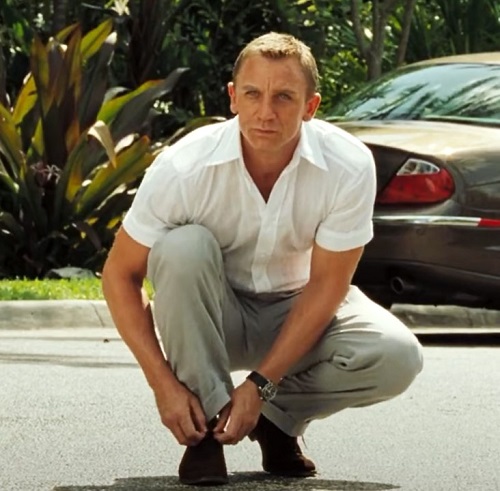 For the alternatives below, I've tried to stick with trousers that come close in color and have a crease, giving them a more formal look. A tailor should be able to add the screen accurate cuffs if so desire. As for the full suit, finding options with the peaked lapel single breasted jacket was a little challenging. But you can try Studio Suits Italian ZOD Light Grey Linen Suit for $240.00 or Proper Cloth's Allen S130s Light Grey Tropical Wool Suit for $895.00. Both of those companies offer customization programs that will allow you to add the screen accurate details.
For more on Bond's complete Bahamas Arrival outfit, check out this article from Bond Suits.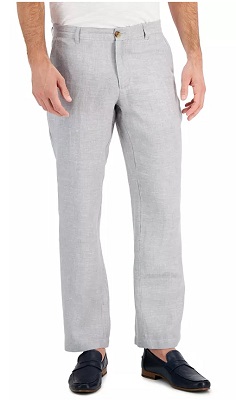 A basic 100% linen option that's affordable and a solid color match. And you can get the matching jacket for $120.00 to complete the look (although it doesn't have the peak lapels). Just a reminder that this is Macy's. So there's almost always a sale code coming round the bend to bring the price down even lower.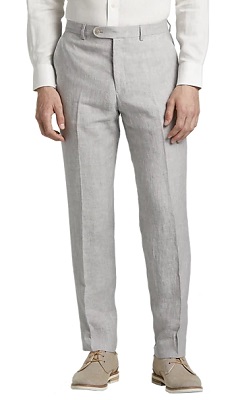 Men's Wearhouse doesn't exactly have the best reputation for quality. But if you poke around a little you can usually find some pretty good pieces. I'm hoping these 100% linen trousers are an example of that. They have plenty of sizes in stock on their website. As a side note: a couple of years ago I listened to an interview Jeremy Kirkland of the BLAMO! Podcast had with Mr. Joseph Abboud. And it was honestly one of the most insightful (and entertaining) discussions about the business of men's clothing I've heard. Well worth the time if you're interested in that kind of thing.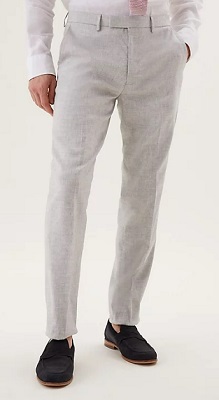 The trousers have a more formal styling. And although the 59% linen, 20% polyester, 20% viscose and 1% elastane fabric contains more synthetics than I'd like, I'm sure it will wrinkle significantly less than pure linen. Plus you can get the (non-peak lapel) matching jacket for $189.00 to finish off the outfit. There are still plenty of sizes left in both at post time. Both the trousers and jacket also come in a more forgiving Tailored Fit for $294.00 if you'd like something a little more roomy.
Also Try
The Ocean Club and Miami Dark Taupe Trousers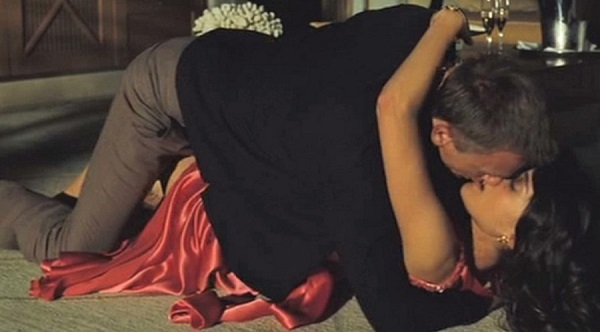 So those Casino Royale Ted Baker linen trousers are versatile AND tough! Bond wears them for winning a car at poker at the One & Only Ocean Club, romancing Solange, killing a bad guy at a creepy art exhibition, and stopping a terrorist bombing at the Miami Airport. Frankly, that's a lot to ask from one pair of pants!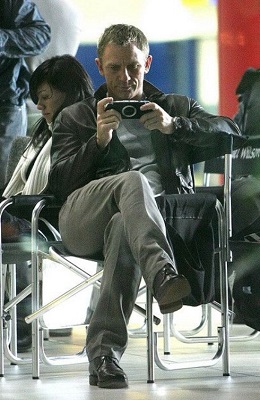 The actual linen trousers they used in the film are the Ted Baker Larked model in Mink. Bond first wore them with the black Alfani long sleeve shirt (options for that in this post) when playing poker in the Bahamas. He later used them with the Armani four pocket leather jacket and grey Sunspel t-shirt for his trip to Miami. To learn more about their use in the Bahamas scenes you can read this article from Bond Suits. And BAMF Style has an excellent article about Bond's Miami outfit from the film.
AJB007 forum member Welshboy78 has graciously shared a photo of his screen accurate Ted Bakers that gives us a nice close-up look at the fabric texture and color.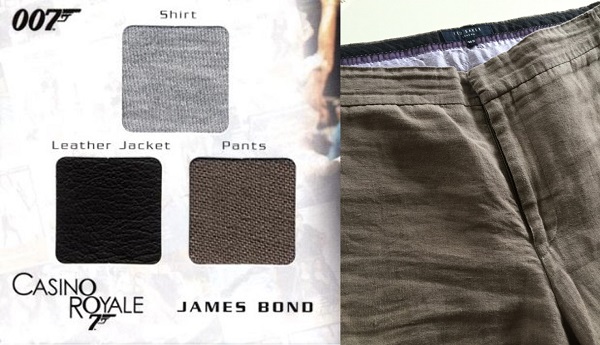 As for the alternatives, the Ted Bakers had some tricky details that make them difficult to match. The hidden waist button isn't that common. And the three jetted pockets at the back are extremely rare. The looser 2006-era fit, while practical in hotter weather, would probably also be considered a little baggy by today's standards. However what really sets them apart is the darker taupe color. It seems most linen trousers today come in a lighter beige tone or navy. But we've done our best to find a few options!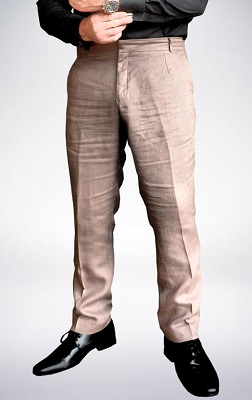 We'll start with what is undoubtedly the best alternative for Bond's One and Only Ocean Club trousers. Blair Ballard (The Bond Vivant on the AJB007 fan forum and Instagram) sent ROYALE Filmwear owner Daniel Love a pair of the actual Ted Baker trousers to use for reference. So these reproductions are about as accurate as you can get. I would strongly recommend reading this review from SIS Training Gear to learn about all the little details that make these ones so special and for notes on the sizing. Speaking of which: unfortunately, ROYALE Filmwear is done to sizes 28 to 32. Here's hoping there's another run in the near future!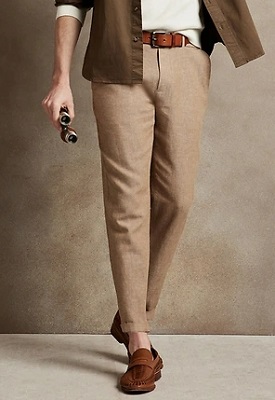 It's always difficult to tell from online product photos, but it looks like that Whiskey color that 55% linen, 45% cotton material could be a decent match. But, as expected, the trousers are missing a many of the other key details. These ones also have an elasticized waist. That's not a big deal if you're wearing them with a belt with your black shirt untucked. And it will definitely up the comfort level. Sizes 28 to 36 in 28″ to 32″ inseams are available on the Banana Republic Factory website. Over on the mainline BR website, they also have the Tapered Perfect Pant in Taupe ($160.00). The color is much lighter (and they're clearly much more expensive). But they are a more formal trouser style and have the covered waist button.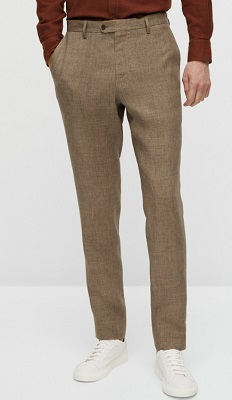 In terms of color, I think these might be the best off-the-rack alternative this year. Made from a 100% linen fabric, they're styled like proper suit trousers with a button tab closure and a split hem at the back. You'll find sizes 30 to 36 on the Massimo Dutti website. But unfortunately they don't mention the length of the inseam.
Also Try
Have some alternatives you'd like to suggest for the James Bond linen trousers from Casino Royale? Tell us all about them in the comments below! You can also check out our Facebook Page, our NEW Instagram Account and Pinterest Boards for more James Bond and Steve McQueen style advice, inspiration and info!
Some of the photos used in this post were sourced from Thunderball.org, Bond Suits and BAMF Style.